Disclosure: This article may contain affiliate links. We will make a small commission from these links if you order something at no additional cost to you.
I've visited hundreds of places in New York, and few have been as much fun to explore at Beechwood State Park.
Beechwood State Park is located on the shores of Lake Ontario in Wayne County, New York, only a short distance from Chimney Bluffs State Park. For nearly 70 years, this park was a Girl Scouts' camp. However, for the last two decades, the camp has sat virtually abandoned.
Today, there is very little infrastructure at Beechwood State Park beyond two parking lots. However, the entire Girl Scouts' camp is still here, decaying into the woods. You can not only explore this incredible area, but you can also camp anywhere within the park for free!
As I said, this is a special place.
The History of Beechwood State Park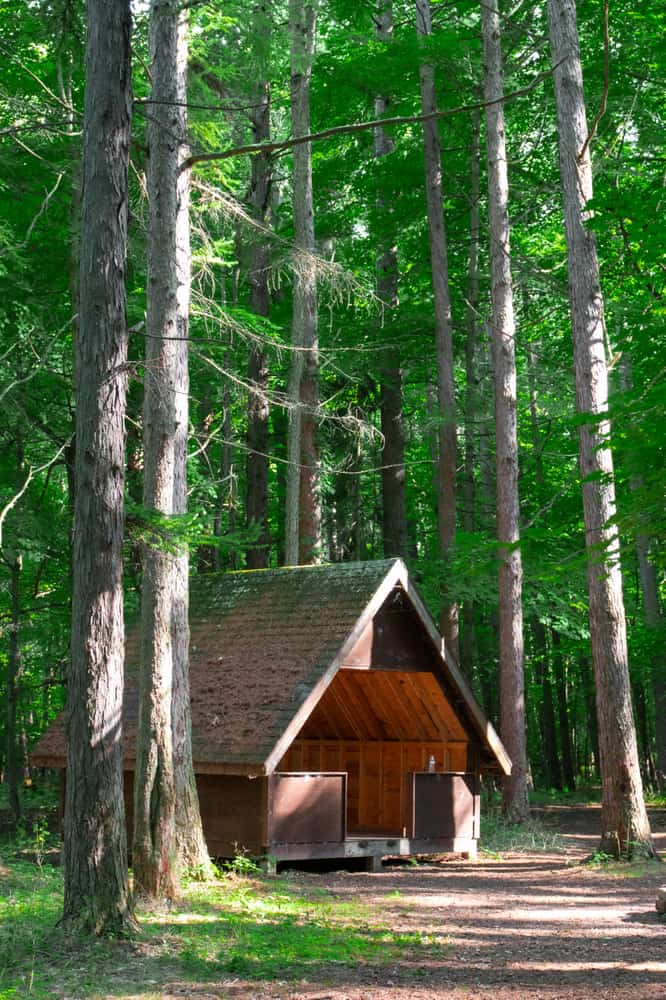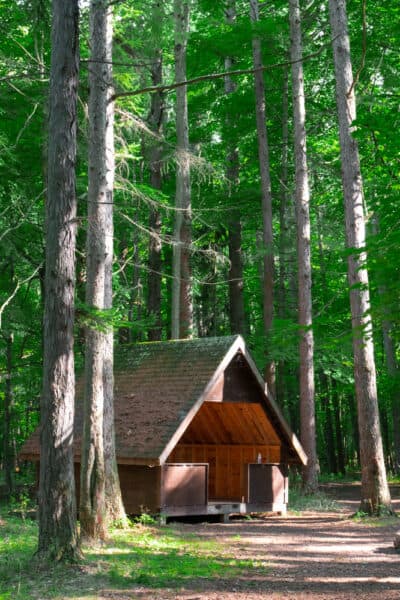 Beechwood State Park was founded as Camp Beechwood by the Girl Scouts of America in 1929. This 150-acre piece of land in the northern Finger Lakes offered a beautiful forested setting and, at the time, a great beach on Lake Ontario.
Over the next seven decades, this camp grew into a place that girls loved to come to each summer to experience the outdoors on the shores of the lake.
Unfortunately, due to declining attendance and increasing taxes, the camp was closed in the mid-1990s.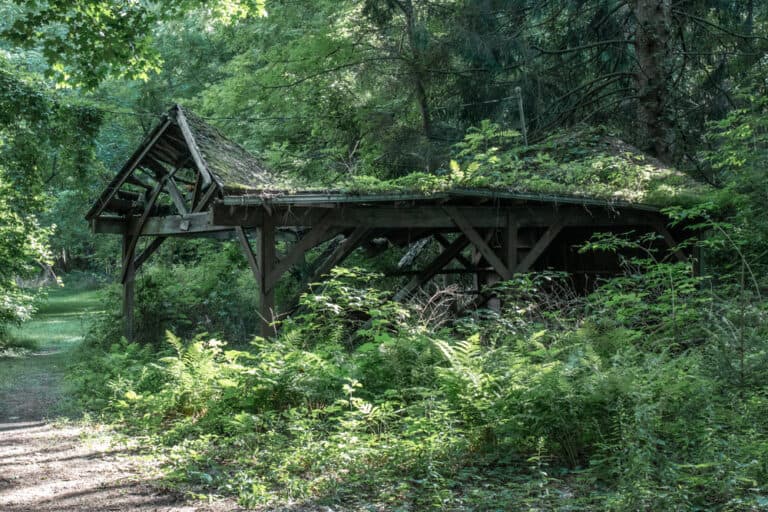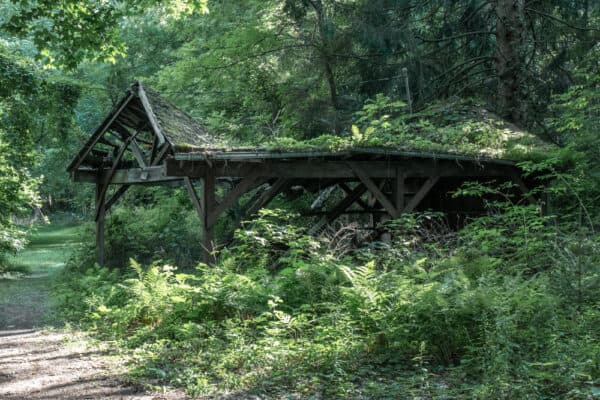 In 1999, the state purchased the land with the intent of making it a state park. However, they too had budget issues and instead turned the land into a preserve (though it still bears the designation of "state park"). Currently, the park is maintained by the town of Sodus.
Over the two decades since the state purchased the land, they added an additional 146 acres, making the park just under 300 acres in size. Otherwise, they have left the land and the buildings primarily to nature.
That doesn't mean that it's abandoned, however. The land has a caretaker and discretely placed cameras to catch vandals. Please show this place the respect that it deserves when you visit so that others can enjoy it after you.
Where is Beechwood State Park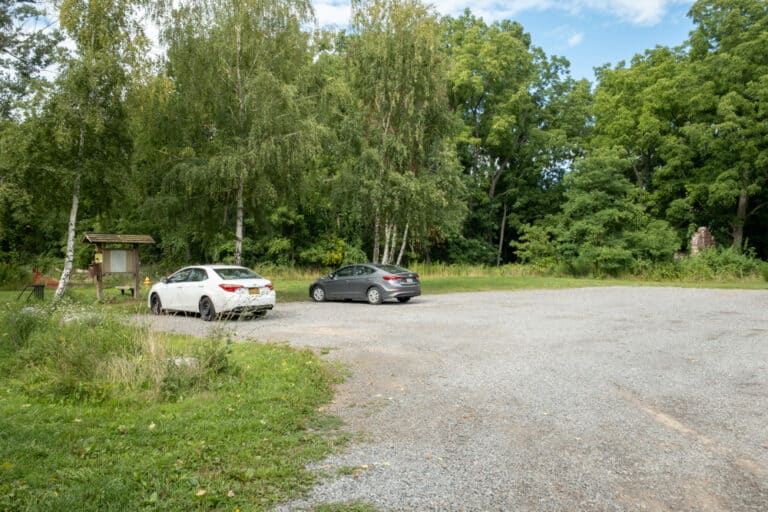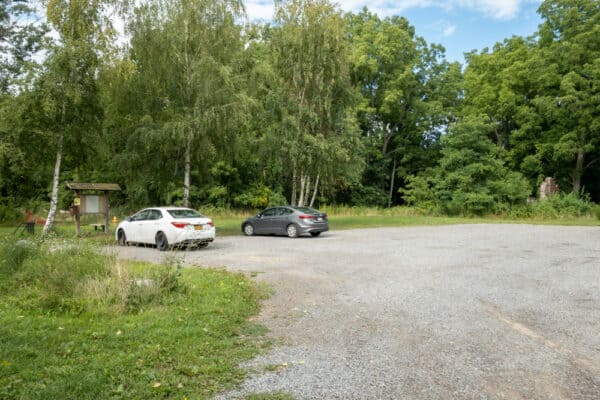 Beechwood State Park is located in the town of Sodus in Wayne County, New York. This is at the very northern edge of the Finger Lakes.
There are two parking areas along Lake Road, which is the road that heads to the popular Sodus Point.
The first parking area can be found at the following coordinates: 43.263847, -77.029749. This is the main parking lot and is the best place for most visitors to park.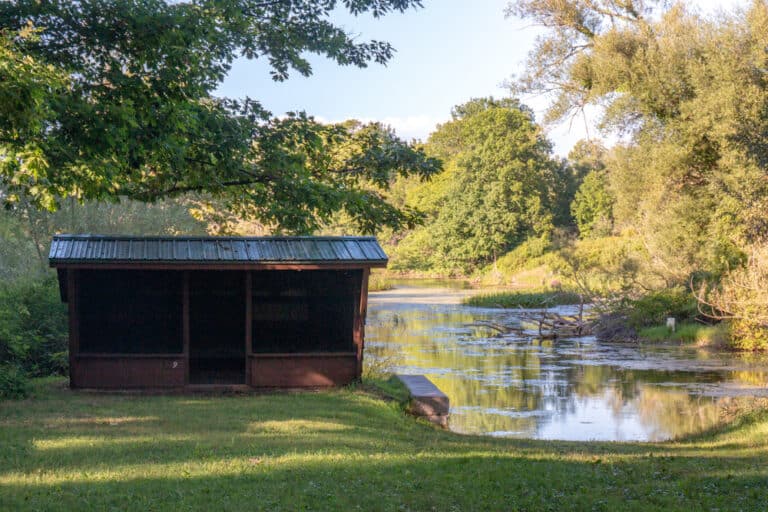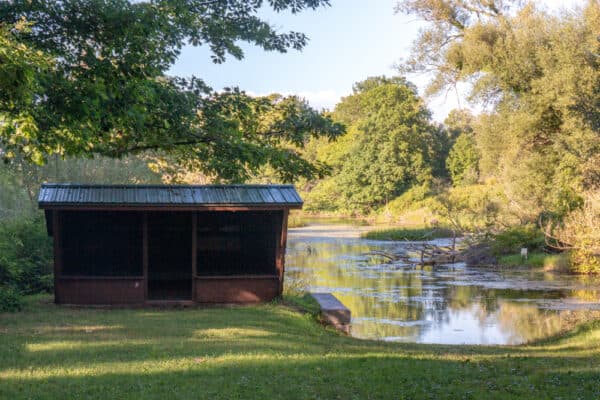 Just down the hill from the main parking area is a second smaller lot. This second lot can be found at the following coordinates: 43.265007, -77.026322.
This second lot is a good overflow lot. There are also some historic cabins right next to this parking area. That makes it nice for those that don't want to hike or can't hike but still want to get a small taste of the park's historic structures.
[Click here for information on how to use the coordinates in this article to find your destination.]
What to Do at Beechwood State Park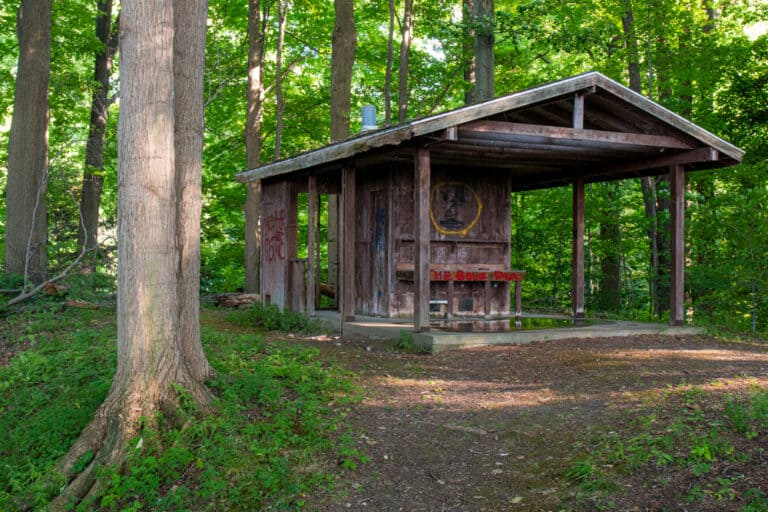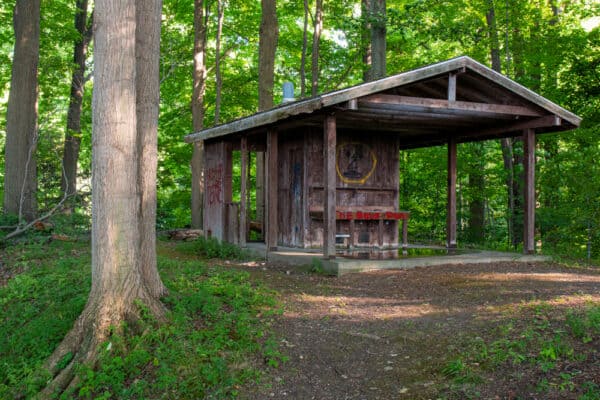 Because the land has been mostly left to nature, there isn't much infrastructure at Beechwood State Park. In fact, other than two parking lots along Lake Road and a few mowed trails, the land is returning to nature.
However, if you enjoy exploring abandoned places, Beechwood State Park couldn't be cooler.
From the main parking area along Lake Road, a single dirt path heads into the woods. This path mostly resembles a long dirt driveway, though a gate keeps cars from driving on it.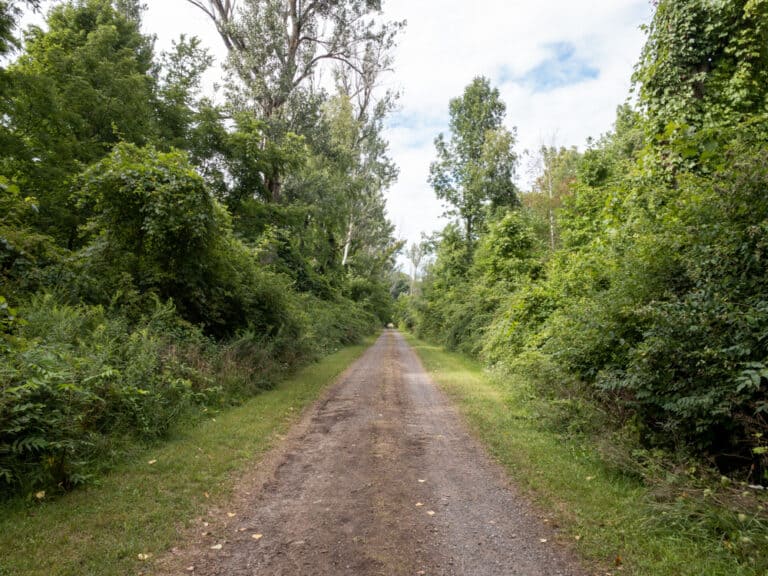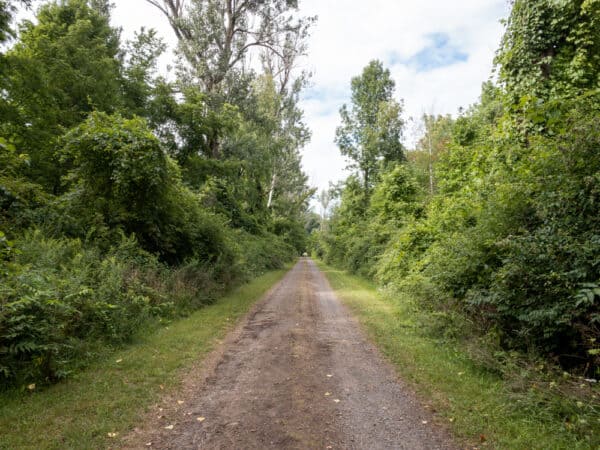 After about a tenth of a mile, a trail heads off to your right. Continue past this trail for now.
After another quarter-mile of walking along this flat path, you'll come to a four-way intersection in the trail. You have the option at this point of going straight, left, or right.
If you head straight, you'll eventually reach Lake Ontario and a large abandoned building with a stone fireplace. However, I recommend turning left at this point.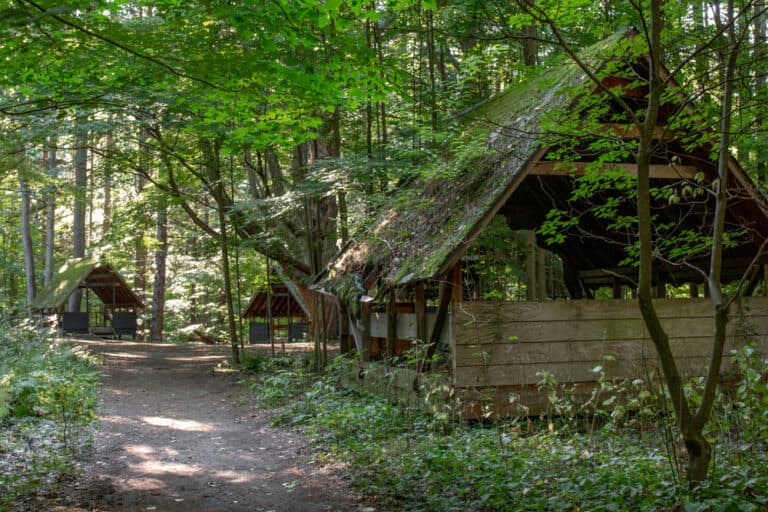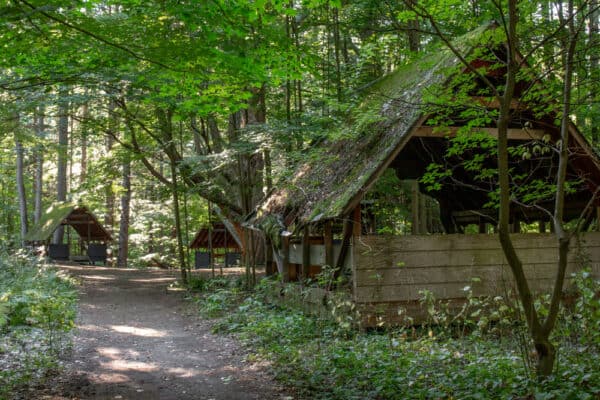 As you head to the left down this narrow old road, you'll soon see abandoned buildings to your right.
These areas have small structures that form a circle. Each small structure is essentially a raised lean-to. There is also a small communal structure that I'd imagine was used for activities, sing-alongs, and the like when this was a camp.
Amazingly, many of these structures look no worse for wear despite sitting virtually abandoned in the woods for more than two decades.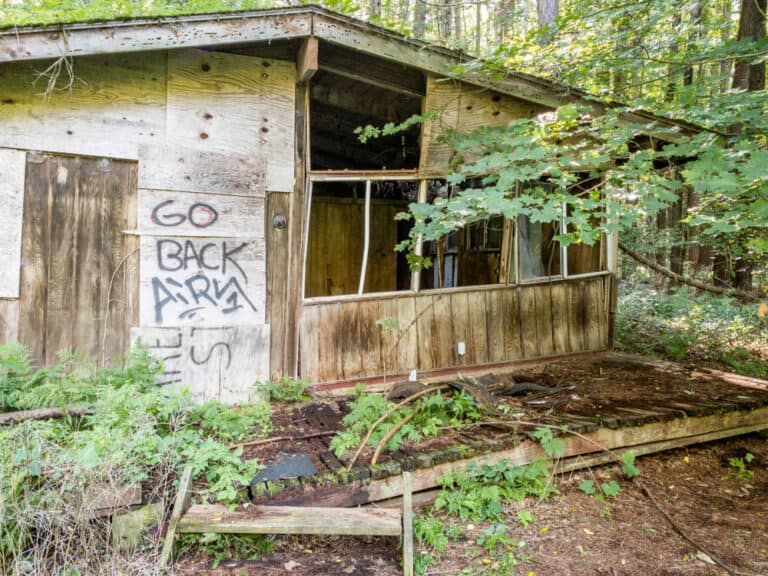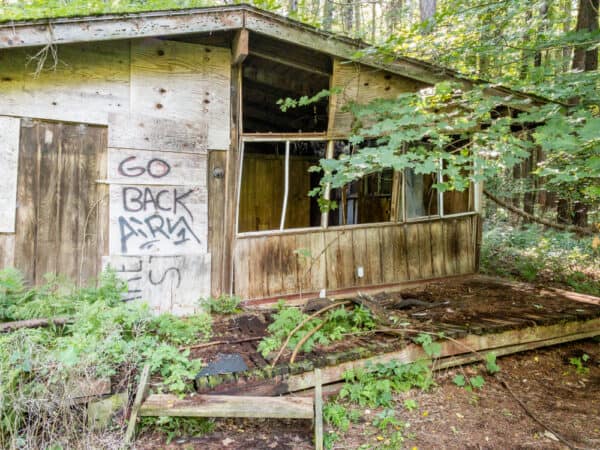 There are several of these camping circles that can be seen as you go further down the road. Some of them are in better shape than others. The slightly-different cabins at the end of the road and edge of the park are in especially rough shape.
Along the way, you'll pass other abandoned buildings and structures that are quite interesting to explore from the outside.
As you walk past these cabins and lean-tos, the path makes a turn towards the right and heads downhill towards Lake Ontario.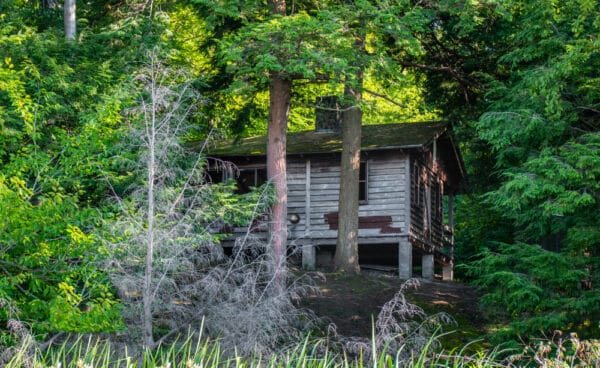 Just above the lake is Pioneer Lodge. This beautiful building is missing its windows but still retains a rustic charm. There's even a large stone fireplace within the building.
The lodge sits just up the hill from the lake. When it was built, however, it wasn't so close to the water. In fact, erosion here over the last 90 years means that the lake has reclaimed over 100 feet of land.
Just below the lodge, there was once a nice beach. Today, there are only a few small feet of rocky shoreline between the forest and the water.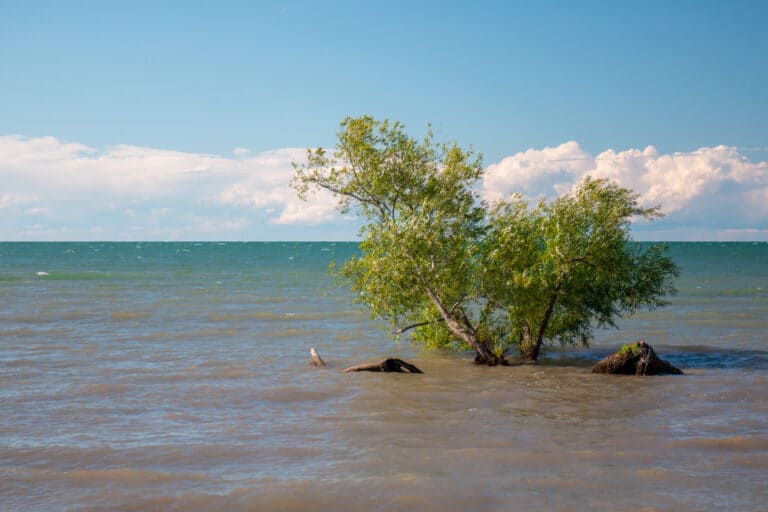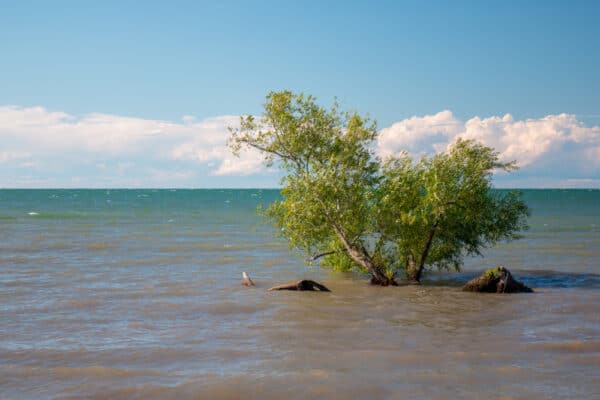 It's worth noting that swimming is not allowed at Beechwood State Park. If you want to go swimming head a few minutes further down Lake Road to Sodus Point Beach Park.
Once you've had your fill of this spot, start walking down the road away from the lake. While you could keep walking this road all the way back to your car, I definitely recommend spending more time exploring this amazing park.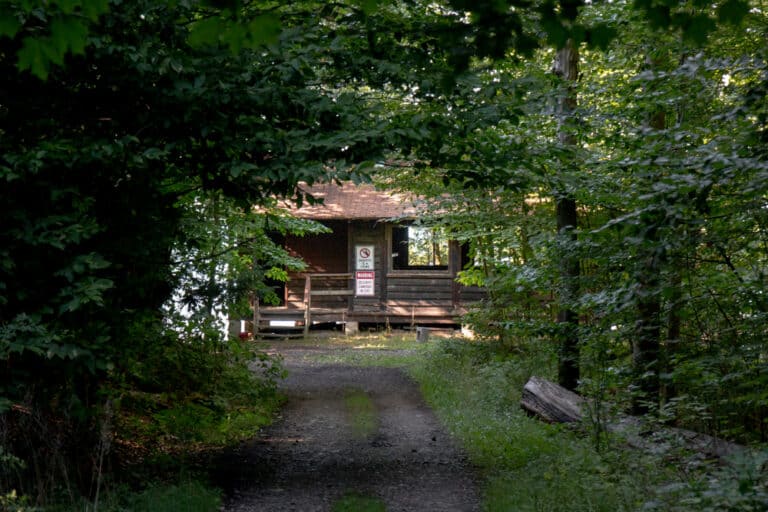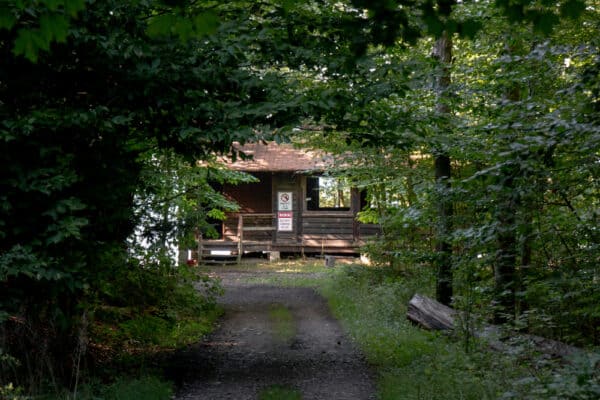 As you walk, you'll soon notice a trail heading off to the left. Follow this trail.
In a short distance, you'll come to two more historic structures, including my favorite abandoned building in Beechwood State Park.
This smaller lodge is quite beautiful and sits on perch overlooking Lake Ontario. Without a doubt, this has to be one of the most beautiful spots in the park and is a great spot to relax and enjoy the scenery.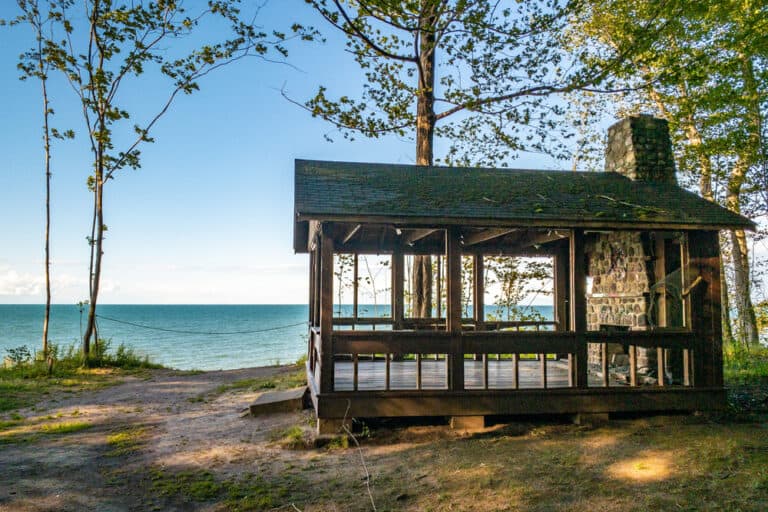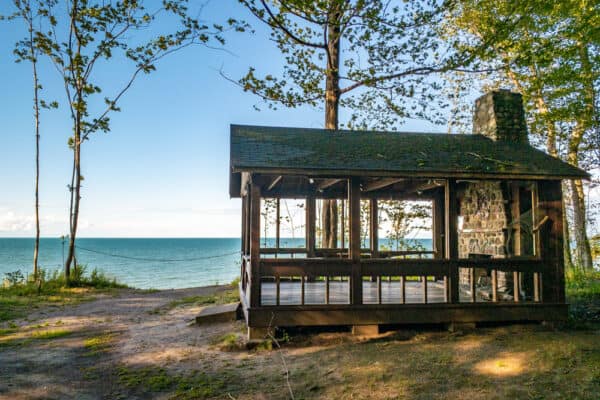 One word of warning, don't get too close to the cliff edges here (or anywhere else in the park). They are quite crumbly and overhangs are quite common. You don't want the ground to fall away below you as it's prone to do.
Once you've enjoyed this spot, as well as the nearby Pixie Playhouse, follow the trail you came in on back to the main path, and then turn left to head back towards your car.
Soon, you'll come back to the four-way intersection that you first turned on. Instead of going straight, make a left turn and then bear to your right into the field (which is usually mowed).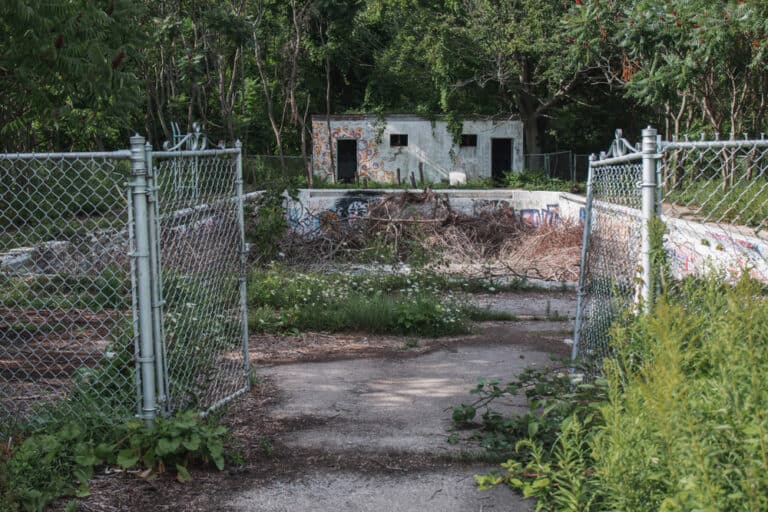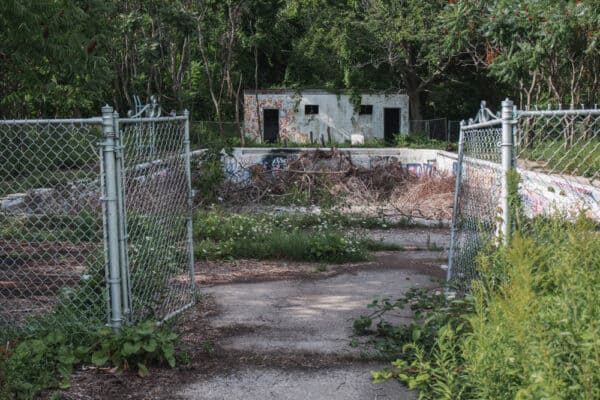 Here, in the middle of this empty field, you'll see a large building that's next to the remains of Camp Beechwood's swimming pool.
When I visited, the pool was completely filled with sticks and other woodland refuse. However, you can still see features of the pool such as the lifeguard stand.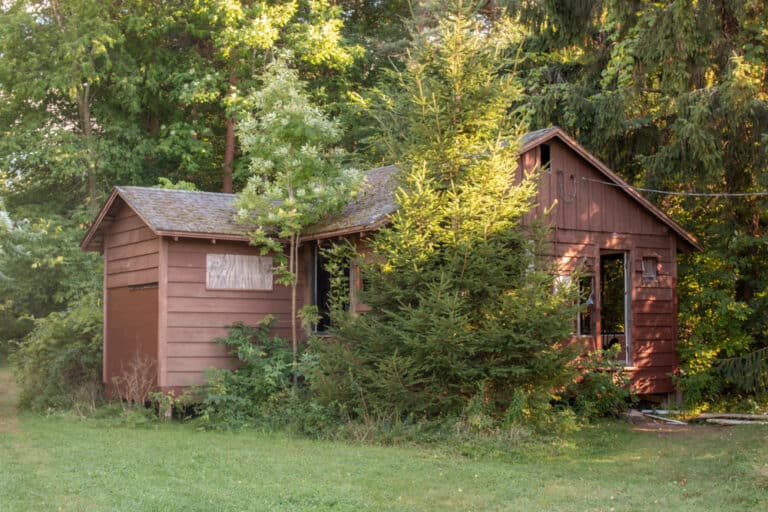 From here, continue walking through the field, bearing to your right until you reach the main trail once again. Turn left and head a tenth of a mile back to your car.
Truthfully, I'm sure there are even more places to explore that I missed at Beechwood State Park. There are so many great spots to see in the small park that I could easily go back and spend a few more hours just exploring and taking in the sites.
Camping at Beechwood State Park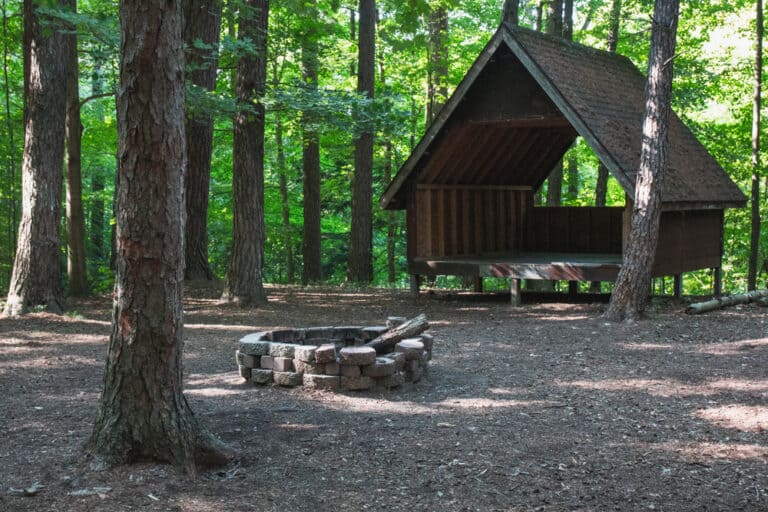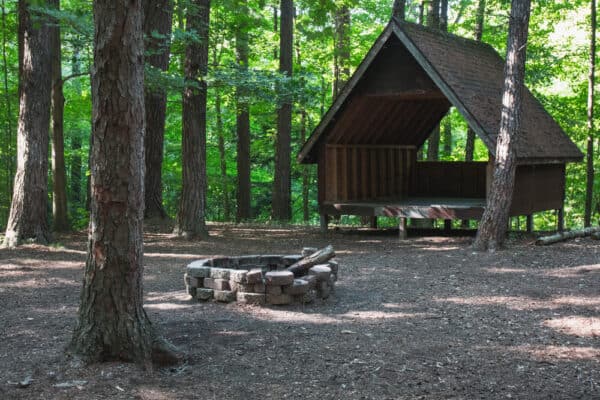 One other VERY cool aspect of Beechwood State Park is that the entire park is open to free camping.
No reservations are necessary, though you do need to contact the park's maintenance supervisor when you arrive and let him know that you are planning to stay the night. His name and number can be found in various places near the parking areas.
You can also find more information and the park's camping rules on the town's website, including how to reserve a spot ahead of time to make sure they aren't full.
When you camp, you can literally set up a tent just about anywhere you'd like or simply lay out a sleeping bag in one of the remaining structures. However, there are a few rules to keep in mind.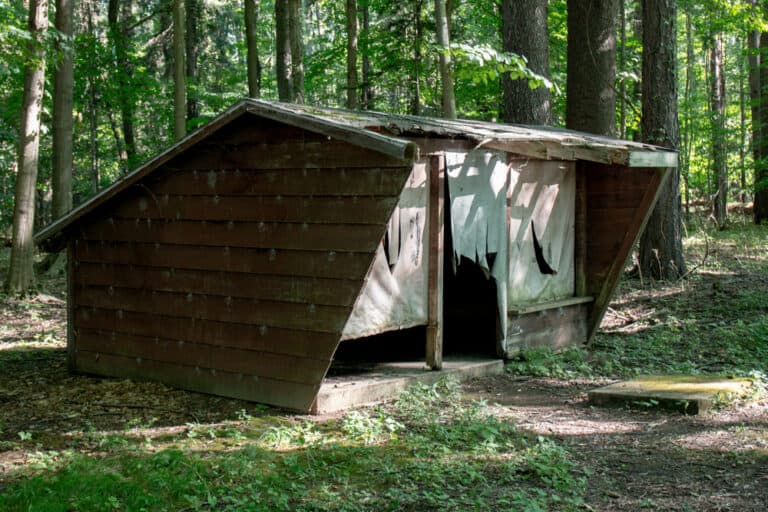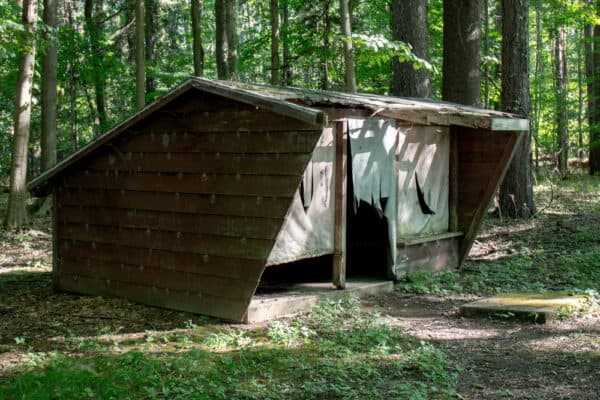 First, you'll need to carry all of your things from the parking area to your camp spot. You aren't allowed to drive closer, so be prepared to walk a half-mile or so each way to get things to and from your vehicle.
Second, fires are only permitted in the designated fire rings. Generally speaking, there are fire rings in close proximity to many of the structures, so there are a lot of options if you want to have a campfire.
Lastly, please leave no trace when you camp here.
Beechwood State Park is an amazing place to explore. Taking out your trash, only having campfires in designated spots, and respecting the structures will help to ensure that this incredible spot can be enjoyed for many more decades in the future.
Looking for more places to visit nearby? Check out Wolcott Falls, Lake Bluff Campground, and Double Drop Falls.