Please do your best to limit your travels around New York during this time. If you decide to travel, please check the status of the places you are going. Some places around the state are temporarily closed or have changed their hours We will not be updating individual articles to note these changes. Stay safe and wear a mask!


The Finger Lakes region of New York is filled with hundreds of incredible waterfalls. Many of these are awe-inspiring giant waterfalls like Taughannock Falls and Ithaca Falls. However, there are also many waterfalls that, while small, are still worth taking the time to see.
Double Drop Falls is located in the Ontario County community of Phelps along the Ontario Pathways rail trail. While this trail is more than 23 miles long, it's a short walk to the two small waterfalls along this trail. All told, it's about a mile-long walk along this flat trail that also should be fine for strollers and wheelchairs as well.
From the parking lot off of NY-96, follow the trail as it heads through the woods towards Flint Creek. After about two-tenths of a mile, the trail crosses the first bridge over Flint Creek.
Disclosure: This article may contain affiliate links. We will make a small commission from these links if you order something at no additional cost to you.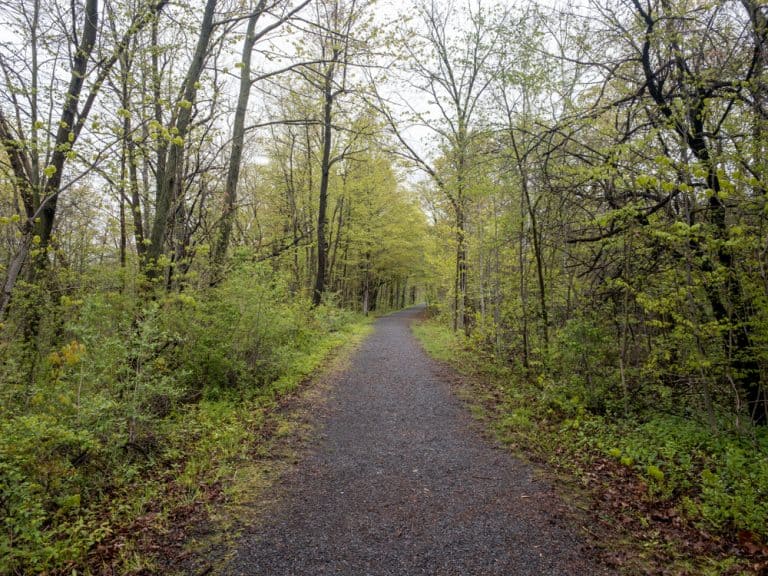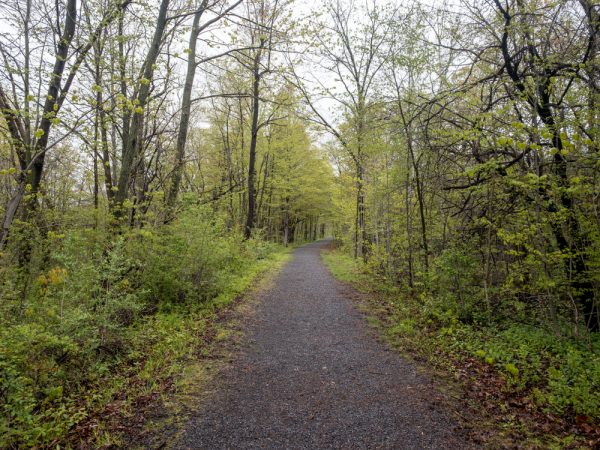 This bridge, as well as the one further upstream and the entire Ontario Pathways trail were once part of the Pennsylvania Railroad, which was, at one time, the largest company in the world. Today, this trail provides access to these two waterfalls and a nice walking and biking trail for residents.
Just beyond this first bridge, you should be able to see Double Drop Falls through the trees to your right. There is an unmarked trail that heads down the hill and towards the waterfall. This trail is a bit tricky, especially if water levels are high, but is usually doable for more visitors.
While there is another waterfall upstream, this is likely the waterfall that Double Drop Falls refers to as this is the largest waterfall and features two drops. That being said, each drop here is only about 4-5 feet tall, creating a waterfall that is about 8-10 feet in height.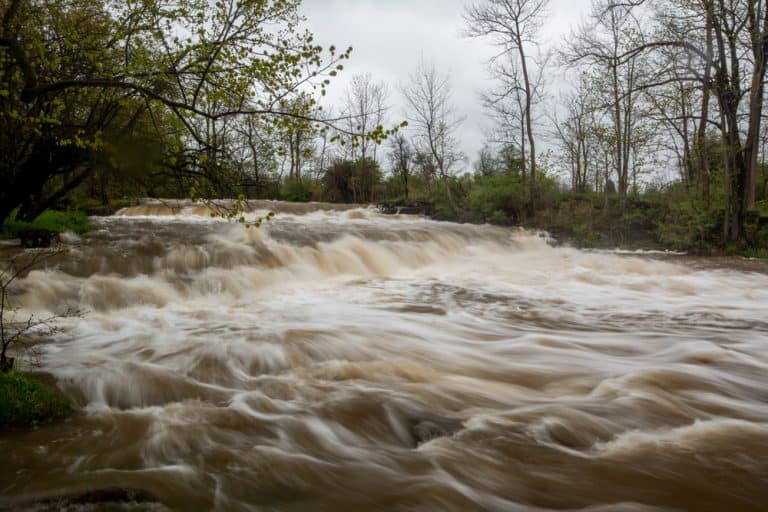 If you visit during a time of high water, as I did, this is an incredibly impressive waterfall, though it can get a bit swamp with water which makes it harder to distinguish the beauty of the separate drops.
Once you've enjoyed this spot, return to the Ontario Pathways rail trail and continue walking further down the trail.
Soon, the woods open up with a powerline cut through the forest. Here you'll be able to see the remains of a railroad bridge that once carried the Lehigh Valley Railroad over the creek-level train tracks.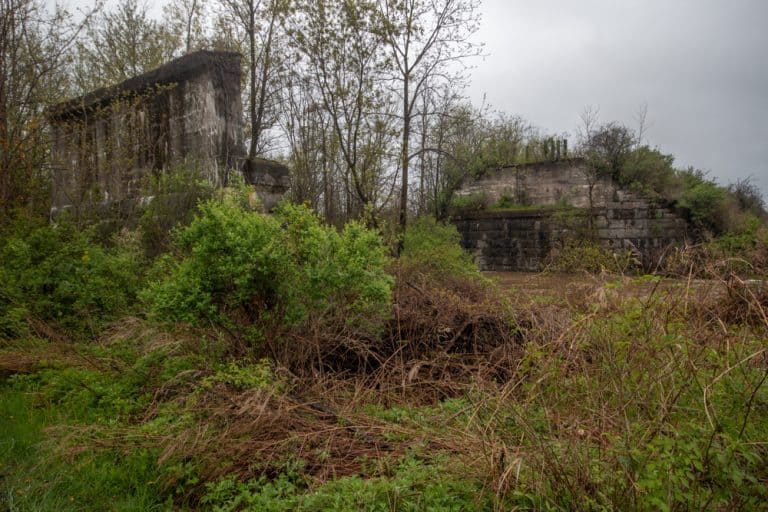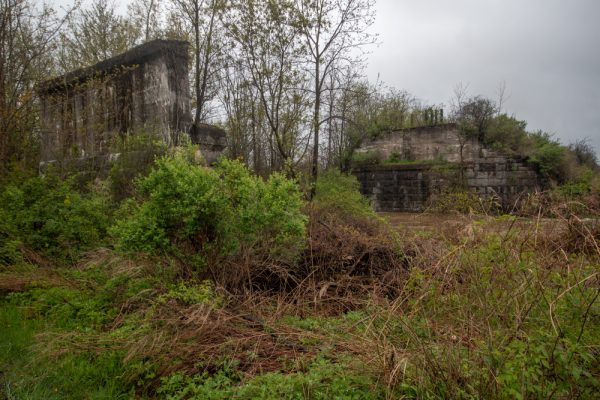 Shortly after reentering the woods, another bridge comes into view. It is from this bridge that you can see the small upper waterfall along Flint Creek.
This upper waterfall is relatively small at only about 3-4 feet in height, but since it can be easily viewed from this historic railroad bridge, it's worth the short distance beyond the first waterfall to see.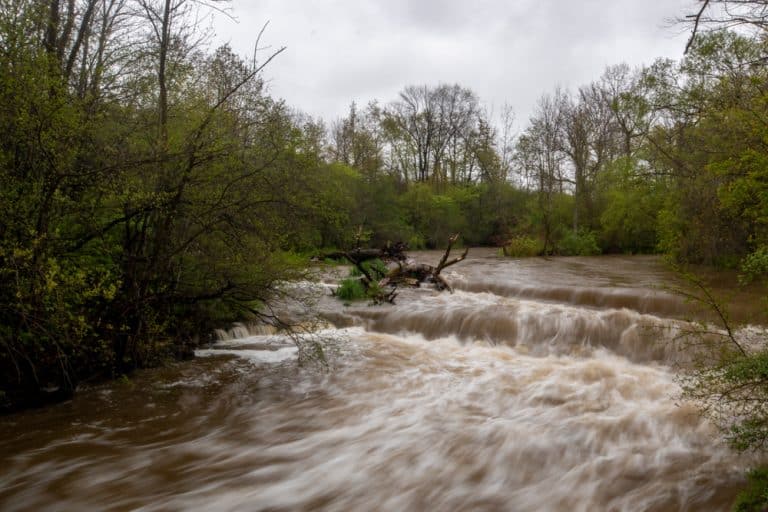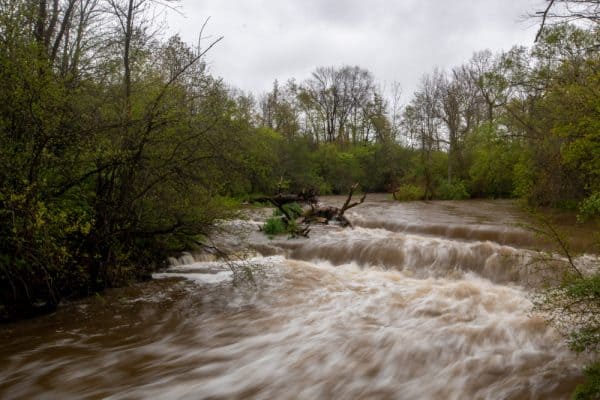 From here, the Ontario Pathways Trail continues towards the communities of Flint and Stanley if you are looking to walk further, but I opted to simply turn around and walk back to where I had parked.
Double Drop Falls is far from the most majestic waterfall in the Finger Lakes. However, the combination of two relatively easy to reach waterfalls, along with the historic railroad bridges and pillars make this a neat walk in the woods for those that find themselves in Ontario County, New York or for those traveling along I-90 and looking for a short break.
How to Get to Double Drop Falls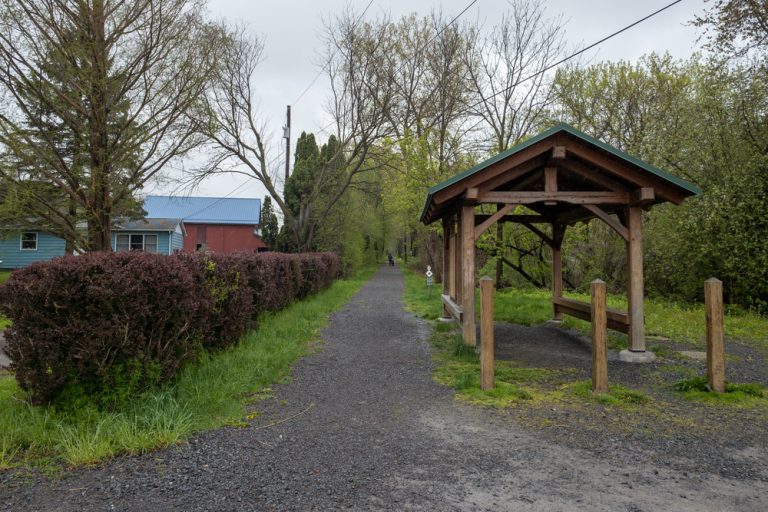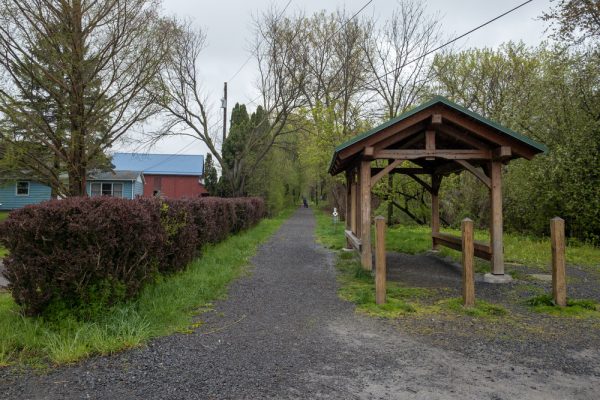 The trailhead for the Ontario Pathways Trail and Double Drop Falls can be found along NY-96 just west of downtown Phelps, New York. The coordinates for the parking area are 42.961735, -77.091217.
From here, follow the obvious trail into the woods for a total of half a mile to reach the two waterfalls. The first waterfall is just off the trail at the following coordinates: 42.956290, -77.092972.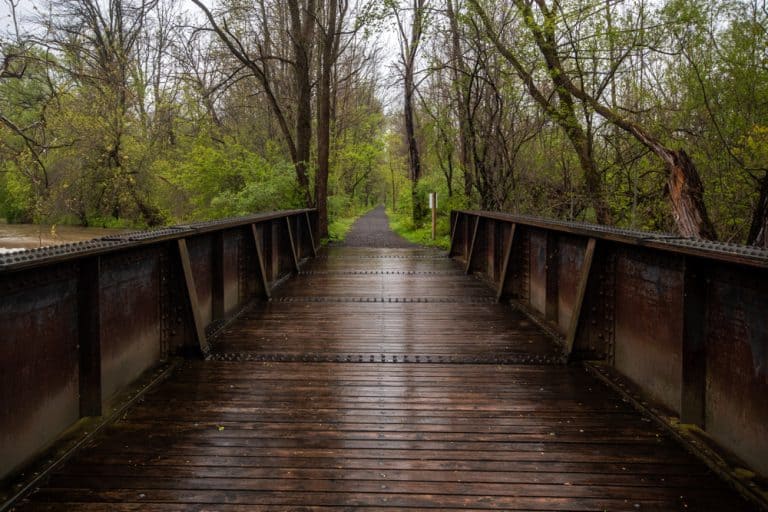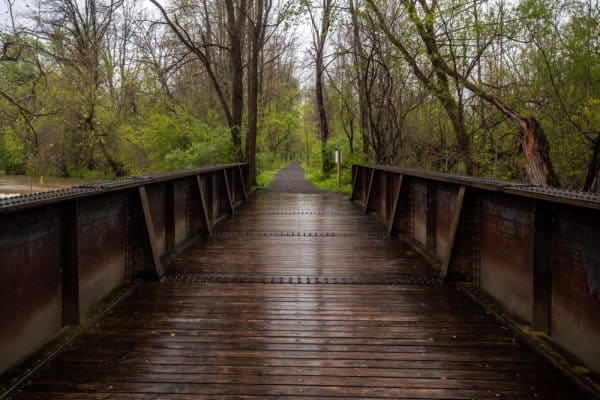 The smaller second waterfall is a short distance further at the second bridge crossing over Flint Creek.
Looking for more places to visit nearby? Check out Beechwood State Park, the It's a Wonderful Life Museum, the Keuka Lake Outlet Trail, and Spook Hill.