Disclosure: This article may contain affiliate links. We will make a small commission from these links if you order something at no additional cost to you.
When I was contemplating whether to start traveling and writing about New York, there was one major factor that pushed me over the edge: the incredible number of Finger Lakes waterfalls that were just waiting to be explored.
The Finger Lakes is a 14 county region in Upstate New York that spans from the Pennsylvania border to the shores of Lake Ontario. This region is known for its many gorges, lakes, and wineries that make this one of the most visited areas of the state.
During my travels, I've had a chance to check out more than 50 Finger Lakes waterfalls at more than two dozen different places in nearly every county in the region. Below, I've included some of my favorites.
To help make this list a bit more manageable, I've divided the Finger Lakes into the eastern and western counties. However, if you have a chance, I highly recommend exploring all of the great spots on this list, as well as the dozens, if not hundreds, of waterfalls in the Finger Lakes that aren't included yet.
Consider this a great starting point for exploring the many fantastic waterfalls in Upstate NY.
Eastern Finger Lakes Waterfalls
For the purposes of this article, I've included the following counties in the Eastern Finger Lakes: Cayuga, Cortland, Onondaga, Seneca, Tioga, and Tompkins. That means that the waterfalls listed in this section include those around the cities of Syracuse and Ithaca, two of the region's most popular spots.
You can also check out our favorite Ithaca Waterfalls and the best waterfalls near Syracuse to uncover even more great spots in this part of New York.
Taughannock Falls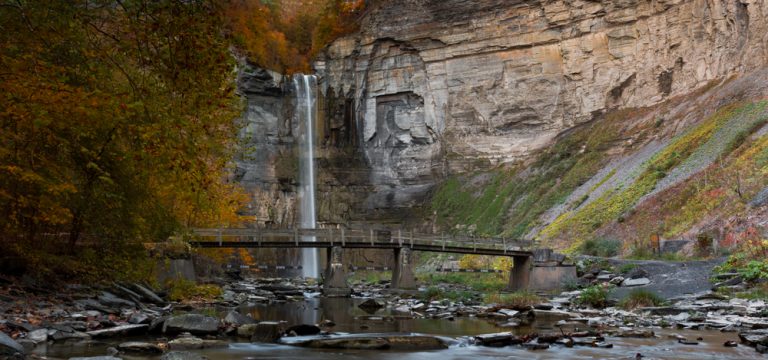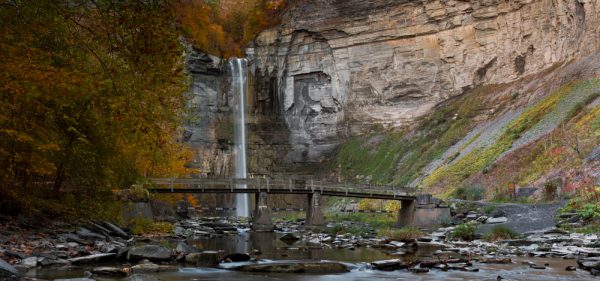 Taughannock Falls is the tallest single-drop waterfall east of the Rockies and is located at the heart of Taughannock Falls State Park. If you only have time to visit one spot near Ithaca, this is the one to check out. In fact, this is among the best New York waterfalls in the entire state.
Taughannock Falls can be viewed from both above and below, making it an excellent waterfall for hikers of all ages and ability levels.
While in the park, don't miss the two other waterfalls that can be seen from the park's trails.
Tinkers Falls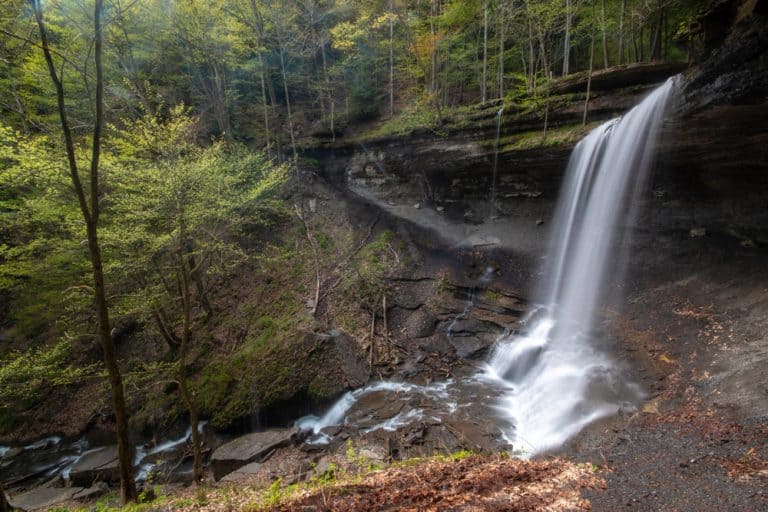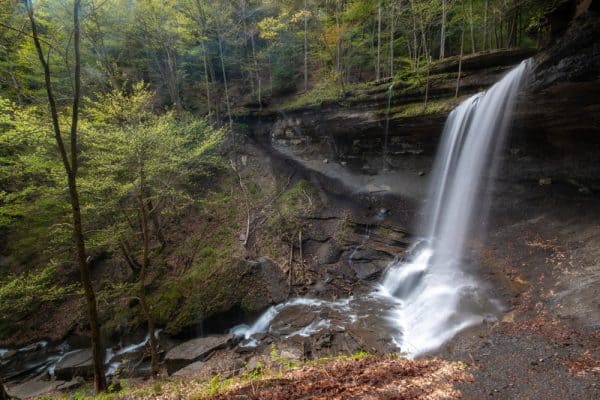 Tinkers Falls is located in Cortland County about 30 minutes from downtown Syracuse in the Labrador Hollow Unique Area.
Not only is this an incredibly gorgeous plunge waterfall, but it's also one of the few in New York where the trail goes directly behind the waterfall, allowing you to get behind the veil without having to leave the trail (though a wet stream crossing is required).
While this is a bit of a seasonal waterfall, it's one of the most gorgeous waterfalls in the Finger Lakes when it's flowing well.
Ithaca Falls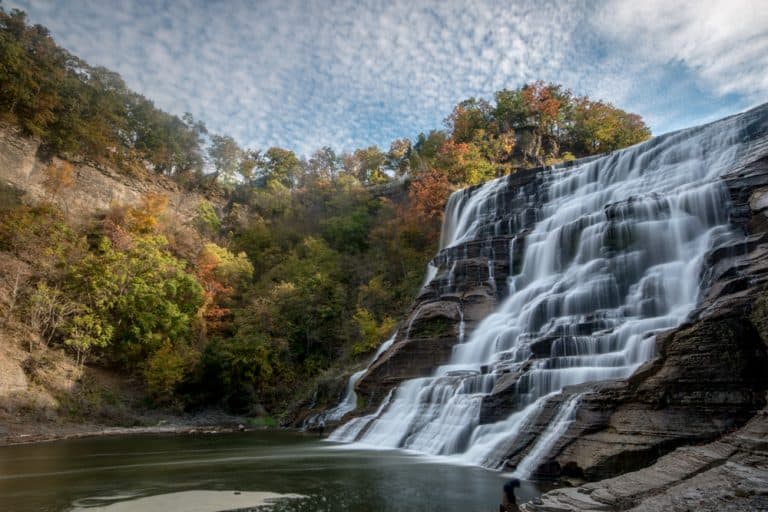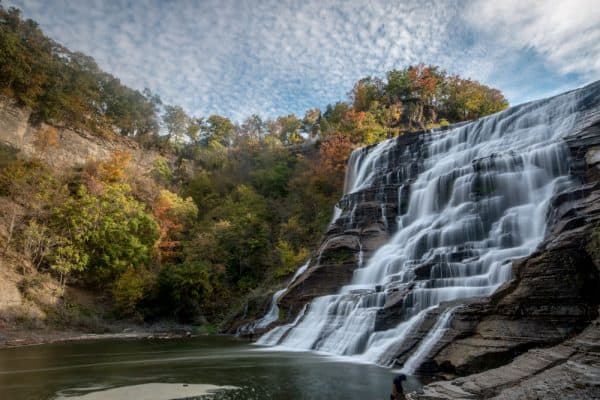 Located in the heart of Ithaca, Ithaca Falls is one of the region's most spectacular waterfalls.
Ithaca Falls can be viewed from the roadway or via a short hike that takes you right to the base of this 100-foot waterfall. From the base, Ithaca Falls is an incredibly impressive waterfall, and one that visitors to the Finger Lakes should definitely make a point of visiting during their travels.
Wells Falls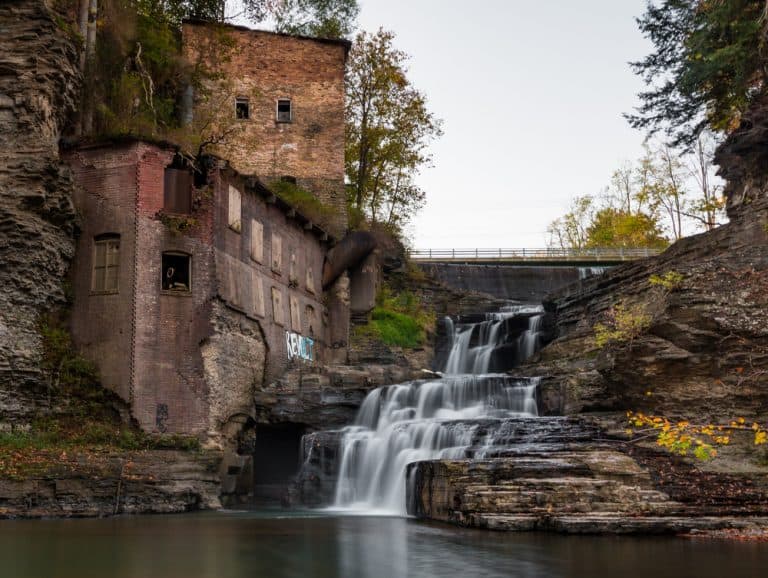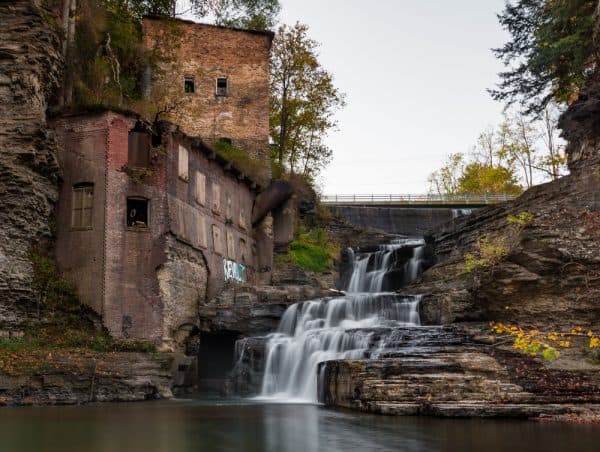 Wells Falls is located on the outskirts of Ithaca and is also known as Businessman's Lunch Falls and First Dam.
This waterfall is a total of 65 feet in height, roughly split evenly between a man-made dam and a natural waterfall. However, from the bottom of the falls, the dam is hard to see, leaving only the natural part of the waterfall visible.
What makes this an especially great waterfall is the abandoned pumping station that sits adjacent to it, giving it a rather unique look among Finger Lakes waterfalls.
Grimes Glen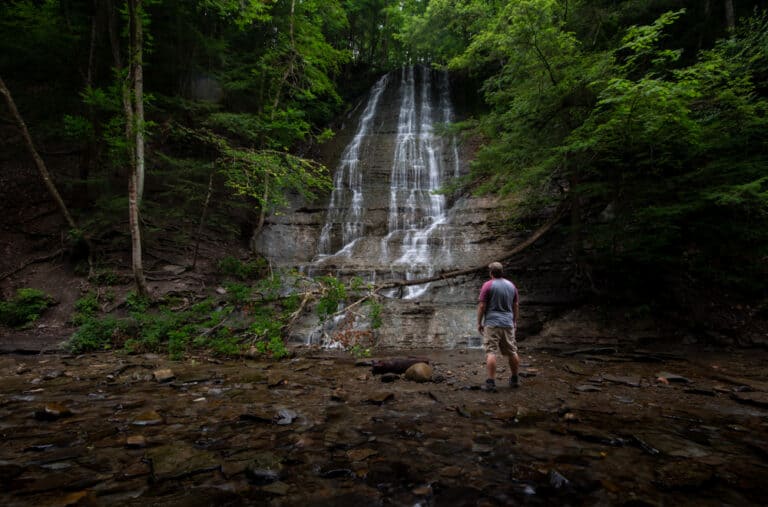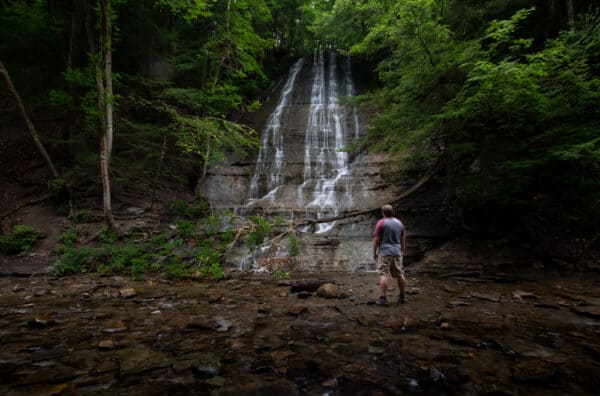 Grimes Glen is located in the Ontario County community of Naples and is home to two 60-foot waterfalls.
What makes this an especially great spot to visit is that half of this trail requires you to hike directly through the middle of the stream to see these spots. This makes this one of the most fun waterfall hikes in the Finger Lakes.
The trail here is about half-a-mile long and ends at the base of the second waterfall.
Waverly Glen Falls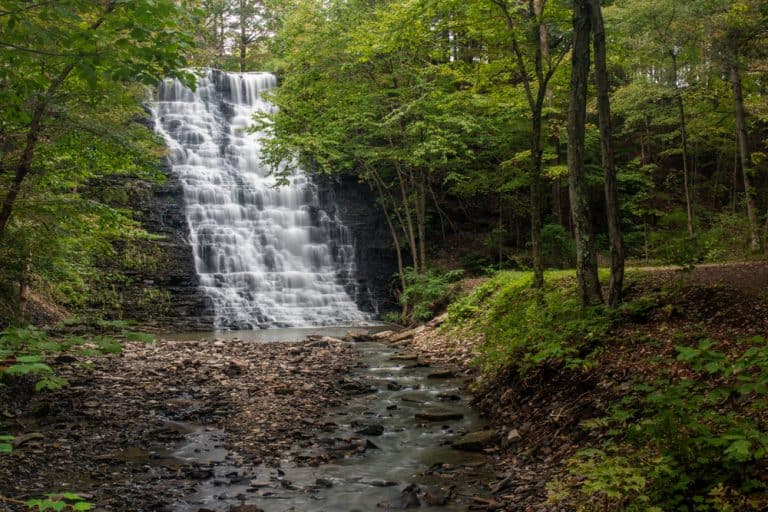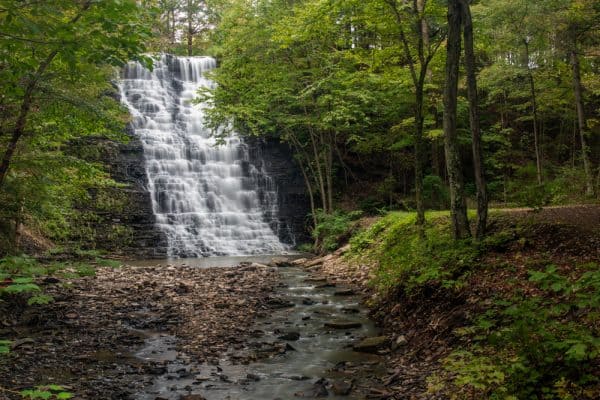 Waverly Falls is a beautiful, hidden gem of Tioga County.
Located just north of the Pennsylvania border, Waverly Falls is located in Waverly Glen Park. This 40-foot waterfall is just downstream of a reservoir and is quite easy to reach by following the park's trails to the base of the falls.
If you find yourself traveling through the Finger Lakes on the Southern Tier Expressway, this waterfall is a great place to stop.
Cascadilla Gorge Natural Area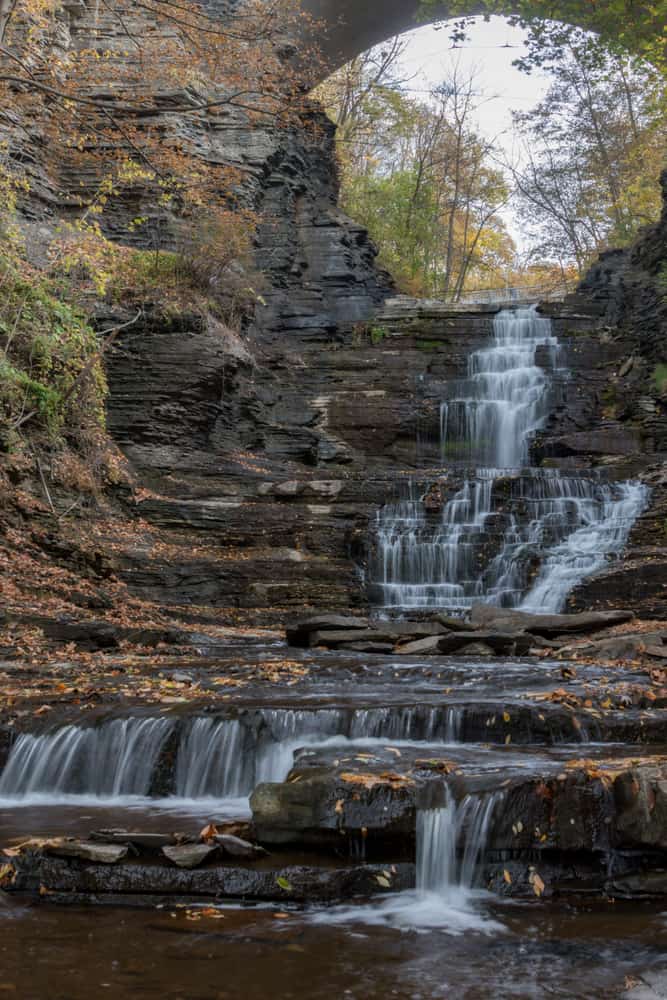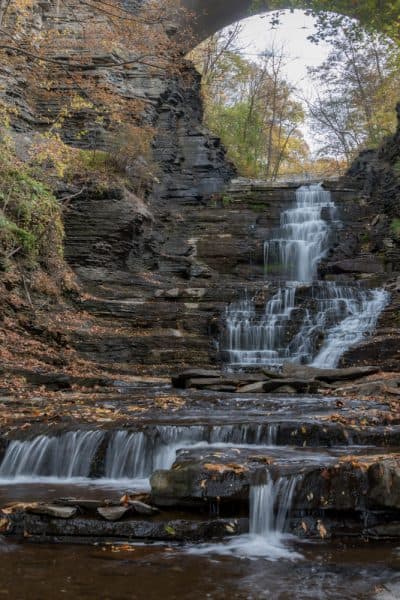 The Cascadilla Gorge Natural Area is located in downtown Ithaca and connects the city with Cornell University.
Along the way, this 1.3-mile trail passes by six beautiful waterfalls on historic steps that are nearly 100 years old. While the trail might not be as natural as some of the area, this Ithaca gorge is well worth hiking to see these beautiful New York waterfalls.
Fillmore Glen State Park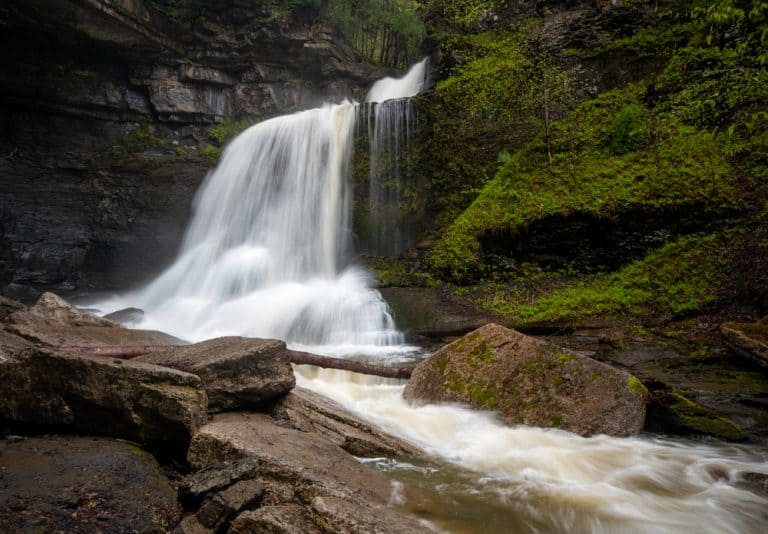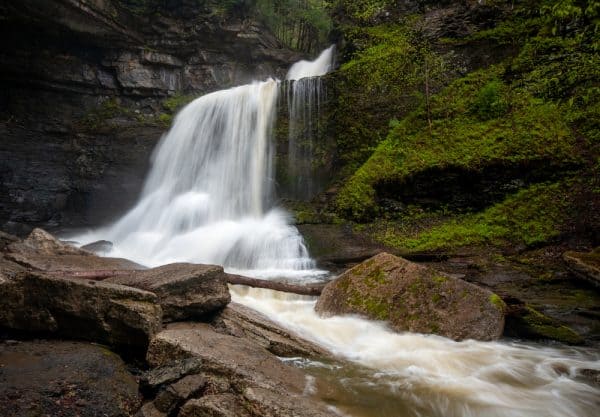 Fillmore Glen State Park is located in Cayuga County and is home to several fantastic waterfalls.
The most well-known is Cowsheds Falls, which is located near the start of the Gorge Trail. This 35-40 foot waterfall plunges off the end of the gorge created by Dry Creek and is very easy to see quickly.
Upstream, there are several other incredible waterfalls along both the Gorge Trail and North Rim Trail that are well worth taking the time to explore.
Papermill Falls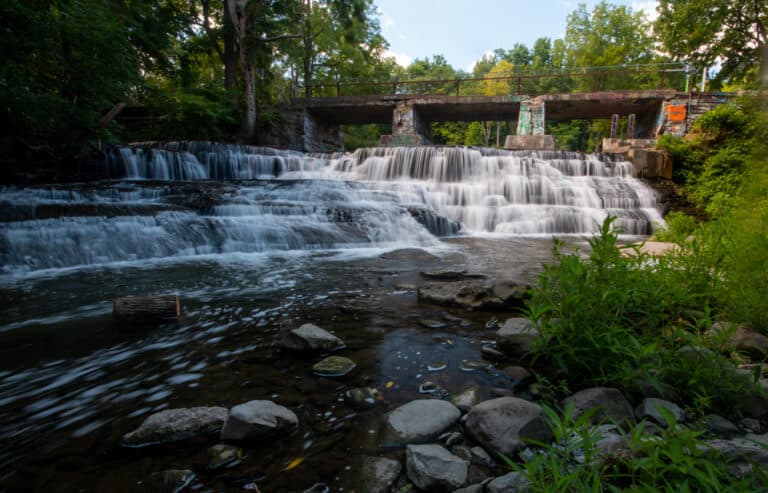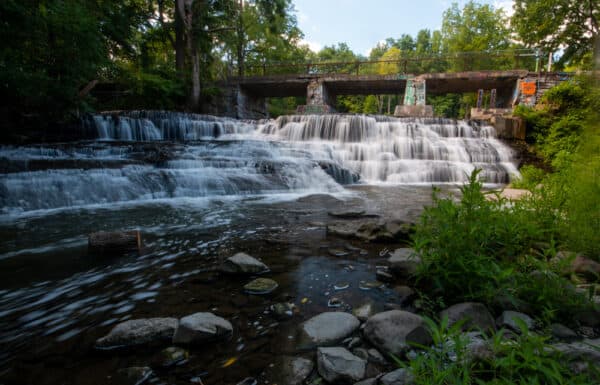 Papermill Falls is located in a small park of the same name near Avon in Livingston County.
This waterfall is only about 10-12 feet tall but is very easy to reach as it flows just below a pedestrian bridge. For those that want to get a better view of the waterfall, there's a narrow trail that leads to near the base of the falls.
Buttermilk Falls State Park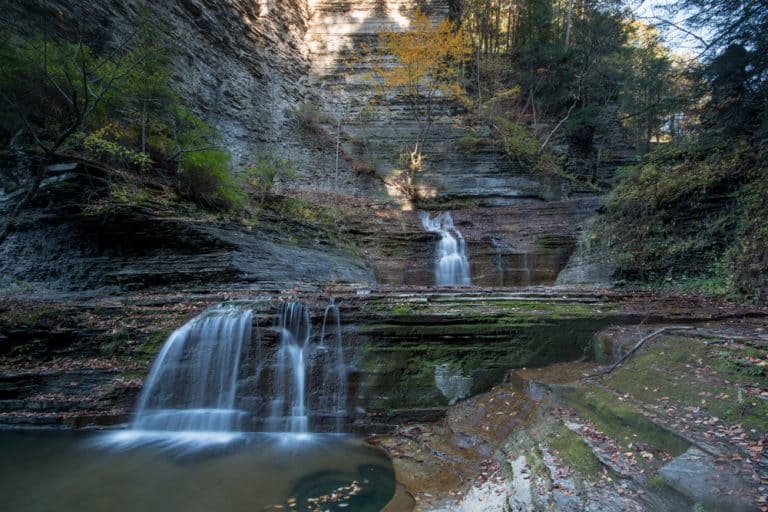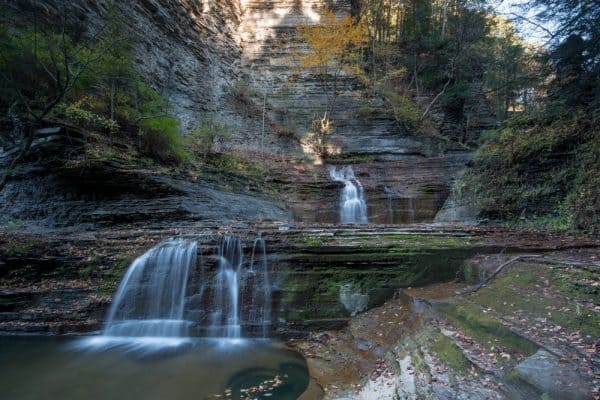 Buttermilk Falls State Park is located south of Ithaca and features one of the most impressive waterfalls in the Finger Lakes.
Buttermilk Falls is located adjacent to the parking area and is said to be 165-feet tall.
Upstream of this main waterfall, the Gorge Trail passes several more beautiful waterfalls as it winds its way through an incredibly beautiful landscape.
Pratts Falls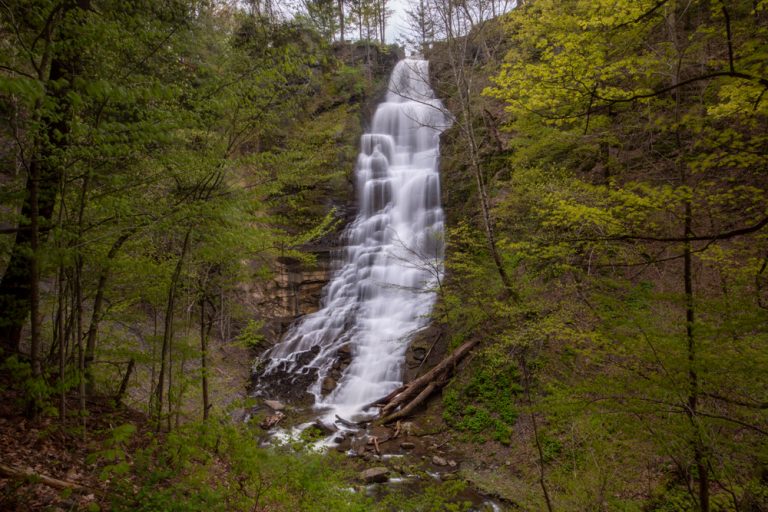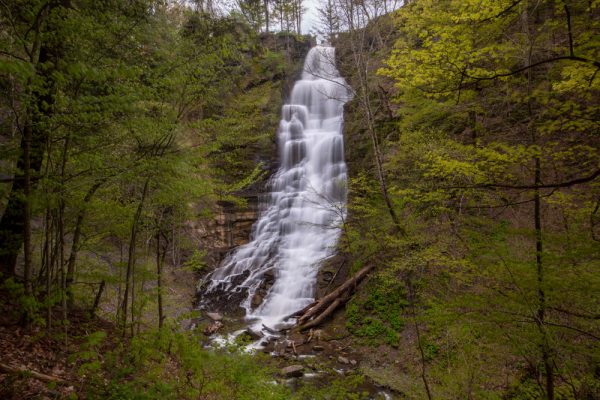 Pratts Falls is located in a local Onondaga County park east of Syracuse. This waterfall can be viewed from above or from near the bottom via a short trail.
Pratts Falls is approximately 137-feet tall and is one of the most beautiful waterfalls near Syracuse, NY.
Just above the waterfall, you can see the stone remnants of structures that were first built in the last part of the 18th century.
Fall Creek Gorge Natural Area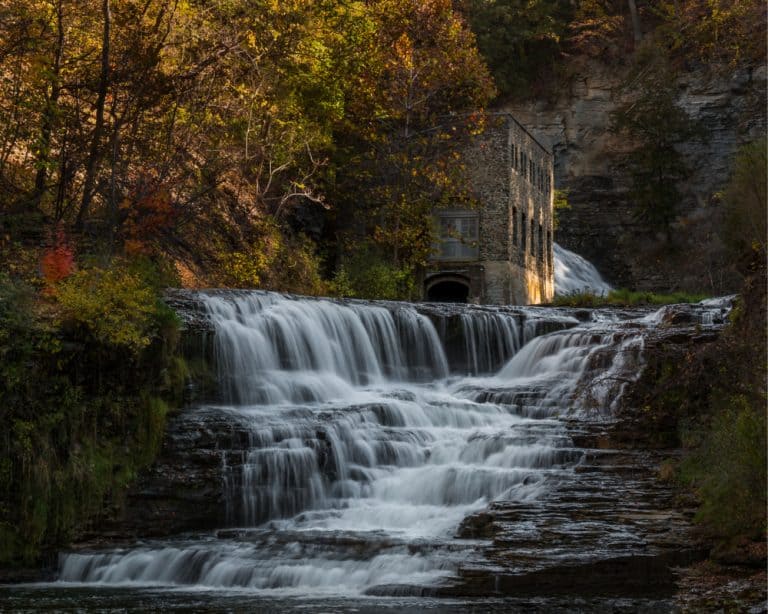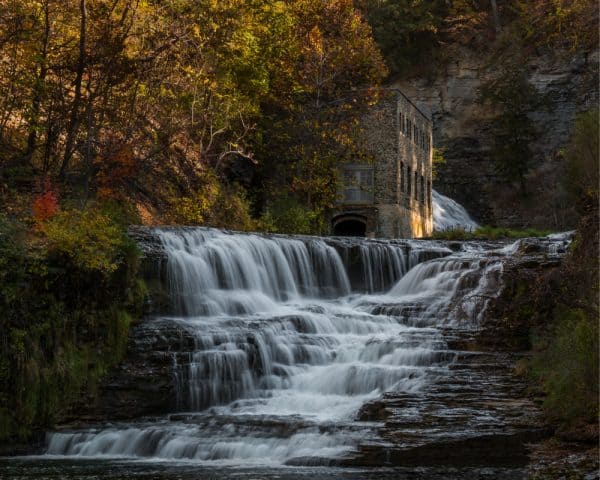 The Cornell Botanic Gardens is an area of land surrounding Beebe Lake and a portion of Fall Creek upstream of Ithaca Falls. The Fall Creek Gorge Natural Area, which is just downstream of the lake, features a series of incredible waterfalls.
The waterfalls here include Triphammer Falls, which is a natural waterfall and dam just below the lake, Horseshoe Falls, an incredible waterfall that you can hike to the base of, and Forest Falls.
Robert H. Treman State Park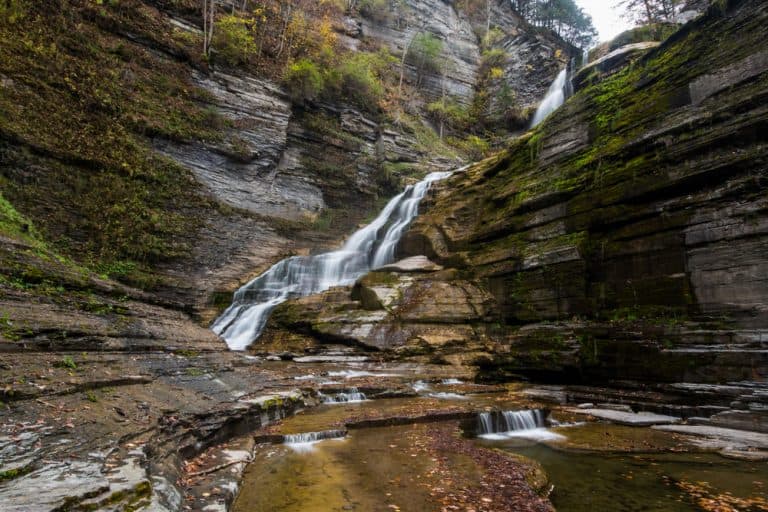 Robert H. Treman State Park is located south of Ithaca and features several gorgeous waterfalls. Of these, two stand out as being especially noteworthy.
Lucifer Falls, which is the in the upper area of the park is a 115-foot waterfall. This makes it one of the tallest of all the Finger Lakes waterfalls. You can view the waterfall from a vista above it or hike alongside it on an incredible stone staircase.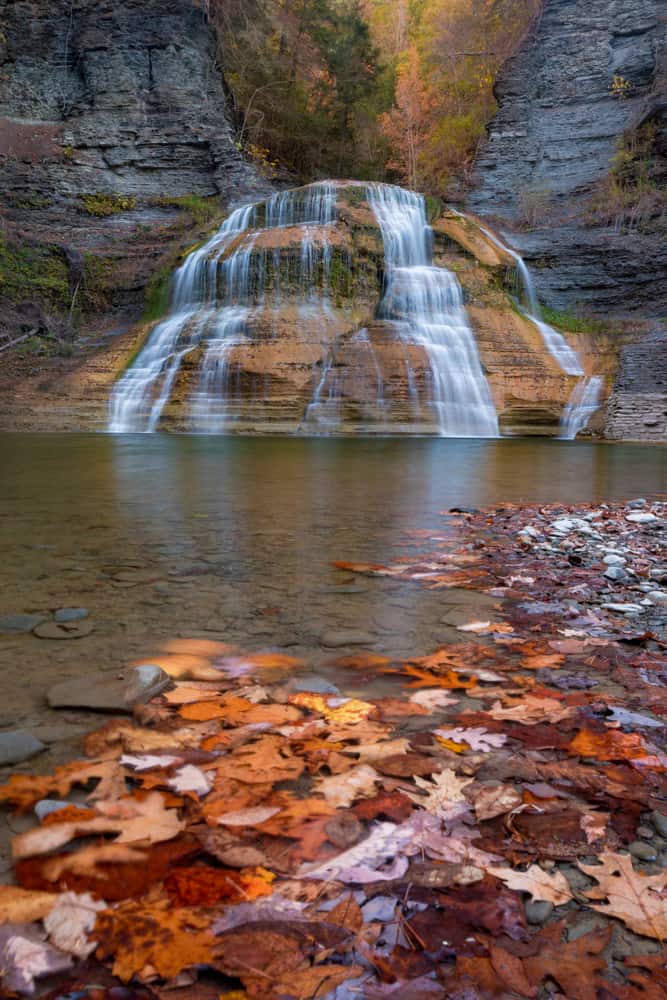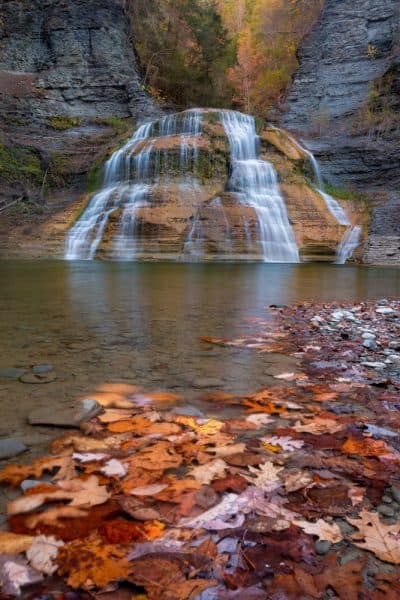 Enfield Falls is located in the lower area of Treman State Park and is one of my favorite waterfalls in the region. Also known as Lower Falls, this waterfall is only about 30 feet tall but has a rather unique shape, and the green and orange of the rock and moss under the water create an incredible looking waterfall.
Ludlowville Falls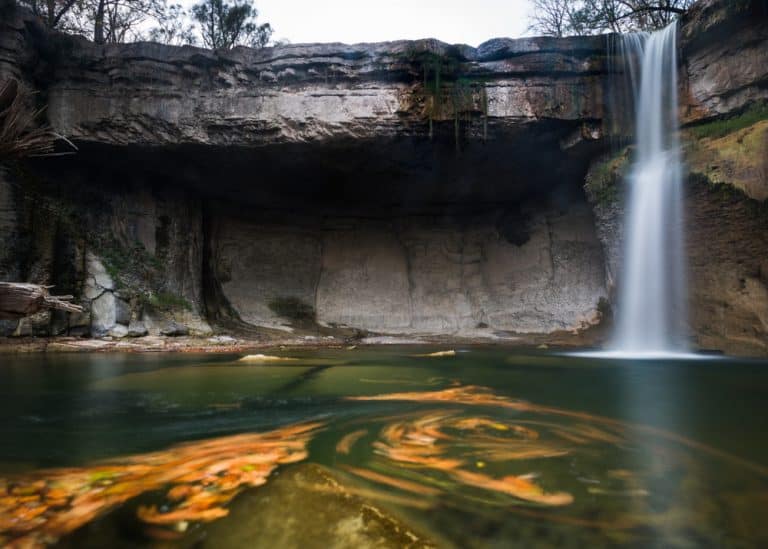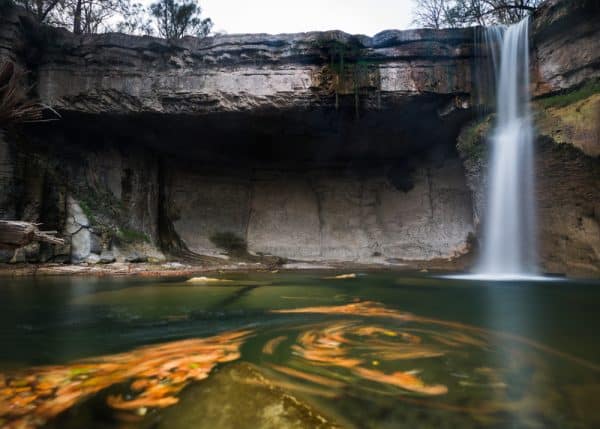 Ludlowville Falls is located on the eastern shores of Cayuga Lake and is a hidden gem in Upstate NY.
This waterfall is 35 feet tall and sits tucked away in the back of a local park. Behind the falls, there is a cave, which creates an interesting look to the waterfall when it's flowing well.
Western Finger Lakes Waterfalls
The western Finger Lakes, at least as far as this article is concerned, is comprised of the following counties: Chemung, Livingston, Monroe, Ontario, Schuyler, Steuben, Wayne, and Yates. Within this region, you'll find popular waterfall spots like Rochester and Watkins Glen.
Letchworth State Park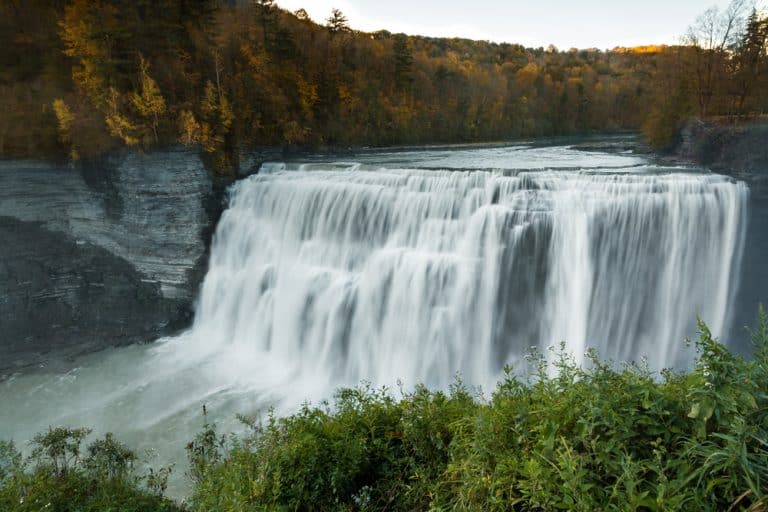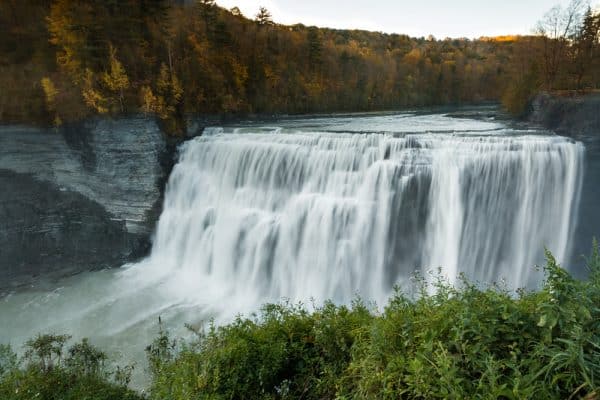 Letchworth State Park sits on the edge of the Finger Lakes and the main viewing areas for the falls are technically in the Greater Niagara region. However, since the border runs directly through the middle of all three waterfalls, and many consider them to be Finger Lakes waterfalls, I've decided to include them on this list.
While there are many hidden waterfalls in the park, the three main waterfalls along the Genesee River are some of the most spectacular in the entire state.
Upper Falls and Middle Falls can be easily seen by almost anyone from near a large parking area. Lower Falls requires a short hike down a steep staircase and along rough terrain but isn't hard for anyone in decent shape to get to.
Watkins Glen State Park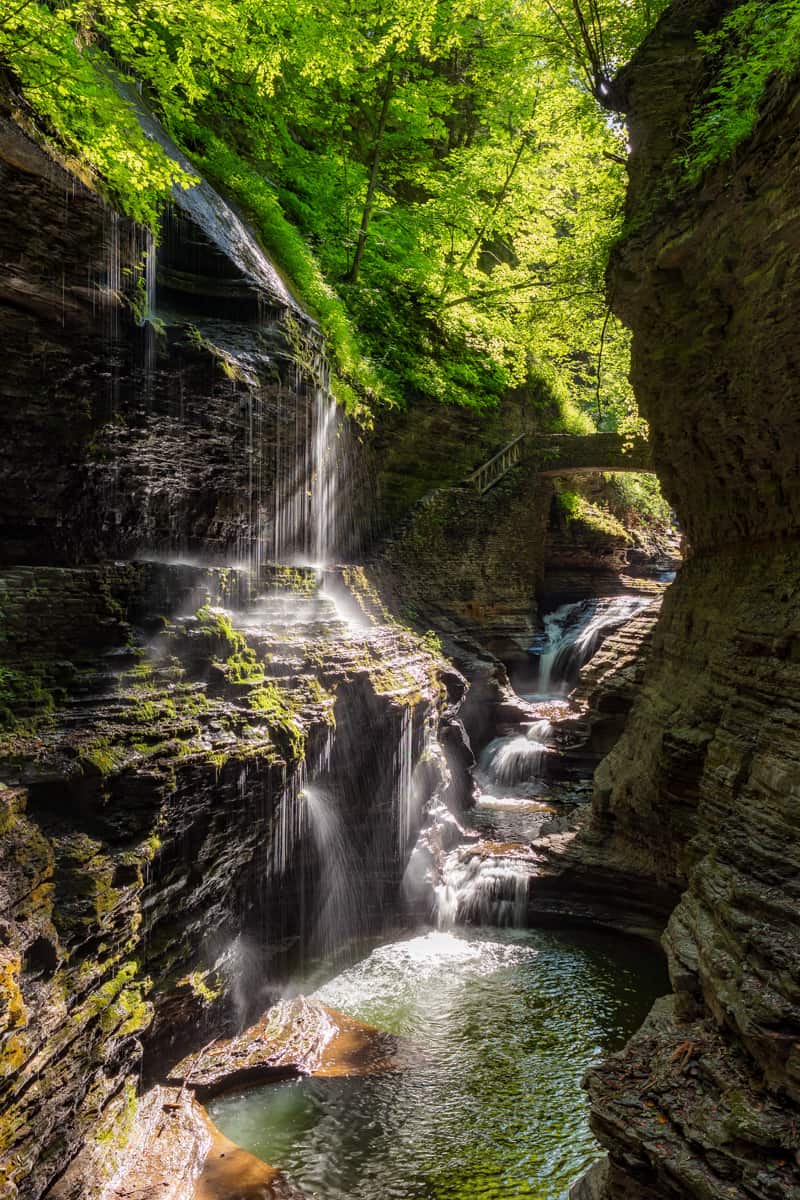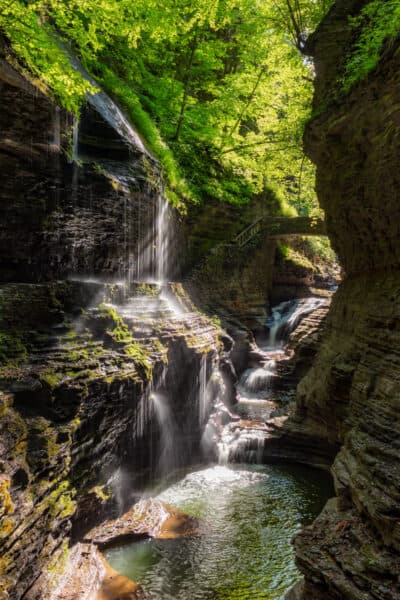 When people think about waterfalls in the Finger Lakes, the Gorge Trail at Watkins Glen State Park is likely one of the first spots to come to mind.
Watkins Glen State Park is home to 19 waterfalls within a 400-foot gorge on the edge of downtown Watkins Glen, NY. Hiking the Gorge Trail through the park offers the chance to see these spectacular waterfalls, but be warned that this is one of the most crowded places in the region.
Eagle Cliff Falls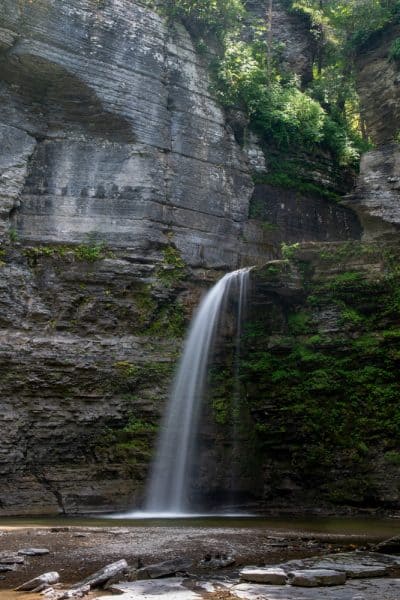 Eagle Cliff Falls is located in Havana Glen Park just a few miles from Watkins Glen. An easy hike of less than a quarter-mile takes you to the base of this incredible waterfall.
Eagle Cliff Falls has carved an incredible channel through the bedrock with two stone walls jutting up high above it. From this precipice, the water drops 40 feet into a cold pool at the base of the falls.
Stony Brook State Park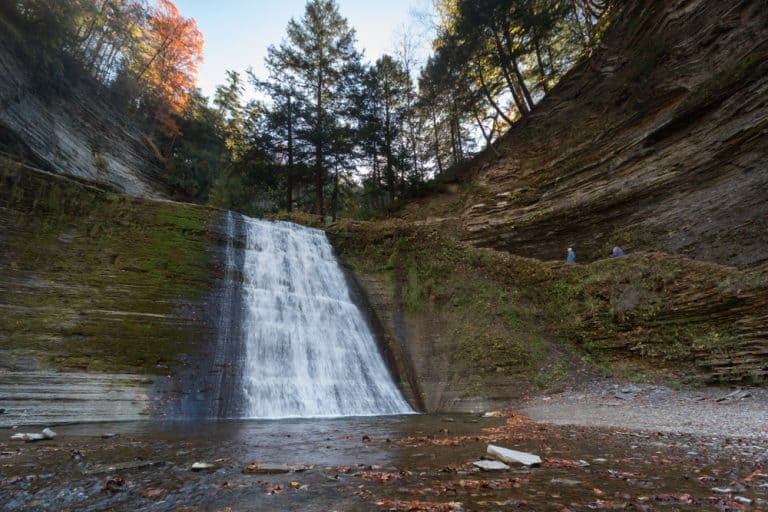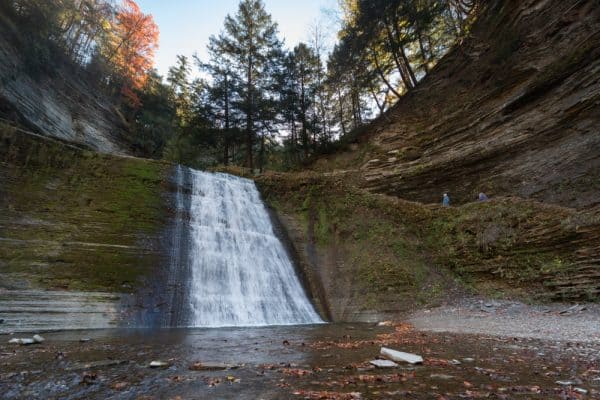 Stony Brook State Park near Dansville, New York, features three beautiful waterfalls along its Gorge Trail. What makes these waterfalls so unique is that they all look very similar, something very uncommon for nearby waterfalls.
Of all the gorges in the Finger Lakes, this is one of the easier hikes, making it perfect for the whole family.
Hector Falls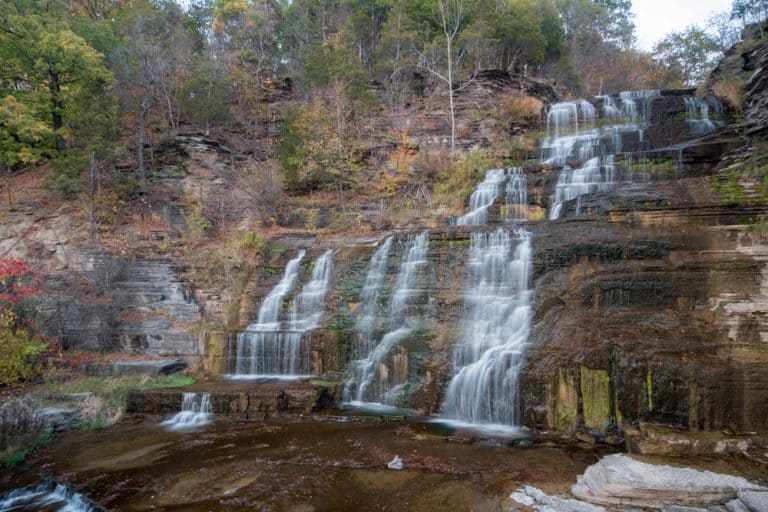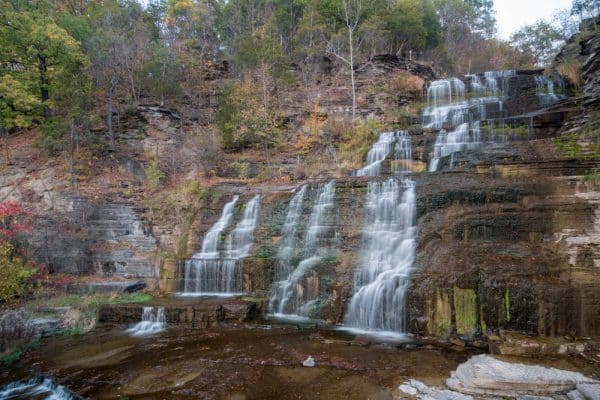 If you want to see a waterfall that requires no hiking at all, you can't do much better than Hector Falls.
Hector Falls is located directly along Route 414 on the western shores of Seneca Lake. It is 165 feet in height, though about 60% of that height is located below the bridge and can only be seen from private property.
It's possible to get a closer look at the upper half of Hector Falls, however, by standing on the bridge over the stream.
High Falls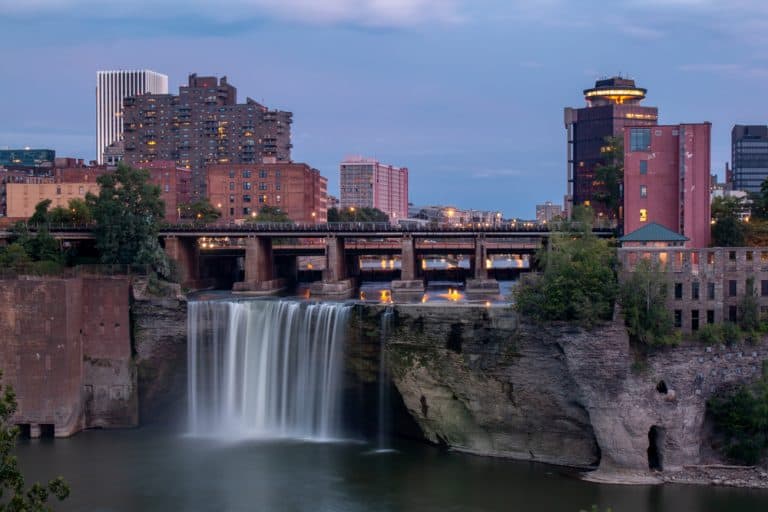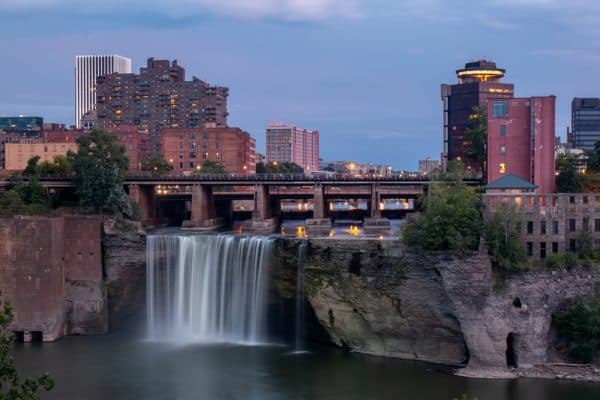 High Falls is located in the heart of downtown Rochester along the Genesee River.
While the setting is somewhat industrial and you can't get very close to the waterfall, this is still a great spot to visit, especially since the flat sidewalks make it accessible to anyone.
From various spots around the falls like High Falls Terrace, the Pont de Rennes Pedestrian Bridge, and the roof of the Genesee Brew House offer amazing views of this spectacular waterfall. This is definitely one of the best spots to visit in Rochester.
Lower Falls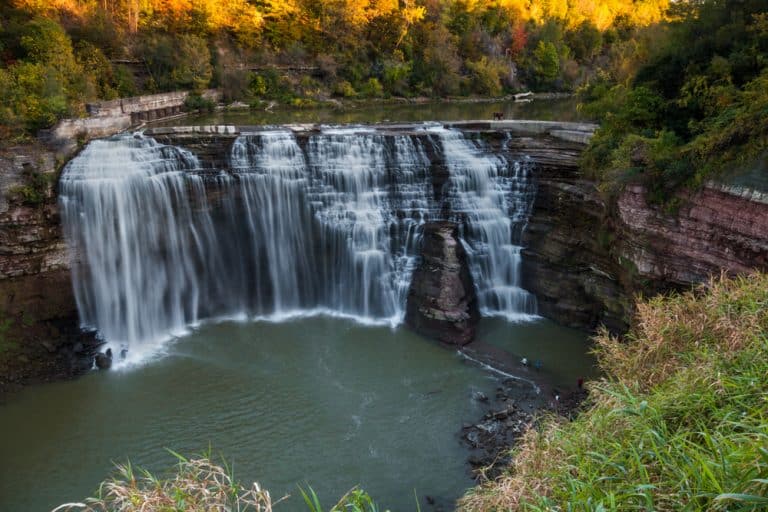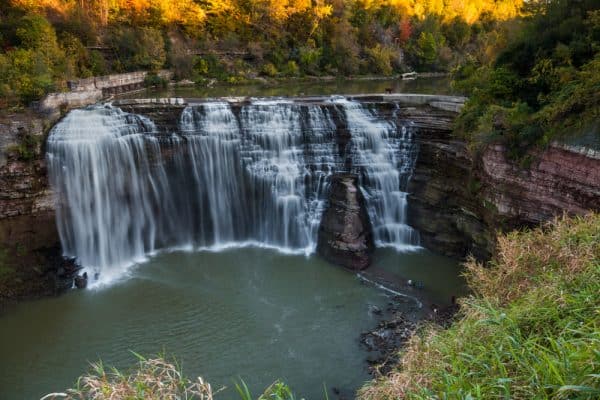 Lower Falls is the second waterfall in Rochester along the Genesee River. This waterfall is located north of the downtown area, but still within a busy part of the city.
This waterfall is actually slightly larger than High Falls and is just as incredible. Viewing areas can be found above the gorge from Lower Falls Park and the Driving Park Avenue bridge. It is also possible to get to the base of the falls via a trail in Lower Falls Park.
Wolcott Falls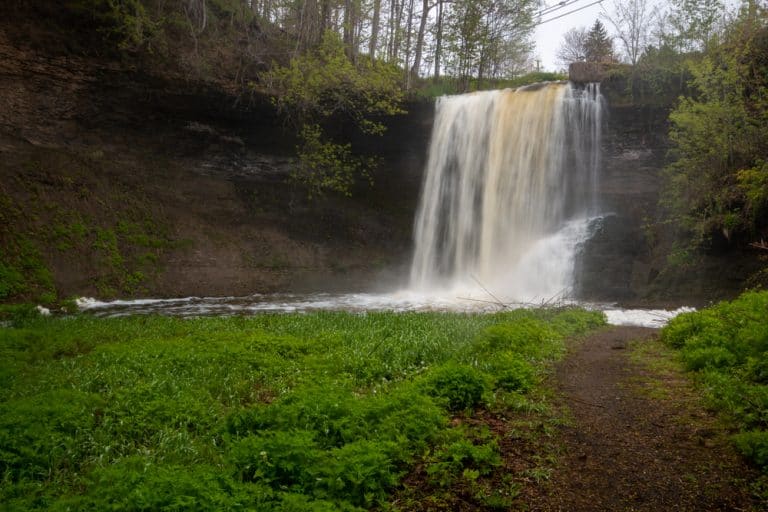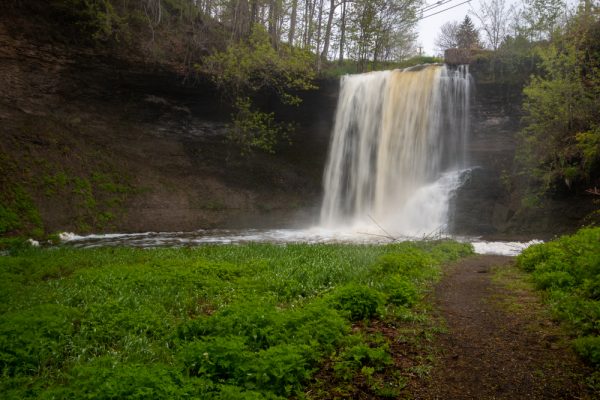 Wolcott Falls is located in the northern Finger Lakes community of Wolcott. The waterfall is located in a small park near the downtown area and is somewhere between 35-50 feet tall (depending on the source you believe).
Viewing this waterfall from above is quite easy thanks to a great viewing platform, but it can also be seen from below via a short, but steep trail to the base of the falls.
Shequaga Falls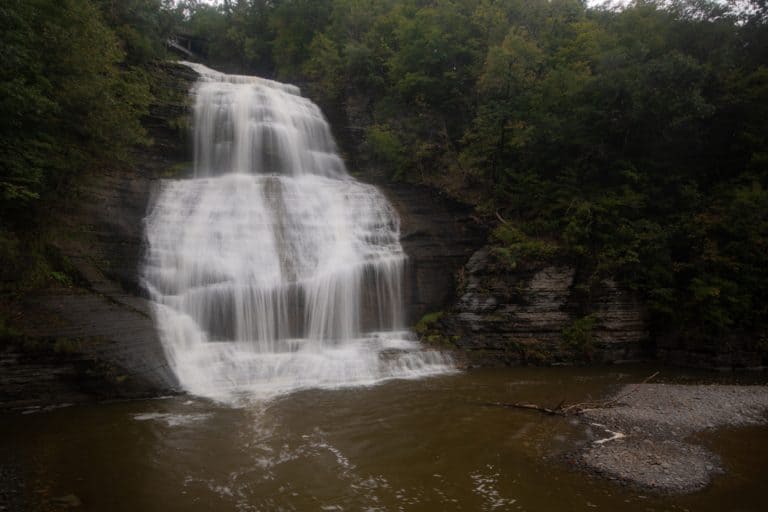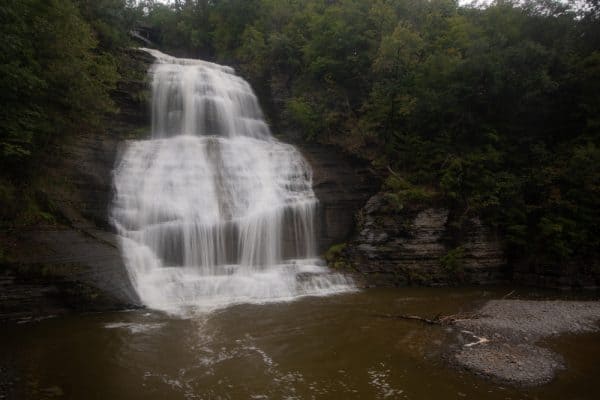 Shequaga Falls is located in Montour Falls, New York, less than five minutes from Watkins Glen State Park.
This roadside waterfall is located along a quaint residential street and can be seen by every visitor thanks to the great sidewalks right up to the base of the falls.
While it's certainly not a difficult waterfall to get to, the 165-foot waterfall is well worth taking a few minutes to enjoy.
Double Drop Falls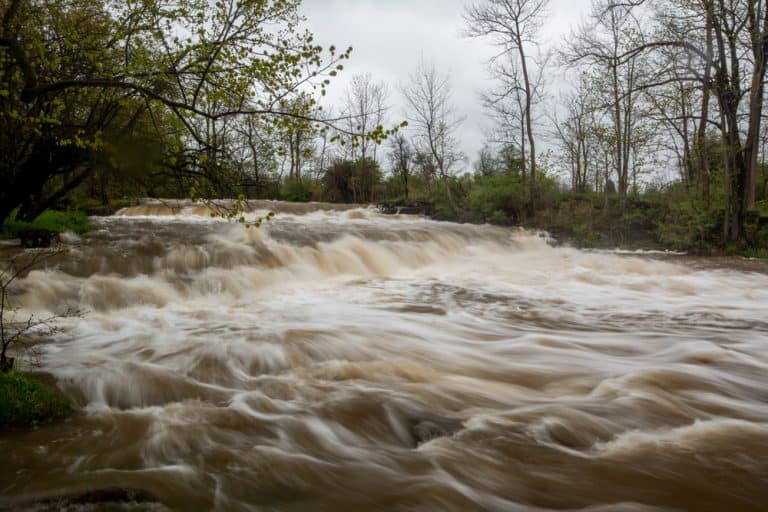 Double Drop Falls is actually two separate waterfalls located along a rail trail in Phelps, New York.
While the waterfalls here aren't overly large (10 feet for the first and 4 feet for the second), they are still quite beautiful waterfalls to see and allow you to hike a beautiful trail.
While these might not be the largest or most dramatic waterfalls in Upstate New York, this is definitely an underrated spot worth checking out if you're in the area.
Honeoye Falls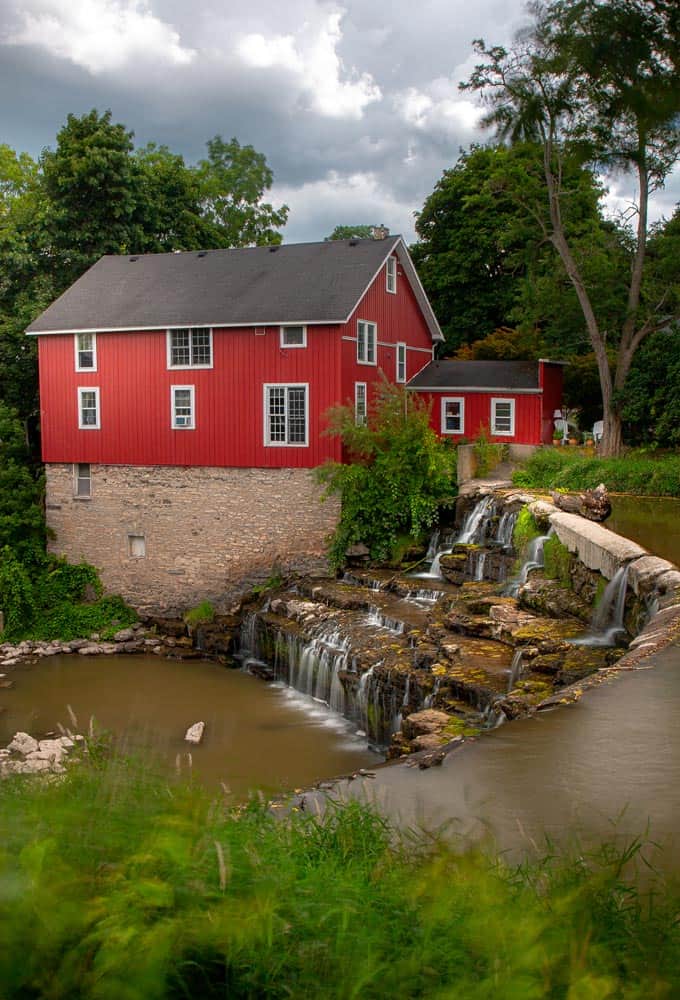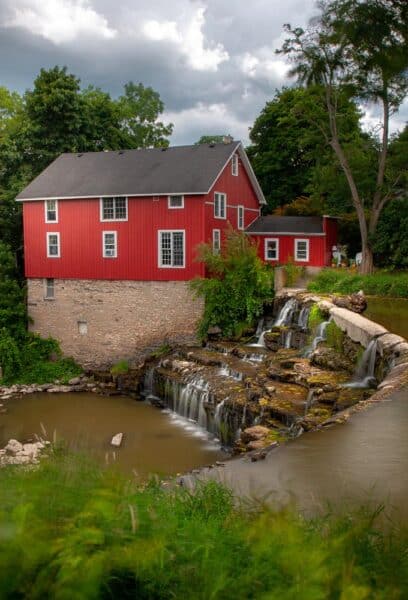 Located in southern Monroe County, Honeoye Falls is a beautiful waterfall located a short distance south of downtown Rochester.
Honeoye Falls is located within a community of the same name and is a natural waterfall topped by a crumbling concrete dam. It is adjacent to a historic mill and is approximately 20-30 feet tall.
While the mill is on private property, there is room to view this scenic waterfall adjacent to the town hall in the community's quaint downtown area.
Deckertown Falls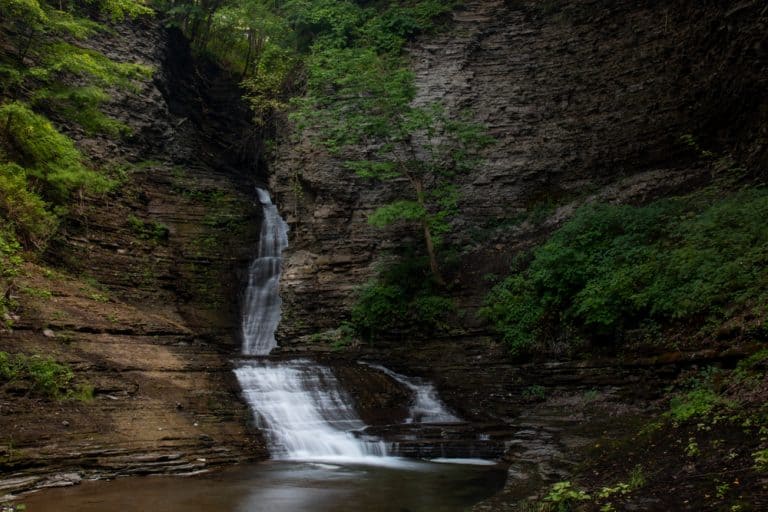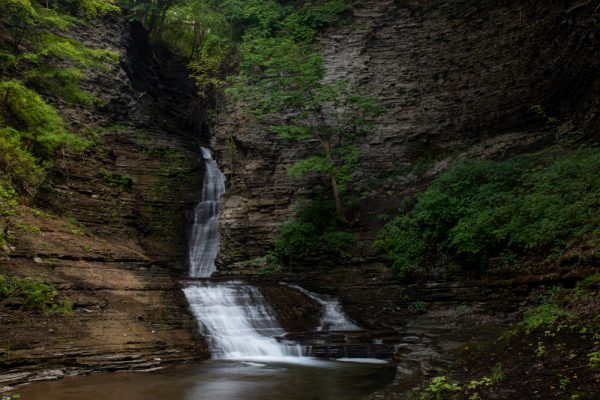 Deckertown Falls is a hidden gem near Watkins Glen State Park.
The trail is hidden at the end of a dead-end road and heads to short distance back to this beautiful waterfall.
There are a total of three drops here and while it's not difficult to get a view of all three, getting close to the upper two waterfalls requires a rather sketchy descent into the gorge that I would only recommend for experienced off-trail hikers.
Waterfalls along the Keuka Lake Outlet Trail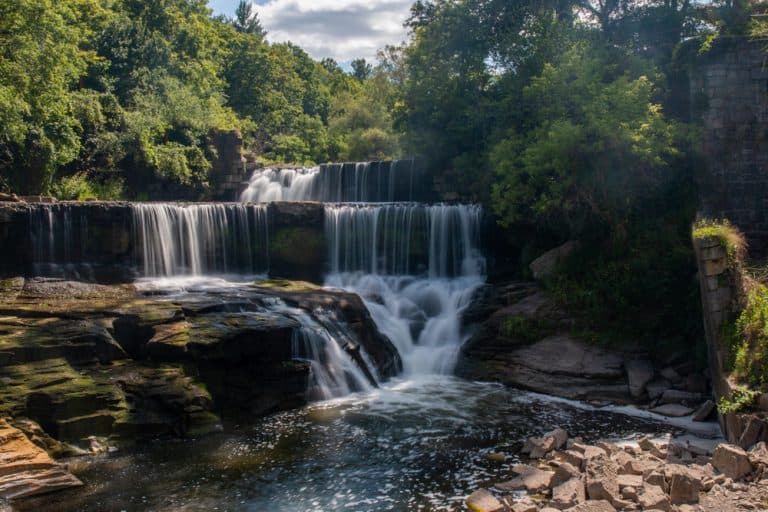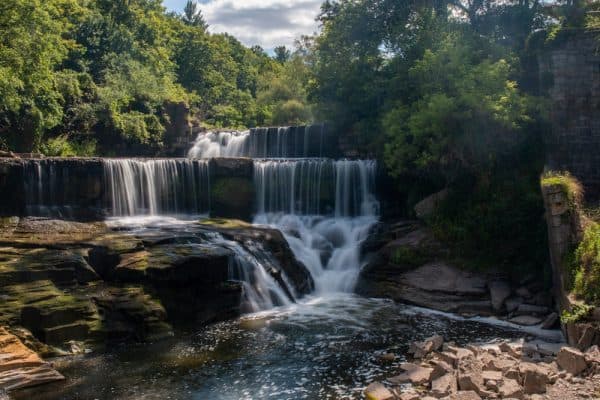 There are two beautiful waterfalls along the Keuka Lake Outlet Trail. This trail runs 6.6 miles from Keuka Lake to Seneca Lake following an old railroad grade, as well as the stream and an old canal.
There are two waterfalls along this trail: Seneca Mill Falls and Cascade Falls.
Seneca Mill Falls is half natural and half man-made and is located adjacent to the ruins of Seneca Mill. It is approximately 30 feet tall.
Further downstream, Cascade Falls is about 10-15 feet tall and is also located next to the ruins of an abandoned industrial building.
Don't let the ruins fool you though, these waterfalls are both incredibly beautiful and worth seeing.
Aunt Sarah Falls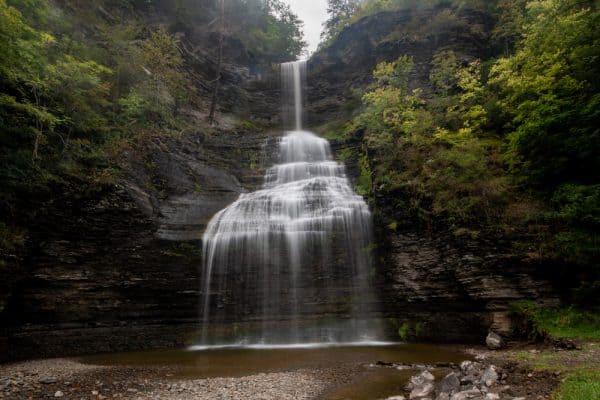 Aunt Sarah Falls is another roadside waterfall located in Montour Falls near Watkins Glen. This waterfall tends to be fairly seasonal, but since it's less than five minutes from Watkins Glen State Park, it's worth the short drive to see if it's flowing.
Aunt Sarah Falls is 90-feet tall and features a ledge near its base that does a great job of fanning out the water and giving this waterfall and a unique look.
Do you have a favorite Finger Lakes waterfall that we didn't mention on this list? Let us know in the comments below.
Looking for other places to visit in the Finger Lakes? Check out the best waterfalls near Albany, the Erie Canal Museum, Mid-Lakes Navigation Boat Tours, and the best breweries in the Finger Lakes.