Disclosure: This article may contain affiliate links. We will make a small commission from these links if you order something at no additional cost to you.
There are hundreds, if not thousands of waterfalls in New York, and you'll find them in nearly every region of the state.
During my travels around the state, I've visited many fantastic waterfalls and written guides to help you visit many of them. However, a few have stood out above the rest as being the best of the best.
Because of that, I thought it would be fun to put together a list highlighting my favorite waterfalls in New York. So, without further ado, here are my picks, in no particular order, for the 10 best New York waterfalls.
Niagara Falls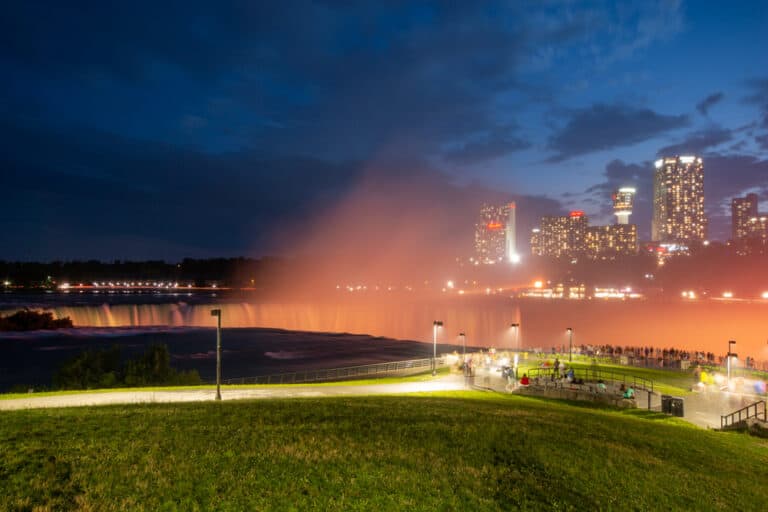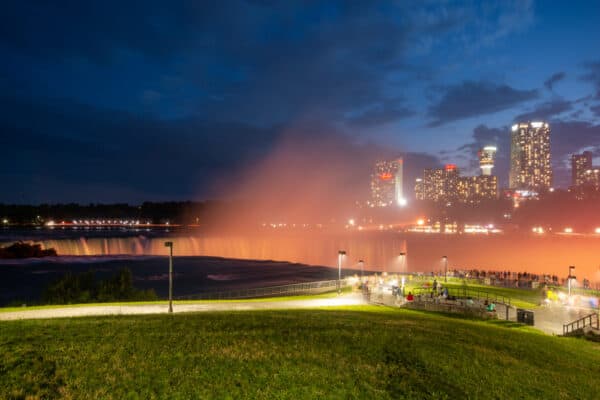 Outside of maybe the Statue of Liberty, there is probably no better-known attraction in New York State than Niagara Falls.
Located on the border with Canada in the northwestern corner of the state, Niagara Fall State Park is actually comprised of three waterfalls: Horseshoe Falls, American Falls, and Bridal Veil Falls. However, since they are usually thought of as one (and all fall from the same river), I've included them in one spot here.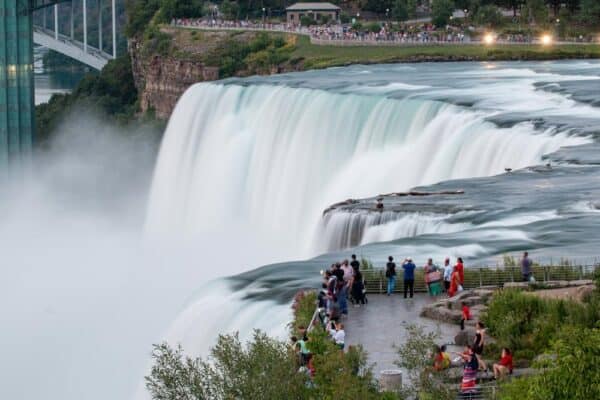 The largest of these three waterfalls is Horseshoe Falls, which features a unique curve that is 2,700 feet long and 167 feet tall. This is the only waterfall of the three to span from the United States into Canada.
Without a doubt, this is one of the must-visit spots in all of New York.
Taughannock Falls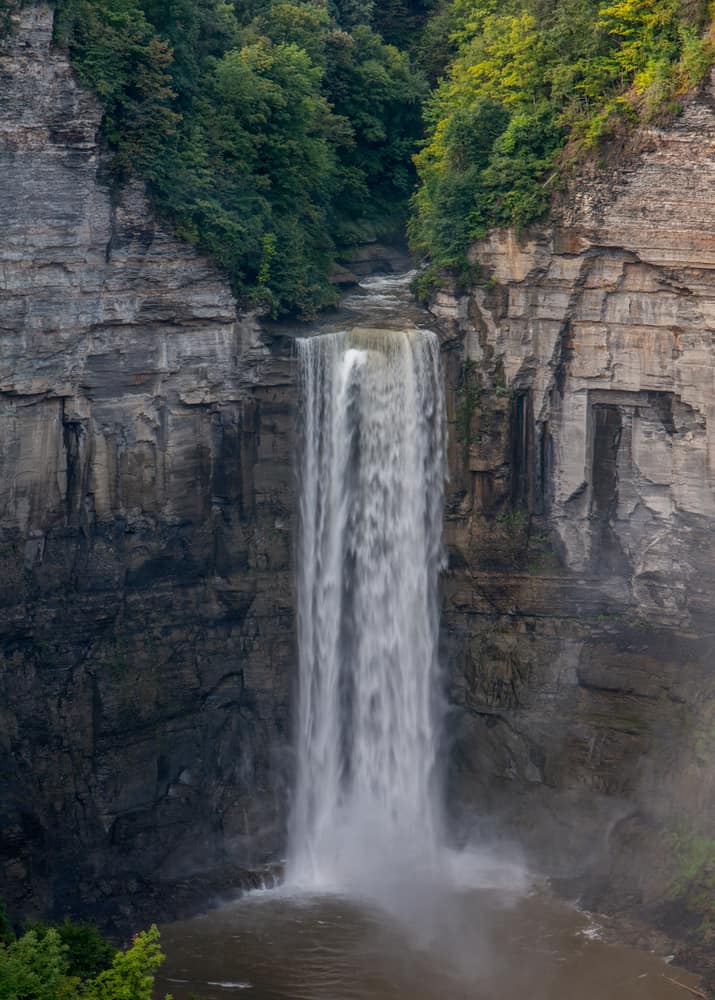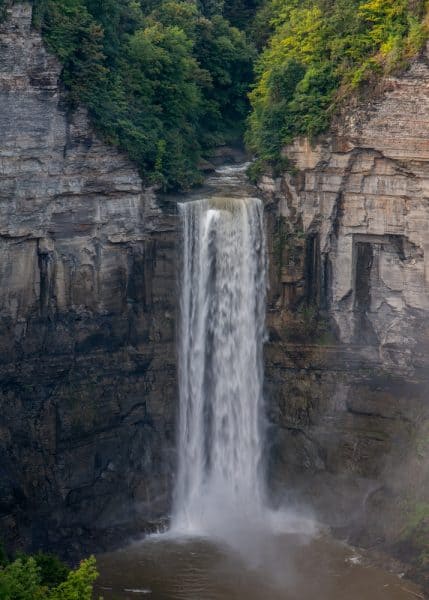 There are many amazing Finger Lakes waterfalls, but, in my opinion, none are better than Taughannock Falls (though there are more in this region further down on this list).
Taughannock Falls is located near Ithaca and is the focal point of Taughannock Falls State Park. There are viewing areas both along the rim and near the base of this massive waterfall.
At 215 feet in height, it is said to be the tallest single-drop waterfall east of the Rocky Mountains. When it is flowing well, it is truly one of the most amazing waterfalls in New York.
Kaaterskill Falls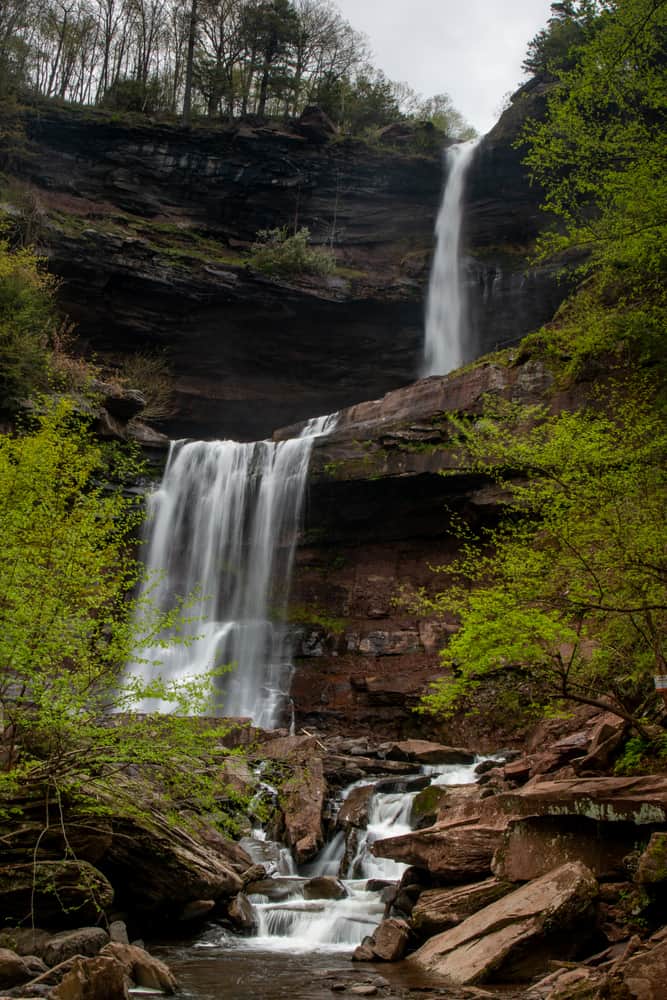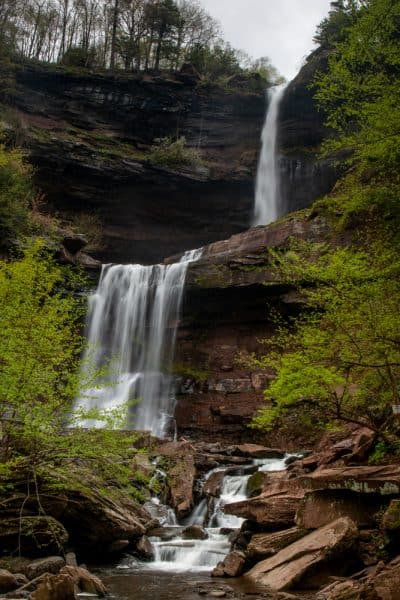 Kaaterskill Falls is located in the Catskill Mountains and has long been drawing visitors to see its incredible beauty. In fact, it was a favorite subject of the Hudson River School of artists in the 19th century.
Kaaterskill Falls features two drops that total 260 feet in height, with the large upper drop making up 175 feet of that total.
Viewing areas can be found both near the crests, as well as from the middle of the two drops and from the base of the waterfall. While I like to visit all three spots, there is really no wrong way to see this incredible waterfall.
Cohoes Falls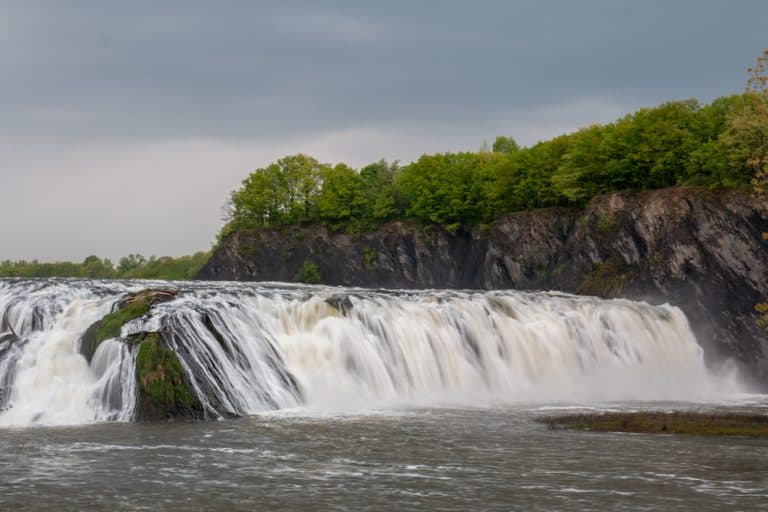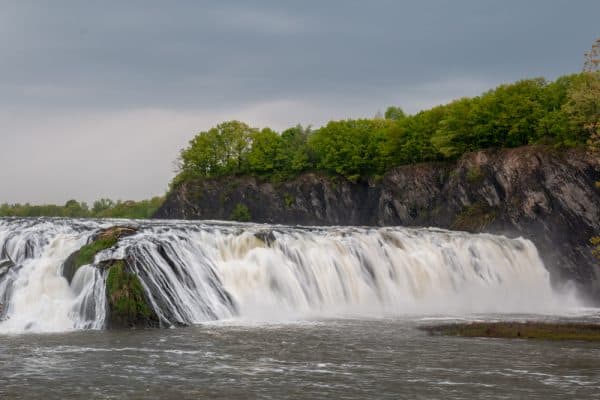 Cohoes Falls is located just north of Albany and has been called the "Niagara Falls of Eastern New York".
This waterfall is massive in size, spanning the entire width of the Mohawk River just before its confluence with the Hudson River. In fact, Cohoes Falls is 1,000 feet wide and as much as 90 feet in height.
There are three viewing areas for this waterfall, with the closer viewing area and the area near the base of the falls closed during the colder months of the year.
This is one of many incredible waterfalls near Albany, NY.
High Falls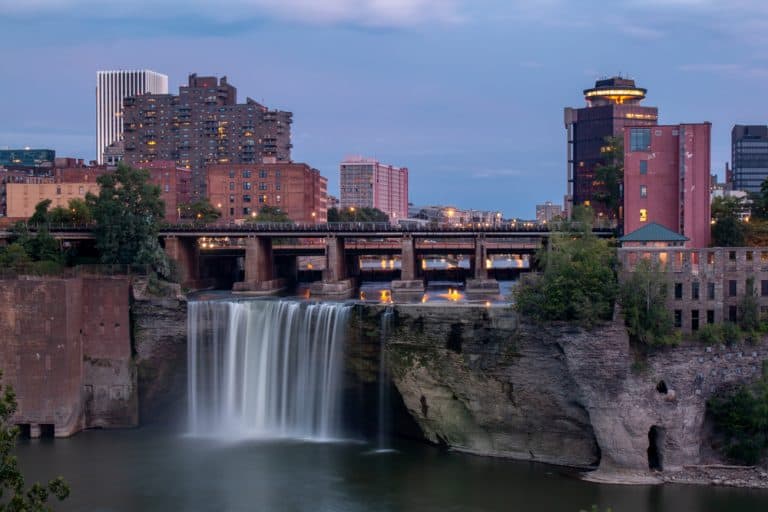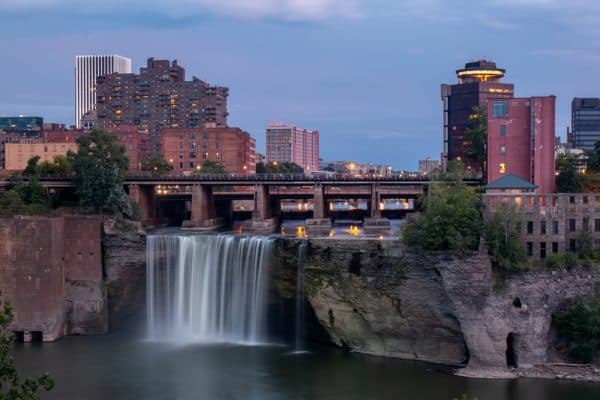 High Falls is located in downtown Rochester and is the first of two waterfalls on the Genesee River on this list (It's also the first of two "High Falls" on this list.)
High Falls is 100-feet tall and falls into a deep and very large gorge that is impressive in its own right. It can be viewed from either side of the river or from the fabulous Pont de Rennes Bridge just downstream.
While Rochester's Lower Falls is larger, what makes this one so special to me is its setting right in the heart of downtown Rochester. While I typically prefer waterfalls in more natural settings, it's hard to argue with seeing a waterfall with the skyline of a city directly behind it.
This is definitely a unique New York waterfall to check out.
High Falls Gorge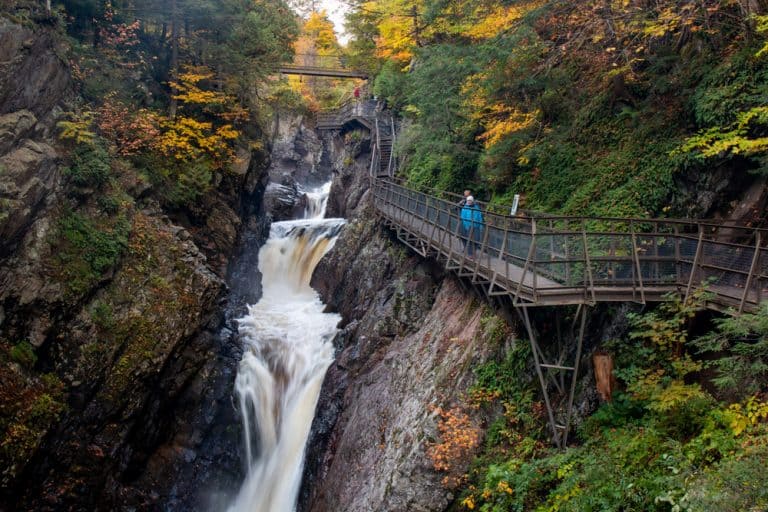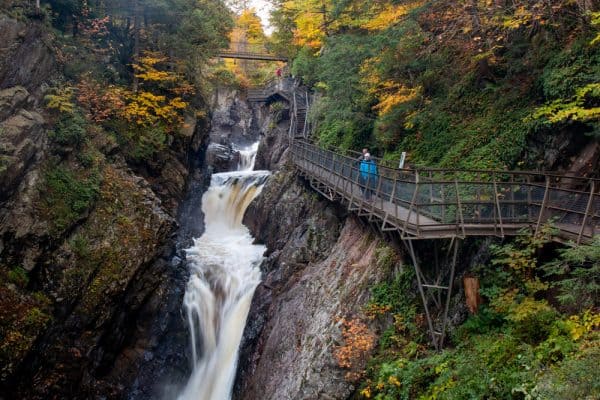 High Falls Gorge (Yes, another "High Falls") is located just outside of Lake Placid in the Adirondacks.
While this isn't the largest waterfall on this list, it's quite impressive how it has cut a narrow channel in the bedrock. There are, in fact, four different waterfalls here, but since they span such a short distance, and seem to have a group name, I thought I'd include them as one in this article.
The other aspect that makes this waterfall so special are the boardwalks that cling to the rock walls through the gorge. These give you access to an otherwise inaccessible area and are really quite impressive, adding a lot to the waterfall.
Salmon River Falls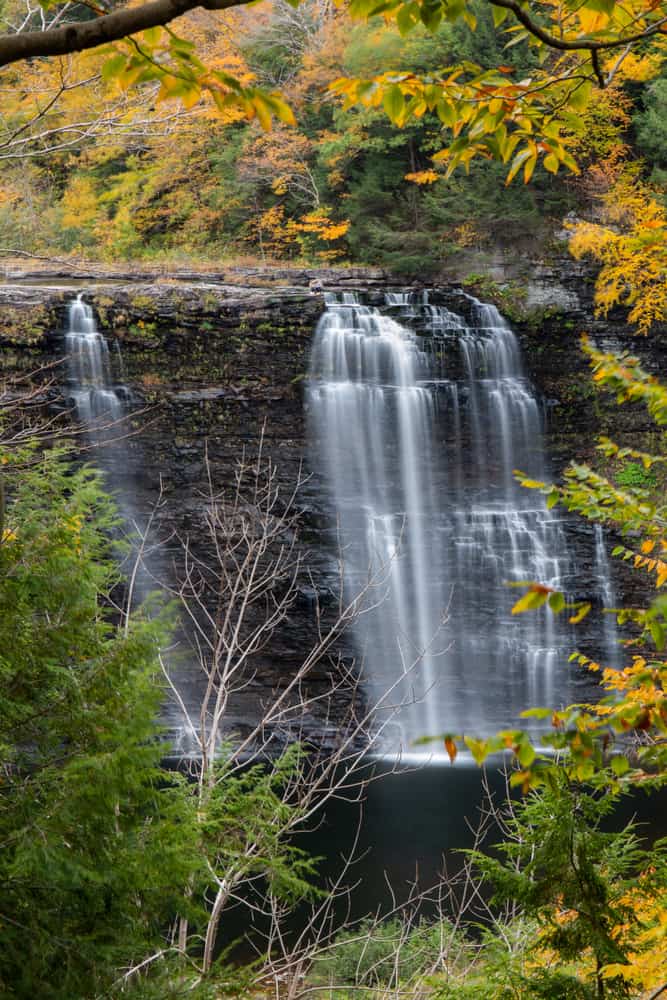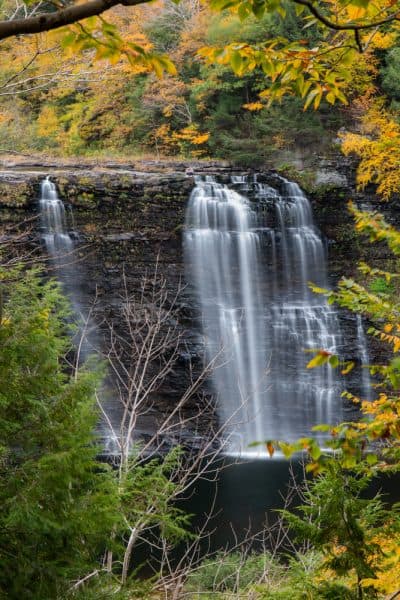 Salmon River Falls can be found about an hour north of Syracuse in Oswego County.
This 110-foot waterfall is located within the Salmon Falls Unique Area and is incredibly impressive to see in person. A short and easy trail from the parking area leads to several viewpoints overlooking the waterfall. There is also a trail down to its base.
In addition to being one of the best waterfalls near Syracuse, this is also one of the best waterfalls in all of New York.
Middle Falls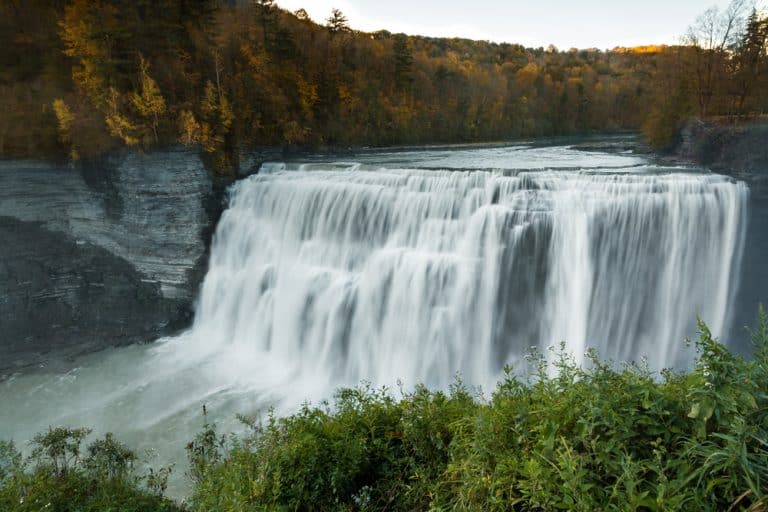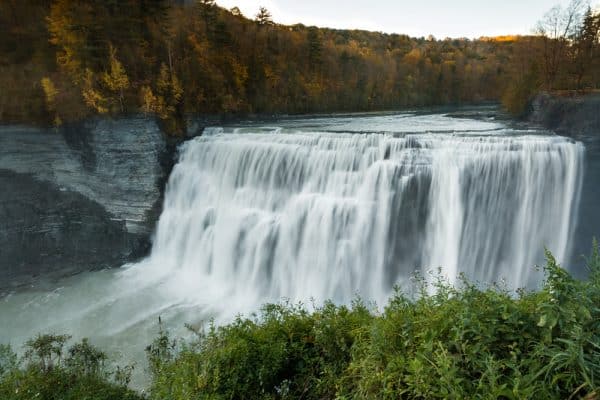 Letchworth State Park is one of the best places in New York to see waterfalls, and, of the three main waterfalls in the park, Middle Falls is my favorite.
Middle Falls can be found along the Genesee River and is 107 feet tall. Viewing areas directly adjacent to the gorge created by the waterfall provide excellent views of this waterfall.
Before leaving this area, head a few hundred yards upstream to check out Upper Falls.
Awosting Falls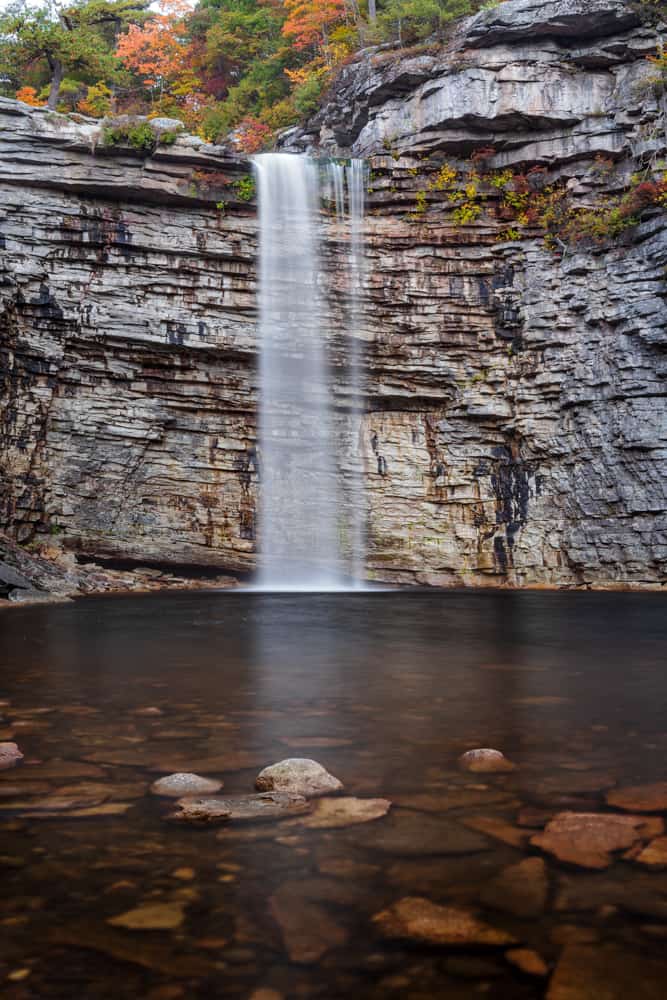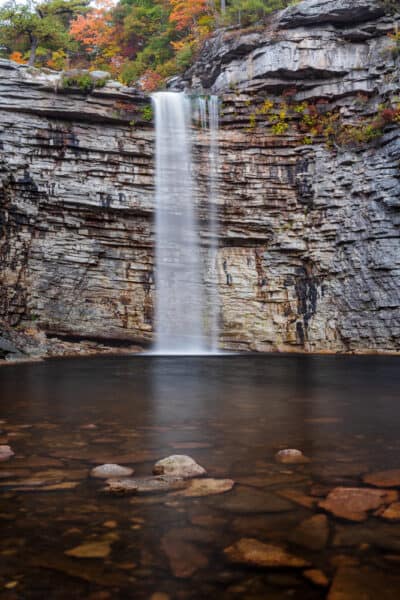 Awosting Falls is located in Ulster County's Minnewaska State Park, one of New York's most beautiful state parks.
Awosting Falls reminds me a bit of Taughannock Falls in its look, though, at 60 feet in height, it's much smaller. That being said, this is still an incredibly impressive waterfall and a joy to visit.
Ithaca Falls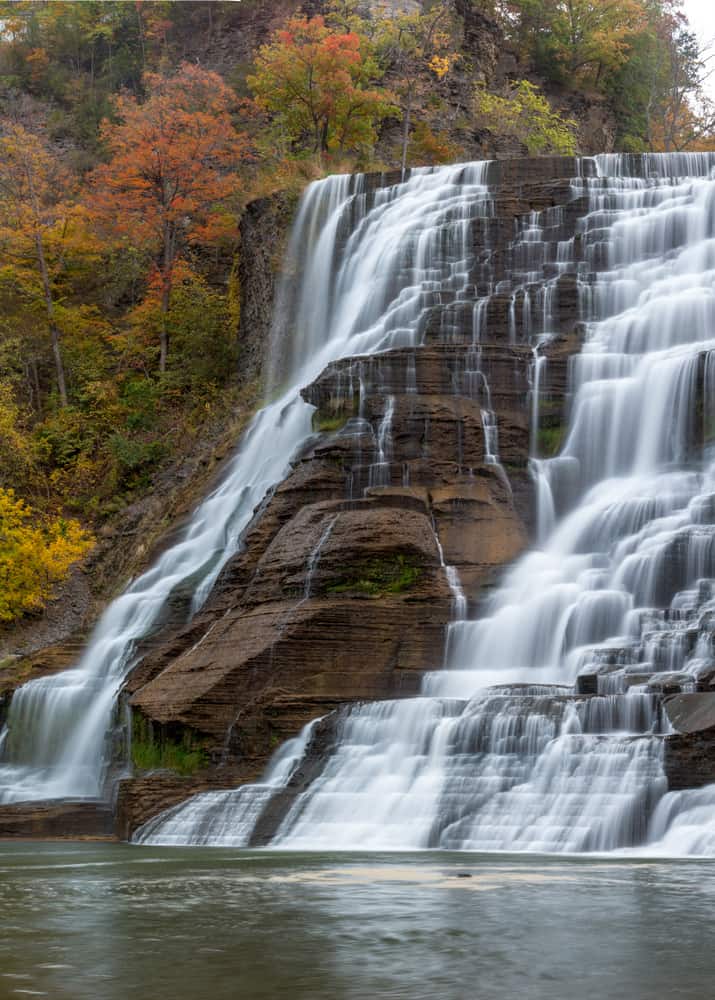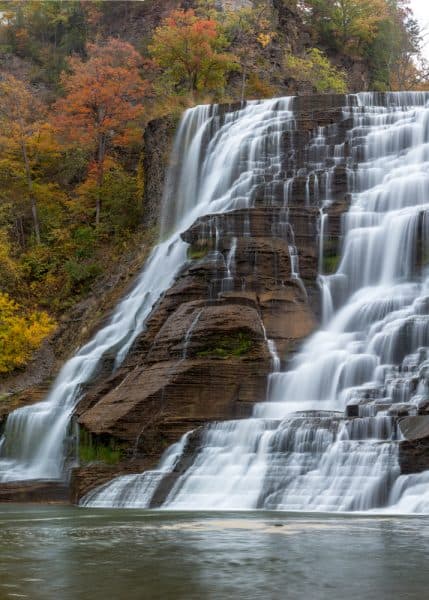 Ithaca Falls is located in the heart of Ithaca, New York, and is one of my favorite waterfalls in the Finger Lakes.
This waterfall is said to be as much as 150 feet tall (though I think that's a bit of an exaggeration). However, regardless of the height of this waterfall, it's still an incredibly impressive spot to visit, and standing at its base is an awe-inspiring feeling.
Ithaca Falls can be easily seen from the road or via a short trail to near its base and is a must-visit waterfall when exploring Ithaca.
Which waterfalls in New York do you think are the most impressive? Let me know in the comments below.
Looking for even more great things to do in New York? Check out the best Finger Lakes Breweries, my favorite things to do in Buffalo, and the top attractions in Syracuse.