Disclosure: This article may contain affiliate links. We will make a small commission from these links if you order something at no additional cost to you.
The Adirondacks region is known for its amazing outdoor attractions, but did you know that there are also a ton of great breweries in Lake Placid, New York?
That's right, Essex County, the home to Lake Placid is a great spot to head if you love beer. Whether you are looking for a bit of a brewery crawl through town or are just wanting a locally-made beer after a long day of hiking, there are some great choices in the area.
Here are some of the best breweries in Lake Placid and Essex County.
Great Adirondack Brewing Company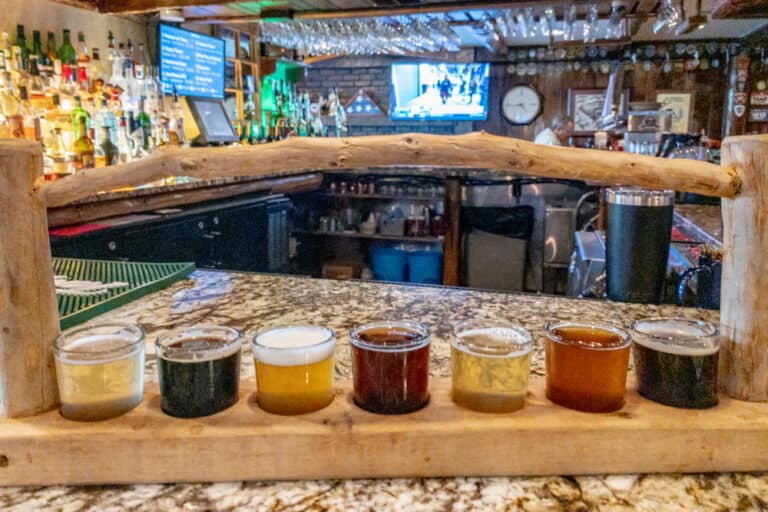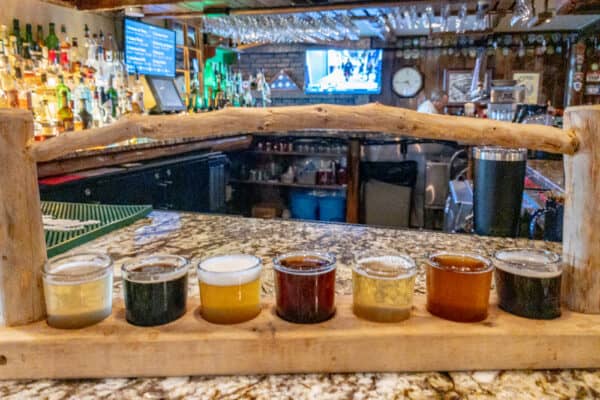 Great Adirondack Brewing Company is located in downtown Lake Placid and is one of the region's oldest breweries, opening in 1996 in Plattsburgh before moving to Lake Placid the following year.
This brewery is housed in a building that feels very much like an Adirondack lodge and features great views of Mirror Lake. This makes it a great spot to sit and relax while enjoying a few beers or some food.
During my visit, I had a chance to get a flight of all seven beers that they had on draft. These beers were fairly standard in their offerings with nothing too far out of the box and ranged from cream ales to New England IPAs and stouts.
Their Whiteface Stout is a multi-award winner at the Great American Beer Festival and was very, very good. Even if you aren't a huge fan of stouts, this is a great one to try.
Great Adirondack Brewing Company is located at 2442 Main Street in Lake Placid.
Lake Placid Pub and Brewery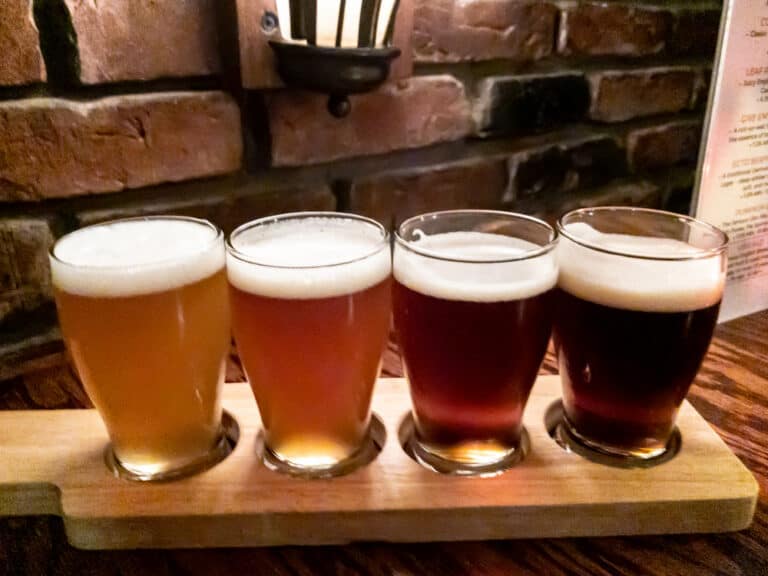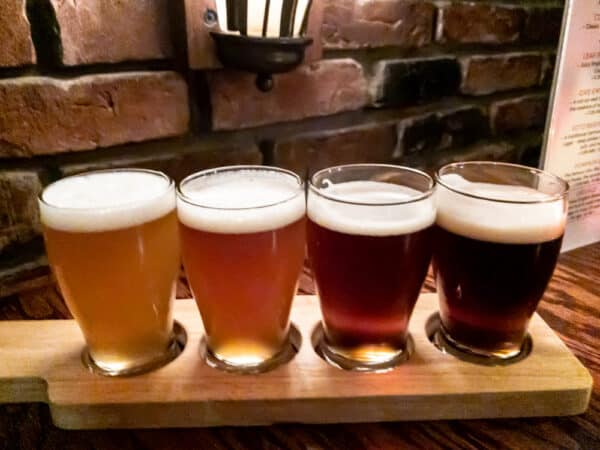 Lake Placid Pub and Brewery is the second of the breweries located in Lake Placid's downtown core.
This Adirondack institution opened in 1996 in Lake Placid and is one of the region's largest breweries, though you wouldn't know it as it just feels more like a regular restaurant than a large brewery.
During my visit, Lake Placid Brewery had half-a-dozen beers on draft, of which I had a chance to try four.
Interestingly, my favorite of their beers was the Pumpkin Ubu Ale. While I'm usually not a huge fan of pumpkin beer, the inclusion of lactose and the great pumpkin flavor really made this beer a standout.
On the other end, while IPAs are usually my favorite style of beer, I must admit I wasn't a fan of their Give Em an Inch IPA. However, the other beers I tried were pretty tasty.
Lake Placid Pub and Brewery is located at 813 Mirror Lake Drive in downtown Lake Placid.
Big Slide Brewery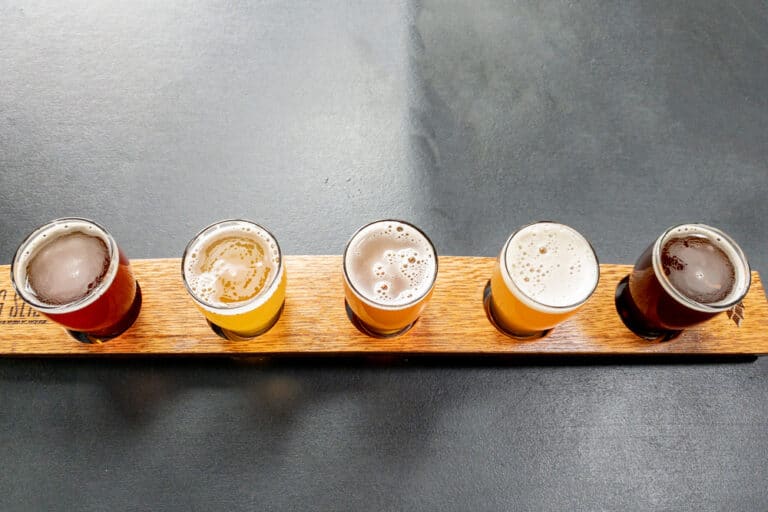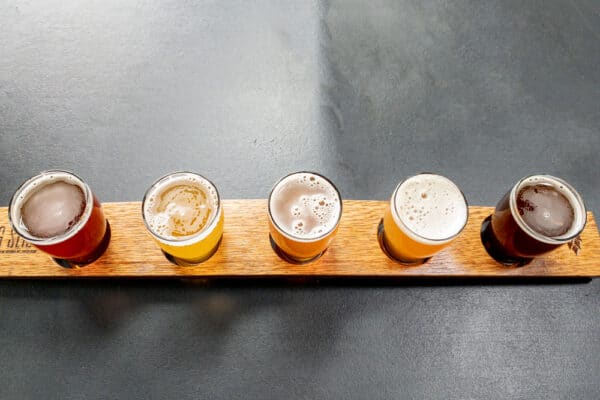 Big Slide Brewery is located south of downtown Lake Placid near the Olympic Ski Jump Complex and the John Brown Farm State Historic Site. It is owned by Lake Placid Pub and Brewery, though they feature totally different beers from their sister brewery.
Big Slide opened to the public in 2016 and since then has won many awards both locally and in state-wide competitions. Their restaurant has a great ambiance with both the kitchen and brewing equipment in full view.
During my visit, I had a chance to try a five-beer flight here.
My favorite was the Giant Double IPA, which won a gold medal as the best double IPA at the 2017 New York State Craft Beer Competition. Interestingly, I found their other IPAs just average, but their double definitely is quite tasty.
One thing I liked about the beer options here was that there were several that were outside of the box including, during my visit, a sour amber ale that was mixed with barleywine and a dark wheat beer.
Big Slide Brewery can be found at 5686 Cascade Road just south of Lake Placid.
Ray Brook Brewhouse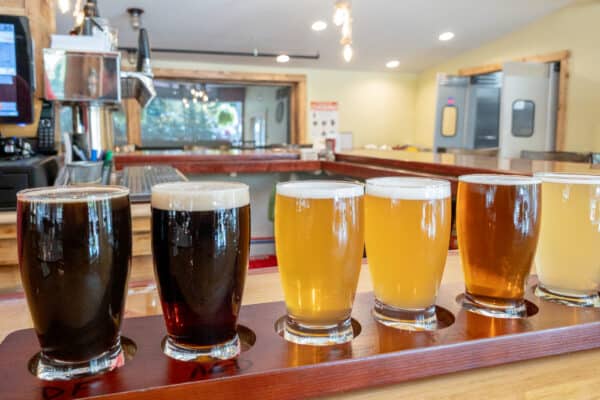 Ray Brook Brewhouse is located along Route 86 roughly halfway between Lake Placid and Saranac Lake. The brewery is located in a beautiful wooden building that reminded me, in some ways, of Raquette River Brewing in Tupper Lake.
During my visit, Ray Brook Brewhouse had one of the best overall selections of beers with 11 of their beers on draft, as well as a guest cider. They offer both four and six beer flights. I, of course, opted to try six different beers.
My favorite beer was their Slab of Granite IPA which was a strong beer and probably would only be enjoyed by those that like big IPAs. For those that like lighter beers, their Art Gar-Dunkel and Wild Guava Sour were also standouts.
Ray Brook Brewhouse can be found at 1153 NY-86 about five miles west of Lake Placid.
Blue Line Brewery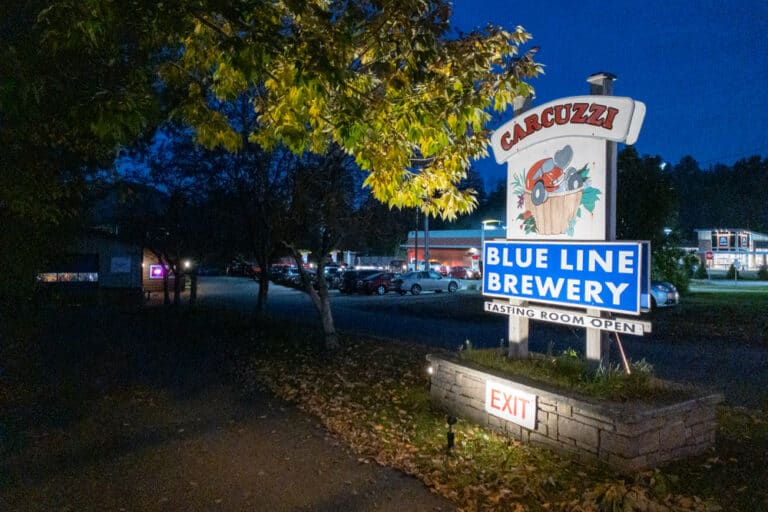 Blue Line Brewery is located in nearby Saranac Lake, but since it's still in Essex County, I figured I'd included it on this list of breweries in Lake Placid.
Unlike the other places on this list, Blue Line Brewery felt more like a local bar than a touristy brewery. However, it's still a nice spot to try some locally-made beers and is the only brewery in Saranac Lake.
Blue Line typically has around 6-7 different beers on draft and there is a nice range of styles here.
During my visit, I had a chance to try Leaning Pine IPA. This was a bit more of a session IPA than a bold IPA, but it had a nice flavor and definitely goes well with their popular pizzas.
Blue Line Brewery can be found at 555 Lake Flower Avenue in Saranac Lake, about 15 minutes west of Lake Placid.
If you're looking for a great place to stay nearby, check out Gauthiers Saranac Lake Inn within walking distance of Blue Line Brewery.
Looking for more great places to visit in the Adirondacks? Check out the Lake Placid Olympic Museum, Jay Covered Bridge, Valcour Brewing Company, and High Falls Gorge.