Disclosure: This article may contain affiliate links. We will make a small commission from these links if you order something at no additional cost to you.
There are few more polarizing figures in American history than John Brown. To some, he's a martyr who tried to start a revolt to free the slaves. To others, he's a militant traitor who tried to start a Civil War. And to others still, he's one of the most complicated figures in American history.
John Brown lived in many different places in his life, often moving where needed in his cause to end slavery. However, in 1849, Brown and his family moved to a large farm in the Adirondacks at North Elba, near present-day Lake Placid, New York.
Brown had been fighting in Kansas to keep the territory from becoming a slave state when he heard that abolitionist Garrit Smith had purchased a large tract of land in northern New York to provide farms for freed slaves. Brown moved his family from Springfield, Massachusetts (where they had lived while he was in Kansas) to northern New York. Here, he bought land on the community Smith called Timbuctoo.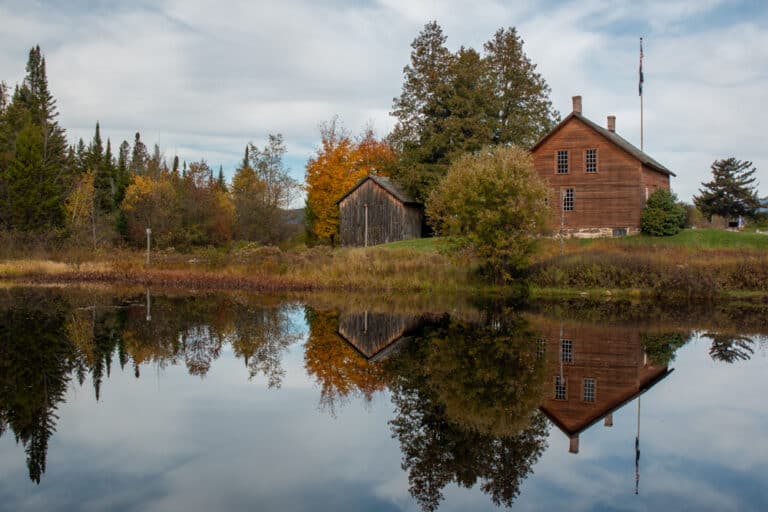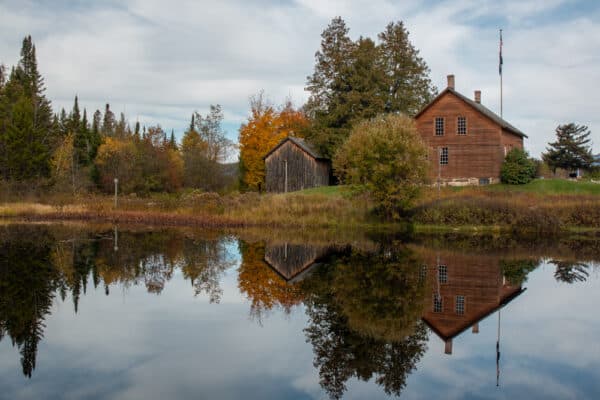 Brown was in the community as a leader and teacher to those that settled in this cold and difficult to farm area of the state. These difficulties were a large part of the reason that the community failed to succeed, and, in 1855, Brown returned to Kansas to fight the pro-slavery forces there (though his wife and younger children remained on the farm).
Brown believed that only bloodshed could end slavery, so, in 1859, he and 21 others launched a raid on Harper's Ferry, West Virginia (at the time part of Virginia) in an attempt to start a slave revolt. Interestingly, Brown had tried to convince two other New York abolitionists, Harriet Tubman and Frederick Douglass, to join his raid.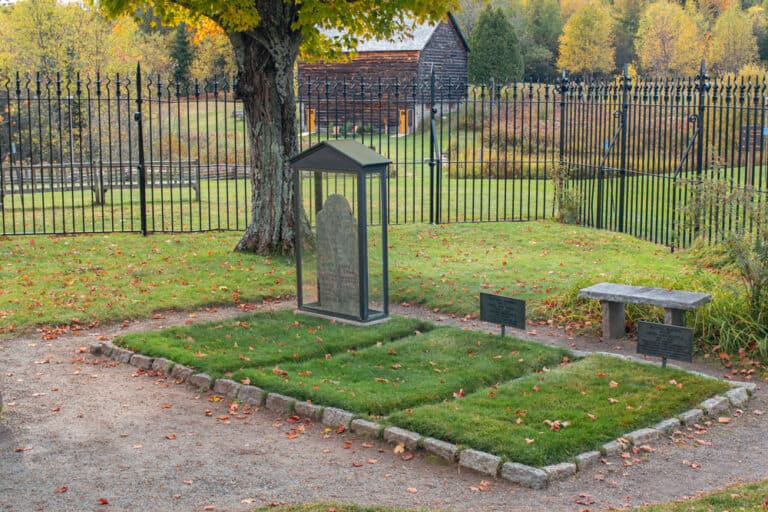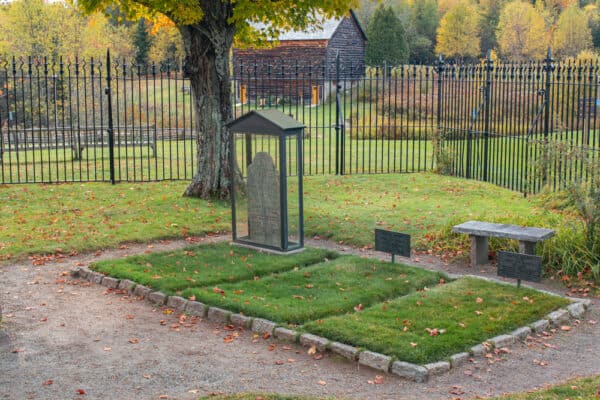 The raid failed, and, on December 2, 1859, John Brown was executed in Virginia for treason (the first American to ever be executed for this offense).
After his failed raid and death (which also took the lives of two of his sons), Brown and his sons were buried on the family farm in North Elba, New York, along with several other men that were under his command.
Today, the farm is open to the public as the John Brown Farm State Historic Site. This 270-acre property consists of the Brown home, his barn, as well as the grave of John Brown, three of his sons, and several others that died in the raid on Haper's Ferry.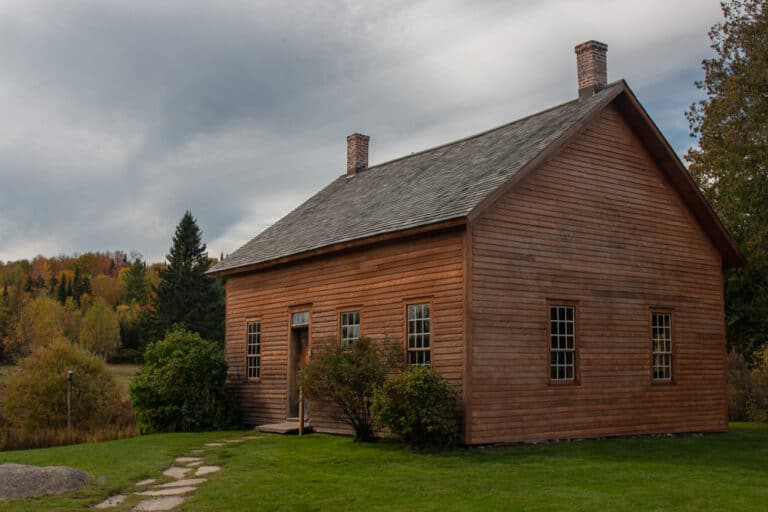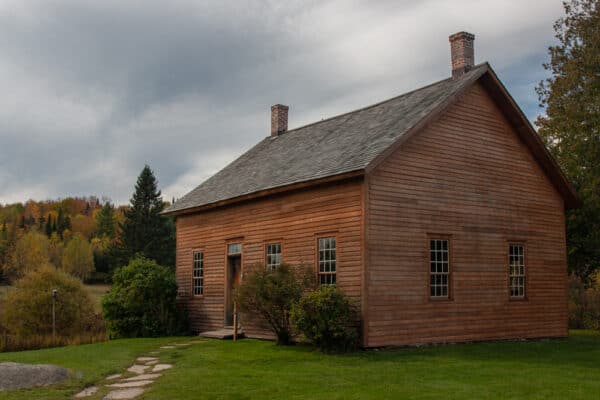 Since Brown has always fascinated me, I was excited to take some time away from the many great outdoor activities in the Adirondacks and the charming town of Lake Placid to learn more about his life in Upstate New York.
John Brown Farm State Historic Site is located about 2.5 miles south of downtown Lake Placid. From the parking lot, you can see the top of the Olympic Ski Jumping Center poking out above the trees.
The grounds here are open year-round for those that want to walk the land and see Brown's grave. The home and barn are open for tours from May through October.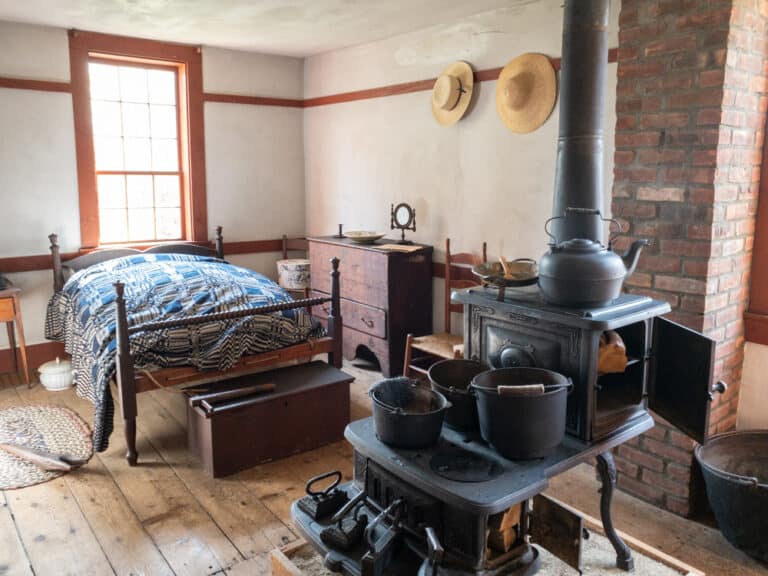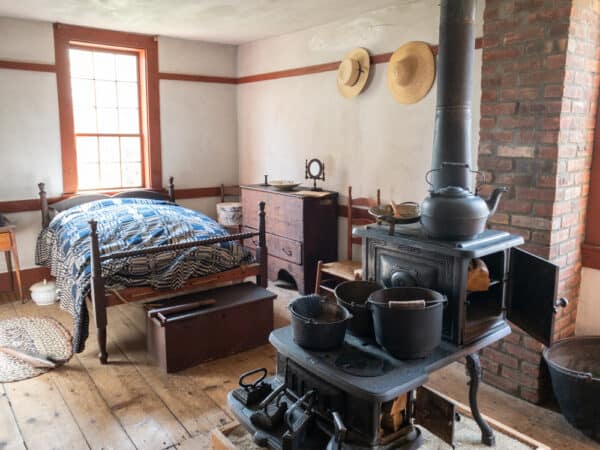 While you can start your visit anywhere, I suggest starting with a tour of John Brown's home.
This cabin isn't overly large and docent-led tours take only a few minutes to see the entire structure. During the tour, most of the talking isn't about the home per se, but more about John Brown's life, the colony of Timbuctoo, and life on the land in the mid-19th century.
The Brown family built this home around 1850 and occupied it until 1863 when the remainder of the family moved away. In 1870, the land was purchased to help preserve the grounds as a memorial to Brown. The home has been restored to its appearance in 1860.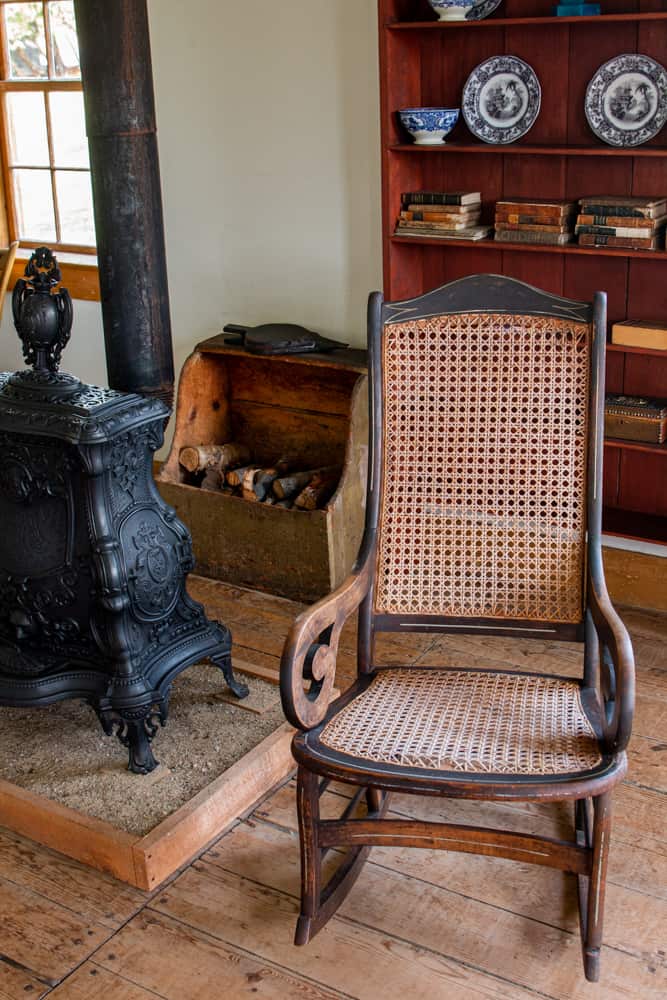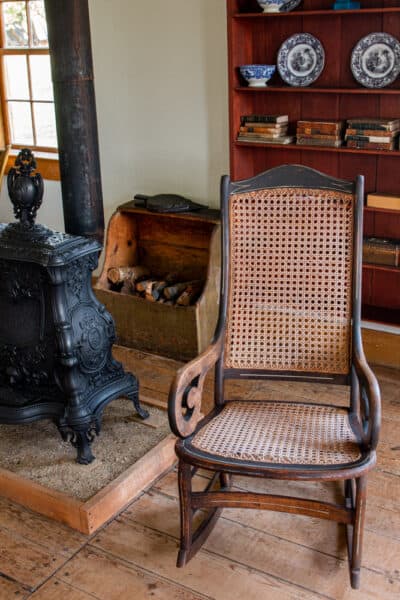 Inside the home, it has been set up to look much as it would during Brown's time in the home. While most of the furniture is meant to represent things the family would have likely owned, there are several pieces that were actually used by John Brown and his family. These including Brown's rocking chair and his desk, among other items.
Once the tour of the home is over, walk the 100 yards to the property's barn. There are two display areas inside this building.
The upper floor, which is accessed from the back of the barn, features signage telling the story of the community of Timbuctoo and what life was like for the settlers here.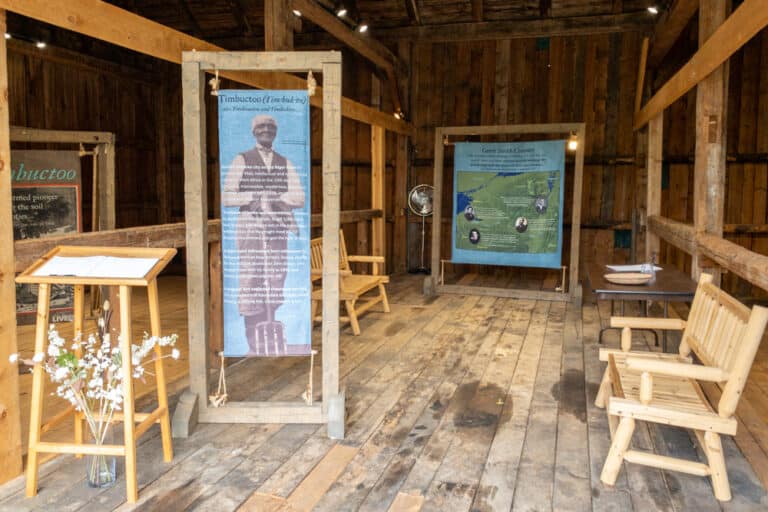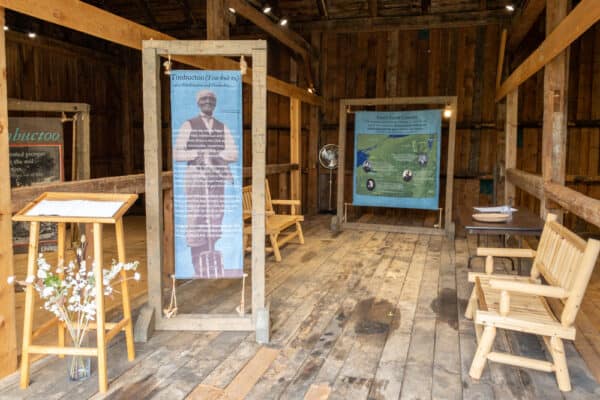 The lower floor features information on John Brown's life, including a great video that details the story of the Underground Railroad in the Adirondacks. Not surprisingly, Brown was a prominent figure in the Underground Railroad when he lived in the area, as he was in the other places that he lived during his adult life.
The final area to check out is the grave of John Brown. The grave is located within a fenced-in area adjacent to the home.
Here, you can see where Brown was buried after his execution. Adjacent to him is the graves of three of his sons who died fighting for anti-slavery causes and a mass grave where others that died during his failed raid on Harper's Ferry were reinterred several decades later.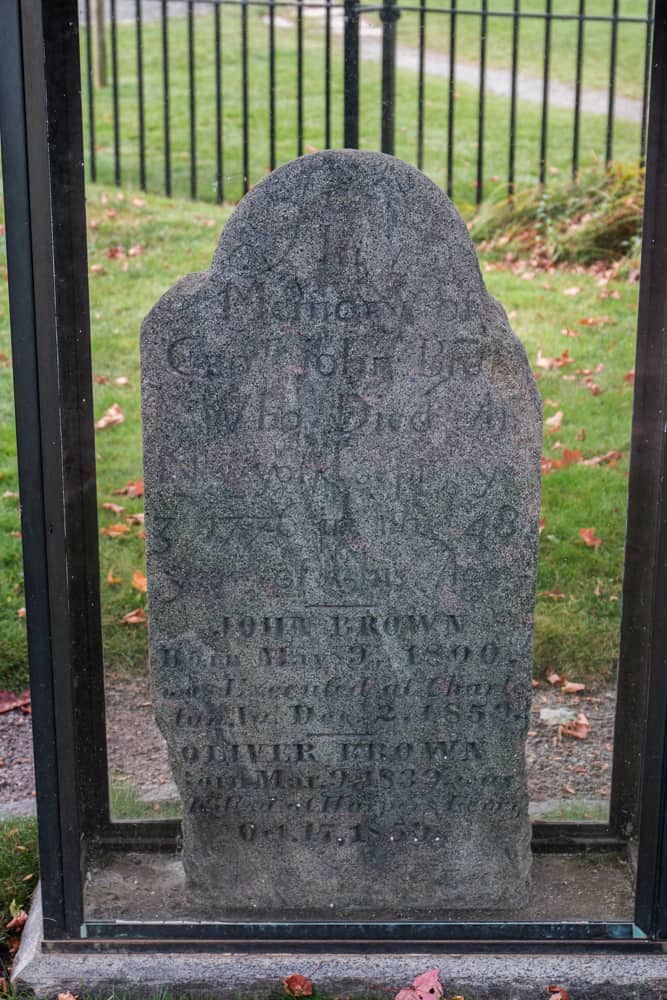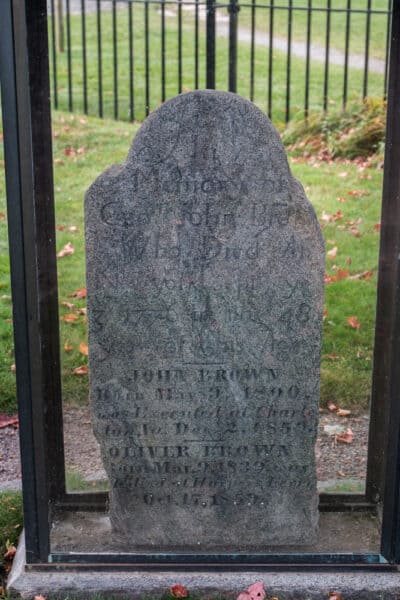 Above Brown's grave is a cenotaph that once stood over the grave of his grandfather, who died during the Revolutionary War. It has been amended with information on John Brown and two of his sons, though it's difficult to read due to weathering.
There's no question that John Brown is a controversial figure. However, he's also one of the most impactful abolitionists of the mid-19th century. That alone is reason enough to take a bit of time to visit this home in Essex County, New York, and learn more about his life and impact on American history.
Looking for more places to visit nearby? Check out High Falls Gorge, Stag Brook Falls, the Lake Placid Olympic Museum, and the breweries of Lake Placid.
---
John Brown Farm State Historic Site
Hours: 10am-5pm
Closed Tuesdays
Open May – October

Cost: Free

Website: Parks.NY.gov

Address: 115 John Brown Road
Lake Placid, NY 12946
---