Please do your best to limit your travels around New York during this time. If you decide to travel, please check the status of the places you are going. Some places around the state are temporarily closed or have changed their hours We will not be updating individual articles to note these changes. Stay safe and wear a mask!


There are many incredible Finger Lakes waterfalls that you can visit, but none of these spots are quite like Grimes Glen.
Grimes Glen Park is located in Naples, a small community in Ontario County, New York. This 32-acre park was purchased by the Finger Lakes Land Trust in 2008 in order to preserve one of the gems of the region.
What makes Grimes Glen so unique is that visitors are encouraged to explore this land and wade through the creek. In fact, if you want to see the two incredible waterfalls here, you'll have to do some creek walking as the trail ends before the first waterfall.
Disclosure: This article may contain affiliate links. We will make a small commission from these links if you order something at no additional cost to you.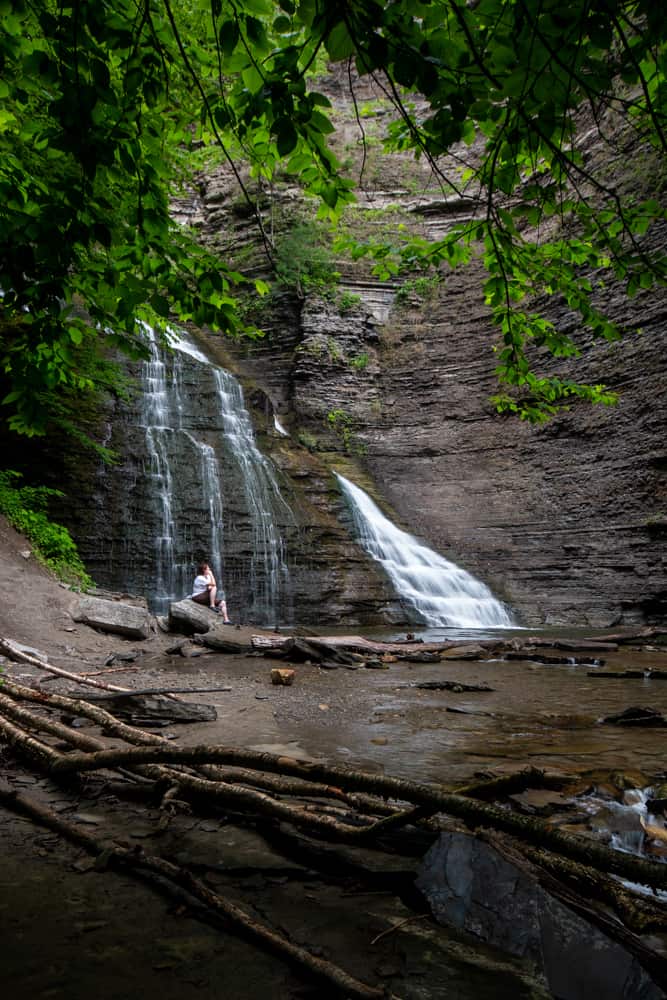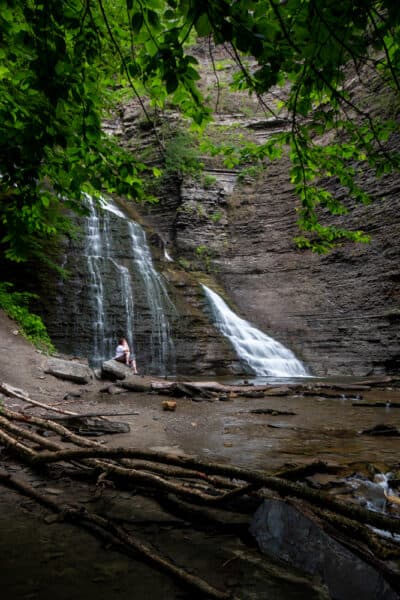 While this park has been left primarily in an undeveloped state, there is a bit of infrastructure at the entrance to the park. This includes a decent size parking area and bathrooms.
The park features only one trail, which leads away from the parking area towards the waterfalls. All told, it is about a one-mile roundtrip hike to see the two waterfalls in Grimes Glen Park.
Before you leave the parking area, make sure to take some time to read about the park's history and geology at the information sign next to the parking area.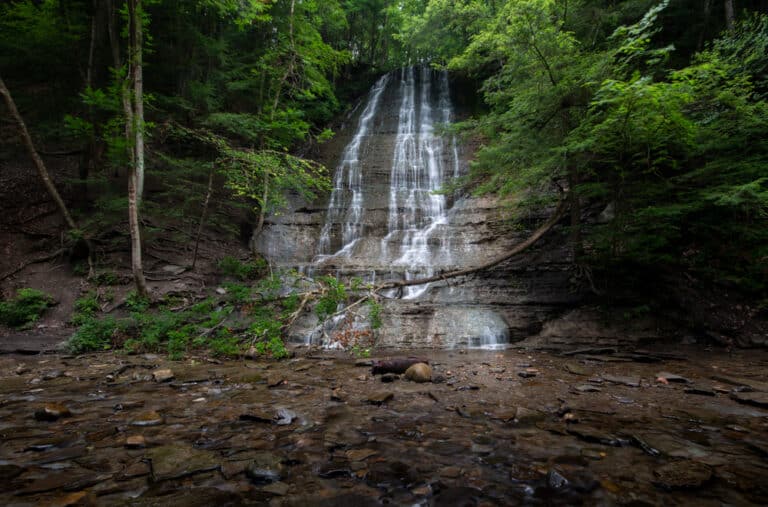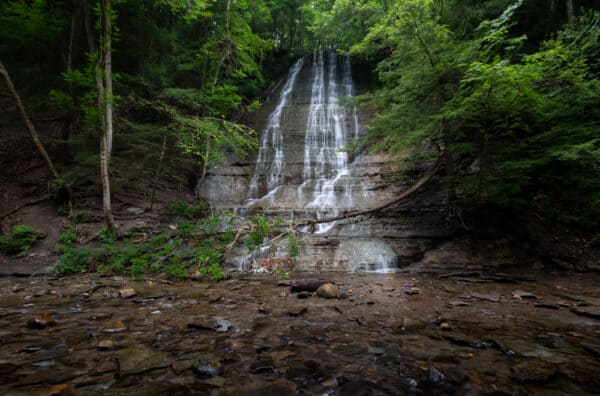 Interestingly, it was in this gorge that, in 1882, a local geologist found a 350 million-year-old fossilized tree. Now housed in the New York State Museum in Albany, this remains one of the oldest fossilized trees ever found.
The trail to the waterfalls in Grimes Glen starts off quite easily, passing over Grimes Creek on a well-maintained pedestrian bridge. The trail then winds its way upstream for about two-tenths of a mile.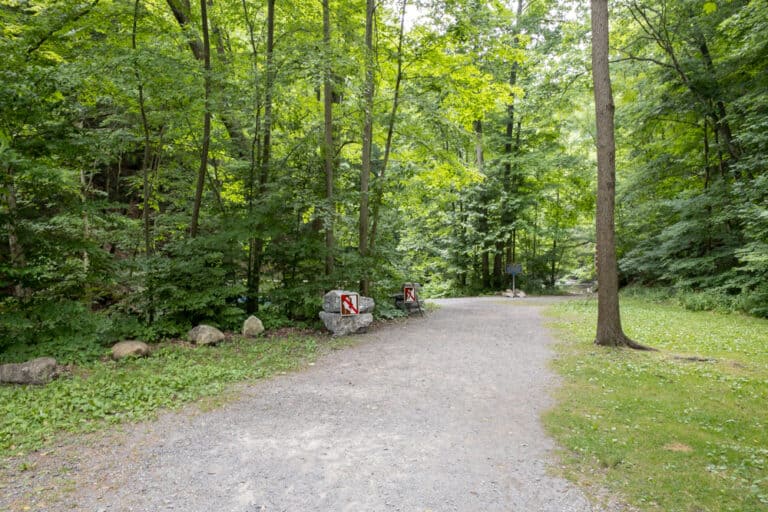 At this point, you'll find a picnic table and, if you didn't know any better, you'd think the beautiful view of the creek is where this adventure ends. However, this is only where things start to get fun.
While there are a few places where you can walk on dry land, the rest of the trail to the waterfalls is primarily a creek walk. Even if water levels are VERY low (and the waterfalls aren't really flowing), you will still get your feet wet, so make sure to wear shoes you don't mind getting soaked, and preferably some with good traction.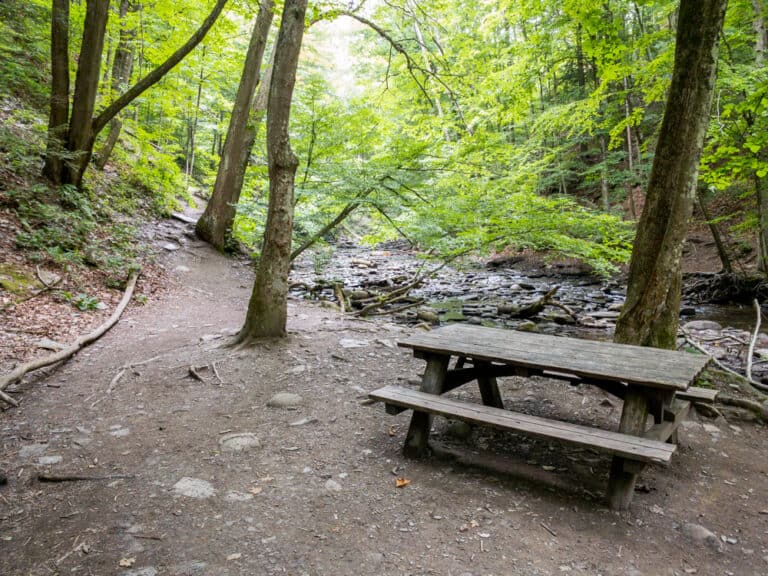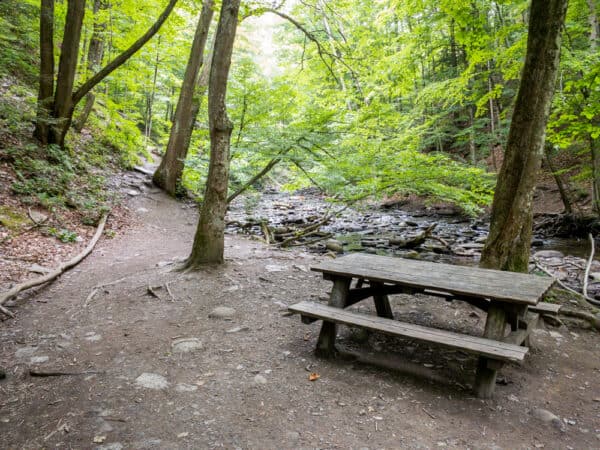 Overall, this creek walk is very easy. Up until the second waterfall, Grimes Creek is quite flat and there aren't really any major obstacles that make this hike difficult. In fact, having done many hikes up creeks to see waterfalls, I'd say this is far and away the easiest one I've ever done.
That isn't to say that you shouldn't exercise caution, however. While the rocks in the creek aren't overly slippery, it would be easy to take a tumble if you stepped in the wrong spot. Also, the higher the water levels, the more difficult and dangerous the hike will be. Make sure to use good judgment if water levels are especially high during your visit.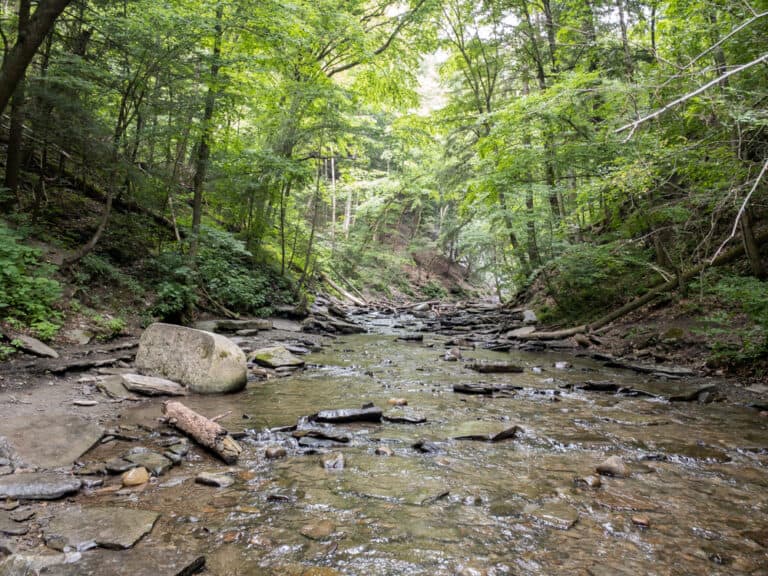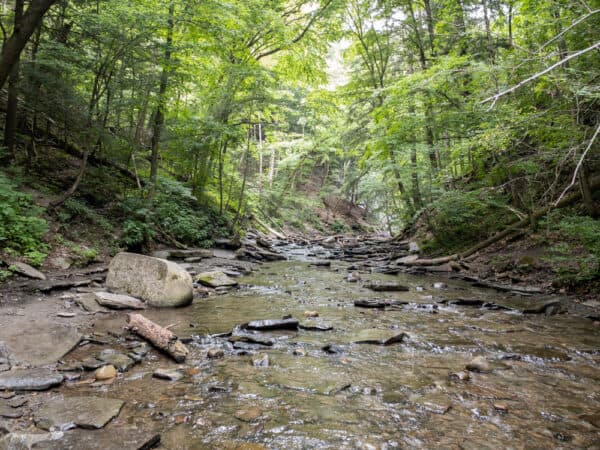 The first waterfall in Grimes Glen comes into view very shortly after starting the creek walk.
This is a 60-foot side waterfall that flows directly and quite dramatically into Grimes Creek. Below the waterfall, there is no plunge pool at all, so you can walk right up to the face of the falls without difficulty.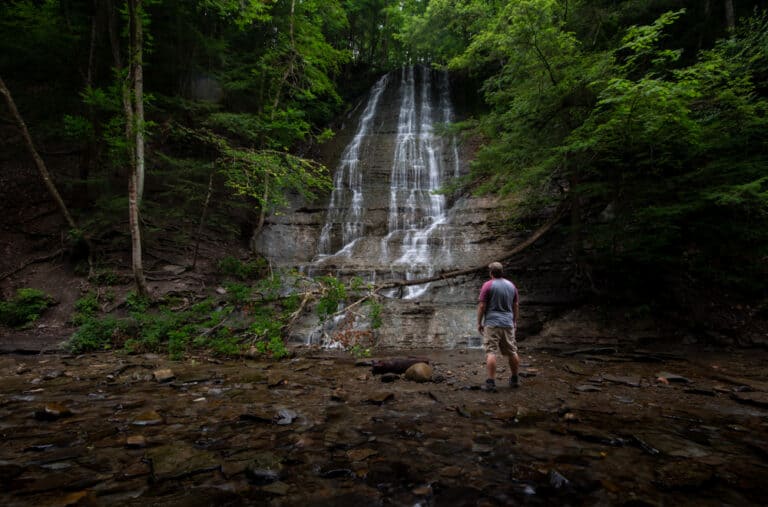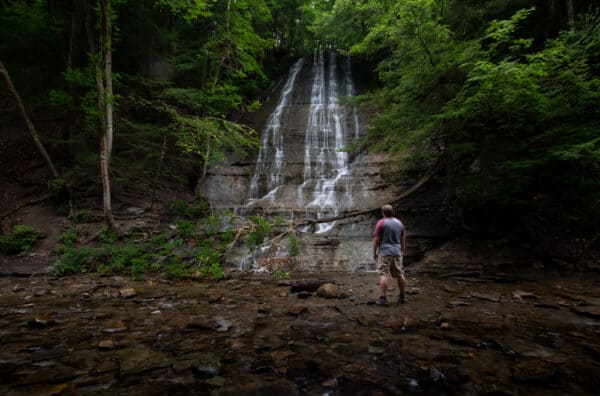 Once you've enjoyed this waterfall, continue hiking up the creek for about a quarter-mile to the second waterfall.
The second waterfall in Grimes Glen is another 60-foot waterfall. This one is directly along the main creek, so the trail stops at this point.
There is a small plunge pool below this waterfall where visitors sometimes like to cool offer while visiting the falls.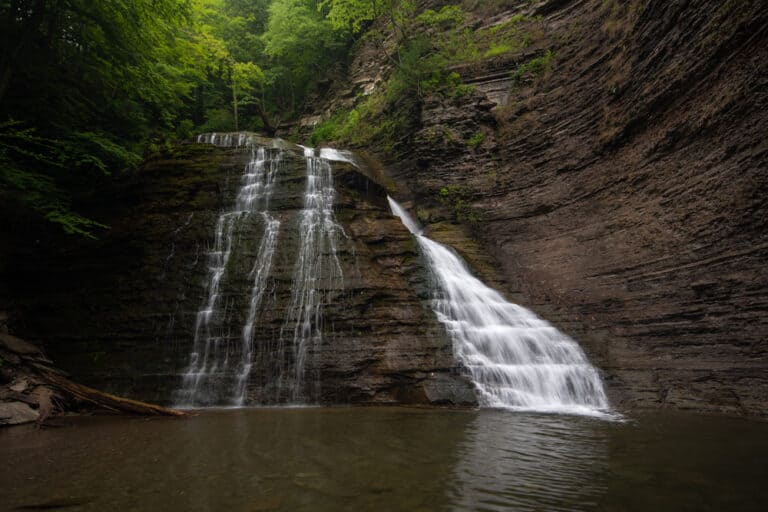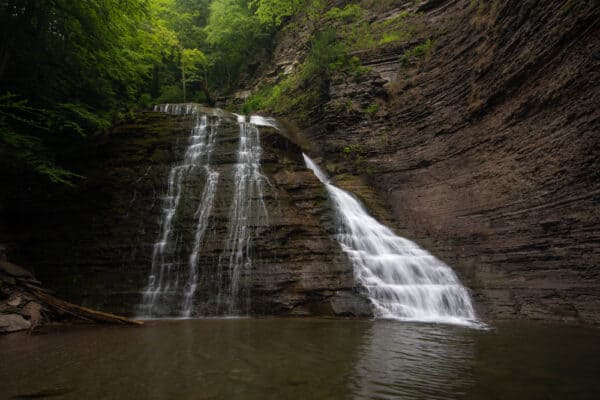 Above the waterfall, cliffs tower as much as 200 feet above the creek below. If standing near the cliffs, be cautious as rocks have fallen from here in the past.
Near the waterfall, there is a small cave known as the Devil's Bedroom. This will be along the right side of the gorge's wall when you are facing the waterfall.
This small cave doesn't go back very far, but it's a neat spot to check out and provides a nice angle from which to view the waterfall.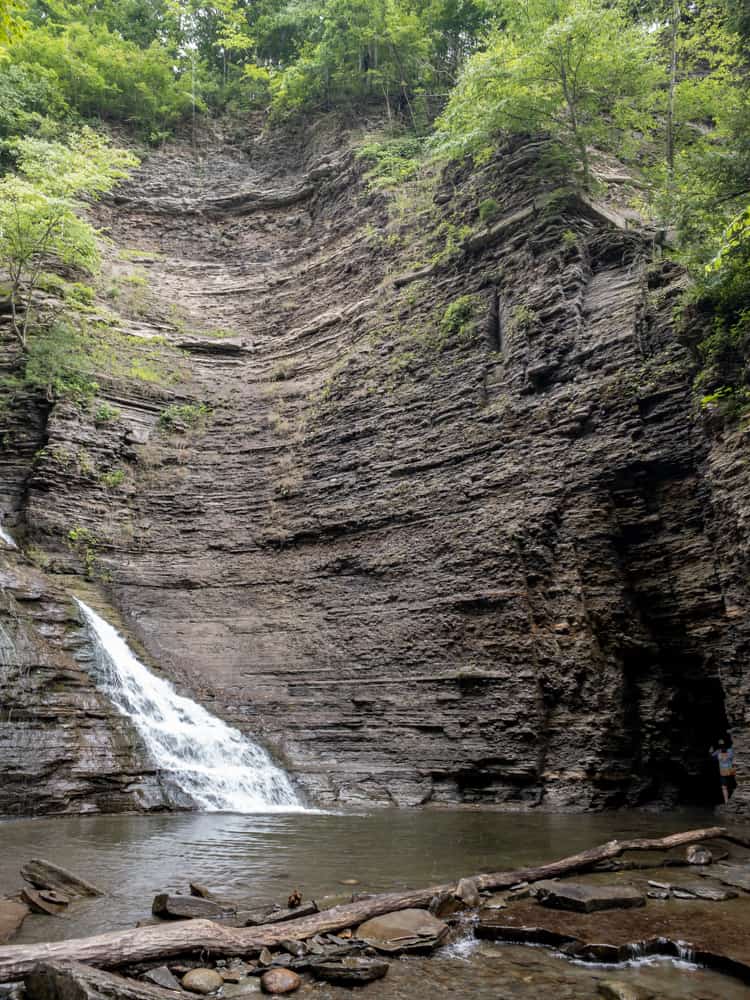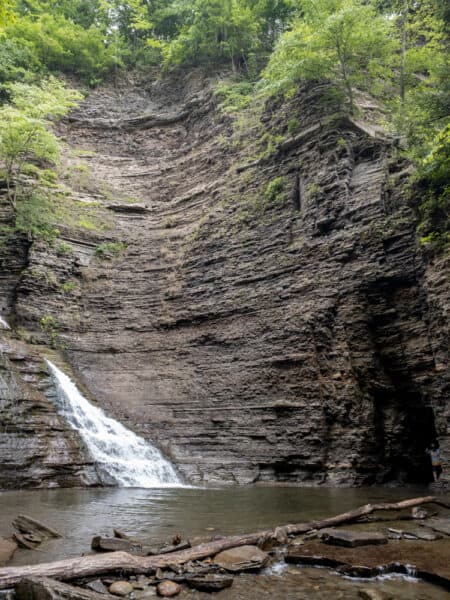 If you look to the steep hillside to your left, you may notice a bit of a path going steeply up the hillside and a rope. Do not attempt to climb this hillside.
While there is another waterfall just upstream of the second waterfall, the area above the waterfall is not part of the park and is private property. Also, while getting up might be doable, getting down would be extremely difficult. Even if you don't miss trespassing on private land, it is simply not a safe endeavor to try and get to the top of the falls.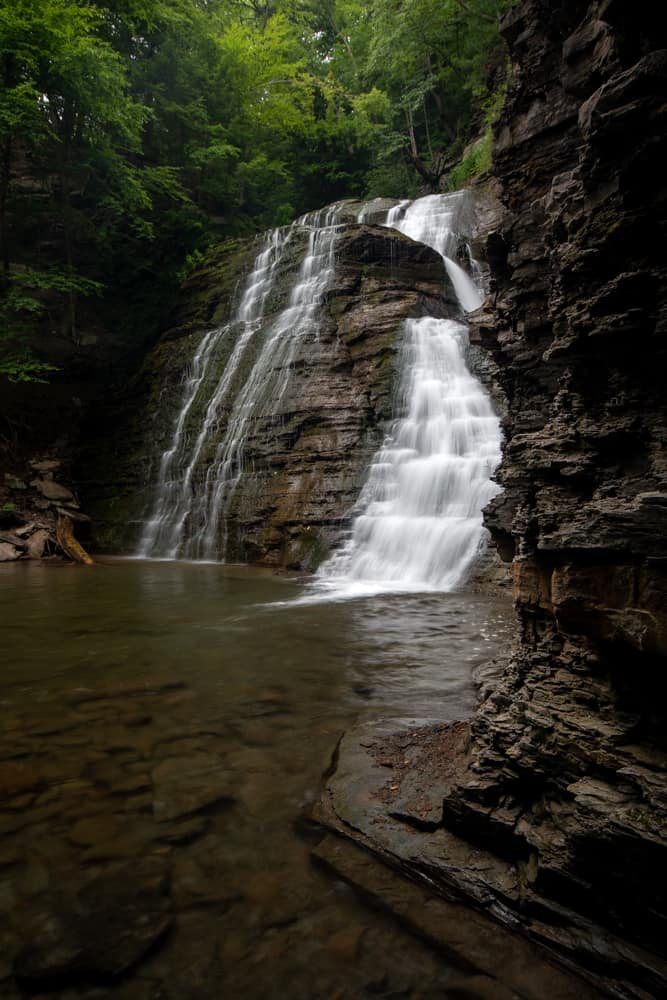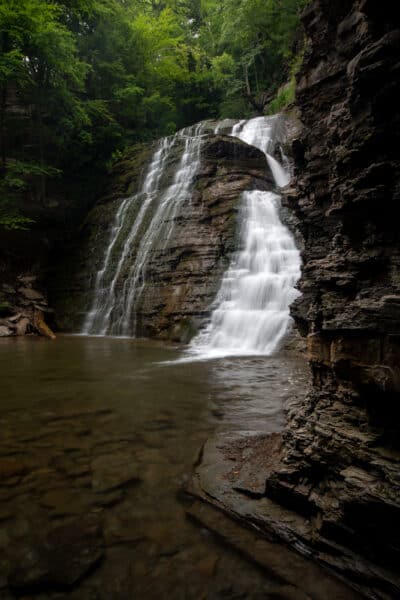 So instead, when you are finished enjoying the second waterfall, retrace your steps back to your car.
Without a doubt, Grimes Glen is one of the most unique and special outdoor destinations in the Finger Lakes. If you find yourself exploring this part of the state, I highly recommend taking some time to visit these beautiful waterfalls in Naples, New York.
How to Get to Grimes Glen
Grimes Glen Park is located on the outskirts of the community of Naples in Ontario County, New York.
The parking area for the glen can be found at the following coordinates at the end of Vine Street: 42.615230, -77.413532. This lot does not allow for large RVs or vehicles with trailers.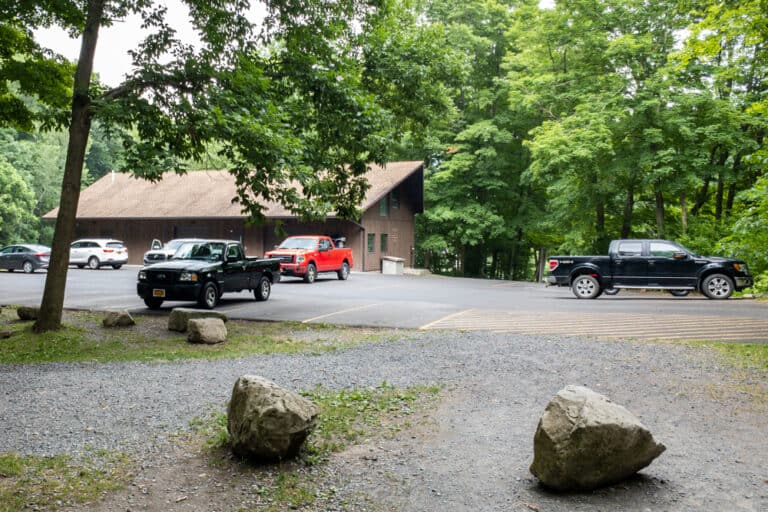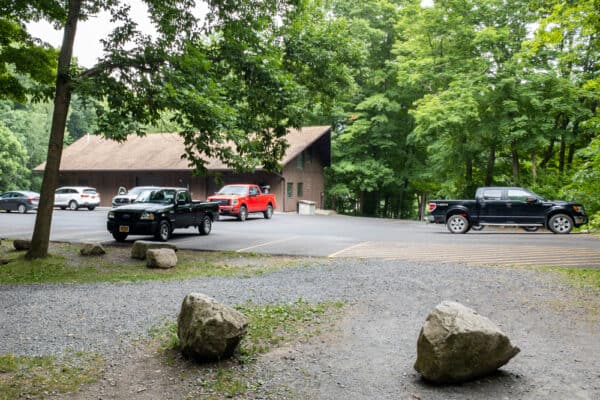 Note that this park can get busy, especially on summer weekends. Parking is only allowed in this lot, and there are "No Parking" signs along much of Vine Street.
Should the main lot be full, you can also park at the municipal parking lot on Mill Street at the following coordinates: 42.615130, -77.403714. From here, it's a 0.7-mile walk to the start of the trail at Grimes Glen.
It's worth noting that, unlike many other nearby waterfalls and parks, there is no charge to visit Grimes Glen Park in Naples.
Looking for more places to visit nearby? Check out the mysterious Spook Hill, the waterfalls at Stony Brook State Park, and Battle Street Brewing.
[Click here for information on how to use the coordinates in this article to find your destination.]