Disclosure: This article may contain affiliate links. We will make a small commission from these links if you order something at no additional cost to you.
The Finger Lakes region is home to many fantastic gorge trails that feature incredible waterfalls. Spots like Watkins Glen State Park, Fillmore Glen State Park, and Buttermilk Falls State Park are often the first that come to mind, but there are others that are well worth exploring like Stony Brook State Park.
Stony Brook State Park is located in northwestern Steuben County near Dansville, New York. While it's a bit of a drive from many of the region's other popular waterfalls, it's an easy stop if you are traveling between Letchworth State Park and the Watkins Glen or Ithaca areas.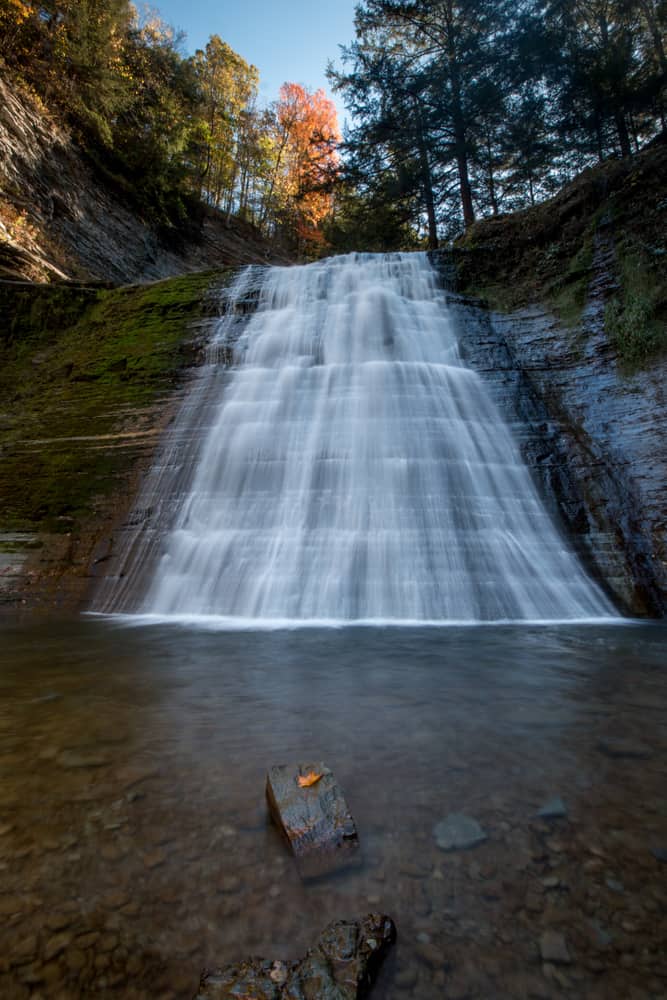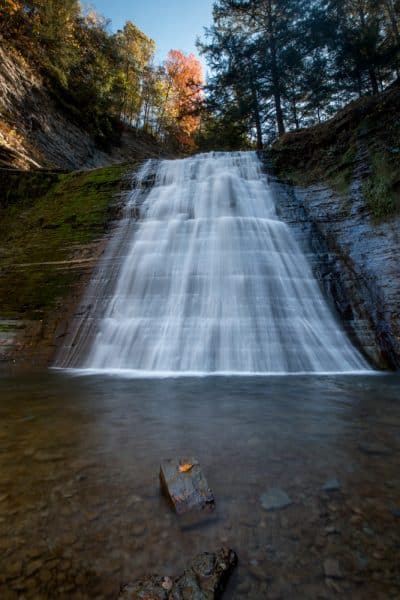 Stony Brook State Park is centered around a narrow gorge along a 3/4-mile section of Stony Brook. This section of the creek features several small waterfalls and three large waterfalls (of which only two are on the park map).
The Gorge Trail at Stony Brook State Park starts at the parking area near the Lower Park Entrance (which is somewhat confusingly in the northern part of the park). The parking area is the same one used for the seasonal swimming pool.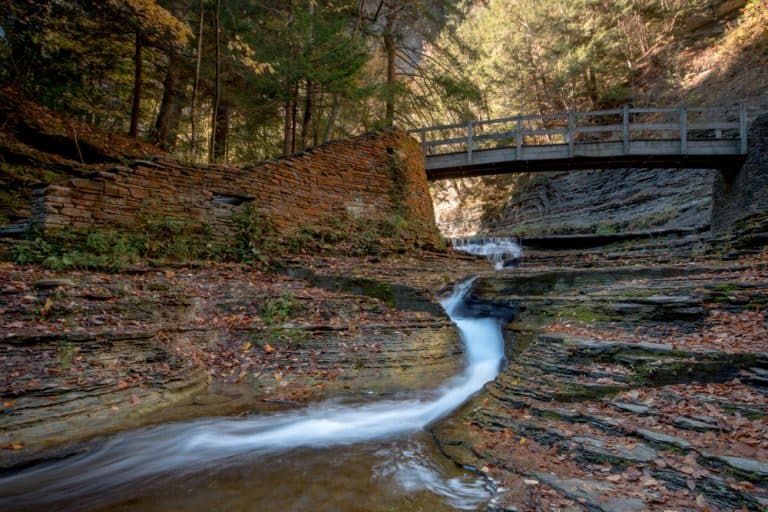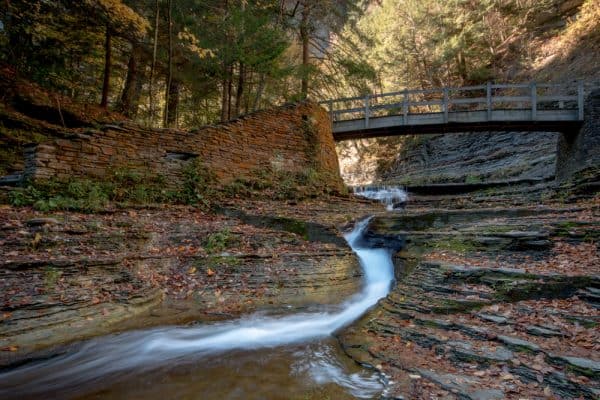 The trail also starts from adjacent to the swimming pool. The pool is a dammed section of Stony Brook that is filled from Memorial Day through Labor Day. It's worth noting that this is the only spot in the park where swimming is allowed, and tickets are regularly given out to those that decide to go for a swim in the water along the Gorge Trail.
The Gorge Trail at Stony Brook State Park is different from many others around the state in that it starts off relatively flat and wide as it winds its way alongside the stream. The first half of the stream features two stream crossings and several small waterfalls.
After hiking for about 0.4 miles, the first large waterfall in Stony Brook State Park comes into view. This is an approximately 40-foot waterfall that slides down a steep rockface into a pool below and is creatively known as Lower Falls.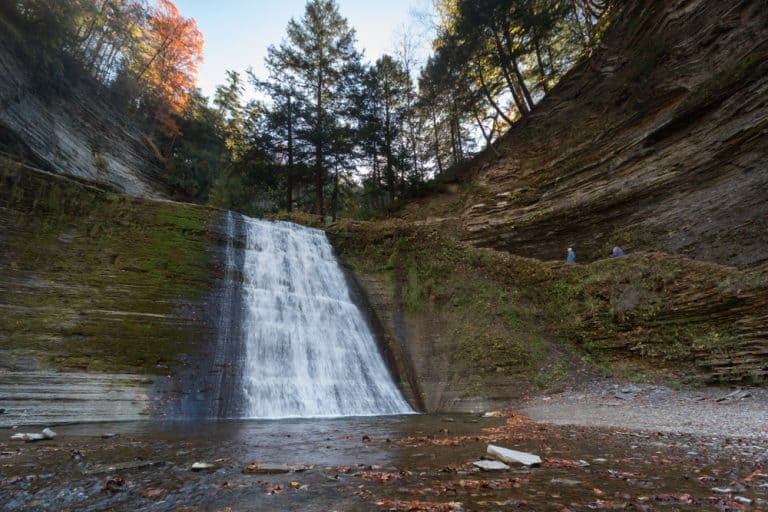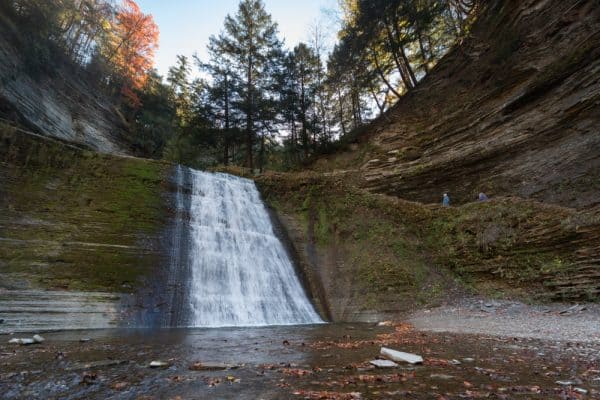 All three waterfalls in the park have a similar look to them. This is surprising not only because most waterfalls near each other don't really look similar, but also because the steep nature of the slide waterfall here is rather unique amongst other waterfalls in New York.
Once you've taken the time to enjoy Lower Falls, take the stone staircase the hugs the cliffside until you are above the falls.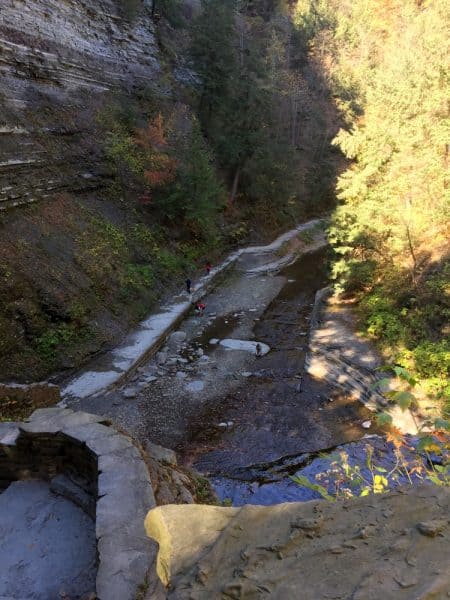 Only a short distance further down the trail, you'll come to the second waterfall known as Middle Falls. While Middle Falls is only about 20 feet tall, it's much wider than Lower Falls, which makes it just as impressive.
While you could turn around at Middle Falls for a hike of approximately 1-1.25 miles, there's another hidden waterfall just upstream if you don't mind getting your feet a bit wet.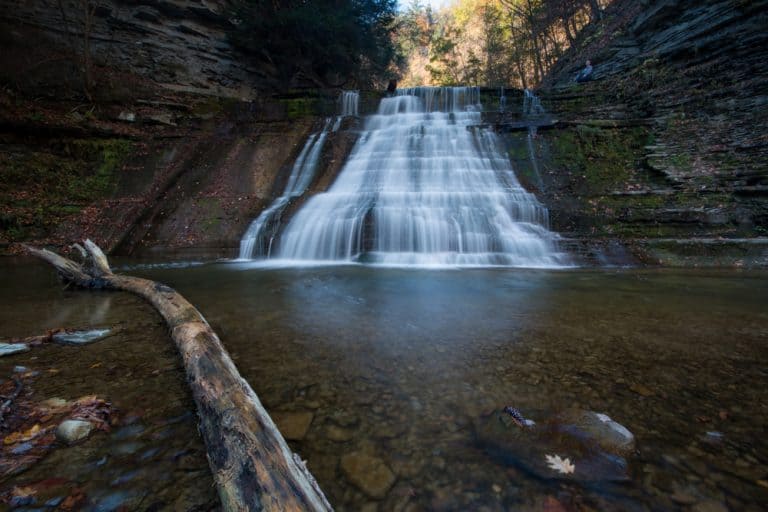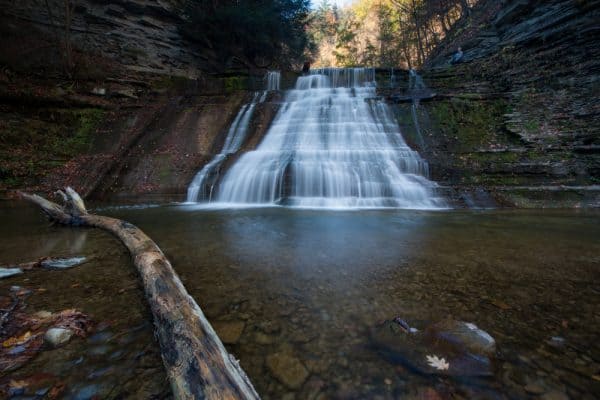 To reach it, continue along the Gorge Trail above Middle Falls. The trail gets a bit rougher up here but is still fairly easy.
After a few minutes of hiking, you'll notice the trail pealing away from the creek and heading uphill. If you look at the creek at this point, you may notice some remnants of the supports for a bridge that once crossed here.
If it can be done safely, this is where you want to very carefully cross the stream. Depending on water levels, this may or may not be possible to do without getting your feet wet. And, if water levels are high, I would recommend not crossing at all.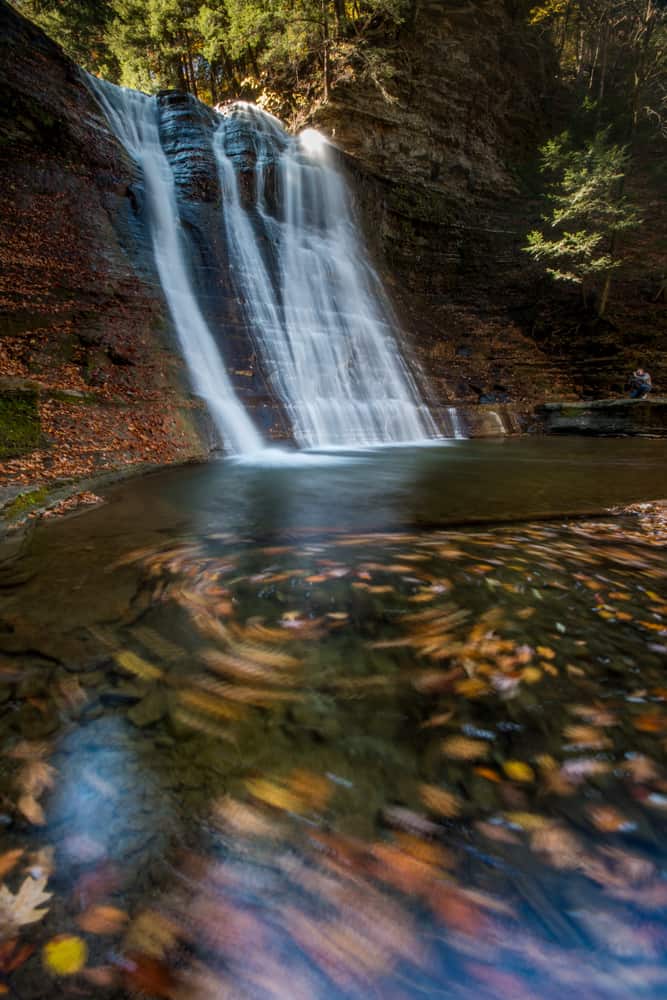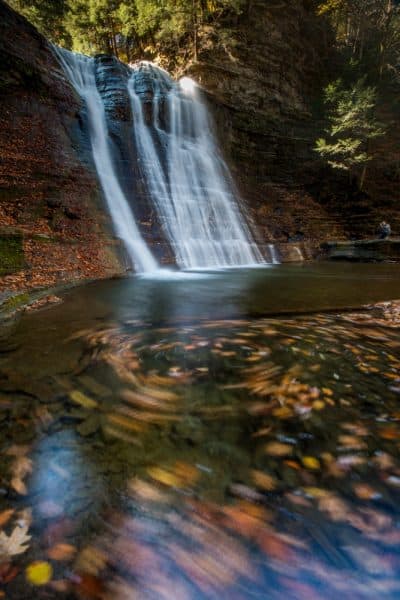 After crossing the stream, make your way up Stony Brook on the way that seems best. This may include walking directly in the stream. Make sure to use caution on wet rocks as they may be very slippery.
After just 100 yards or so, you'll come to the base of Upper Falls. This waterfall is another steep slide waterfall and is approximately 40-45 feet tall.
Of all the waterfalls in the park, this may be the most impressive. It is probably a bit wider and taller than Lower Falls but has a very similar shape.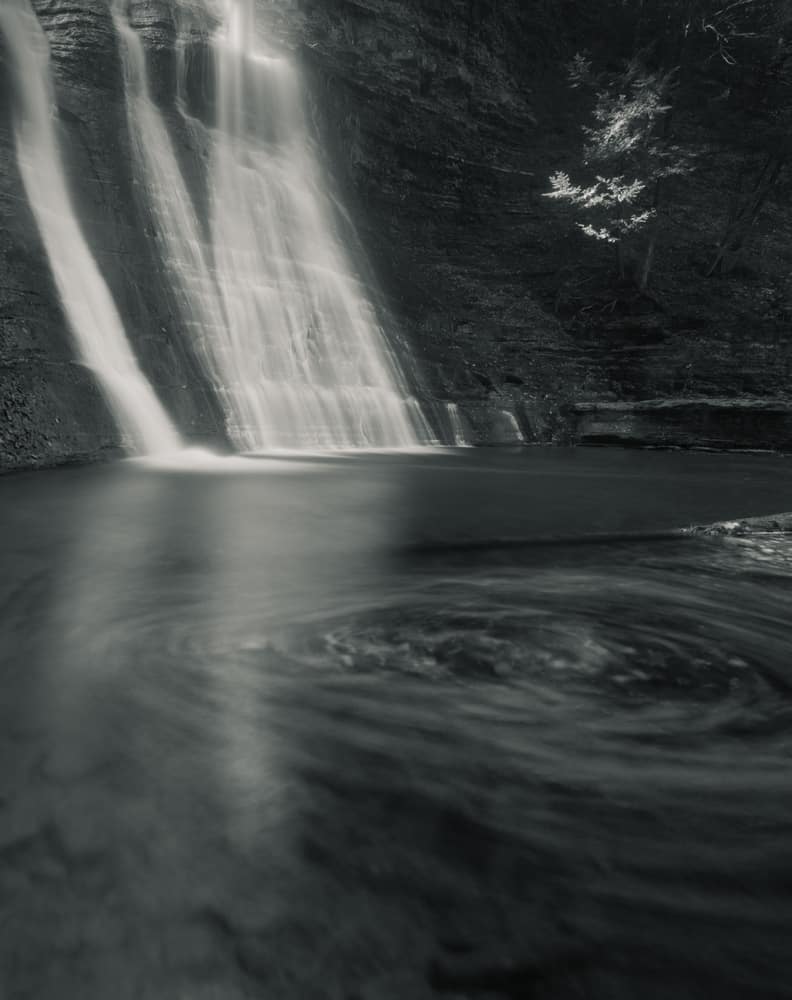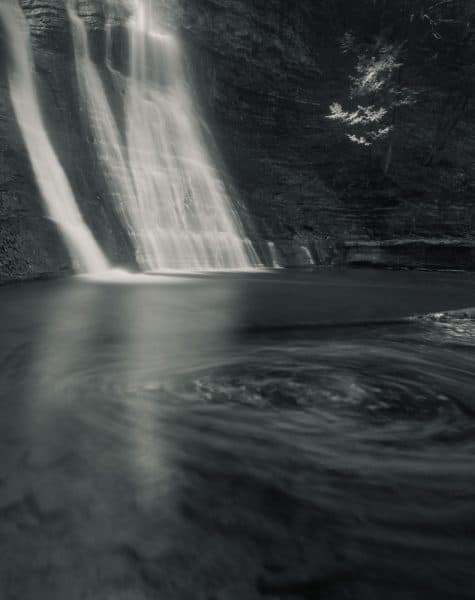 To be honest, I'm really unsure as to why there is no longer an official trail leading to this spot. It's definitely a shame that most visitors to the park completely miss this beautiful third waterfall.
Once you've had your fill of Upper Falls, retrace your steps back to the main trail (again using extreme caution on wet rocks and as you cross the stream).
From here, you can hike back down the Gorge Trail (for a total hike of 1.5 miles or so) or continue up the trail for a short distance until the Gorge Trail ends at the West Rim Trail.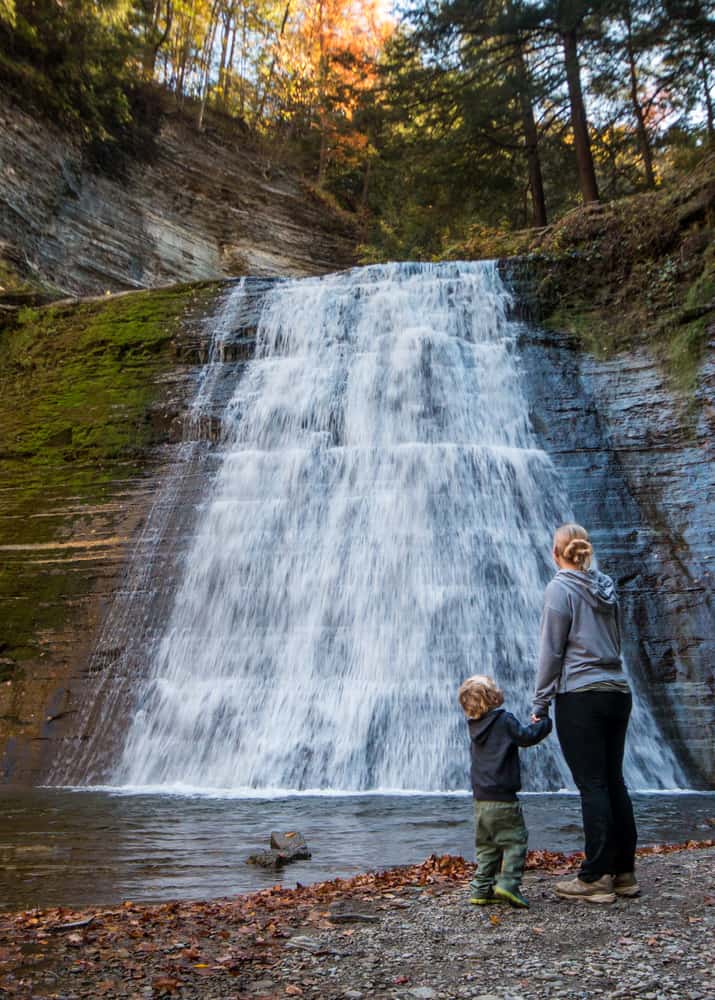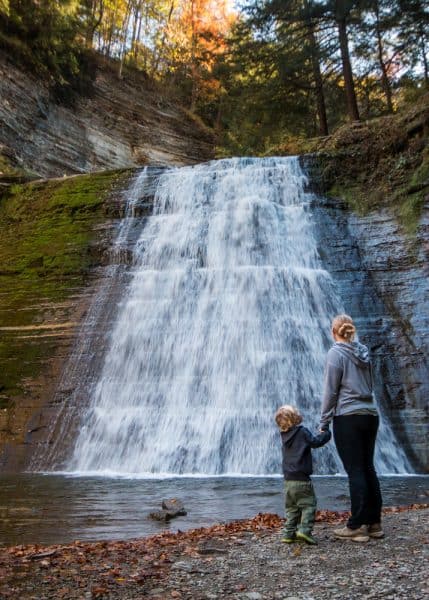 If you opt to hike the West Rim Trail, you'll have a total hike of about 1.75 miles (with the distance for the third waterfall). Aside from a short climb up to the rim, the West Rim Trail is a relatively easy trail and allows you to see even more of this great park.
Without a doubt, the Gorge Trail at Stony Brook State Park is a fantastic hike. Not only does it take you to two (or three) great waterfalls, but it's also a bit easier than some of the other similar trails in the region, making it a great choice for the whole family.
If you are looking for a great waterfall hike in the western Finger Lakes, definitely don't miss this one.
How to Get to the Gorge Trail in Stony Brook State Park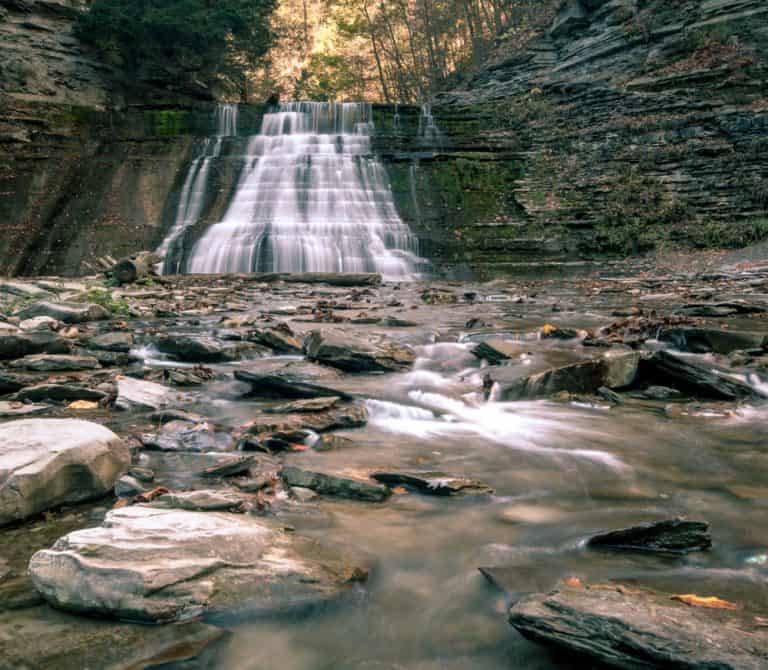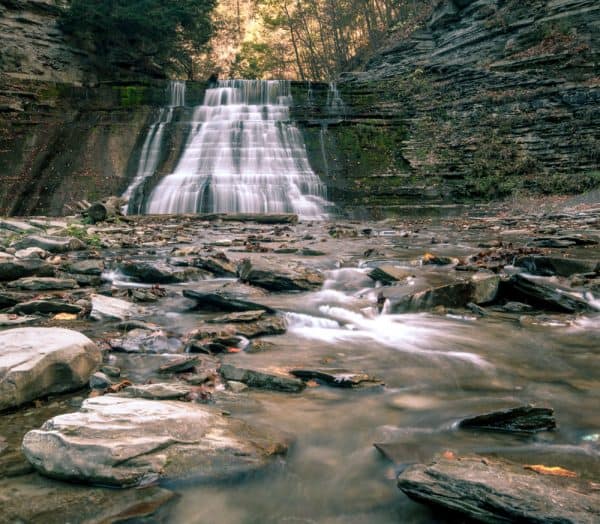 The Gorge Trail is located a short distance from the Lower Entrance to Stony Brook State Park in Steuben County, NY. This entrance can be accessed via NY-36 only 1.5 miles from I-390 and about 2.5 miles from downtown Dansville.
The parking area can be found at the following coordinates: 42.520681, -77.695416.
From here, it's a short walk to the swimming area and the start of the Gorge Trail.
From early May through Mid-October there is a charge of $7 per car on select days.
Looking for more places to visit nearby? Check out Battle Street Brewing in Dansville, the Corning Museum of Glass, Grimes Glen, and the Overlook in Mossy Bank Park.
[Click here for information on how to use the coordinates in this article to find your destination.]