Disclosure: This article may contain affiliate links. We will make a small commission from these links if you order something at no additional cost to you.
The Watkins Glen area is understandably best known for the outstanding Gorge Trail in Watkins Glen State Park. However, the area is also home to several other really great waterfalls, including Deckertown Falls.
Deckertown Falls is located in Montour Falls, New York, only a short drive away from other waterfalls like Eagle Cliff Falls and Shequaga Falls. That makes it possible to visit several great nearly roadside waterfalls all within a very small area.
Here's everything you need to know to get to this great spot.
Parking for Deckertown Falls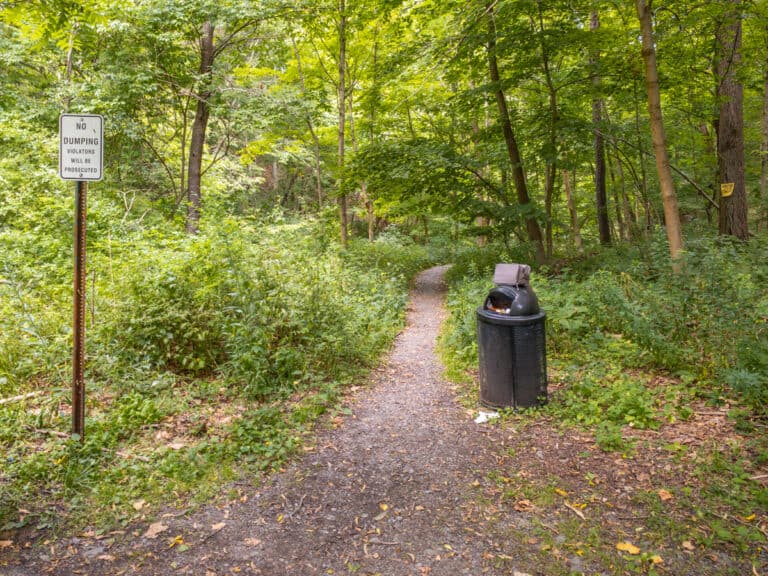 The parking area for Deckertown Falls can be found at the end of East Catlin Street, just east of Montour Falls, New York. It is located at the following coordinates: 42.343371, -76.830937.
You could also use the address for the last house on the street and just drive until the road dead ends: 117 E Catlin St, Montour Falls, NY 14865.
The parking lot here is simply a large area at the end of East Catlin Street and is big enough for only 3-4 cars. Please make sure that you don't block driveways along the road and respect any "No Parking" signs found along it.
There is no other nearby parking, so if this space is full, you'll need to leave and try again another time. Because of this, I recommend visiting early in the day, especially on weekends and in the summer months.
[Click here for information on how to use the coordinates in this article to find your destination.]
Hiking to Deckertown Falls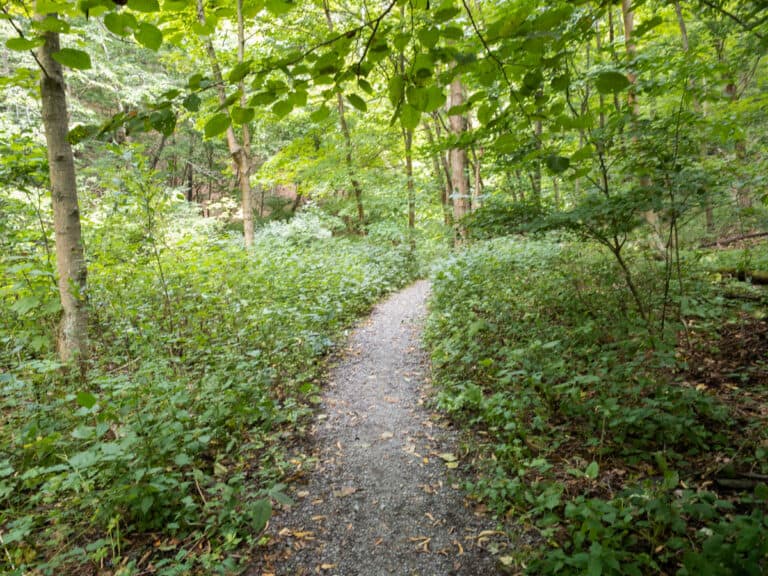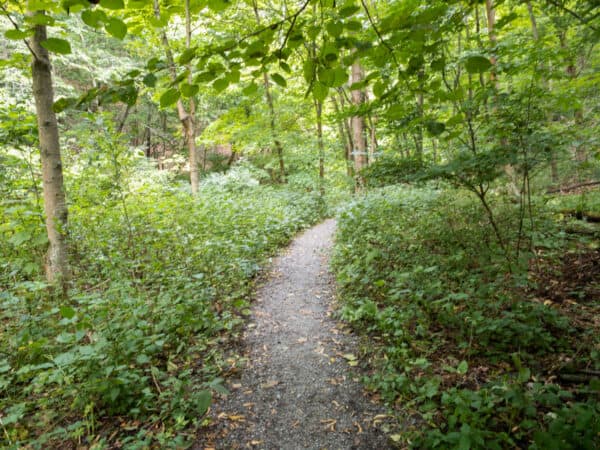 Hiking to Deckertown Falls can be very easy, moderately difficult, or very difficult depending on what you want to see and how far up the stream you hike.
The trail starts off as wide and well-defined, and in only a hundred yards or so, you'll find yourself with a great view of Deckertown Falls.
From this easy part of the trail, you can see three waterfalls of ascending height along Catlin Mill Creek. The first is about six feet tall, the second is about 10-12 feet tall, and the last is around 40 feet in height.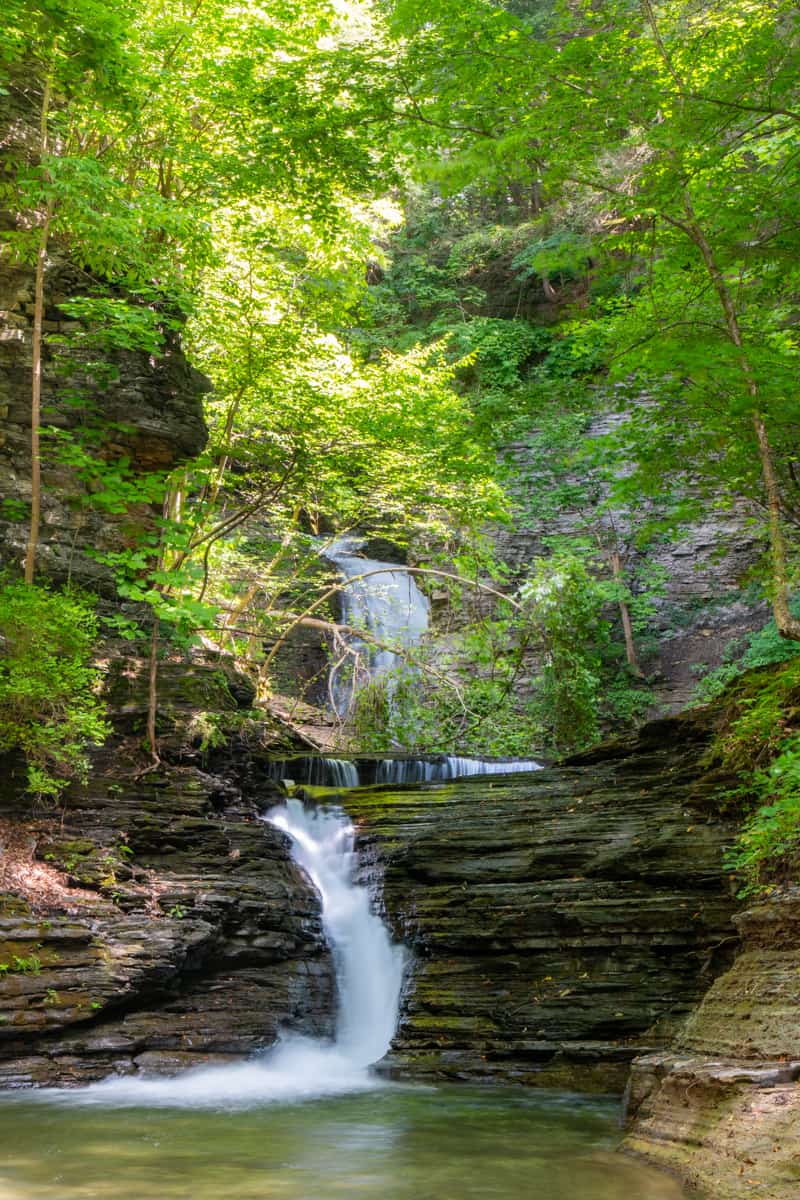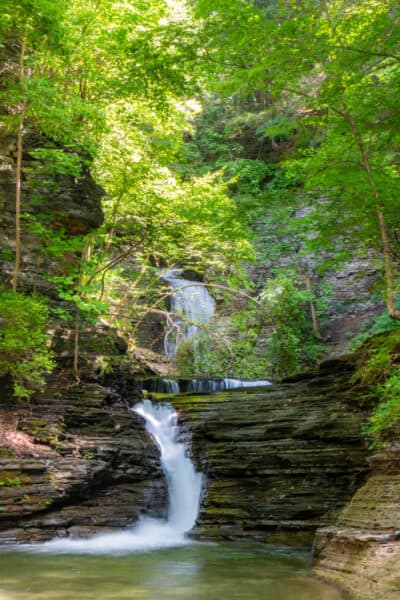 It is this last waterfall that is officially known as Deckertown Falls.
Getting around the first waterfall and to a position where you can get a great look at the middle drop and Deckertown Falls itself requires a bit of scrambling, but is not overly difficult, and most visitors should be able to tackle this first area.
Beyond here, if you want to get to the base of Deckertown Falls or hike even further upstream, it is much more difficult, and I stopped at this middle vantage point during my visit.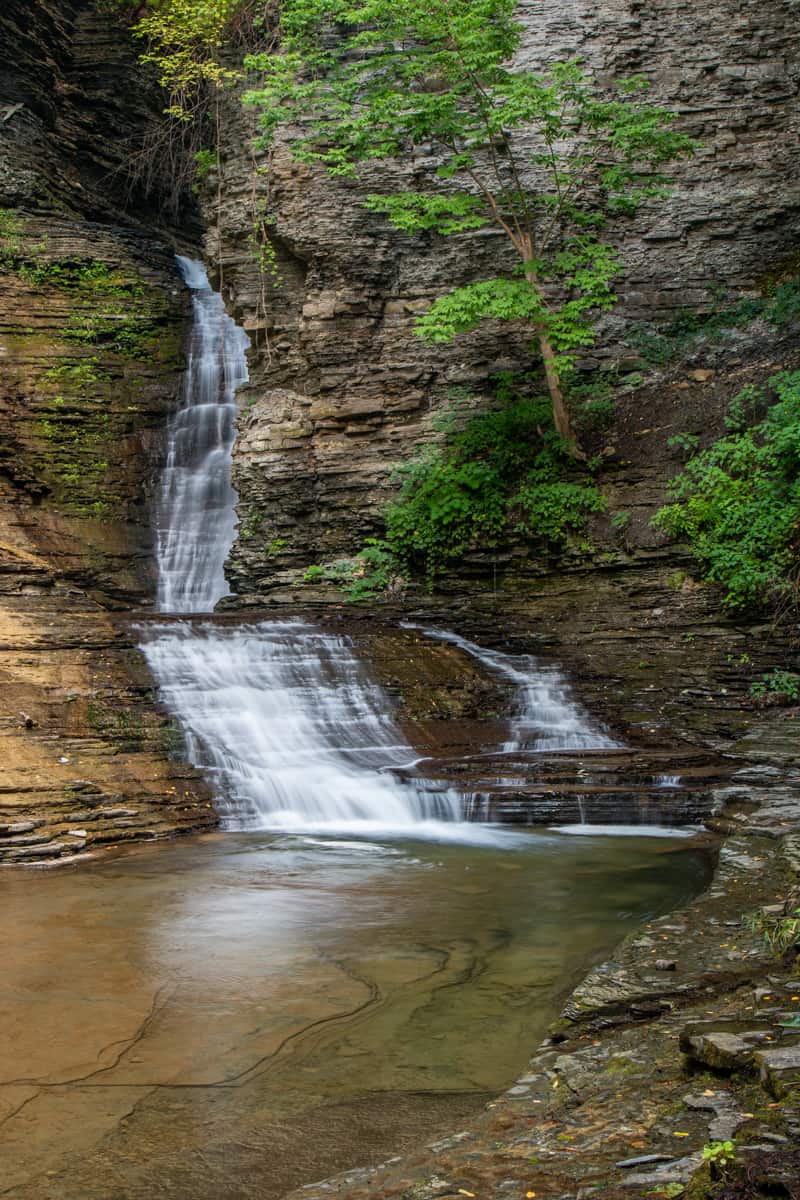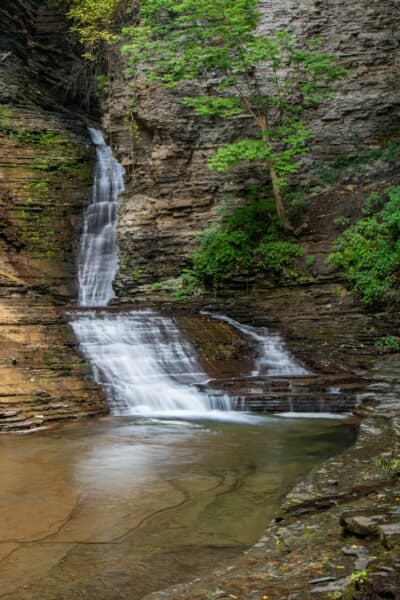 That being said, there are more waterfalls upstream that you can see if you can find your way up the creek, and public land does continue until the bridge (though the land on the far side of the Route 224 bridge is private property).
If you do go up into this area, be extremely careful as there are steep drop-offs along the trail.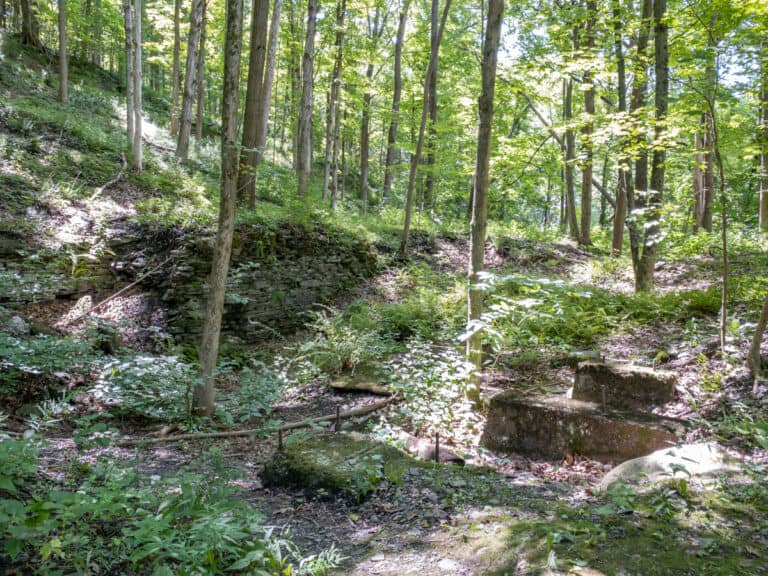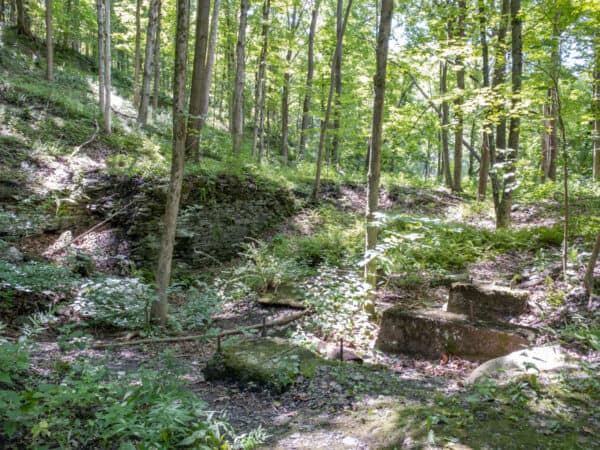 While you are in the area, also take a moment to check out the ruins of two mills that were once located along this creek: a woolen mill and a flour mill. These both date back to the second half of the 19th century, though only the foundations remain today.
Overall, Deckertown Falls is a beautiful hidden gem that most visitors to Schuyler County totally miss. However, if you are looking for a quick stop while in the area, this is definitely a great choice.
Looking for even more places to visit nearby? Check out Aunt Sarah Falls, Hector Falls, and the best Finger Lakes waterfalls.