Disclosure: This article may contain affiliate links. We will make a small commission from these links if you order something at no additional cost to you.
I've visited hundreds of waterfalls, but the waterfalls near Watkins Glen, NY are some of the best you'll find anywhere in the region.
In fact, there are so many waterfalls in this area, that this article only includes spots that are 10 minutes or less from town (I've covered more in my Finger Lakes waterfalls article). However, even though they are all close together, they are all worth visiting and range from roadside to difficult to visit, ensuring there is a waterfall for everyone on this list.
Without further ado, here are my picks for the waterfalls near Watkins Glen that you won't want to miss on your next trip to Schuyler County.
Watkins Glen State Park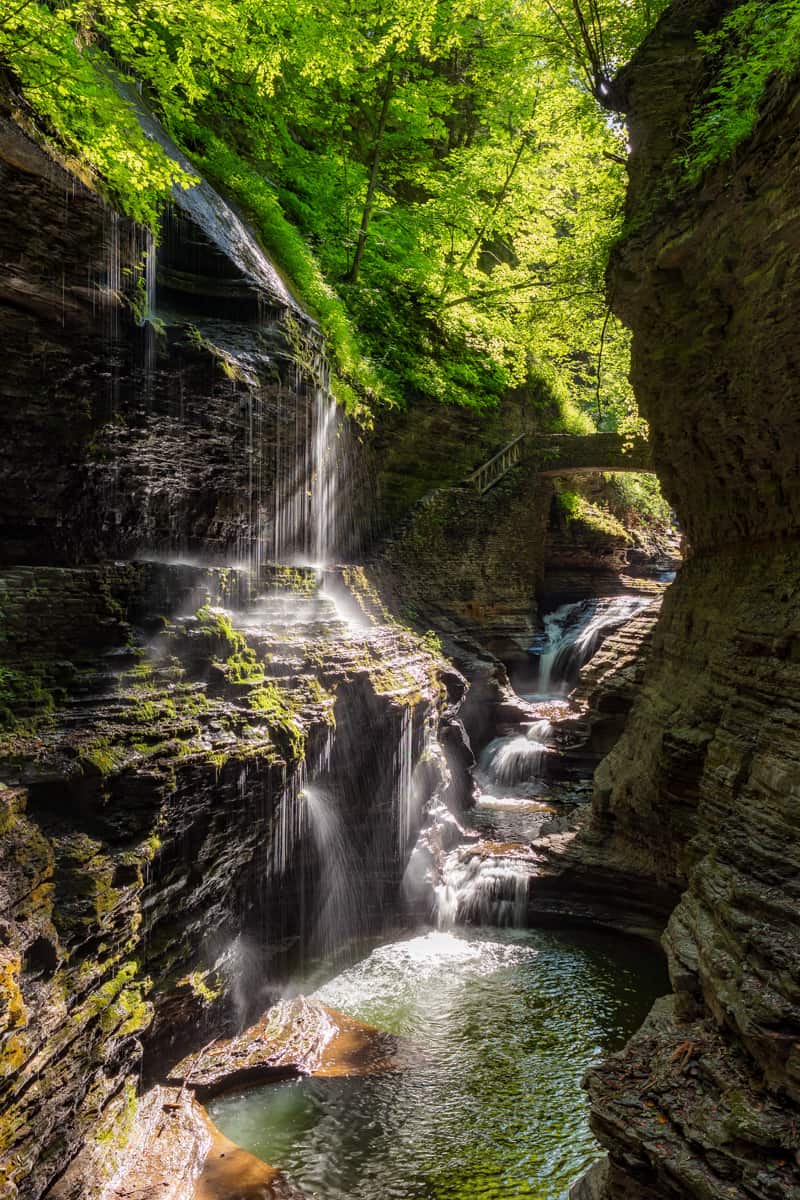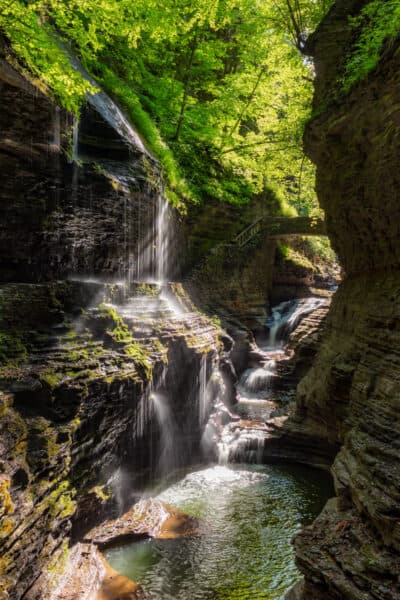 Is it likely that you'd be looking for waterfalls in Watkins Glen and not already aware of Watkins Glen State Park? Not particularly. However, I'd be remiss if I didn't mention the park in this article
Watkins Glen State Park is one of the most beautiful spots in the Finger Lakes and one of the region's biggest attractions. And for good reason.
The highlight of the park is the 1.5-mile Gorge Trail, which passes several incredible waterfalls including Rainbow Falls, Central Cascade, and Cavern Cascade. Along the way, you'll hike along trails that are impossibly carved into the rock walls of this incredible gorge.
Hector Falls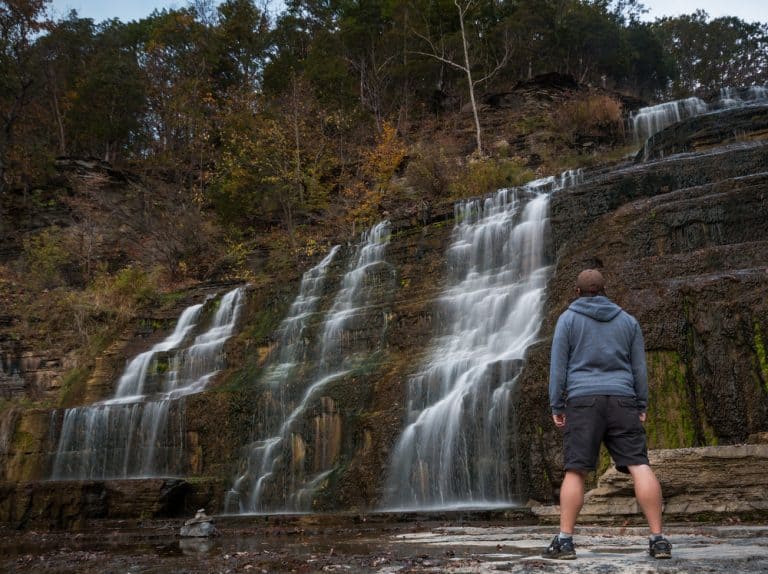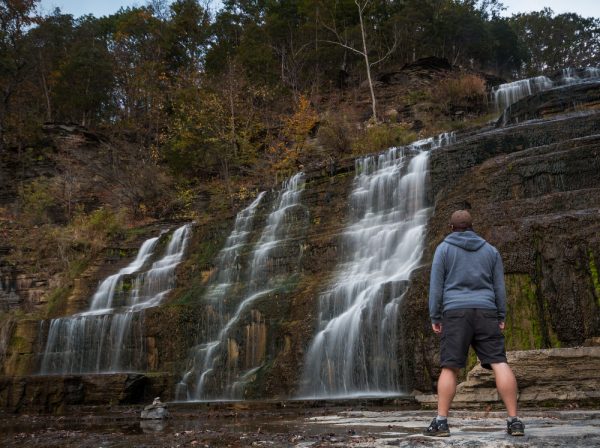 There are many impressive roadside waterfalls in New York, including a few further down this list, but, in my opinion, none are better than Hector Falls.
Hector Falls can be found directly along Route 414 on the eastern shores of Seneca Lake, about three miles north of Watkins Glen. However, it's worth noting that there is no parking lot here, and you'll be forced to view the waterfall from the wide shoulder of the road.
Hector Falls is 165 feet in height, though you can only see approximately the top 50 feet from the road. However, even though you can only see a third of this waterfall, what you can see is incredibly beautiful and impressive.
The land below the road is privately owned, but you can see more of the waterfall either by taking a boat tour with the landowners or hopping aboard a public tour of Seneca Lake from town with Captain Bill's Boat Tour.
Shequaga Falls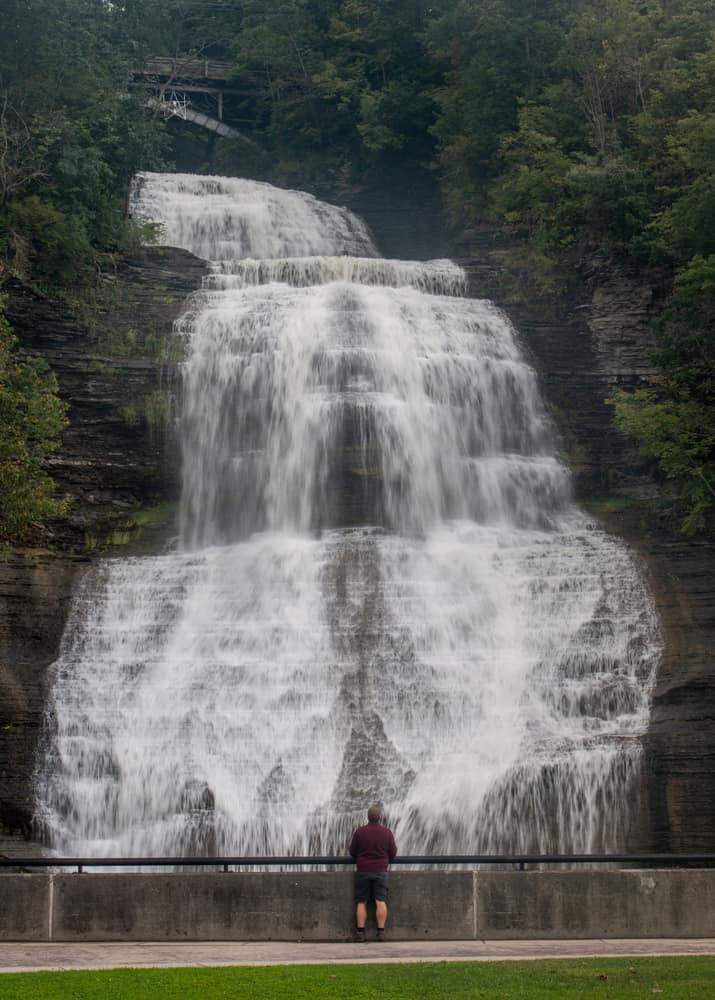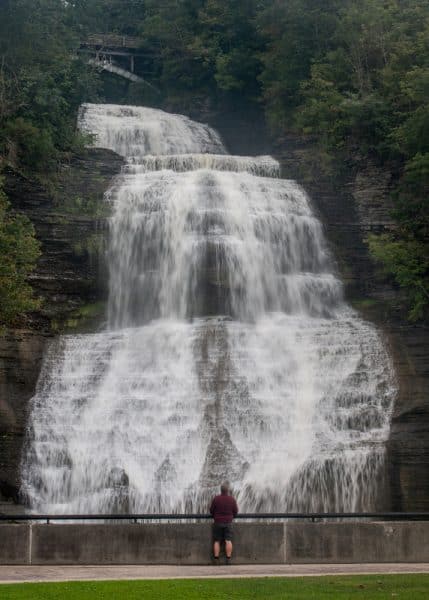 Many towns in New York have their own waterfalls, but few, if any, sit so imposingly over the town as Shequga Falls in Montour Falls, NY.
Shequaga Falls stands 156 above the town and is visible from just about anywhere, including the charming downtown area. However, the best views are from the park directly in front of the falls.
From here, you can stand less than 100 feet from the base of this impressive waterfall atop a concrete wall that helps keep the stream away from the surrounding houses.
It's worth noting that this waterfall only flows well when water levels are high.
Aunt Sarah Falls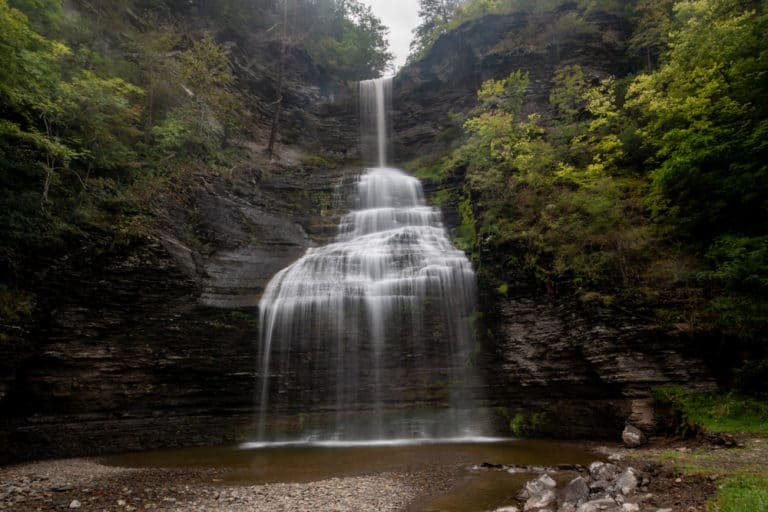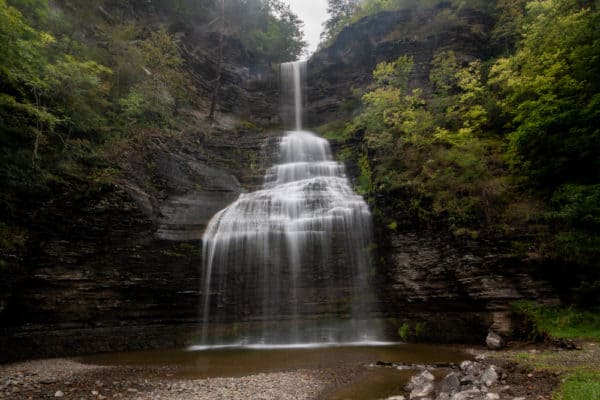 Aunt Sarah Falls is another fantastic waterfall near Watkins Glen, NY. In fact, this one sits between Watkins Glen and Montour Falls, so if you are heading to the waterfalls south of town, you'll inevitably pass this spot.
That being said, this is the most seasonal of all the waterfalls on this list, and it rarely flows well. In fact, to get the photo above, I had to visit Aunt Sarah Falls on a day when Watkins Glen State Park was closed because the water was too high in the park.
Still, the ease of visiting this waterfall makes it one not to be missed when exploring the area. And, if you can catch it when it's flowing well, this 90-foot waterfall is very impressive.
Eagle Cliff Falls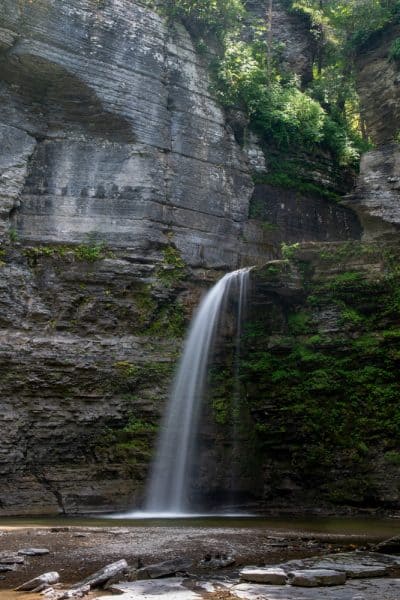 Eagle Cliff Falls is another waterfall south of Watkins Glen and is about 10 minutes from town.
This waterfall can be found within Havana Glen Park, which features a popular campground and access to Eagle Cliff Falls for a small fee. If you're looking for somewhere to stay near Watkins Glen and don't want to be in a hotel, this is a good option.
Eagle Cliff Falls can be found at the end of a short, narrow trail that passes through the gorge carved by McClure Creek. It plunges directly off a towering rock wall into a small pool at its base.
This is probably the most dramatic setting for any of the waterfalls near Watkins Glen, outside of those in the state park.
Excelsior Glen Waterfalls
Of all the waterfalls on this list, the waterfalls in Excelsior Glen are the only ones I haven't yet visited. However, I've heard enough good things that I'd be remiss in not mentioning them.
There are a total of five waterfalls in the glen, with Empire Falls being the largest at 100 feet in height. In many ways, this glen looks similar to the gorge in Watkins Glen, though without the crowds.
If you do elect to visit here, be forewarned that this is a very difficult hike thanks to the combination of creek walking and steep trails. This is definitely the hardest hike on this list.
Deckertown Falls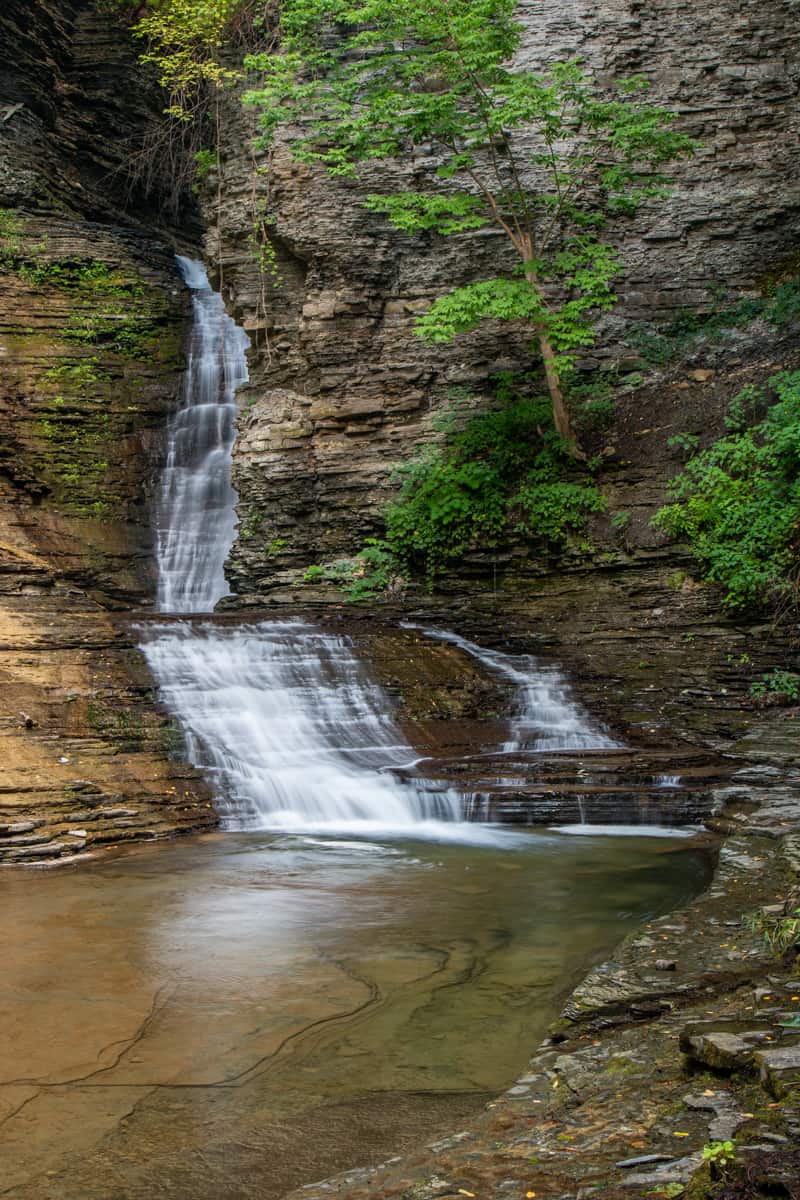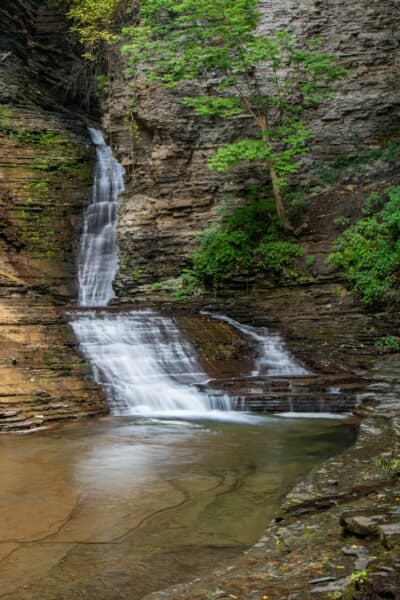 Deckertown Falls is another great spot to visit near Watkins Glen.
Located close to Havana Glen Park and about a 10-minute drive from the town of Watkins Glen, Deckertown Falls is definitely a hidden gem of the region. That being said, there is only room for a few cars to park when visiting, so do your best to visit outside of peak hours.
Visiting the two lower waterfalls in this glen is quite easy and requires a short and flat hike of only about a hundred yards to see. The second waterfall here is quite beautiful and definitely worth seeing when in the area.
I've heard that there are more waterfalls upstream of this second one. However, the climb up the side of the waterfall is very steep, so you may want to stay in the lower portion of this area.
Other Nearby Waterfalls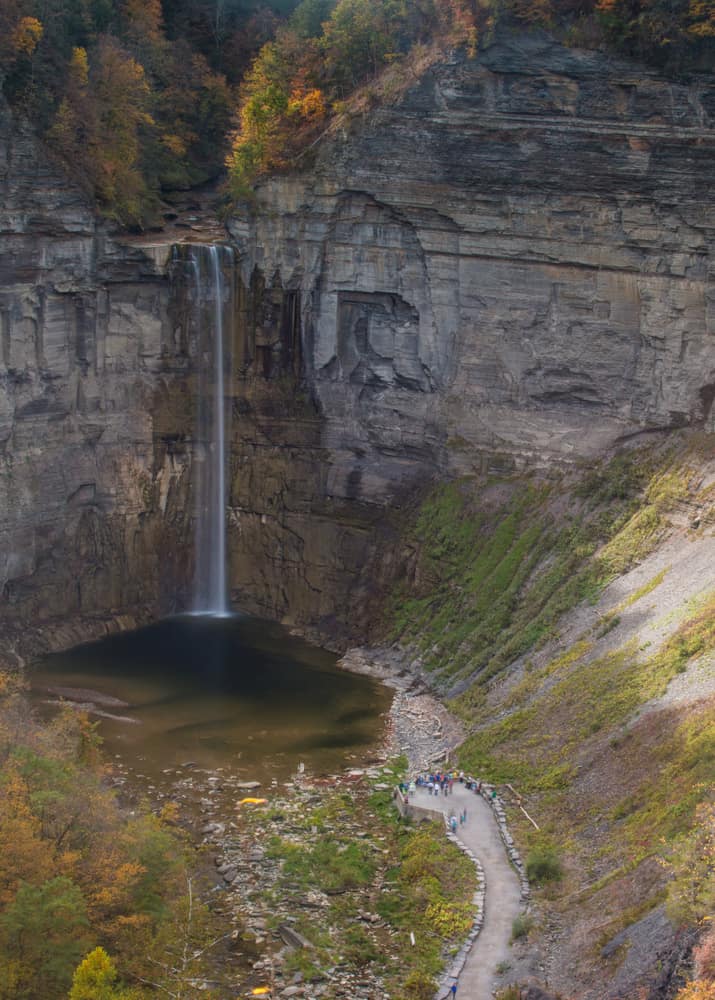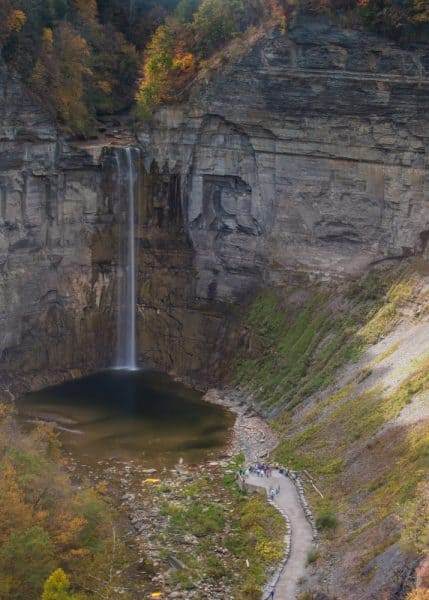 As noted above, all of the waterfalls on this list are within about 10 minutes of Watkins Glen. However, the Finger Lakes region is filled with waterfalls, and there are many more that you can reach within 30 minutes to an hour's drive.
The most impressive of these is Taughannock Falls, the tallest single-drop waterfall in the eastern United States. Other great waterfalls near Watkins Glen, New York include Ithaca Falls, Buttermilk Falls, Grimes Glen, and Seneca Mill Falls. All of these can be seen in less than an hour's drive from town.
Looking for even more places to visit nearby? Check out the best waterfalls near Ithaca, Boundary Breaks Winery, the National Soaring Museum, and the Corning Museum of Glass.