Disclosure: This article may contain affiliate links. We will make a small commission from these links if you order something at no additional cost to you.
Montour Falls is a quaint community located a few minutes' drive from the popular destination of Watkins Glen. While it might be easy to overlook, that would be a big mistake if you love New York's waterfalls.
In fact, Montour Falls might be home to the most impressive roadside waterfall in the Finger Lakes: Shequaga Falls.
Shequaga Falls (pronounced She-qua-ga) is a 165-foot tall waterfall located right in the heart of Montour Falls, New York. In fact, you can even see it while driving down Main Street as it towers over this otherwise flat community.
The waterfall is also known as Montour Falls, which is likely where the town got its name instead of the other way around. Today, it is now known by a name in the Seneca language which means "Tumbling Waters."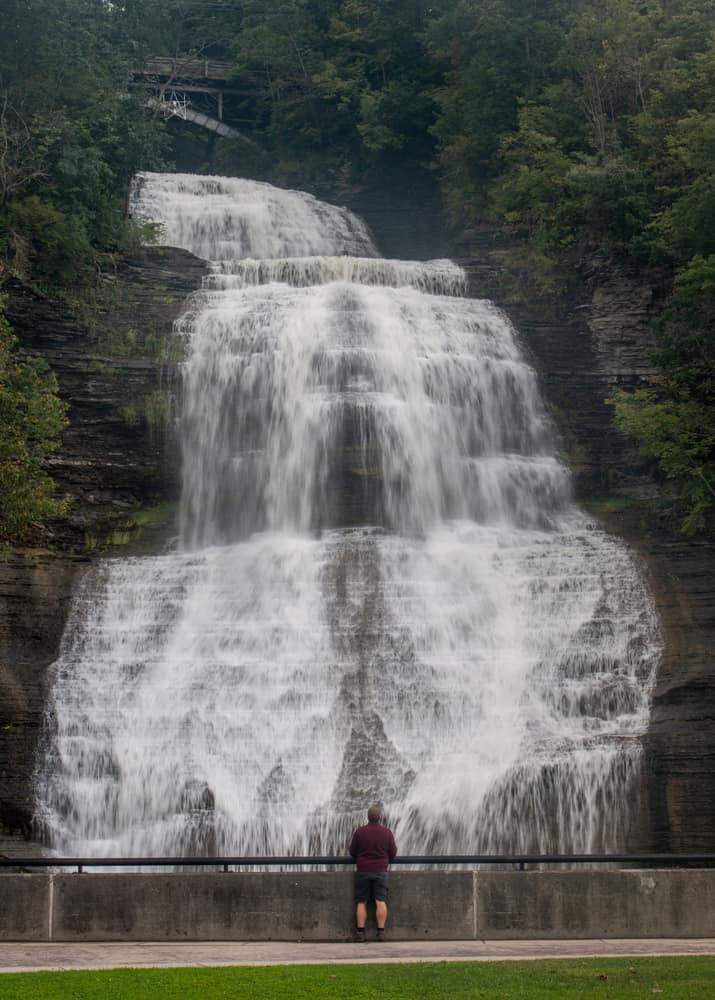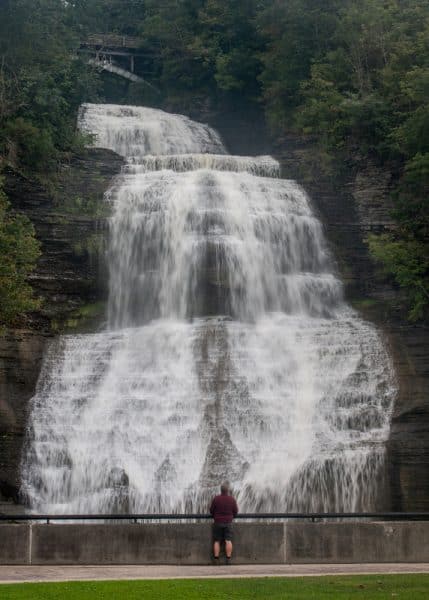 From the parking area on South Genesee Street, it's only a couple hundred feet along a totally flat sidewalk to the best viewing area for the falls.
This easy-to-reach viewing area makes Shequaga Falls one of the most accessible waterfalls in the Finger Lakes.
The viewing area for the waterfall is located in a small park between two beautiful houses. I can't imagine how amazing it would be to have a waterfall like this in your backyard. However, Cook Mansion Bed and Breakfast features rooms with views of the falls, so it would definitely give you that experience if you're looking for somewhere to stay in the area.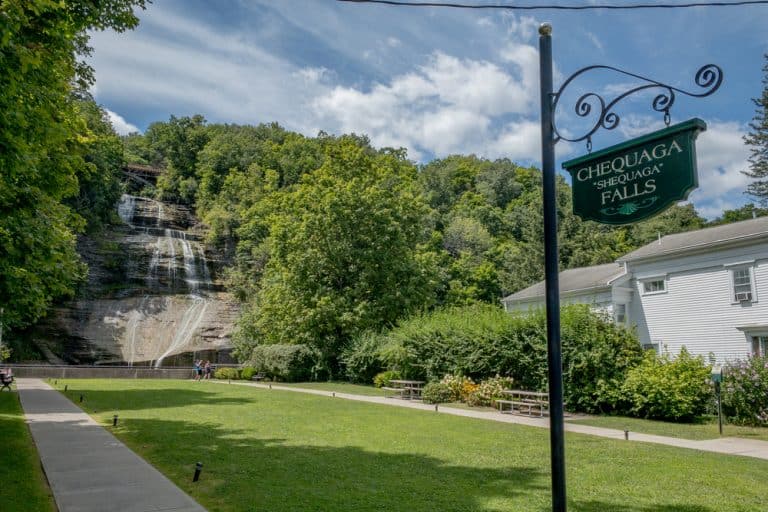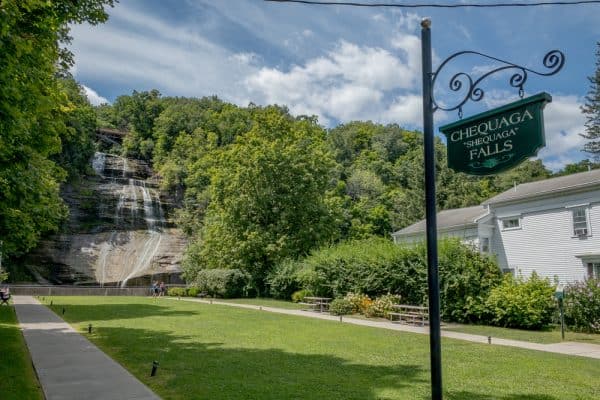 This small park ends at a fantastic view of Shequaga Falls. At the bottom of the waterfall, Shequaga Creek makes a 90-degree turn, which provides great views directly in front of the falls.
From here, you are maybe 10-15 feet above the waterway below (which has been contained by a concrete wall to ensure the land around it doesn't erode) and 75-100 feet from the falls themselves.
To be honest, the ability to stand so close to such a large and imposing waterfall is quite a fantastic experience.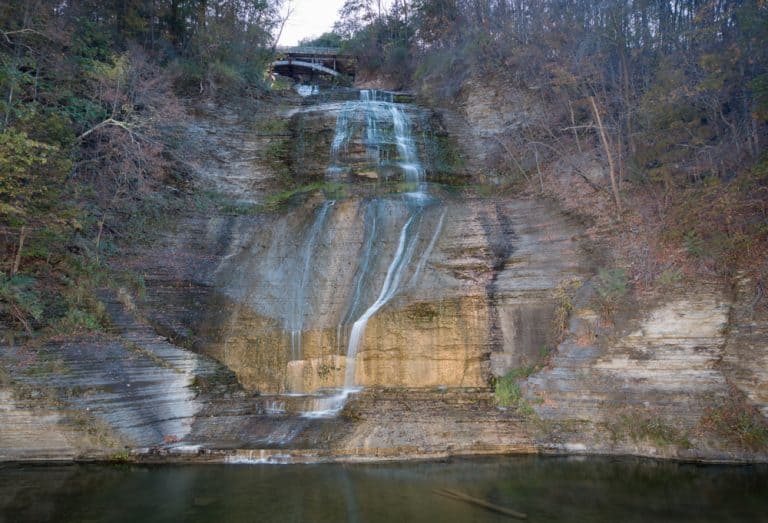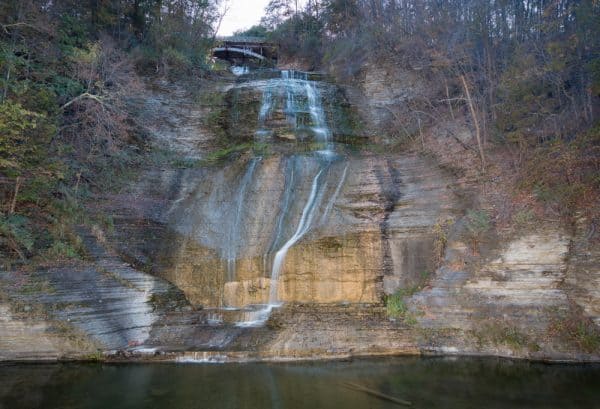 Obviously, Shequaga Falls is best seen during periods of high water. However, even when water levels are lower and some nearby waterfalls, like Aunt Sarah Falls, are dry, Shequaga Falls tends to still have at least a bit of water flowing over its rocky face.
If you can, visit during the evening and then come back to see it again after dark. I recommend this because Shequaga Falls is one of the few waterfalls in New York that is lit up after dark. This creates an interesting experience that's worth seeing if you love waterfalls.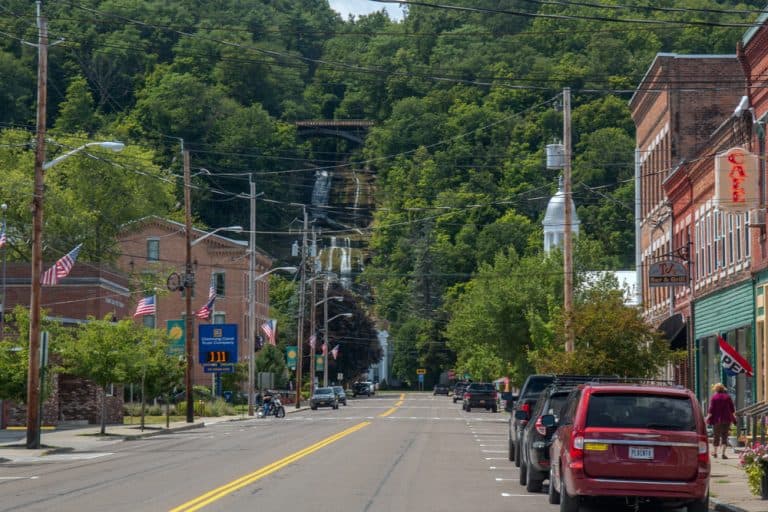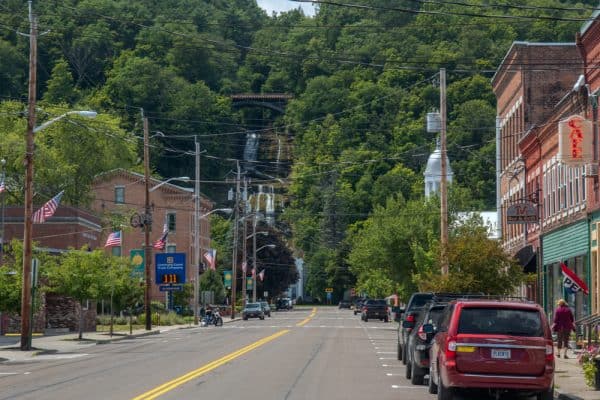 Without a doubt, Shequaga Falls is an incredibly impressive waterfall. It's roughly the same height as the nearby and also roadside Hector Falls, but you can easily see this entire waterfall and don't have to stop along the side of a busy road to visit it.
So, if you find yourself in Watkins Glen or checking out the waterfalls in Ithaca, take a few minutes to visit the incredibly amazing Shequaga Falls in Montour Falls, New York. I guarantee you that you won't be disappointed as it's one of the best waterfalls near Watkins Glen, New York.
How to Get to Shequaga Falls in Montour Falls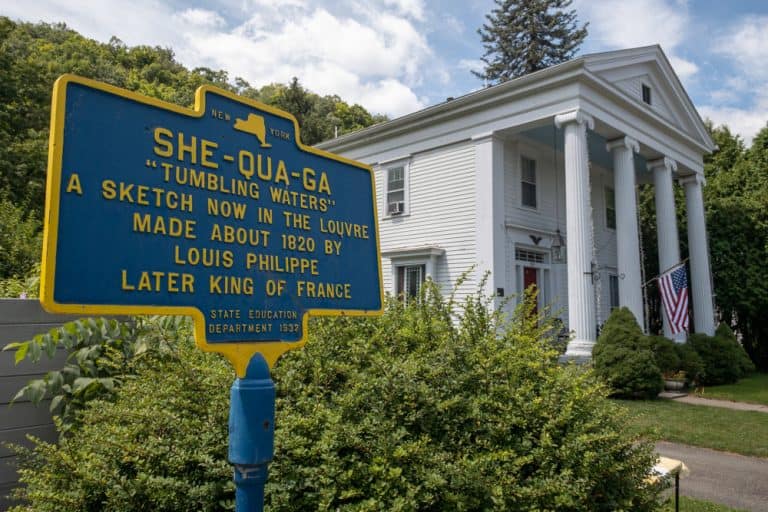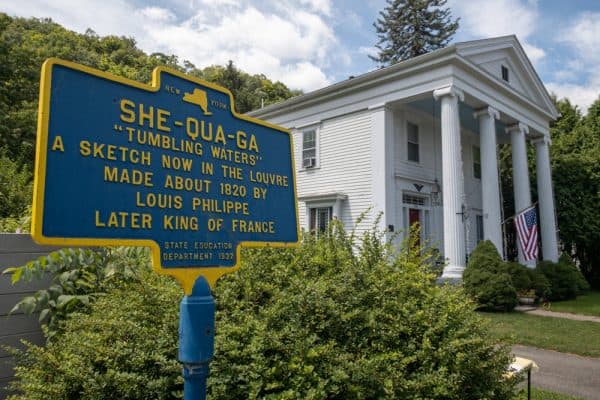 Shequaga Falls is located in a tiny park along South Genesee Street in Montour Falls, New York, only about 5 minutes from Watkins Glen.
It can be found at the following coordinates: 42.344746, -76.850876. If you'd rather use an address, you can use 109 S Genesee St, Montour Falls, NY 14865.
There is room for a couple of cars directly in front of the park, but there is also parking along Genesee Street and Main Street if those spots are full.
It is also possible to get a view of Shequaga Falls from above along the bridge you can see from the park. To get there, head north of Genesee Street. Take the first left onto Steuben Street, and then the first left off of that onto Mill Street.
Looking for more places to visit nearby? Check out Eagle Cliff Falls at Havana Glen, Deckertown Falls, Taughannock Falls State Park, and the Corning Museum of Glass.
[Click here for information on how to use the coordinates in this article to find your destination.]