Disclosure: This article may contain affiliate links. We will make a small commission from these links if you order something at no additional cost to you.
When I'm traveling around the Finger Lakes, I'm always on the lookout for great roadside waterfalls in New York that I can quickly stop at. One such waterfall is Aunt Sarah's Falls near Watkins Glen.
Aunt Sarah's Falls is located along Route 14, between Montour Falls and Watkins Glen. In fact, if you're driving to Watkins Glen from Elmira or from westbound I-86, you'll likely pass right by this waterfall just a couple of minutes before you reach Watkins Glen State Park.
This waterfall is said to be roughly 90 feet in height, though cascades and waterfalls that are above the waterfall and not visible from the viewing areas continue up the hillside.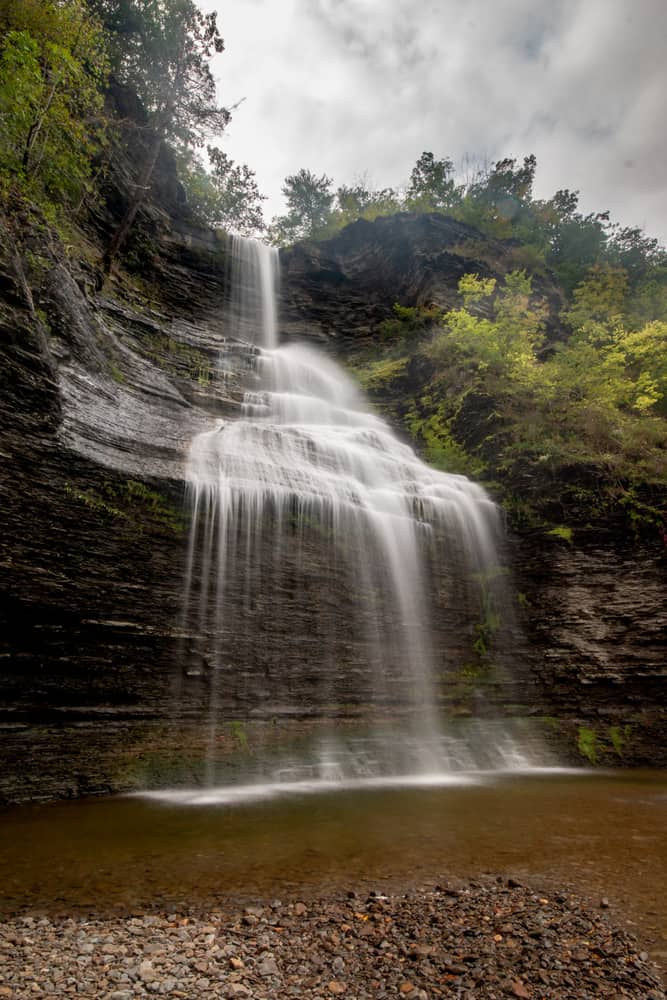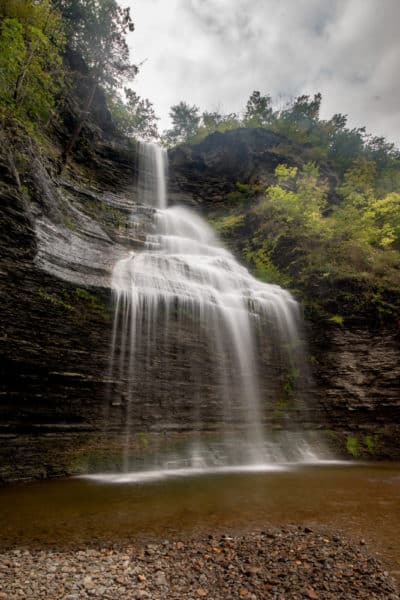 This is a very seasonal waterfall and only flows well when water levels are high. In fact, on the day the photos in this article were taken, the Gorge Trail at nearby Watkins Glen State Park was closed because water levels were too high.
If you visit during the summer or whenever water levels are average or below average, expect this waterfall to be, at most, a trickle, but more than likely, totally dry. In that way, it's similar to Shequaga Falls, another roadside waterfall only half-a-mile away.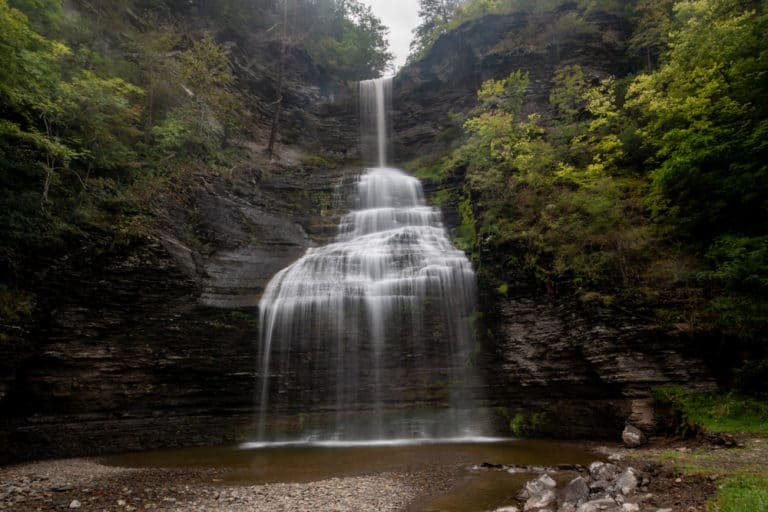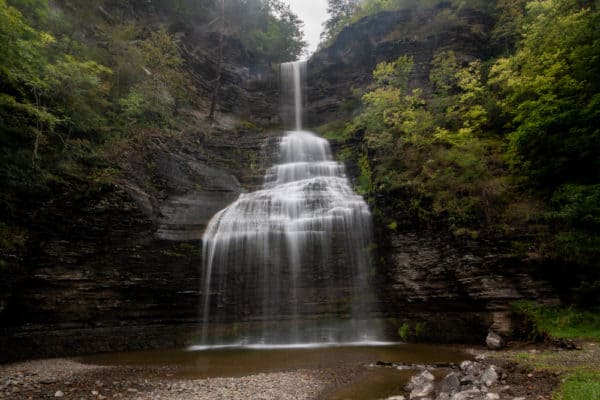 However, when Aunt Sarah's Falls is flowing, it's a waterfall that is well worth taking the time to see.
The parking area for the waterfall is located on the opposite side of Route 14 from the falls and can be found at the following coordinates: 42.352351, -76.855709.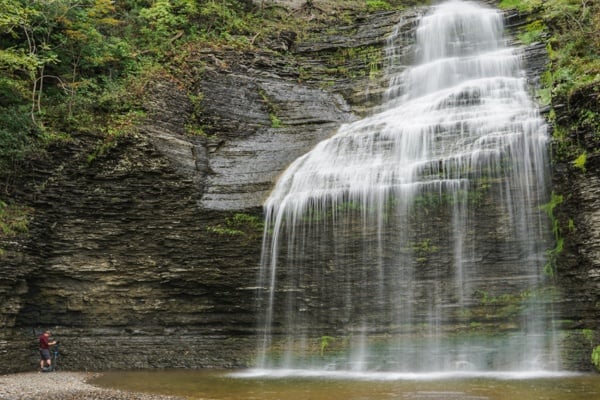 Unless you are unable to walk a few steps, save the small amount of space on the waterfall side of the road for those who would have difficulty walking across the road.
You can see Aunt Sarah's Falls from the opposite side of the road near the parking area, but there is a small dirt and grass area at the base of the falls that provides nice views of this beautiful spot. When crossing the road, use extreme caution as this is a busy road and there is no official crosswalk or even signage to warn motorists.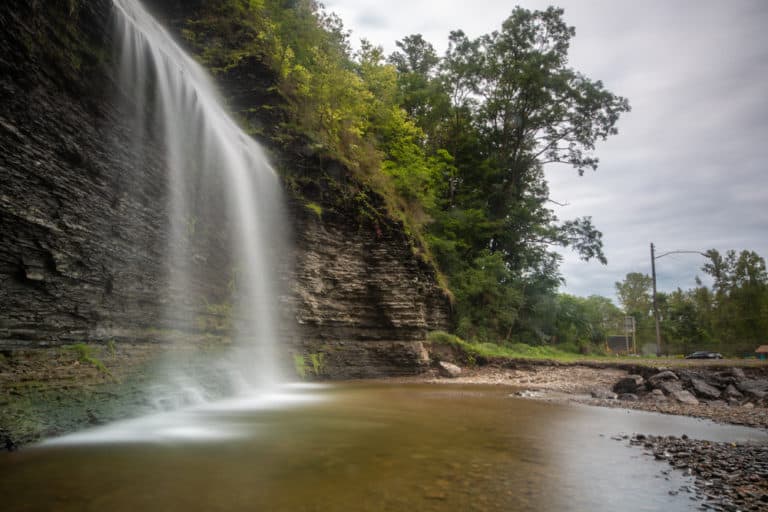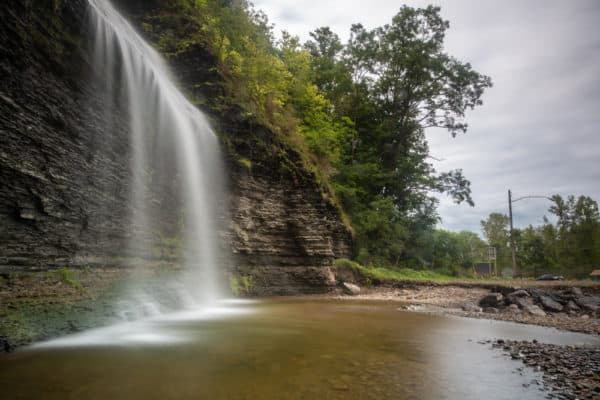 The 90 feet of Aunt Sarah's Falls can be divided into three roughly equal sections, which adds a lot of visual interest to this waterfall.
The upper third of the waterfall typically flows in a narrow band and freefalls about 30 feet. At this point, it hits a ledge and the waterfall spreads out considerably and it rushes over the rocks.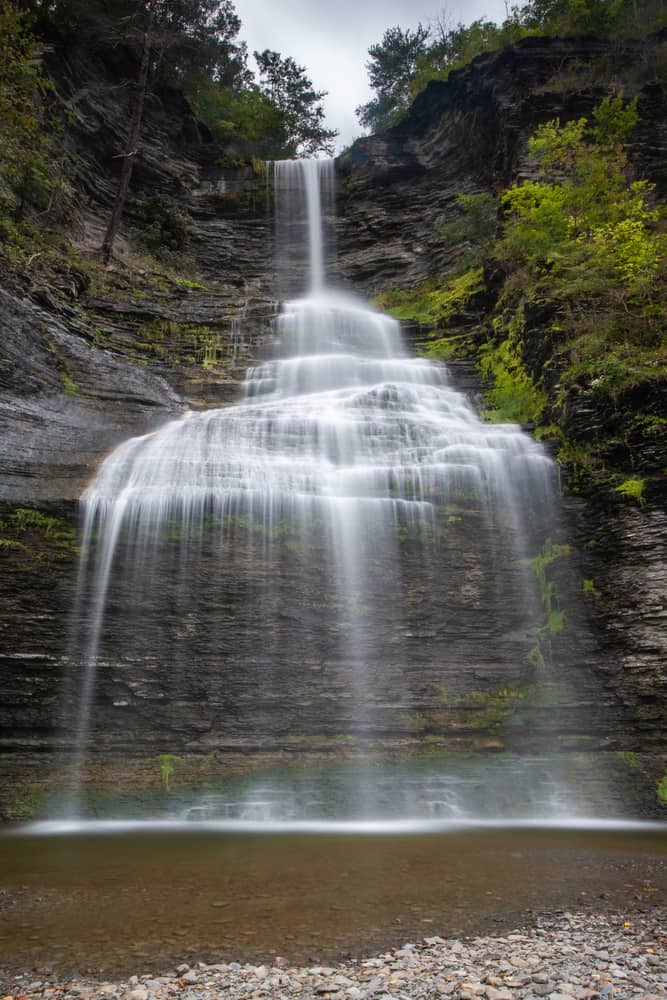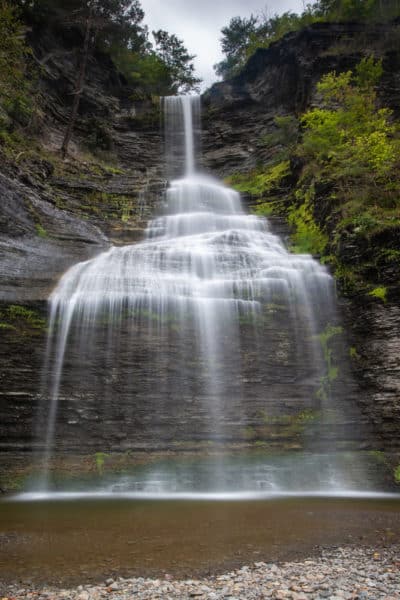 Then, in the final third of its drop, the water cascades directly off of the rocks as it drops into the shallow pool at its base.
Without a doubt, Aunt Sarah's Falls is an incredible waterfall to visit when it's flowing well. And, given how easy it is to visit this beautiful spot while exploring the area around Watkins Glen, New York, this is a waterfall in the Finger Lakes that should absolutely be on your list of spots to visit.
Looking for more places to visit nearby? Check out Eagle Cliff Falls, Hector Falls, and the Corning Museum of Glass.