Disclosure: This article may contain affiliate links. We will make a small commission from these links if you order something at no additional cost to you.
As someone that loves waterfalls, Ithaca, New York is an amazing place to visit. And during my visits to the region, I've had a chance to visit many beautiful Ithaca waterfalls.
It's truly amazing how many fantastic waterfalls there are in this part of the state. Whether you are looking for waterfalls that require long hikes or prefer roadside falls, there's a bit of something for everyone to experience with these Finger Lakes waterfalls.
Here are a few of my favorite waterfalls in Ithaca and the rest of Tompkins County. I can't wait to visit again and find even more!
Ithaca Falls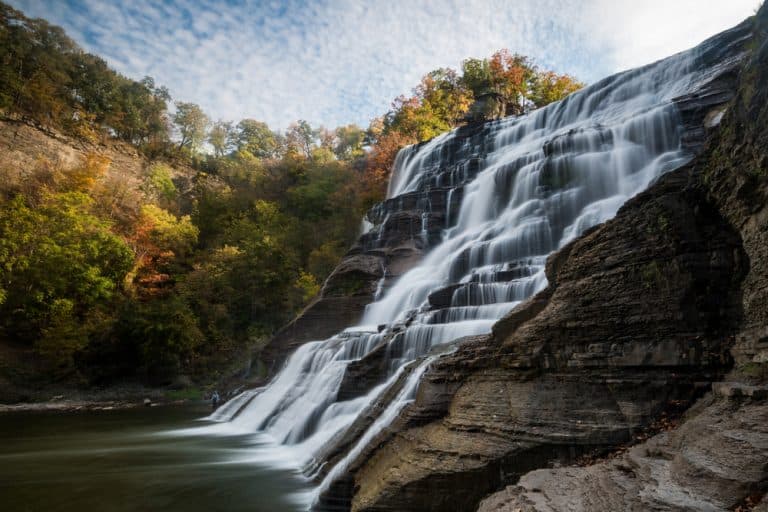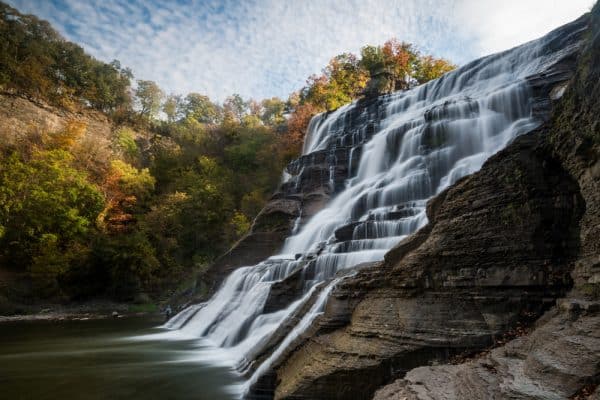 If you are looking for waterfalls in Ithaca, there's nowhere better to start than Ithaca Falls. In all my travels around the world, there are very few waterfalls in the middle of a city that have impressed me as much as this beautiful waterfall.
Ithaca Falls can be seen from downstream along the bridge over Fall Creek on Lake Street, or you can hike a short trail to the base of the falls. Given how close you can get to this waterfall, I highly recommend taking the Ithaca Falls hiking trail.
Standing over 100 feet tall and even wider than it is tall, this is one of the most impressive Ithaca, NY, waterfalls and shouldn't be missed while traveling in the area.
Taughannock Falls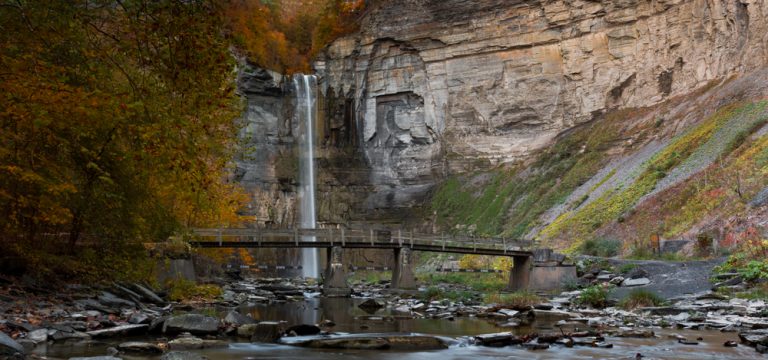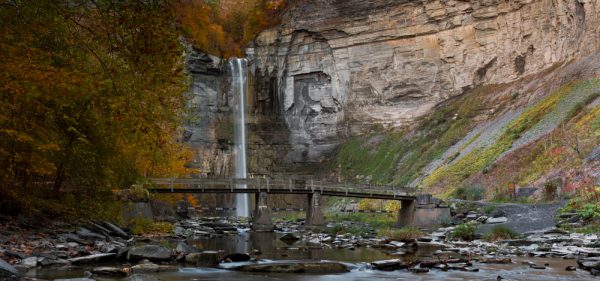 Taughannock Falls is located in Taughannock Falls State Park, a beautiful park just a few miles north of downtown Ithaca.
Taughannock Falls has a drop of over 215 feet, making it the tallest single-drop waterfall east of the Rocky Mountains (Yes, even taller than Niagara Falls).
Visitors can choose to visit this waterfall from a lookout over the gorge (which is just steps from the parking area) or by taking the 0.75-mile trail to the base of the falls from a different parking lot. Taking this trail also gives you the chance to see Lower Falls, another beautiful waterfall in the park.
Ideally, it's worth checking out this waterfall from both vantage points as they offer impressive, but different views of the falls.
If you only have time to visit one Finger Lakes waterfall, make it this one. In fact, this is among the best waterfalls in all of New York.
Upper Falls in Taughannock Falls State Park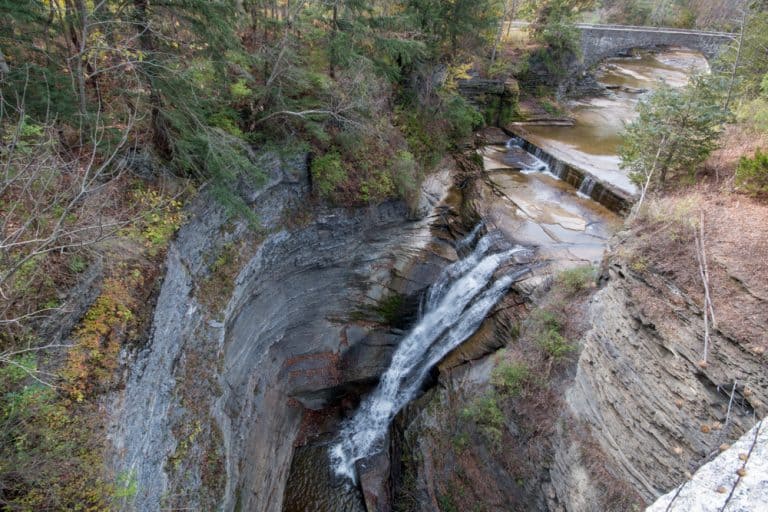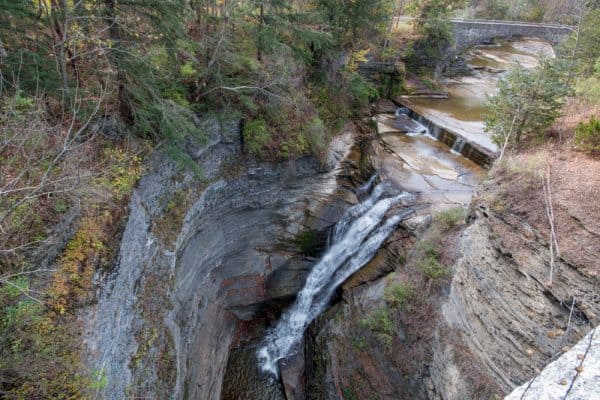 Don't leave Taughannock Falls State Park without also taking the time to check out Upper Falls. This waterfall is located upstream of the main falls and is one of the most powerful waterfalls near Ithaca.
Unfortunately, there isn't a great viewpoint from which to see and photograph this waterfall. However, a short trail from the parking area off of Jacksonville Road leads to a bridge from which you can look down at this incredibly impressive waterfall.
Buttermilk Falls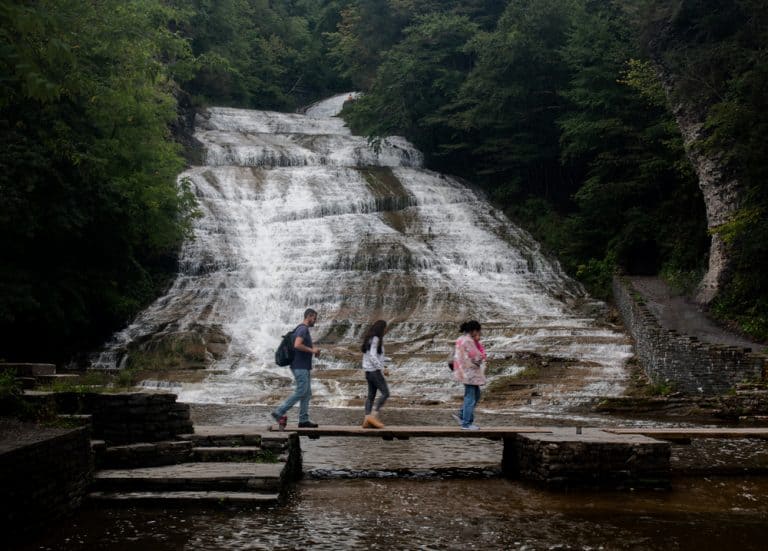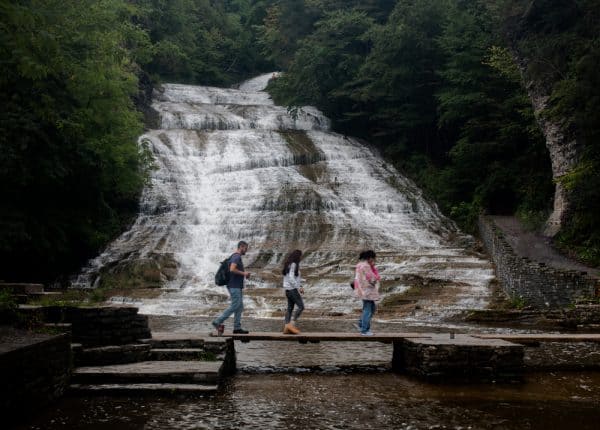 Buttermilk Falls is located south of Ithaca in Buttermilk Falls State Park. Sitting directly adjacent to the parking area, Buttermilk Falls is said to 165 feet in height.
Unlike many other waterfalls in the region, this waterfall is more a very long and tall slide, but that makes it no less impressive. However, if water levels are lower, this waterfall tends to dry up a bit, so visiting during times of higher water is recommended.


There are many great viewing areas around the base of this waterfall and you can even swim below it during the warmer months of the year.
If you have the time and energy, continue above Buttermilk Falls as there are nine more scenic waterfalls upstream of the main falls. Combining the Gorge Trail with the Rim Trail creates a beautiful 1.5-mile hike through the park and past many of its waterfalls.
Cascadilla Gorge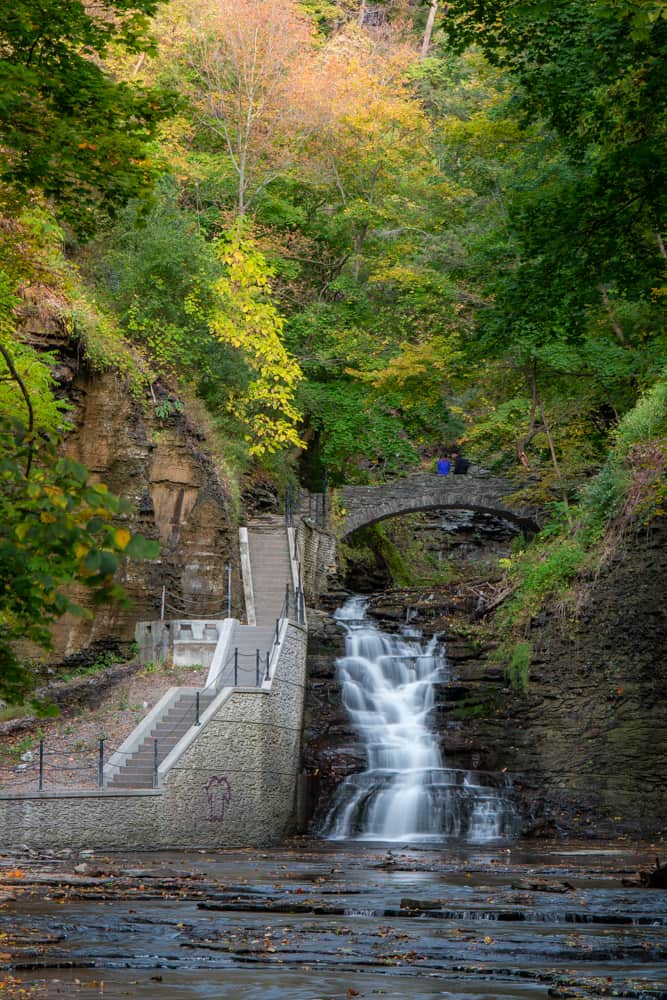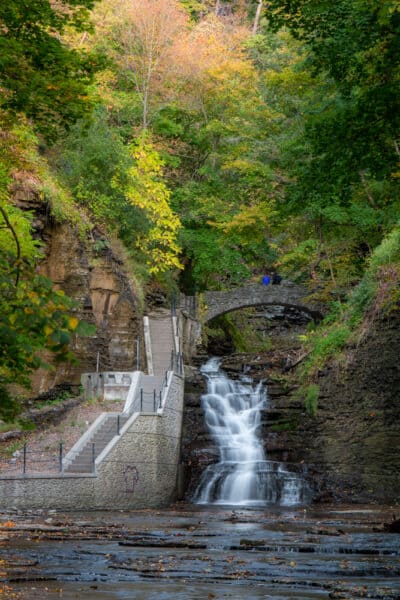 Ithaca's gorges don't get any better than Cascadilla Gorge. If you're looking for under-the-radar Finger Lakes waterfalls, this is one you won't want to miss.
The Cascadilla Gorge Trail follows Cascadilla Creek from downtown Ithaca into the heart of the Cornell Campus. In fact, if you visit during the school year, it's likely most of the people walking this trail with you will be people simply going about their daily business and walking from one spot to the other (I wish I had a daily walk like this in my backyard!).
This 1.3-mile trail passes six beautiful Ithaca waterfalls along historic stone steps that were first constructed in the 1920s.
If you don't mind steps, this is a fantastic urban trail in downtown Ithaca.
Lucifer Falls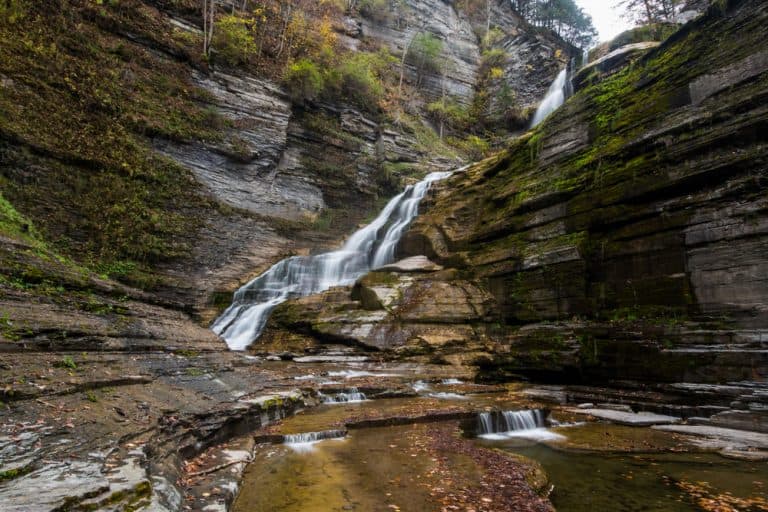 Lucifer Falls is located in Robert H. Treman State Park south of Ithaca. It is possible to view Lucier Falls both from above as well as from a set of stone stairs that are cut out of the stone walls adjacent to this beautiful waterfall.
Lucier Falls is said to be about 115 feet in height and the variety of viewing areas available make this a fun waterfall to visit in Tompkins County. My recommendation is to do a loop hike is to take the Rim Trail to the upper overlook. Just beyond this, a set of steep stone steps takes you down to the base of the gorge and the bottom of Lucier Falls.
Thanks to the 90-degree angle that the falls makes, getting a look at the lower part of the falls is quite difficult (without ignoring warning signs and getting your feet wet), but the path up the side of the falls makes up for it.
Lower Falls at Robert H. Treman State Park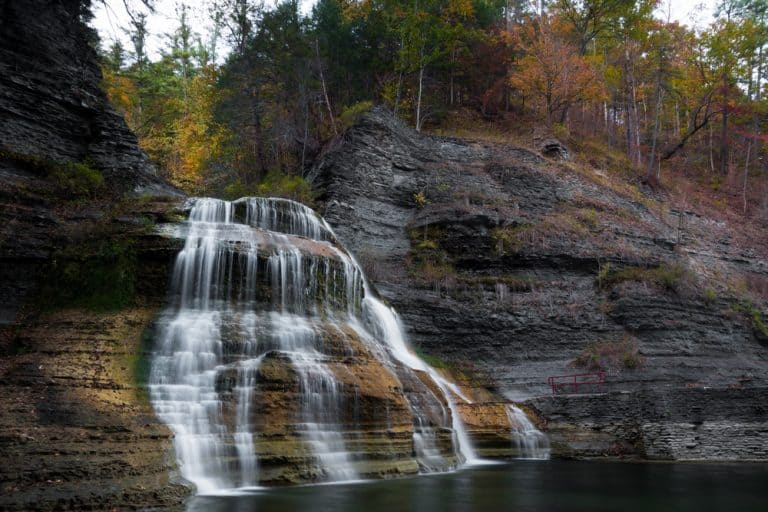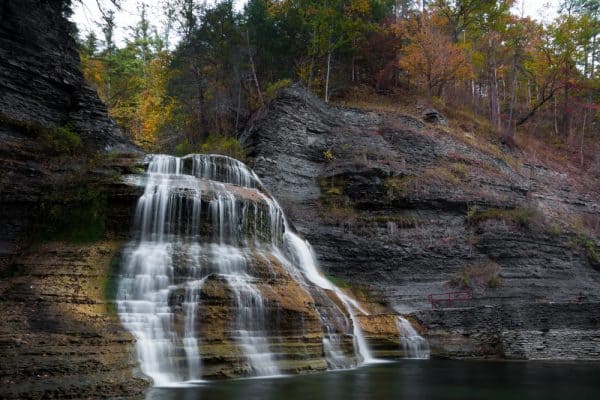 While it's far from the tallest Ithaca waterfall, the Lower Falls at Robert H. Treman State Park is definitely one of my favorites in the region.
While this is an impressive waterfall in its own right with a 30-foot drop, what makes this waterfall so great is its unique look. The water here falls off in a semi-circular fan shape, as the orange rocks and green moss below the water add a beautiful coloration to the falls.
Even better, the tall cliffs of the gorge really make this an impressive waterfall to look at.
For those that like swimming, you are allowed to swim at the base of the falls during the warmer months of the year.
Getting to Lower Falls is possible on a hike from Lucifer Falls, but I prefer to simply drive to the lower parking area and walk the short distance upstream.
Horseshoe Falls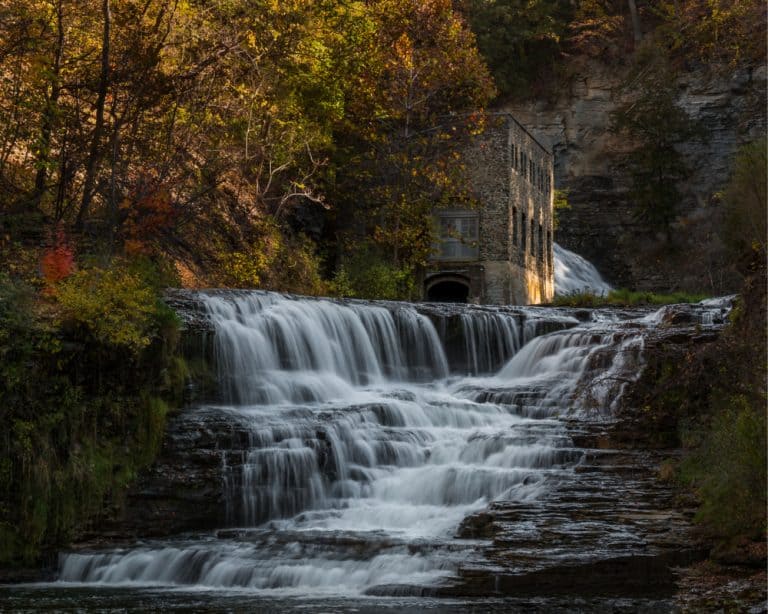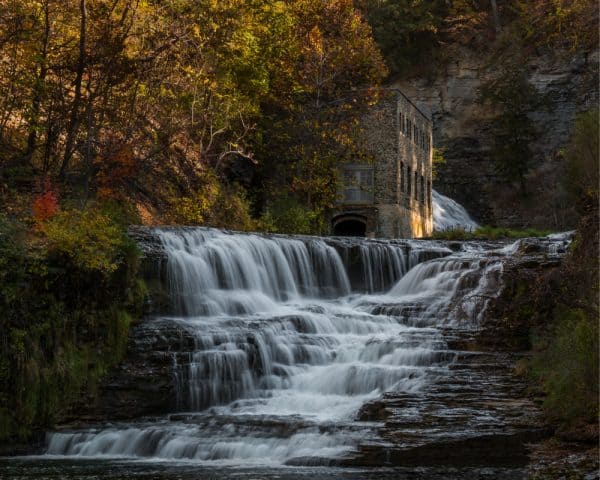 Horseshoe Falls is another beautiful waterfall on Cornell University's campus. Located upstream of Ithaca Falls in the Fall Creek Gorge Natural Area, this is one of the most beautiful Ithaca, NY, waterfalls.
This is another waterfall where the shape of the falls make up for its lack of impressive height. I also like the old stone building that is located directly behind the waterfall as I think this adds a lot of the beauty of Horseshoe Falls.
While this waterfall can be seen from above, walking down the steps to the base of the gorge is well worth the effort.
Triphammer Falls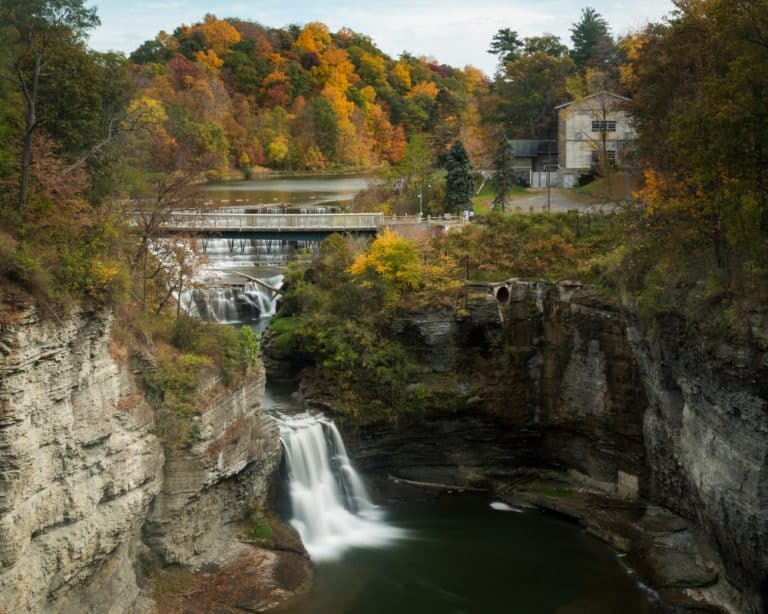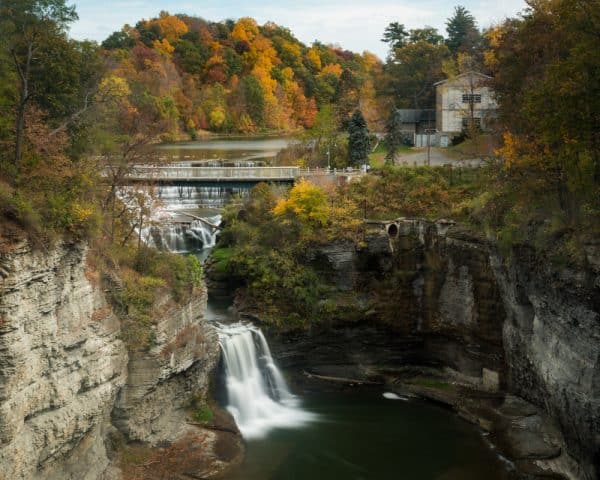 Triphammer Falls is another waterfall located on Falls Creek. Unlike the others in downtown Ithaca and on the campus of Cornell University that seem secluded, this waterfall is best viewed from one of the main roads in the area: the Thurston Avenue Bridge.
Triphammer Falls consists of two drops, as well as an extension to create a dam for Beebe Lake. While it's hard to say for sure, I've seen the waterfall listed as being about 40 feet in height, which seems about right.
There used to be an old stone building directly next to the base of Triphammer Falls, but that has been torn down in recent years.
For a closer look at Triphammer Falls, and a better look at the upper tier, walk across the small pedestrian bridge just upstream of Thurston Avenue.
Well's Falls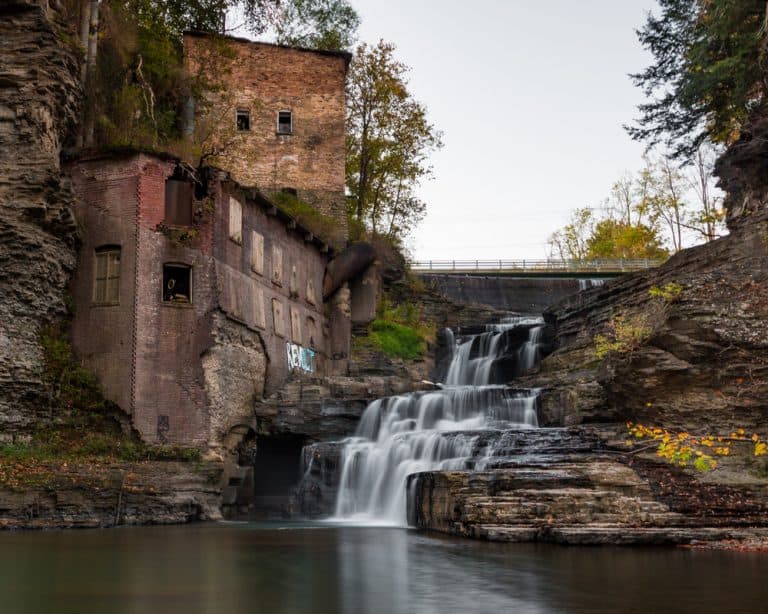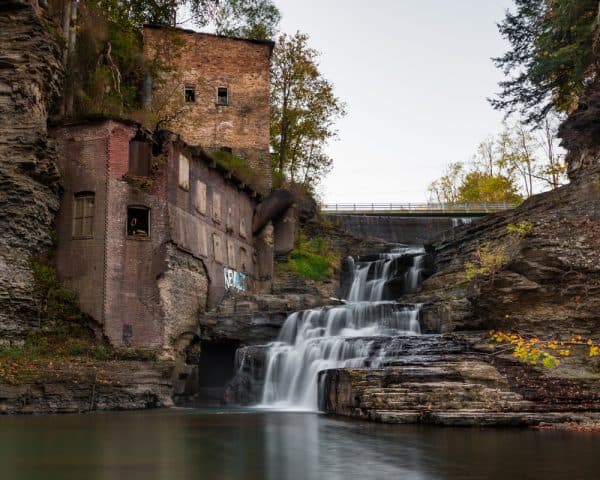 Wells Falls might be one of the region's least-known spots, but shouldn't be missed on any Ithaca waterfall tour.
Also known as Businessman's Lunch Falls, Wells Falls is located along Six Mile Creek a short distance southwest of the downtown area. This waterfall is roughly 35 feet in height and falls down several tiers, giving it a beautiful look unless water levels are very low.
What makes Wells Falls so unique is that it is adjacent to an abandoned power plant. This combination of waterfall and abandoned structure provides a very compelling look to this waterfall.
If you are looking for things to do in Ithaca, NY, don't miss this hidden gem.
Ludlowville Falls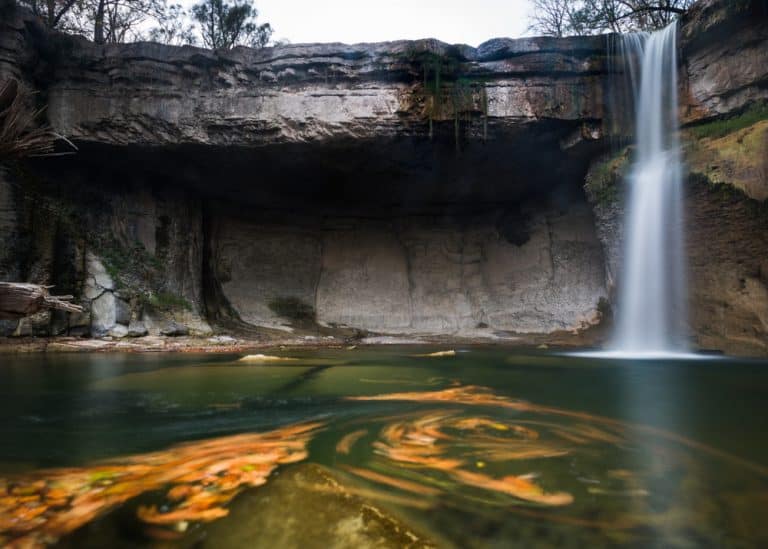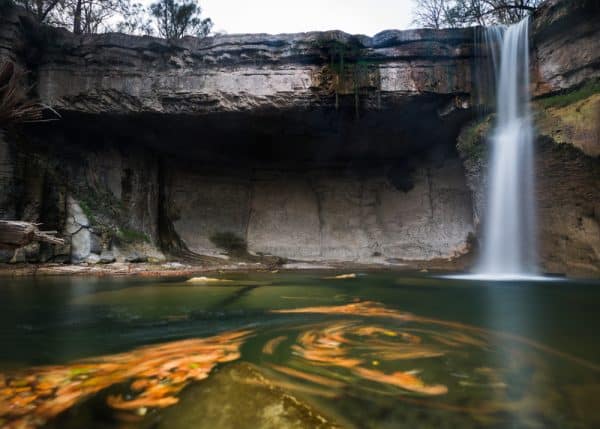 Ludlowville Falls is located northeast of Ithaca in a rural corner of Tompkins County. Located along Salmon Creek on the eastern shores of Cayuga Lake, this waterfall is said to drop upwards of 35 feet.
Ludlowville Falls (which is also called Salmon Creek Falls in some sources), is hidden within a small, unassuming park. However, a short walk past the playground equipment provides a great look at this waterfall, which can be viewed from above or from creek level.
Behind the veil of the water, there is a large cave that has been eroded, though it's rather difficult to safely reach this area, so trying to go behind the falls isn't recommended.
While this is an easy waterfall to reach, it's also one of the least visited waterfalls in the Finger Lakes.
Do you have a favorite Ithaca waterfall that we haven't visited yet? Let us know in the comments below. You can also read about the nearby waterfalls in Letchworth State Park, Hector Falls, the Watkins Glen Gorge Trail, and Waverly Glen Falls.
There are also many great waterfalls near Syracuse, NY, only a short drive away.
Where to Stay in Ithaca
Ithaca is a large city with many great places to stay including chain hotels, local boutique hotels, and bed and breakfasts.
Top picks in Ithaca based on guest reviews include the Statler Hotel, La Tourelle Hotel, and Hilton Garden Inn.
If you want to stay out of the city, the Inn at Taughannock is highly rated and offers great accommodations inside a historic mansion. It's roughly 10 miles north of Ithaca and located adjacent to Taughannock Falls State Park.