Disclosure: This article may contain affiliate links. We will make a small commission from these links if you order something at no additional cost to you.
Given its location in the northeastern corner of the Finger Lakes, it should come as no surprise that there are a lot of waterfalls near Syracuse, NY. And, despite the fact that this bustling city is one of the largest in New York, many of these peaceful spots are located only a short drive from the city.
In fact, you'll have to drive less than an hour from downtown Syracuse to see each of these great waterfalls.
So, the next time you want to go chasing waterfalls or are looking for things to do near Syracuse, here are a few of my favorite waterfalls to visit near the city.
Pratts Falls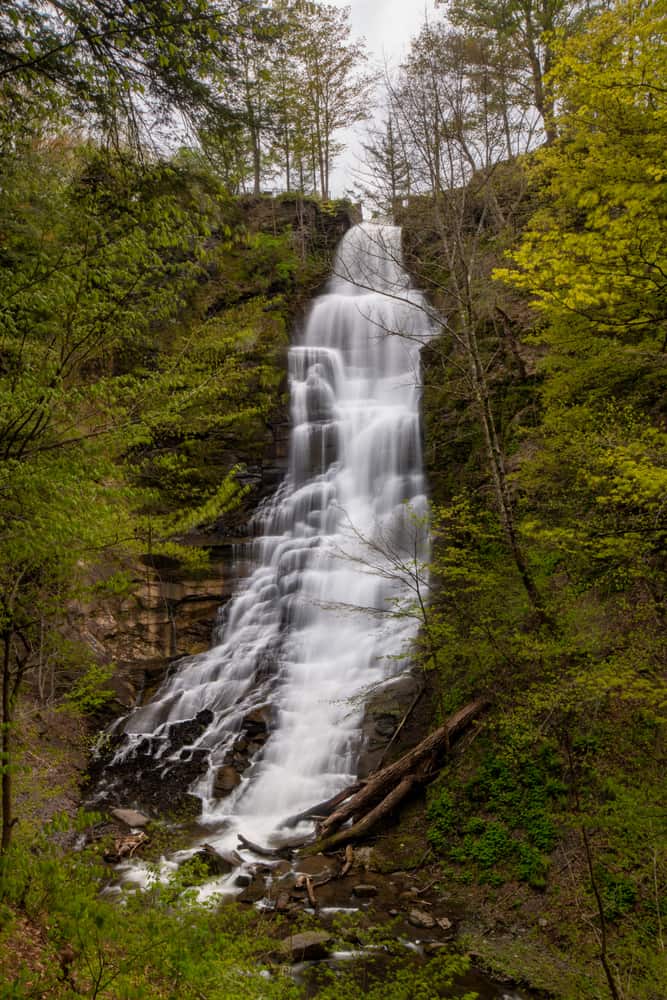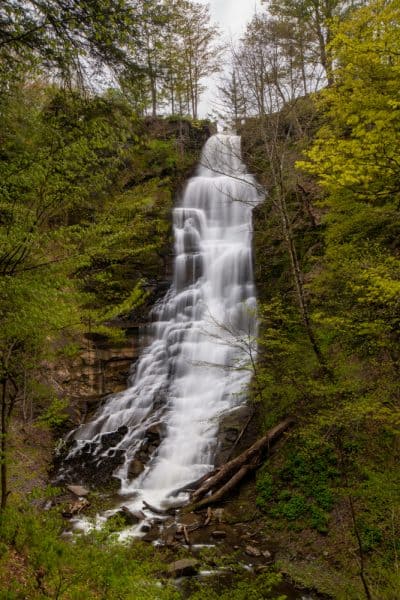 If you're looking for waterfalls near Syracuse, NY, there are few that are closer and most impressive than Pratts Falls.
Located within Pratts Falls Park a 20-25 minute drive southeast of downtown, this nearly 140-foot waterfall cascades down a massive cliff face. Visitors can view this waterfall both from above as well as from the end of a short walking path near the base of the falls.
For those that love history, the area above Pratts Falls was the site of the county's first settlement and remnants of the mill can still be seen near the crest of the waterfall.
Three Falls Woods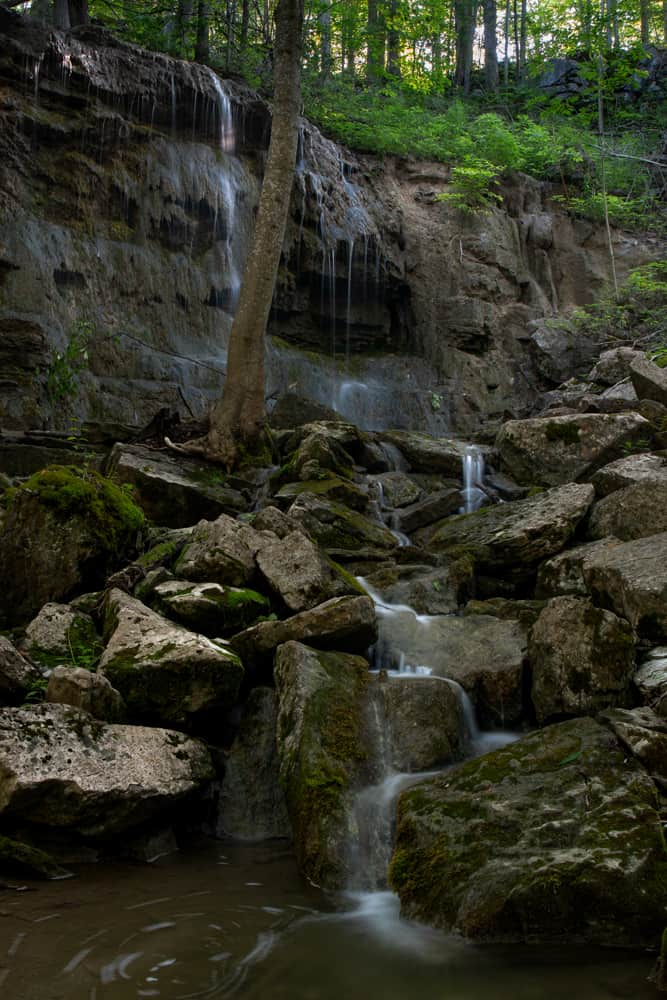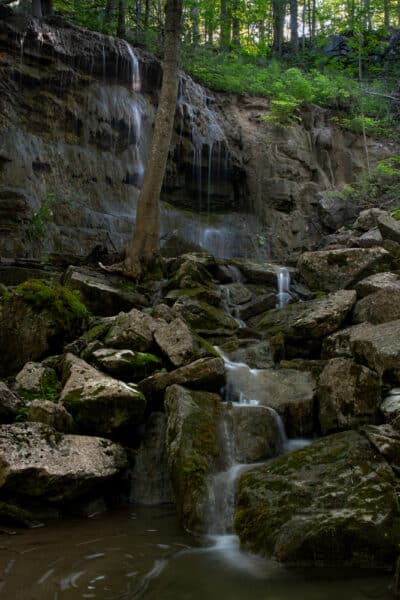 If you are looking for the closest waterfall to Syracuse, look no further than Three Falls Woods.
Located in a small preserve that's only been open to the public since 2018, there are, not surprisingly three waterfalls in Three Falls Woods. However, what makes this area most special is that all three waterfalls are located next to each other and can be easily seen from a single spot.
It's worth noting, however, that these are probably the most seasonal of the waterfalls on this list, so make sure you visit when water levels are high.
Salmon River Falls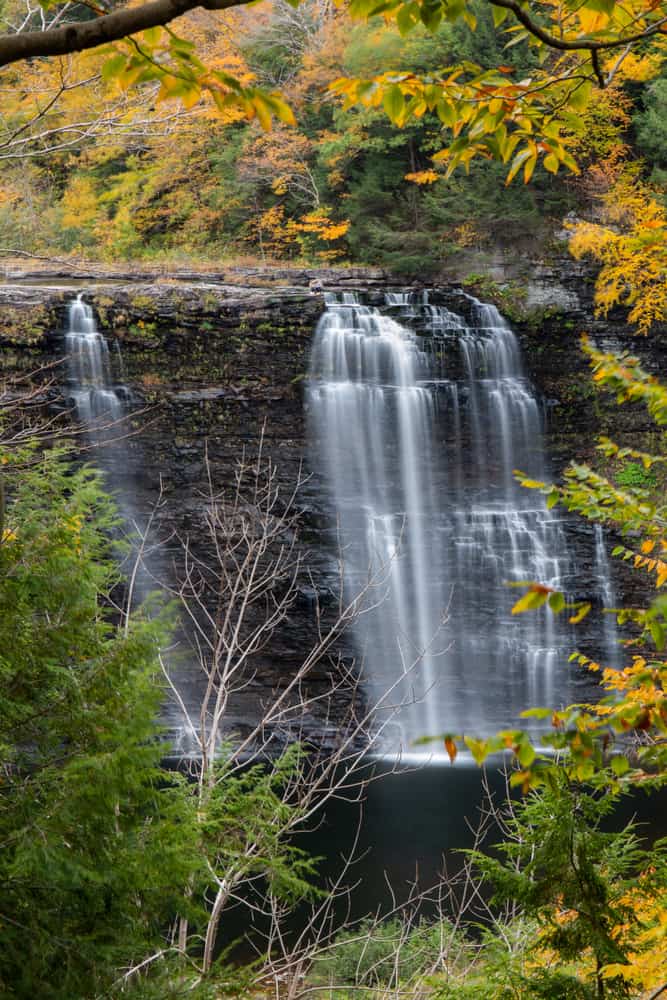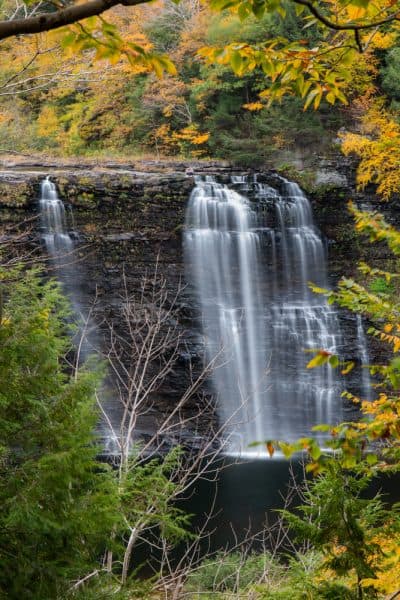 Salmon River Falls is located north of Syracuse and is roughly 50 minutes from the city.
While it's not the tallest waterfall on this list, its incredible width and height make it, in my opinion, the most impressive waterfall near Syracuse. And, at over 100 feet in height, it's definitely not small.
An easy trail from the parking area leads to several viewpoints near the crest of the falls. There is also a very difficult trail that will take you to the base of this scenic spot.
I like this waterfall so much that I even included it on my list of the best waterfalls in New York.
Delphi Falls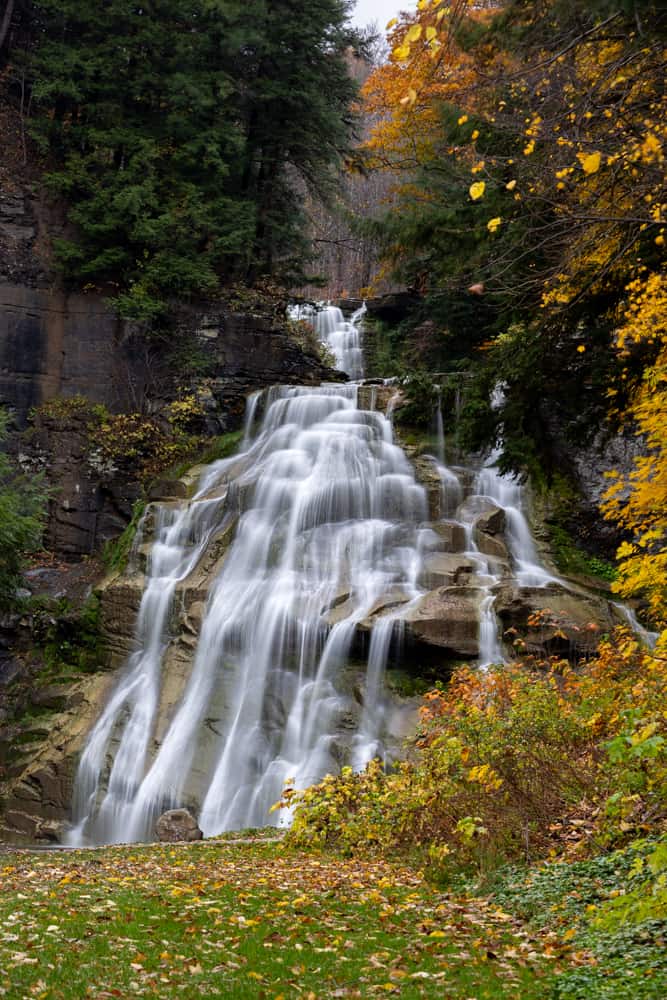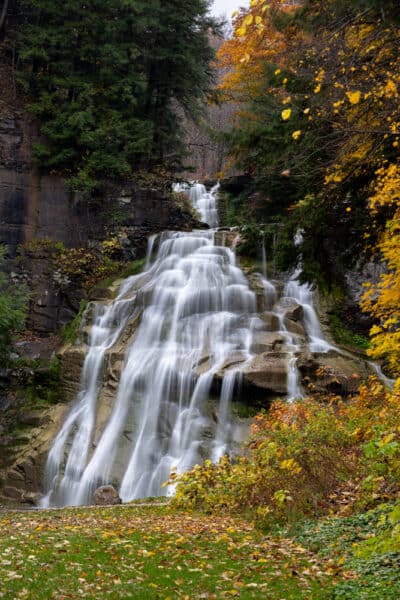 Delphi Falls is located about 35 minutes southeast of downtown Syracuse in Madison County's Delphi Falls County Park.
This waterfall, which only became public in 2018, is 65 feet tall and is a beautiful sight to see.
There is parking near the base of the falls and a handicapped-accessible path leads back to the base of the waterfall. There are plans to build more trails within the park in the future, including one to the upper falls which is only just visible from the trail.
Cowshed Falls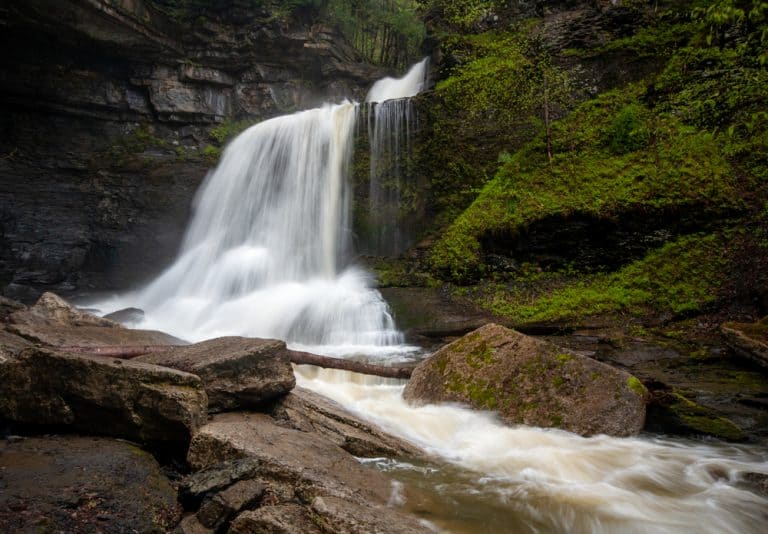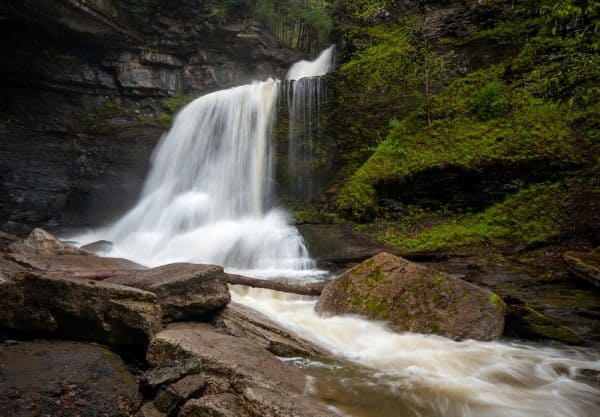 Cowsheds Falls is located in Fillmore Glen State Park near the start of the park's Gorge Trail. It is a roughly 55-minute drive from Syracuse.
While this waterfall is only 30 feet tall, it's a scenic spot and cascades off of an impressive cliff face. It's said that many years ago, cows would take refuge under the overhang near the falls to protect themselves from bad weather, hence the fall's name.
If you have a chance and water levels are especially high, the Gorge Trail above this waterfall features a lot of incredible scenery and another great waterfall.
Upper Dry Run Falls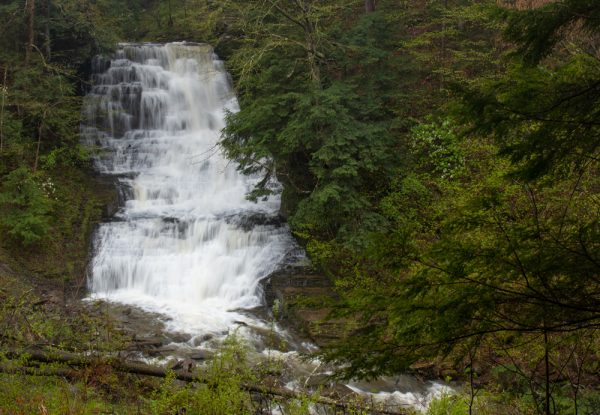 Staying in Fillmore Glen State Park, there is another impressive waterfall that is seemingly unnamed. Because of this, I've dubbed it Upper Dry Run Falls. (If you know of an official name for this waterfall, please let me know.)
This waterfall is located along the North Rim Trail and is approximately 60 feet in height. While you can't get near the base, there is a nice viewpoint along the North Rim Trail from which to view it.
Chittenango Falls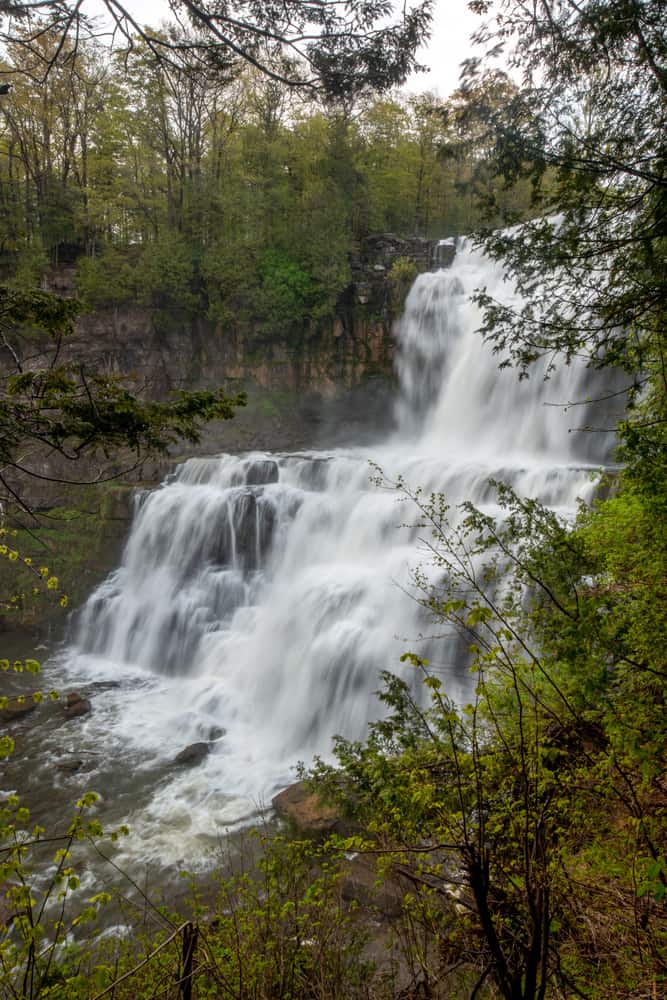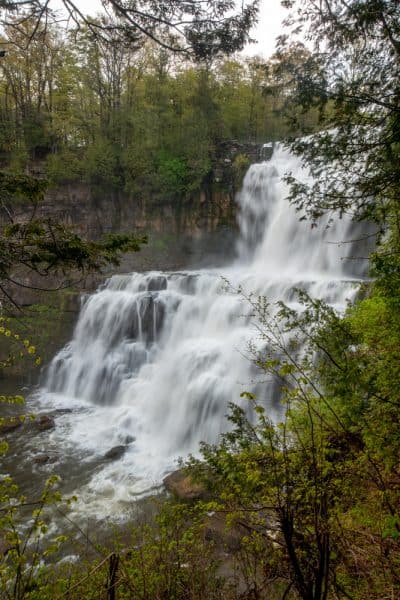 There are many towering Syracuse waterfalls, but none are taller than the 167-foot tall Chittenango Falls. (Believe it or not, this waterfall is the same height as Niagara Falls!)
Chittenango Falls is located within a state park of the same name just 30 minutes east of the city in Madison County.
It is possible to view this waterfall from above or you can take the short but steep hike to a great viewing area at a bridge over the creek.
Tinkers Falls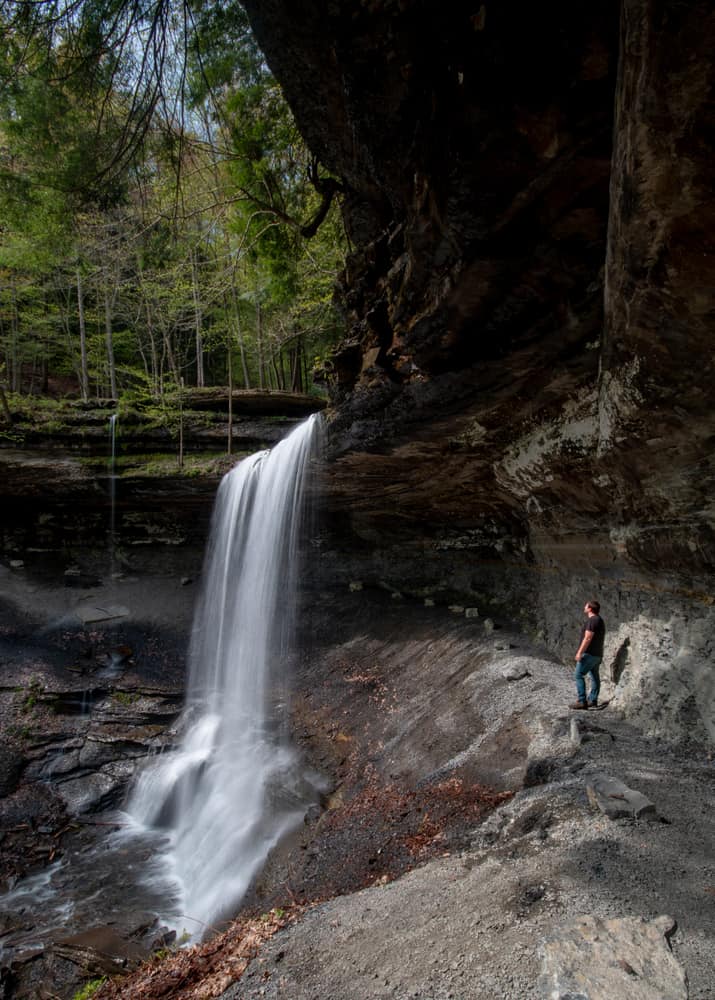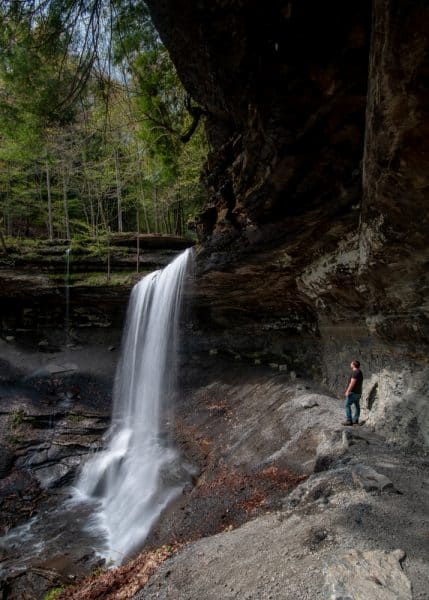 If I could only visit one of the waterfalls near Syracuse, I think I'd pick Tinkers Falls.
Located within the Labrador Hollow Unique Area less than 30 minutes south of the city, this waterfall can be reached via a beautiful and handicapped-accessible trail. There is a great view of this waterfall from the end of the trail, but those that are more adventurous can cross the stream and head up to the path that goes behind the falls.
It's worth noting that Tinkers Falls quite be very seasonal, so I definitely recommend visiting in the spring if possible.
Carpenter Falls and Angel Falls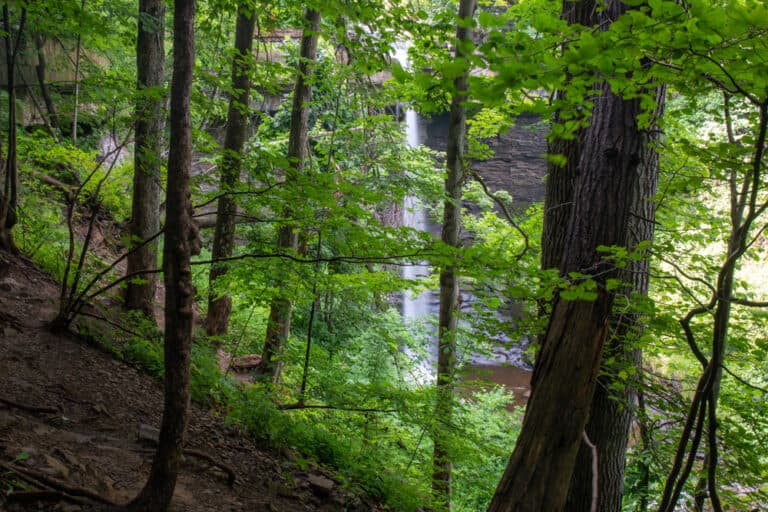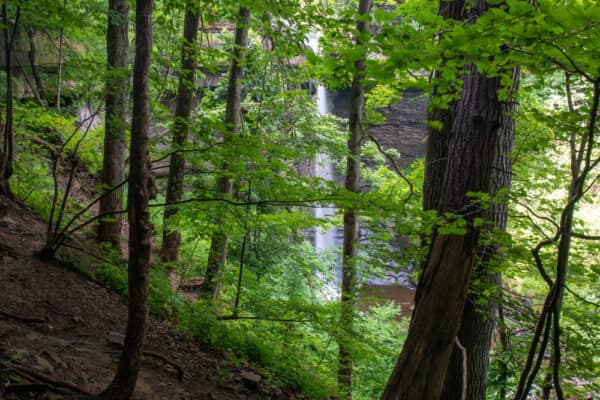 Carpenter Falls and Angel Falls are beautiful waterfalls located on the western shores of Skaneateles Lake within the Bahar Nature Preserve.
Both of these falls can be seen via short hikes through the preserve, though getting to the base of them is difficult and, based on signage near the falls, not recommended. In July 2022, a new trail was opened that makes getting to a view of Carpenter Falls much easier than it once was.
Of the two, Carpenter Falls is the most well-known. This waterfall plunges off an incredible cliff into the rocks 90 feet below.
Wolcott Falls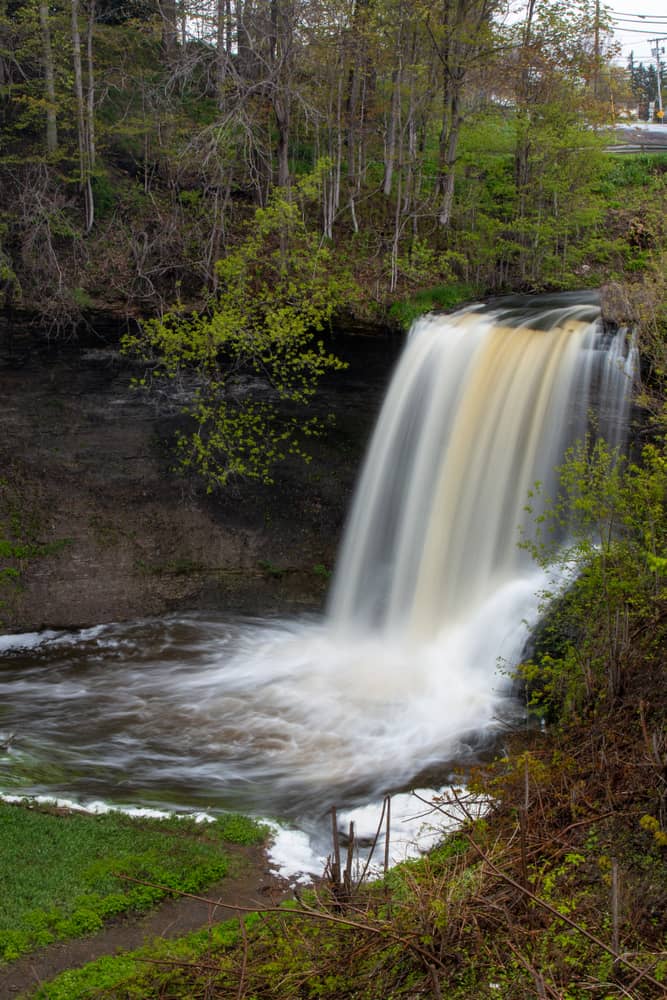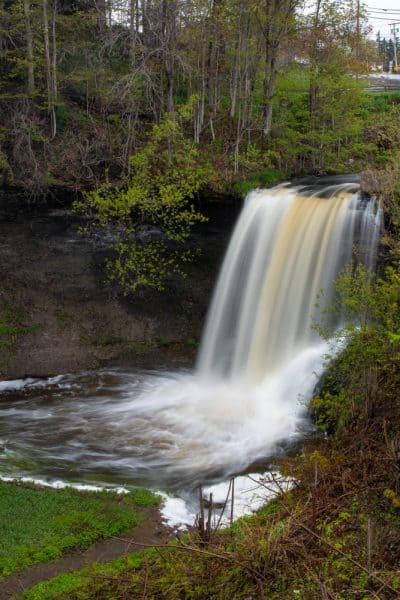 Wolcott Falls is located in the heart of the community of Wolcott, New York, roughly 50 minutes west of Syracuse.
At approximately 40 feet in height, Wolcott Falls is one of the most beautiful roadside waterfalls in New York.
You can visit the upper viewing area adjacent to the parking area to read the signs and learn more about the area. You can also take a short hike to the base of the falls to really enjoy its incredible beauty.
Do you have a favorite waterfall near Syracuse, New York? Let us know in the comments below.
Looking for even more places to visit nearby? Check out Green Lakes State Park, boat tours of Skaneateles Lake, the best waterfalls near Ithaca, and my favorite waterfalls in Albany, NY.