Disclosure: This article may contain affiliate links. We will make a small commission from these links if you order something at no additional cost to you.
I've visited many waterfalls in New York, but few are as impressive or as easy to visit as Delphi Falls.
Delphi Falls is located in Madison County along the border with Onondaga County and only a 30-minute drive from downtown Syracuse. Even though Delphi Falls sits a few yards outside of the Finger Lakes, this is a waterfall rich area with spots like Pratts Falls, Chittenango Falls, and Tinkers Falls only a short drive away.
Delphi Falls is located in the aptly named Delphi Falls County Park, which was opened to the public in August 2018. The two waterfalls in the park can be found on the East Branch of Limestone Creek (though only one can be currently seen).
Delphi Falls is estimated to be 65 feet tall, and while it's far from the tallest waterfall in the region, it's an incredibly impressive spot. The shape and color of the underlying rocks make this beautiful waterfall and one that looks great in photos.
Like most waterfalls, Delphi Falls is best visited in the spring or after a heavy rain. While it doesn't appear this waterfall dries up in the late summer, the flow does get a lot lower and the waterfall doesn't look as pretty in my opinion.
What makes this waterfall even better, however, is how easy it is to reach. In fact, the waterfall sits only a couple hundred yards from the parking area along a flat and handicapped-accessible path.
The path to Delphi Falls leads to its base and offers many spots from which to enjoy this waterfall. This is also a popular spot for fishing, and I saw several people trying their luck in the waters below the falls.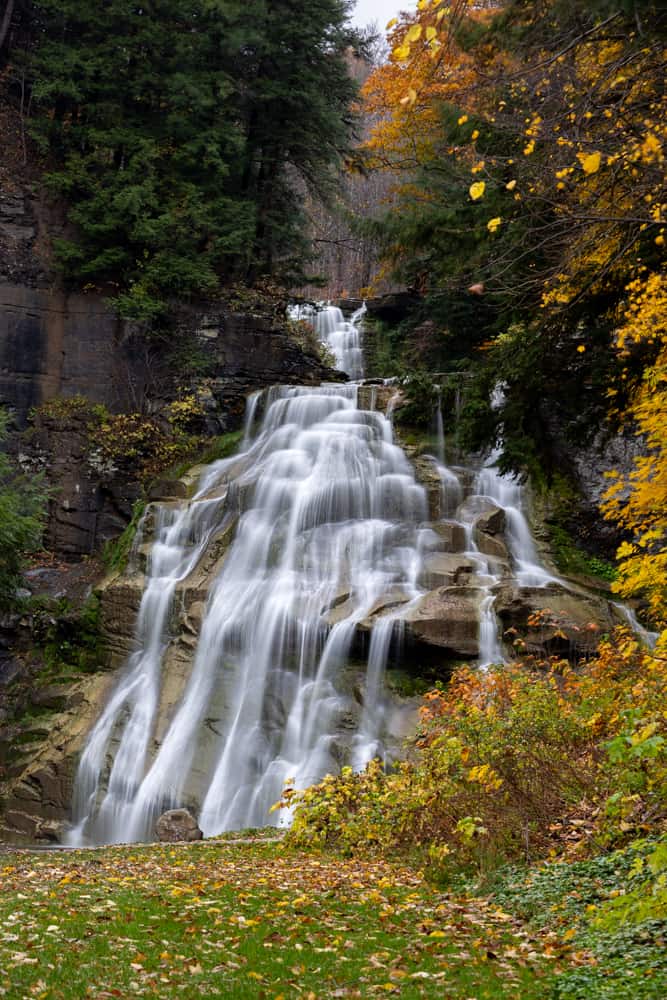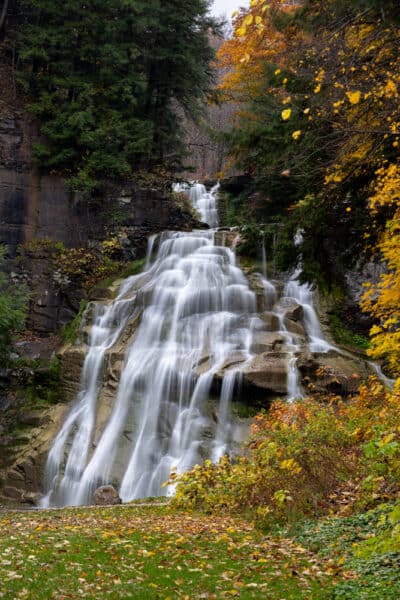 While you aren't able to visit it today, there is a second waterfall above the lower drop. This waterfall is said to be just over 50 feet tall and can be glimpsed from the path to the base of Delphi Falls.
Plans call for more trails to be built in the park, so hopefully, someday soon, you'll be able to hike up the hill to see this second drop.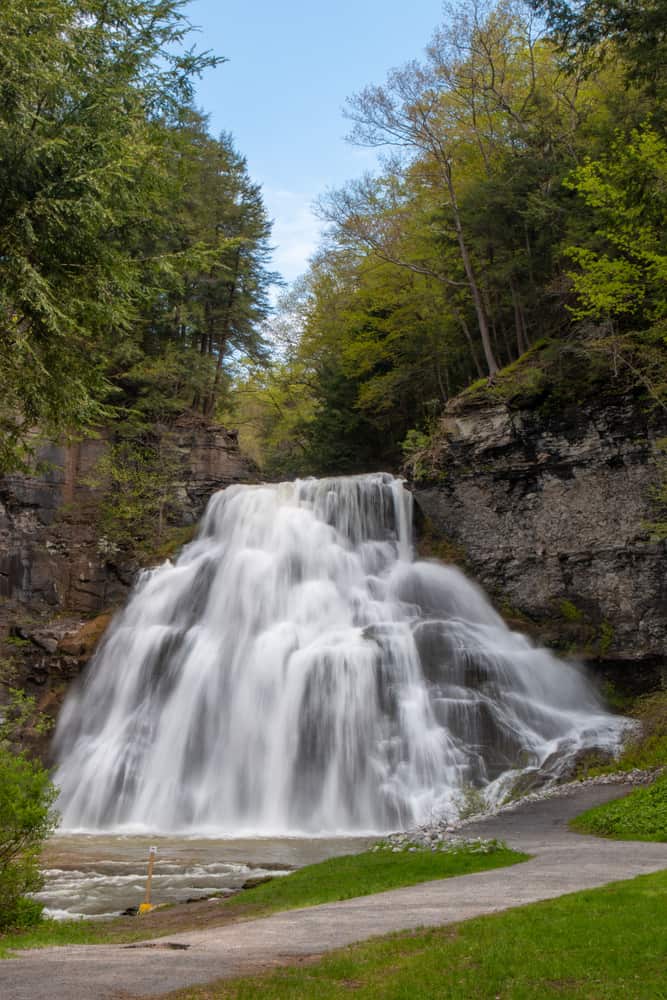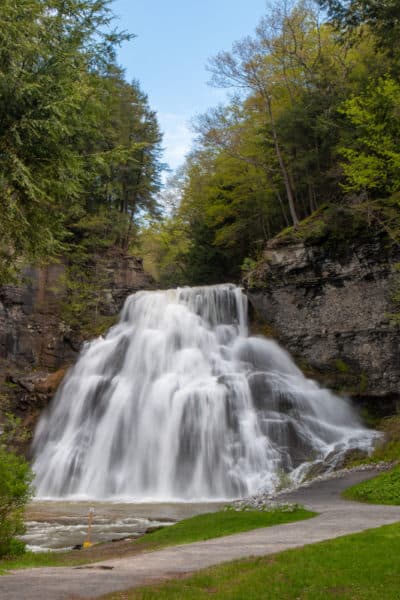 In the meantime, however, Delphi Falls is still an incredible spot to visit if you find yourself wanting to explore the natural beauty of this corner of Upstate New York. Even better, the waterfall's location near several other impressive waterfalls makes this a great road tripping spot for those looking to enjoy some of the best waterfalls in New York.
How to Get to Delphi Falls
Delphi Falls is located in Central New York on the border of Madison County and Onondaga County, only a short drive from downtown Syracuse.
The parking area for Delphi Falls County Park can be found at the following coordinates: 42.865769, -75.901594.
You can also use the following address if you prefer: 2006 Cardner Rd, Cazenovia, NY 13035.
The park is currently undergoing development with more trails and infrastructure are planned for the future. However, this is still a great spot to visit today if you love incredible and very easy-to-reach waterfalls.
Looking for more places to visit nearby? Check out the best breweries in Syracuse, the Labrador Hollow boardwalk, the Erie Canal Museum, and the best Finger Lakes waterfalls.