Disclosure: This article may contain affiliate links. We will make a small commission from these links if you order something at no additional cost to you.
The Labrador Hollow Unique Area in southern Onondaga County is one of my favorite places to explore near Syracuse. This 1,500-acre parcel of public land features many great trails, including the beautiful Tinkers Falls. However, without a doubt, one of the highlights is Labrador Hollow's boardwalk.
The boardwalk at the Labrador Hollow Unique Area is located on the northern end of Labrador Pond at the end of a short dirt road. While this is a very easy half-mile walk (that's totally handicapped-accessible), that shouldn't detour you from taking a stroll on this trail.
In fact, this is the perfect warm-up or cool-down for those visiting some of the other trails within the area or a great spot for those looking for an easy trail to tackle.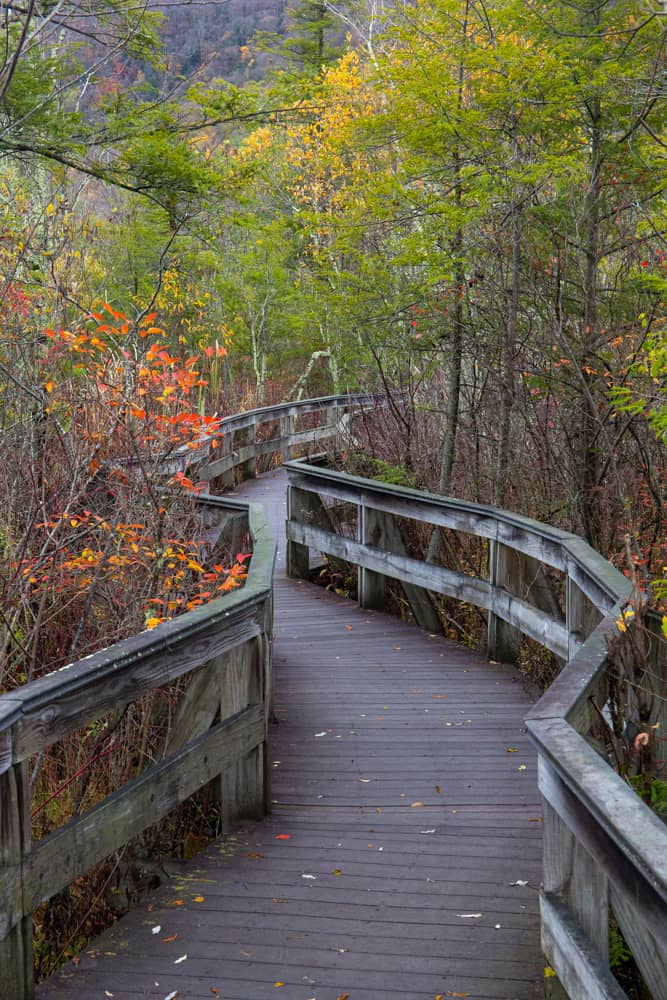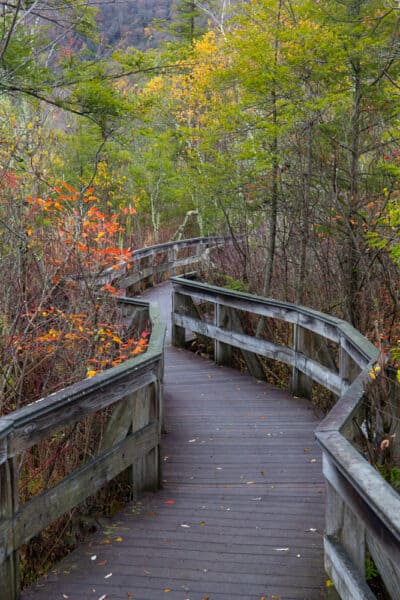 The Labrador Hollow boardwalk passes through a wetland area at the northern end of Labrador Pond. This 102-acre pond is only about 4 feet in depth and sits in a small hole carved within the larger glacial valley.
The plant life within the pond's wetland is more typical of the Adirondacks than what you'd expect to see in the Finger Lakes. That is part of what makes this unique area so interesting to visit.
How to Get to the Labrador Hollow Boardwalk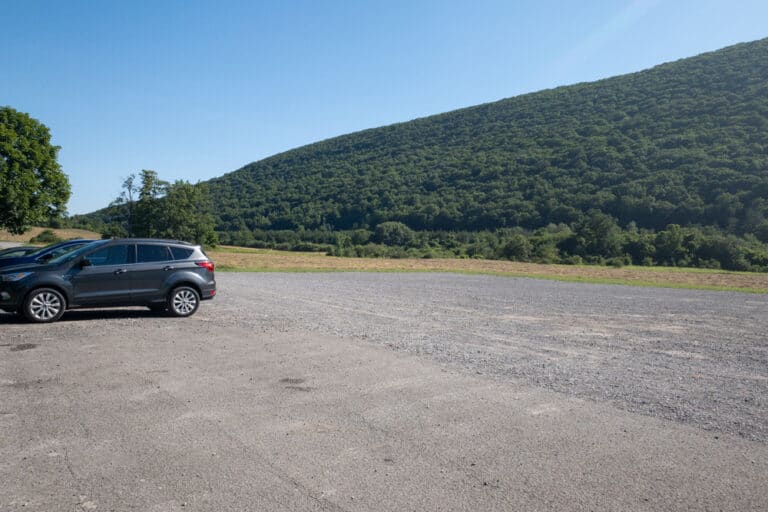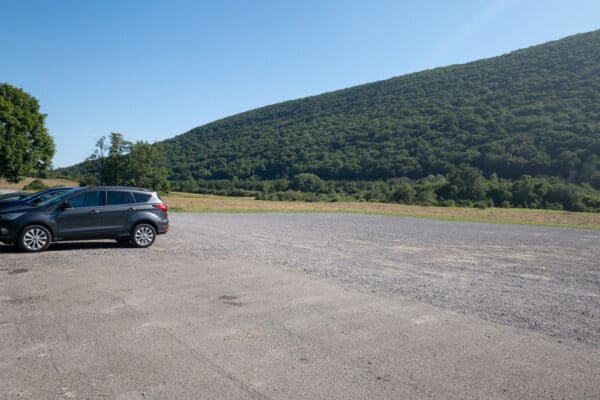 The boardwalk in the Labrador Hollow Unique Area is located in southern Onondaga County near the border with Cortland County. It is only about four miles east of I-81 and 25 minutes south of downtown Syracuse, making it an easy spot to visit while traveling through the area.
The parking area is located at the end of a short dirt road and can be found at the following coordinates: 42.792569, -76.052251.
I've visited this spot twice, and both times, I've had no trouble accessing the parking area in a regular car despite the road being named "4WD Road".
Hiking the Labrador Hollow Boardwalk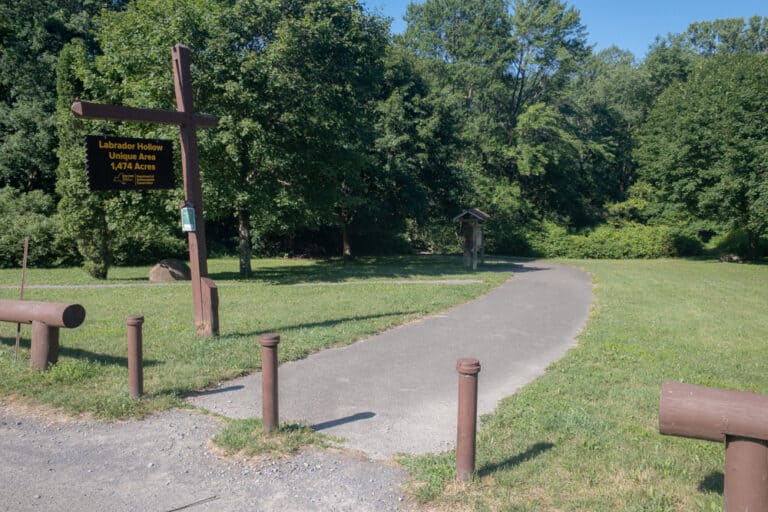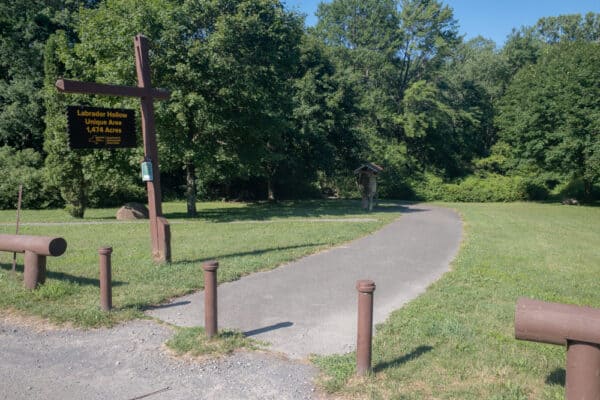 The paved path leading to the boardwalk starts from the back of the parking lot at an obvious trailhead. Soon, the trail enters the woods and turns into a beautifully maintained boardwalk.
The boardwalk is shaped like a balloon, meaning that it starts with a single path before splitting into two directions that circle back on each other. When I hiked this trail, I opted to do it in a counterclockwise direction (went straight at the split), but you could do the trail just as easily in the clockwise direction.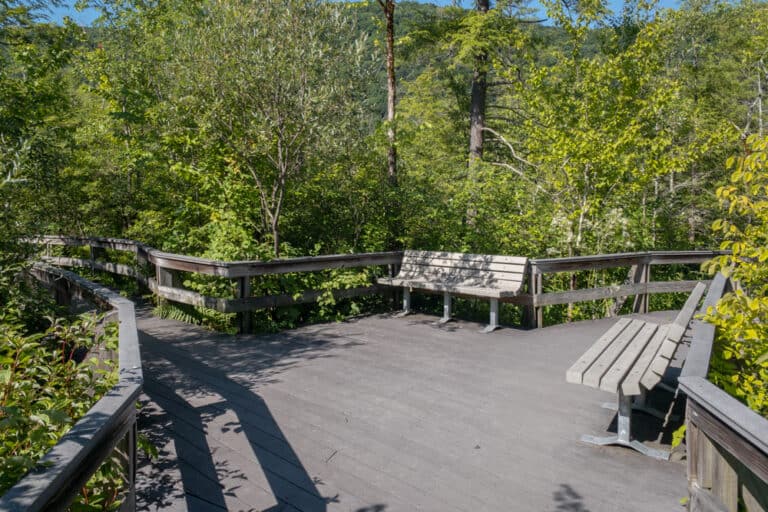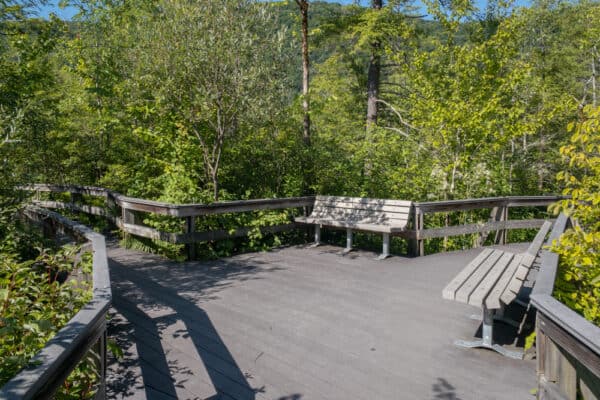 No matter which way you hike the trail, you'll find a bench every 50-100 yards. This makes it easy for those that need to take a break to be able to do so.
This accessibility is part of why I love this trail. No matter who you are hiking with, even if they are in a wheelchair or can't walk far, your whole group can still enjoy this beautiful and completely flat trail.
Of course, the main reason that I love this trail is because of the incredible beauty along it. In fact, I'd definitely say this is among the most beautiful boardwalk hikes I've ever hiked, both in New York and elsewhere.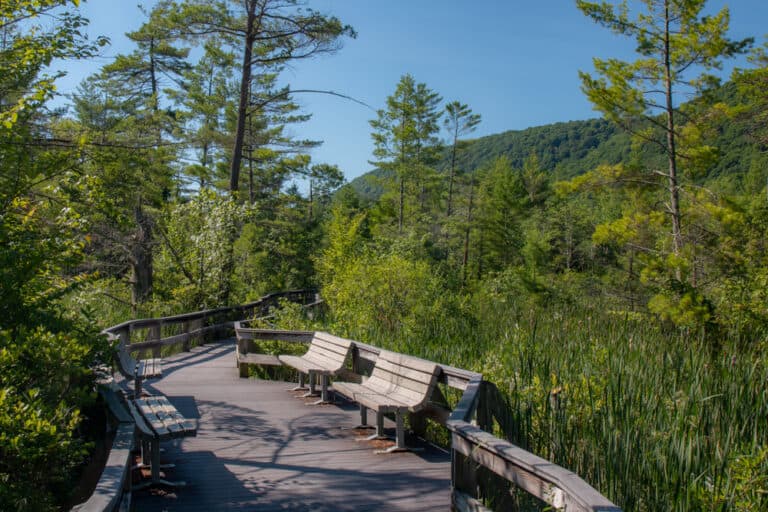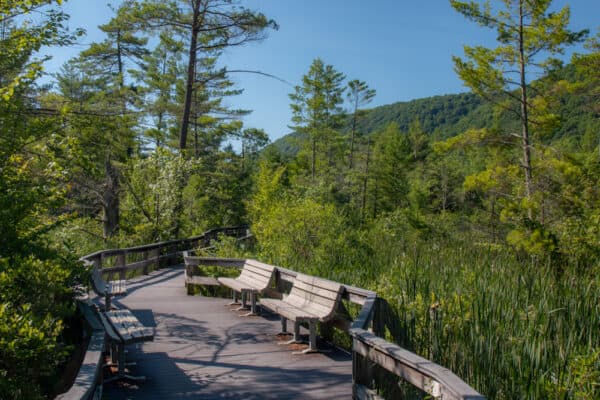 While hiking the trail, make sure to take some time to stop and look out over the wetland, keeping your eyes open for birds and other animals, as well as unique plants.
No matter which direction you are hiking, you'll eventually come to a great viewing area over Labrador Pond. From here, you can look south and see the entirety of this beautiful body of water and the towering hillsides that surround it. This is truly a stunning spot to rest for a minute and enjoy the view.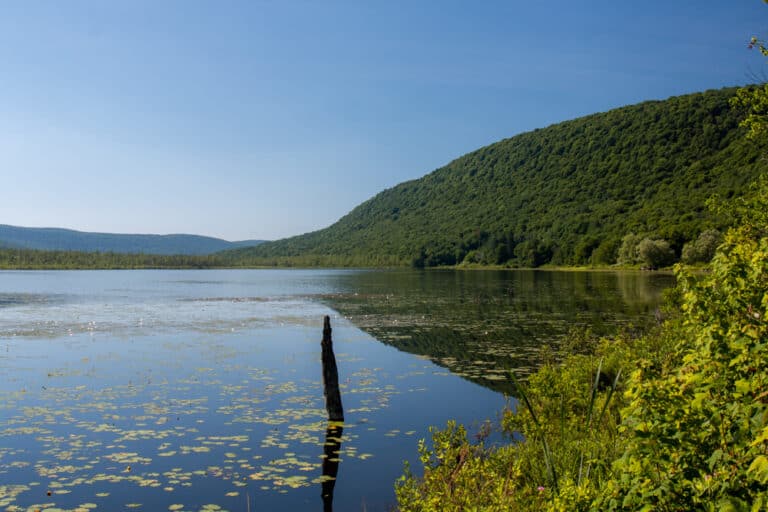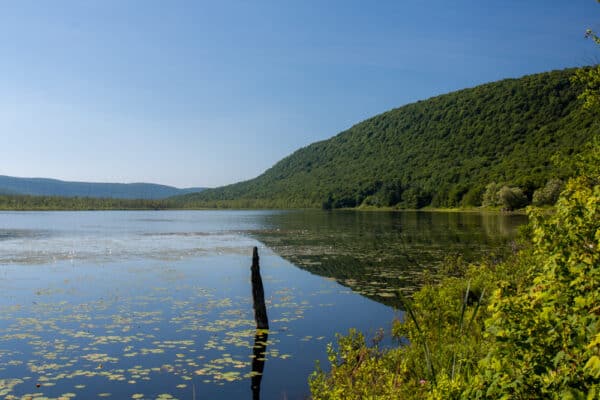 Once you are done here, continue to follow the boardwalk to finish your loop. Once you reach the trail split again, retrace your steps for the short hike back to your car. All told, the hike on the boardwalk is around 0.4 miles in length.
Without question, the Labrador Hollow boardwalk is a beautiful trail to hike. For those with no mobility issues, it's probably not worth a long drive to visit here, but it's a worthwhile stop if you're in the area or if you are looking for somewhere to stretch your legs while driving I-81 through Upstate New York.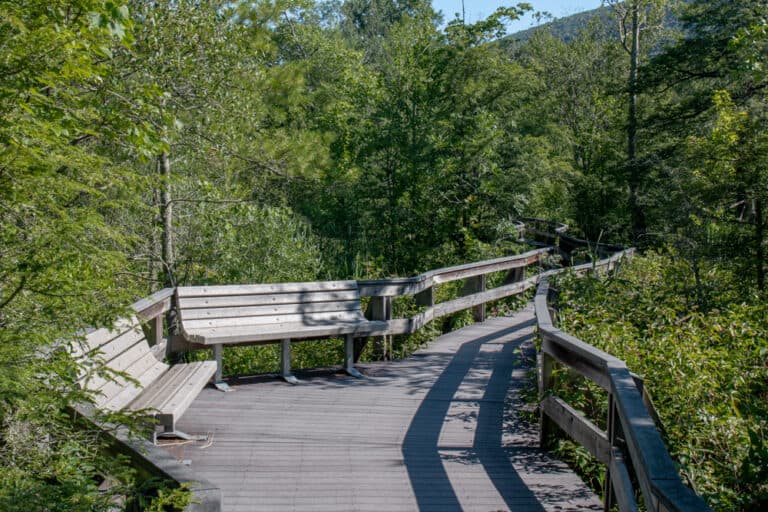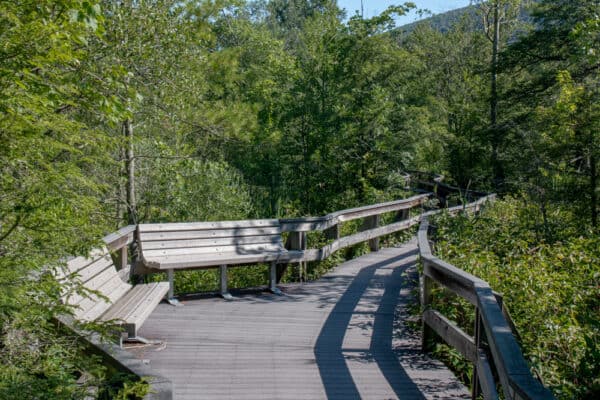 On the other hand, if you are hiking with someone that has mobility issues, the great accessibility here, combined with the nearby handicapped-accessible trail to Tinkers Falls, makes the Labrador Hollow Unique Area a fantastic spot to visit.
Looking for even more places to visit in the area? Check out my favorite breweries in Syracuse, Delphi Falls, and the best waterfalls in the Finger Lakes.
[Click here for information on how to use the coordinates in this article to find your destination.]