Disclosure: This article may contain affiliate links. We will make a small commission from these links if you order something at no additional cost to you.
New York is home to many great breweries, but there might be none that are more revered than Brewery Ommegang near Cooperstown.
Brewery Ommegang was established in 1997, which also makes it one of the state's oldest breweries. Located on a 140-acre hop farm, they claim to have been the first farm brewery in the US in more than 100 years.
Unlike many of the breweries in Cooperstown, NY that focus on beers like IPAs, lagers, and stouts, Brewery Ommegang has always focused on Belgian-style beers. This focus has led them to create some of the country's best beers in these styles. They do, however, also brew other types of beer for those that prefer something different.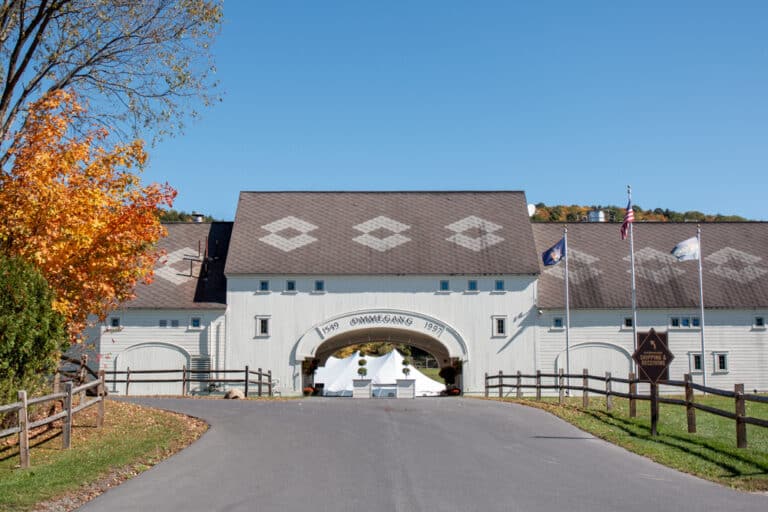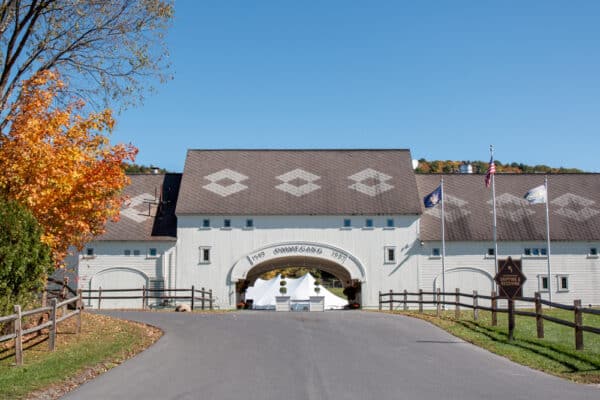 Their brewery and taproom is located roughly four miles south of Cooperstown, New York, home of the Baseball Hall of Fame.
My favorite part of their location is the beautiful view of the building you get when driving up to the site. The brewery's castle-like exterior really makes you feel like you are entering somewhere special.
The brewery's tap house is located behind the large white building at the entrance. While it's fairly basic in its styling, it's still quite inviting. There is both a large indoor and outdoor seating area, so you have some nice options for where to sit.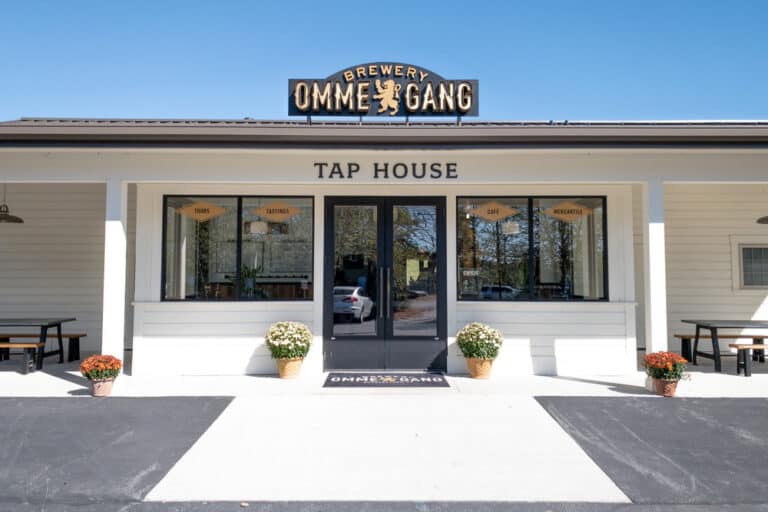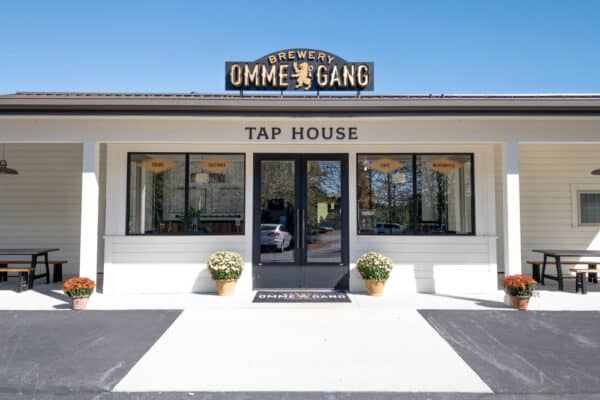 When I visited Brewery Ommegang, I opted to try a flight of beers. The flight featured four beers, each in a five-ounce glass.
While I'm normally an IPA drinker, I do love Belgian ales, so I opted to go that route with my flight to try the types of beers that Brewery Ommegang is known for. However, since I wanted to try a range of beers, I decided to try one of their IPAs as well.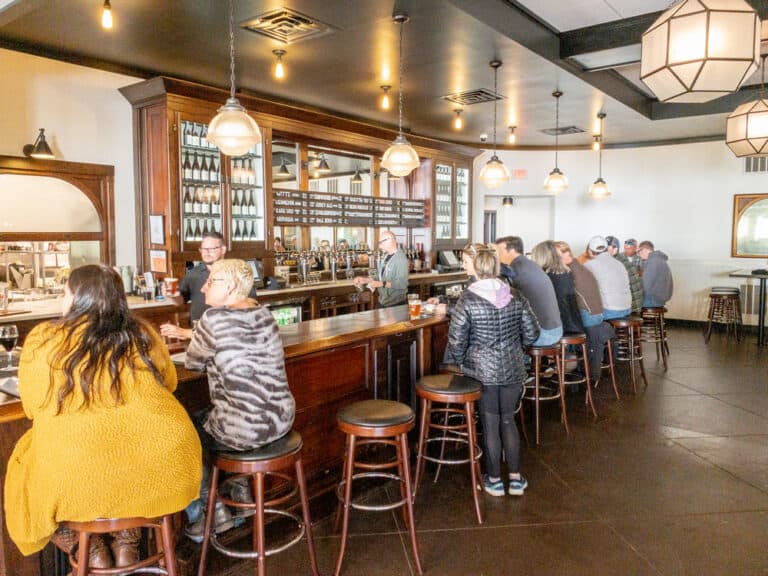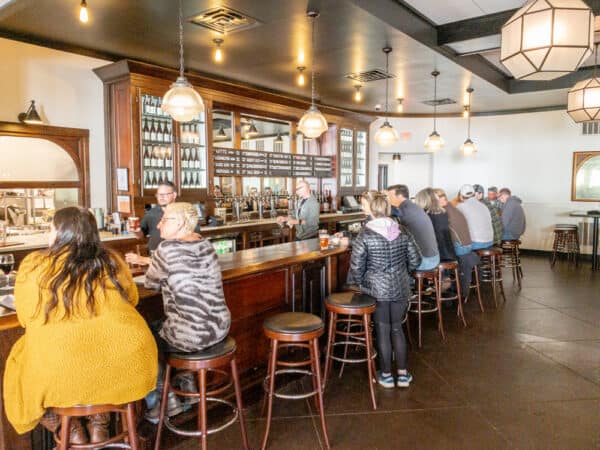 Without a doubt, there are few, if any, breweries in New York that can compete with Brewery Ommegang when it comes to the quality of their Belgian beers. The three I tried, Abbey Ale, Three Philosophers, and Rare Vos, were all incredibly fantastic beers and showed a great range for this style of beer.
They even offer some of their beers aged in barrels, which I can imagine would be absolutely amazing.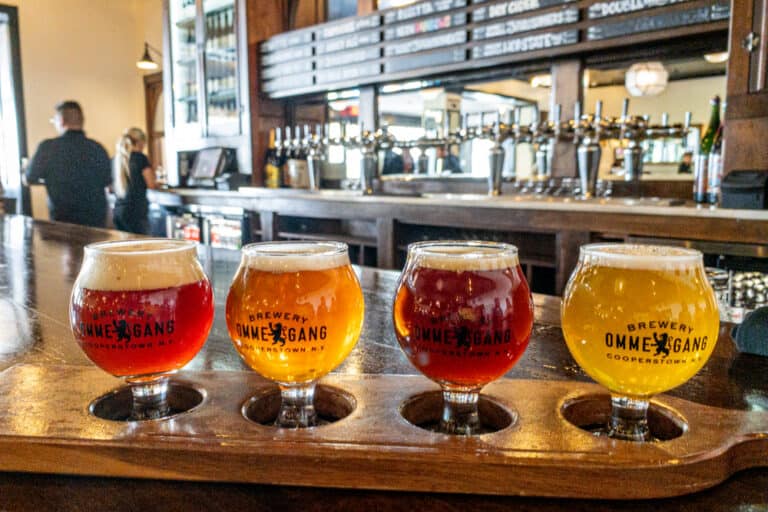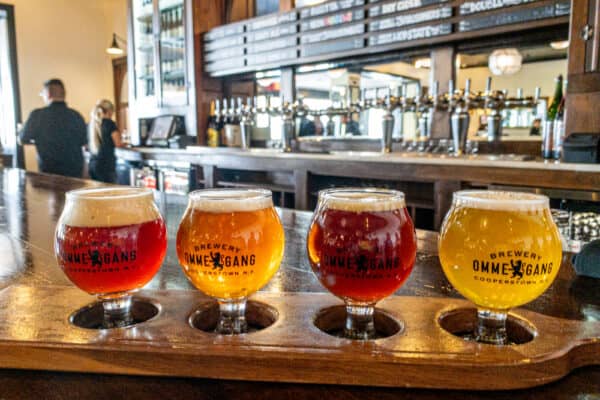 The fourth beer I got out of the 16 they offered during my visit was their Neon Rainbows Double IPA. This is definitely a solid IPA and fans of the style won't be disappointed, but unlike their Belgian beers, their IPAs (at least this one) don't stand head and shoulders above other breweries.
During my visit, I also had to try some food from their quite delicious looking menu. I opted for the chicken barbeque sandwich.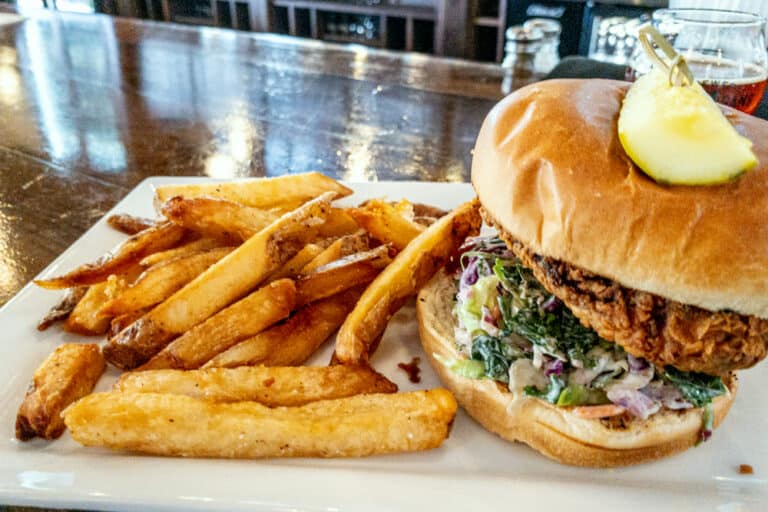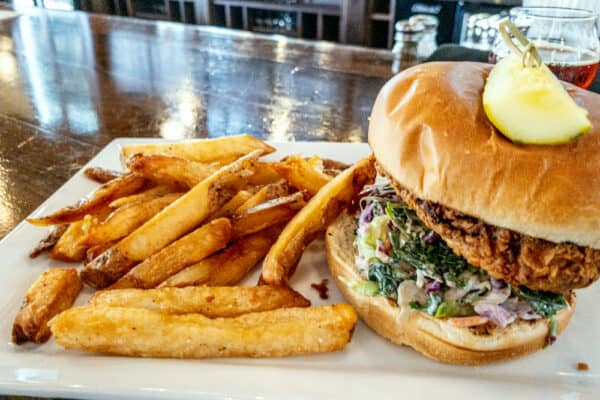 The sandwich came with slaw and was lightly, but perfectly dressed with sauce. It also came with some very delicious French fries. I've eaten food at a lot of breweries, and this meal definitely ranks among the best that I've had.
If you want to spend a bit more time at the brewery, they also offer several tour and tasting options. Unfortunately, I didn't have time to take one of these tours, so I can't comment on the quality of them. Still, I figured it was worth mentioning for those that are fans of the brewery.
As I said above, there are few, if any, breweries in New York that can compete with the quality of the beers at Brewery Ommegang in Cooperstown. If you find yourself traveling through the area and are looking for somewhere for a drink and/or a meal, this is definitely a must-visit spot in Central New York.
You can find out more about visiting Brewery Ommegang on their website.
Looking for more places to visit nearby? Check out Hyde Hall Covered Bridge, Robert Riddell State Park, the Fenimore Museum, and the best breweries in the nearby Finger Lakes.