Disclosure: This article may contain affiliate links. We will make a small commission from these links if you order something at no additional cost to you.
Without a doubt, Cooperstown is best known as the home of the National Baseball Hall of Fame. However, whether you are in the area to see that or one of the many other great attractions like the Fenimore Art Museum, there are also a lot of fantastic craft breweries in Cooperstown, NY worth checking out.
While, somewhat surprisingly, there is no brewery in downtown Cooperstown at the time of publication, the spots listed here are all within Otsego County and can be reached within a short drive from the village.
So, if you are looking for the best breweries near Cooperstown, I've got you covered below.
Brewery Ommegang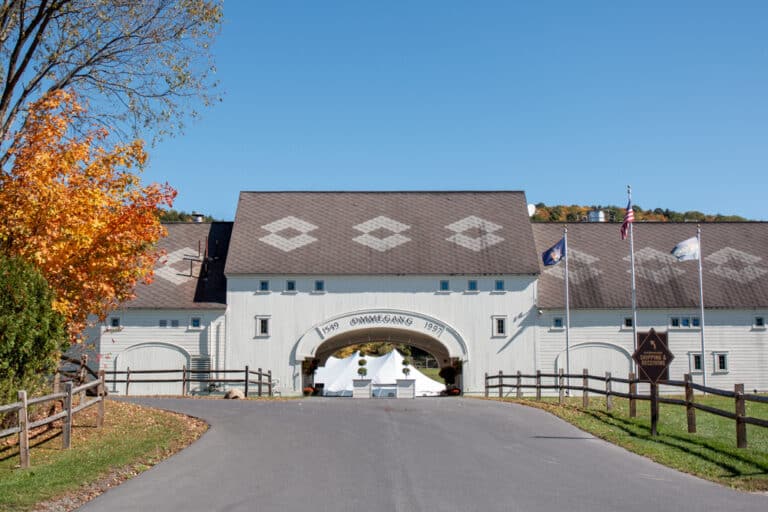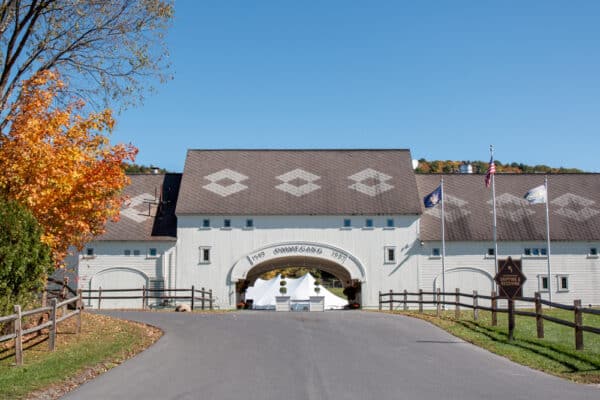 While this list isn't in any particular order, if you only have time to visit one of the breweries in Cooperstown, NY, make it Brewery Ommegang.
Brewery Ommegang is located about 10 minutes south of the village and is one of the oldest craft breweries in New York, having opened in 1997. Since then, they have been serving some of the best craft beer in all of New York.
This brewery distinguishes itself by focusing on Belgian-style beers, though they also offer more modern styles like IPAs, as well. Their Belgian beers are absolutely fantastic, and if you're a fan of the style, you are sure to not be disappointed.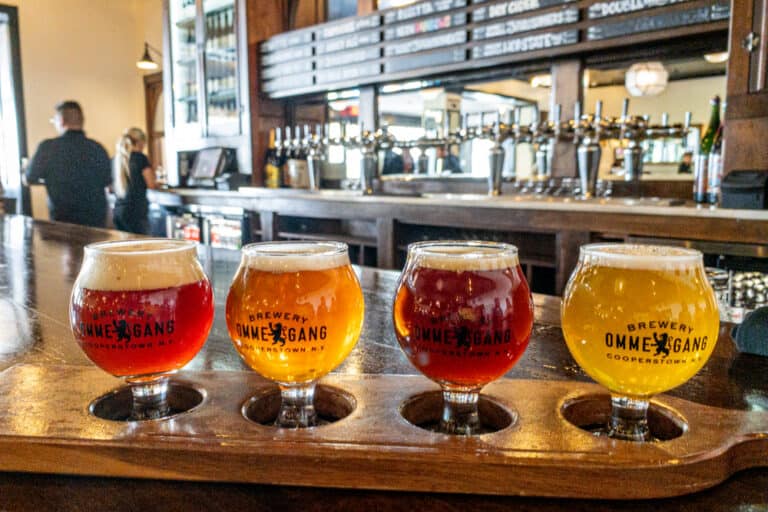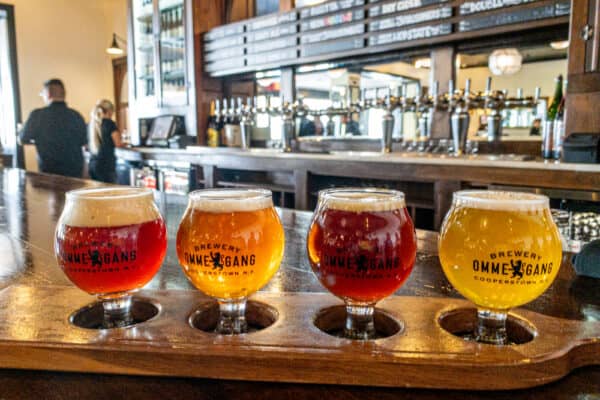 They also offer great food here, and I especially enjoyed my chicken barbeque sandwich and french fries.
In addition to great beer and food, Brewery Ommegang features a really unique design to their brewery, which is located on a 140-acre farm. Brewery tours are offered on select days.
Red Shed Brewing Company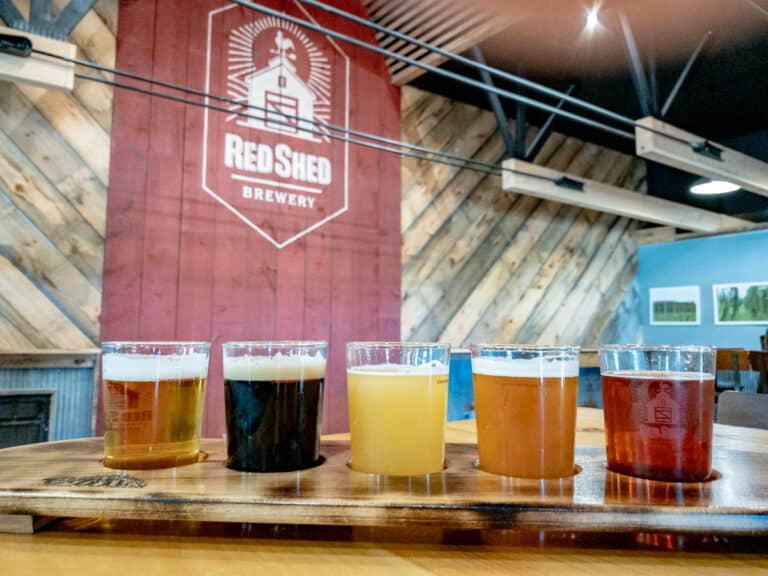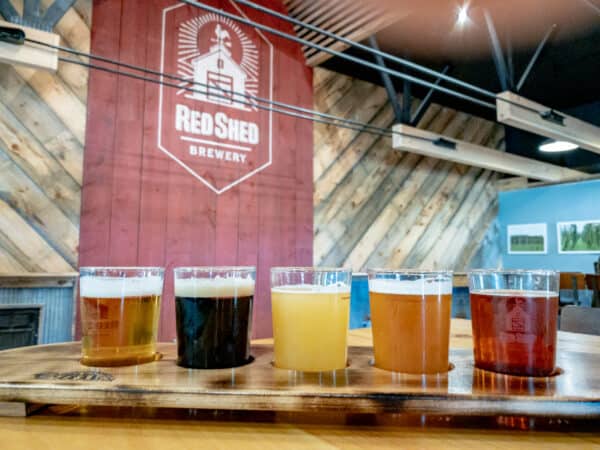 Red Shed Brewing Company is located less than half a mile from Brewery Ommegang making it a great second stop if you're in the area. They also have two other locations about 20 miles to the north in Cherry Valley, NY.
Compared to Brewery Ommegang, Red Shed focuses on more traditional American craft beer styles. This makes them a nice compliment to its larger neighbor if you're visiting their Cooperstown taproom (which is the location that I visited during my time in Central New York).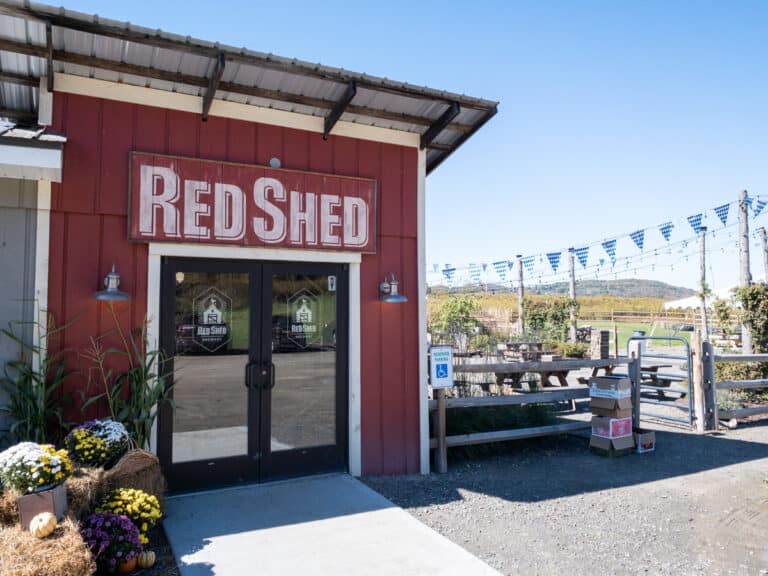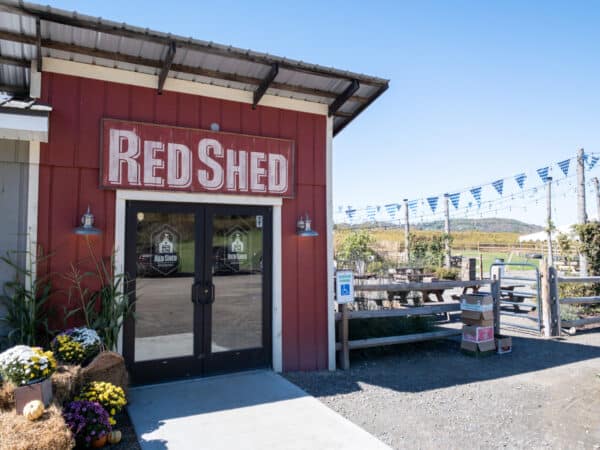 Their Cooperstown taproom has a really nice cozy feeling and both indoor and outdoor space. I actually enjoyed the ambiance here more than next door, and it's a great spot to have a beer or two. You can also grab a bite to eat from their permanently parked food truck.
During my visit, I had a chance to try five of their beers and really enjoyed them. Of the bunch I tried, Cloudy Girl IPA and Inner Strength Double IPA were my favorites.
Cooperstown Brewing Company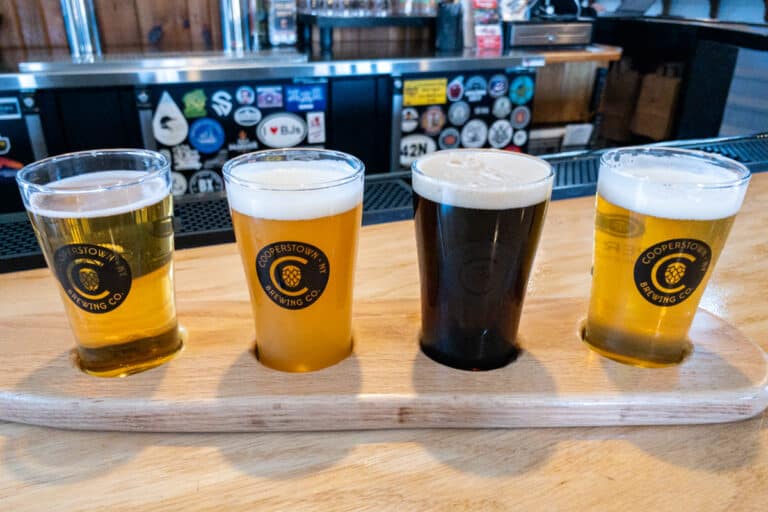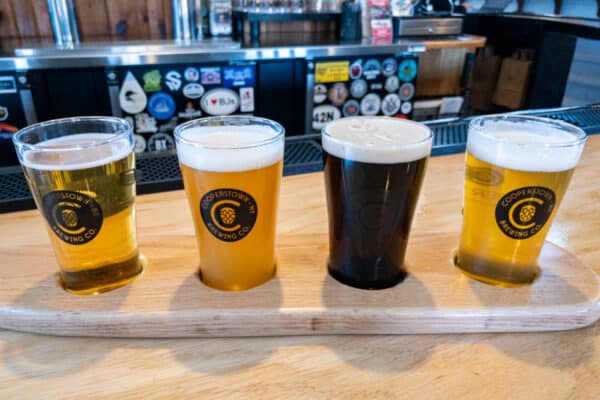 Cooperstown Brewing Company is located within an industrial building about 15 minutes south of the village and is adjacent to the Cooperstown Rail Explorers attraction.
Of all the breweries in Cooperstown, New York on this list, Cooperstown Brewing Company has the most industrial feel, with most of the indoor seating along the very long bar within the space. There is also a bit of outdoor seating for the warmer months of the year.
During my visit, I had a chance to try four of the 10 beers on draft, and I was impressed with the range of styles of the beer list during my visit.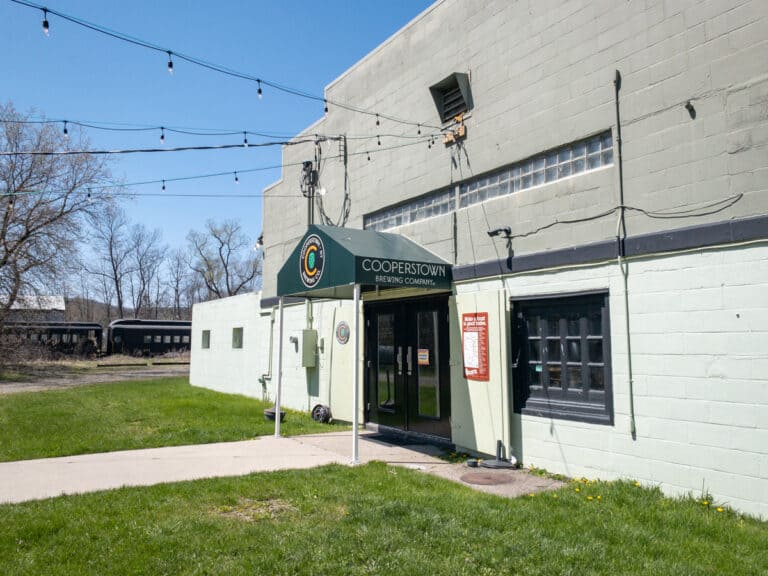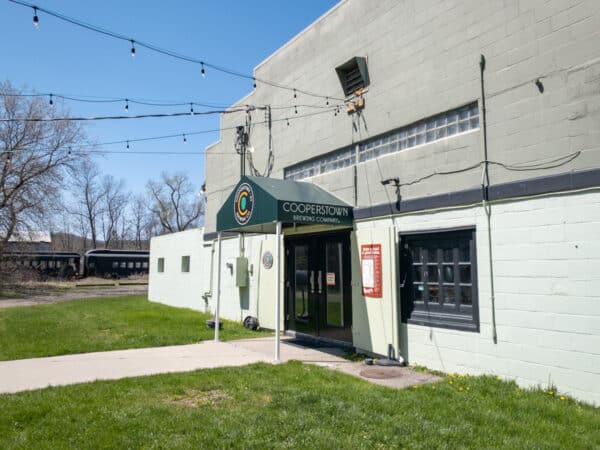 Of the ones that I tried my personal favorites were the Paralysis Black Lager and the Avenue of the Pines IPA. That being said, all four beers were very solid.
It's worth noting that Cooperstown Brewing Company doesn't offer any food in their tasting room, aside from free peanuts that are available for snacking. Keep this in mind in case you are hungry when visiting or are allergic to nuts.
Council Rock Brewery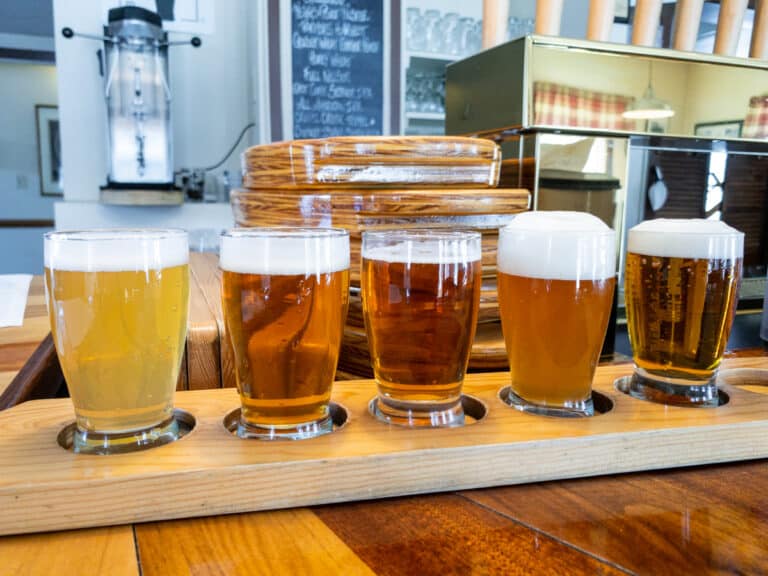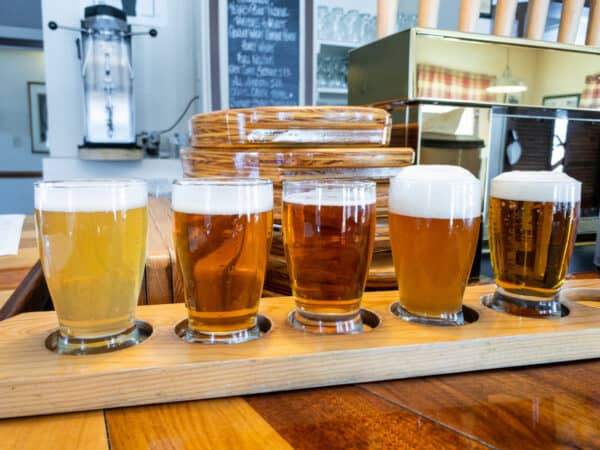 Council Rock Brewery is located about seven minutes south of downtown Cooperstown, making it the closest brewery to the village at the time of publication.
This brewery looks quite small from both the outside and from the first room when you go in, but there is a nice size dining room in the back behind the bar.
When I visited, there were 10 beers on draft, and you could get a flight of either five or 10 of these. Given that I was by myself, I opted to just try five. Of these Honey Wheat and the Cripple Creek Tripel were my favorites.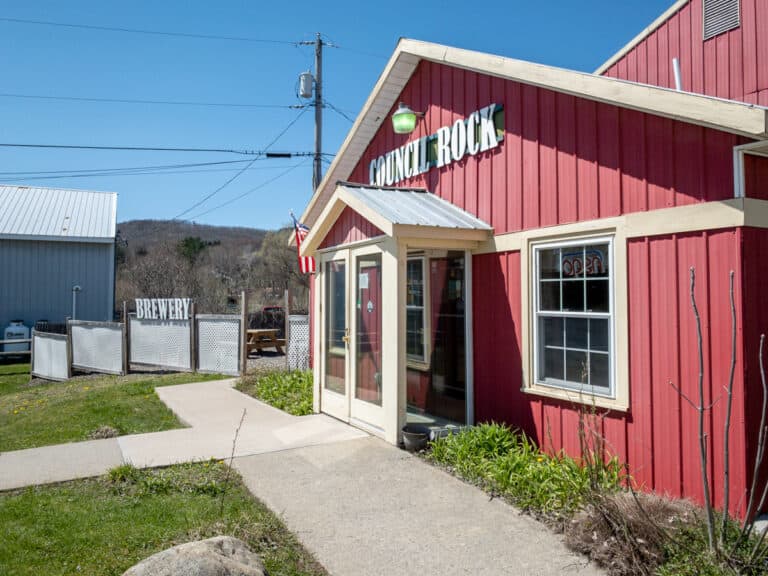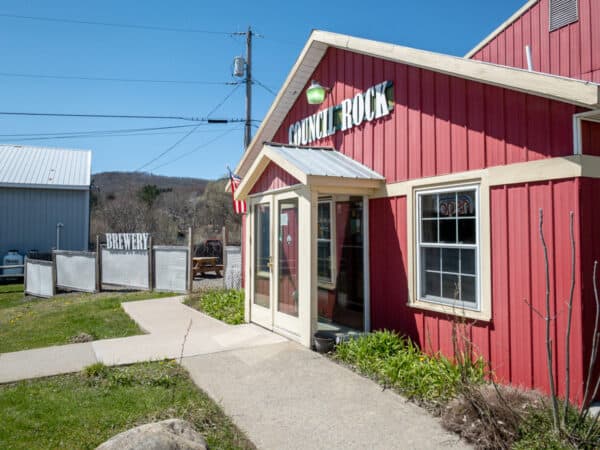 I also had a chance to eat at Council Rock Brewery, and the burger with a side of potato salad was very good. In fact, I'd say that I enjoyed the food more than the beer here, which isn't saying anything bad about the beer.
So, while you could come here just to taste some brews, I'd recommend also stopping for a bite to eat.
High Burl Brewery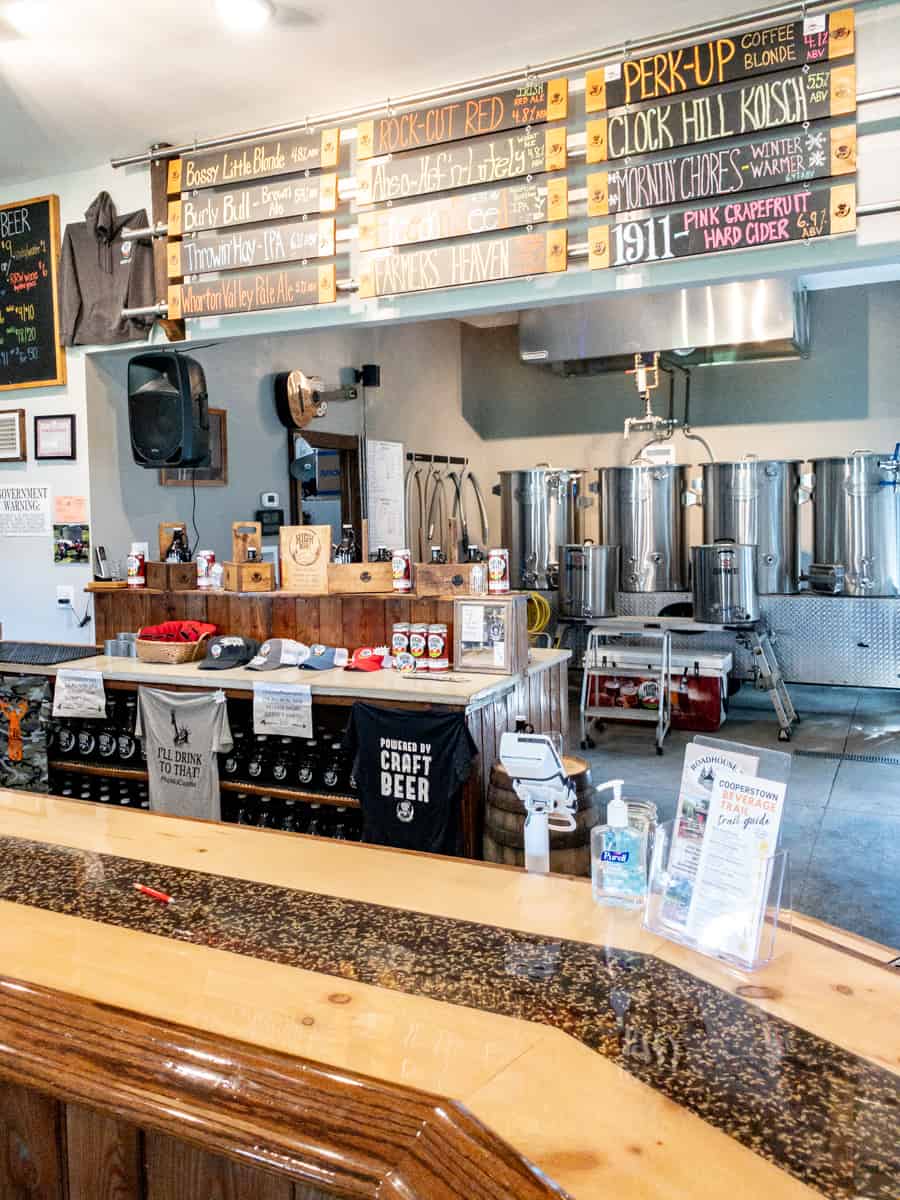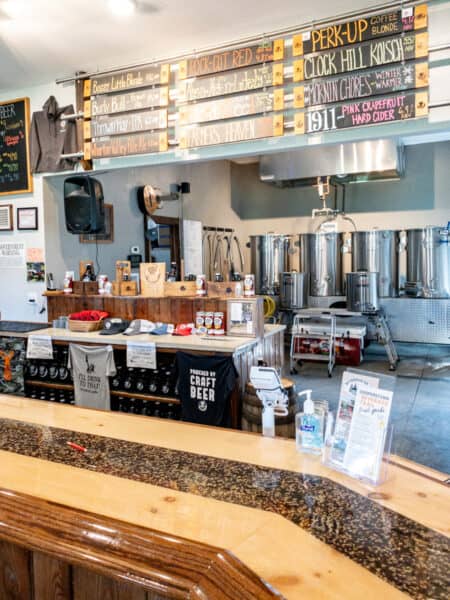 Out of this entire list of breweries near Cooperstown, NY, none are located further from the village than High Burl Brewery. Still, it's easy to get here from just about anywhere in Otsego County as it's only 20 minutes from Cooperstown.
High Burl Brewery is surrounded by beautiful farmland in a rural part of the county right along NY-80. There is actually a winery directly next door, but, unfortunately, it was closed during my visit.
High Burl's taproom is very cozy and fits quite well into its beautiful rural setting. You'll also find some nice outdoor seating if you want to enjoy the great views here.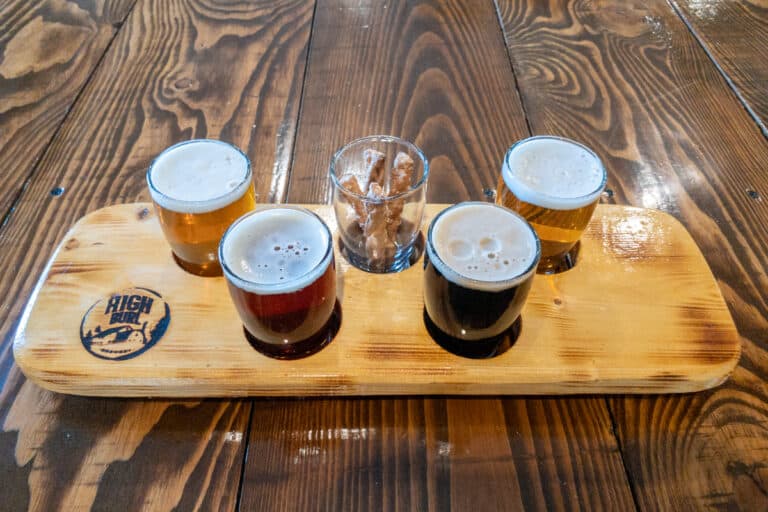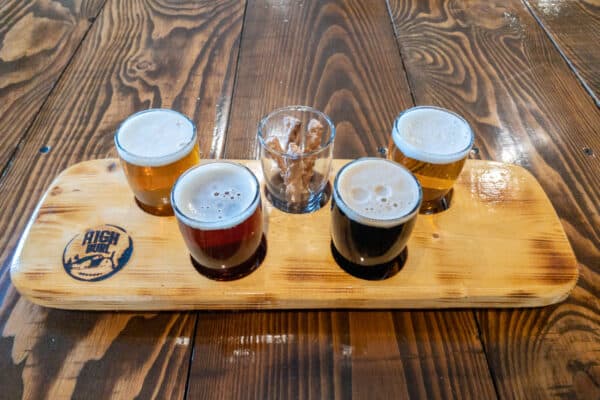 During my visit, I had a chance to try four of the 11 beers on draft (plus they had one house-made hard cider). Of the four the Throwin' Hay IPA and the Perk Up Coffee Blonde were standouts.
There is no kitchen at Hurl Burl Brewery, but they do offer free popcorn, and my flight came with some pretzel sticks to cleanse my palate, which was a nice touch. They do have food trucks here from time to time, however.
What are your favorite breweries in Cooperstown, NY? Let us know in the comments below.
Looking for even more places to visit nearby? Check out the best breweries in Syracuse, the Farmers' Museum, and Robert V Riddell State Park.