Disclosure: This article may contain affiliate links. We will make a small commission from these links if you order something at no additional cost to you.
If you, like me, are a baseball fan, I likely don't need to tell you that the National Baseball Hall of Fame is located in Cooperstown, New York. And, having been a life-long fan of the game, I was excited to finally have the chance to visit this baseball mecca.
The Baseball Hall of Fame opened to the public in 1939 (though the first Hall of Fame election was held in 1936). Cooperstown was chosen as it was the hometown of Abner Doubleday who, at one point, was falsely credited with inventing the modern game of baseball.
Today, the Baseball Hall of Fame is best known for its induction of the game's greatest players and managers into their Plaque Gallery, but that's only one small portion of this great museum. In fact, most of the space is taken up by the greatest collection of baseball memorabilia you'll find anywhere in the world.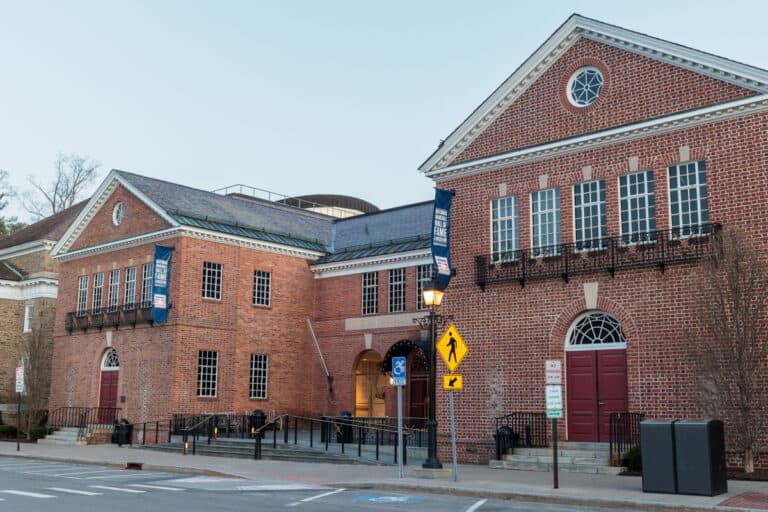 The items on display here cover the entirety of the sport's history, from its earliest days in the 19th century through to recent events such as an entire display on the most recent World Series winner. That being said, most of the items on display highlight the game's great history.
All told, there are three floors of displays here, and seeing it all could take all day. In fact, I spent nearly five hours in the museum and moved pretty fast through some of the areas. That being said, in my experience, you could certainly spend just a couple of hours here and see most of the items on display.
Visits to the museum are best started on the second of the three floors. From there, you'll head to the third floor before finishing your visit on the first floor.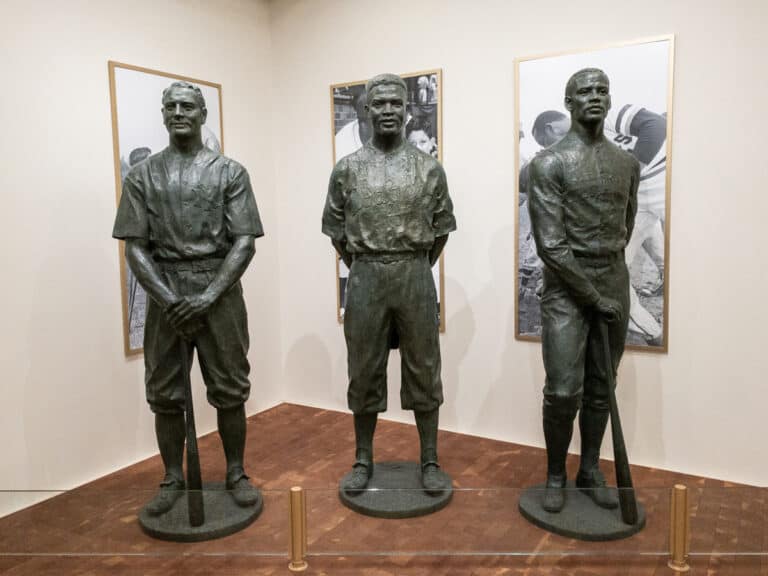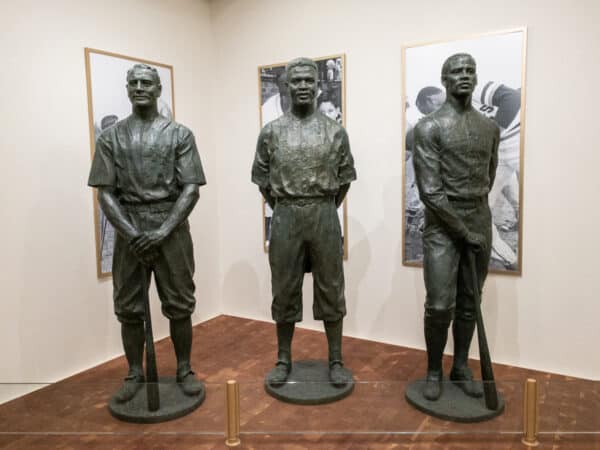 At the top of each hour, the museum's 17-minute film, "Generations of the Game" plays in the Grandstand Theater. This film is very well done and should definitely be on your agenda when visiting the museum.
In addition to the theater, the Hall of Fame's second floor features some of the most amazing items in the collection.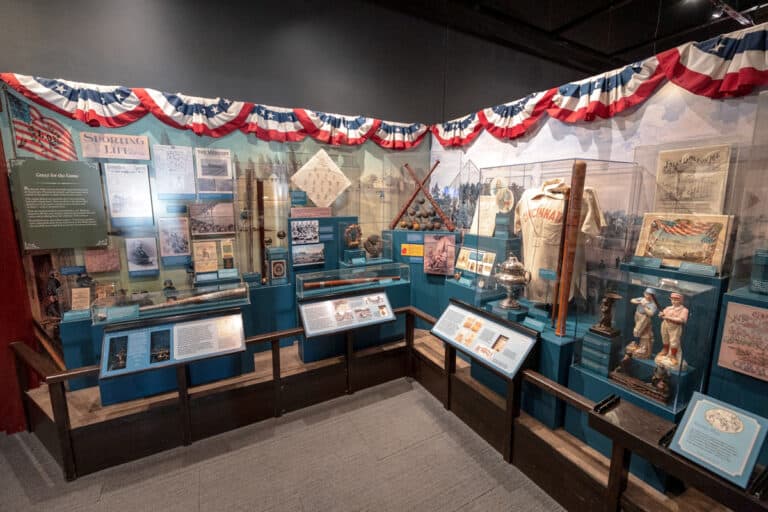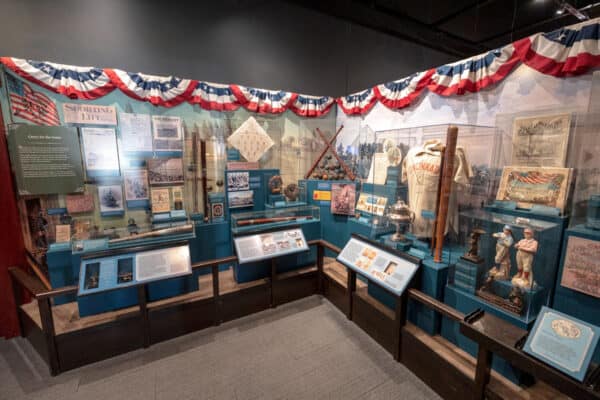 This starts with quite an interesting area that highlights the early history of baseball, specifically from the 1870s on. I really enjoyed learning about the foundations of what would become baseball, including the many different and unique rules that were implemented in various places throughout the country.
Moving from here, the museum transitions into a large room with some of its most amazing pieces. In this area, you'll find displays about many prominent Hall of Famers, including the lockers and personal effects of legendary players such as Babe Ruth, Lou Gherig, Honus Wagner, and Stan Musial.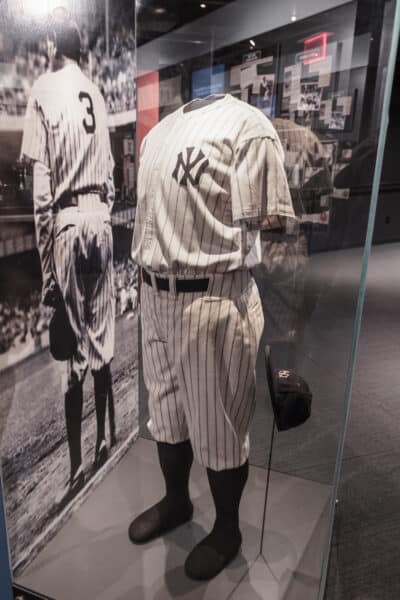 Not surprisingly, Babe Ruth is given probably the largest single area in the museum (though the Hank Aaron area on the third floor is close). The Ruth nook offers a ton of information about his life and career, including many photos and even some audio and video.
There are also many fantastic items on display including one of his uniforms, several bats, and even the ball he hit for his 60th home run in 1927. If you, like me, see Ruth as somewhat of a mystical figure, this is truly a fantastic gallery to explore.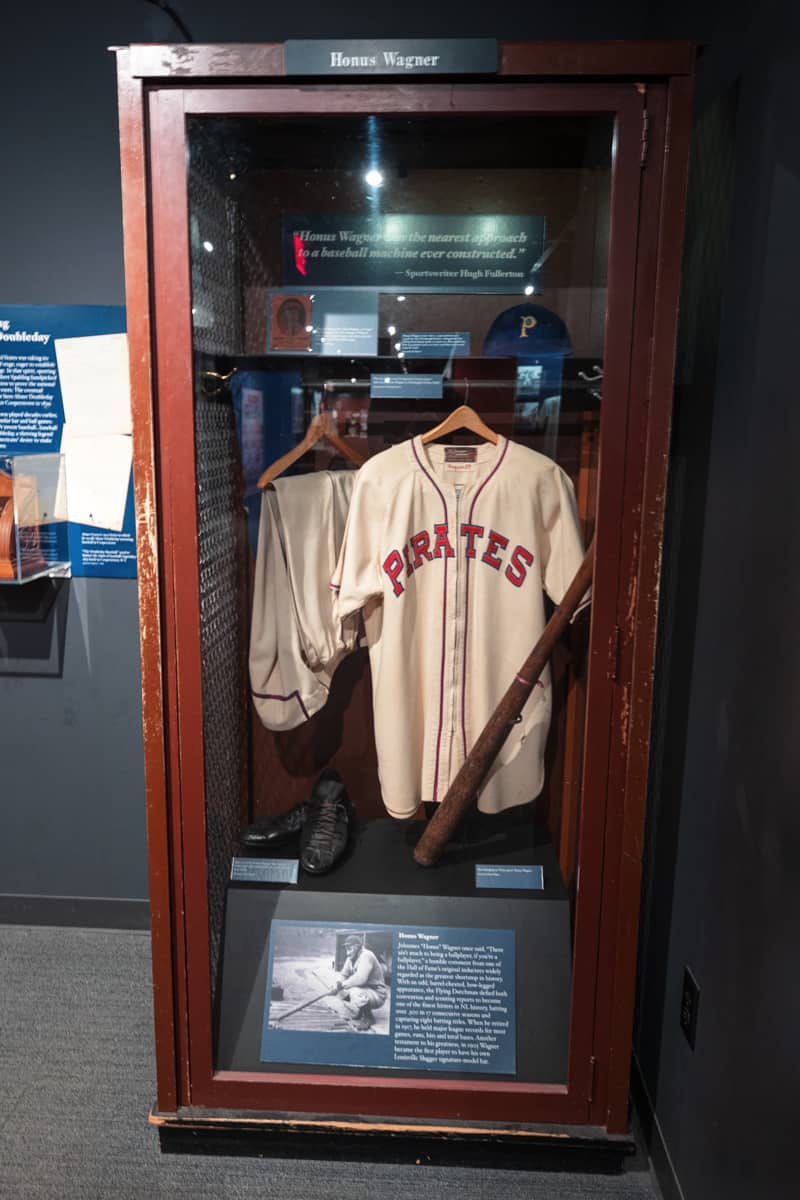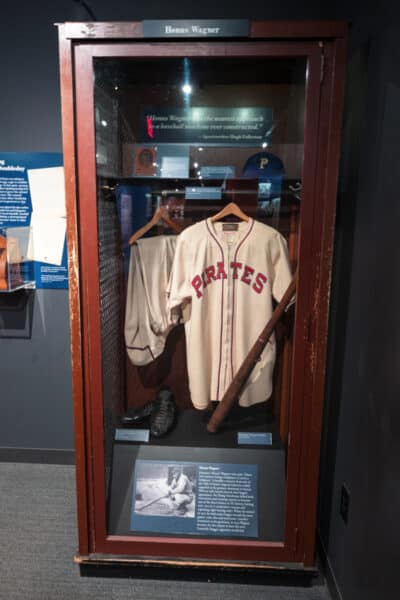 Throughout the rest of the second floor, there are thousands of items on display covering topics ranging from historic baseball players, the Negro Leagues and segregation in baseball, women in baseball, and many more. They also cover some other interesting topics, like PED usage and cheating (George Brett's infamous pine tar bat is on display), that you might not expect them to feature.
On the museum's third floor, the displays start with some great information about some of baseball's most historic and no-longer-standing ballparks. They also had some fun audio exhibits where you could hear iconic sounds like Harry Caray singing "Take Me Out to the Ballgame."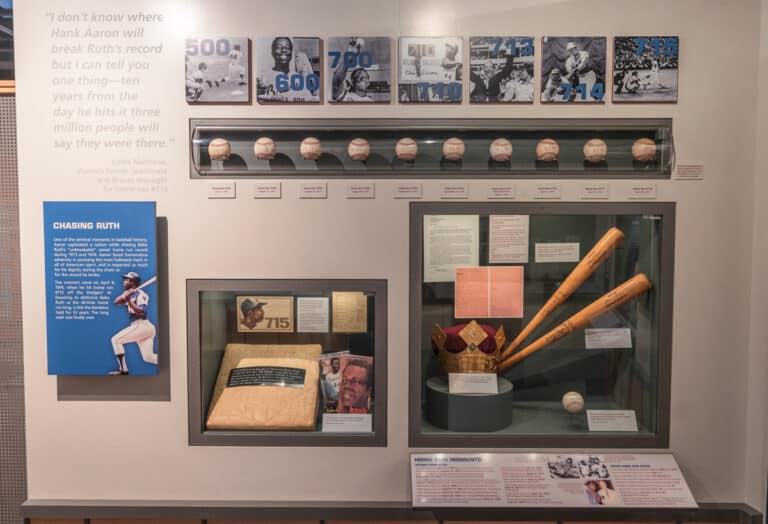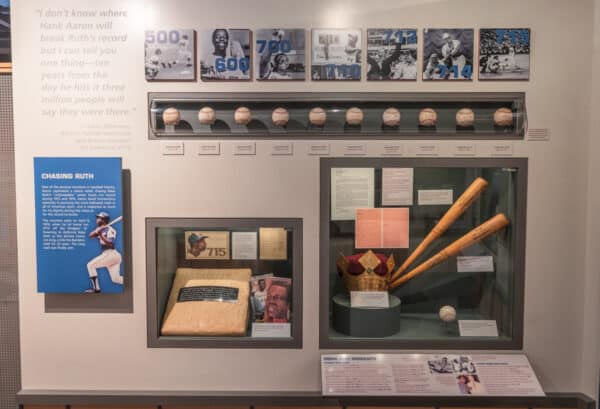 The largest portion of this floor covers baseball records ranging from well-known ones like most home runs and most strikeouts to little-thought-of-ones like most hits in a game. There is also a large display area that commemorates the career of Hank Aaron, including his locker, the uniform he was wearing when he hit home run 715, and several milestone home run balls.
The third floor also features exhibits related to the previous World Series winner (along with a collection of every World Series ring), a great area on baseball cards (with a T206 Honus Wagner card on display), and an area that offers pieces of history from every existing baseball franchise.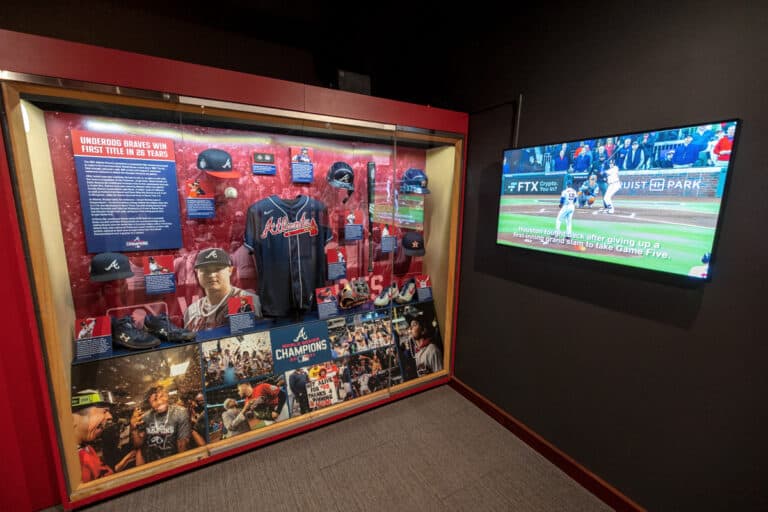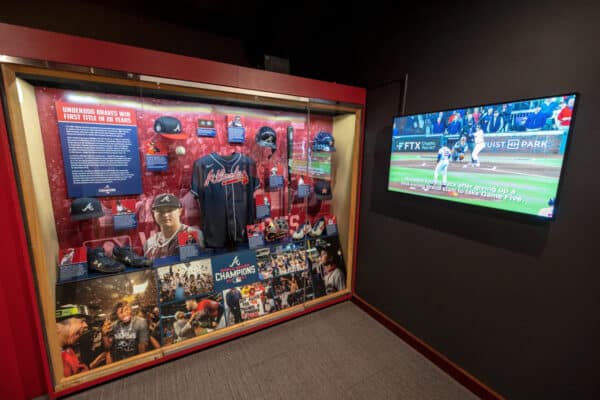 While the second and third floors of the museum are truly phenomenal, there's no denying that the main draw of the Hall of Fame is its Plaque Gallery.
Walking into this area, I felt an instant sense of reverence, and it reminded me very strongly of a mausoleum at a cemetery.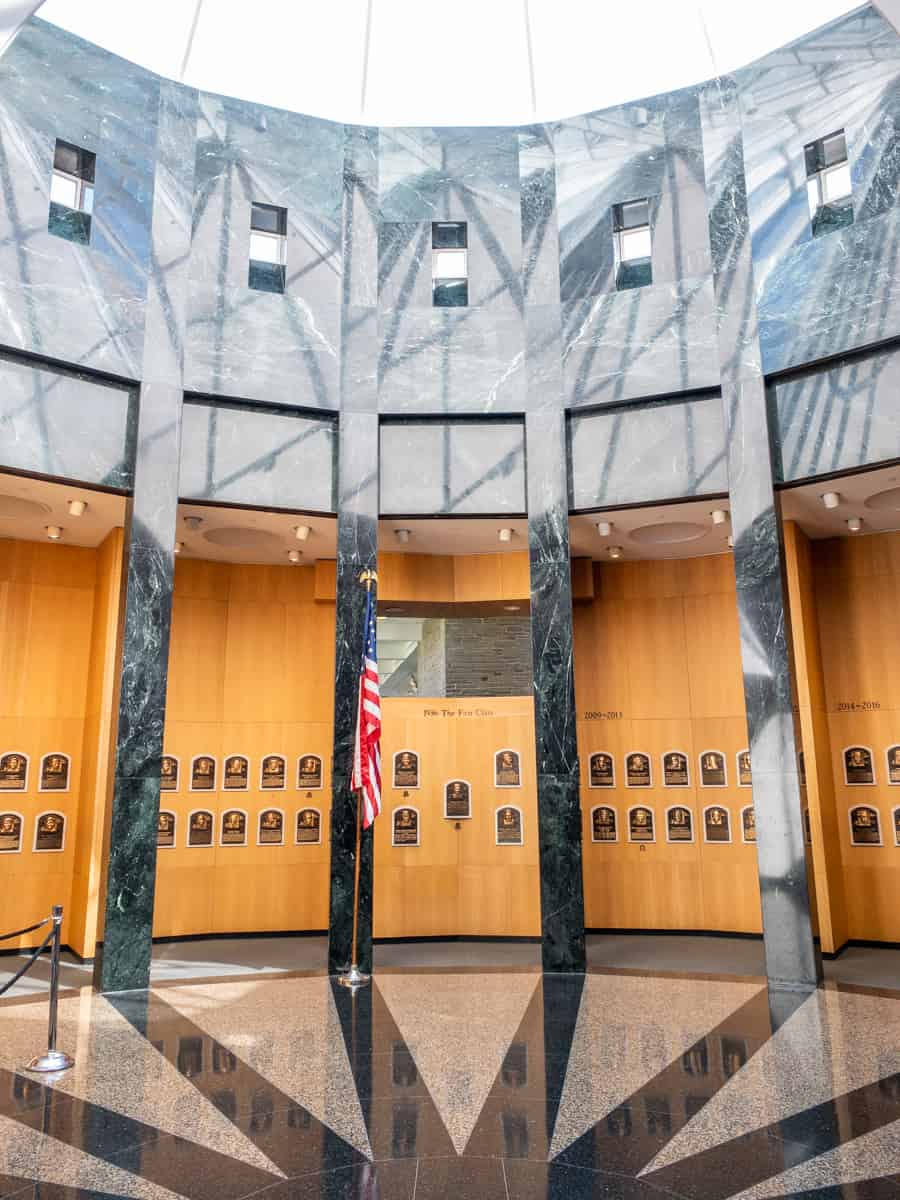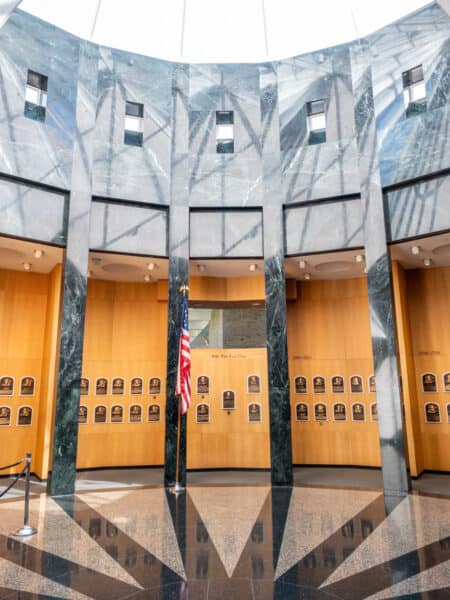 Straight ahead, in the middle of the rotunda, you'll find the first five inductees in the Hall of Fame, which are flanked by some of the most recent additions.
All told, there are more than 300 plaques on display, hanging in chronological order from when they were inducted. Many of the players are well-known even decades after they finished playing, while some others are little-known. However, each inductee contributed greatly to the history of the sport.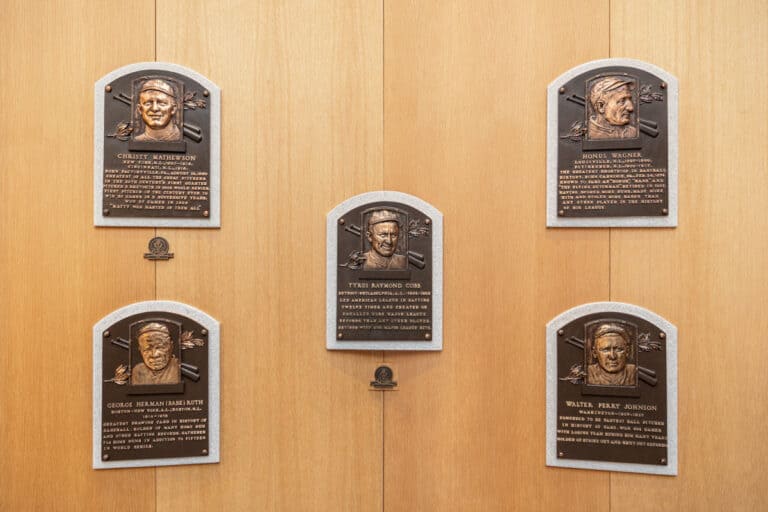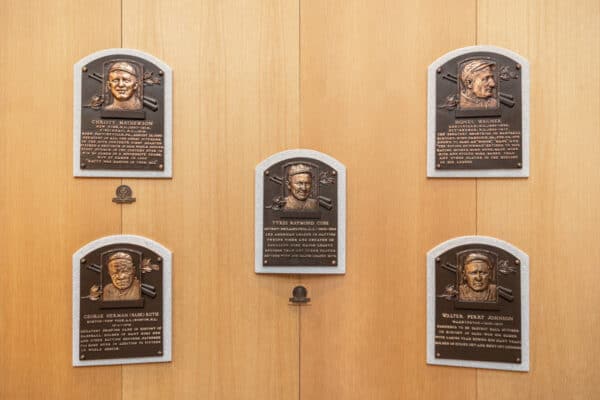 Honestly, this was a very moving area for me, and I took some time to simply stop and enjoy this beautiful area.
It's worth noting that, if you walk behind the plaque gallery, you'll find a few other interesting areas of the museum including sections about baseball movies (with a lot of props), announcers and journalists, and even a small kids' play area. This area is easily missed but is definitely worth taking a few minutes to check out.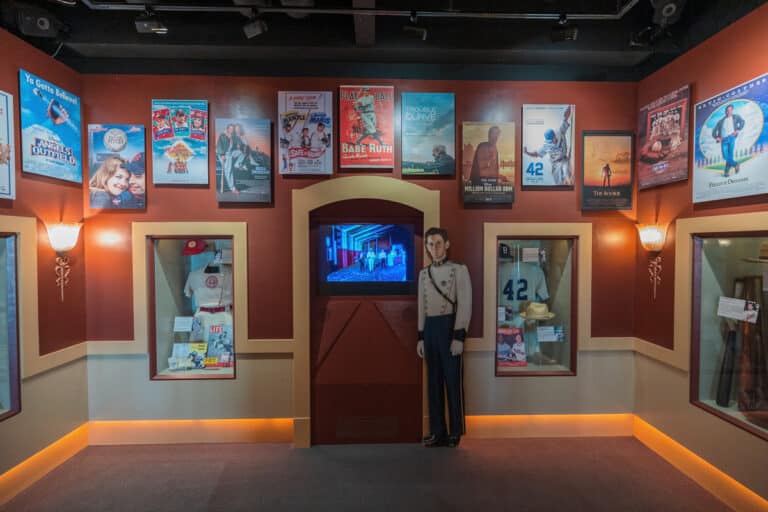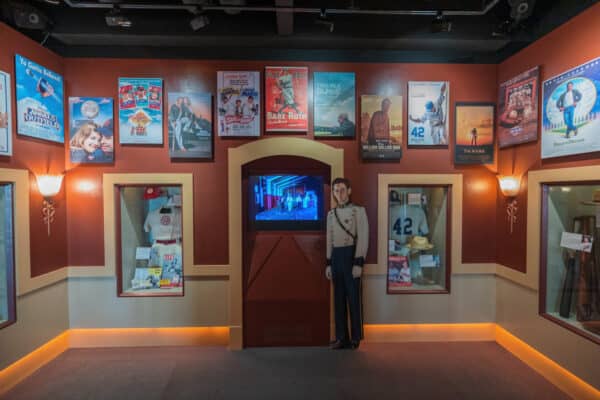 Overall, I can't say enough good things about the National Baseball Hall of Fame in Cooperstown. Visiting this museum has been on my bucket list for many years, and it definitely did not disappoint.
That being said, for the casual fan who isn't interested in reading every sign and looking at every display, it might be a bit challenging to find some of the museum's most illustrious pieces. That's because items like Willy Mays' glove from "The Catch" and Babe Ruth's 60th home run ball are tucked into corners with only small signs.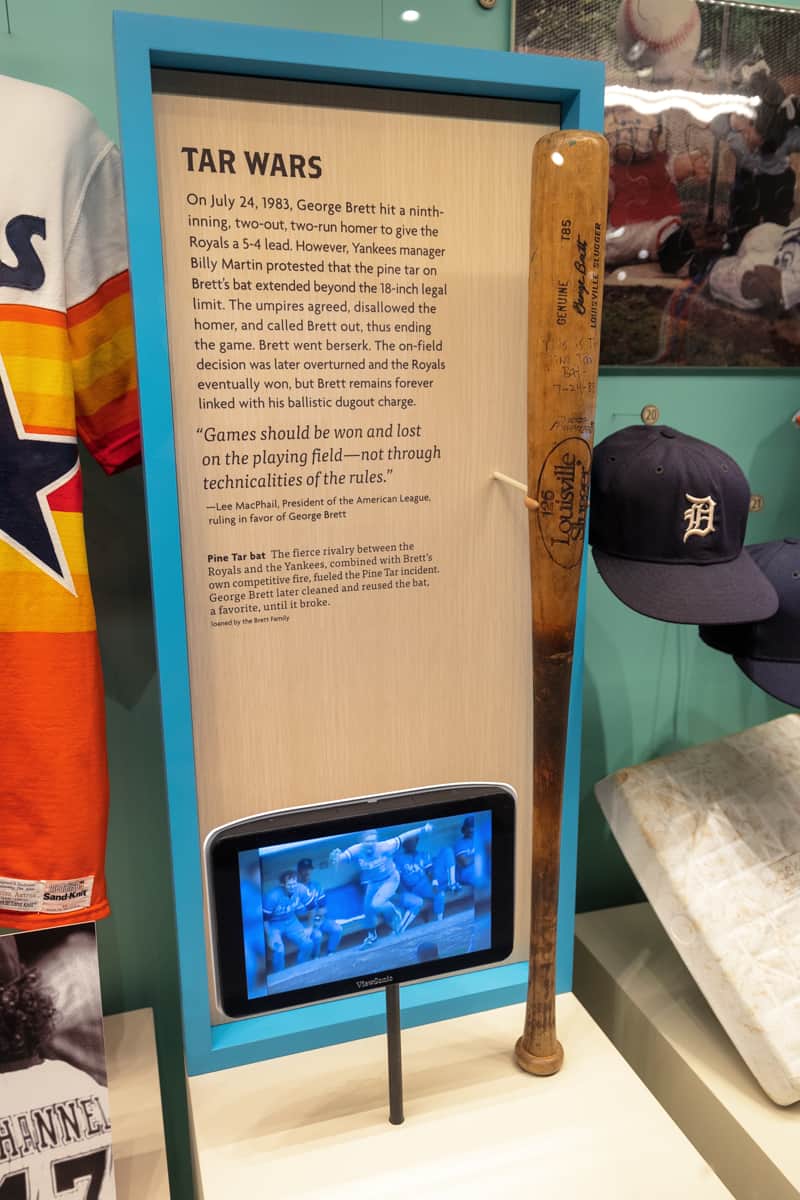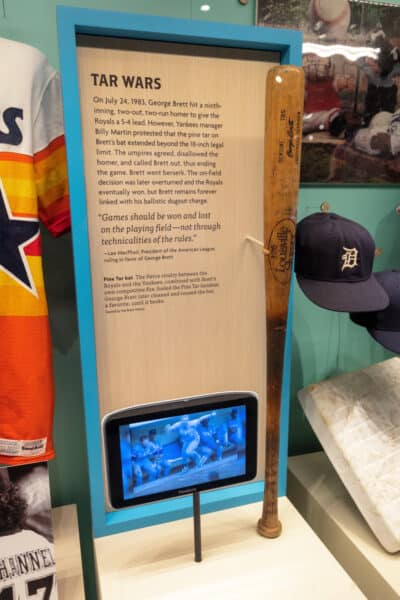 More signs pointing out these items would have been great to make sure visitors didn't miss anything.
Also, in some areas, especially in the first gallery about the early history of the sport, the dark lighting and small text made some of the signs difficult to read. Even with pretty good eyesight, these were a struggle when there weren't many people at the museum. I can only imagine how difficult they would be to read if people were crowded around the displays.
Tips for Visiting the National Baseball Hall of Fame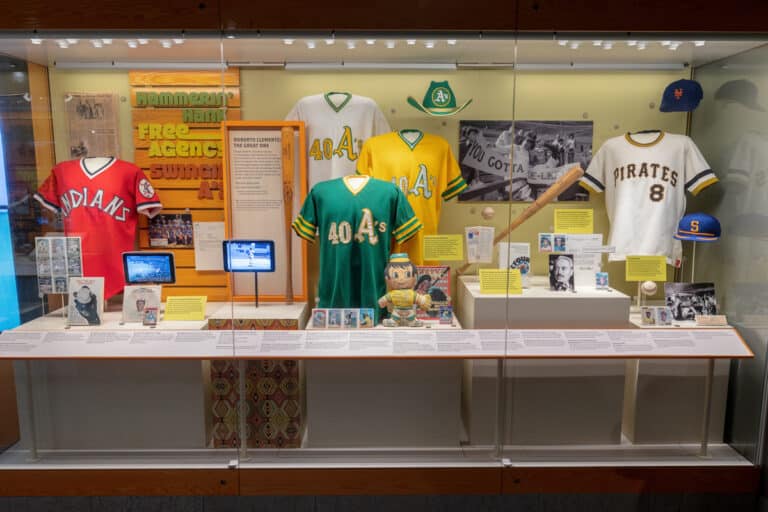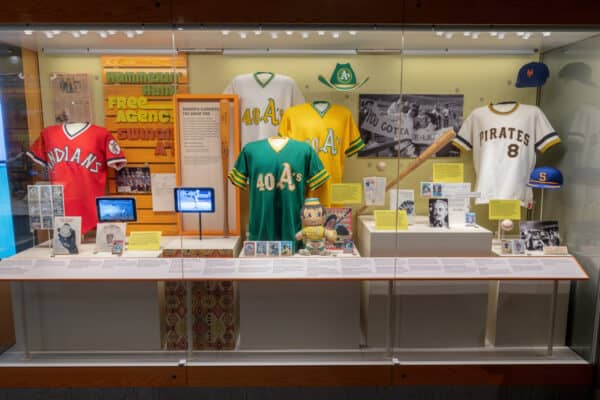 While I've covered a lot of the museum above, I thought I'd close with a few of my top tips for visiting the Baseball Hall of Fame in Cooperstown, New York, including how to get tickets and where to park.
My first tip is, if possible, visit during the colder months of the year and on a weekday.
I visited the museum on a weekday in late April, and the crowds were quite manageable. In fact, a docent told me that while there were around 300 people there on the day I visited, there can be over 3,000 on a typical summer day.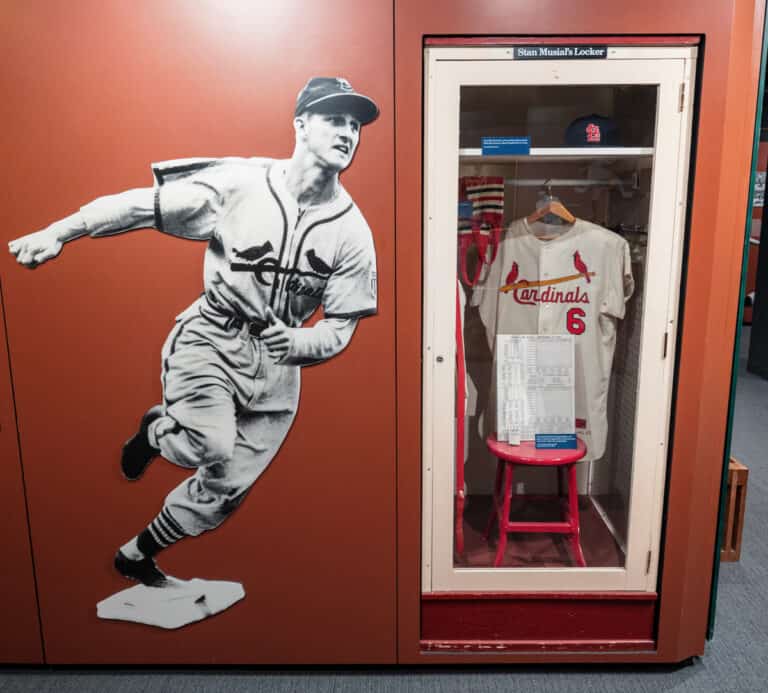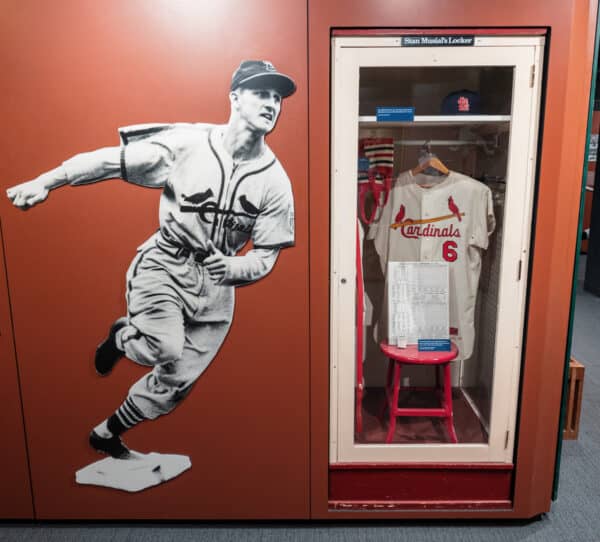 The National Baseball Hall of Fame is truly one of those museums where you could spend all day. In fact, I was there for five hours and definitely rushed through a few areas of the museum. However, those less interested could probably see it all in less than two hours (though, as I noted above, it might be hard to find all of the collection's hidden gems).
It does seem to clear out a bit in the afternoon, so if you don't plan to spend all day at the museum, it might be best to show up a little later in the day.
In regards to tickets, you can avoid the line at the entrance, as well as make sure that you can enter when you want, but pre-purchasing your tickets on the Hall of Fame's website. There is no additional fee for this, so it makes a lot of sense to buy them ahead of time if you are visiting on a busy day.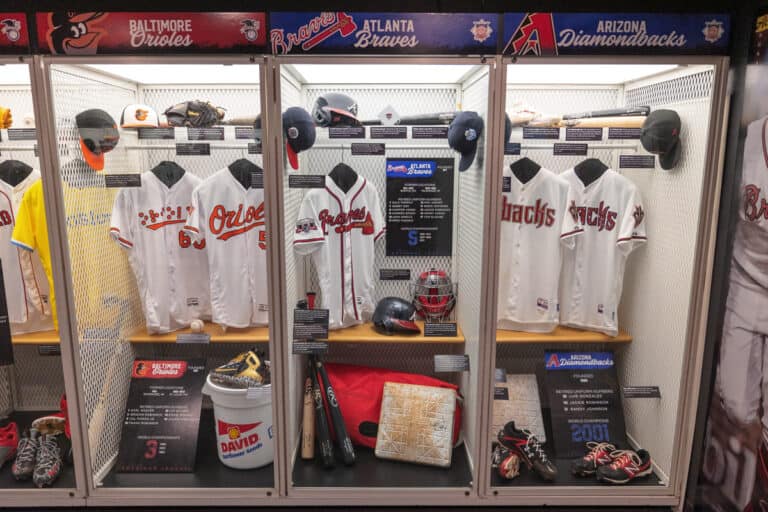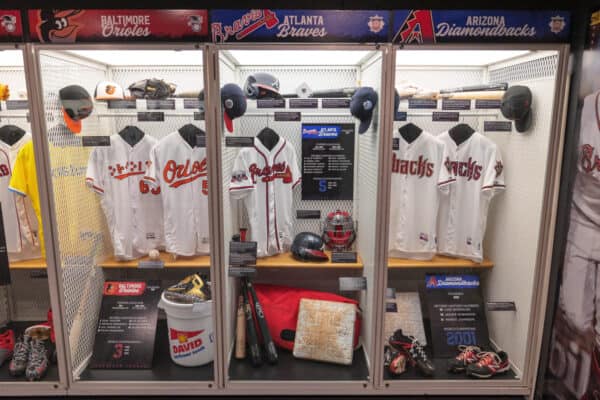 It's also worth noting that you can enter and exit at your leisure. I left in the middle of my visit to grab some lunch and refresh a bit before finishing my time in the museum.
As for parking, it is quite limited in town and street parking is only available for two hours at a time. While this parking is free from Columbus Day through Memorial Day, there is a charge for street parking during the warmer months of the year.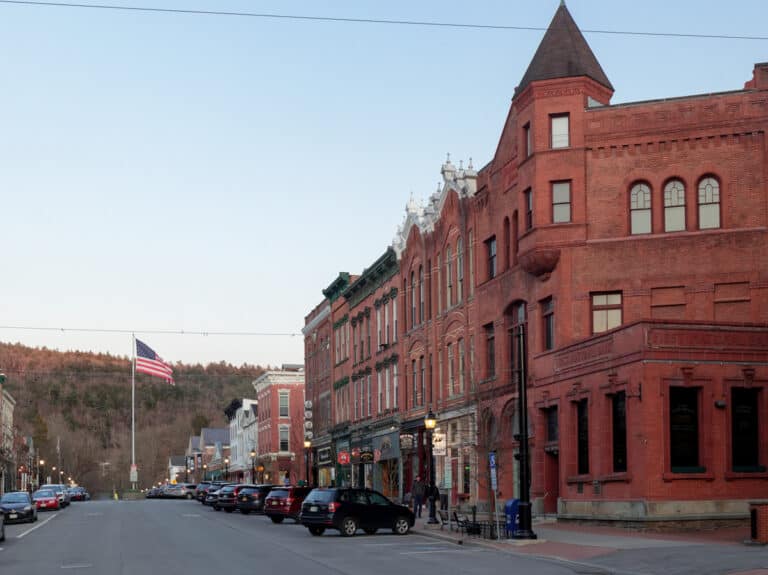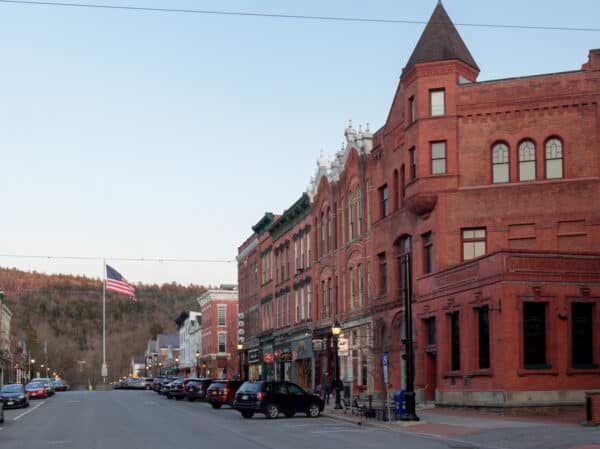 If I was visiting in the summer, I would have opted to park at one of the village's trolley lots. These lots sit just outside of town and are free to park in. As the name implies, a trolley (which does cost a few dollars per person for an all-day pass) will take you to and from this lot into town.
On the other hand, if you really want to park closer, you can park at the Doubleday Field lot in town for $14 a day.
Finally, once you've finished enjoying the museum, definitely take some time to stroll through the very charming downtown area. Here you'll find dozens of shops and restaurants, many with a baseball theme.
Looking for more spots to visit nearby? Check out the Fenimore Art Museum, the Farmers' Museum, Ommegang Brewing, the trails in Robert Riddell State Park, and Howe Caverns.
---
National Baseball Hall of Fame
Hours: Daily 9am-5pm
Open until 7pm Memorial Day – Labor Day

Cost: Adults: $28, Children: $17

Website: BaseballHall.org

Address: 25 Main Street
Cooperstown, NY 13326
---