Disclosure: This article may contain affiliate links. We will make a small commission from these links if you order something at no additional cost to you.
There may be no more revered athlete in American history than Babe Ruth, and you can go pay your respects to him at his grave in the Hudson Valley.
Babe Ruth's Grave can be found in Gate of Heaven Cemetery in Hawthorne, New York. This Westchester County cemetery is the final resting place for many prominent Americans, including several other famous baseball players, but there's probably no grave that gets more attention than Ruth's.
Babe Ruth was born George Herman Ruth in Baltimore, Maryland on February 6, 1895. At the age of 7, Ruth was sent to St. Mary's Industrial School because of his poor behavior. It was during his time here that he would learn to play baseball, and he stayed at the school until he signed his first baseball contract with the Baltimore Orioles at the age of 19.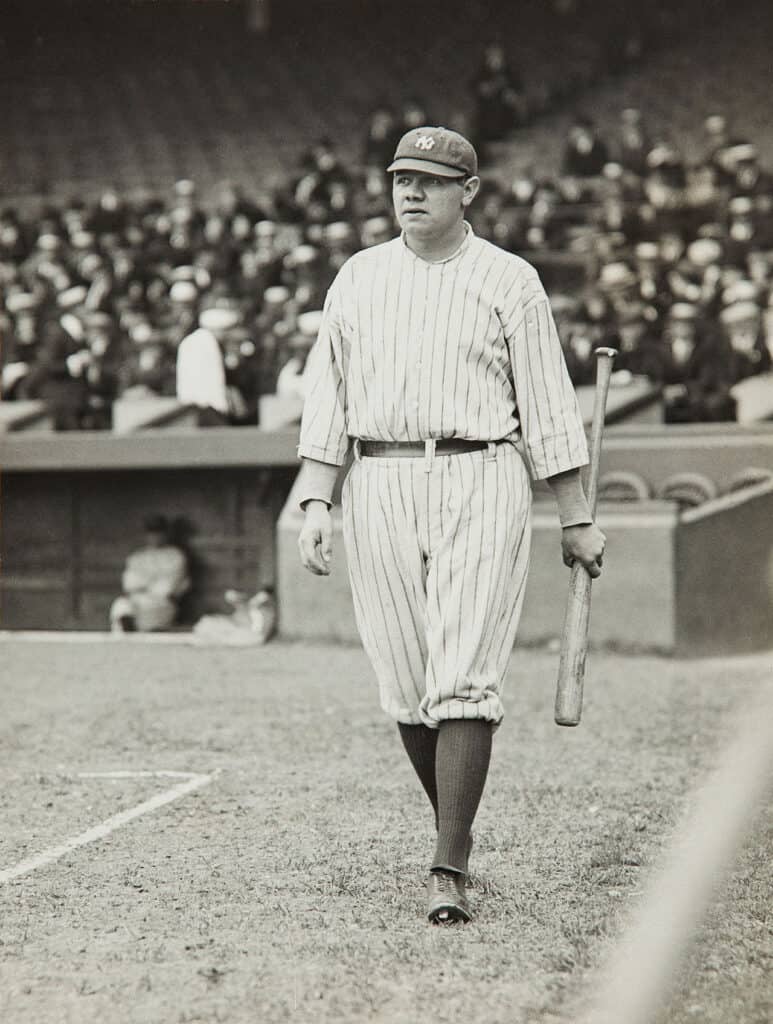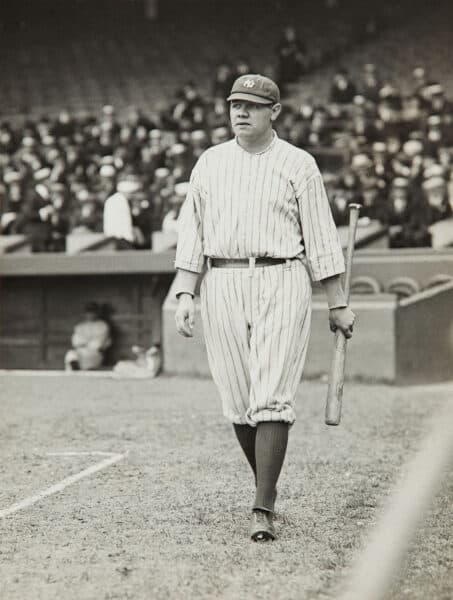 Over the course of his career, Ruth shattered home run records and is still revered as one of the best baseball players in history. He was part of the first class inducted into the National Baseball Hall of Fame in 1936.
Sadly, on August 16, 1948, Ruth died in New York City at the age of 53. As a lifelong Catholic, he was buried in Gates of Heaven Cemetery, the Catholic Cemetery in Hawthorne, New York, about 25 miles north of the city.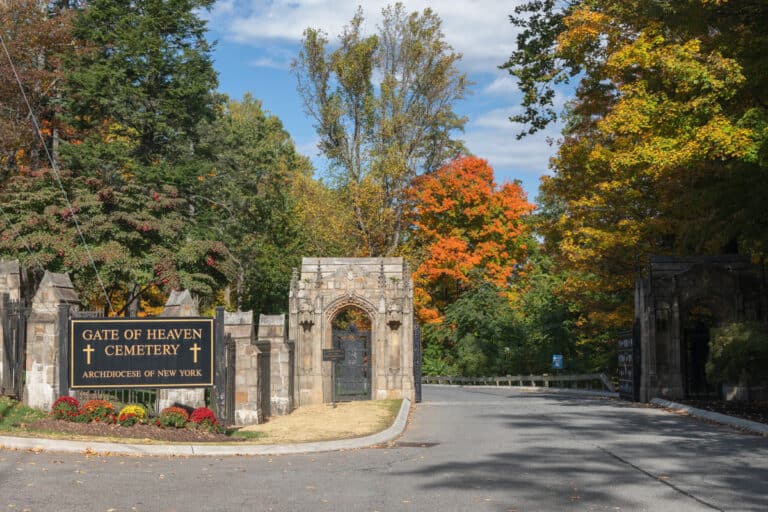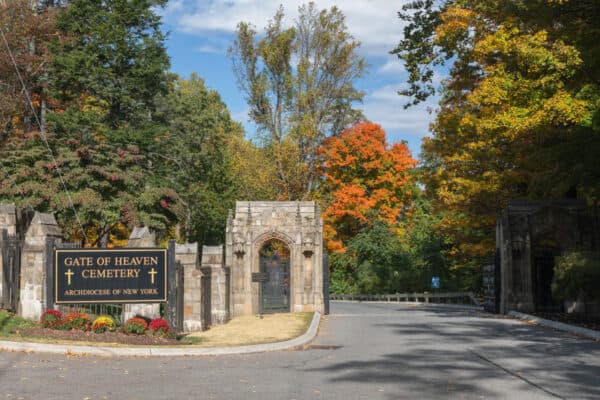 Today, more than 70 years after his death. Ruth's grave can still be found in the cemetery and is located on a hillside with a beautiful view of the surrounding area.
As a baseball fan, I was excited to have a chance to visit the cemetery to pay my respects to this legend of the sport.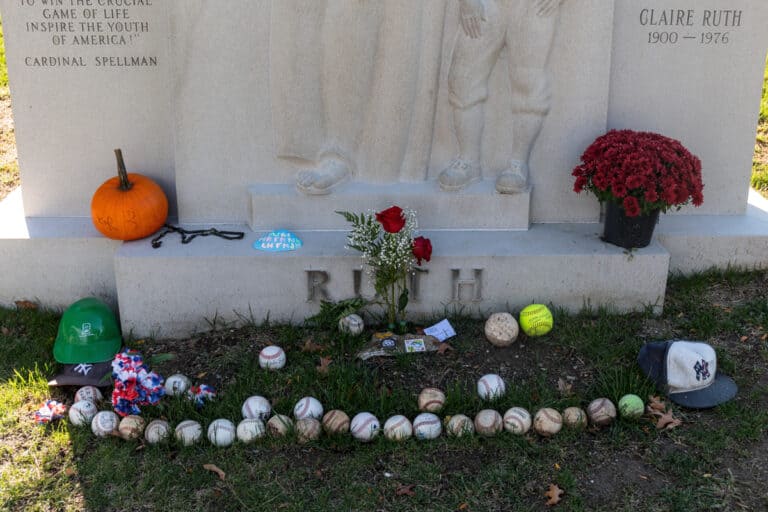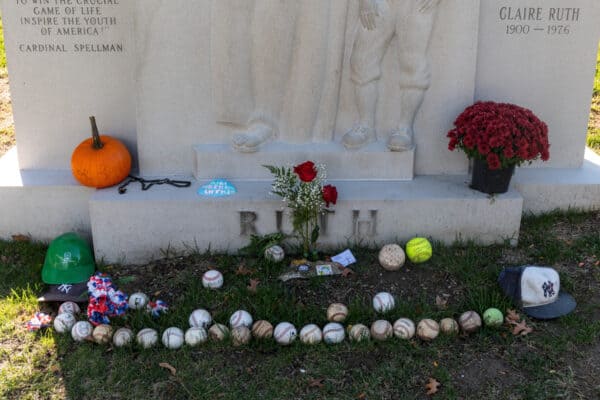 With more than 200,000 burials, Gate of Heaven Cemetery is a massive property, and finding Babe Ruth's Grave can be difficult if you don't know where to look. Fortunately, if you know where to look, it is quite easy to find.
To get there, simply put these coordinates into your favorite GPS and it'll take you right there: 41.090330, -73.796974.
[Click here for information on how to use the coordinates in this article to find your destination.]
If you aren't able to use a GPS, Babe Ruth's grave can be found in Section 25 in the northern part of the cemetery, which you can see on their grounds map.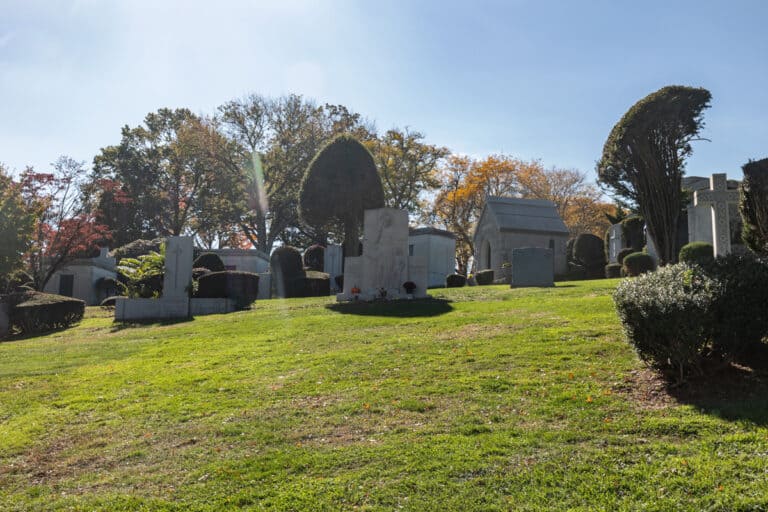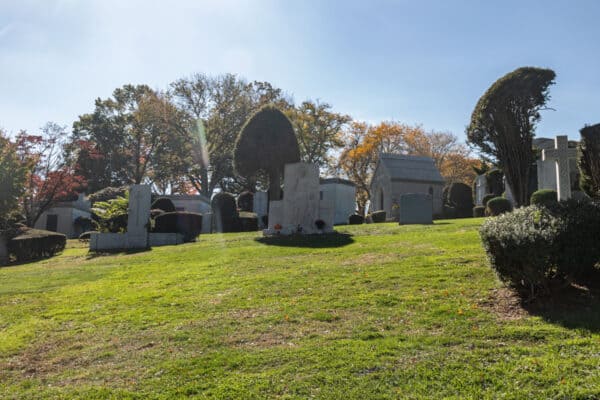 Babe Ruth's grave is located on a hillside, which is a bit steep, so those with mobility issues might have to simply view it from the road. Fortunately, it sits less than 75 feet off of the road and clearly faces the closest road, so it can be seen without climbing the short hill.
However, if you can, I definitely recommend walking up for a closer look.
Ruth's Grave is quite beautiful and more ornate than most. However, there is nothing on it to indicate that it is the final resting place of one of the most famous baseball players in history.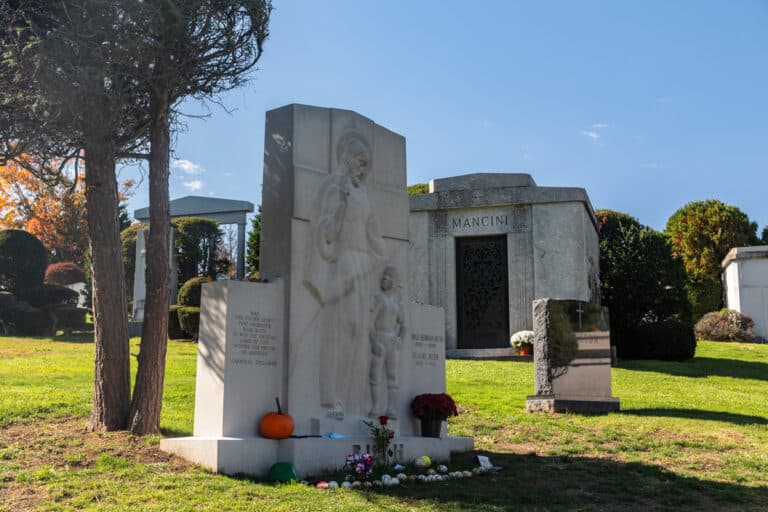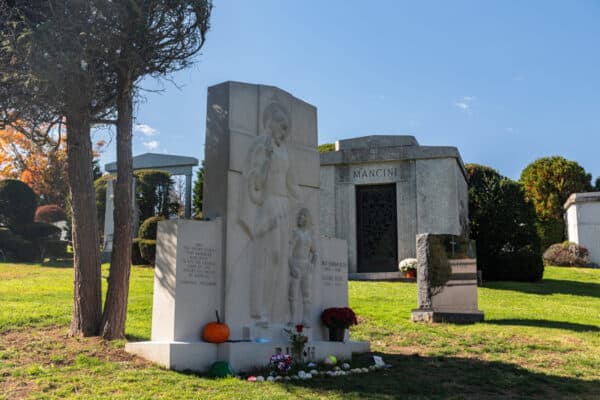 Fortunately, though, visitors leave all manner of baseball memorabilia at the site, so you can usually just look for a collection of balls, bats, and hats to help you more quickly find the grave.
In the middle of the large tombstone, there is a carved image of Jesus looking down over a small child. On the left side, there is a quote from Cardinal Spellman, and on the right side, it lists the years of life for both Ruth and his second wife, Claire.
Take a moment when visiting to pay your respects to one of the greatest baseball players in history.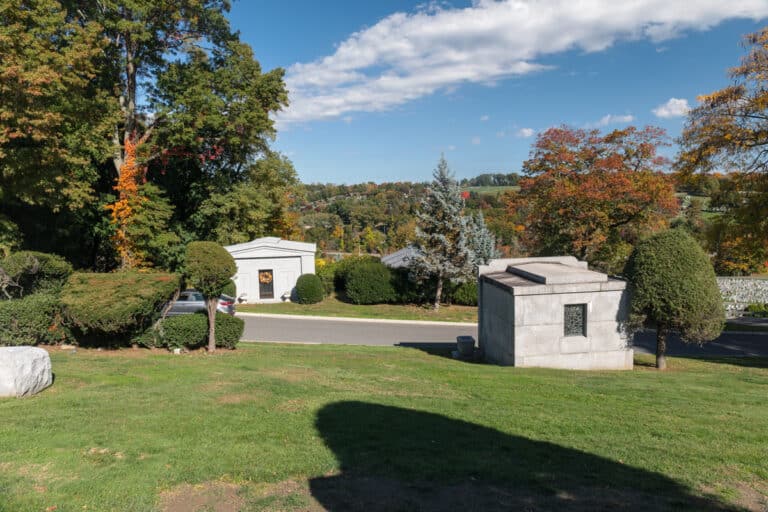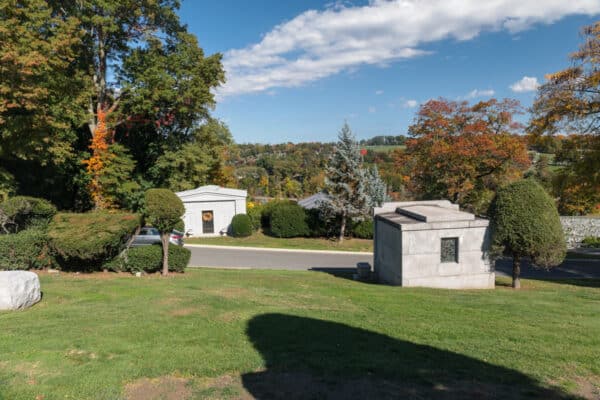 Before leaving the area, it's worth noting that the grave of another popular Yankee, Billy Martin, is located in the same section of the cemetery and only a few steps from Ruth's grave. You can also drive less than two miles to visit the grave of Lou Gehrig in the adjacent Kensico Cemetery.
It's also worth noting that, while most will drive to the cemetery, trains on Metro-North's Harlem Line stop at the Mount Pleasant Station three times a day in each direction on weekends and once per day on weekdays. Only one car will open its doors, so make sure to ask if you are planning to disembark here. From this station, it is less than a half-mile walk to Ruth's grave.
Looking for more things to do in the area? Check out Woodlawn Cemetery, Yonkers Brewing, and Sleepy Hollow Cemetery.