Disclosure: This article may contain affiliate links. We will make a small commission from these links if you order something at no additional cost to you.
Located in the Bronx, Woodlawn Cemetery is one of the most interesting cemeteries in all of New York.
Woodlawn Cemetery was opened in 1863 and was, at the time, located in a rural area north of New York City. Over time, the city grew to encompass the area around the cemetery, transforming it from a peaceful, rural setting to the middle of a bustling metropolis.
Inside the 400-acres grounds of Woodlawn Cemetery, there are 300,000 people buried. These burials span a wide variety of times, classes, and ethnicities. Walking, bicycling, or driving through the grounds provides a glimpse at one of the most beautiful graveyards you'll find in the entire country.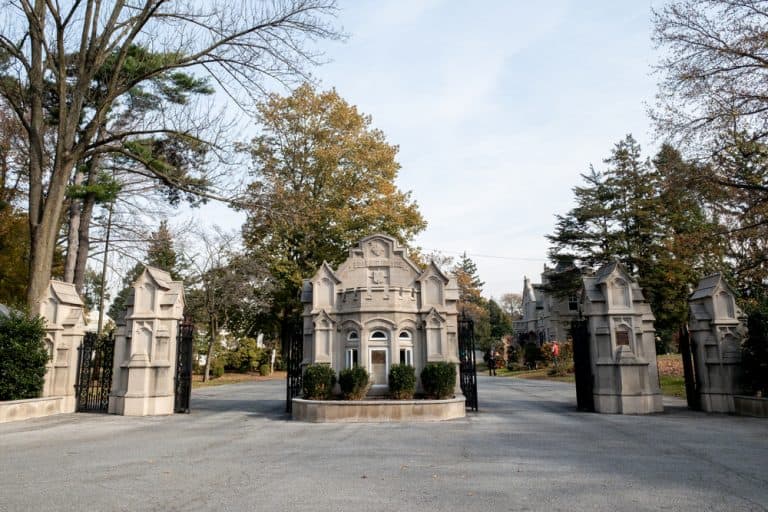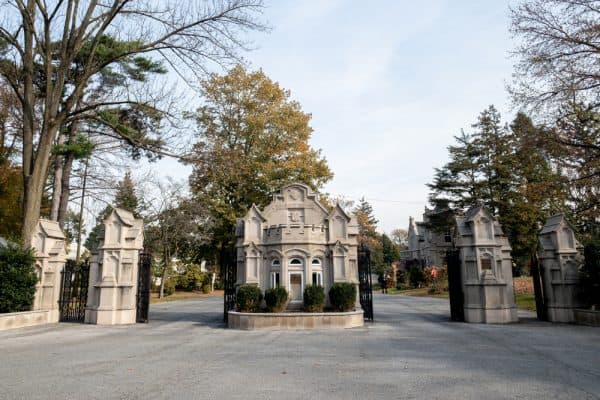 That's partly why Woodlawn Cemetery was designated a National Historic Landmark in 2011.
Among the hundreds of thousands buried here, there are many people that have had a profound impact and shaped the world as we know it today. Honestly, I was astounded to discover how many prominent people were buried here.
This combination of beauty, history, and famous burials is why this is such a neat spot to explore in the Bronx.
Below, I have information about the graves of 10 of the most prominent people buried in Woodlawn Cemetery. They are listed in a logical order for a visit that starts at the gate on Jerome Avenue and ends at the gate on East 223rd Street.
At the bottom of this article, I have a few more thoughts on exploring this beautiful graveyard while visiting the city and how to reach it via public transportation.
Nellie Bly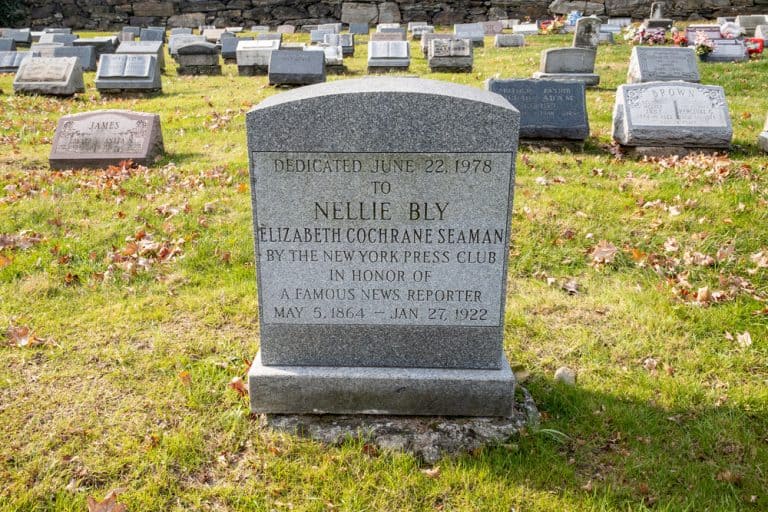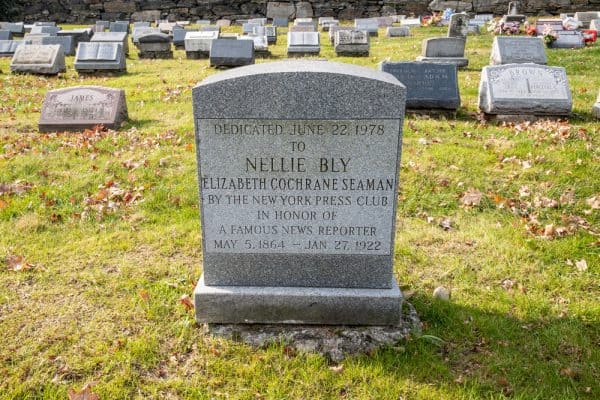 Nellie Bly was one of the most important investigative reporters of the 19th century. She is best known for getting herself institutionalized to uncover the truth about the conditions in New York's mental institutions. She also set the record for circumnavigation of the globe at 72 days while on assignment for the New York World.
In her later life, Bly took over her deceased husband's company, Iron Clad Manufacturing, and produced steel milk cans and boilers. She even created a few inventions during her life and received several patents.
Bly died in January 1922.
Gravesite: The gravesite of Nellie Bly is located in the southeastern portion of the cemetery and can be found at the following coordinates: 40.8838387, -73.8772812.
Alex Pompez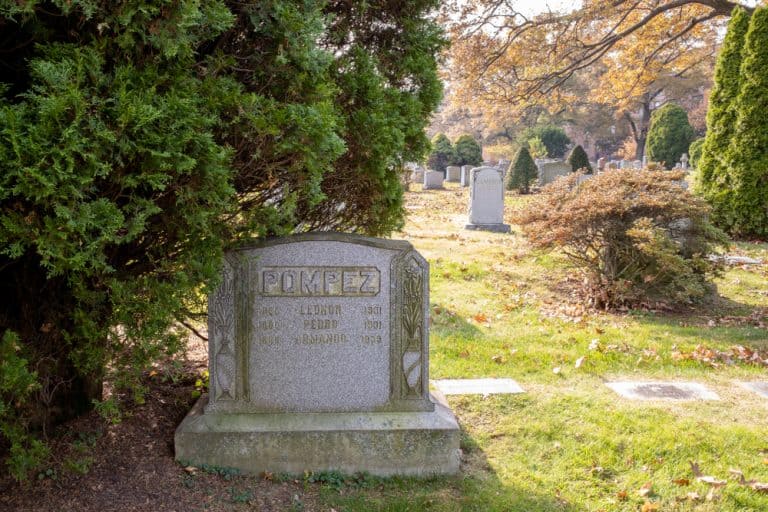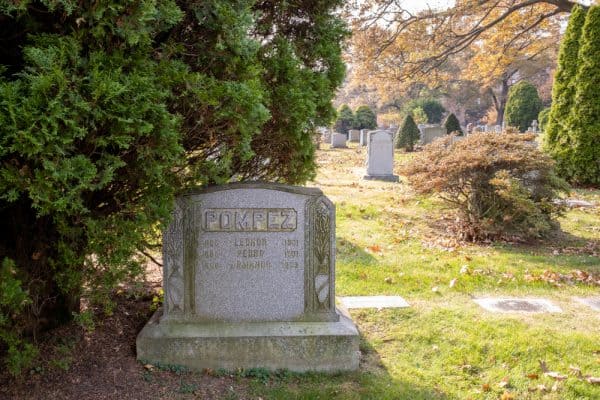 Alex Pompez is a member of the Baseball Hall of Fame in Cooperstown, New York, having been elected in 2006.
Pompez was an executive in the Negro League who owned two different teams: the Cuban Stars and the New York Cubans. Both teams were comprised of Latin American players who, like African Americans, weren't allowed to play in the Major Leagues.
After baseball was integrated, Pompez became a Latin American scout for the New York Giants (and later San Francisco Giants). Pompez was instrumental in the signing of baseball greats like Orlando Cepeda and Tony Oliva. He also scouted future Cuban dictator Fidel Castro and wrote a favorable scouting report on the young player.
Pompez died in 1974.
Gravesite: Pompez is buried in the southeastern corner of the cemetery at the following coordinates: 40.882809, -73.876823.
Note that Alex's name isn't listed on the marker, but he is buried at this spot.
WC Handy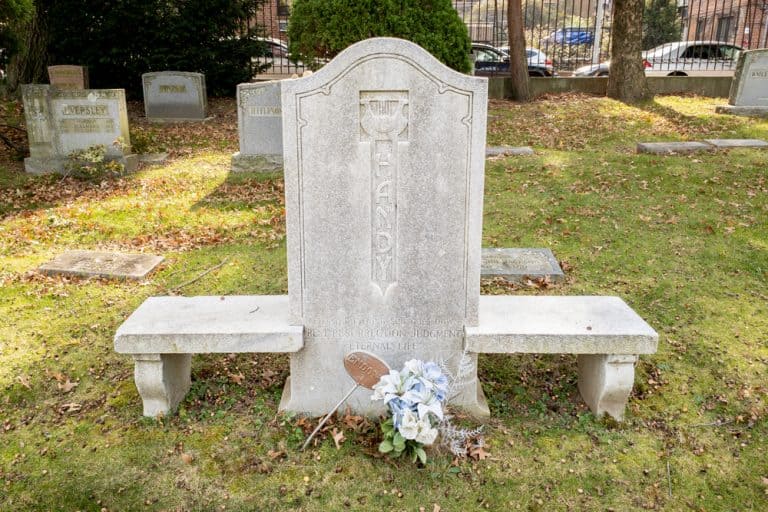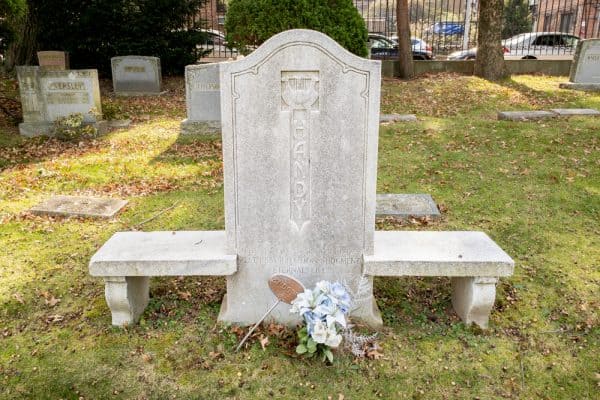 W.C. Handy was the self-described "Father of the Blues."
Handy was one of the country's most influential songwriters from the 1910s through the 1930s. He wrote and performed some of the most popular blues songs of the time including "Saint Louis Blues," "Beale Street Blues," and "Memphis Blues."
He is a member of the Songwriters Hall of Fame and posthumously won a lifetime achievement Grammy in 1993.
Handy died in 1958
Gravesite: W.C. Handy's gravesite is located in the very southeastern corner of Woodlawn Cemetery near the wall. It can be found at the following coordinates: 40.8822250, -73.8774185.
Note that the gravesite just reads "Handy".
Miles Davis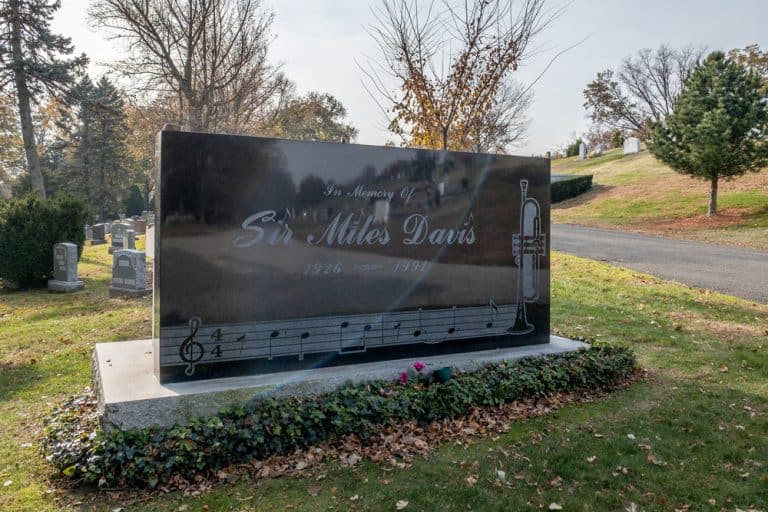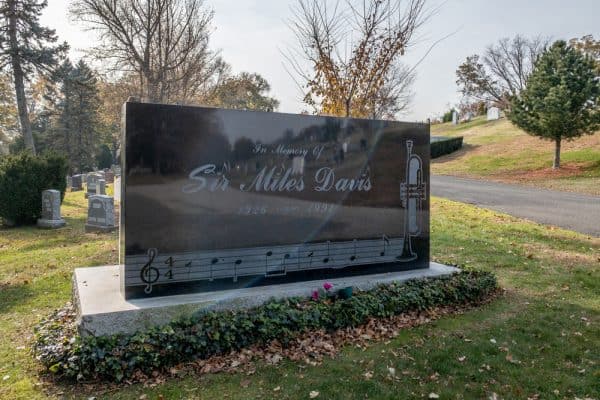 Miles Davis is one of the most well-known musicians of the 20th century. Known primarily for jazz music, Davis was a popular trumpeter, composer, and bandleader.
Throughout his five-decade career, Davis popularized jazz and was one of the most influential musicians in the genre. Some of his most well-known pieces include "Round Midnight," "Blue in Green," and "So What."
His talents earned him induction into the Rock n Roll Hall of Fame and a lifetime achievement Grammy.
Davis died in 1991.
Gravesite: Miles Davis' gravesite is located prominently at a fork in the road in the southern part of Woodlawn Cemetery. It can be found at the following coordinates: 40.8850364, -73.8718262.
As one of the most prominent gravesites in the area, you can't miss it.
Duke Ellington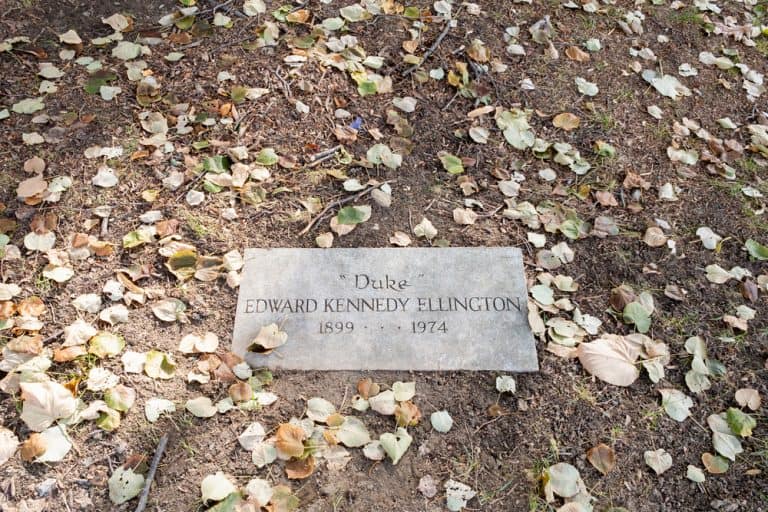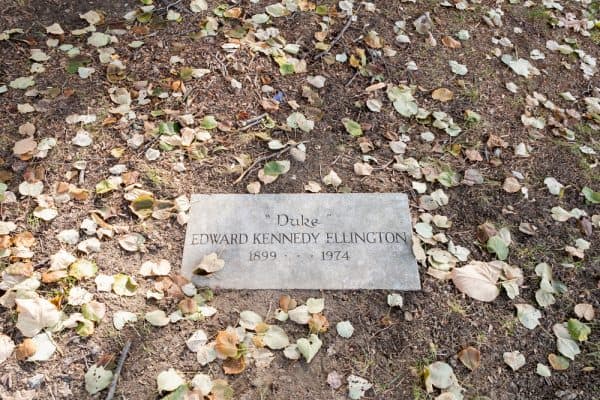 Located just steps from the grave of Miles Davis is the grave of another legendary musician: Duke Ellington.
During Ellington's six-decade career, he too helped to popularize jazz as a pianist, composer, and orchestra leader. Hits include "In a Sentimental Mood," "Little Brown Book," and "Haupe."
In recognition of his work, Ellington was inducted into the Songwriters Hall of Fame, received a lifetime achievement Grammy, a Pulitzer Prize, and a Presidential Medal of Freedom.
Ellington passed away in 1974.
Gravesite: Unlike Miles Davis' grave nearby, Ellington's grave is a simple flat marker amongst other family members. However, behind his grave, there are two large markers that bear his last name.
Ellington's grave can be found at the following coordinates: 40.884947, -73.871712.
Irving Berlin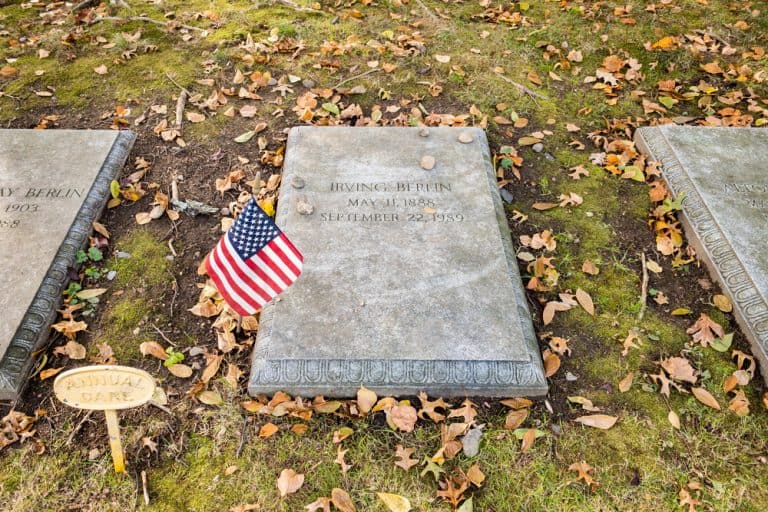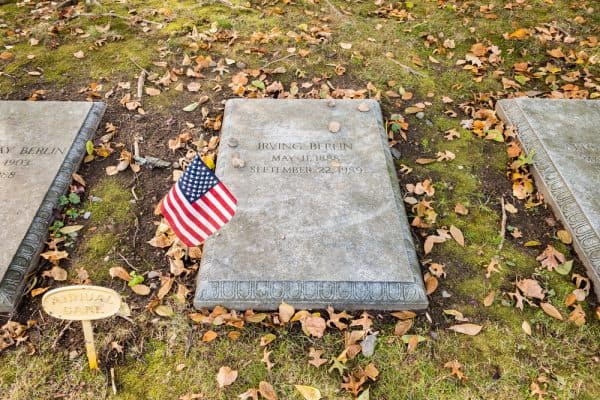 There are few songwriters that have had an impact as large as Irving Berlin.
Berlin was born in Russia and moved to the United States when he was five years old. During his six-decade career, he wrote classic songs such as "God Bless America," "White Christmas," and "Puttin on the Ritz." Berlin did all of this while not being able to read sheet music and being only minimally proficient on the piano.
Berlin's songs topped the charts 25 times, and he won an Oscar, a Grammy lifetime achievement award, and the Presidential Medal of Freedom.
Berlin died in 1989 at the age of 101.
Gravesite: Berlin is buried near the middle of Woodlawn Cemetery near the road. His grave can be found at the following coordinates: 40.8876177, -73.8709613.
Frank Frisch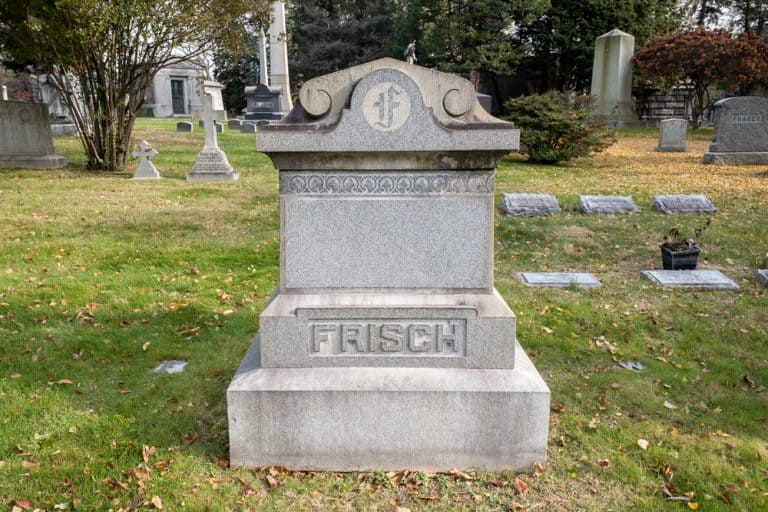 Frank Frisch is a second Baseball Hall of Famer buried in Woodlawn Cemetery.
Frisch was a second baseman for the New York Giants and St. Louis Cardinals during his career which lasted from 1919 to 1937. He was later a manager for the Cardinals, Pittsburgh Pirates, and Chicago Cubs over the course of three decades. He retired in 1951.
During his career, Frisch batted over .300 and was a four-time World Series champion. He was elected to the Baseball Hall of Fame in 1947.
Frisch died in 1973.
Gravesite: Frank Frisch is buried in the northern part of Woodlawn Cemetery at the following coordinates: 40.894271, -73.873374.
His grave is a bit removed from the others on this list, but visiting it allows you to explore more of this incredible graveyard and see some beautiful monuments.
Joseph Pulitzer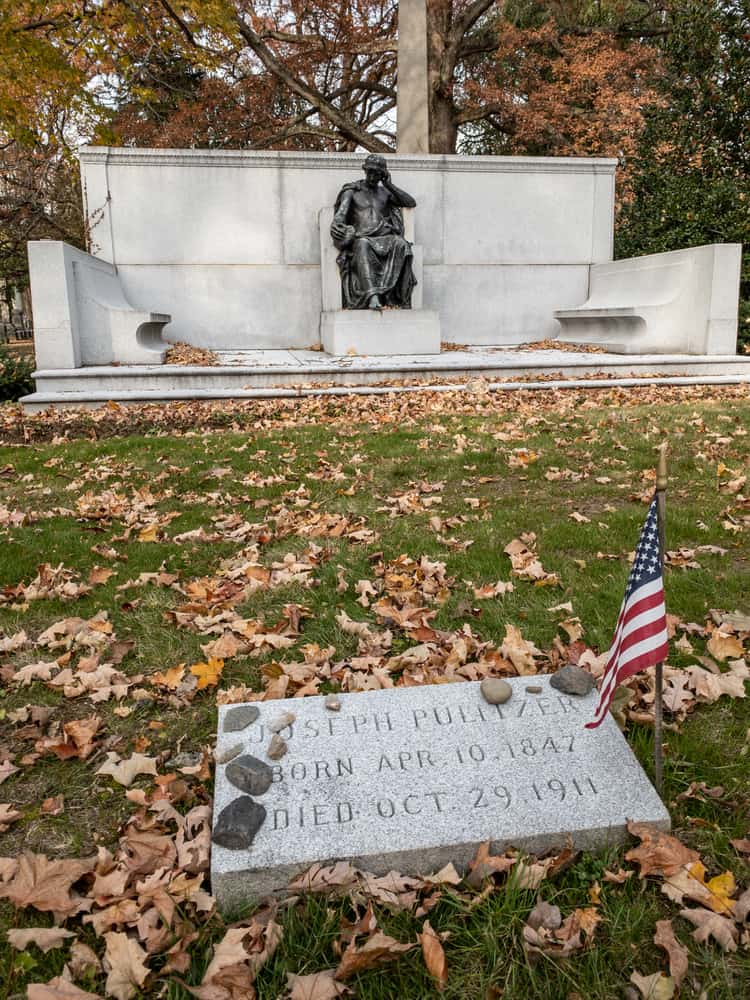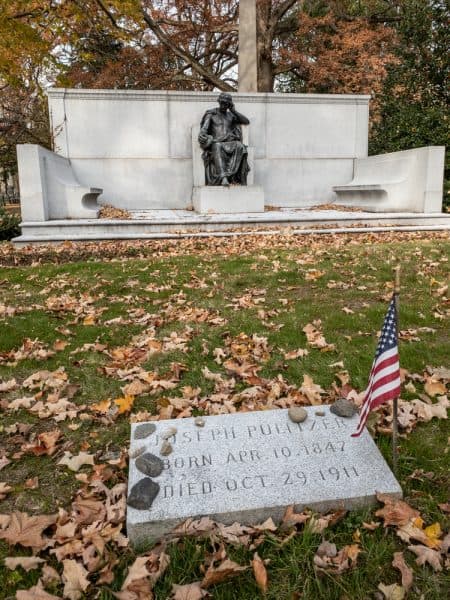 You might not know the name Joseph Pulitzer, but you have undoubtedly heard of the prize named after him: the Pulitzer Prize.
Pulitzer was born in Hungry and immigrated to the United States in 1864 when he was 17. He immediately signed up to fight for the Union and served for eight months during the Civil War.
During his life, Pulitzer owned both the St. Louis Post-Dispatch and the New York World. While he was often accused of yellow journalism, his newspapers thrived during his lifetime. He also was elected the House of Representatives from New York but resigned halfway through his term.
Thanks to an endowment in his will, the Columbia School of Journalism was started. In 1917, the school began giving away the Pulitzer Prize for outstanding journalism.
Pulitzer died in 1911.
Gravesite: Of all the people on this list, Pulitzer's grave is the most impressive. While his actual place of burial is marked only with a simple marker, there is a statue of him behind the grave that is quite beautiful.
Pulitzer's grave can be found at the following coordinates: 40.892242, -73.869118.
Rowland Macy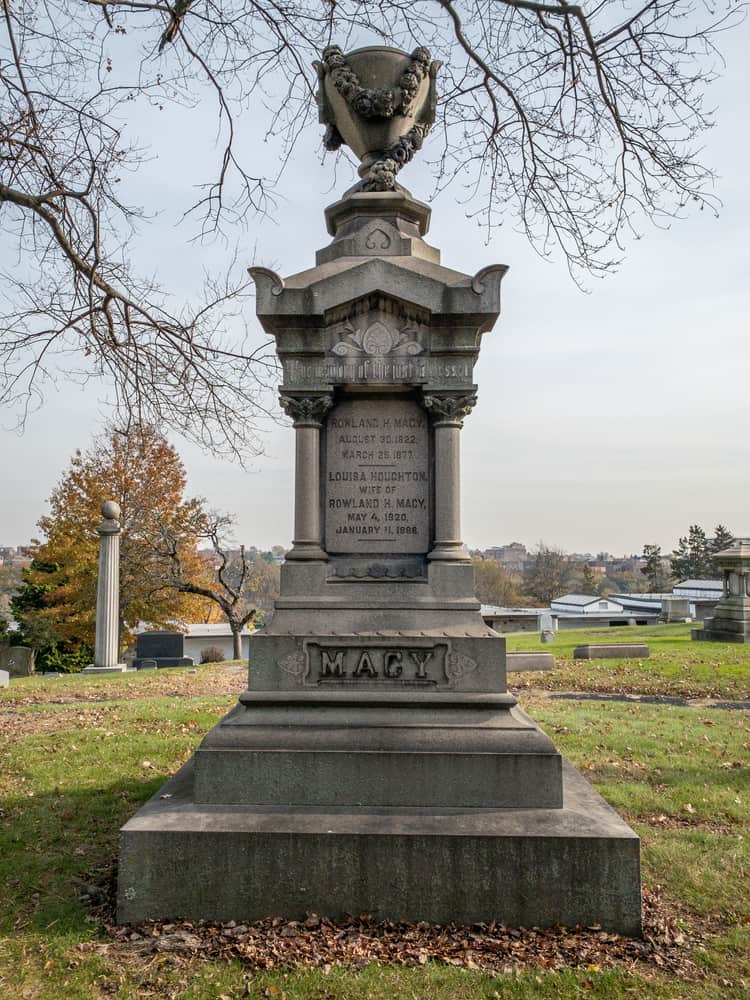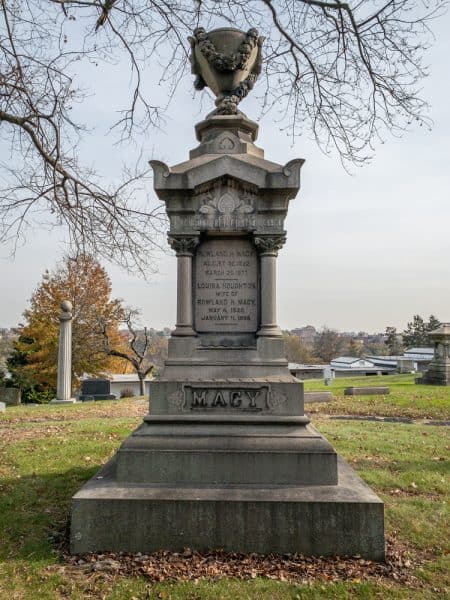 Rowland Macy is best known as the founder of Macy's Department Store.
Macy started stores around the country, but each was eventually closed. However, in 1858, Macy found success with a dry goods store he started in New York City at 6th Avenue and 14th Street. It was this store that would begin his department store empire.
Macy's was one of the first to popularize decorating his store for the holiday season and having a Santa Claus for kids to visit.
Macy died in 1877.
Gravesite: Rowland Macy's grave is located in the northeastern portion of the cemetery. It can be found at the following coordinates: 40.890831, -73.868024.
Herman Melville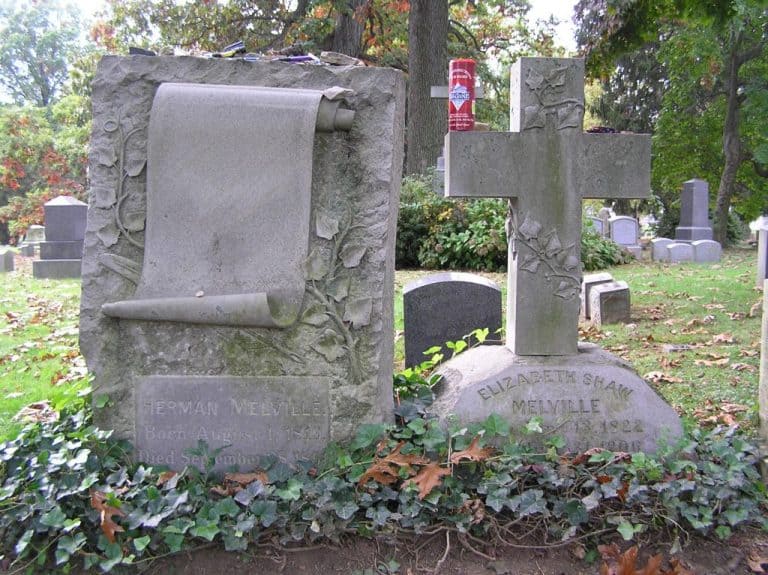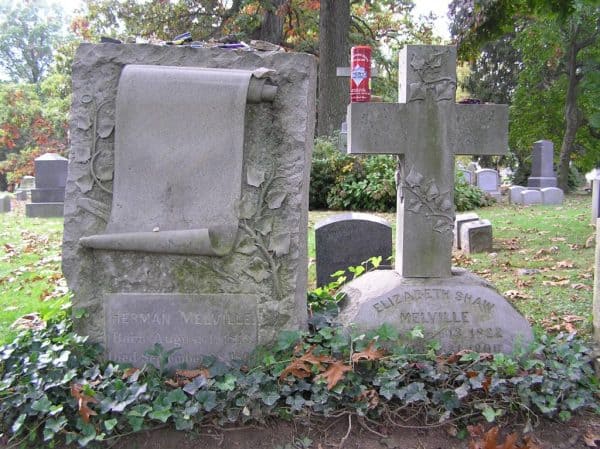 Herman Melville is one of the most well-known authors of the 19th century.
Melville was born in New York City and both of his grandfathers were heroes of the Revolutionary War (his maternal grandfather had helped protect Fort Stanwix in Rome, New York).
During his life, Melville published seven books, as well as many other short stories and poems. His greatest work, "Moby Dick," is regarded as one of the best books ever written, though it wasn't well-received during his lifetime.
Melville died in 1891.
Gravesite: Herman Melville's grave is located in the northeastern part of Woodlawn Cemetery. It can be found at the following coordinates: 40.892479, -73.867485.
Tips for Visiting Woodlawn Cemetery
The information here features only 10 of the more than 300,000 people buried in Woodlawn Cemetery. This sprawling burial grounds features some incredible gravesites, and it's worth exploring the grounds just to see these beautiful monuments.
The graves above are listed in a logical path to visit by foot, bicycle, or car starting from the entrance on Jerome Street and ending at the entrance on East 223rd Street. All told, this covers approximately 2.5 miles of relatively flat distance within the cemetery.
While visiting by car is certainly faster, I had no issue walking the route to see all of the gravesites listed here.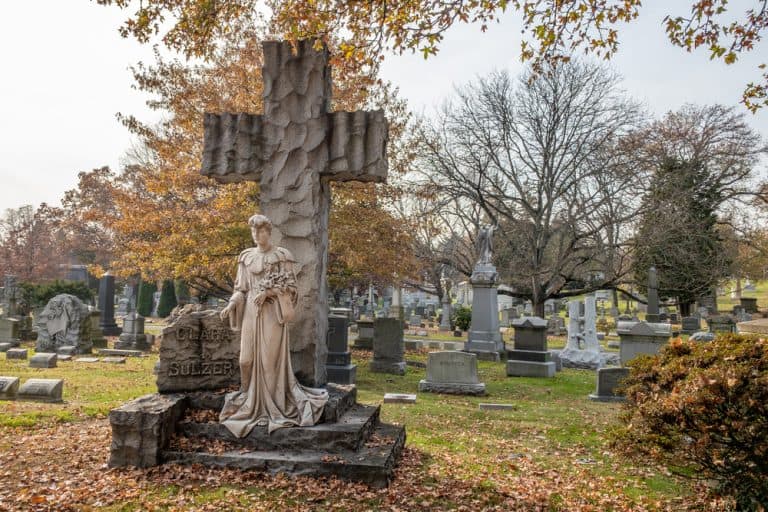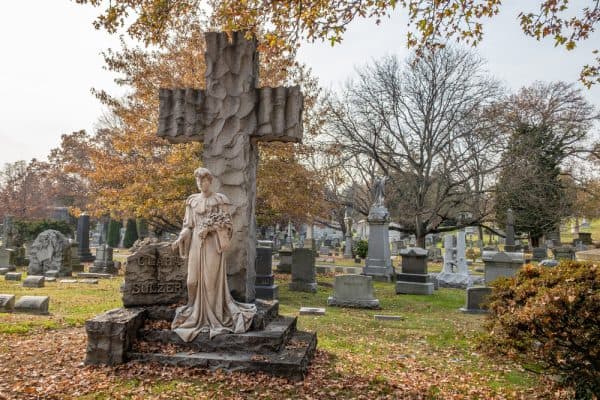 Woodlawn Cemetery is worth the trip up from New York City to see, and it's possible to visit via public transportation. It is about a 50-60 minute trip on the subway from the heart of Manhattan to the cemetery.
If doing so, I recommend taking the Number 4 train to Woodlawn Station, which is near the Jerome Street entrance to the cemetery.
To return back to Manhattan, pick up the Number 2 subway at the 223rd Station near the northern exit of the Cemetery or the Harlem Train from the Woodlawn Metro-North Station.
Looking for more places to visit nearby? Check out Yonkers Brewing Company, Buttermilk Falls Park, and the National Museum of the American Indian. There are also many great hiking guides to New York City.
You can also visit another Woodlawn Cemetery in Elmira, New York, to see the grave of Mark Twain or head the short distance up to Gate of Heaven Cemetery to visit Babe Ruth's Grave.