Disclosure: This article may contain affiliate links. We will make a small commission from these links if you order something at no additional cost to you.
Whenever I travel to a new area of New York, I always try to sample the foods that are unique to that area. From beef on weck and Buffalo wings in Buffalo to garbage plates in Rochester and chicken riggies in Utica, I love to sample these dishes that are popular in one corner of the state.
So, whenever I travel through Binghamton, I always make a point to get a spiedie.
For those that are as ill-informed as I was before my first visit, a spiedie (pronounced "speedy") is a sandwich primarily found in and around Binghamton and Broome County, New York. It is thought to have originated sometime in the 1920s, though the history is a bit muddled.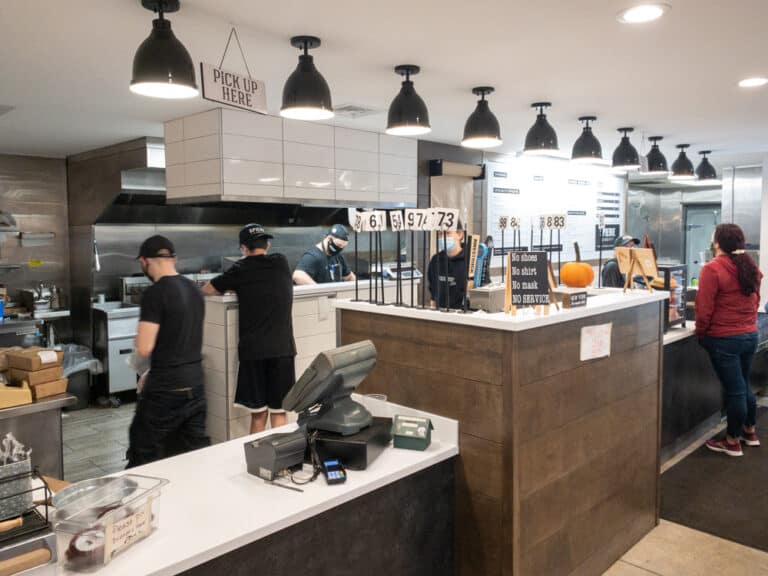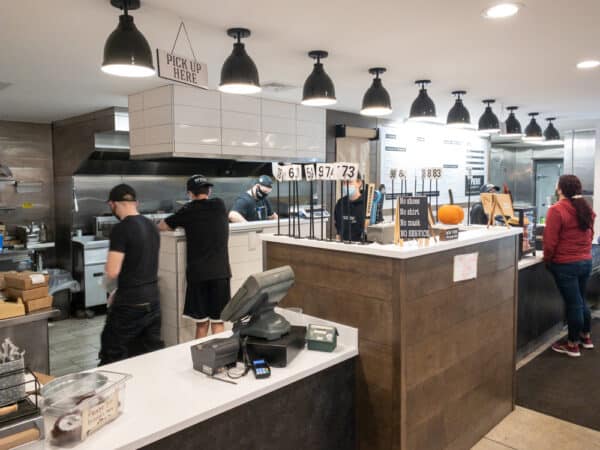 The sandwich is typically served on a long roll and consists solely of meat (usually chicken or pork, though it was first made with lamb) marinated in a special spiedie sauce before being cooked and placed on the roll. While you might think a spiedie needs more than that, that's all there is to it.
During my visits to the city, I've had the opportunity to sample spiedies at three different local institutions.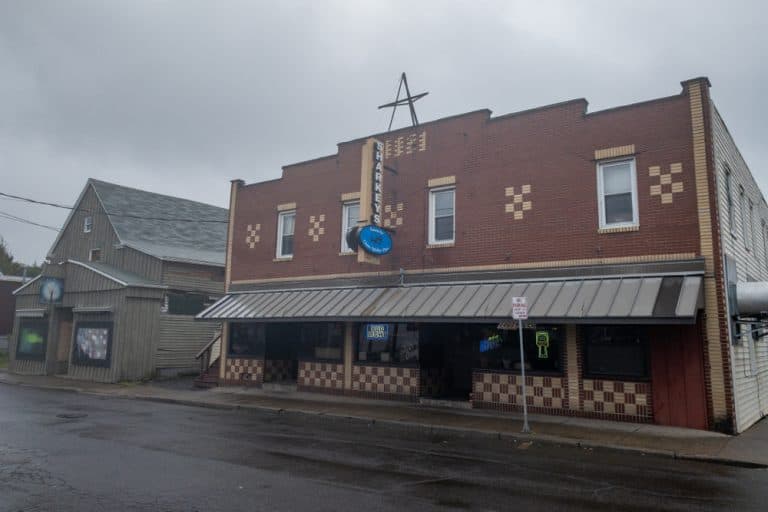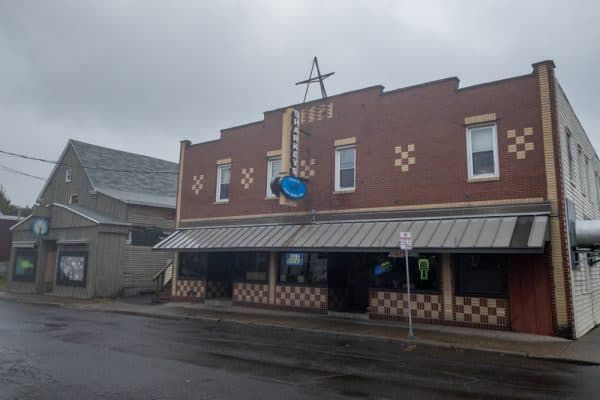 My first stops in the region were Lupo's S & S Char Pit (which is now closed) and Sharkey's Bar and Grill. Both of these spots are located within the city of Binghamton and have been serving this local dish for many decades.
If you read the first iteration of this article, you'll remember that I didn't come away impressed with the options at these restaurants. I found the sandwiches at both to be dry, lacking sauce, and without the right bread-to-filling ratio.
Many readers commented both on this post (see the comments at the bottom of this page) as well as on Facebook suggesting that I made two mistakes.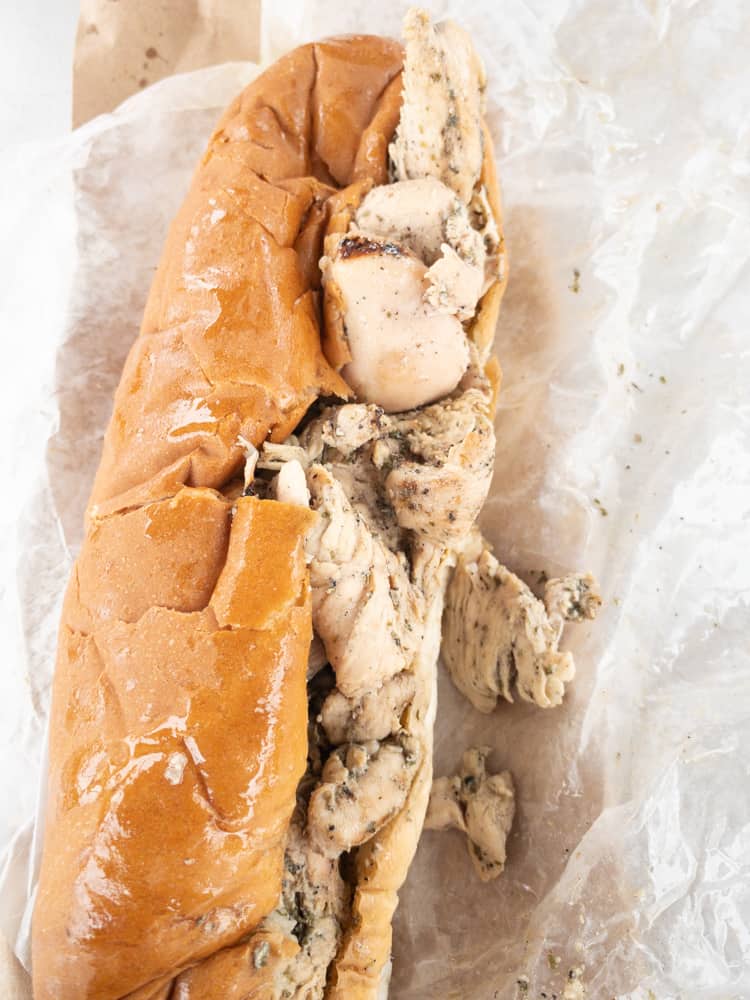 First, many of you said that instead of getting pork, I should have opted for the chicken as the meat would be more tender and moist.
The second mistake I made, according to many readers, was where I opted to go. While some people were definitely fans of the restaurants I visited, one other restaurant kept popping up again and again in the comments: Spiedie and Rib Pit.
Because this recommendation was mentioned so often, I knew that I had to give spiedies another try at this restaurant. So, the next time I found myself traveling through Binghamton, I stopped and ordered some more spiedies.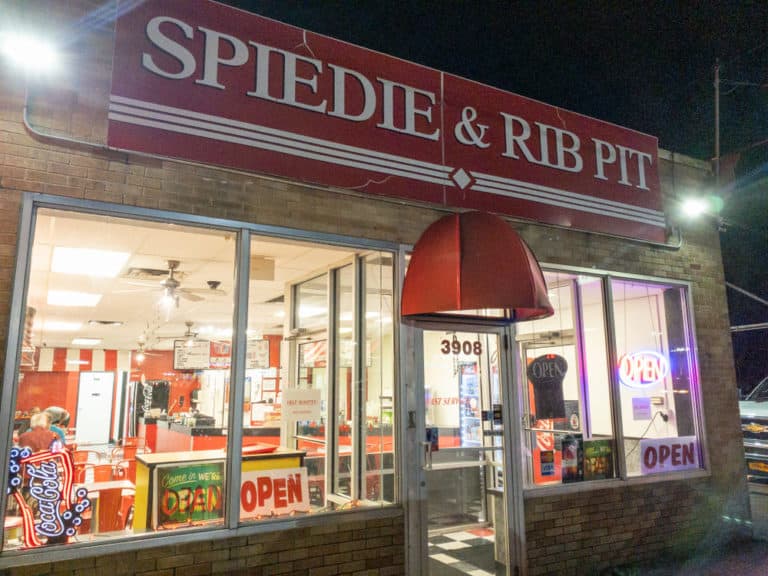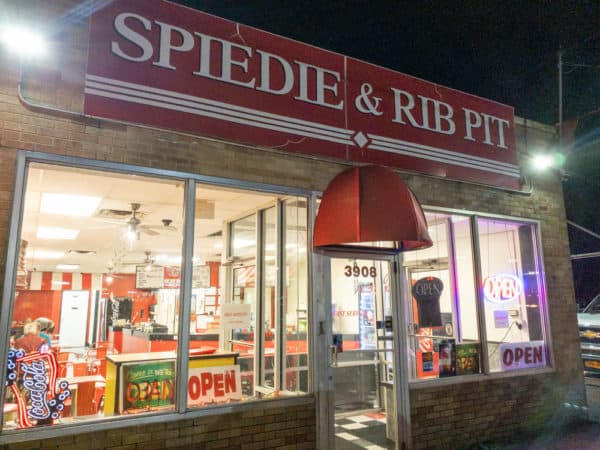 There are two Spiedie and Rib Pit restaurants in the Binghamton area. The first is located north of the city just off of I-81. The second is located southwest of the city in Vestal, New York just off the Southern Tier Expressway.
I ordered both a chicken spiedie and a pork spiedie during my visit. This allowed me to correct what people said was a mistake in my meat choice, while still being able to compare the quality of their pork spiedie to the others. After all, I didn't want to compare apples to oranges (or in this case, chicken to pork) against the other spots.
I'm happy to report that those of you that commented were correct on both fronts.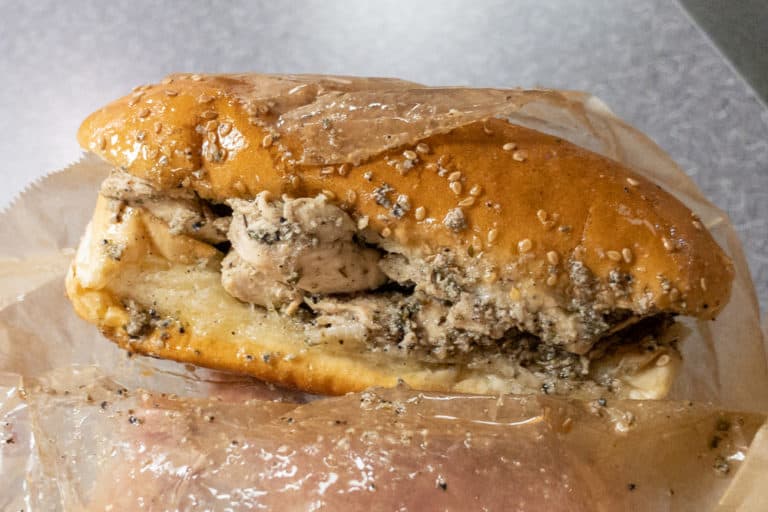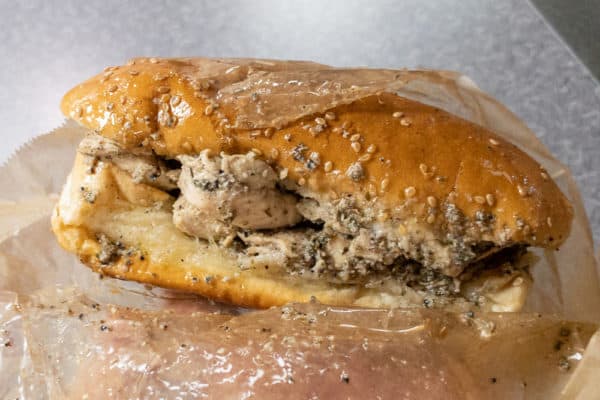 First, on the choice of meat, the chicken at Spiedie and Rib Pit was noticeably more moist than the pork they offered. That's not to say that the pork was bad (it wasn't), but it was amazing how much more moist the chicken spiedie was.
But the bigger question is did my visit to Spiedie and Rib Pit change my mind on the overall quality of spiedies? Previously, I had said, "So, while I wouldn't necessarily say you need to go way out of your way to get a few spiedies in Binghamton, New York, it's worthwhile to try this unique local food if you find yourself passing through the area."
I'm happy to report that it did.
The flavor of the pork spiedie at Spiedie and Rib Pit FAR outclassed the pork spiedie I had at Lupo's S & S Char Pit and Sharkey's Bar and Grill. Not only was the pork meat moister, but it also had the extra sauce I craved at the other two spots and the amount of bread made sense for the sandwich, where it previously had not during my first two stops.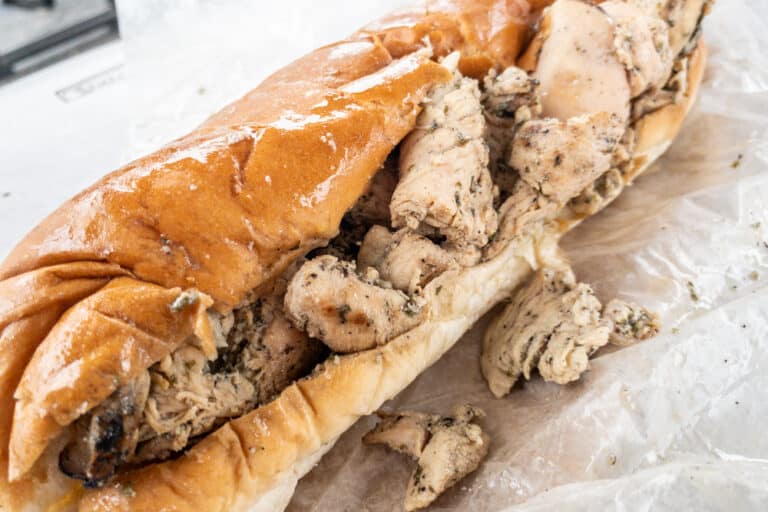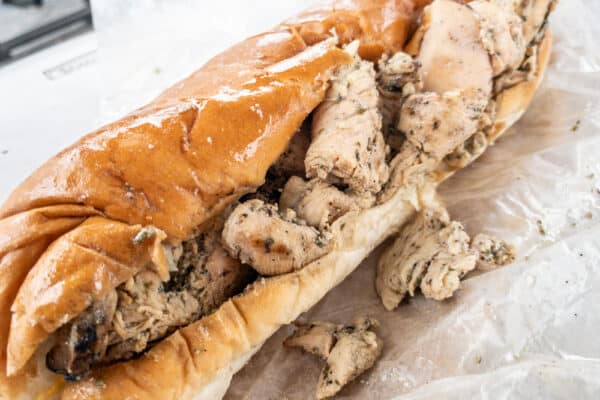 However, while the pork spiedie was much better, the chicken spiedie compared to the other two restaurants was in another class and incredibly delicious. While I'd venture that the chicken spiedies would also be better at Lupo's and Sharkey's than their pork, the quality of bread and lack of extra sauce at those establishments lead me to believe that they wouldn't be nearly as good at the offerings at Spiedie and Rib Pit.
So, in conclusion, I'd definitely recommend trying a spiedie if you find yourself in the Binghamton, New York area. This local delicacy can be very delicious if you visit the right places, and you can't go wrong with the flavors at Spiedie and Rib Pit.
For those that are curious, I've copied my total thoughts on my pork spiedies from Lupo's and Sharkey's below.
Lupo's S & S Char Pit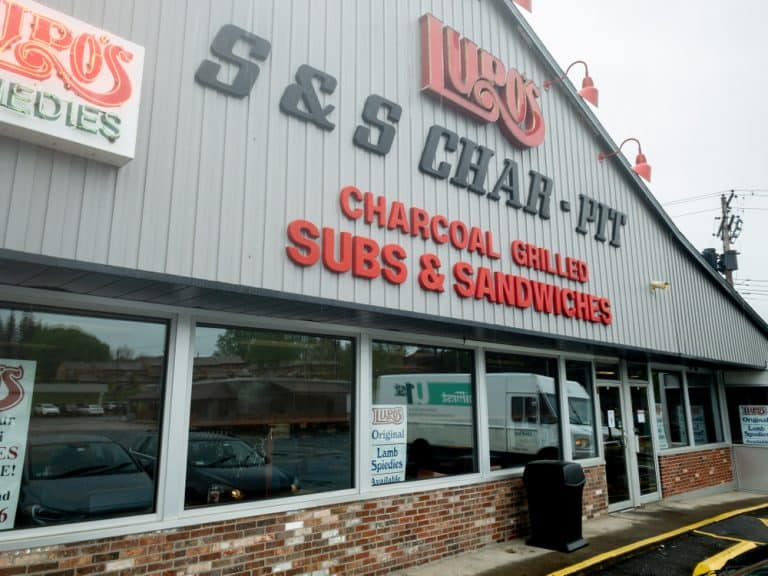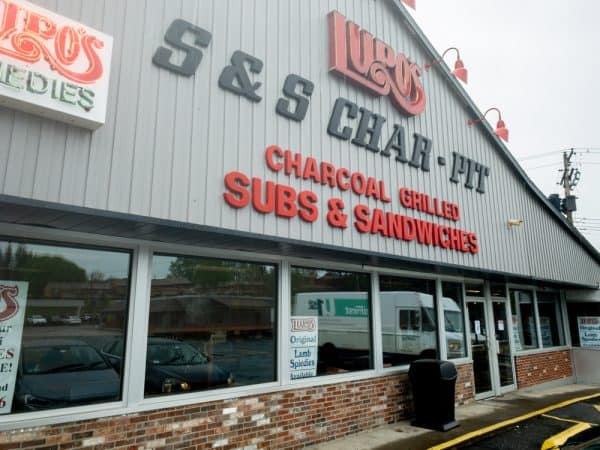 Note: Lupo's S & S Char Pit is now closed, but I'll leave this section up for posterity.
Lupo's S & S Char Pit definitely won't be winning any awards for their appearance. The outside and much of the inside of the shop reminded me of an old 1980's fast food restaurant, while the food counter itself looked more like an old deli. That being said, it seemed clean and like a perfectly fine place to eat.
Shortly after ordering (I opted for a pork spiedie), the sandwich was ready.
My spiedie was served on a large roll that seemed fresh, but a bit too large for the amount of meat. Inside the sandwich, there were close to a dozen small cubes of grilled pork meat (roughly chicken nugget size). Lupo's marinates their meat in a special blend of Italian spice and oils for 24 hours before grilling, so I knew the meat would have great flavor.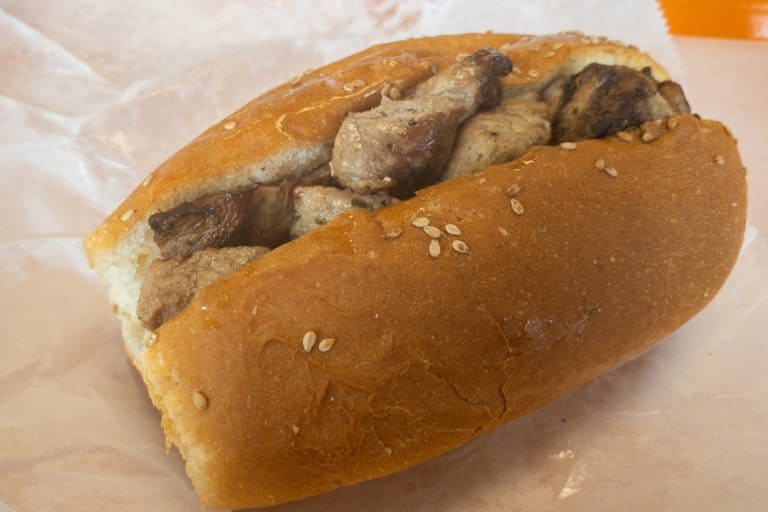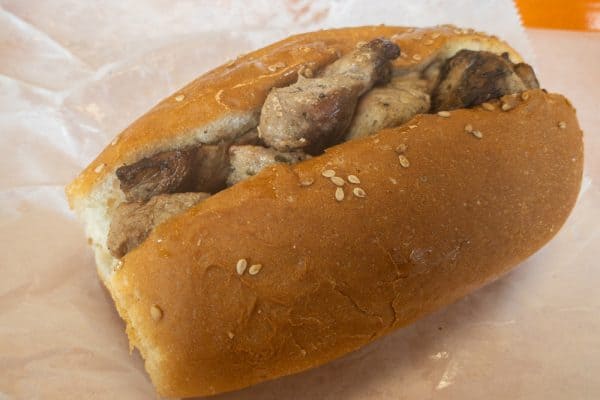 Upon biting into the sandwich, my initial hunch was proven correct. While the bread was good, the ratio of bread to filling was way out of whack. Definitely too much bread.
Trying the meat separately, it definitely had great flavor, but was on the drier side. Of course, that could have also been simply because of when I ordered it or the cook preparing it.
While the flavor of the meat was quite good, the sandwich overall was rather dry because of the dry meat and the large amount of bread. A bit of extra marinade on the sandwich like a condiment would have really made it pop.
Sharkey's Bar and Grill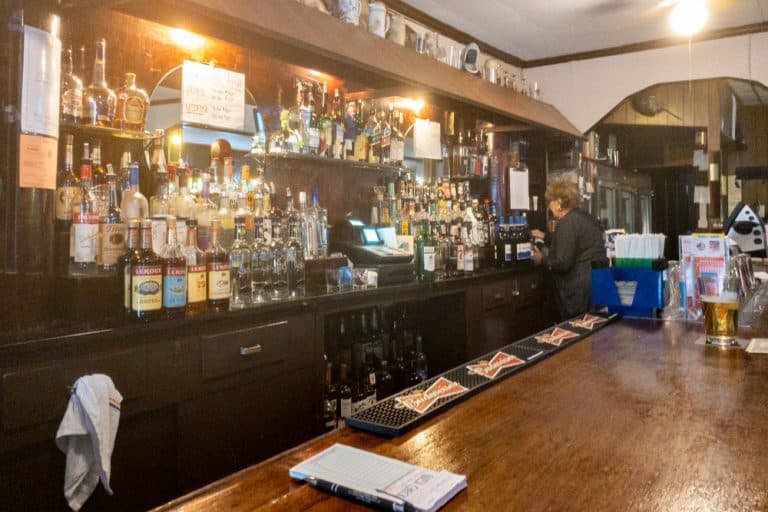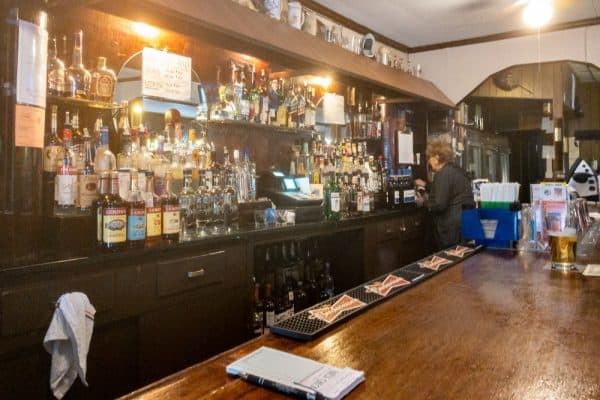 Despite being slightly disappointed in my first spiedie at the now closed Lupo S&S, I decided to press on and try another one at Sharkey's Bar and Grill on the western side of town.
In contrast to Lupo's, Sharkey's is best described as a dive bar with darker decor and both bar and table seating.
I decided that since I had ordered a pork spiedie at Lupo's that I would do the same at Sharkey's so I could best compare these two spots to get spiedies in Binghamton.
At Sharkey's, my pork spiedie came three to an order. The sandwiches here were decidedly different, coming with roughly half-a-dozen pieces of pork wrapped between a piece of white bread. The meat here is marinated for two days, again in a secret blend of spices and oils.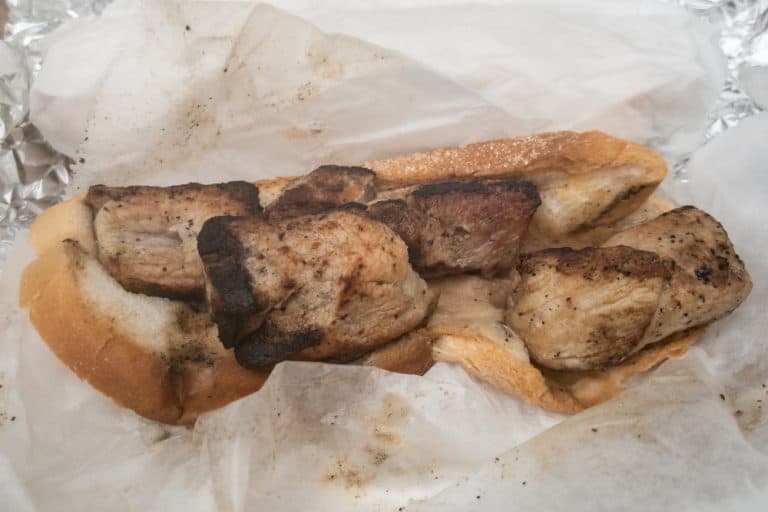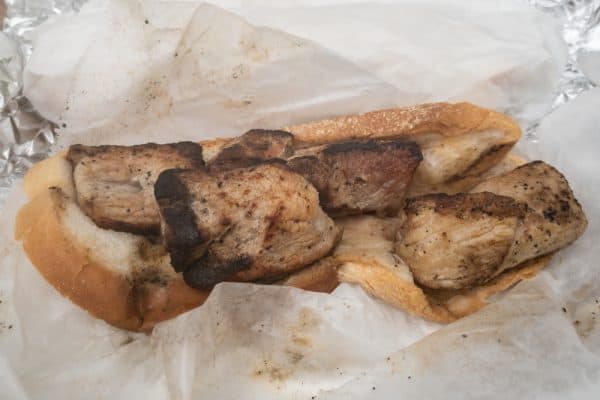 My first impression of the spiedie at Sharkey's was that the regular white bread here worked much better for the sandwich. While the quality of the bread at Lupo's was clearly higher, the smaller amount of bread at Sharkey's made more sense for the amount of filling.
My second observation was that the marinade was again very good, though probably not quite as good as the one at Lupo's. The meat was also much drier at Sharkey's, though again, that could come down to when and who cooked it, so it's hard to say for sure regarding that without eating at each a few different times.
Do you have a favorite spot to get spiedies in Binghamton that I need to try on my next visit? Let me know in the comments below.
Looking for more places to visit nearby? Check out the Discovery Center of the Southern Tier, Beer Tree Brew Co, Robot City Games and Arcade, and the Northeast Classic Car Museum.