Disclosure: This article may contain affiliate links. We will make a small commission from these links if you order something at no additional cost to you.
Throughout the United States, there are foods so synonymous with a city that they are known by its name: Philly cheesesteaks, Chicago-style pizza, and Memphis barbeque to name three. Buffalo wings are another of these classic foods.
The original Buffalo wings were made at the Anchor Bar on the corner of Main and North Streets in March 1964. As the story goes, a group of customers came into the bar late and wanted something to eat.
With little food left, the cook that evening, Teressa Bellissimo (who was also the wife of the owner), turned to the chicken wing, which was normally either thrown out or used to flavor stocks. She fried them up and coated them a hot sauce.
The wings were an instant hit, and it didn't take long for people to start coming in and asking for these chicken wings.
Since that time, Buffalo chicken wings have spread around the world and become one of America's favorite foods.
While Buffalo is filled with many great spots to get great wings (they even have an entire Buffalo wing trail), I knew I wanted to get my first Buffalo wings in Buffalo at the place where they were invented.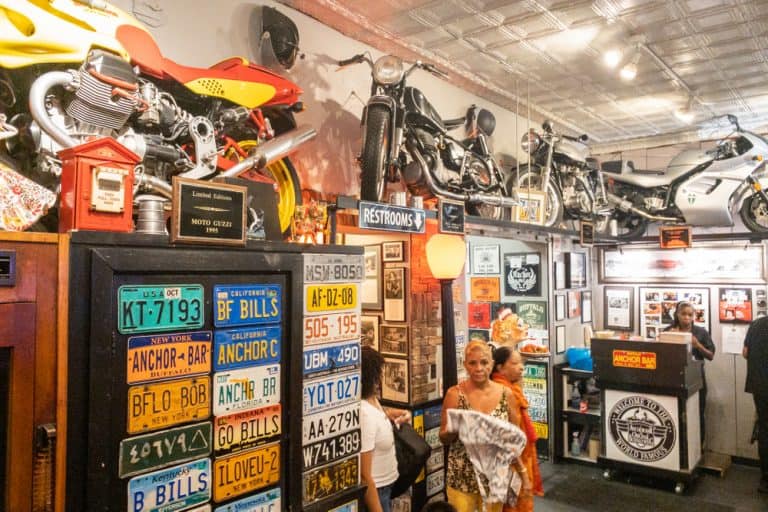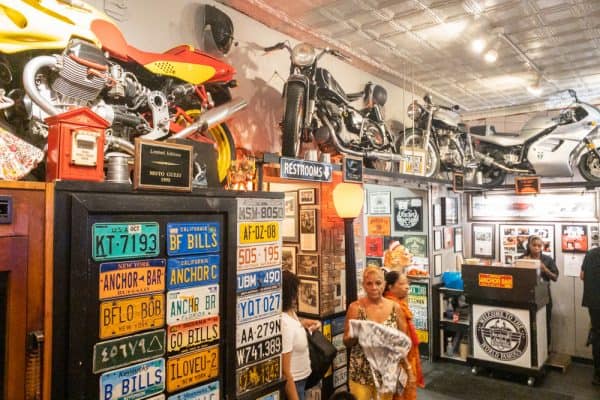 Pulling into Anchor Bar's parking lot, it was clear I wasn't alone in wanting to try the home of the original Buffalo wings. Even on a weeknight, the parking lot was full, and the cars in the lot represented a surprisingly large number of different states and Canadian provinces.
To be honest, the number of out-of-state plates and the lack of New York ones made me a bit worried that the Anchor Bar was going to be a gimmicky tourist trap. The front of the build did little to quell my worries as a large sign proclaimed this to be the "Frank and Teressa's Anchor Bar – Home of the original Buffalo chicken wings."
Nevertheless, I'd come out to try some authentic Buffalo wings where they were first created, so I headed inside the restaurants.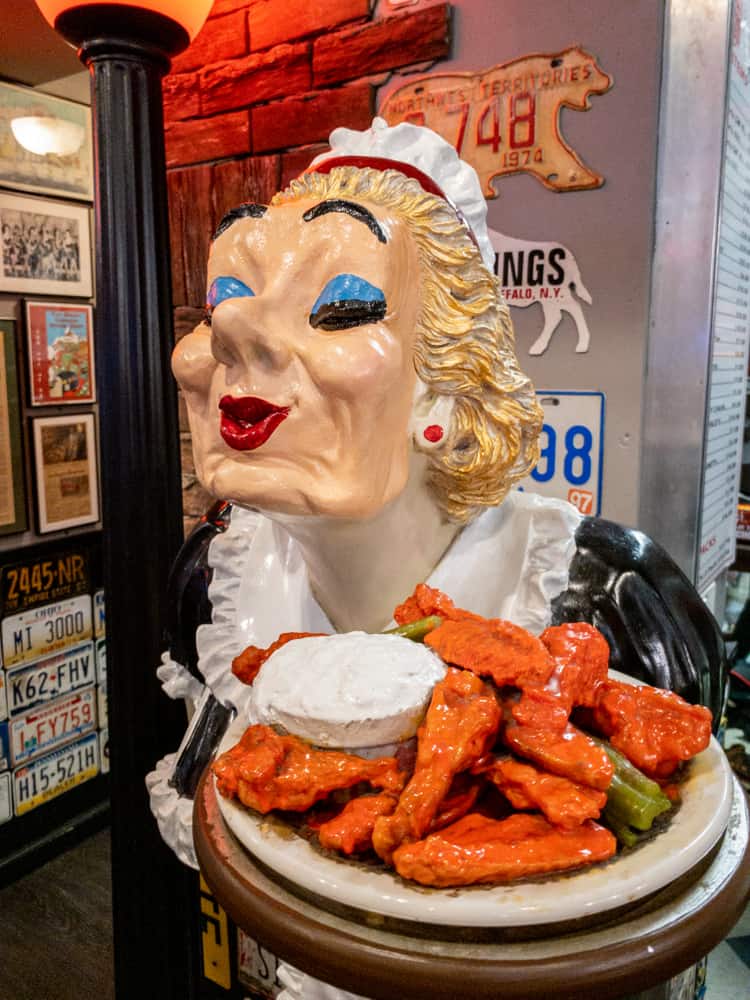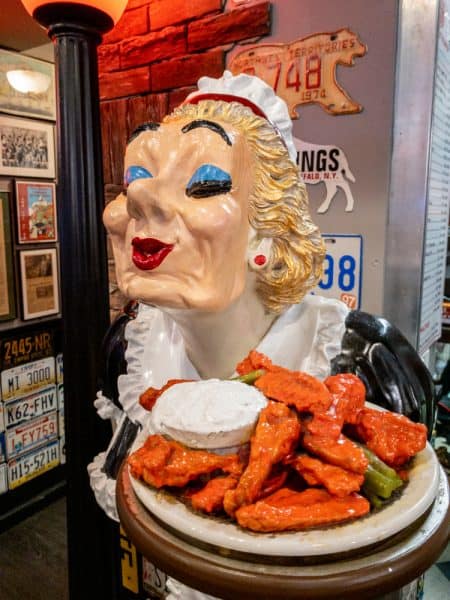 Inside, the restaurant looked like a local dive bar. The front room was taken up primarily by a large bar area with a small gift shop off to the side that didn't let you forget that you were still in a tourist attraction.
The walls of the restaurant were lined with everything from vanity license plates to full-size motorcycles, giving the place a fun and kitschy feel. We especially enjoyed the cartoonish statue of a woman holding a giant plate of Buffalo wings that was right next to the hostess area.
The main dining area is rather dark and tightly compact. The small tables made the giant pizzas they bring to the table a bit of a challenge to maneuver around, especially when you are dining with a rather grabby one-year-old. Otherwise, Anchor Bar was totally kid-friendly and even had a nice kids' menu.
While the restaurant has a rather extensive menu with options for nearly any taste, we opted to get an order of Buffalo wings and a pepperoni pizza.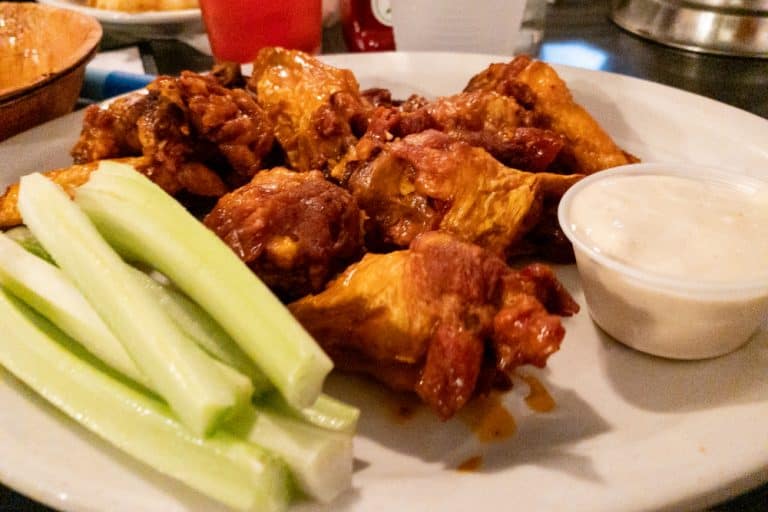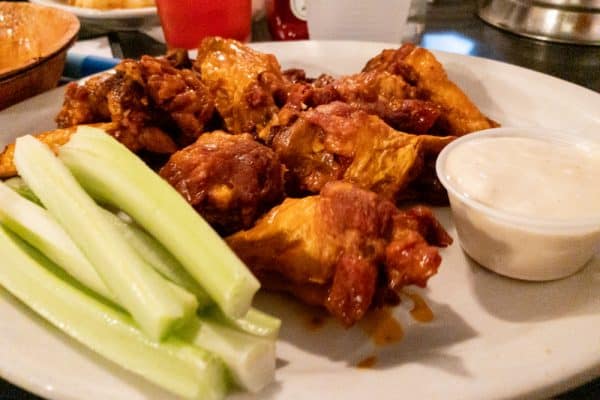 For the Buffalo wings, we opted to go with the medium original sauce, though they do offer a variety of flavors and everything from mild to suicidal spiciness for the wings.
The wings themselves were incredibly delicious, very meaty, and nicely sauced. While I have no other Buffalo wings from Buffalo to compare them too, I thought they were great compared to others I've tried outside of the area.
The medium spice was exactly the spice level I expected. A bit of heat, but not enough that I was reaching for a drink after every bite. Next time, I'd probably go with the hot, though.
The pepperoni pizza that we ordered was larger than expected and took up quite a large portion of the table. The amount of toppings on the pizza was really nicely balanced.
The pizza at Anchor Bar really had some pretty incredible flavor and was some of the better pizza I'd had in a while. In fact, I'd probably come back just for the pizza, though I'm pretty sure I'd have to get some wings too.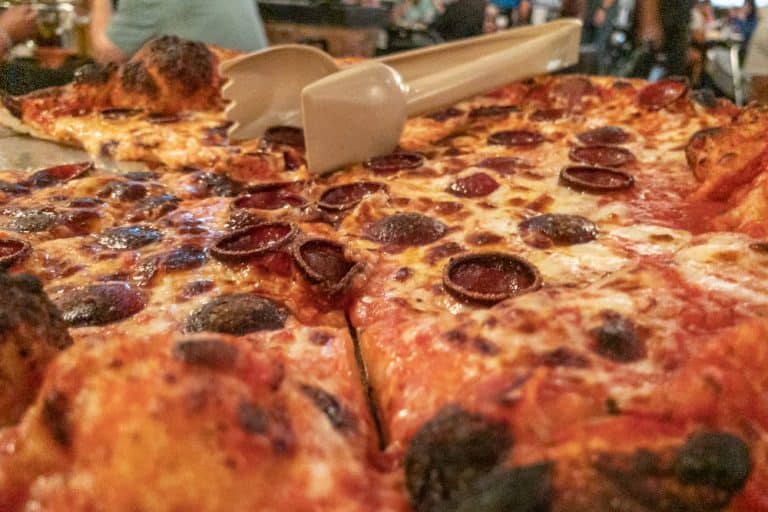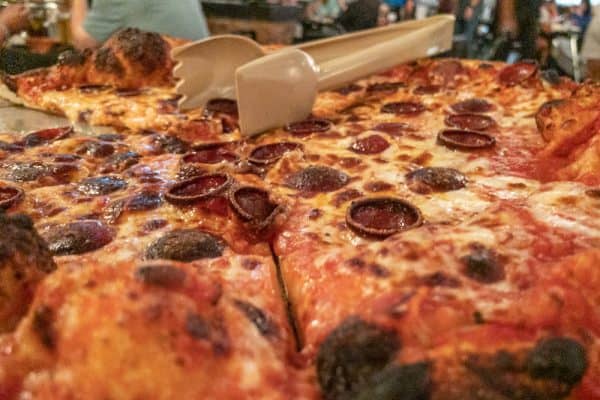 My only complaint about the pizza was that it was pretty soggy, and I wasn't able to fold it and eat it with my hands like I normally do with pizza. This wouldn't have been a huge deal, but the amount of room being taken up by the pizza tray made it hard to use my plate and silverware to eat the pizza.
Overall, I really enjoyed my meal at the Anchor Bar in Buffalo. I'm sure every local is screaming at their computer screens right now that there are restaurants in the city that serve much better wings. And they may very well be right.
Just like the aforementioned Philly cheesesteaks, Chicago-style pizza, and Memphis barbeque, everyone has their own (very strongly held) opinion of the best place to get Buffalo wings, and the most well-known establishments are often not the best.
However, all that being said, I still feel like if you are visiting Buffalo and you only have time to get wings at one place, there's no better spot than at the creator of the original Buffalo wings, Frank and Teressa's Anchor Bar in Buffalo, New York.
Looking for more great things to do nearby? Check out the Buffalo Zoo, Old Fort Niagara, Lockport Locks and Erie Canal Cruises, some of the best Buffalo Breweries, and the Buffalo City Hall Observation Deck.
You can also try other local iconic New York foods like spiedies in Binghamton and beef on weck in Buffalo.