Disclosure: This article may contain affiliate links. We will make a small commission from these links if you order something at no additional cost to you.
While Buffalo wings get all the attention, there's another Buffalo-area creation that's just as delectable and even more historic: beef on weck.
Beef on Weck is the more commonly used name for a roast beef on kümmelweck bread sandwich. Kummelweck is a type of kaiser roll that is topped with kosher salt and caraway seeds, giving it an interesting and unique flavor on its own.
Like many regional dishes, the history of beef on weck is a bit unknown and contested. However, it is thought to have originated sometime in the mid-19th century. Since then, beef on weck has become synonymous with western New York.
While there are many places to get beef on weck in the Buffalo area, Schwabl's is considered one of the top destinations. In fact, it even made it onto an episode of "No Reservations" with Anthony Bourdain.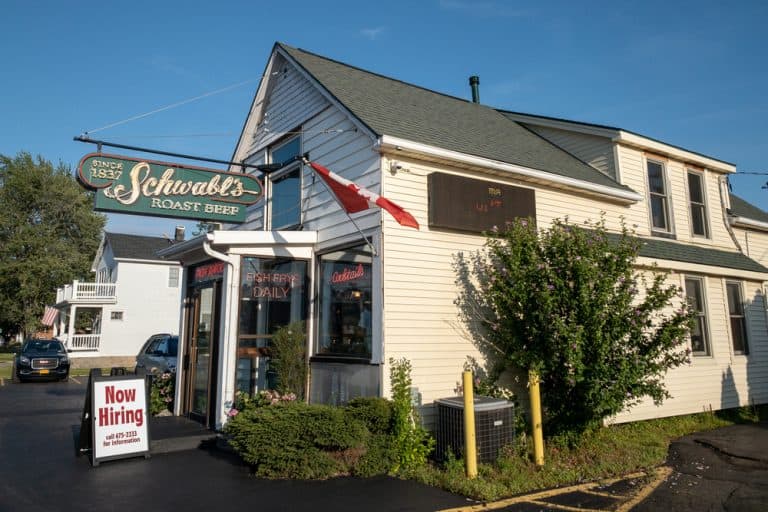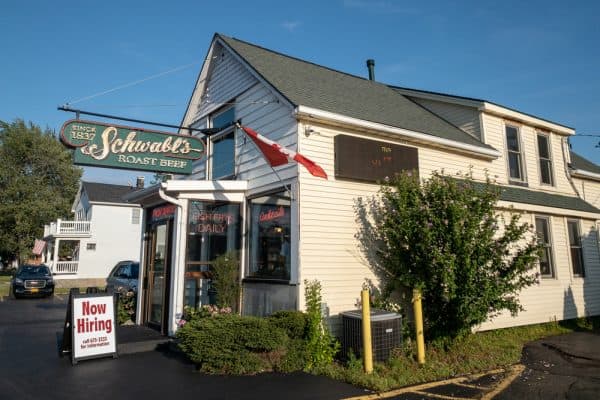 Schwabl's is located about 15 minutes southeast of downtown Buffalo in West Seneca, New York. Schwabl's opened in 1837 by recent German immigrant Sebastian Schwabl. Schwabl's moved locations several times over the years until they found their current location in 1942.
While Schwabl's food is highly-rated across the board, they have become known over the years for their fantastic beef on weck. Since this was my first time trying this popular local dish, it was an easy choice of where to pick to eat.
From the outside, Schwabl's looks like the type of place you'd drive past 100 times without even thinking about. There's nothing wrong with the outside of the building, but it's not especially notable in any way minus the small part of the sign that says "Since 1837."
Walking through the front door, I was instantly struck by how small it was. However, they have packed a large number of tables into the space which means there is plenty of seating. If you are claustrophobic, you might want to visit outside of peak times as it can get pretty packed inside.
The front of the restaurant is taken up by a large bar and a carving station where a chef continuously carves delectable slices of roast beef for their famous sandwiches and other entrees.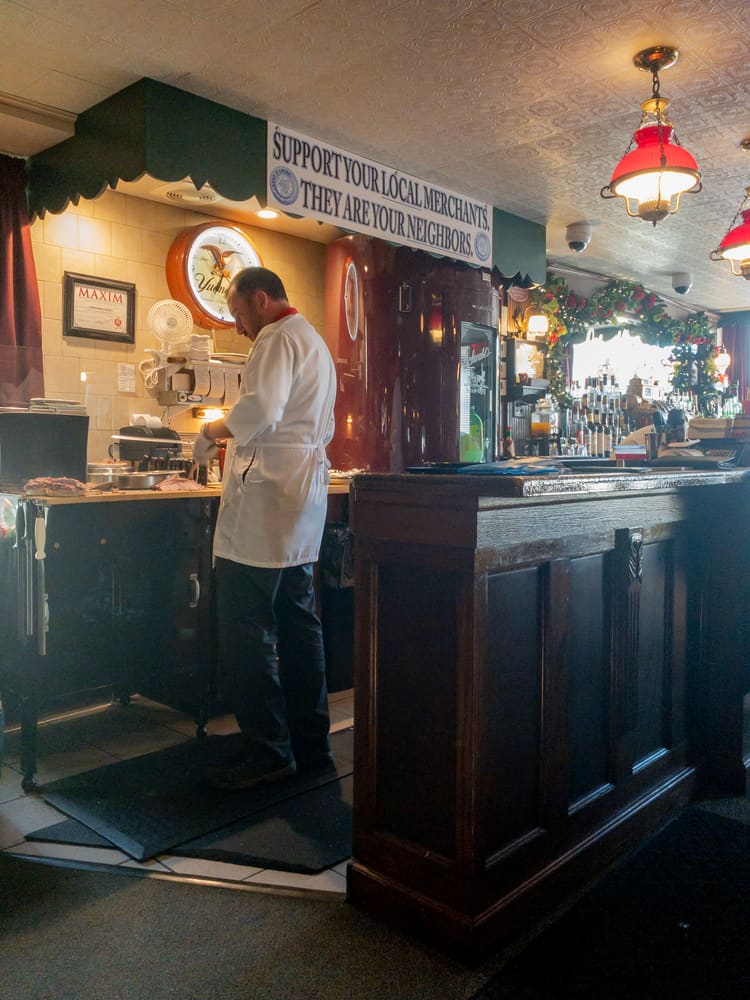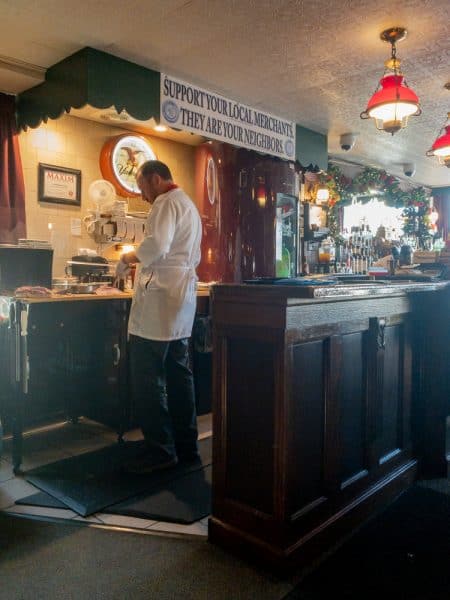 While Schwabl's has a large menu with some really delicious looking options, I immediately ordered a beef on weck. When ordering, you can get your roast beef cooked to your preferred doneness. At the suggestion of our waitress, I ordered my roast beef medium-rare.
When my food was delivered, I dug right in.
The first thing I noticed was the saltiness of the moist kümmelweck bread. It contrasted perfectly with the melt-in-your-mouth deliciousness of the roast beef. This is definitely a tasty sandwich.
For those that want to add it to their sandwich, horseradish is provided on the table. However, not being a huge fan of this condiment and given how delicious my beef on weck was without it, I opted to forgo adding it to my sandwich.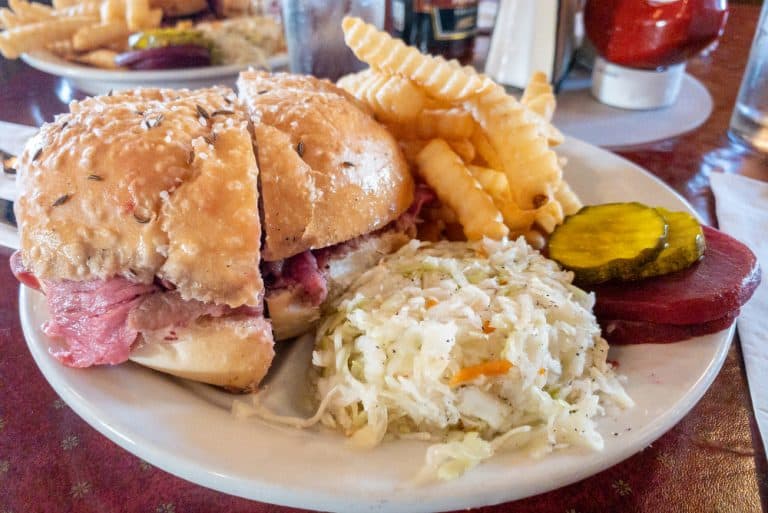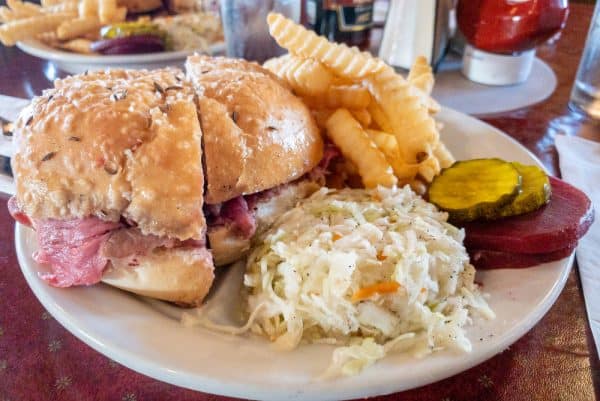 While I opted not to get Schwabl's famous potato salad (a decision I regret in retrospect), the sides I did get (fries, coleslaw, and pickles) were incredibly delicious.
Thinking back on my experience, Schwabl's struck me as the sort of place that has been doing things one way for years and has no plans on changing anytime soon.
In some ways, like with the quality of the food, the roast beef carving station, and the antique cash register at the front of the store, that's a great thing.
On the other hand, this also presents a few negatives, at least as a visitor to the area that hasn't grown up visiting Schwbl's. A few small changes could really help update the place including a children's menu, the ability to call for a reservation during busy times, and a bit of updated decor.
I realize that some of these suggestions might sound sacrilegious to locals, but I think it would make Schwabl's a must better spot for the casual visitors that seek them out.
However, even with these few shortcomings, I found Schwabl's to be an incredibly delicious place to eat. I would definitely love to visit again, not just to eat their delicious beef on weck, but to also try out a few of their other great-looking menu items.
If you are looking to try beef on weck in Buffalo, look no further than the historic Schwabl's in West Seneca.
Looking for more spots to visit in the area? Check out the Buffalo Zoo, the Buffalo Botanical Gardens, the Buffalo City Hall Observation Deck, and the Millard Fillmore House.