Disclosure: This article may contain affiliate links. We will make a small commission from these links if you order something at no additional cost to you.
Located in the western corner of New York along the shores of Lake Erie, you'll find the state's second-largest city: Buffalo.
After coming to prominence thanks to the Erie Canal, the city is now a great place for visitors because of the many fun and unique things to do in Buffalo, NY.
So, whether you want to learn about the city's history, enjoy the area's natural beauty, or try some regional food specialties, there are definitely many fun things to do in Buffalo that you won't want to miss.
Buffalo River History Tour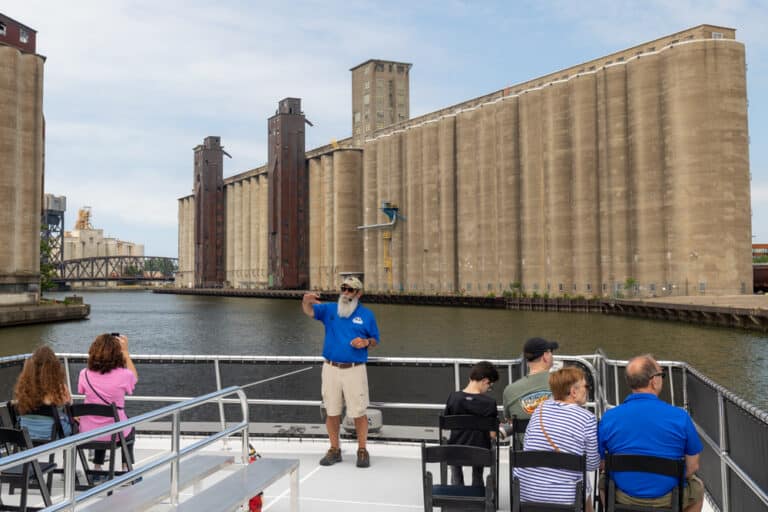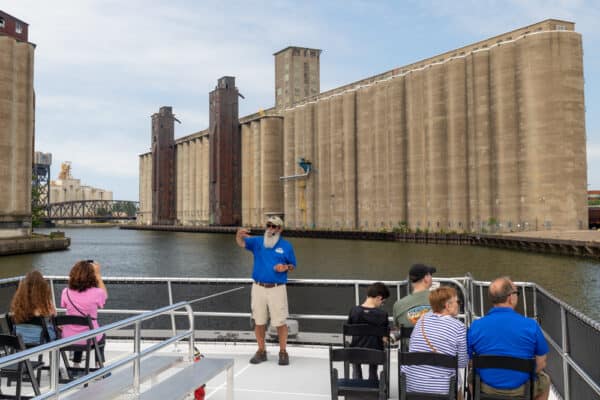 If you want to get out on the water and learn about the history of Buffalo, there are several options. However, my favorite is the Buffalo River History Tour.
This boat ride takes guests several miles upriver on the Buffalo River and past many remnants of the city's industrial past. Along the way, guides offer a great overview of the history of the city and its importance, largely thanks to the Erie Canal.
Of course, in addition to offering a great way to learn about Buffalo, the ride is also quite beautiful, and relaxing on the boat is a great way to really soak up the city.
Martin House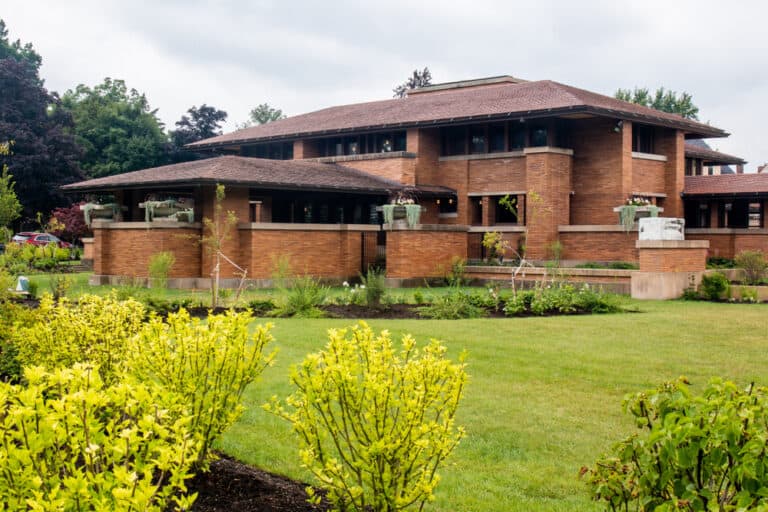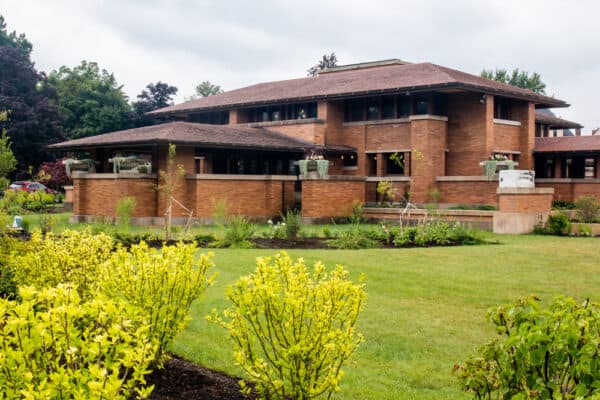 The Martin House is a historic home designed by architect Frank Lloyd Wright and built between 1903 and 1905.
Known officially as the Darwin D. Martin House, this home is considered by many to be the most important work of the first half of Wright's career and among the best works of his life, along with the Guggenheim Museum in New York City and Fallingwater in southwestern Pennsylvania.
Visitors can take tours of this beautiful home and see many original pieces of furniture, along with sections of the home that have been carefully reconstructed over the years
Buffalo Museum of Science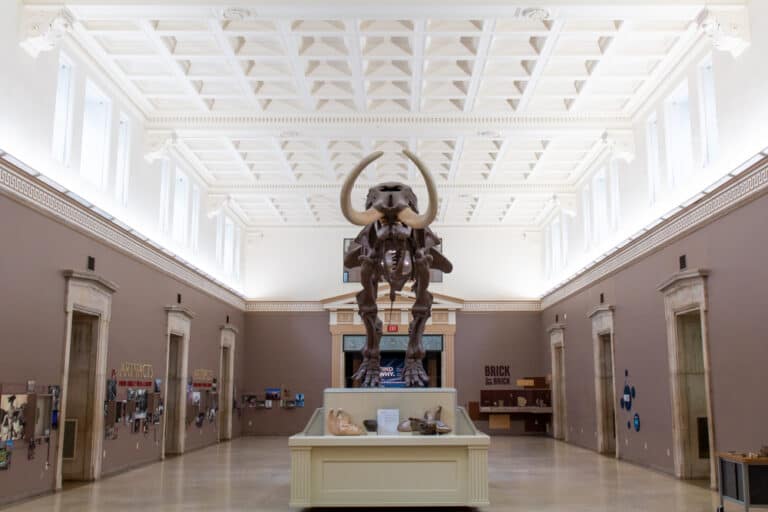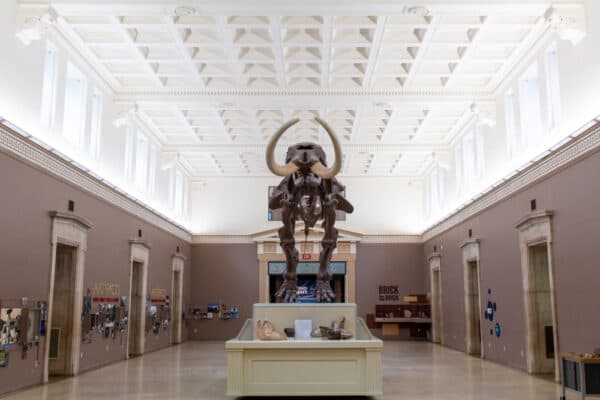 The Buffalo Museum of Science is located just north of the downtown area and is one of my favorite things to do in Buffalo, NY.
This museum is part science museum, part natural history museum, and part children's museum, making it a great destination for both kids and adults that love learning about science and the world.
Visitors can enjoy interactive science exhibits, dinosaur fossils, cultural exhibits, and more.
Buffalo City Hall Observation Deck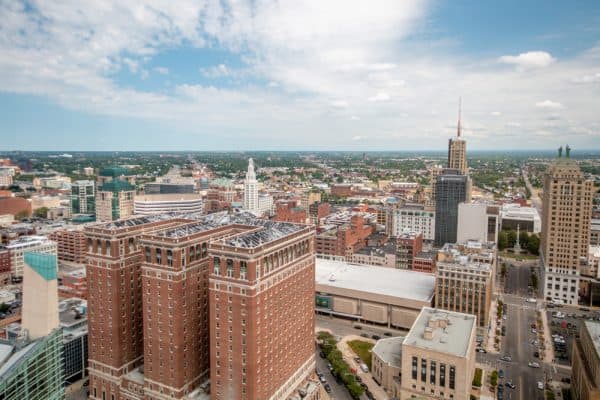 Want a birds-eye view of Buffalo? Head to the free observation deck at the top of Buffalo City Hall.
This deck offers 360-degree views of the city including great views of Buffalo's skyline, Lake Erie, Canada, and even the mist of Niagara Falls from both indoor and outdoor vantage points.
In addition to the views, take a few minutes to also enjoy the incredible beauty and artwork in City Hall while going to and from the observation deck.
Glen Falls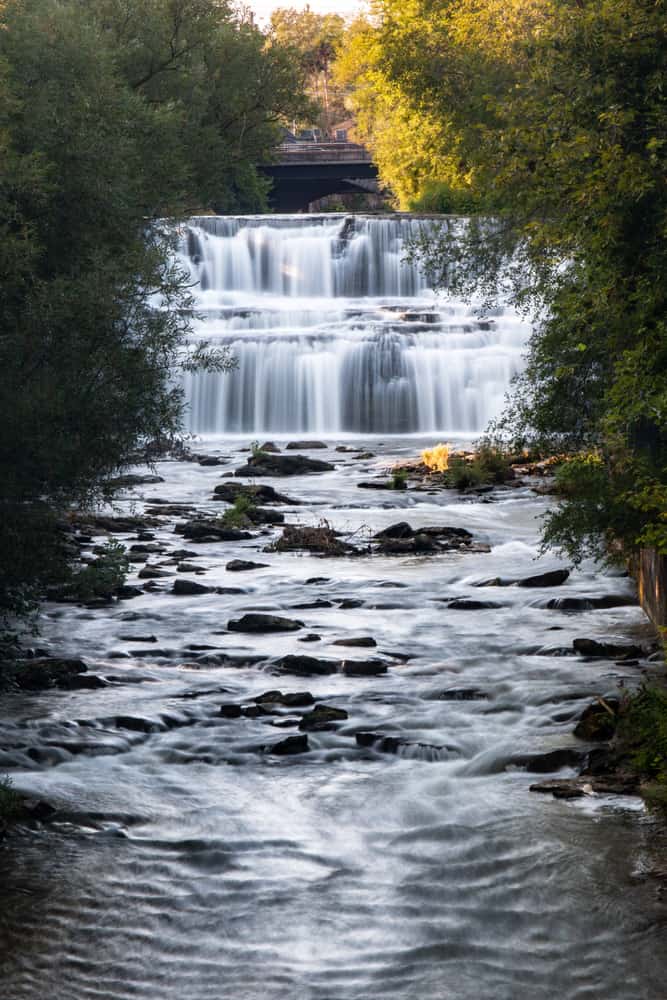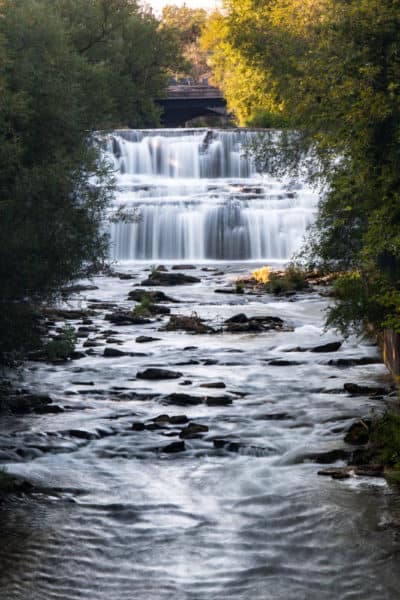 I always love finding small waterfalls in local parks when I'm traveling, and Glen Falls perfectly fits into this category.
Glen Falls is roughly 25-30 feet tall and is located in Williamsville, NY, about 20 minutes east of downtown Buffalo. This waterfall is the focal point of Glen Park and can be easily seen from either the road or via a short trail that goes right up to the waterfall.
That makes this not only one of the best things to do near Buffalo but also one of the best roadside waterfalls in New York.
Buffalo History Museum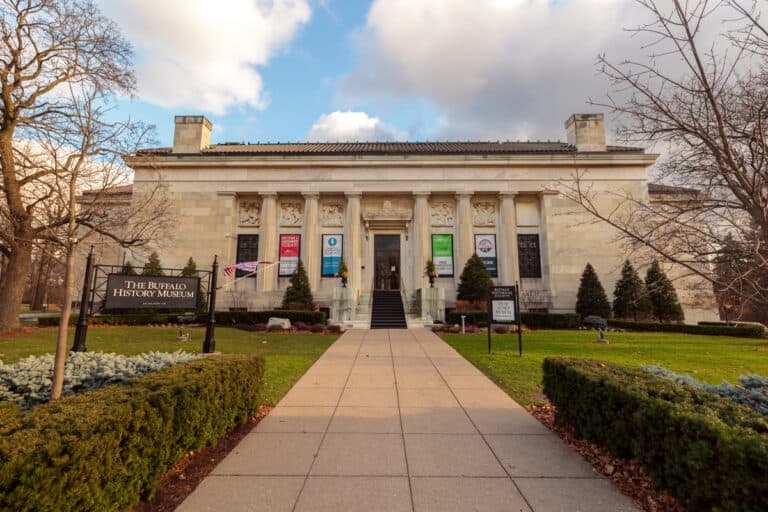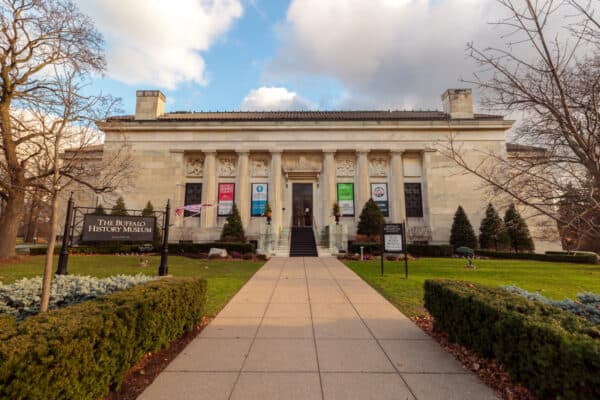 The Buffalo History Museum is located in the last building from the 1901 Pan-American Exhibition that still exists. That makes not only the displays historic but also the entire structure that the museum is located within.
This museum features an incredible collection of artifacts related to the history of Erie County covering topics ranging from Native Americans through to the Buffalo Sports Hall of Fame. Amazingly, they even have items related to the assassination of President William McKinley, which occurred in Buffalo shortly after he visited his very building.
If you love history, this is definitely a must-do activity in Buffalo.
Buffalo and Erie County Naval and Military Park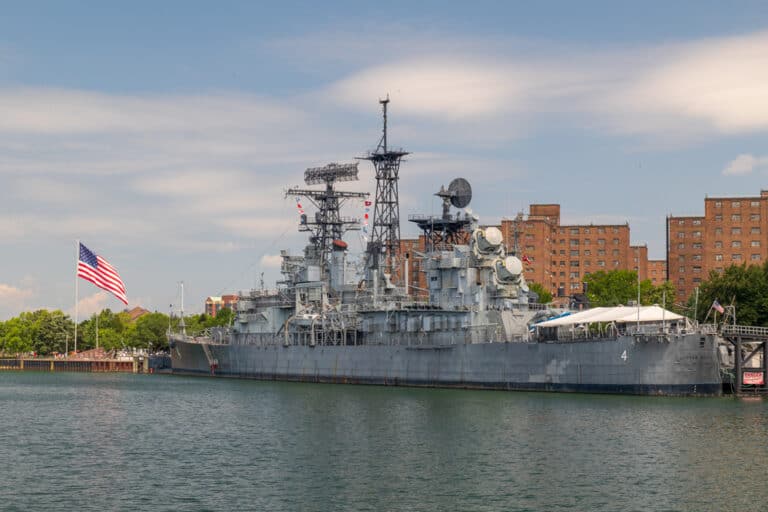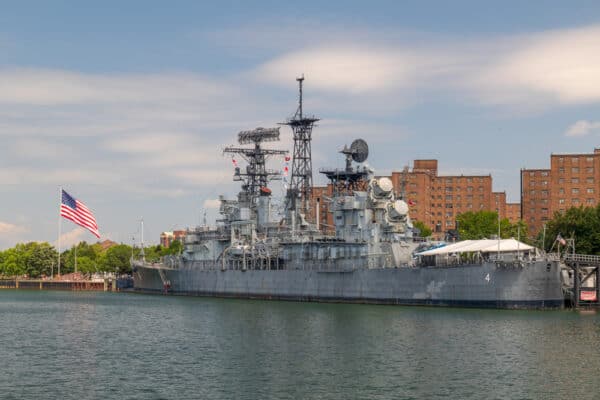 Located along Canalside, the Buffalo and Erie County Naval and Military Park, or simply the Buffalo Naval Park, is one of the most unique things to do in Buffalo, New York.
In fact, it's the largest inland naval park in the United States!
The focal point at the park is the three naval ships, the USS Little Rock, the USS The Sullivans, and the USS Croaker submarine. Visitors can climb aboard all three ships to tour them and learn both about their history and what life was like for the sailors that served here.
There is also a great museum and some land-based equipment on displays for visitors to explore.
Anchor Bar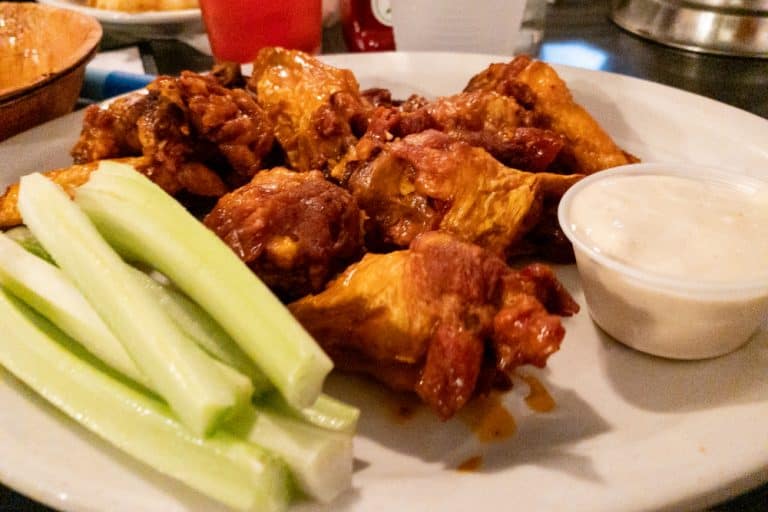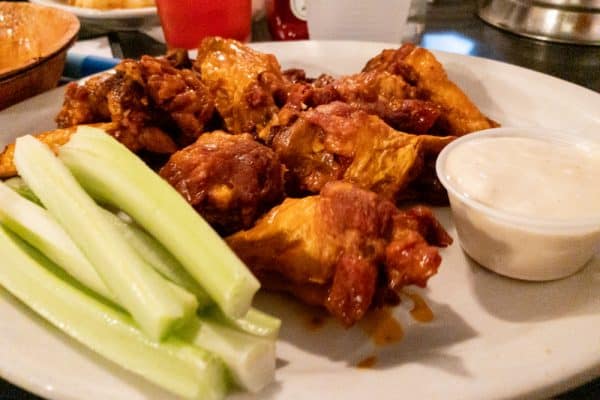 You can't visit Buffalo without eating some Buffalo wings, and there's nowhere better to do it than at their birthplace, Anchor Bar.
Anchor Bar is located just north of downtown Buffalo and is where Teressa Bellissimo (who was also the wife of the owner), turned the chicken wing, which was normally either thrown out or used to flavor stocks, into a worldwide phenomenon.
Today, visitors can visit the restaurant to try some of their great wings and their equally great pizza. Of course, while this might not be the best place to get chicken wings in the city, it's definitely worthwhile to visit the first place to make them.
Buffalo Botanical Gardens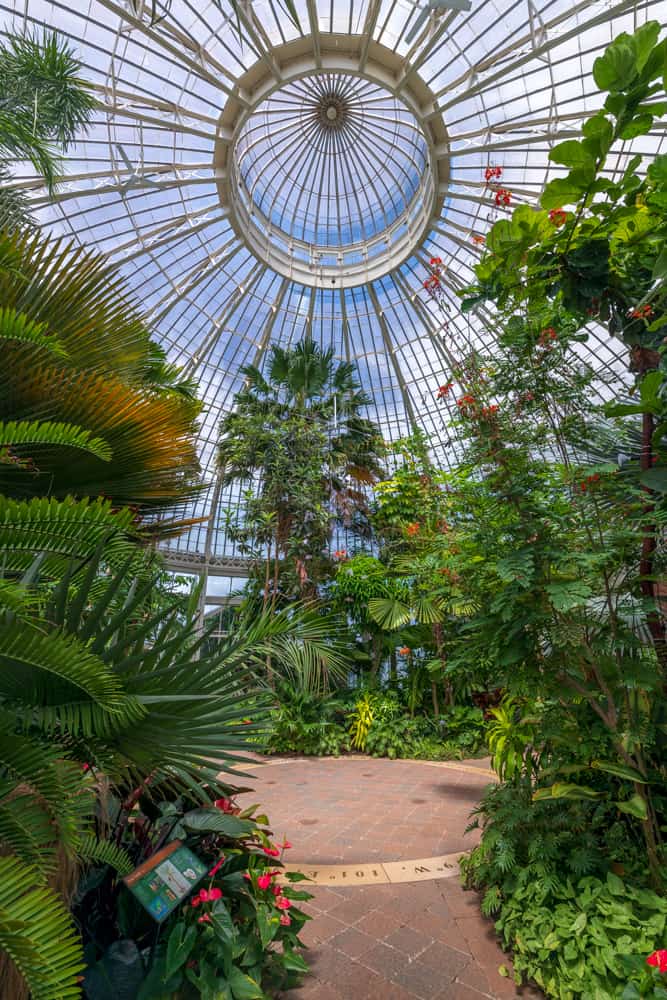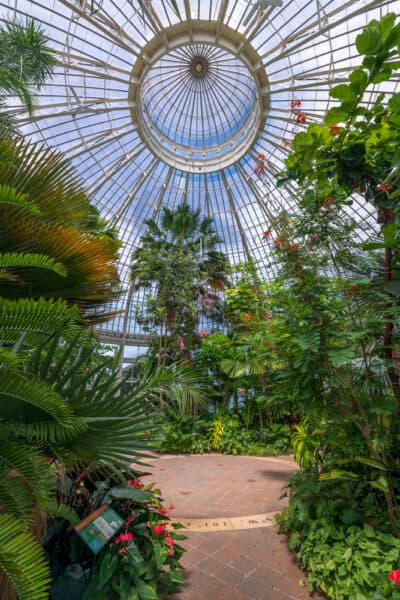 The Buffalo Botanical Gardens is a wonderful space that is perfect for those that love beautiful plants.
Nearly the entire garden is enclosed within a giant greenhouse that offers year-round viewing of everything from banana trees to bonsai. Each room of the greenhouse is themed and offers a look at plants from tropical regions around the world.
There's even an indoor waterfall!
Buffalo's Theatre District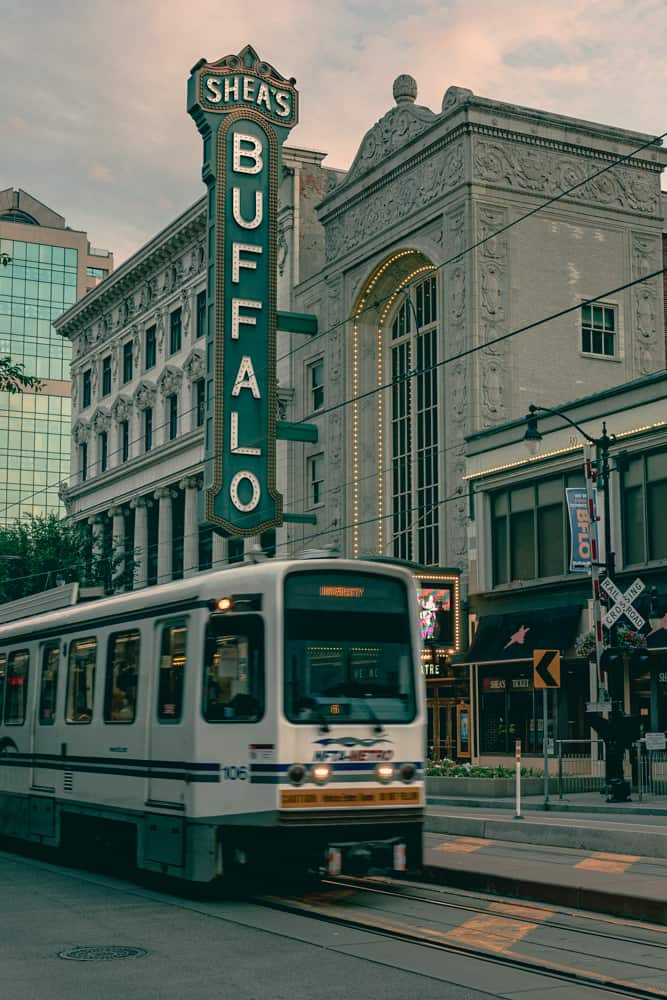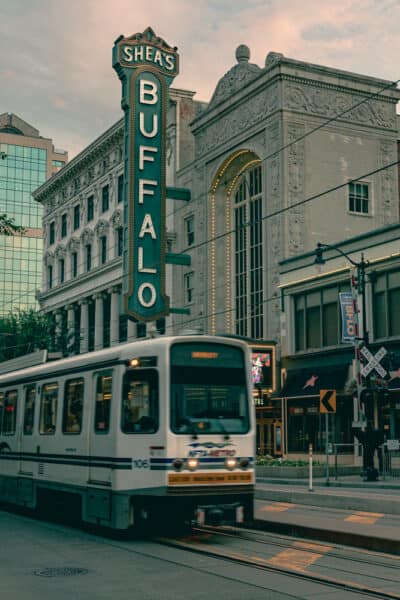 When visiting Buffalo, don't miss a chance to check out the city's Theatre District.
This area is home to several historic theaters, including the famous Shea's Performing Arts Center along Main Street. There are also many shops, restaurants, art galleries, and more in the district.
Whether you come to see live theater, do a little shopping, or simply to stroll through this beautiful area, this is a great spot to check out in the heart of downtown Buffalo.
Theodore Roosevelt Inaugural Site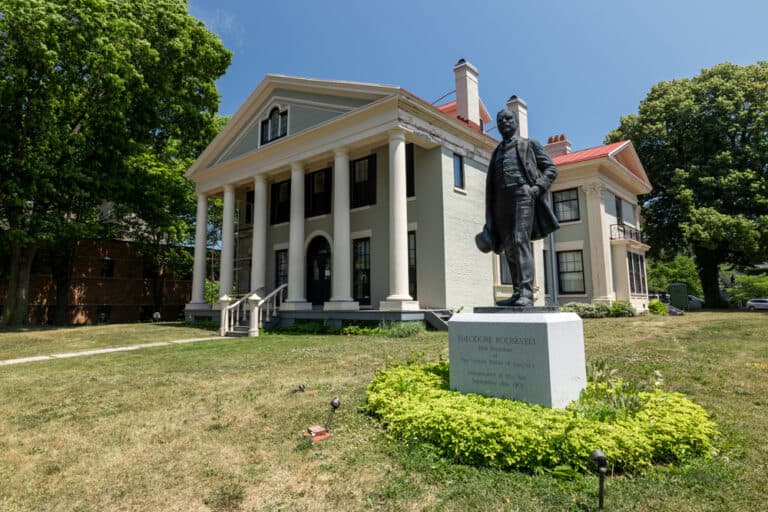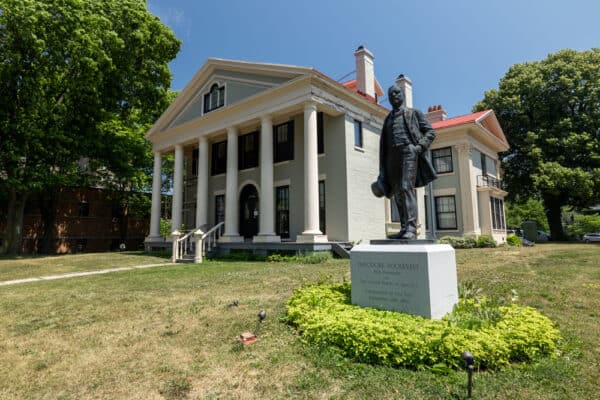 One of the most unexpected things to do in Buffalo, NY is the Theodore Roosevelt Inaugural National Historic Site.
It was in this home that Theodore Roosevelt was inaugurated as president in 1901 after President William McKinley died from an assassin's bullet only a few miles away.
Visitors can tour this historic spot and view their excellent exhibits and films while learning about the presidency of Theodore Roosevelt.
Explore & More Children's Museum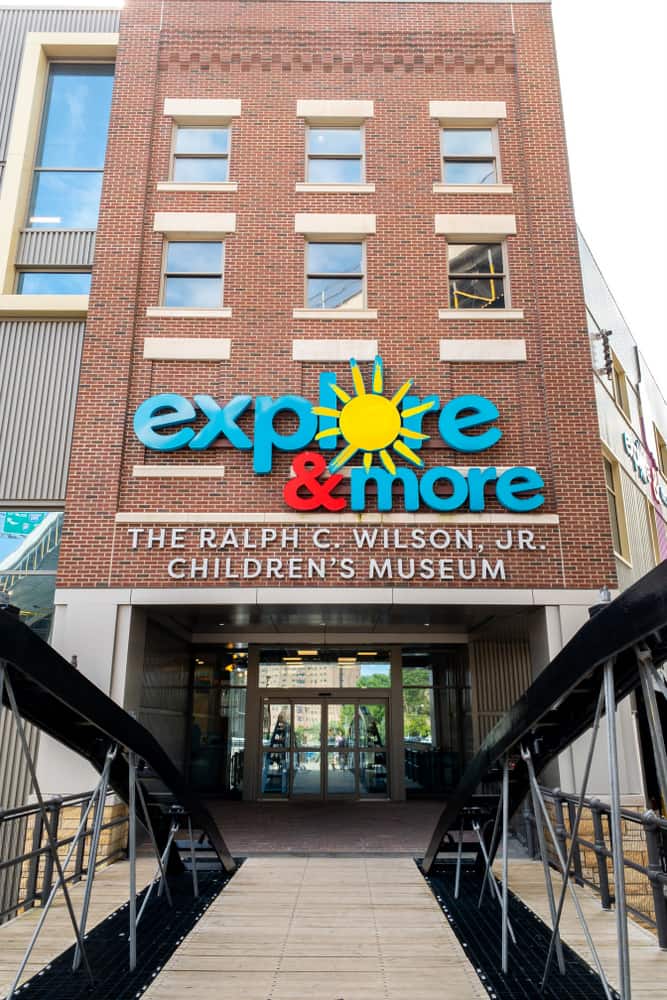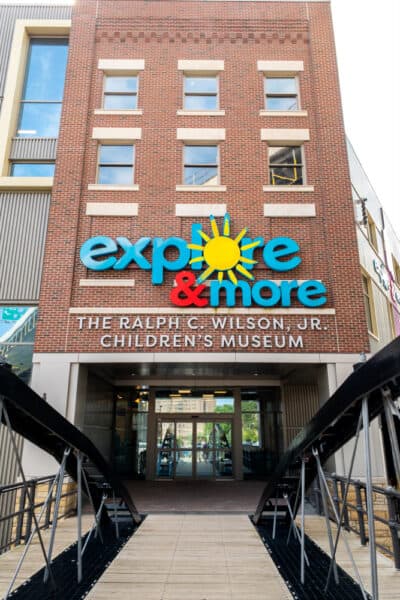 If you're looking for fun things to do with kids in Buffalo, the Explore & More Children's Museum is a great option.
Located near the shores of Lake Erie, this children's museum features four floors of fun activities targeted at kids 10 and younger. Whether they enjoy sports, science, art, or just running around, there is something in this space for every kid.
Even better, along the way, they'll learn about science and Buffalo's history and culture.
Eternal Flame Falls
There might be no more unique attraction in Erie County than Eternal Flame Falls.
In many ways, this small waterfall is no different than the hundreds of others that dot the landscape of Upstate New York. However, what makes this spot special is the small natural gas leak in a crevice behind the waterfall.
When lit (bring a lighter in case it has gone out before your arrival), this leak creates a small flame behind the veil of water. This is truly a unique spot that outdoor lovers won't want to miss.
Schwabl's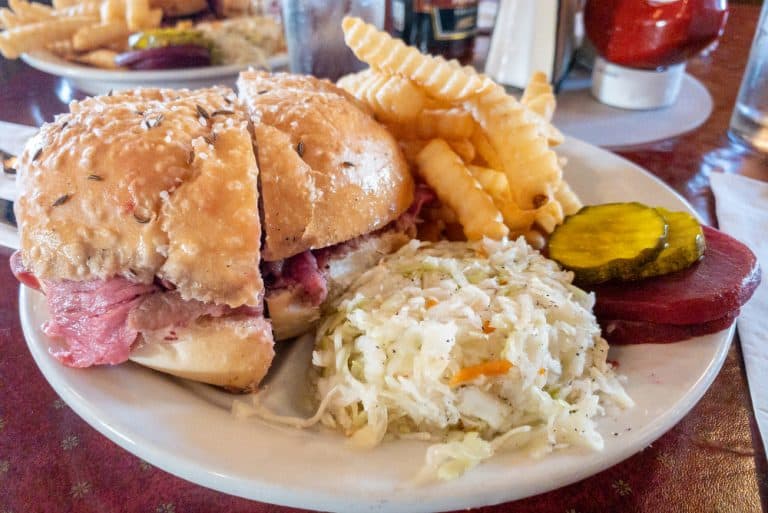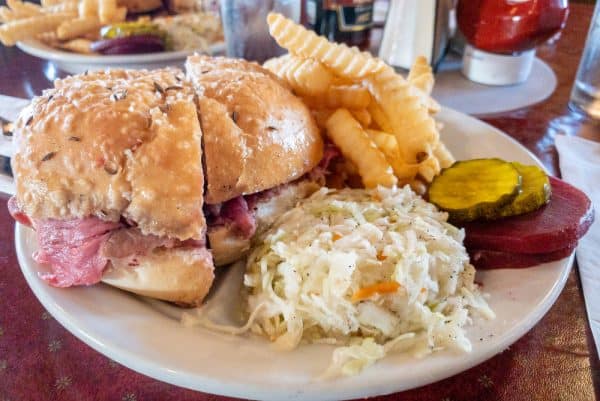 While Buffalo wings might be the top food in the city, Beef on Weck comes in a close second.
There are many places to get this specialty in the Buffalo area, but few places are more renowned than Schwabl's. In fact, they even made it into an episode of "No Reservations" with Anthony Bourdain.
This sandwich consists of roast beef on kümmelweck bread. Kummelweck is a type of kaiser roll that is topped with kosher salt and caraway seeds, giving it an interesting and unique flavor on its own.
Don't miss the chance to try this tasty sandwich when exploring the Buffalo area.
Forest Lawn Cemetery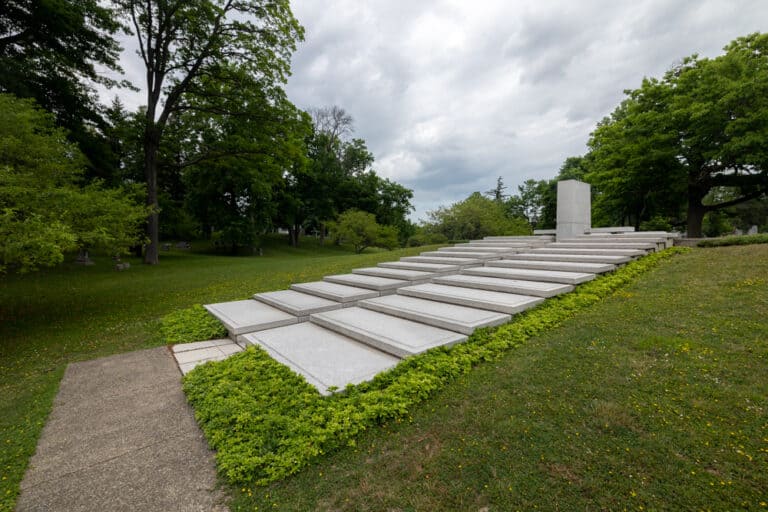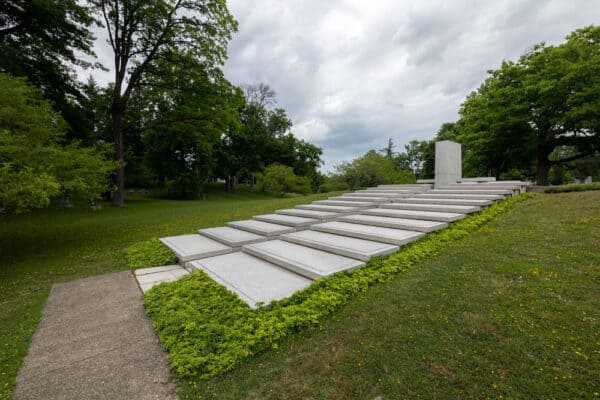 Since 1849, Forest Lawn Cemetery has been the final resting place for thousands of Buffalo residents.
The beautiful grounds of this cemetery are well worth exploring on their own, but it's also interesting to try and find the graves of some of Forest Lawn's most prominent burials including musician Rick James, Congresswoman Shirley Chisolm, and President Millard Fillmore.
The cemetery is also home to the only mausoleum ever designed by Frank Lloyd Wright.
Millard Fillmore House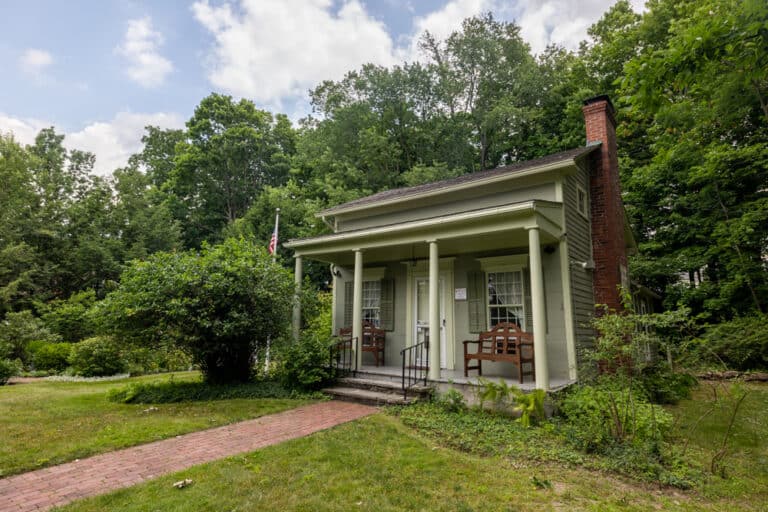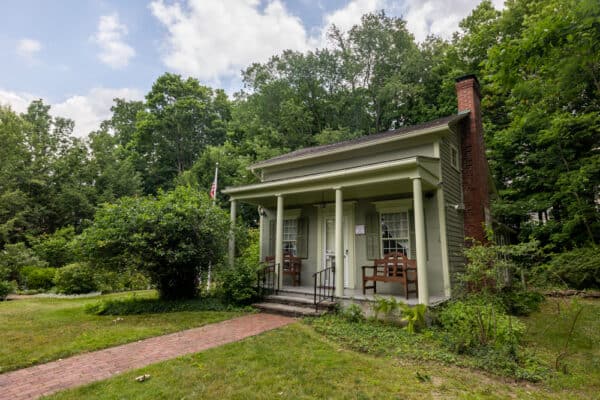 Speaking of President Millard Fillmore, his former home in East Aurora is also an interesting place to visit near Buffalo.
This modest home was lived in by Fillmore from 1826 until 1830 while he was practicing law nearby. Interestingly, other than the White House, this is the only house that Fillmore lived in that is still standing.
Visits to the home are a great way to learn about this often-overlooked New York native.
Buffalo Zoo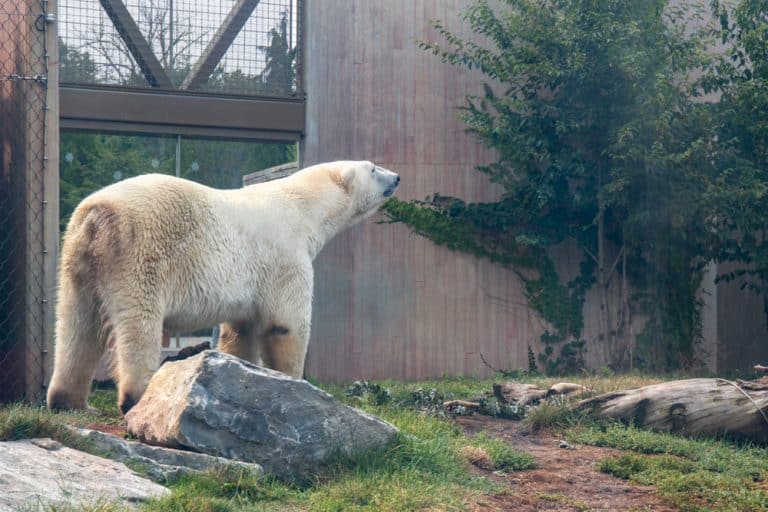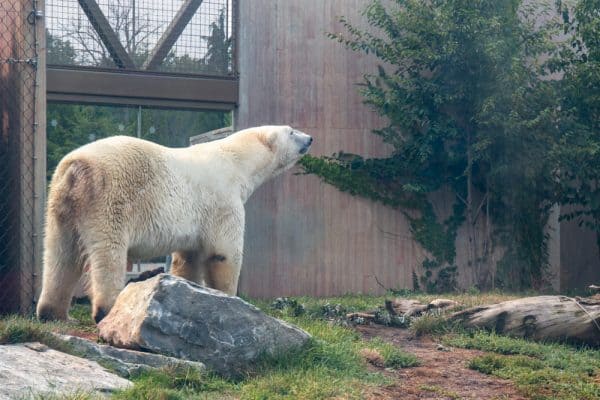 The Buffalo Zoo is the country's third-oldest zoo and is a great spot for animal lovers to visit.
The zoo is located on the edge of Delaware Park in northern Buffalo and first opened to the public in 1875. Today, it is home to approximately 1,200 animals representing many different species from around the world.
Visitors can walk through the many different habitats in the zoo, including both indoor and outdoor spaces, and learn more about the animals that live here.
Evangola State Park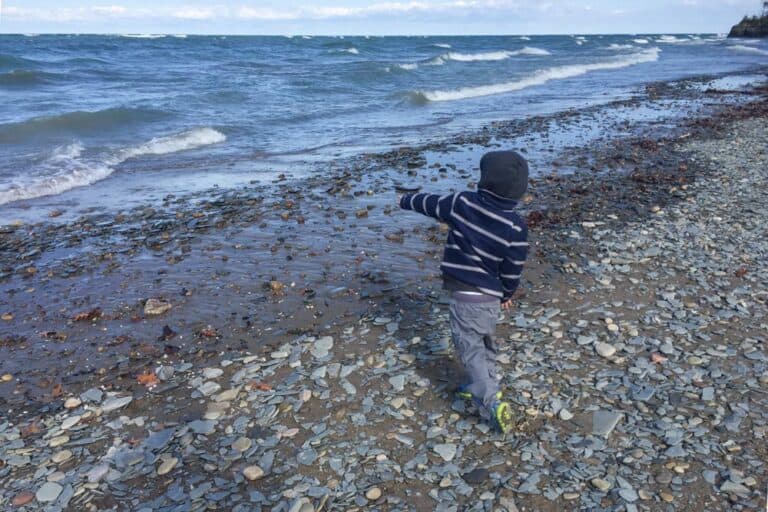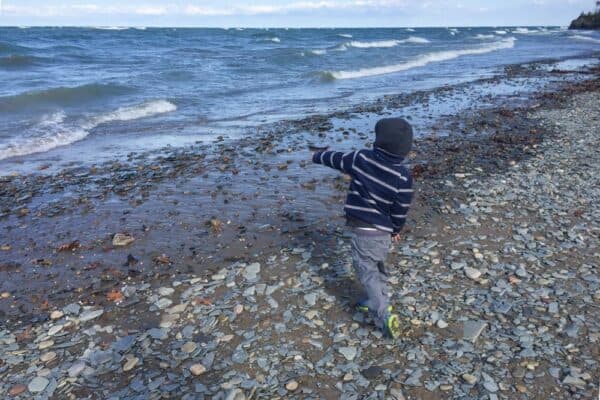 Evangola State Park is a beautiful spot to visit along the shores of Lake Erie in southern Erie County.
The park features a half-mile-long beach that's popular in the summer with swimmers. There is also a large campground, hiking trails, and a playground.
The shale cliffs along the edge of the beach add a lot of beauty to this great state park.
Breweries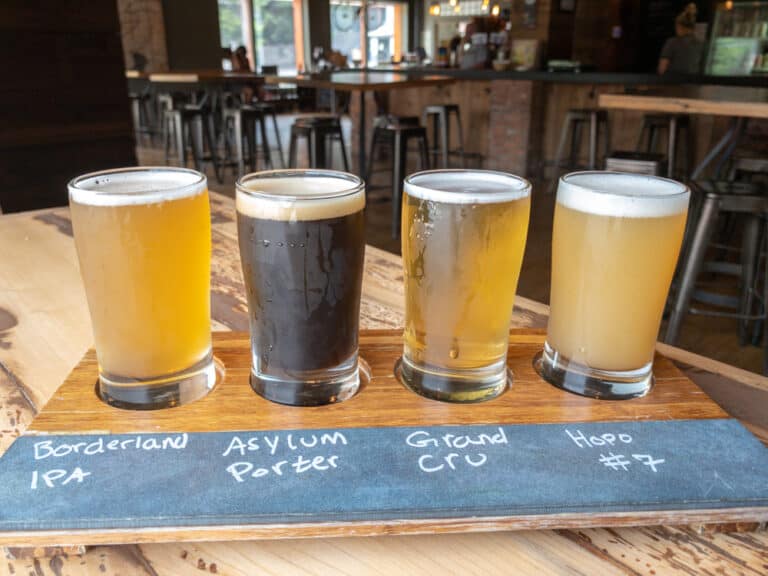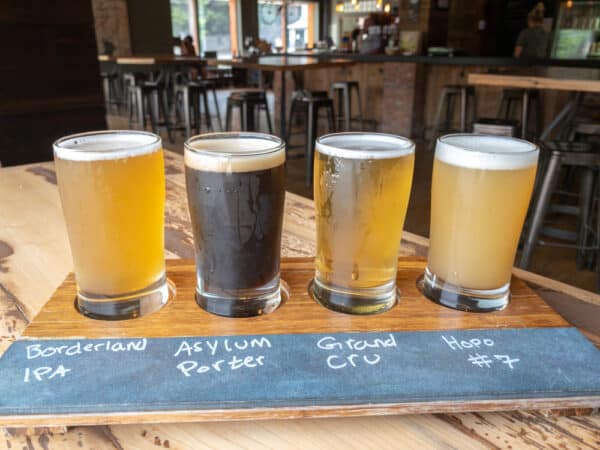 If you love beer, you're in luck because there are many great craft breweries in Buffalo.
These range from tiny operations to large breweries that sell their beer throughout the state and even further afield. However, they all take pride in producing some of the best beer that you'll find in New York.
While there are many to choose from, a few of my personal favorites include Big Ditch Brewing, 42 North Brewing, Old First Ward Brewing, and Community Beer Works.
Albright Knox Art Gallery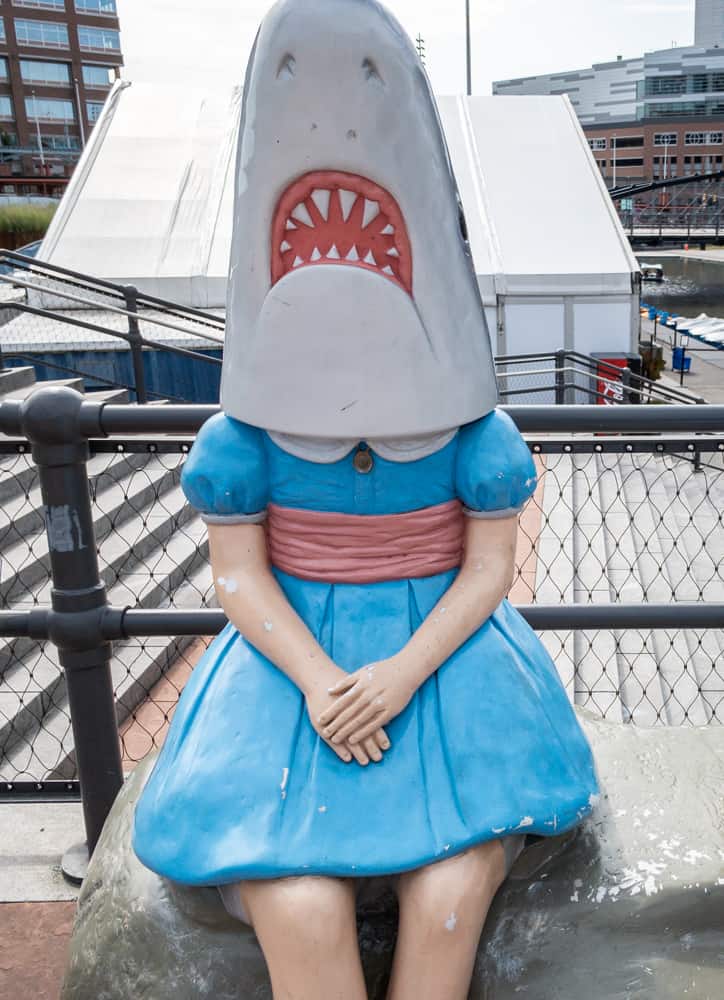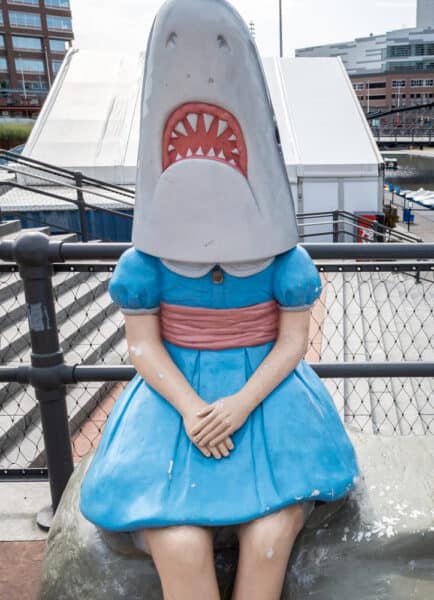 The Albright Knox Art Gallery is a fantastic place for art lovers to check out in Buffalo.
The museum is located in Buffalo's Cultural District and has been collecting and displaying art since the mid-1800s.
Today, the collection consists of a wide variety of styles of art representing many of the world's most famous artists. When you visit, you can see pieces by Vincent Van Gogh, Henri Matisse, Frida Kahlo, Pablo Picasso, Andy Warhol, and many more.
The museum also has done a lot to sponsor pieces of public art around Buffalo including the Freedom Wall and the strange Shark Girl statue (pictured above).
Our Lady of Victory National Shrine and Basilica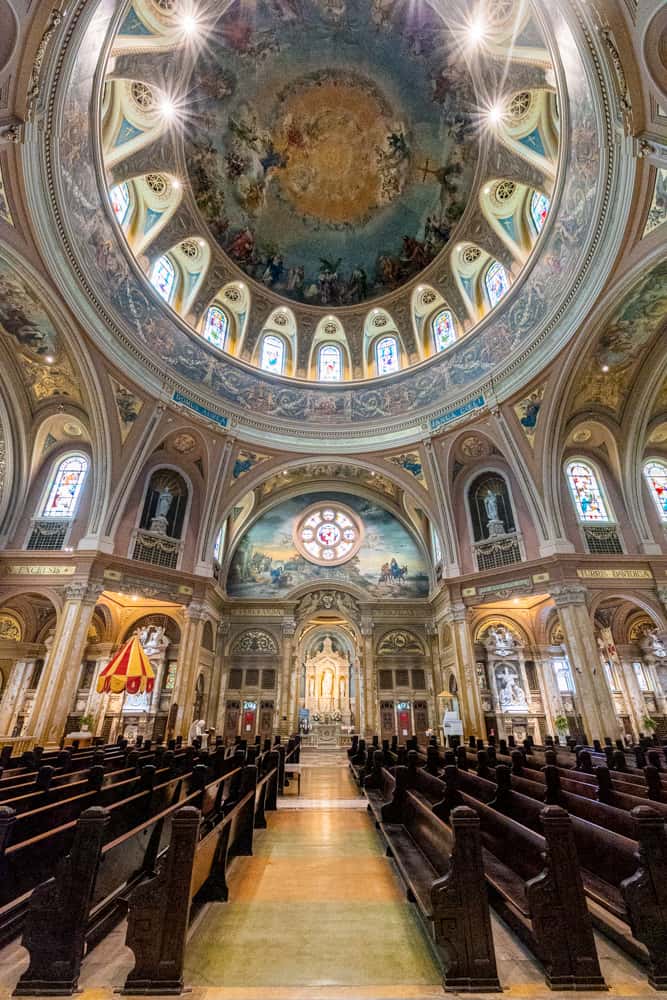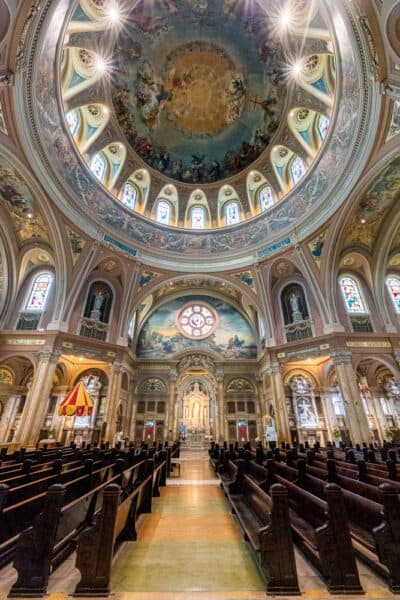 Located just around the corner from the Buffalo Botanical Gardens, you'll find Our Lady of Victory National Shrine and Basilica.
This incredibly beautiful church was constructed in the 1920s and is one of the most incredibly designed places of worship I've come across in New York.
Self-guided tours are allowed throughout the day, and it's worth taking a few minutes to pop in and see the majestic interior.
The Spot Where President McKinley was Shot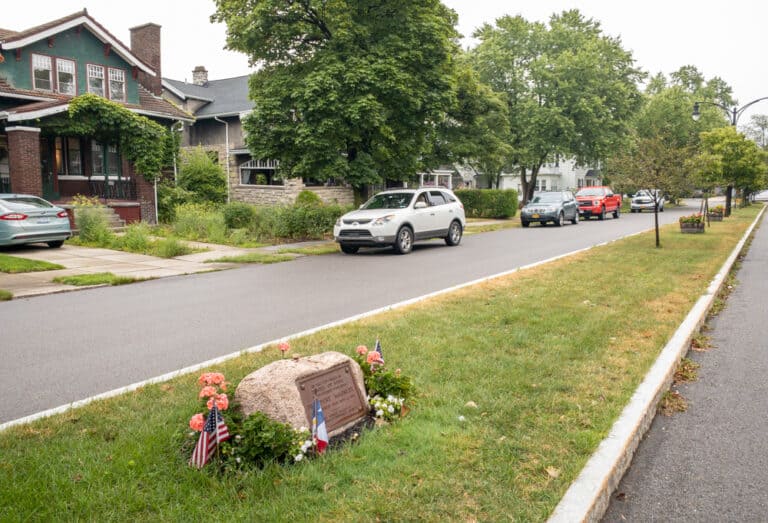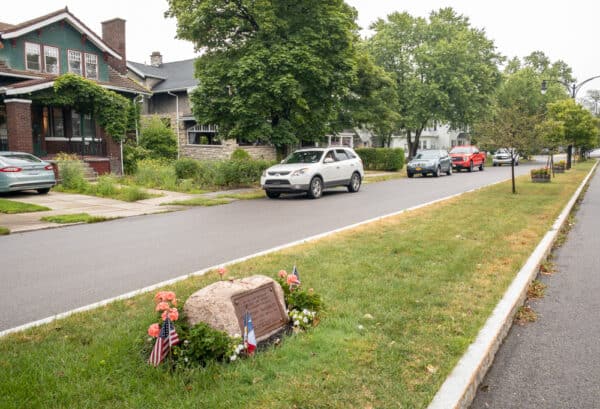 As mentioned above, President William McKinley was shot by an assassin in Buffalo.
McKinley was shot as he greeted guests at the Temple of Music at the Pan-American Exposition in 1901. Since the building was built to be a temporary structure, it was torn down shortly after the exposition ended in late 1901.
Today, a marker in the middle of a residential neighborhood marks the spot where McKinley was standing when he was shot. While there's little to see here, it's still an interesting place for those interested in presidential history to visit.
Buffalo's Professional Sports Teams
Buffalo is a great sports town, and no matter what season you visit, there are some great professional sports that you can watch.
Probably the most popular sports team in Buffalo is the Buffalo Bills football team, who play their games at Highmark Stadium south of Buffalo. However, right behind them in popularity is the Buffalo Sabres hockey team that plays in the KeyBank Center near Canalside.
During the summer months, you can catch the Buffalo Bisons, the AAA team for the Toronto Blue Jays baseball team at Sahlen Field.
The Freedom Wall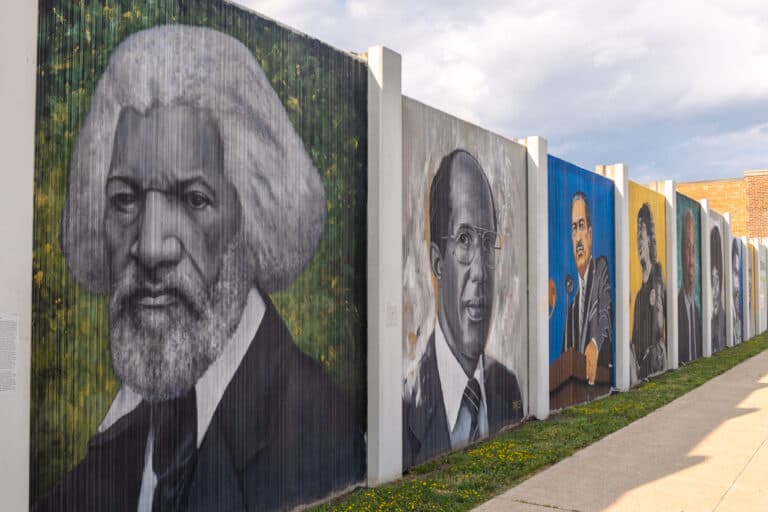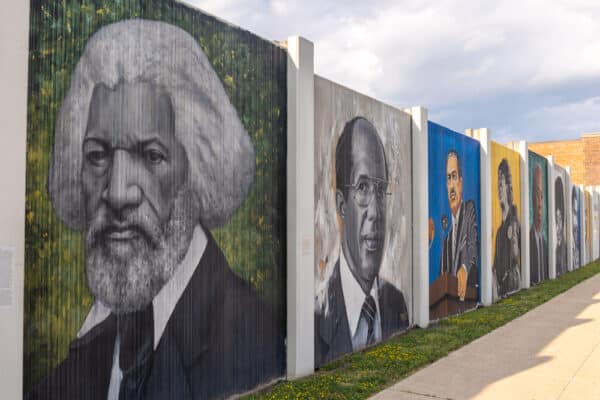 Buffalo is filled with many pieces of great public art, but none can rival the Freedom Wall.
This 300-foot wall at the corner of Michigan Avenue and East Ferry Street depicts 28 Civil Rights leaders from throughout American history.
Each painting is done by a different artist, and they are all quite stunning to look at. Adjacent to each painting, there is a sign with information on the person's life and impact.
Herschell Carousel Museum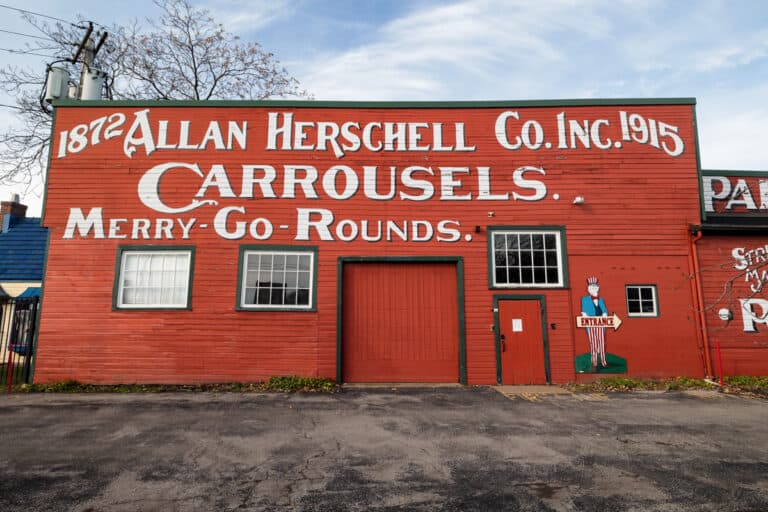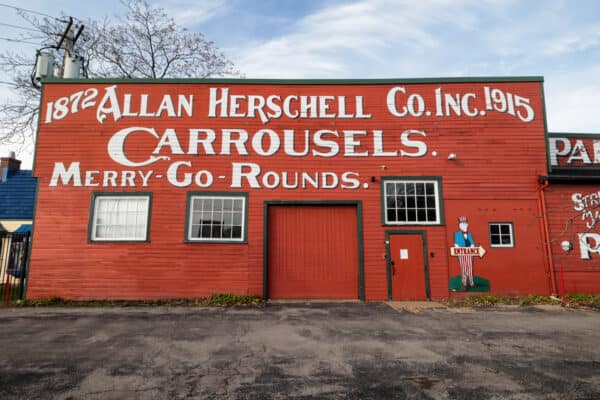 Located just north of Buffalo, you'll find the former factory for the Herschell Carousel Factory, which produced many of the wooden carousels and other amusement park rides in the early 20th century.
Today, the old factory has been turned into a museum, which highlights both how carousels were made and also the incredible craftsmanship that went into making these popular rides.
There are also two historic carousels you can ride, a collection of historic kiddie rides, and more.
Buffalo Harbor State Park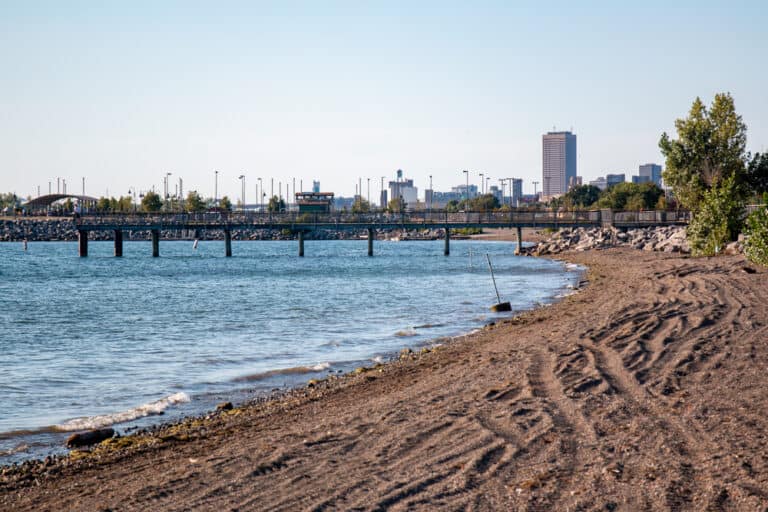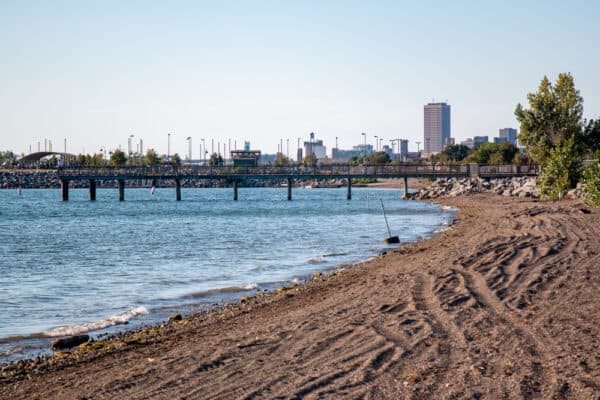 Buffalo Harbor State Park is located just south of the downtown core and offers many ways to relax and enjoy the beauty of the city's lakeshore.
This nearly 200-acre park features a large and unique playground for kids, a marina, and a small beach (though swimming isn't allowed). It is also quite popular for fishing.
Niagara Falls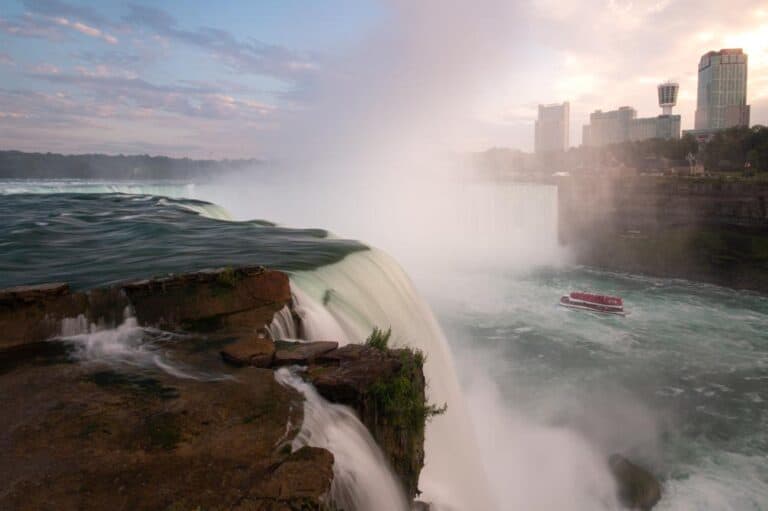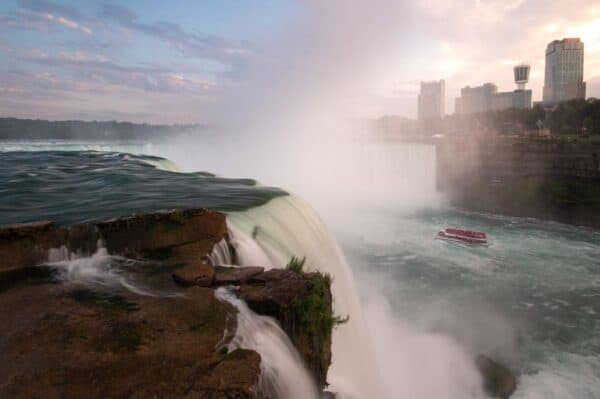 While I did my best to keep this list of things to do in Buffalo, New York to only places in Erie County, I couldn't skip over the area's most popular draw, Niagara Falls.
Niagara Falls State Park is located approximately 20 miles north of downtown Buffalo and is home to one of the world's most impressive collections of waterfalls.
Visitors can check out the three waterfalls that comprise Niagara Falls, take a boat ride to the base of the falls, go behind the veil, and much more. You can also go further upriver to check out sites like Whirlpool State Park and Old Fort Niagara.
What are your favorite things to do in Buffalo, NY? Let us know in the comments below.
Looking for more things to do in New York? Check out my favorite things to do in Syracuse, the best waterfalls in the Finger Lakes, and the top things to do in Rochester.