Disclosure: This article may contain affiliate links. We will make a small commission from these links if you order something at no additional cost to you.
During my travels, I always make a point to check out the local beer scene, and this has led me to some pretty incredible breweries in Buffalo, NY.
Thanks in large part to the Erie Canal, brewing in Buffalo has long been a major industry, with its roots dating back more than 200 years. And, in recent years, many fantastic breweries have opened up in and around the city, making this a hub for craft beer in western New York.
So, while there are many fantastic things to do in Buffalo, here are a few of my favorite Buffalo breweries that you won't want to miss while exploring the city.
Community Beer Works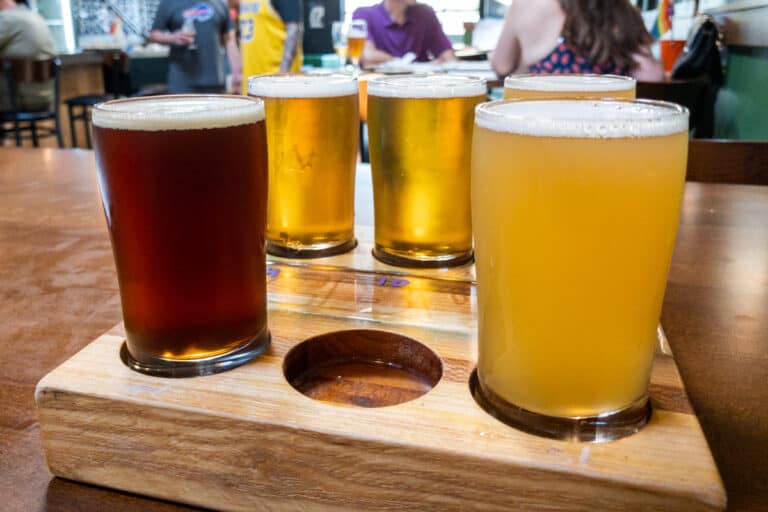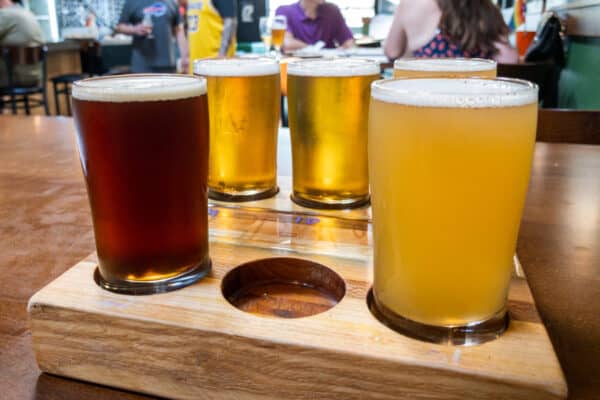 Opened in 2012, Community Beer Works is one of the oldest breweries in Buffalo, New York, and it's also one of the best.
As the name implies, Community Beer Works seems like a very inviting space in both their industrial but cozy taproom and in the amazing outdoor areas that surround it.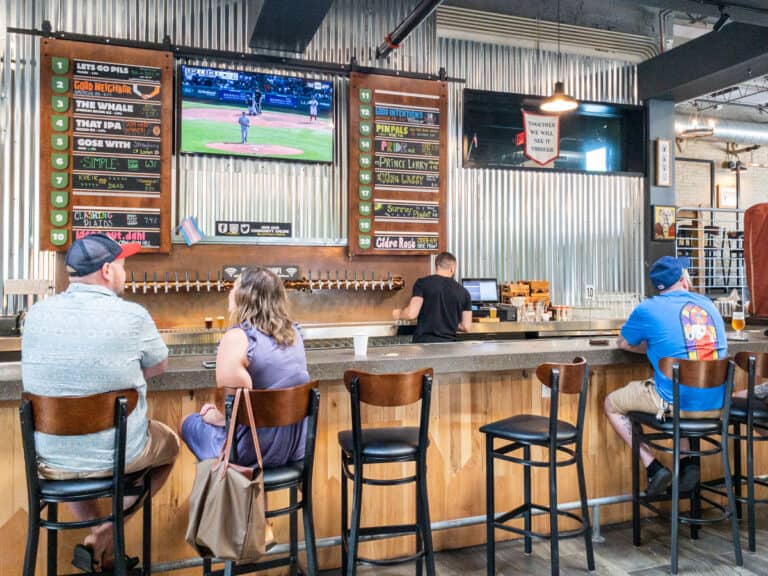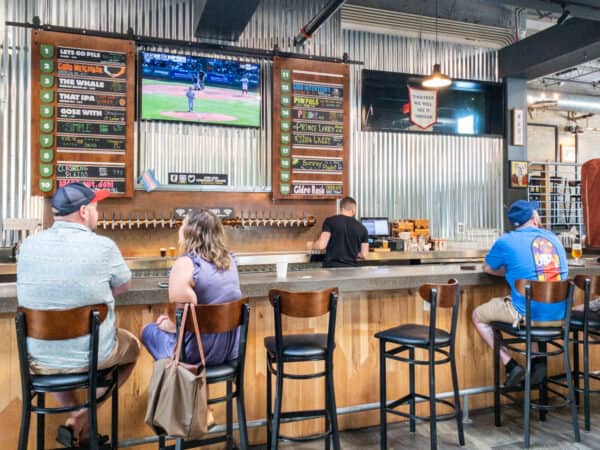 During my visit, there were more than a dozen different beers on draft, of which I had a chance to try five. All of these were very good, with my personal favorites being That IPA (which won a bronze medal at the 2019 Great American Beer Festival), Pin Pals Apple Witbier, and Good Neighbor IPA.
For those looking for food, Community Brew Works also offers a full menu, though I didn't have a chance to try any food here.
Big Ditch Brewing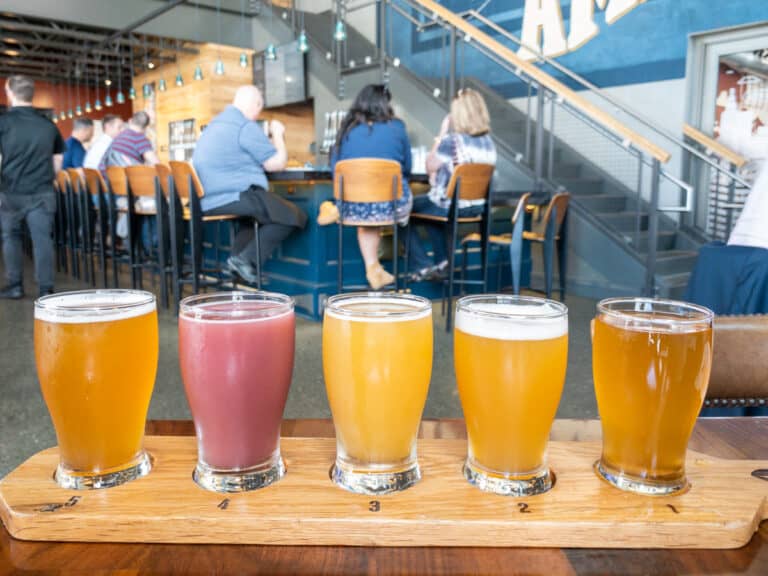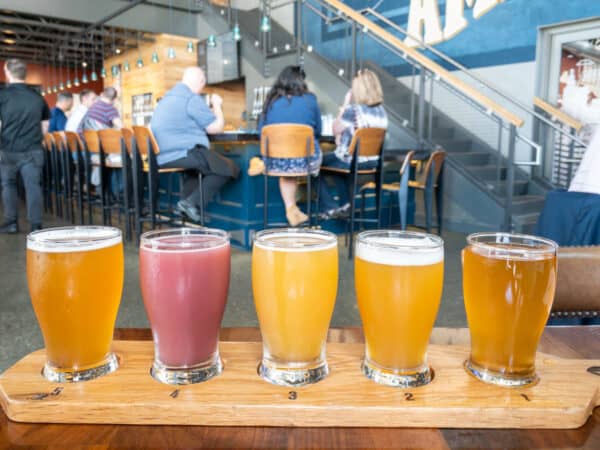 In 2016 and again in 2019, Big Ditch Brewing Company was named the best brewpub in New York, so you know they are going to have some solid beers.
Big Ditch's taproom is located in the heart of downtown Buffalo, making it an easy spot to visit if you are spending time in this part of the city. They feature a really nice indoor seating area with large windows that can be opened on nice days and lead out to their outdoor seating area.
They take their name from the Erie Canal, which was once called "Clinton's Big Ditch," and many of their beer have names related to the canal. Even their flights are called "Flight of Five" after the famous canal locks in nearby Lockport, NY.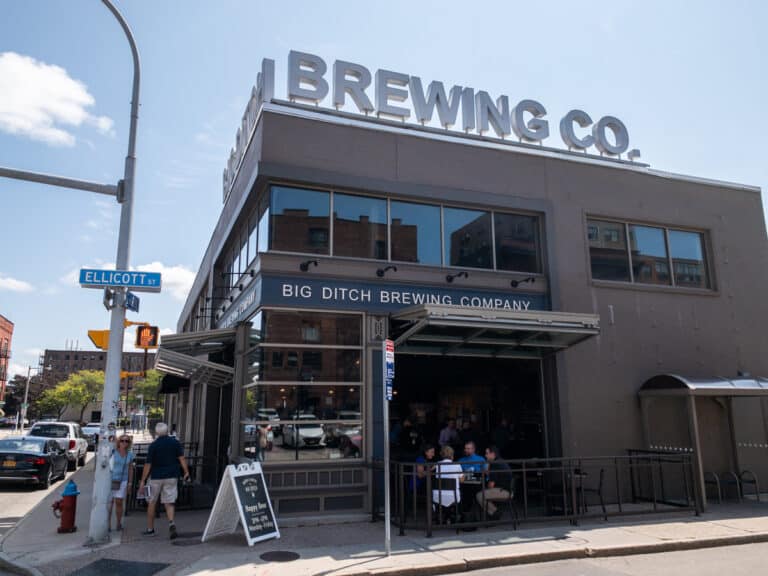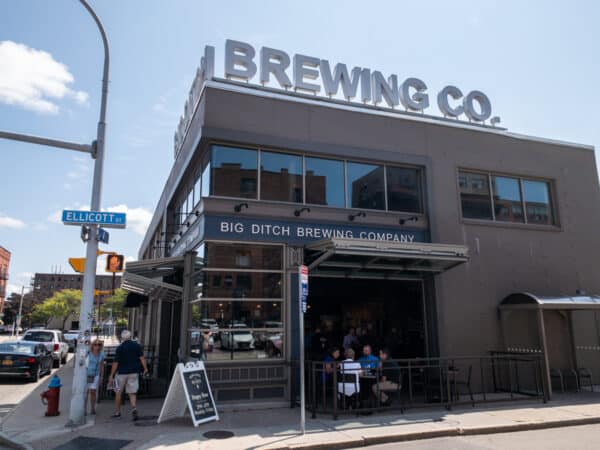 During my visit, I had a chance to try five of their beers spanning a nice range of styles. Favorites included the Hayburner IPA and Watermelon Hefeweizen.
Big Ditch also has a full food menu. I ordered lunch here and quite enjoyed the Ditch Digger Grilled Cheese. However, the highlight of the meal was the fries which were really, really good.
Old First Ward Brewery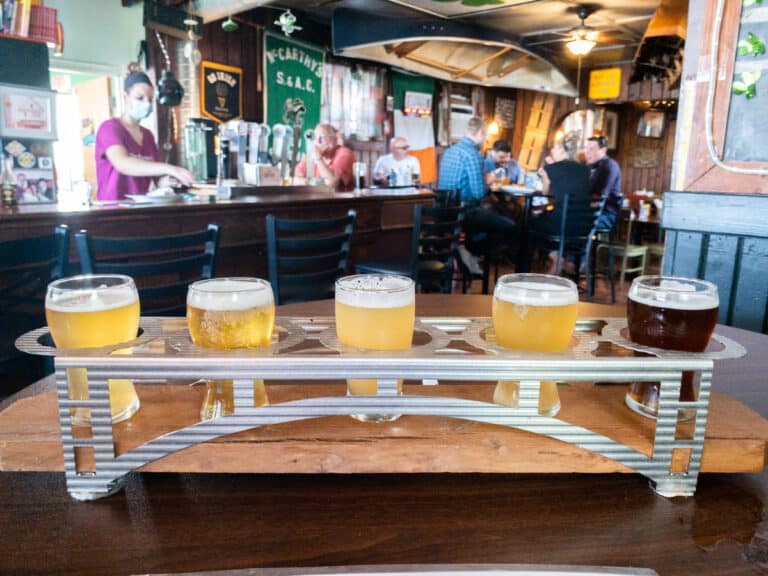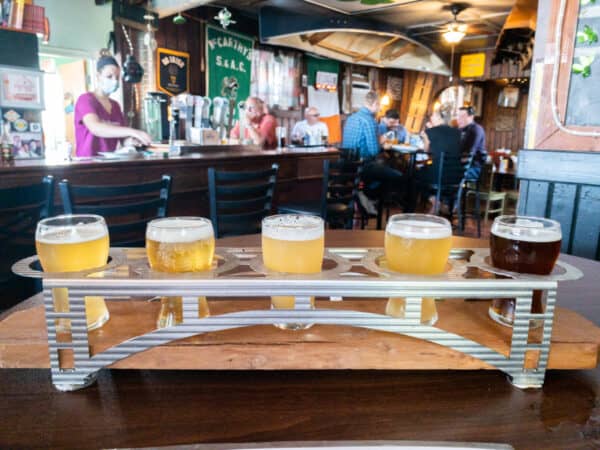 Old First Ward Brewery is the name given to the craft brewery located within Gene McCarthy's Pub in south Buffalo.
Opened in 1963, Gene McCarthy's Pub seems like a typical neighborhood bar that draws regulars from both local residents and the nearby General Mills' factory. However, for those that are looking for the best breweries in Buffalo, this is a somewhat surprisingly great choice.
During my visit, there were nine beers on draft. Most of these were fairly basic styles, but there was a nice mix of options here. Their flight consists of five beers and comes in the largest holder I've ever seen. Seriously, the thing is huge and took up most of my table.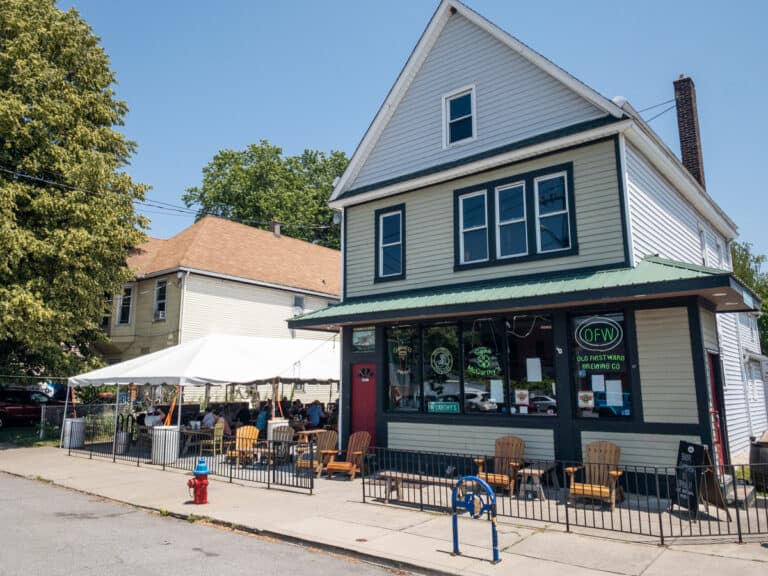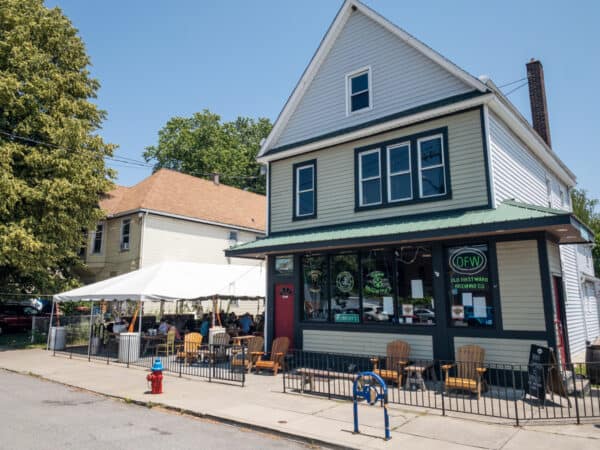 Given the setting and the more basic nature of the beers, I was honestly surprised at how solid their craft beers were. Favorites included the Chill Kellerbier, Red Clover Irish Red, and the Streaker IPA.
This pub also has a full menu, and the chicken fingers and fries entree I got was very good and a really nice portion for the money.
Southern Tier Brewing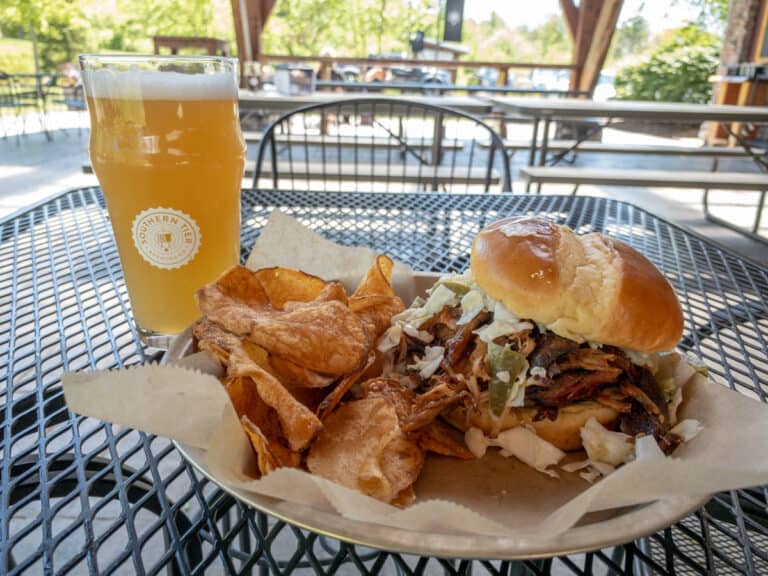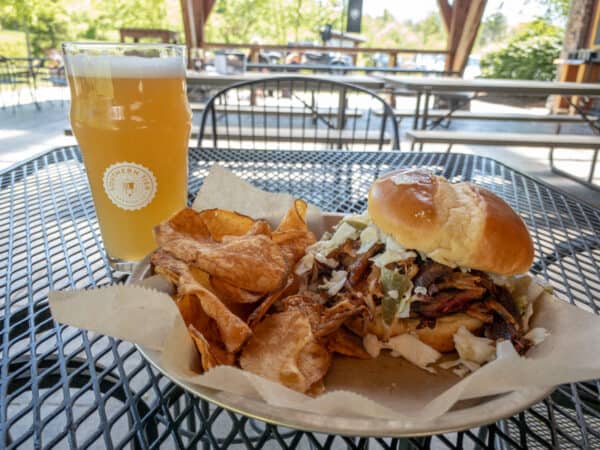 Southern Tier Brewing is one of the largest and best-known breweries in New York. They brew their beer primarily in their Chautauqua County brewery about 90 minutes south of Buffalo, but they also have a brewpub in the city where they both brew beer and offer a chance to try their offerings.
To be honest, I haven't yet had a chance to visit their location near Canalside and the Key Bank Center, but having visited their main brewery in Lakewood, I thought it was worth including them on this list of the best Buffalo breweries.
Southern Tier brews a variety of delicious beers with their 2X IPA, Lake Shore Fog Hazy IPA, and Pumking Imperial Ale being among my favorites.
Southern Tier also has a full food menu for those looking for something to eat with their beer.
42 North Brewing Company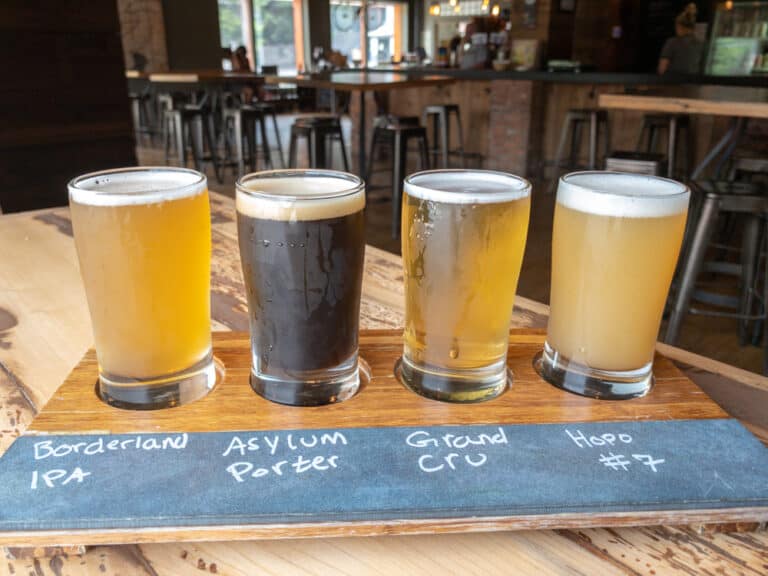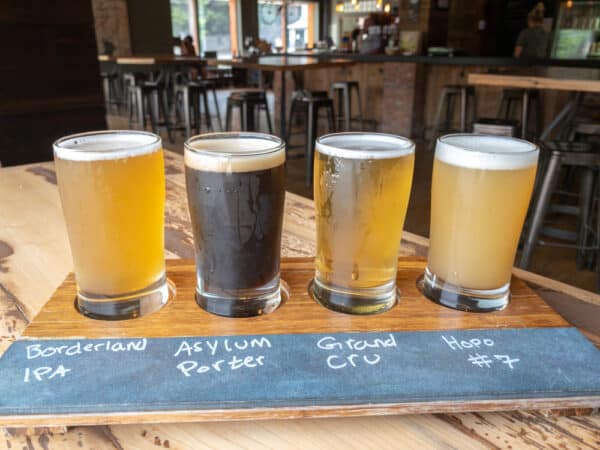 42 North Brewing Company can be found in East Aurora, an Erie County community a short distance southeast of Buffalo. Their industrial but inviting tasting room features large windows and plenty of places to sit and enjoy their beers.
During my visit, I had a chance to try four of the dozen or so beers on draft, and I was quite impressed with the quality of the beers here. I thought all of them were excellent, but I'd grab a 42 North Grand Cru or an Asylum Porter for sure on my next visit.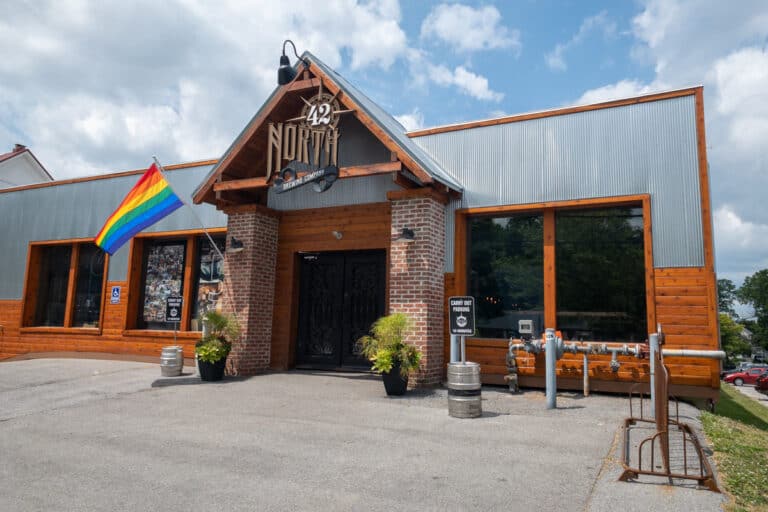 42 North also has a full kitchen, with food being provided by Fat Bob's BBQ. I had the Texas Mac and Cheese with smoked brisket, and it was very good with just the right amount of heat.
Other Half Brewing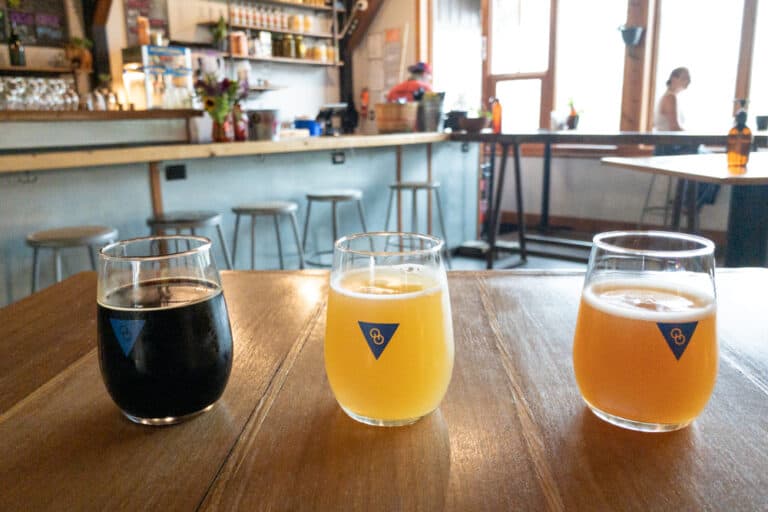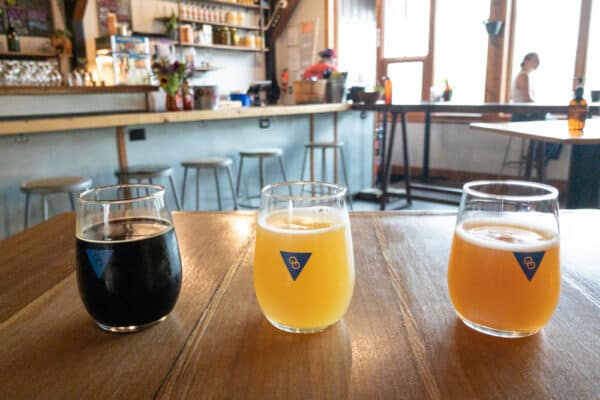 Other Half Brewing is another New York brewery that has multiple locations, including one in Buffalo. And, while I haven't visited their location in Buffalo, I have been to their Finger Lakes location, so I thought I would include them here because they are, without a doubt, one of my favorite breweries in all of New York.
Other Half Brewing opened its Buffalo location in the summer of 2021 in the Seneca One building near Sahlen Field. Without a doubt, this brewery features some of the best IPAs and stouts that you'll find anywhere in the state.
While they have a smaller draft list here than at their other locations, this is a great spot to try some of their fantastic beer. They also feature a large outdoor beer garden and arcade games.
Buffalo Brewing Company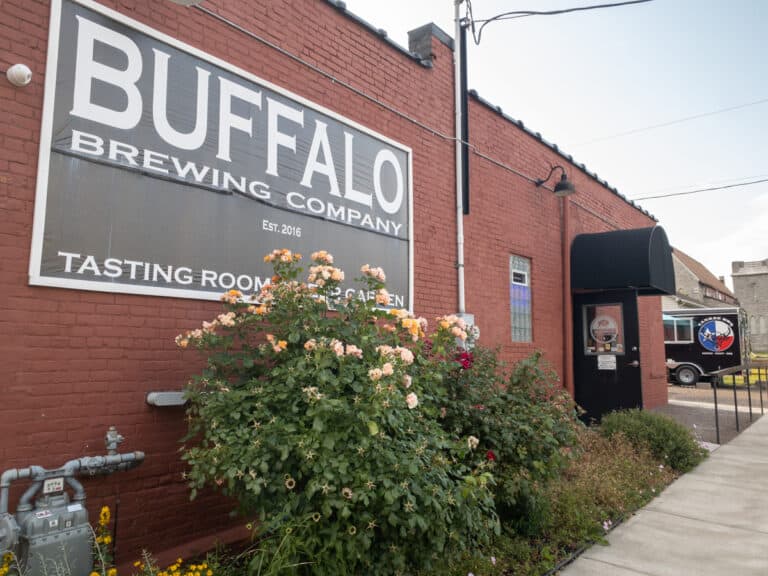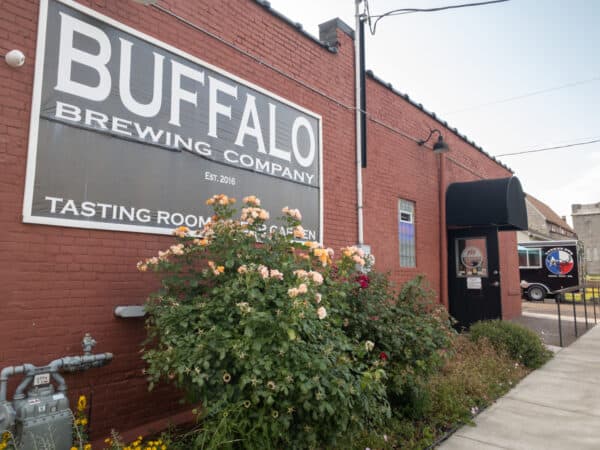 Buffalo Brewing Company is a small but fantastic brewery in the Larkinville section of Buffalo.
Their taproom isn't overly large, though during the summer months they also have a nice outdoor space that adds a lot of seating. They typically have 8-10 beers on draft in a nice range of styles, so everyone should be able to find something to enjoy
During my visit, I had a chance to try several of their beers, with the New England IPA and the Porter both being very good.
If you are looking for food, Buffalo Brewing Company seems to have added a small kitchen with some limited snacks since my visit.
Resurgence Brewing Company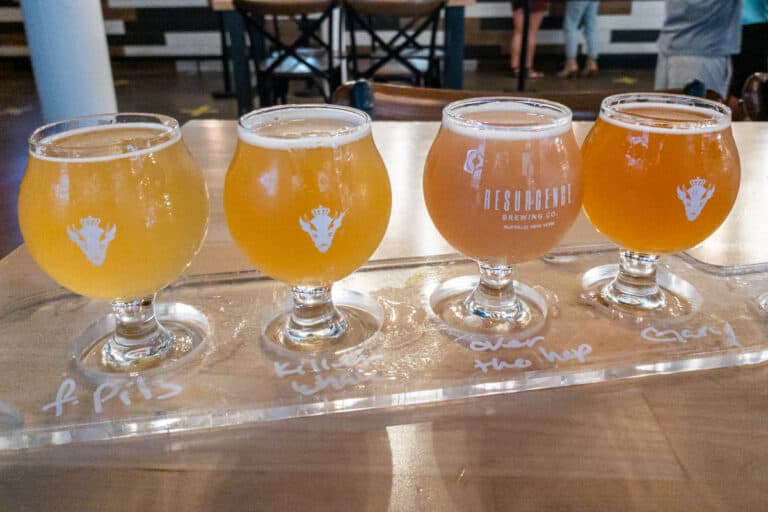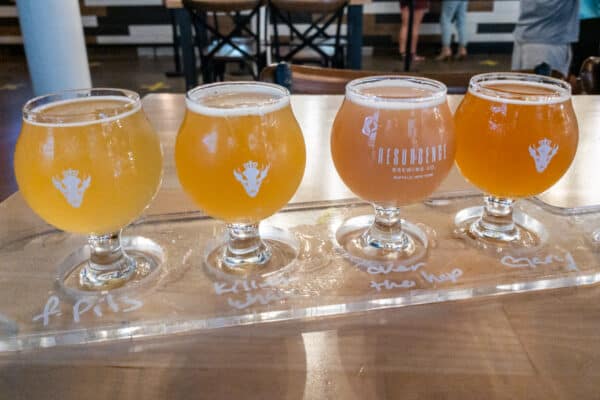 Resurgence Brewing Company is located in southern Buffalo near Conway Park in what was, for many years, an abandoned machine shop. Today, however, this industrial building has come to life with one of Buffalo's best breweries.
Resurgence Brewing Company moved to this location in 2019 after starting a few years prior in west Buffalo. This large space features both indoor and outdoor seating and crystal chandeliers set against the industrial ceiling.
As for the beer, Resurgence typically features more than 20 different beers on draft, and while the menu can feel a bit heavy on IPAs, the sheer number of offerings means that there is a wide variety of styles, including several delicious pilsners.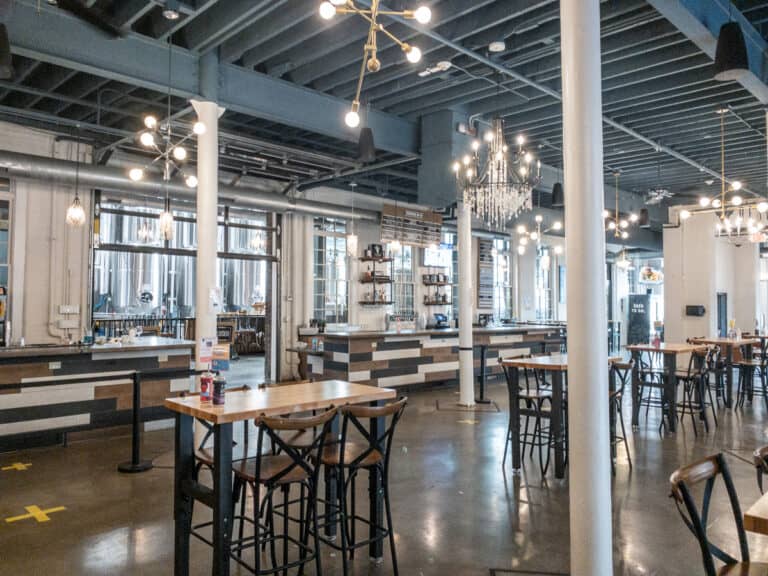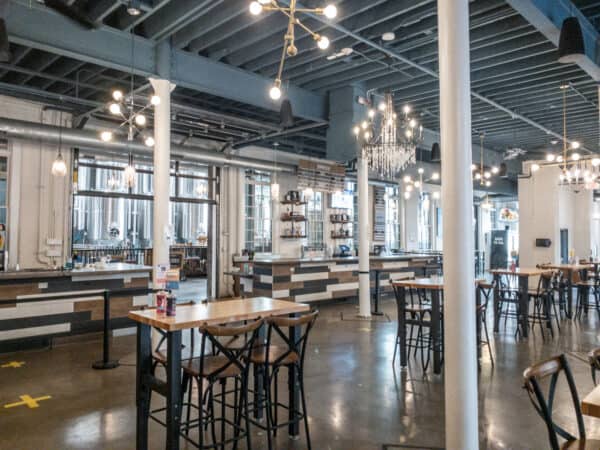 During my visit, I had a chance to try four different beers, some of which were quite unique. Favorites included Another Caucasian Gary (a white Russian golden stout brewed with coffee, chocolate nibs, and vanilla) and the Fruited Pisler (which was brewed with pineapple and grapefruit).
For those looking for food, Resurgence Brewing Company offers a full menu, but I didn't have a chance to try any food during my visit.
Ellicottville Brewing Company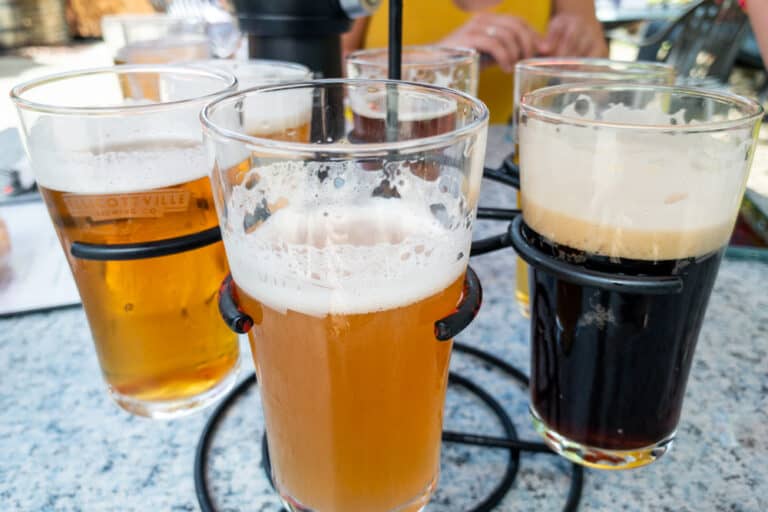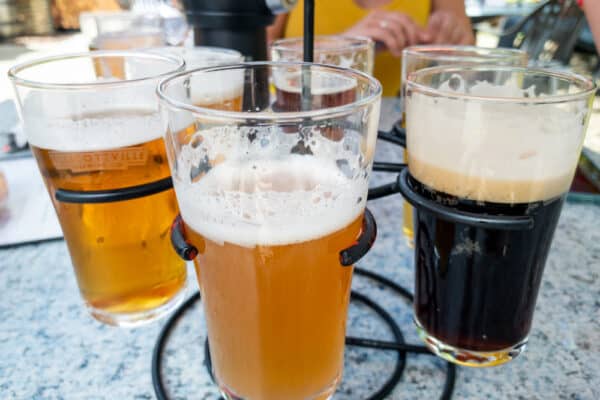 Of all the breweries on this list, Ellicottville Brewing Company is the only one that isn't in Erie County. However, this is a very popular western New York brewery that is only a short drive from the area, so I decided to include it.
Ellicottville Brewing Company got its start in Ellicottville, New York, and has now expanded to five locations in Chautauqua County and Cattaraugus County.
During my visit to their main location, I had a chance to try seven of their beers. My favorite of the bunch was the Upsidedown Pineapple Shake New England IPA. I also really enjoyed the Super Duper Jelly Donut Dessert Ale.
If you are looking for food, Ellicottville Brewing features a full menu, and my English Pub Burger with fries was quite delicious.
What are your favorite breweries in Buffalo, NY? Let me know in the comments below.
Looking for even more great spots to check out? Read about my favorite breweries in Rochester, the best breweries in the Finger Lakes, and Beer Tree Brewing in Binghamton, which is one of my favorites in the state.