Disclosure: This article may contain affiliate links. We will make a small commission from these links if you order something at no additional cost to you.
Rochester is a city known for its many industries, cold winters, and beautiful waterfalls. However, if you love beer, there are also many amazing breweries in Rochester, NY that you won't want to miss.
During my travels, I've had a chance to visit many fantastic craft breweries in the city limits and throughout the rest of Monroe County. In fact, I've visited so many great ones that I thought I'd share my favorites here.
Before starting, it's worth noting that, while there are many other great Finger Lakes breweries within a short drive of the city, I decided to keep this list to just the ones within Monroe County so as to not overwhelm your liver with too many choices. However, there are so many great breweries near Rochester that you are sure to have trouble picking just a few to visit from this list.
So, without further ado, here are a few of the best Rochester breweries to check out.
Fifth Frame Brewing Company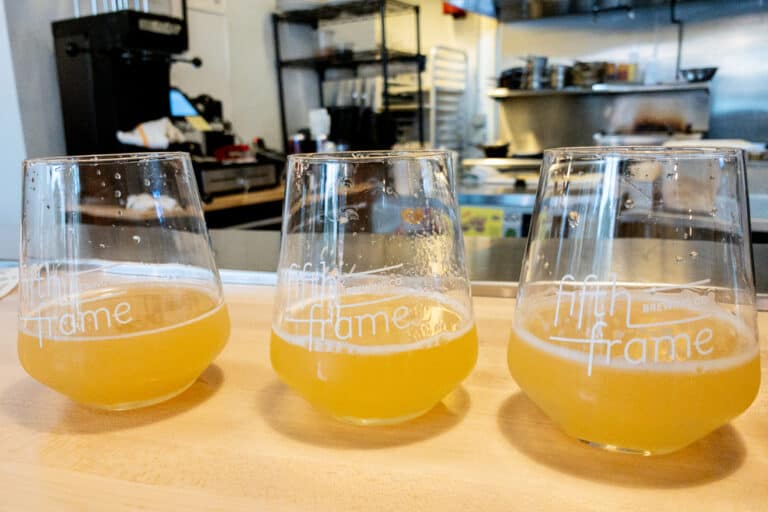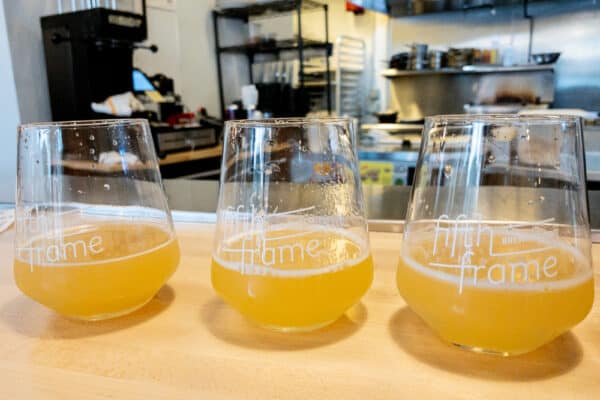 Fifth Frame Brewing Company is unique among breweries in Rochester because it is the only one that also roasts its own coffee beans. In fact, this brewery is open all day and is one of the best Rochester coffee shops to check out in the morning.
In the afternoon and evening, this spot turns into a delicious brewery and restaurant in the heart of downtown Rochester. The highlights here are the coffee-infused beers made with their own beans, and, not surprisingly, there are a fair number of these coffee beers.
Of course, if you are looking for something more traditional (or don't want a caffeine-filled beer in the evening), Fifth Frame also offers a wide range of delicious styles. I especially enjoyed their delicious IPAs.
Iron Tug Brewing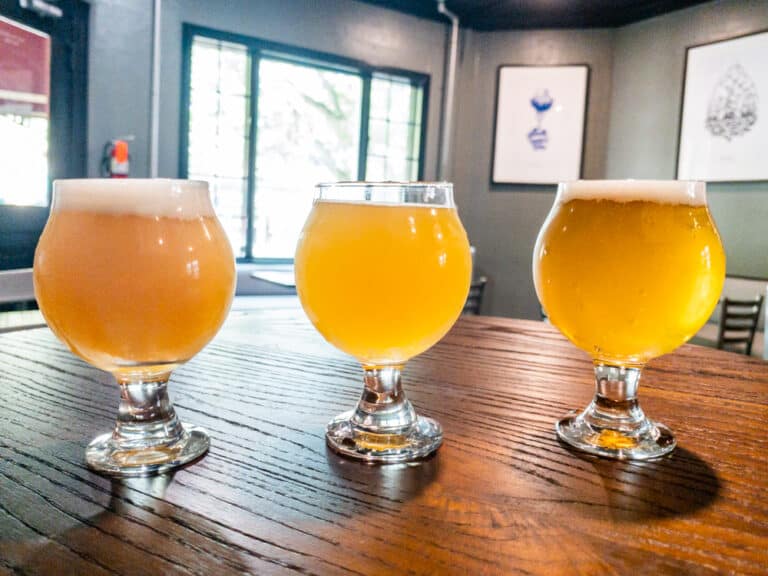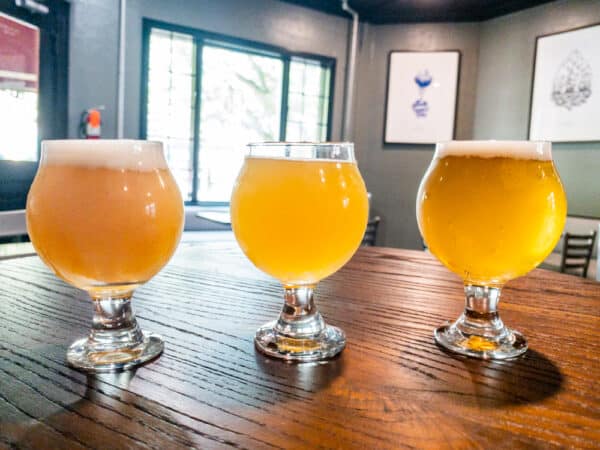 Iron Tug Brewing is located on Rochester's Park Avenue in an area of quaint shops and only a short drive from the Rochester Museum and Science Center and the George Eastman Museum. While this brewery features the smallest physical location of any of the other breweries on this list, its beer is well worth trying while you're exploring the area.
Iron Tug doesn't have official flights but does offer smaller pours of their beers. This allowed me to try three of the nine beers they had on draft.
The beers here were about half IPAs during my visit, but the rest were a nice mix of styles. I opted to try two IPAs, the Sea-Dweller Cthulhu Triple IPA and the East vs West Round 9 New England IPA, as well as the Bumpa's Orange Creamsicle Sour.
All three beers were very, very good, but my favorite was the sour as it was a great mix of sweet and sour with a big orange creamsicle flavor.
Stoneyard Brewing Co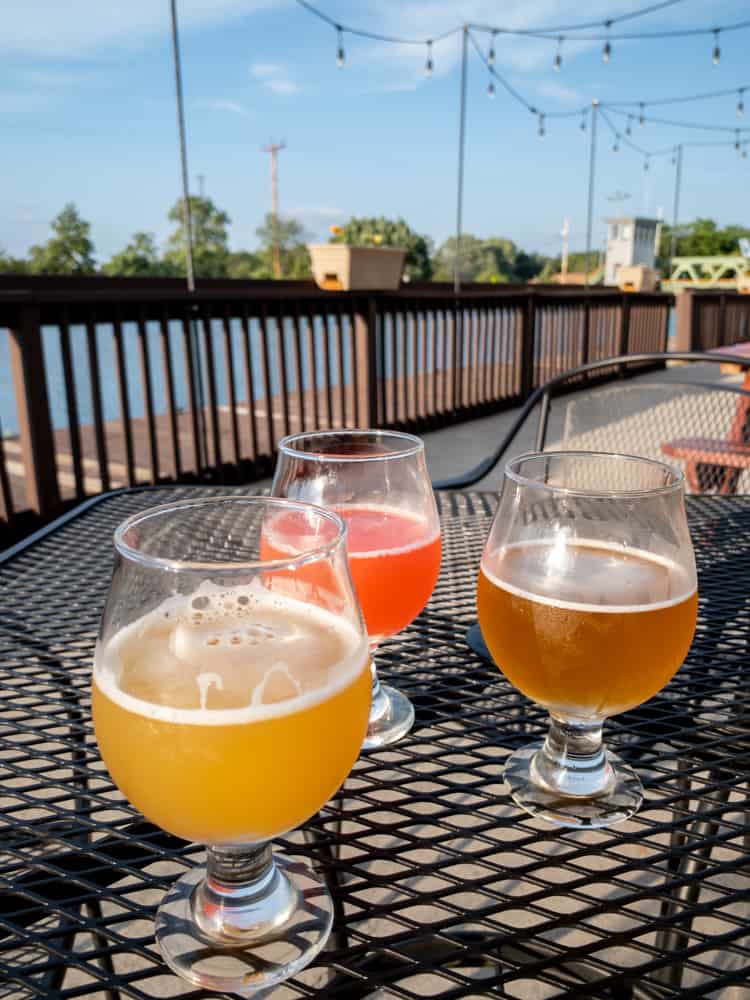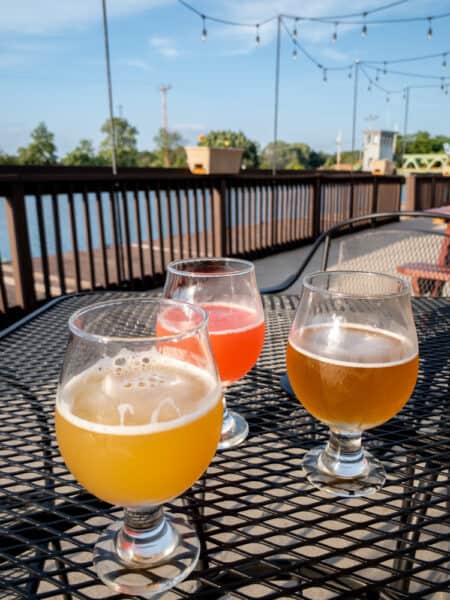 Stoneyard Brewing Co is located in Brockport, about 25 minutes west of the city, but if you're looking for the best Rochester, NY breweries, this is a spot you won't want to miss.
Stoneyard is kind of hidden just off the main road in Brockport and located in a fairly non-descript building. In fact, I had to do a double-take before I realized I was in the right spot.
That being said, their location directly along the Erie Canal makes this a really neat spot to visit, and I quite enjoyed sitting out on their patio next to the canal during my visit.
When I visited, I had a chance to try three of their beers.
The Lilac Wheat was a touch sweet and a touch sour and was a great beer for a hot summer day. The Juicehead New England IPA was good, though wasn't a standout from other New England IPAs you'll find in the region.
The best beer I tried, however, was the Tropical Fruit Punch Nectar which was absolutely amazing and tasted exactly like the fruit punch I used to drink as a kid.
Genesee Brew House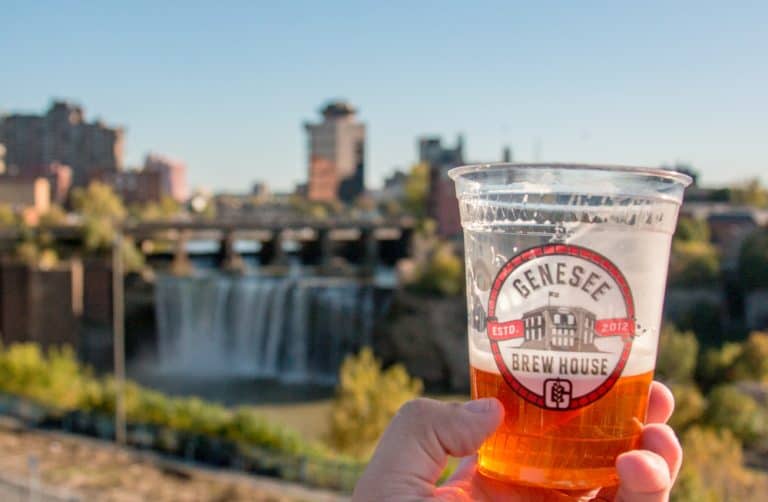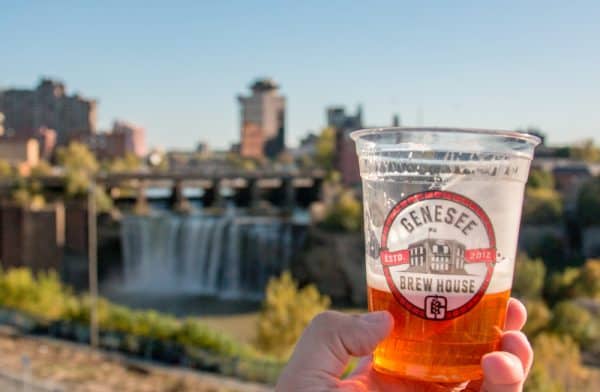 Genesee Brewing is the oldest brewery in Rochester and, while you might not necessarily think of them as craft beer, they do brew a great variety of beers at their Rochester brewery.
Adjacent to the brewery, you'll find the Genesee Brew House, a three-story building that offers the chance to try their beer and some of the delicious food put out by their kitchen. For me, though, the highlight here is the view from the roof where you'll find incredible views of High Falls and the Rochester skyline.
Even if Genesee doesn't have the best beers in the city, those views make this one of my favorite places to visit in Rochester.
Nine Maidens Brewing Company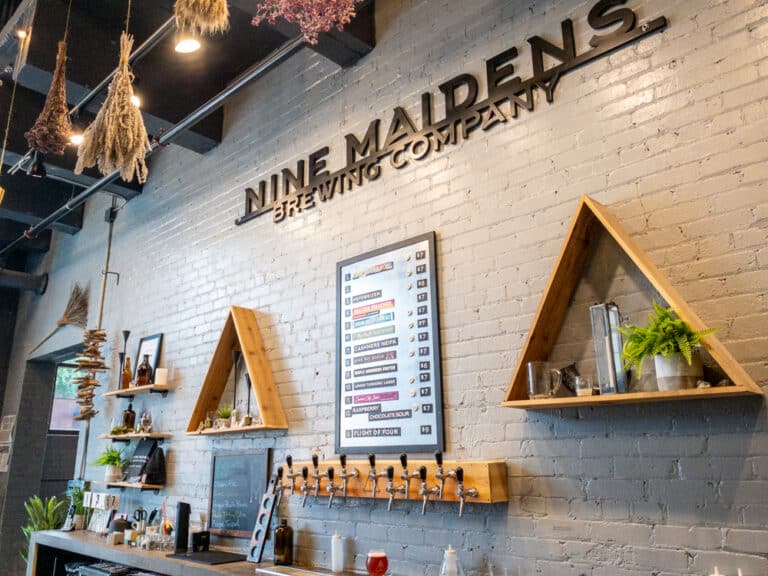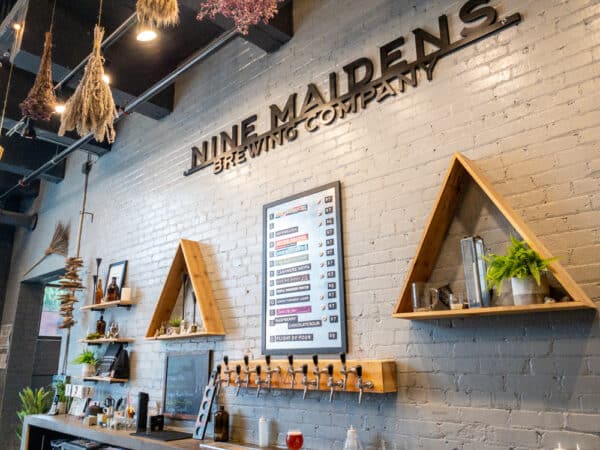 Nine Maidens Brewing Company is located in a large brick building not too far from Cobbs Hill Park in eastern Rochester.
What stood out to me about Nine Maidens was the incredible inventiveness of their beers. While a lot of breweries have creative beers, their offerings during my visit seemed a step ahead of the other breweries in Rochester that I've visited.
Case in point, during my visit, I had had a Maple Habeñero Porter, a Raspberry Chocolate Sour, and Lemon Tumeric Lager, all of which were very good.
Of course, for those that prefer more standard styles, they also have a few of those as well. I especially enjoyed the Regularly Schedule New England IPA, their standard IPA, which was soft and sweet.
K2 Brothers Brewing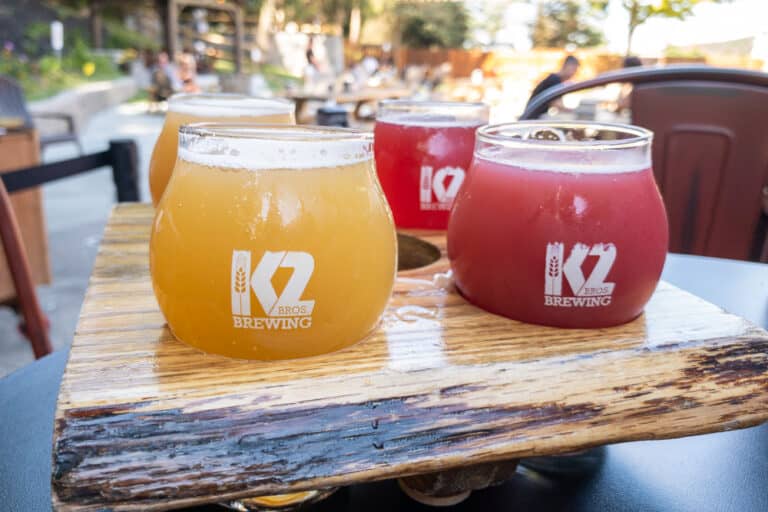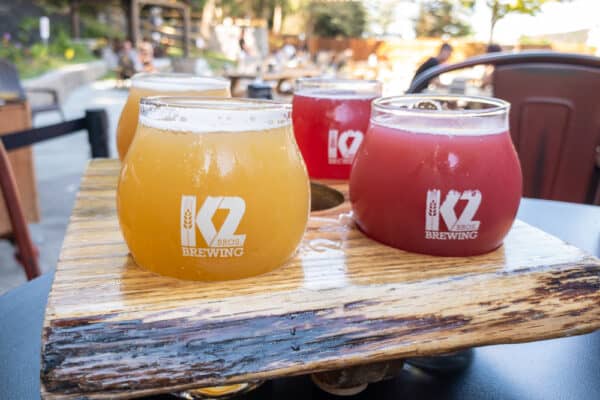 K2 Brothers Brewing is located a short distance east of downtown Rochester near the shores of Irondequoit Bay and is another brewery that offers a nice mix of traditional styles and more inventive beers.
When I visited, I had a chance to try six of their beers while enjoying their expensive outdoor seating area in the rear of the brewery. While I enjoyed the more traditional beers I got here, the real standouts were their creative options.
These included an Imperial Red Velvet Stout, Raspberry Lemonade Sour, and a Raspberry Milkshake IPA. If you are one that typically enjoys more of the standard types of beer, this is a great Rochester brewery to visit to expand your horizons a bit.
Heroes Brewing Company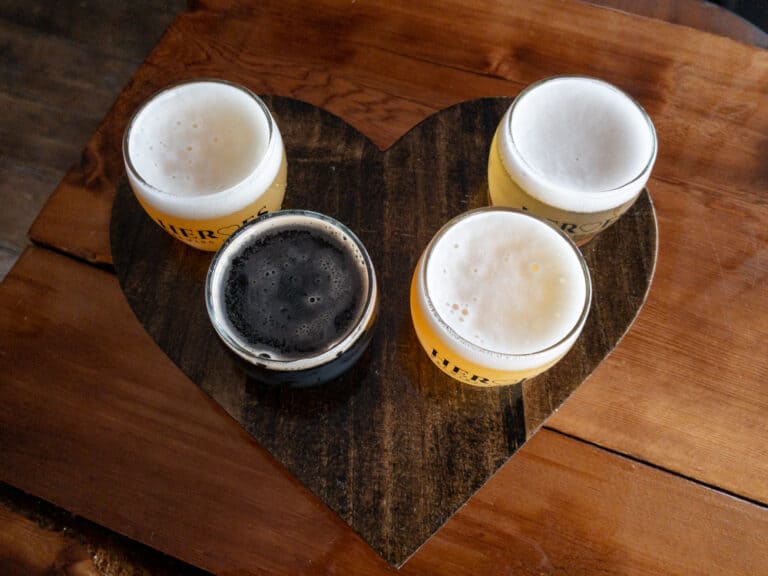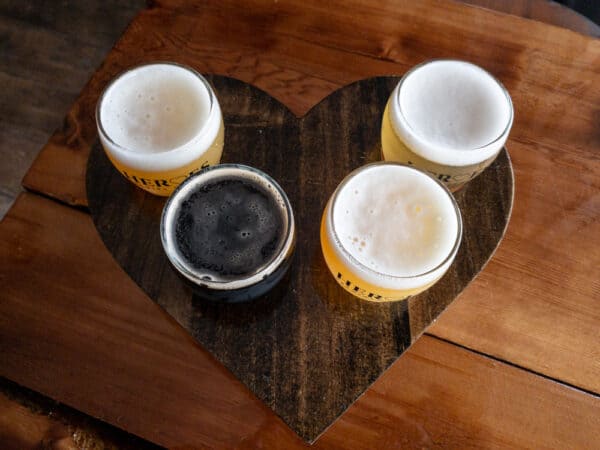 Unlike many breweries, Heroes Brewing Company is located in a normal shopping center. However, they have still managed to create a nice ambiance and even have a bit of outdoor seating
Heroes Brewing is unique in that they do a lot to give back to local charities in the region, and a portion of the money from each can of beer sold is given to community groups.
As for their beer, Heroes offers a nice variety of styles, and I really like that their flight came on a heart-shaped board. During my visit, I had a chance to try four different beers, including two very good IPAs (Ignite Double New England IPA and Dream Factory's Double New England IPA) as well as a delicious wheat beer (Much Love Watermelon Vanilla Fruit Beer).
Their great sense of charity combined with some pretty great beer makes Heroes Brewing Company a nice spot to check out when visiting breweries in Rochester, New York.
Swiftwater Brewing Company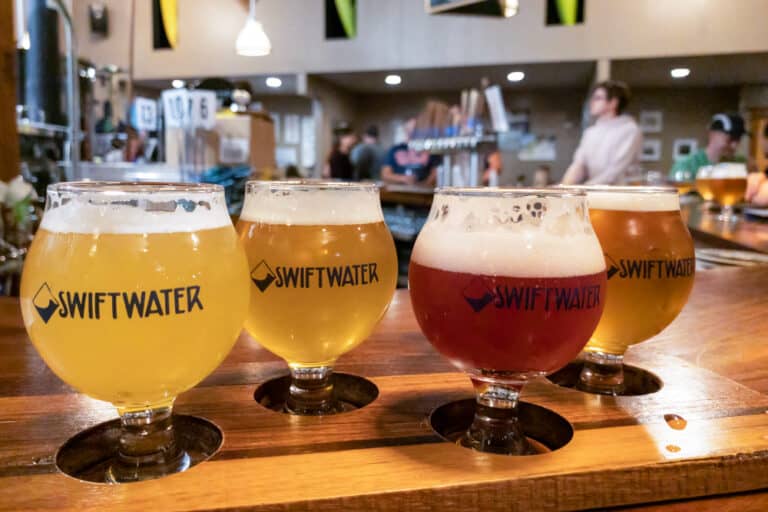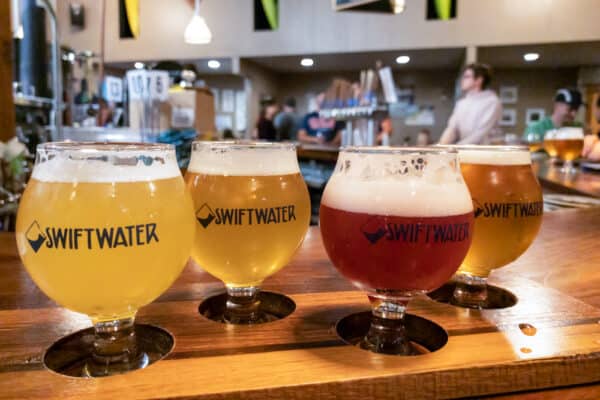 Located a short distance south of downtown Rochester along the Genesee River Trail, you'll find Swiftwater Brewing Company.
This cozy brewery features plenty of indoor and outdoor seating and even has board games for those looking for a bit of entertainment while enjoying a few beers.
During my visit, they had 12 beers on draft representing a broad range of styles. Of the four beers I got, my two favorites were the Blackberry Grisette and the Careful Man There's a Beverage in Here, a nitro blonde stout infused with coffee, cocoa, and vanilla.
Interestingly, the owner's family farm provides 80% of the malt used in their beer, so they do a great job keeping things local in their creations.
Irondequoit Beer Company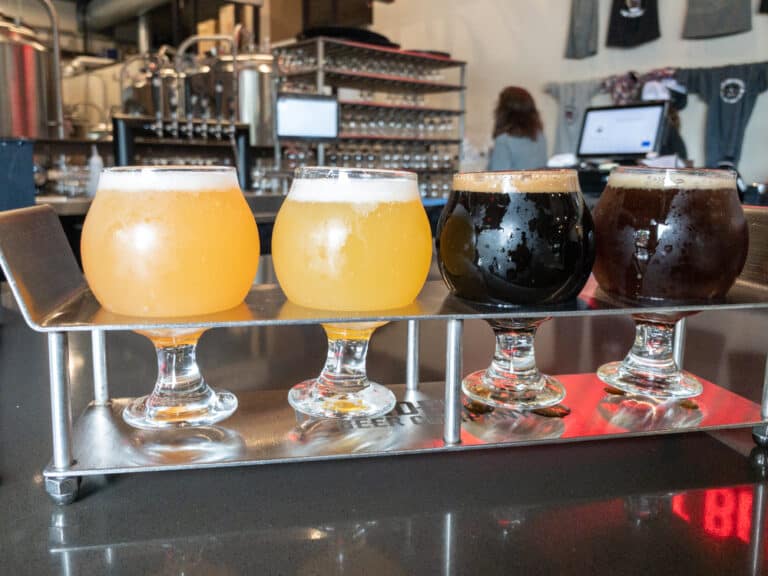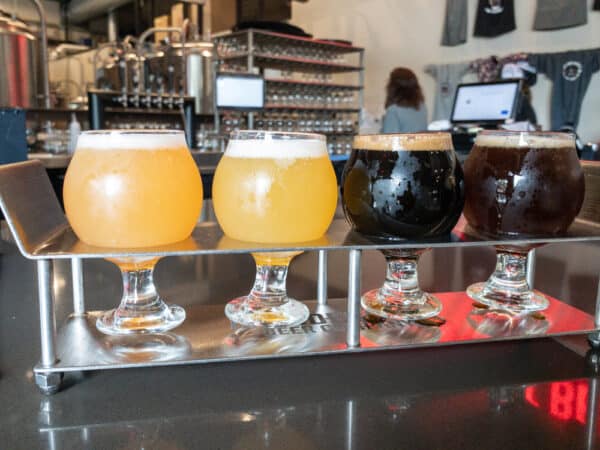 Irondequoit Beer Company is located north of Rochester only a few minutes drive from Lake Ontario, Seabreeze Amusement Park, and the Seneca Park Zoo.
Irondequoit Beer Company features a large outdoor seating area, as well as a smaller indoor area. Overall, the indoor space feels quite industrial but they do a good job warming up the space and making it quite nice.
During my visit, I had a chance to try four of the ten beers that they had on draft. While I wasn't a fan of their Trail Mix Imperial Stout (though those that really like raisins might feel differently), their Barrel Aged Fantome Strong Ale and the Son of a Sour Fruited Sour were both very good.
Three Heads Brewing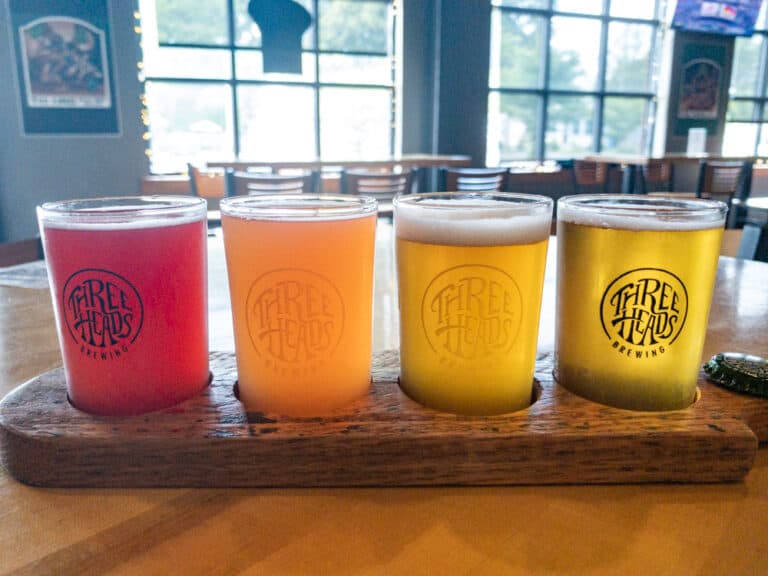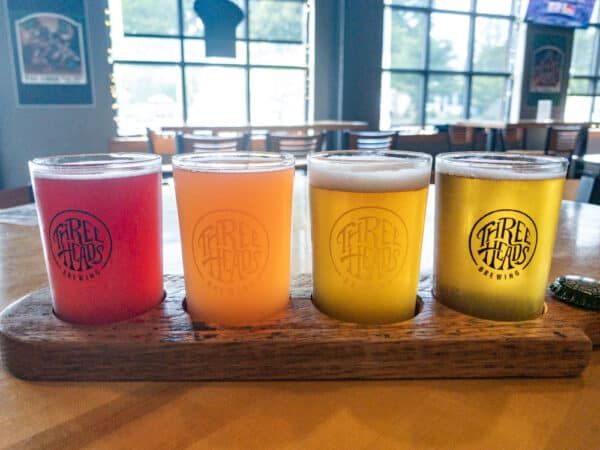 Three Heads Brewing is another of Rochester's best breweries and is located along Atlantic Avenue on the outskirts of the Neighborhood of the Arts.
Three Heads features both a large indoor and outdoor space and even has an indoor stage for live music. Their tasting room is quite bright thanks to several large windows.
When I visited, Three Heads Brewing had 16 different beers on draft, and it was difficult to pick which four to try in my flight.
Of the four, the two highlights for me were The Kind IPA and the PB&J Fluff Sour.
The Kind IPA is their flagship IPA and had a great hoppiness to it that's harder to find now with so many IPAs becoming sweeter. The PB&J Fluff Sour had a great balance that really allowed you to taste the flavor and also had a nice balance of sweet and sour.
Other Half Brewing Company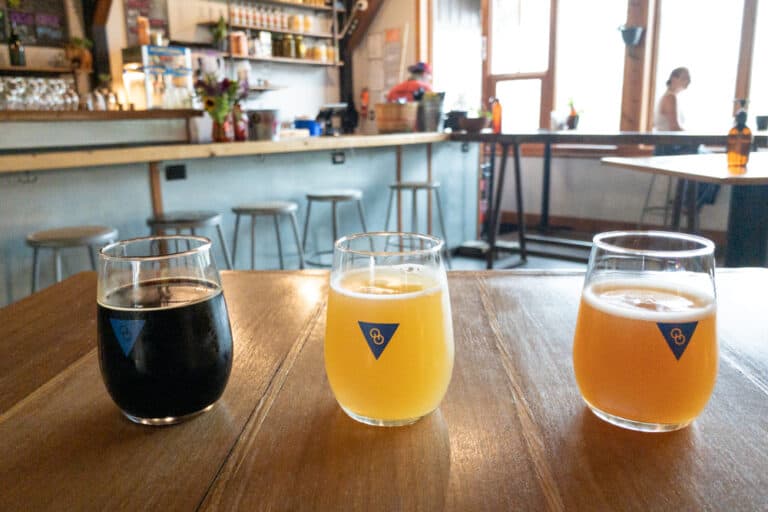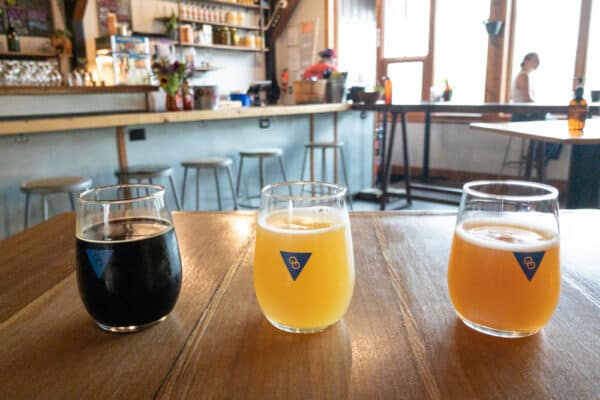 My initial plan was to limit this article to just breweries in Monroe County. However, Other Half Brewing, which sits 35 minutes from downtown Rochester in Ontario County, is too good to not include.
Other Half Brewing's Bloomfield location is one of five taprooms in the state (three are in New York City and one in Buffalo), and believe it or not, they brew 16 of the top 20 ranked beers in New York according to Beer Advocate raters, making this a special spot to check out.
Enjoy their incredible IPAs, stouts, and sours in their indoor space or in their expansive beer garden.
Mortalis Brewing Company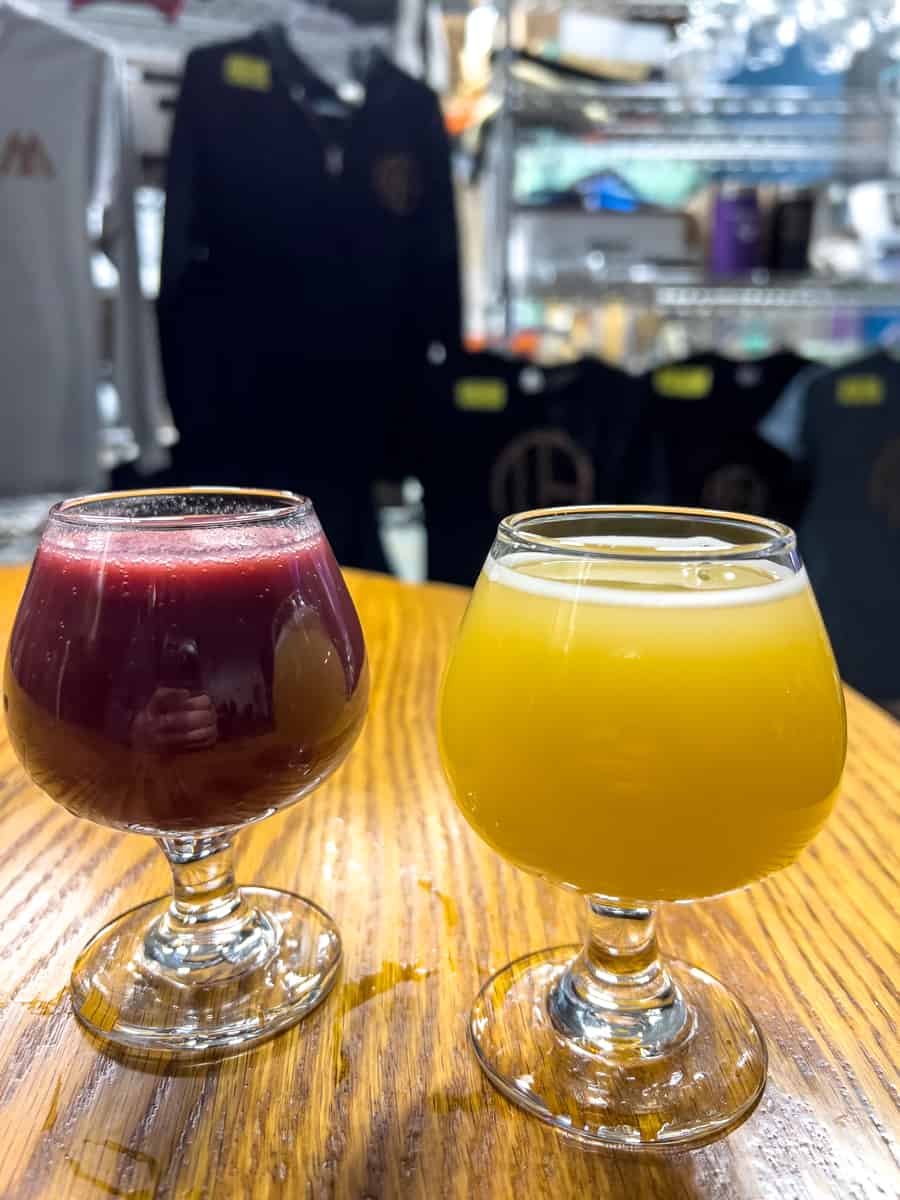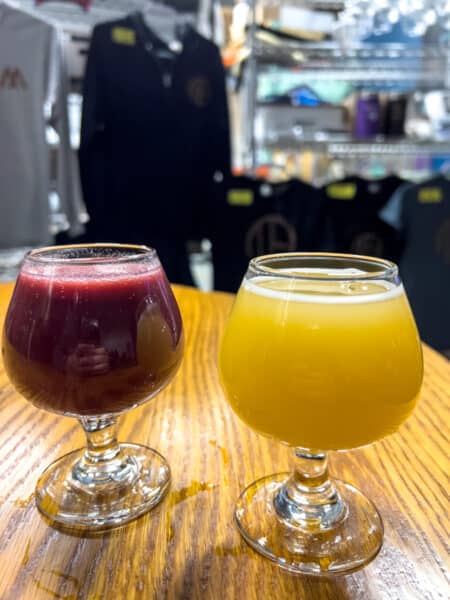 Mortalis Brewing Company is another brewery that isn't technically located in Monroe County, but since it's close (in Avon) and so, so good, I decided to include them here.
Mortalis is relatively new to the brewery scene, opening in 2018, but they have already attracted a national following, primarily for their fruited sours and stouts, though their IPAs are also very good too. In fact, people sometimes wait in long lines just to grab some of these great beers.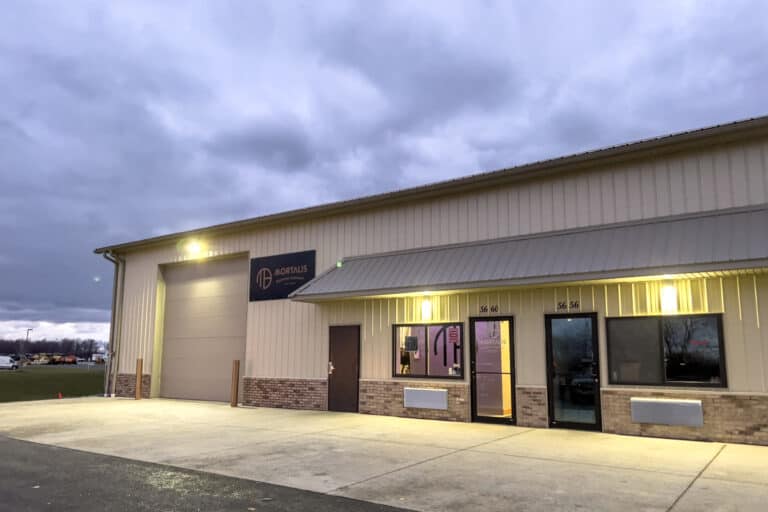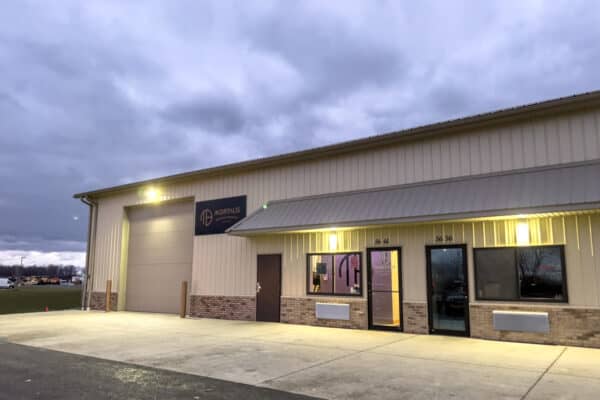 For such a heralded brewery, their taproom is quite basic and doesn't really give a clue to the high quality of the beer here. Inside, you'll only find a few small tables in their meager taproom. The beer clearly is the star here.
If you love craft beer, Mortalis Brewing is a spot that you won't want to miss.
What are your favorite breweries in Rochester, NY? Let us know in the comments below.
Looking for even more things to do in the area? Check out the Best Breweries in Buffalo, the Susan B Anthony House, Corbett's Glen Nature Park, and Holley Canal Falls.