Please do your best to limit your travels around New York during this time. If you decide to travel, please check the status of the places you are going. Some places around the state are temporarily closed or have changed their hours We will not be updating individual articles to note these changes. Stay safe and wear a mask!


Holley Canal Falls in northwestern New York is one of the most unique and historic waterfalls in the state.
This waterfall is actually part of the Erie Canal system that stretches from the Hudson River near Albany to Lake Erie near Buffalo. When the canal was widened in the early 20th century, a water overflow outlet was created in Holley, New York.
Today, the water that flows out of the canal still plunges off a 35-foot sandstone cliff and makes its way into the East Branch of Sandy Creek. The Erie Canal is filled from April through November ensuring a beautiful waterfall throughout the warmer months of the year.
Disclosure: This article may contain affiliate links. We will make a small commission from these links if you order something at no additional cost to you.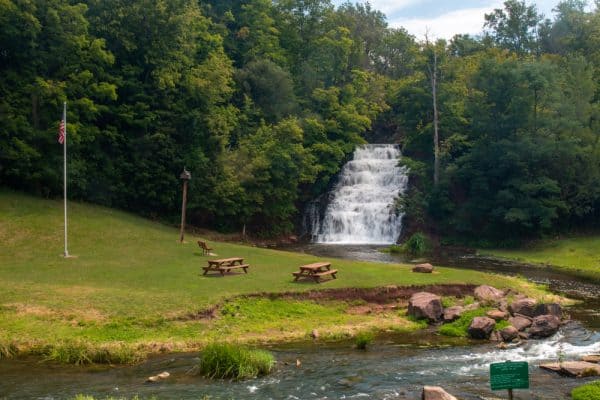 Holley Canal Falls (also sometimes just called Holley Falls) might be a man-made waterfall, but it has a few things going for it that make it well worth visiting.
First, this waterfall is over 100 years old at this point and has been designed to look completely natural. In fact, if I didn't tell you it wasn't natural, you'd have no idea.
The second thing going for it is that it's incredibly easy to reach. In fact, the hardest part of visiting is actually finding the entrance to the park, which is tucked away behind downtown Holley in Orleans County, New York.
The waterfall itself is visible from your car, meaning that anyone can visit it. For those that want to walk around, this waterfall has some great areas from which to view it, and you can get an exceptional variety of views without getting your feet wet.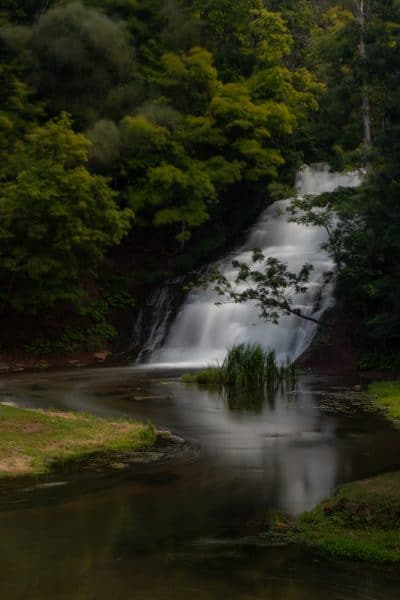 Lastly, Holley Canal Falls has an incredibly consistent flow of water. Since the amount of water in the Erie Canal is consistent from April through November, it is rare for Holley Canal Falls to really look much different, even if water levels at other waterfalls are high or even very low.
So, if you are looking for a waterfall to visit in the summertime when most waterfalls are dry, this is a great spot to visit.
As stated above, Holley Canal Falls is visible from the car and the parking lot. However, there are also pieces of land around the waterfall that allow for excellent views of the falls from a variety of vantage points. There are even a few picnic tables located next to the waterfall.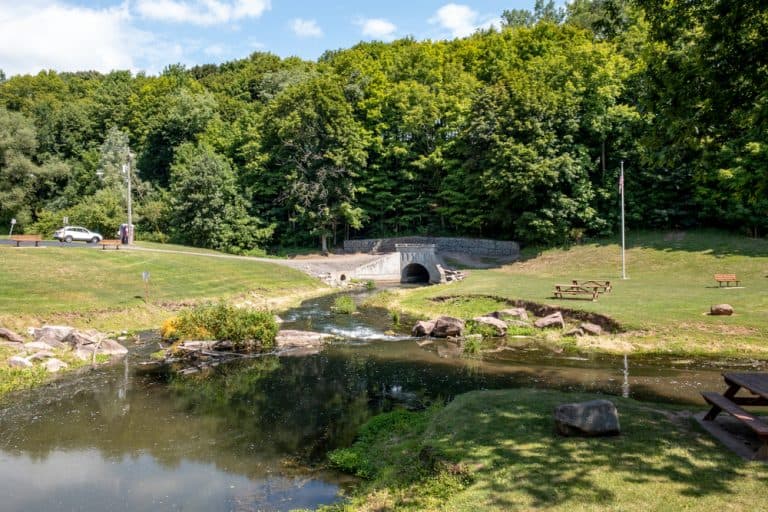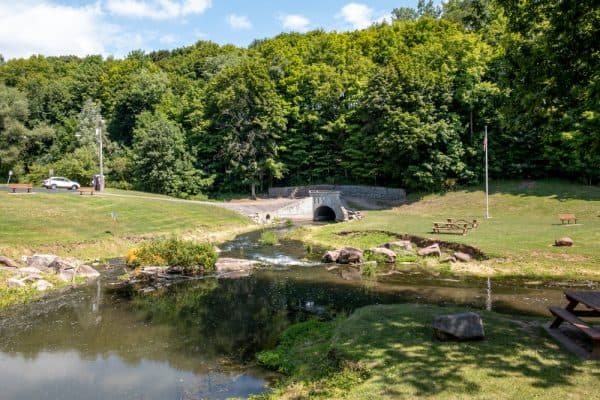 Exactly which spot is the best to view the falls from depends on personal preference and the day you visit the waterfall. You really can't go wrong though as there are many great spots here.
There are several short hiking trails throughout Canal Park. However, while the Erie Canal is located just above the top of the waterfall, the canal's towpath is one the opposite bank, so the park doesn't provide easy access to or from the trail, unfortunately.
Regardless, Holley Canal Falls in Holley, New York, is an incredible waterfall to visit while traveling through Orleans County in the northwestern corner of the state. If you love waterfalls, definitely don't miss this one.
How to Get to Holley Canal Falls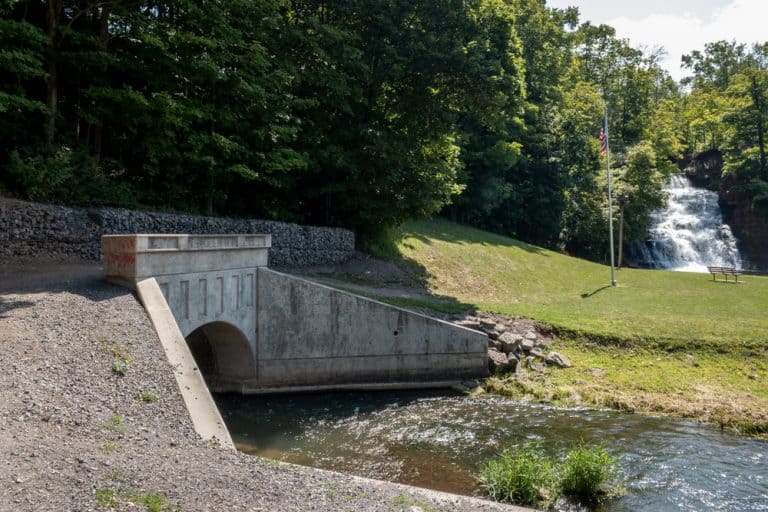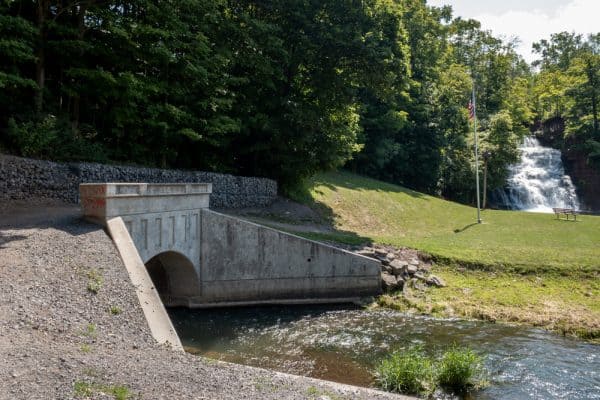 Holley Canal Falls is located in Canal Park in Holley, New York. The entrance to the park is a bit tricky to find as it's located just behind the small downtown area.
The park is located along Frisbee Terrace, which branches off from the main town square. There are signs pointing the way, so look for them if you are unsure of where to go.
The entrance to Canal Park can be found at the following coordinates: 43.224183, -78.021211.
Once in the park, drive downhill until the road ends at a small parking area. Just before the parking area, you'll be able to see Holley Canal Falls about 125 yards away on your right. In fact, you don't even have to leave your car to see this beautiful waterfall.
The Holley Canal Falls is located at the following coordinates: 43.224987, -78.018244.
Looking for more spots to visit nearby? Check out the Jell-O Museum, the Lockport Boat Tours on the Erie Canal, the waterfalls of Letchworth State Park, and High Falls in Rochester.
[Click here for information on how to use the coordinates in this article to find your destination.]