Disclosure: This article may contain affiliate links. We will make a small commission from these links if you order something at no additional cost to you.
Whenever I'm passing through a new area, I always make a point to look up any craft breweries that are nearby. So, during a recent visit to Cattaraugus County to visit Griffis Sculpture Park, I was excited to stumble across Ellicottville Brewing Company.
Ellicottville Brewing Company was founded in Ellicottville, a popular skiing and outdoor adventure destination in western New York, in 1995, making it one of the oldest craft breweries in New York. Over the years, they have expanded from their beautiful location in downtown Ellicottville to five locations scattered around southwestern New York, and have become one of the most popular breweries in western New York.
Wanting to try some of their beers, I headed to their flagship location in Ellicottville in the summer of 2020.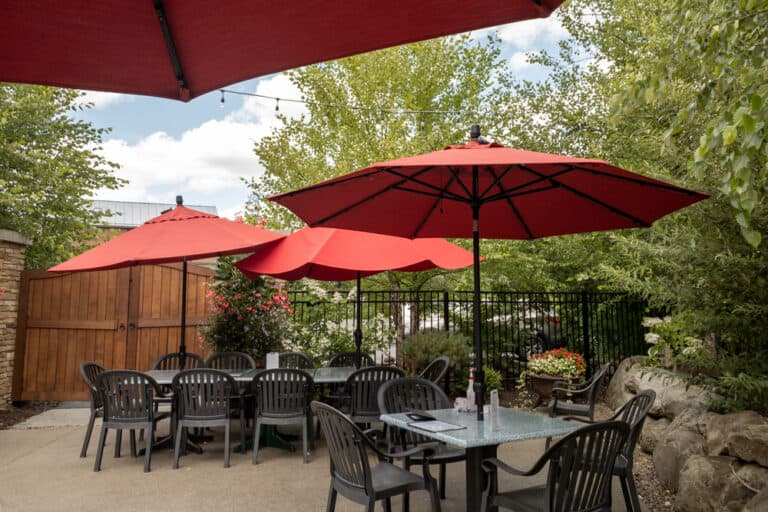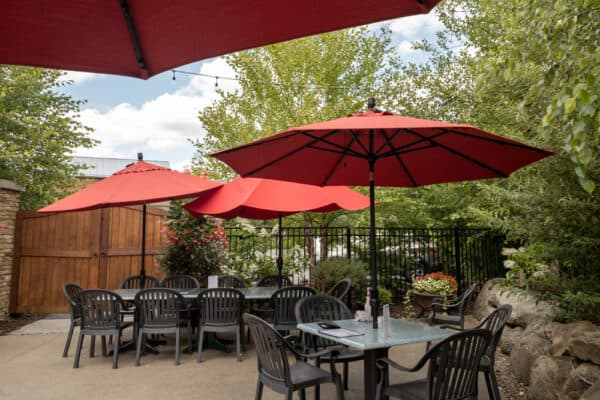 Their flagship location is just off of the main road in Ellicottville and is located inside an incredibly beautiful building. In fact, I'd go as far as to say that this is one of the most beautiful brewery buildings I've come across in my travels.
The space features both indoor and a very large beer garden, offering plenty of space for visitors to enjoy their offerings.
The indoor seating looks spacious and inviting, but my family and I opted to eat outside since it was a beautiful day.
The outdoor beer garden features tables set amidst beautiful foliage and is quite a pleasant spot to sit and enjoy a meal and a few beers.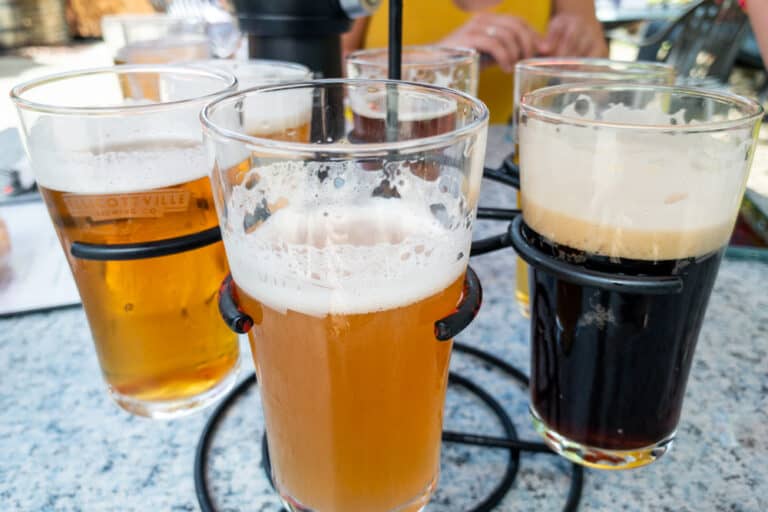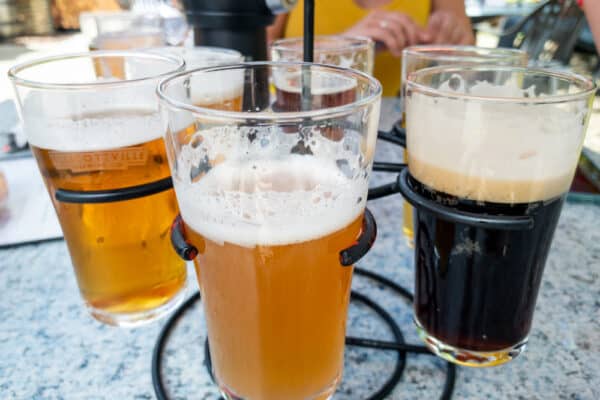 Since this was our first time at Ellicottville Brewing Company, we opted to start with a flight so that we could try as many beers as possible. This, along with ordering a few additional beers, allowed me to try seven of the 15 beers that they had on tap during my visit.
The beers here covered a very broad range of styles from lagers to sours and hoppy IPAs. There were also a few barrel-aged options and a house-made hard cider. This means that just about any beer drinker should be able to find a beer or two that matches their pallet.
Of the seven beers that I had a chance to try, my personal favorite was the Pineapple Upside Down Shake New England IPA. This beer had a very solid mouthfeel and was sweet but not too sweet. While the pineapple flavor could have been a bit more pronounced, it was still a very good beer.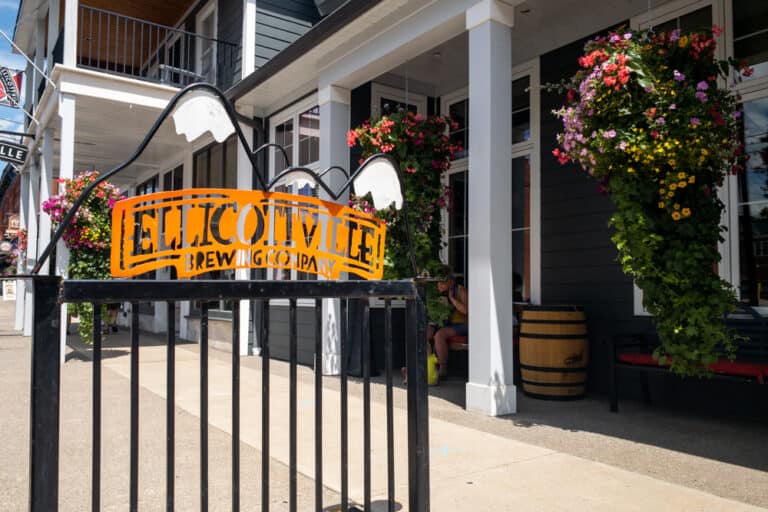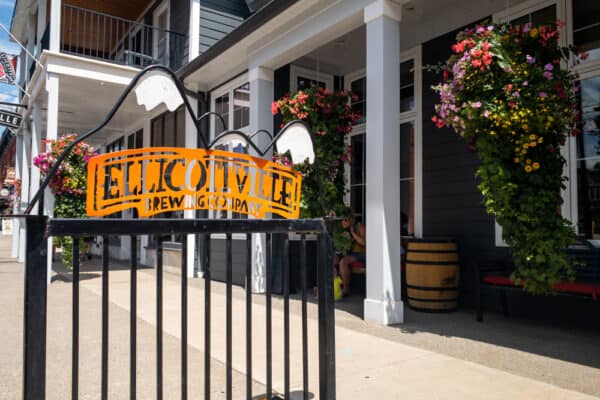 Another unique beer that I really enjoyed was the Super Duper Jelly Donut Dessert Ale. Given that this is labeled as a dessert beer, it was unsurprisingly sweet, but it was well balanced and quite a delicious beer.
On the other hand, there were a couple of beers that I personally didn't care for including the Vanilla Beer Porter and the Just Peachy Fruit Ale. While I tend to typically enjoy those styles, they aren't beers that I would order again.
On the food side, Ellicottville Brewing Company offers a full menu of fairly standard pub fare, though some menu options have twists.
I opted for the English Pub Burger, which I quite enjoyed. The addition of a horseradish sauce and caramelized onions really made this stand out. Even better than the burger were the seasoned fries, which ended up being the highlight of the plate for me.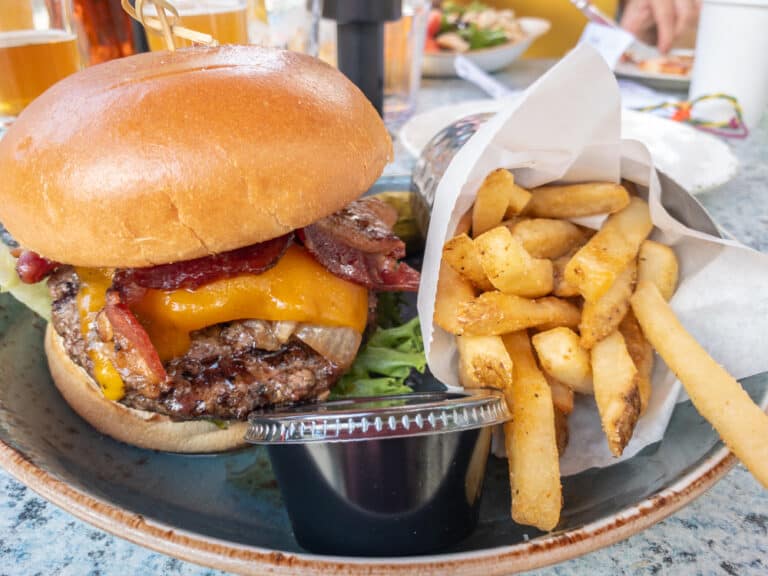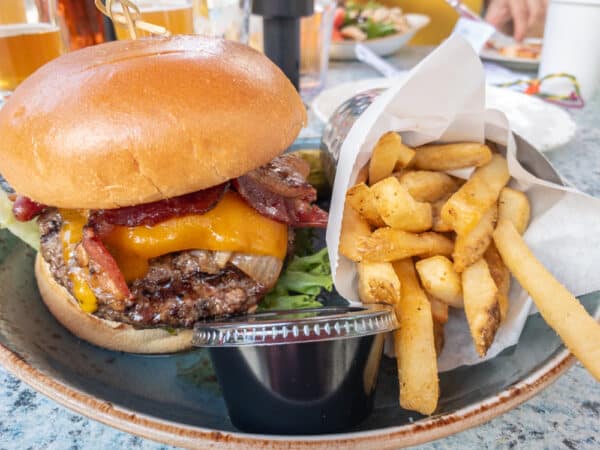 My wife got the Watermelon Salad with Chicken. The salad itself was tasty and the watermelon was very sweet and delicious. Unfortunately, the added chicken was very dry and unseasoned, but that could have been simply an issue with that particular order.
Overall, we enjoyed our visit to Ellicottville Brewing Company. While it's not the type of brewery that I would go far out of my way to visit, as I would at other New York breweries like Southern Tier, Beer Tree Brewing, and Fifth Hammer Brewing, it's definitely a spot that I'd recommend if you are looking for some solid beer and food in this part of western New York.
Even better, Ellicottville is a very cute little town with some great shops and outdoor adventure opportunities, making this a great spot to stop after exploring the outdoor fun in the Chautauqua-Allegheny Region of New York.
Looking for even more spots to visit nearby? Check out Wellsville Brewing Company, Rock City Park, and Bridal Falls.
---
Ellicottville Brewing Company
---