Disclosure: This article may contain affiliate links. We will make a small commission from these links if you order something at no additional cost to you.
During my travels, I've visited many beautiful and unique waterfalls in New York. However, Barcelona Falls is easily one of the most interesting waterfalls I've come across during my explorations of the state.
Barcelona Falls is located along the shores of Lake Erie in the far southwestern corner of New York. What makes this Chautauqua County waterfall so unique is that it falls directly into Lake Erie (or almost directly in, depending on water levels).
It's not very often that you find a waterfall that flows directly into such a large body of water, and it's even rarer when the waterfall is super easy to reach.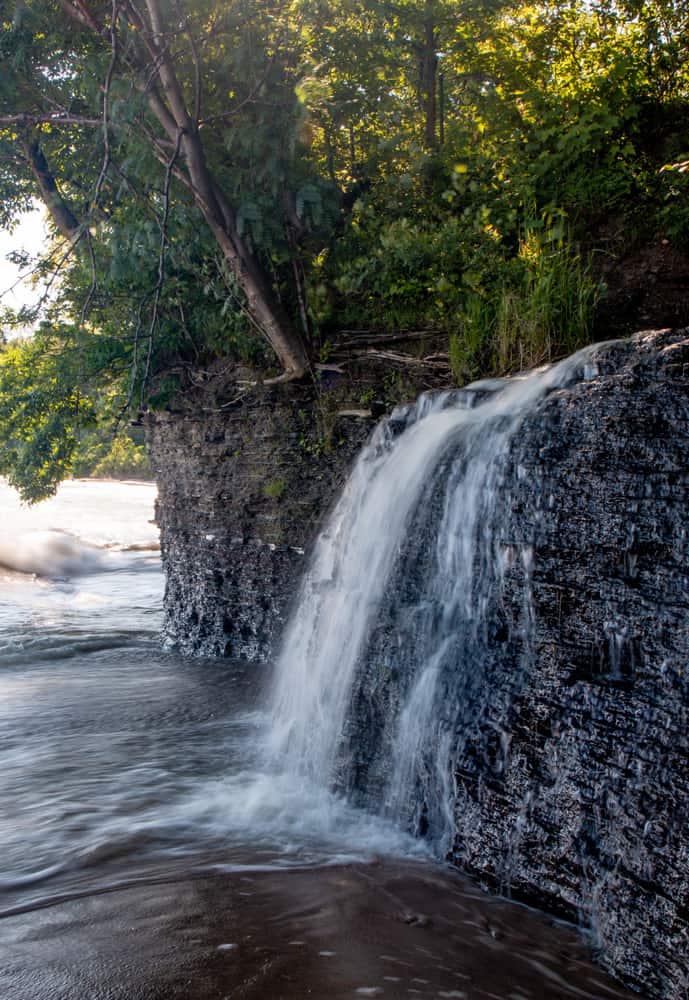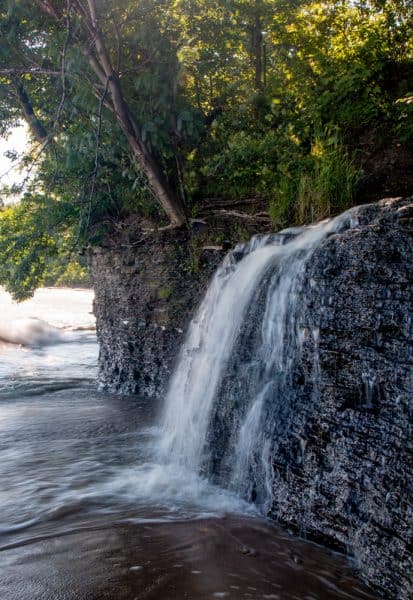 Barcelona Falls is located adjacent to Barcelona Harbor near Westfield, New York. Most visitors check out this charming waterfront area to see the beautiful and historic Barcelona Lighthouse and don't even realize there's a great waterfall just steps away.
Barcelona Falls is located at the far end of Westlake Public Beach, which is located adjacent to the harbor. While swimming isn't allowed at this crescent-shaped beach, it's a nice sandy space for those looking for something fun to do on the shores of Lake Erie and would be a great spot for sunset.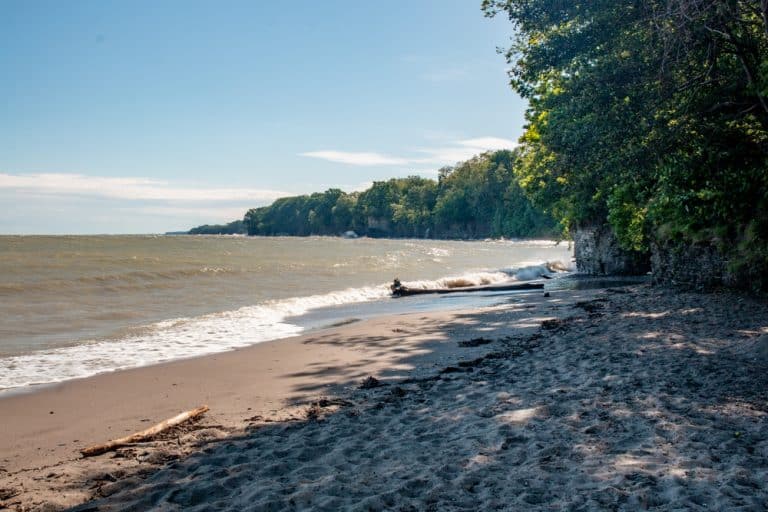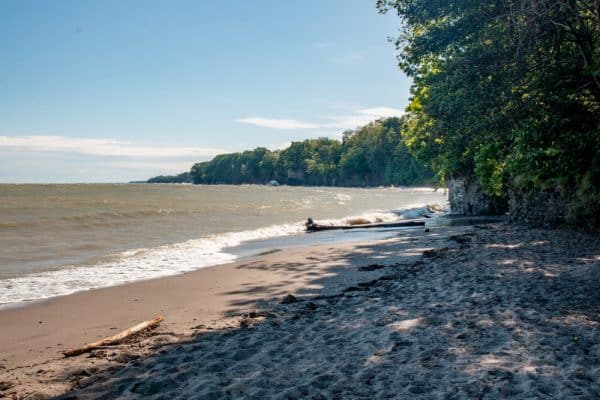 The waterfall here is about 8-10 feet tall, though there is a bit of a drop above the main one that can be a little hard to see and might add a few feet to the total height of the falls. However, this is a waterfall you visit for its unique setting, not it's impressive height or flow.
Barcelona Falls is located on an unnamed stream that is very seasonal. In fact, if there hasn't been a lot of rain recently, I wouldn't even bother trying to check out this waterfall. That's because this stream is often dry except when water levels are high.
Of course, this also can present an issue with the height of the water in Lake Erie. In fact, when I visited, lake levels were so high that portions of the dock in the harbor were underwater. This, combined with the stormy waters that day, made getting close to the waterfall without getting soaked quite difficult.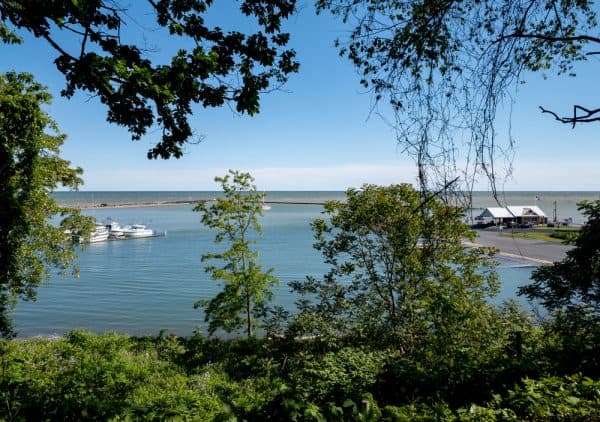 In fact, if you look at some of my photos, you can see the water crashing against the rocks at the edge of the waterfall.
If the scene looks like this when you visit, keep in mind that you might not be able to get a good look at the waterfall without getting wet, and you might also have an issue with the water being dangerous, so use caution.
If you are looking for an easier-to-reach view of the waterfall or simply another place to see it from, there is also a nice, but distant view of the waterfall from the dock.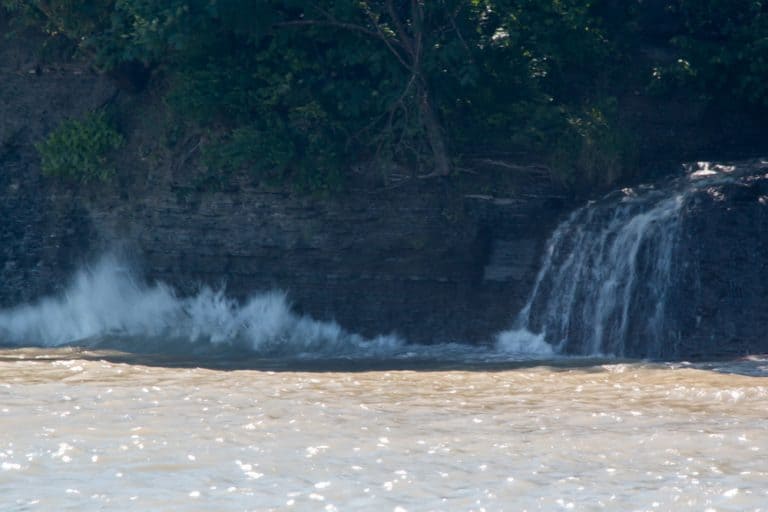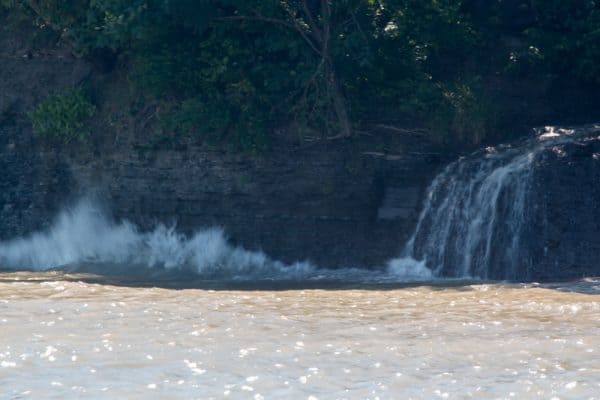 For this view, if facing the dock and out into Lake Erie, head to the right side of the dock and look to the far end of the beach. If the waterfall is flowing, you should be able to see it in the distance from here.
Without a doubt, Barcelona Falls is a unique and interesting waterfall in western New York. While it's not worth going far out of your way for this one spot, it's a great addition to any trip to visit sites in the area such as Barcelona Lighthouse, the Grape Discovery Center, and Five & 20 Spirits and Brewing and Mazza Chautauqua Cellars.
How to Get to Barcelona Falls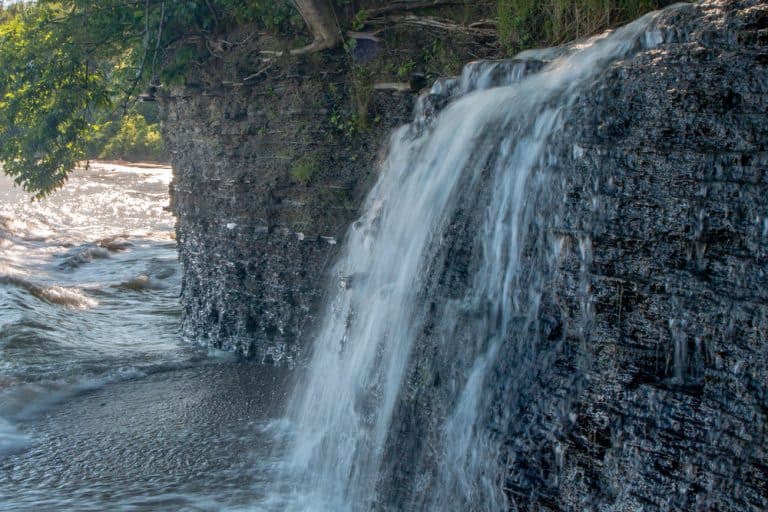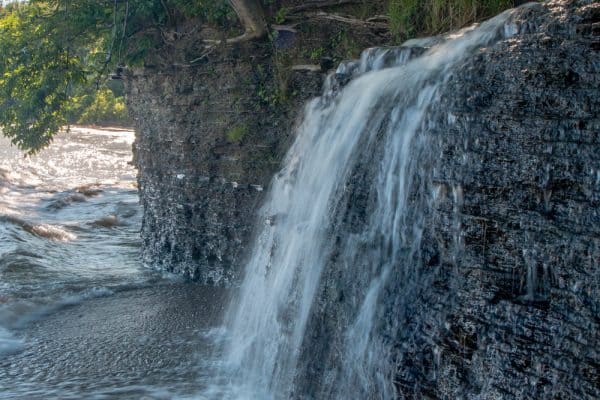 Barcelona Falls is located in the southwestern corner of New York state near the community of Westfield. It is located adjacent to Barcelona Harbor.
When visiting the waterfall, park at the following coordinates: 42.342417, -79.593662.
From here, head across the beach along the lakeshore until you reach the waterfall at approximately the following coordinates: 42.341881, -79.592447.
Looking for more places to visit nearby? Check out the Lucy-Desi Museum, Bridal Falls in Allegany State Park, and Panama Rocks.