Disclosure: This article may contain affiliate links. We will make a small commission from these links if you order something at no additional cost to you.
Hidden away in the southwestern corner of New York is one of the state's most impressive rock outcroppings: Panama Rocks.
Panama Rocks has been drawing visitors for hundreds, if not thousands of years, and there's evidence of Native Americans using the site prior to the settlement of Europeans in the area. After that, the area is said to have been used by thieves and counterfeiters to hide out in the mid-1800s. In fact, there's even a treasure story that associated with the site!
Today, visitors come not to hide their misdeeds or to store and cook their food, but to see this magnificent rock outcropping.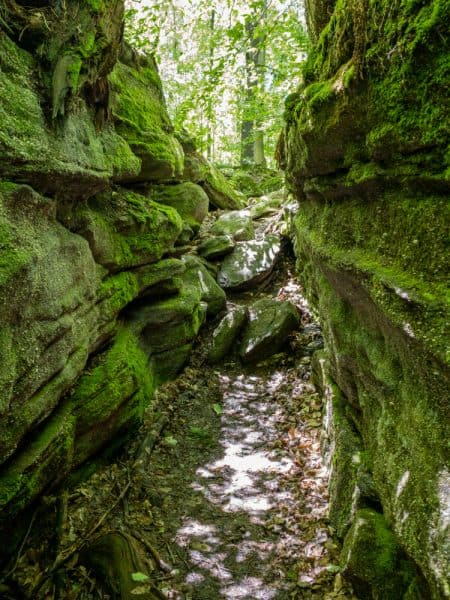 What makes this site so special is that you are not only able to see this gorgeous spot, but you are allowed and even encouraged to fully explore the rocks. This means that you don't have to stick to the one-mile trail that passes through Panama Rocks. In fact, to get the most out of your time at the site, you definitely don't want to stick to the path.
Instead, make your own path by climbing and squeeze through the rocks as much as you'd like. While care is obviously needed and it's important to know your limits, there's a lot of fun exploring to do at the site.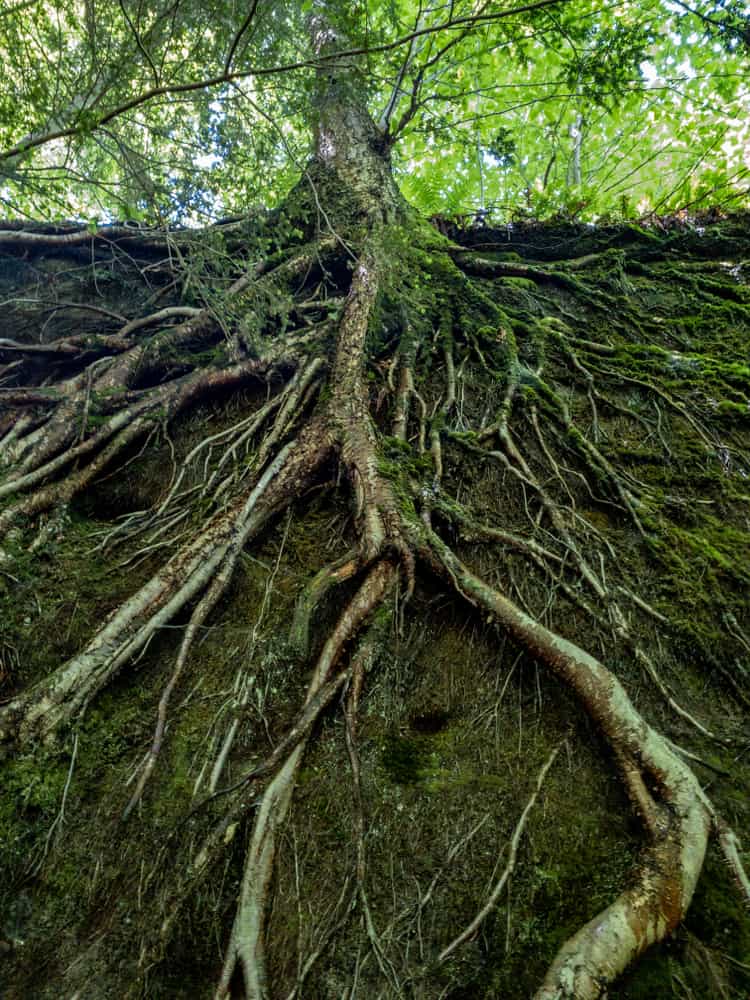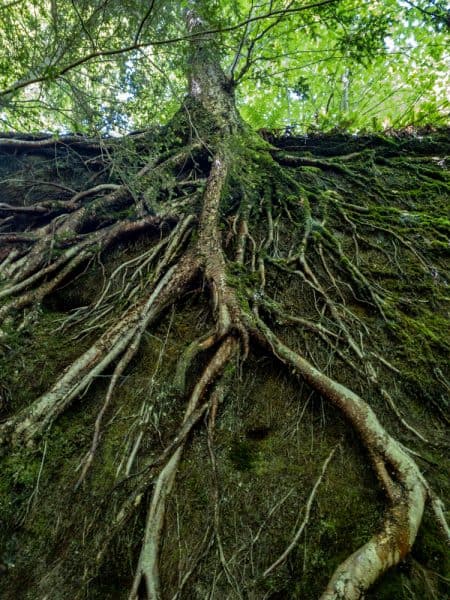 Throughout the park, there are 16 points of interest that are noted both on the small map you are given at the entrance and also by signage in the park. These spots are all rock formations with clever names such as Fat Man's Misery, Indian Fireplace, and Tower of Babel.
These rocks are all named for characteristics of the formations or something to do with their history and geology. Signs along the main trail explain many of the references, providing both a great amount of history and interest for those that want to learn in addition to having a fun time exploring.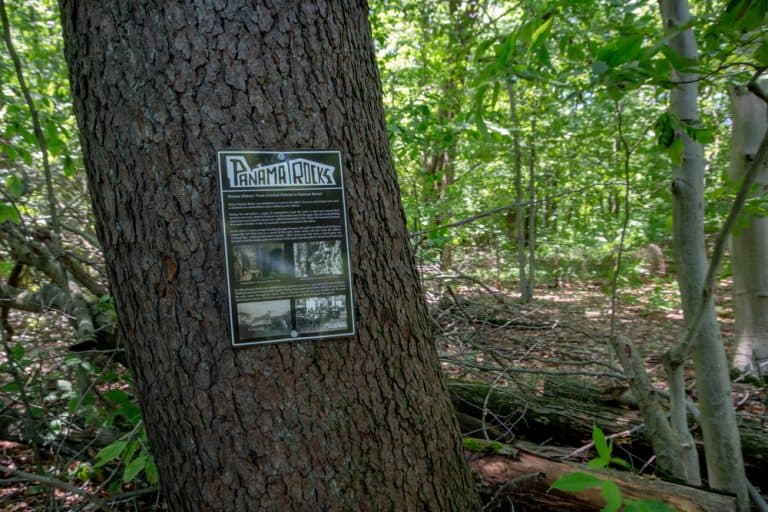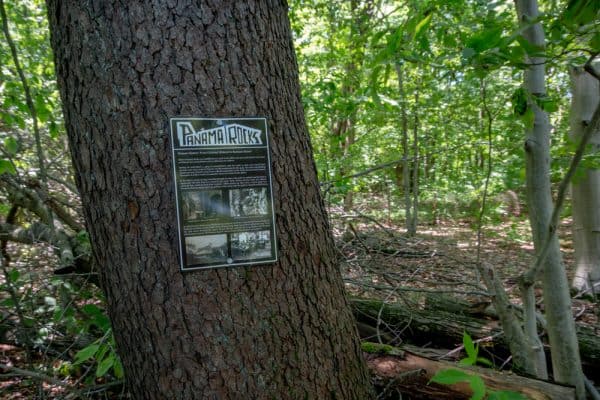 One of my favorite parts of Panama Rocks is how much fun it is for the whole family. During my visit, I saw young kids, teenagers, and middle-aged parents all enjoying their time at the site and leaving the main trail to explore the many crevices throughout the park.
With a bit of common sense, pretty much anyone can explore the rocks and find nooks and crannies to wedge themselves into.
To help you find some of the most unique spots, the park's brochure denotes a few of the most popular and easiest to access paths between the rocks. However, there are plenty of other discoveries to be made by intrepid visitors.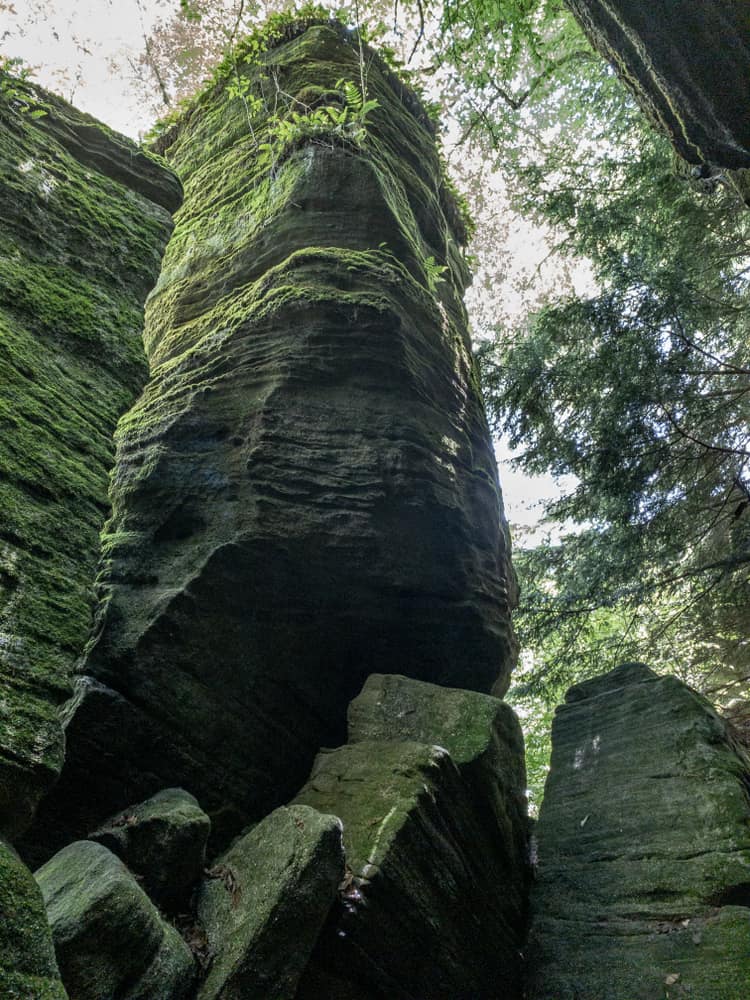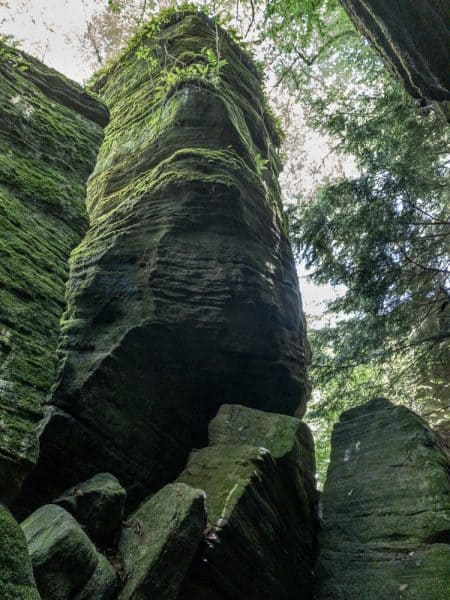 The main trail, at Panama Rocks makes a loop around the area, and the last third of the hike takes you above the formations. While this is probably the most dangerous part of the hike, you won't have any issues on the main trail. Just make sure to be careful if you leave it as there are a few 60-foot drops in the park.
However, just because you are atop the rocks and heading towards the exit, that doesn't mean there isn't fun to be had. In fact, some of the most interesting spots can be found above as you peer down onto the rocks and into deep crevices.
Near the exit is one of my favorite spots at Panama Rocks, the Ice Cave Crevice. As the name would lead you to believe, this area stays cold throughout the year, and there was even some snow to still be seen during my visit in mid-June.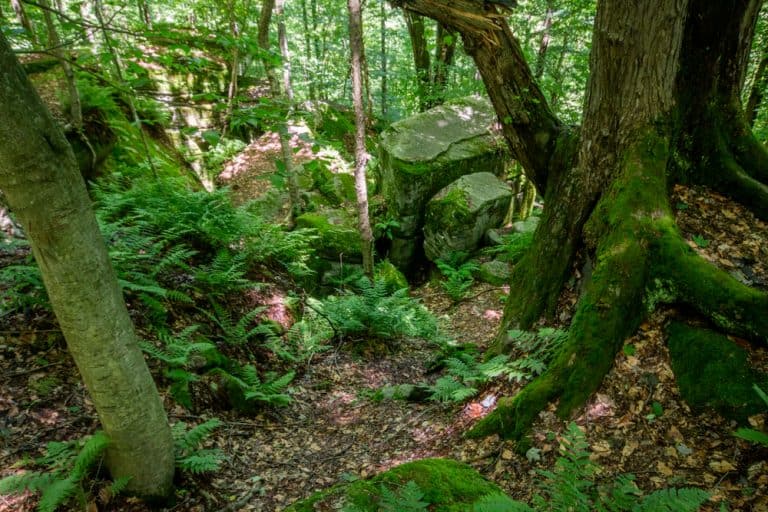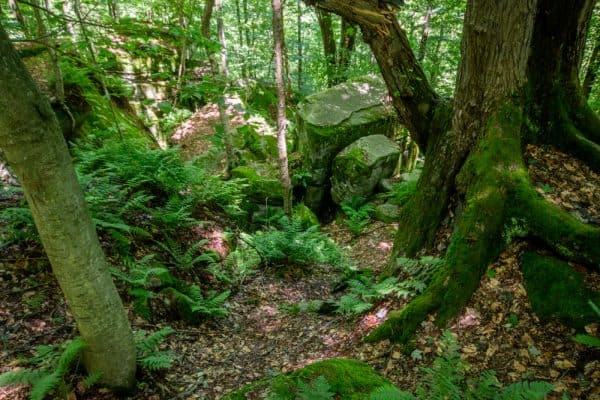 In addition to exploring the site, Panama Rocks also offers a scavenger hunt for kids that guides you through the area. It tells a real local legend about a group of thieves that were said to have hidden their loot in the rocks. This definitely adds an extra level of fun for families visiting the site.
Overall, I really had a fantastic time exploring Panama Rocks in Chautauqua County, New York. Not only is this an incredibly beautiful site, but the encouragement to really explore the formations and the interesting history of the site makes this a really fun spot to visit.
Visiting Panama Rocks
Panama Rocks is located in the southwestern corner of New York. It is 25 minutes west of Jamestown, New York, 90 minutes south of Buffalo, and 45 minutes east of Erie, Pennsylvania. It's also only a short drive from Rock City Park near Olean, NY.
It's worth noting that no dogs are allowed in the park, so leave your furry friends at home. Also, all visitors are required to sign a waiver prior to entering and children under 18 aren't allowed without an adult.
Note: My visit to Panama Rocks was hosted by the site, but the opinions expressed are my own.
Looking for more great spots to explore? Check out Barcelona Falls, Lucy-Desi Museum, Barcelona Lighthouse, and Five & 20 Spirits and Brewing.
---
Panama Rocks
Hours: Daily: 10am-5pm

Open early May through October

Cost: Adults: $10, Children: $7

Website: PanamaRocks.com

Address: 11 Rock Hill Road
​Panama, NY 14767
See map below for other area attractions.
---