Disclosure: This article may contain affiliate links. We will make a small commission from these links if you order something at no additional cost to you.
Hidden away in north-central Cattaraugus County, only 45 minutes from downtown Buffalo, is one of New York's most incredible public art displays: Griffis Sculpture Park.
Griffis Sculpture Park is a 425-acre privately-owned park that features dozens of giant outdoor sculptures for visitors to enjoy. Even better, you are encouraged to climb on or play on many of them!
Griffis Sculpture Park is the creation of artist Larry Griffis. In 1966, he received 125 acres of land from his mother and placed several of his large sculptures on the property.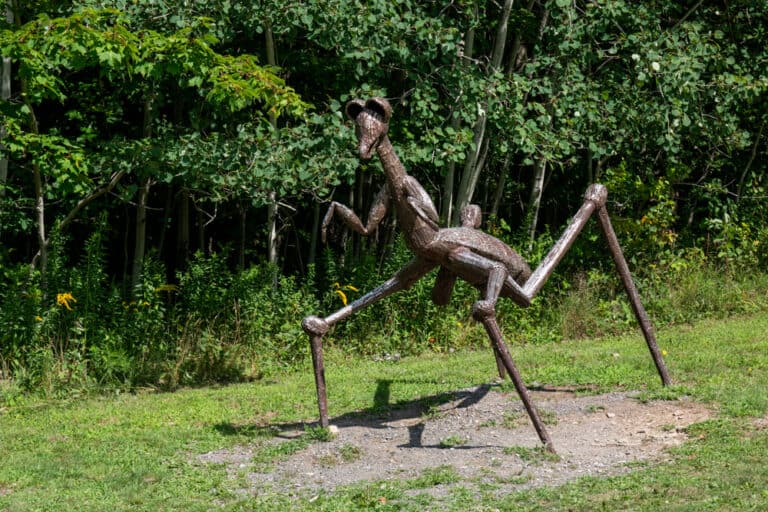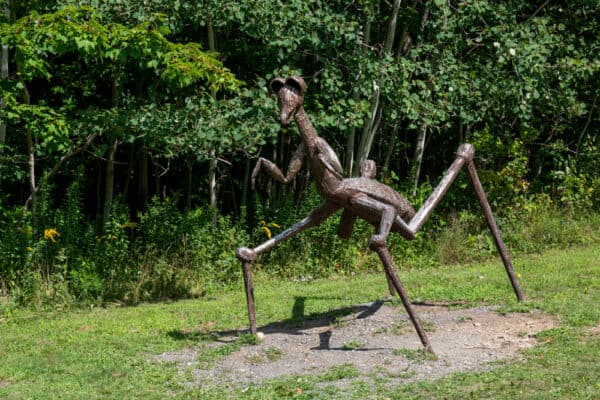 Over the years, the park grew to encompass more than 400 acres and was placed under the care of the Ashford Hollow Foundation, which is now in its third generation of management by the Griffis family.
Today, visitors can hike the trails through the Griffis Sculpture Park to see the more than 250 outdoor sculptures that are scattered throughout the park.
Before getting started, it's worth noting that there are two tracks of land that comprise Griffis Sculpture Park.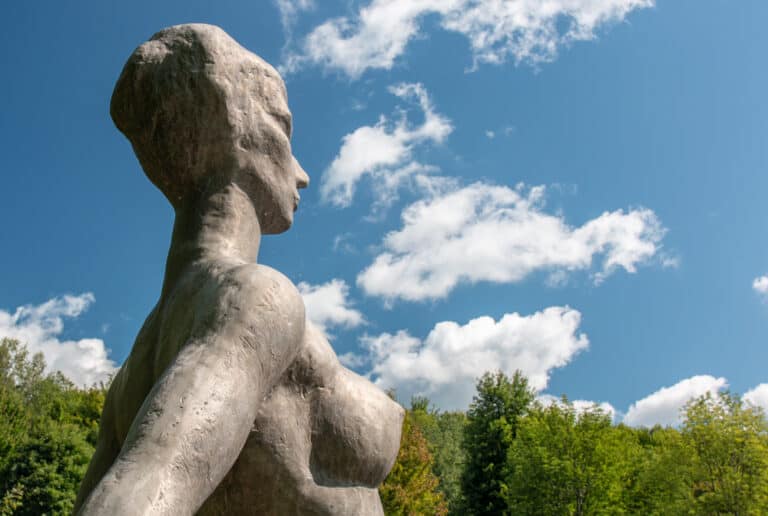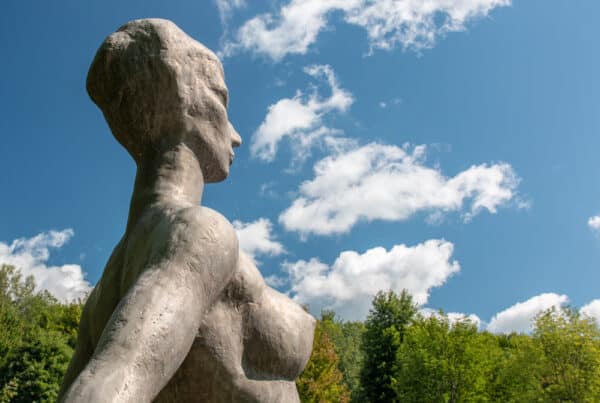 The main section is the largest and is known as the Mill Valley Road Site and features hiking trails and many of the most popular sculptures. This second area is known as the Rohr Hill Road Site and features towering roadside sculptures that can be seen from the road.
For the majority of this article, I'll be discussing the Mill Vally Road Site and using that name interchangeably with Griffis Sculpture Park. At the end, I'll have a bit of information on how to see the other site, which is nearby and is perfect for those who can't or don't have time to go hiking.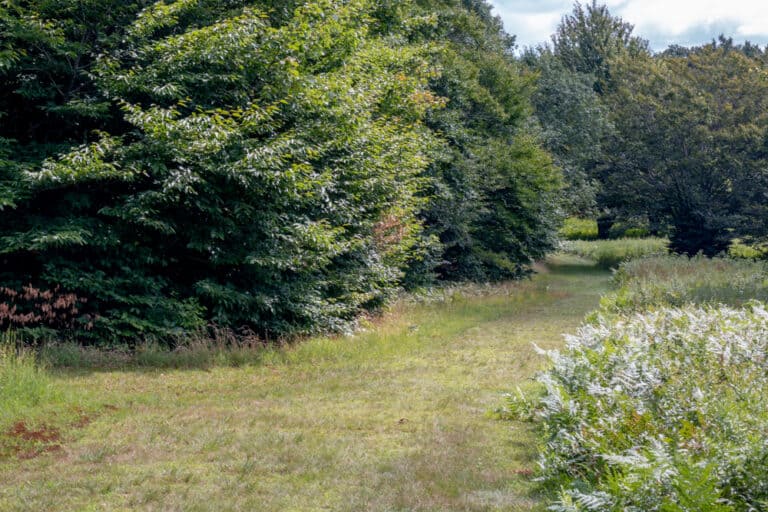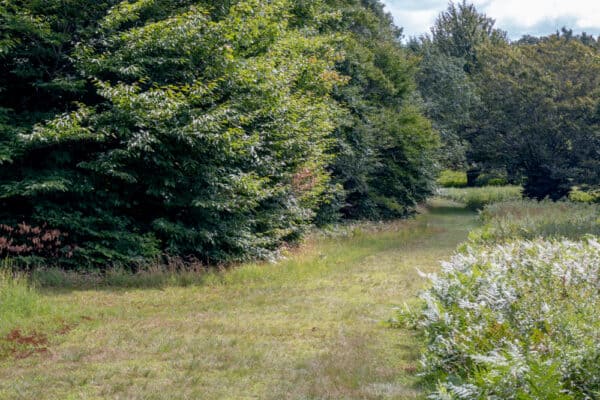 The hiking trails at the Mill Valley Road Site start from a small parking area along Mill Valley Road. This spot is about 2 miles west of Route 219, the largest road through the area, and about 6.5 miles north of Ellicottville (home of Ellicottville Brewing Company).
The parking area is located at the end of a short dirt road at the following address: 6902 Mill Valley Rd, East Otto, NY 14729. You could also use the following coordinates if you'd rather: 42.368585, -78.692024.
Adjacent to the parking area is a small building that has a bit of information about the park on the outside. Admission is on the honor system and can be paid either by cash in a dropbox or on the park's website. (The cost is $5 per adult, $3 for students/seniors, and kids under 10 are free.)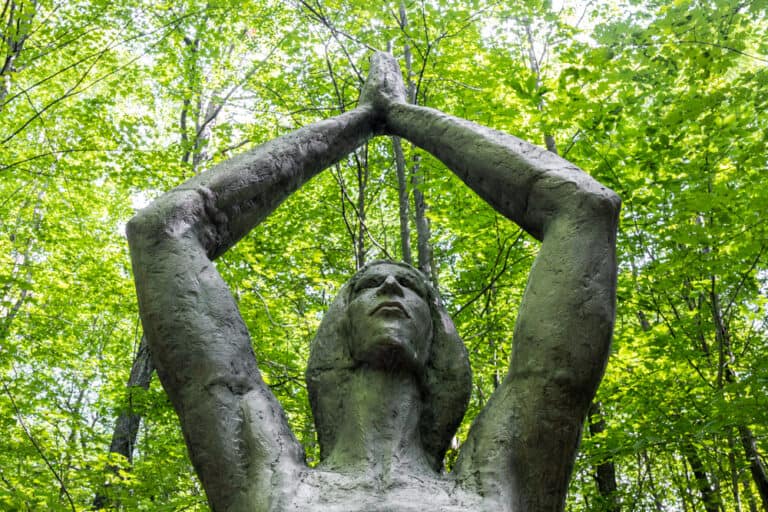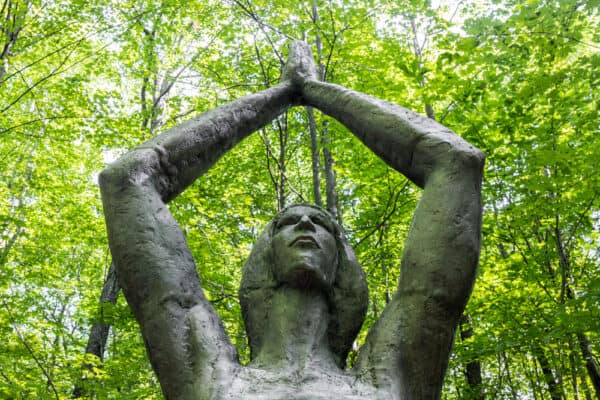 While there are a few sculptures that can be seen from the parking area, most are located further into the park and require walking to see.
While there is a basic map on their website and on the information building, it is very sparse and offers little information on things like distance and where to turn. Nevertheless, it's a good idea to take a photo of it before leaving in case you get turned around.
When I visited Griffis Sculpture Park, I had my GPS with me, which allowed me to get an idea of the hiking distance. If you do a full loop of the park, hiking on the Green, Blue, and Red Trails, you are looking at a hike of roughly two miles. Over the course of the hike, there is only about a 300-foot elevation gain and loss, so the hiking itself is relatively easy.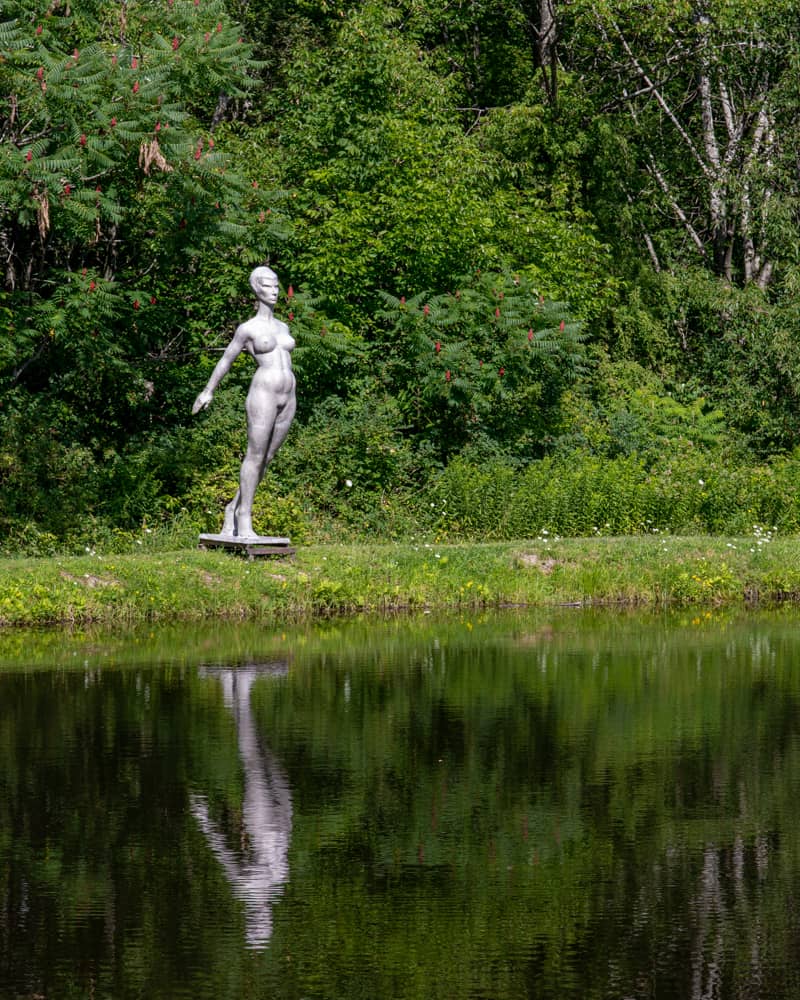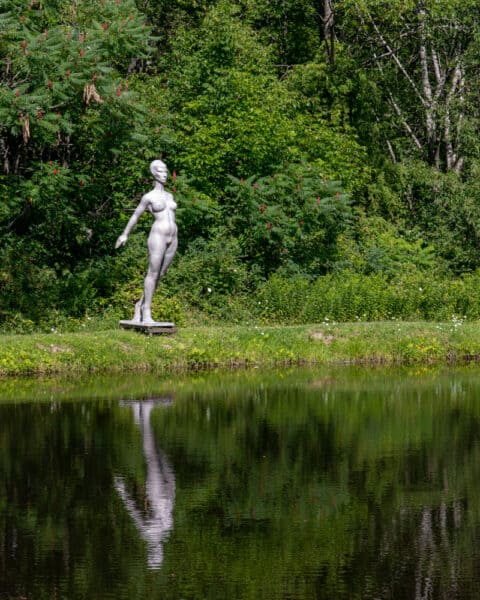 While there are sculptures scattered throughout the park, most of the giant outdoor pieces of art are located within three fields that are connected by forested trails. Each of these spaces offers fun and unique art, some of which you are encouraged to climb on.
Probably my family's favorite was the Castle Tower located in the middle field about three-quarters of a mile from the parking area.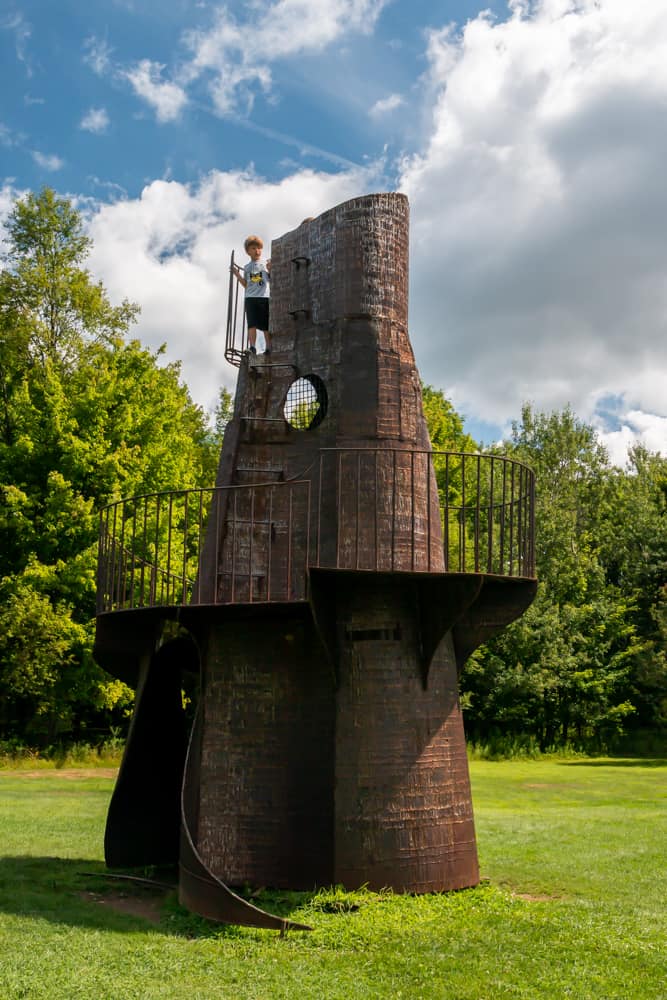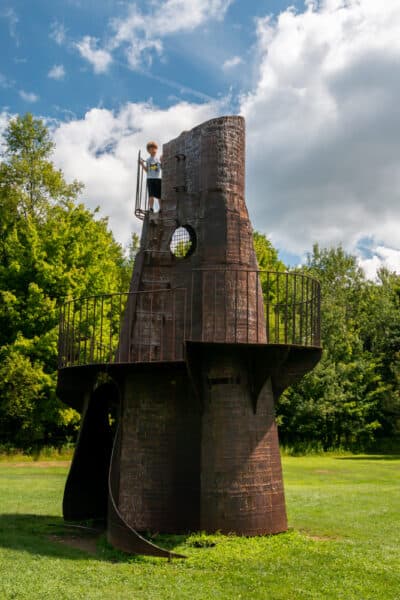 This two-story structure is made entirely of metal and features several different platforms that kids of all ages can climb on. This was a great spot that everyone in my family enjoyed climbing on.
Other unique sculptures that I definitely recommend finding while exploring the area include the Bathers, the Maze, and the Griffis Family Heads.
All told, you could definitely spend the whole morning or afternoon just exploring the fun and unique art in the Mill Valley Road Site part of the Griffis Sculpture Garden.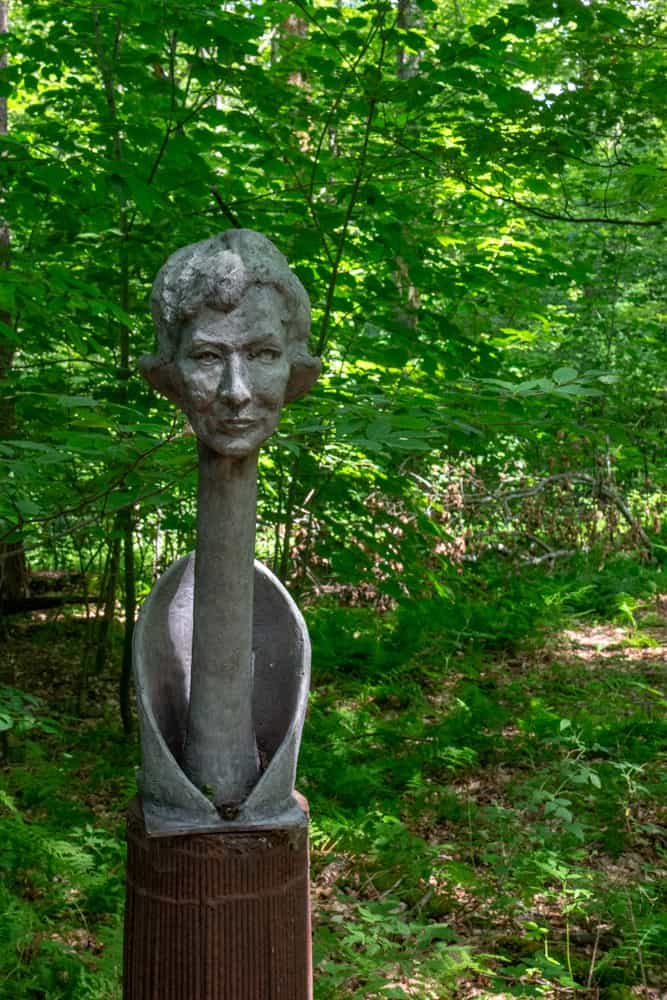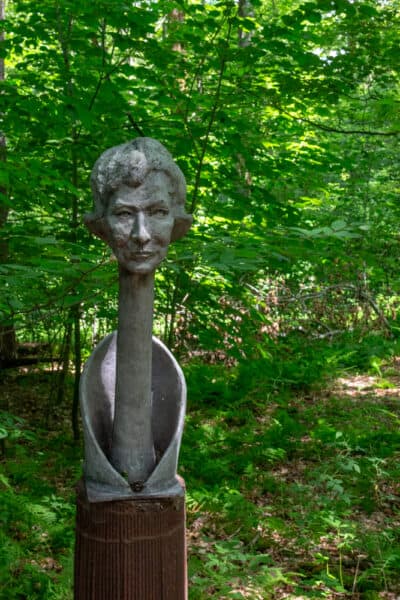 If that's not enough or if you simply don't want to or can't hike to see these works of art, I definitely recommend checking out the Roar Hill Road Site.
This area is located roughly a two-mile drive from the main parking area and can be found at the following coordinates: 42.385558, -78.682028.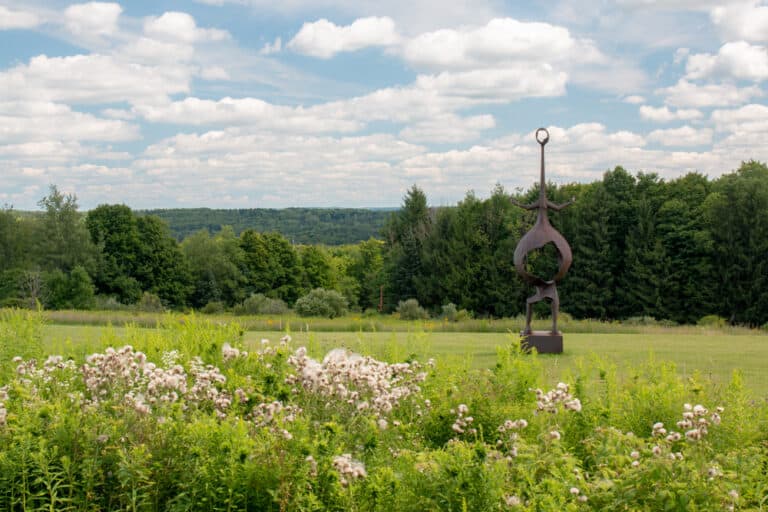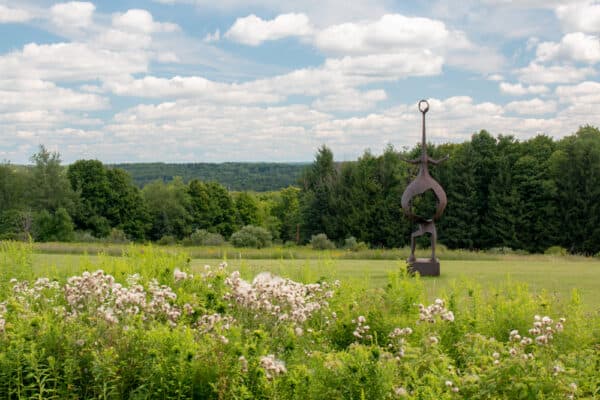 While there is a parking area along this road, the overgrown grasses in the summer months make it best to view the sculptures from the road. If you opt to slow down or stop here, be careful as this is a public roadway.
The sculptures in this area are among the largest in the park and are definitely worth taking a few extra minutes to see in addition to exploring the other part of the property.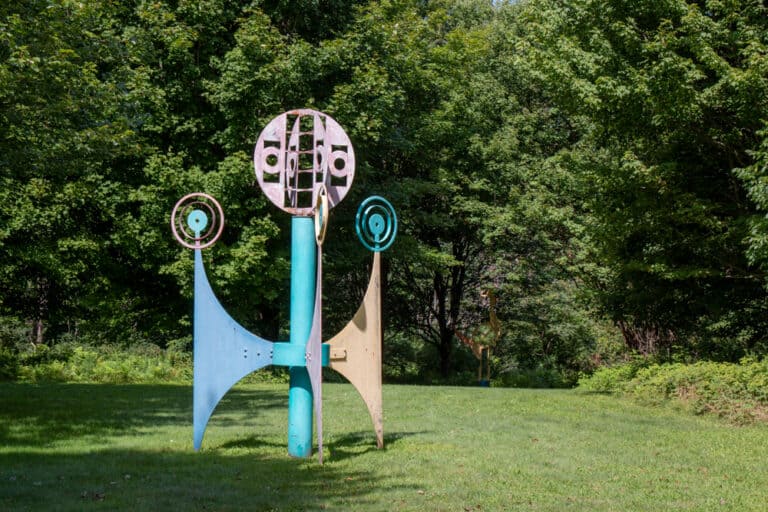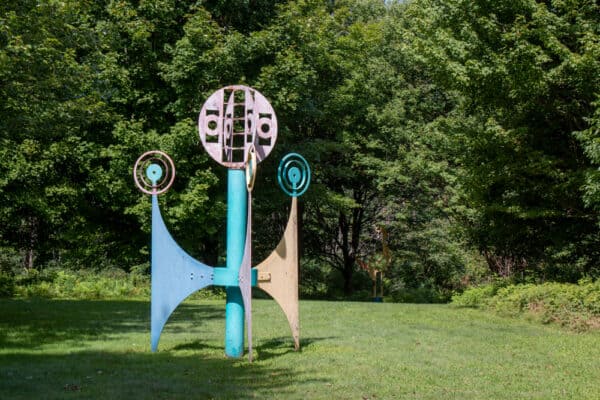 Overall, Griffis Sculpture Park is a very fun and unique spot to explore in the Chautauqua-Allegheny Region of southwestern New York. Whether you are simply passing through the area, exploring some of the other nearby attractions, or are looking for a fun trip from Buffalo (only 45 minutes away), this is definitely a spot I highly recommend checking out.
I know it's one of my favorite spots to explore in western New York, and I can't wait to go back and see it again.
Looking for more great things to do nearby? Check out Rock City Park, Cannon Covered Bridge, the Buffalo Zoo, and Bridal Falls in Allegany State Park.
[Click here for information on how to use the coordinates in this article to find your destination.]
---
Griffis Sculpture Park
Hours: Daily from Dawn-Dusk
Open May – October

Cost: Adults: $5, Children: $3

Website: GriffisPark.org

Address: 6902 Mill Valley RD
East Otto, NY 14729
---