Disclosure: This article may contain affiliate links. We will make a small commission from these links if you order something at no additional cost to you.
I always love visiting covered bridges during my travels and have visited many of the ones in New York State. So, when I heard that a new covered bridge was being constructed in western New York, I was excited to check it out.
Cannon Covered Bridge is located in western Wyoming County, about 35 minutes east of Buffalo. Construction of the bridge was completed in June 2022, making this the newest covered bridge in New York. And, while I usually only write about historic covered bridges, this is one that I thought was worth adding to the site.
Cannon Covered Bridge crosses the Cayuga Creek just outside of Cowlesville, New York. This is an incredibly beautiful stream, and the peeks I got of it through the leafless trees during my December visit were quite beautiful. Sadly, though, the bridge is surrounded by a lot of private property, so your ability to explore the creek is pretty limited.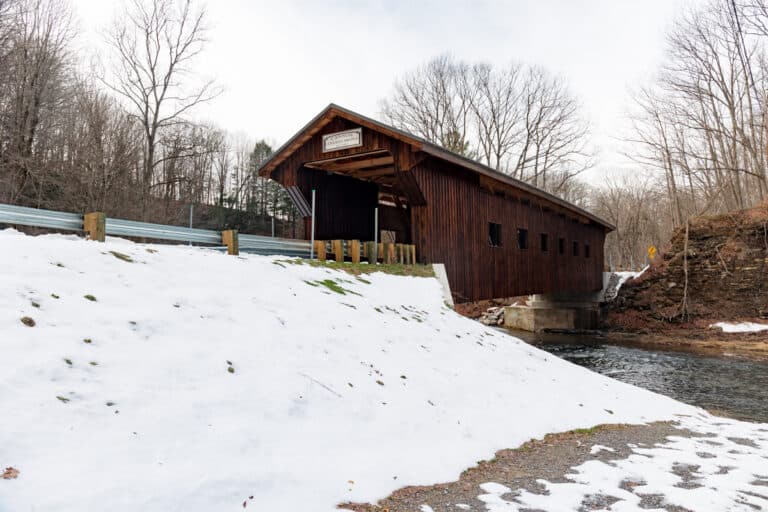 Cannon Covered Bridge is named after Sargent Charles R. Cannon. Cannon served during World War 2 building roads and bridges for the Army. Shortly after being awarded the Silver Star, he was killed in action while crossing the Rhine River on March 25, 1945, only a few weeks before the war in Europe ended.
Given Cannon's work building bridges and the fact that he grew up along the banks of Cayuga Creek, he's a fitting person for this new bridge to be named after.
Cannon Covered Bridge was constructed to replace an old steel bridge that was originally built in the 1930s along Schoellkopf Road.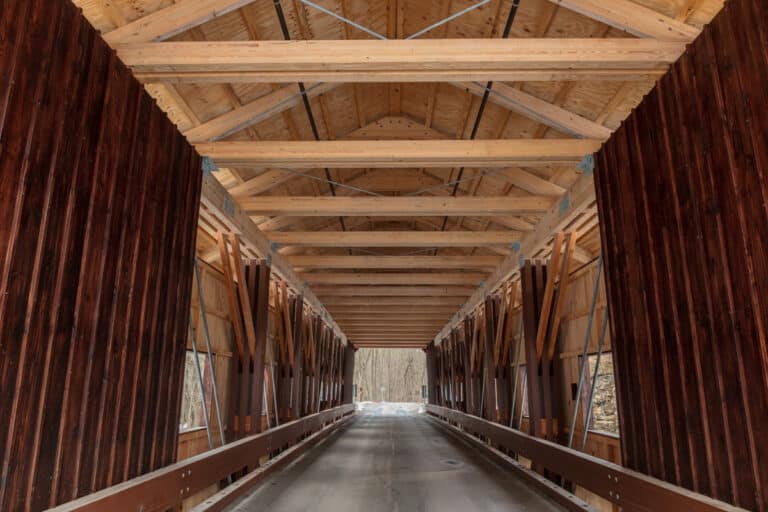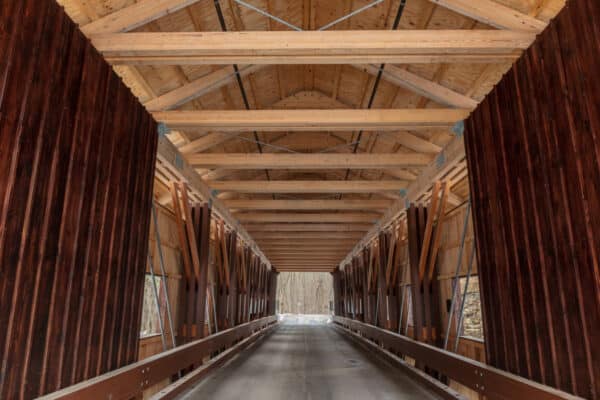 This new bridge is 135 feet long and almost entirely made of wood (minus a few steel supports). That being said, it does not appear to use any type of authentic covered bridge truss system.
I was impressed at the immense size of this bridge. It is much larger than most covered bridges, especially in height. This allows it to be tall enough for school buses and fire trucks to fit through. It should also greatly decrease the chances of it getting hit by overheight trucks.
Below the bridge, there are several small rapids that provide a really nice sound of flowing water while at the site. This really made this quite a nice spot to spend a few minutes enjoying the beauty of an early winter day.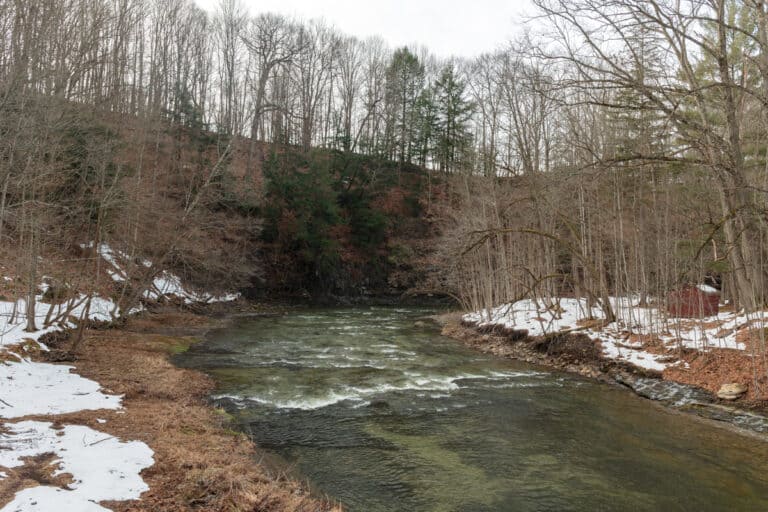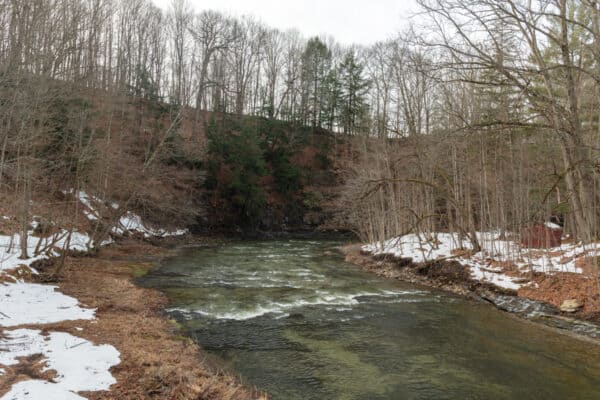 Speaking of visiting in the winter, this bridge is located along a dirt road. However, one of the stated reasons for making the bridge so large was to accommodate snow plows, so it's likely that the road is maintained to an extent in the winter.
Overall, while I do prefer historic covered bridges, there is no denying the beauty of this spot and, given the quality of the construction, this is a spot that will be enjoyed for decades to come and will become historic in its own right someday.
How to Get to Cannon Covered Bridge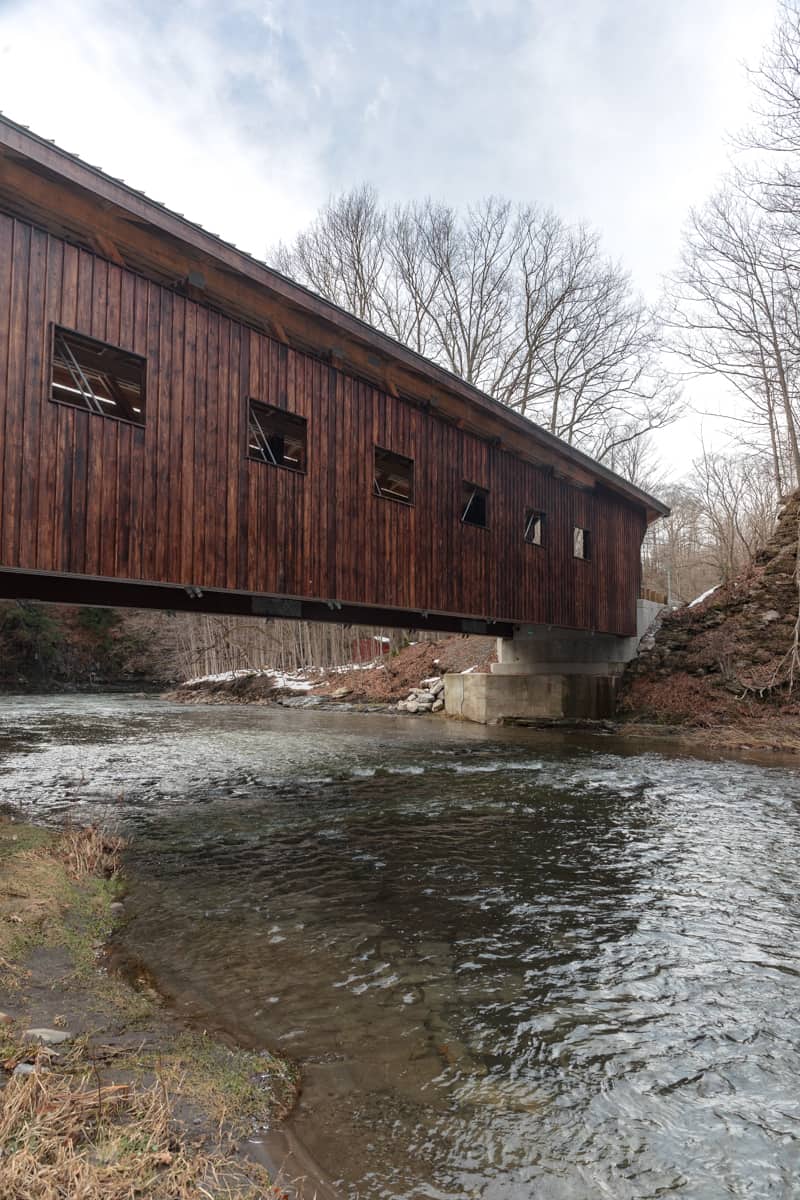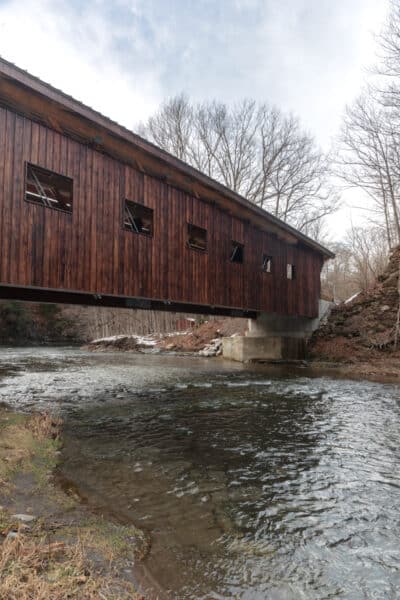 Cannon Covered Bridge is located in the town of Bennington, New York in a forested area away from most civilization. It can be found along Schoellkopf Road at the following coordinates: 42.818560, -78.445709.
You can also use the following address which will get you close, though isn't exactly where the bridge is found: 624 Schoellkopf Rd, Cowlesville, NY 14037.
Given that this is a recently-built bridge expected to draw visitors, I was a bit surprised that there wasn't more space for parking here, but there is a bit of room on both sides of the bridge to pull your car off of the road.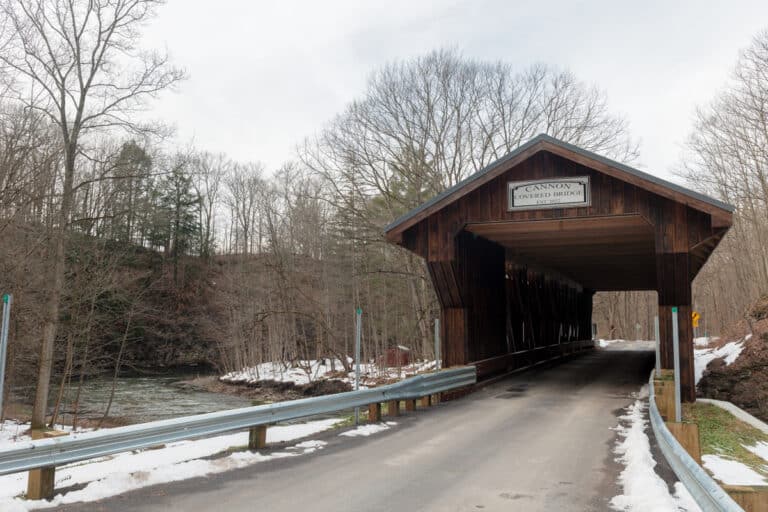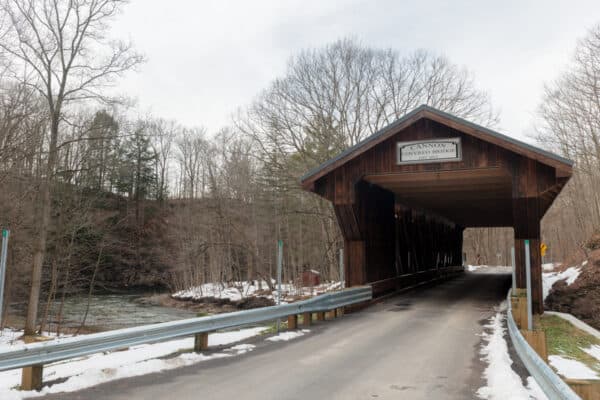 Keep in mind, if you do get out of your car and walk around, that this is a public road, so use caution for on-coming vehicles.
[Click here for information on how to use the coordinates in this article to find your destination.]
Looking for more places to visit nearby? Check out the waterfalls of Letchworth State Park, Griffis Sculpture Park, and the Millard Fillmore House.