Disclosure: This article may contain affiliate links. We will make a small commission from these links if you order something at no additional cost to you.
Visiting the Buffalo Zoo is one of my favorite things to do in Buffalo, New York. So when I found out they had a holiday season attraction, I was excited to check it out.
Zoo Lights, as the attraction is known, is set up every holiday season from late November through the end of December and is open on select evenings. This is a fun way to see the zoo in an entirely new way and is one of the most popular Christmas light displays in Upstate New York.
During Zoo Lights the majority of the zoo is open for visitors to explore and check out the light displays that are scattered throughout the space. However, it's worth noting that the animals are, for the most part, off-exhibit, so don't come expecting to see most of the animals in their enclosures after dark.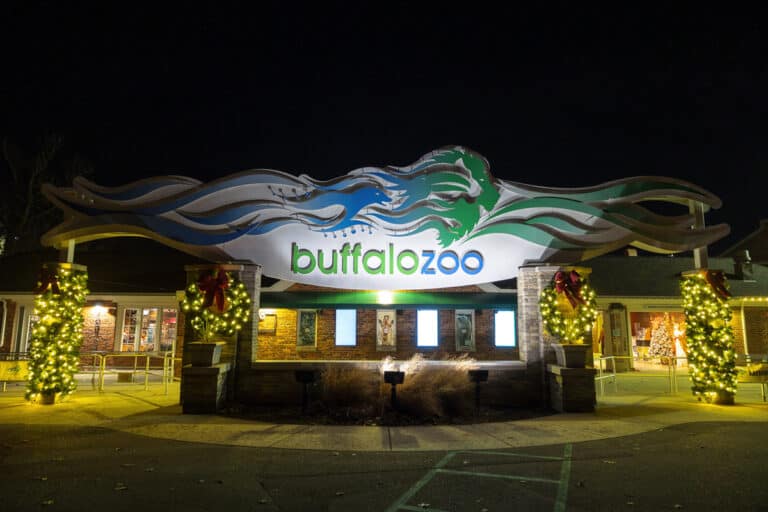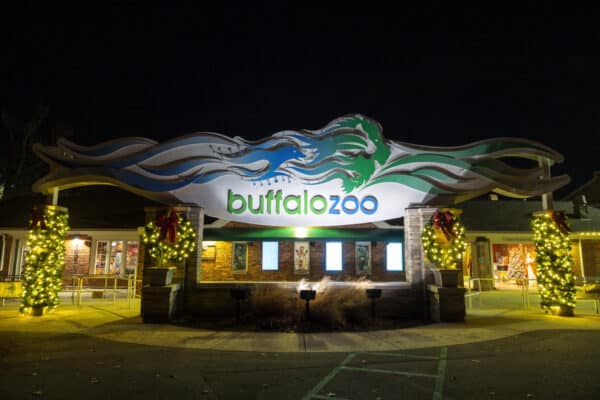 The light displays at Zoo Lights start even before you enter the event with the entrance building being nicely illuminated. This type of display continues throughout the event.
There is no specific route that visitors are required to take when exploring the space as you'll sometimes find at walk-through light shows. Instead, visitors can explore at their own pace and along any route they choose, even revisiting favorite spots throughout the zoo.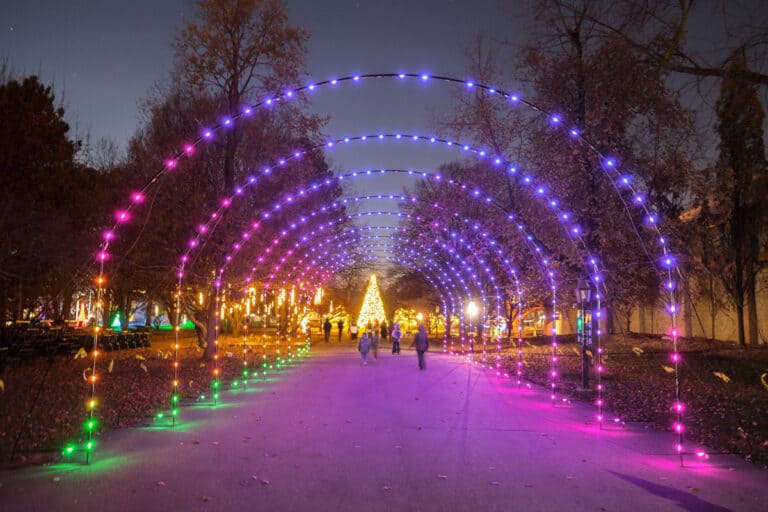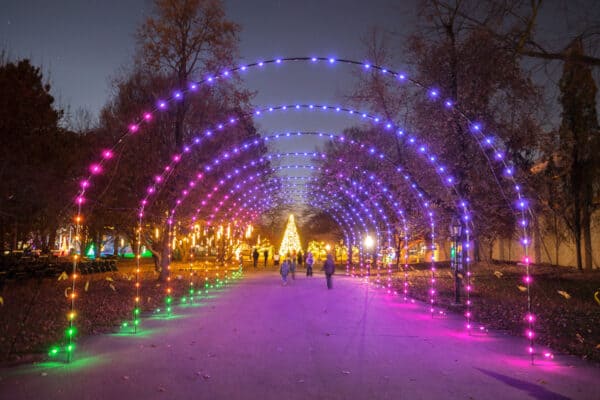 For me, the best spot was along the side of the Rainforest Falls building where a long light tunnel led to a beautiful Christmas tree set up in the middle of the zoo. This area is not only photogenic but is a ton of fun to walk through as the lights change in the tunnel.
Another great area is around the Wild Burger restaurant and the gorilla enclosure. There are some fun light displays in this area, as well as fire pits set out for those wanting to warm up and roast smores over the fire.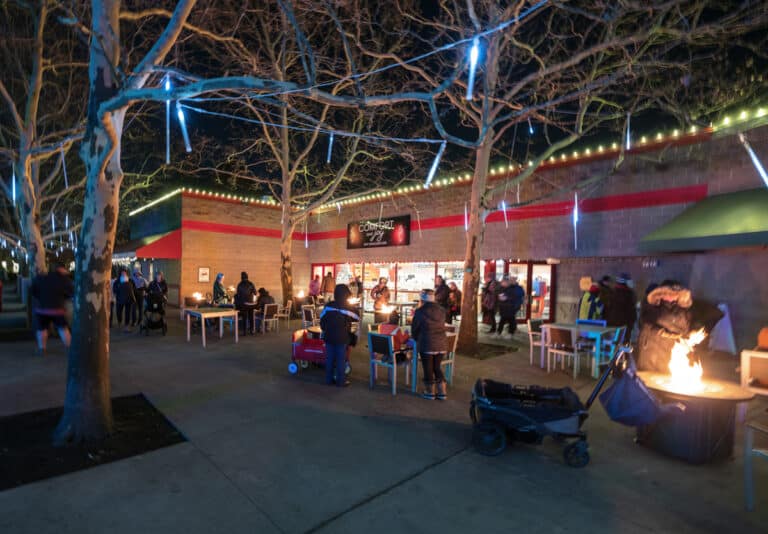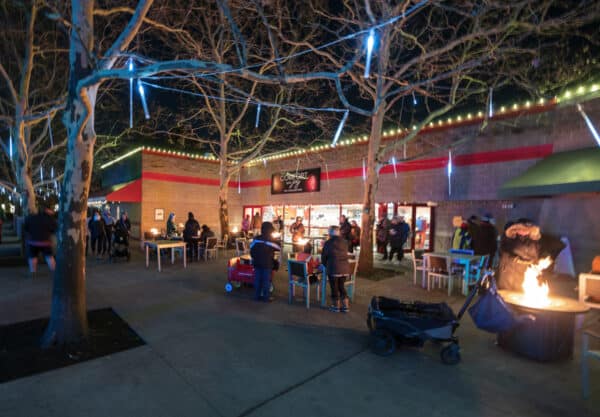 In addition to these areas, there are other light displays scattered throughout the park somewhat sporadically, featuring various animals that call the park home, Santa, and snowmen.
While the majority of the animals at the Buffalo Zoo are off display during Zoo Lights, visitors can go into two of the buildings: Rainforest Falls and the Amphibian and Reptile Center. These are also great spots to warm up on a cold night.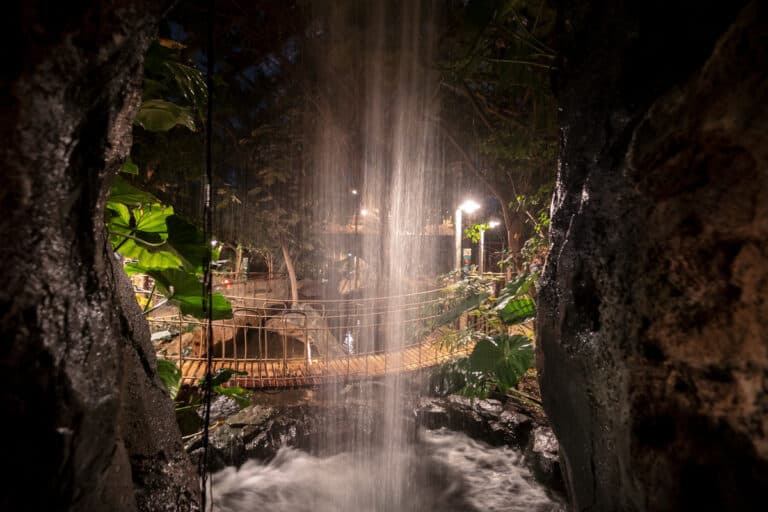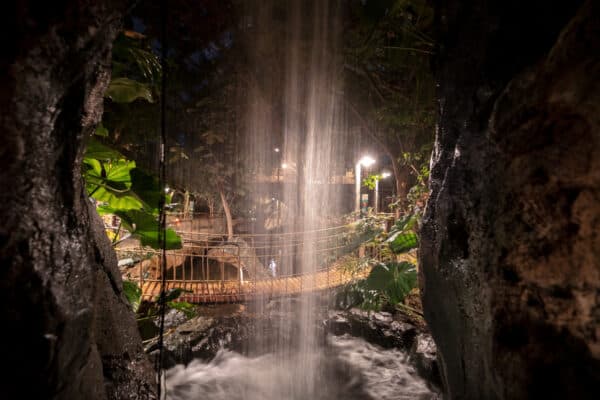 Rainforest Falls was a lot of fun to explore after dark (and was very warm), but I didn't actually see any animals when I was walking through the space. Given the language on the zoo's website, I don't think the animals here were off-exhibit, but given the time, it is likely they were either resting or were simply hard to see in the dark.
On the other hand, due to the small enclosures. the animals in the Amphibian and Reptile Center were easy to see. While many of these animals are small, there are also some large animals here like the Komodo dragon and some of the snakes. All of them were fun to check out, though.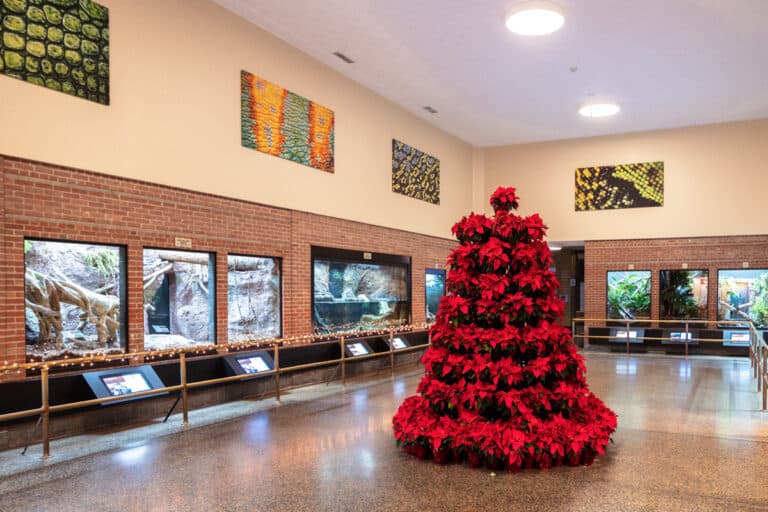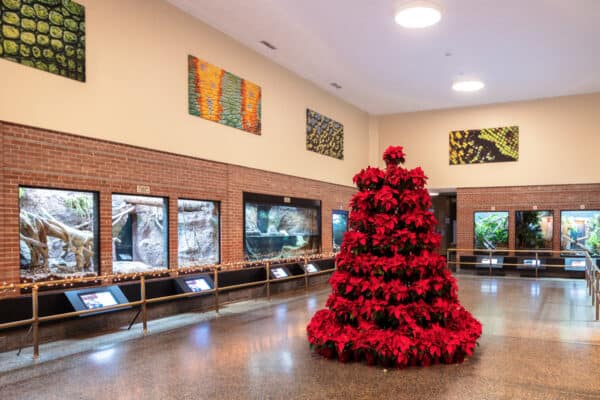 I was also surprised to see some of the animals in the Heritage Farm on display as well since it wasn't listed as being open in the listed information. Because of this, keep in mind that this section may not be open every evening, but for those that want to see farm animals, it's worth checking out.
In addition to walking around and seeing the lights and the few animals on display, visitors can also enjoy a meal or warm drink at one of the zoo's dining spaces, ride the zoo's kiddie train (for an extra cost), or shop in the zoo's gift shop.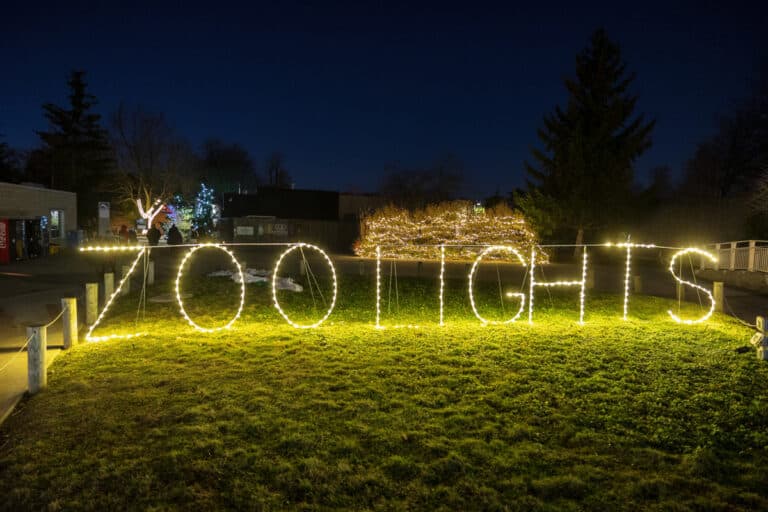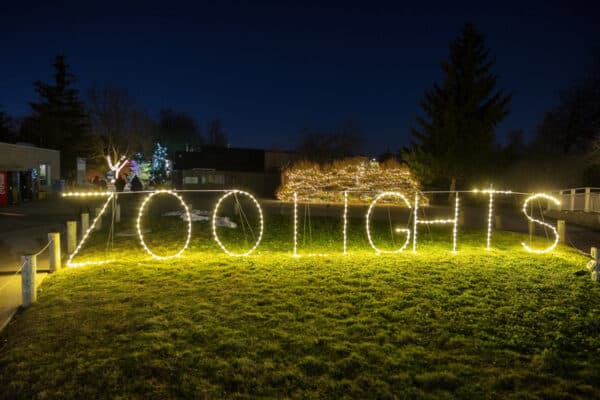 All that being said, Zoo Lights at the Buffalo Zoo isn't an attraction that I'd recommend for everyone.
Honestly, the display here is a bit underwhelming given how much empty dark space there is when walking around, though the displays that are there are very well done. I was also surprised that there was no holiday music playing over speakers, which would have added a lot of festive cheer to the display.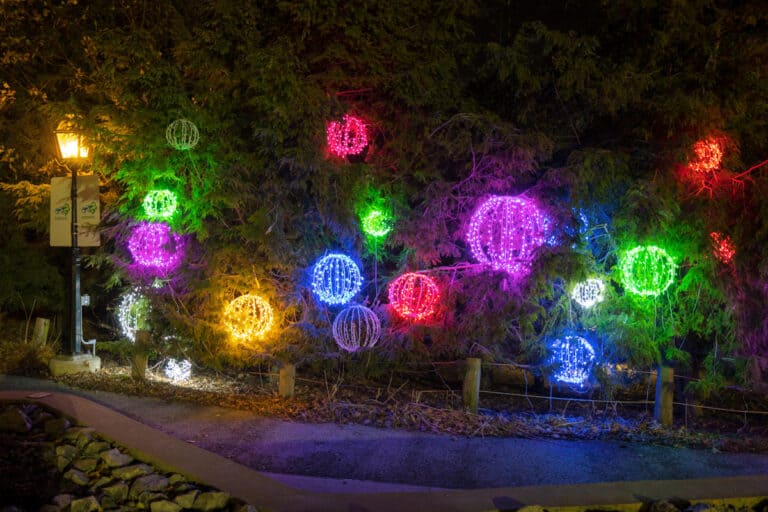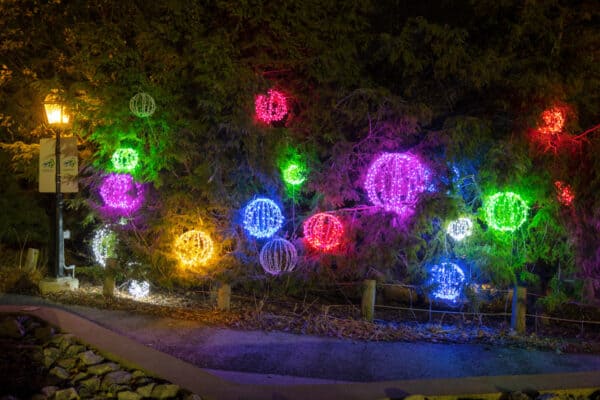 In the end, I don't necessarily recommend skipping Zoo Lights, but I would suggest checking out the nearby Festival of Lights at the Fairground in Hamburg over this if you have to pick one. The Festival of Lights provides a lot more to see and do for a cheaper cost (unless you are visiting by yourself or with only one adult and one child) with both a walk-through and a drive-through display.
However, if you are looking for a second light show to visit in Buffalo or if the novelty of visiting a zoo after dark (even with most animals off-display) sounds interesting, this is definitely a well-done display with some really beautiful spots to check out.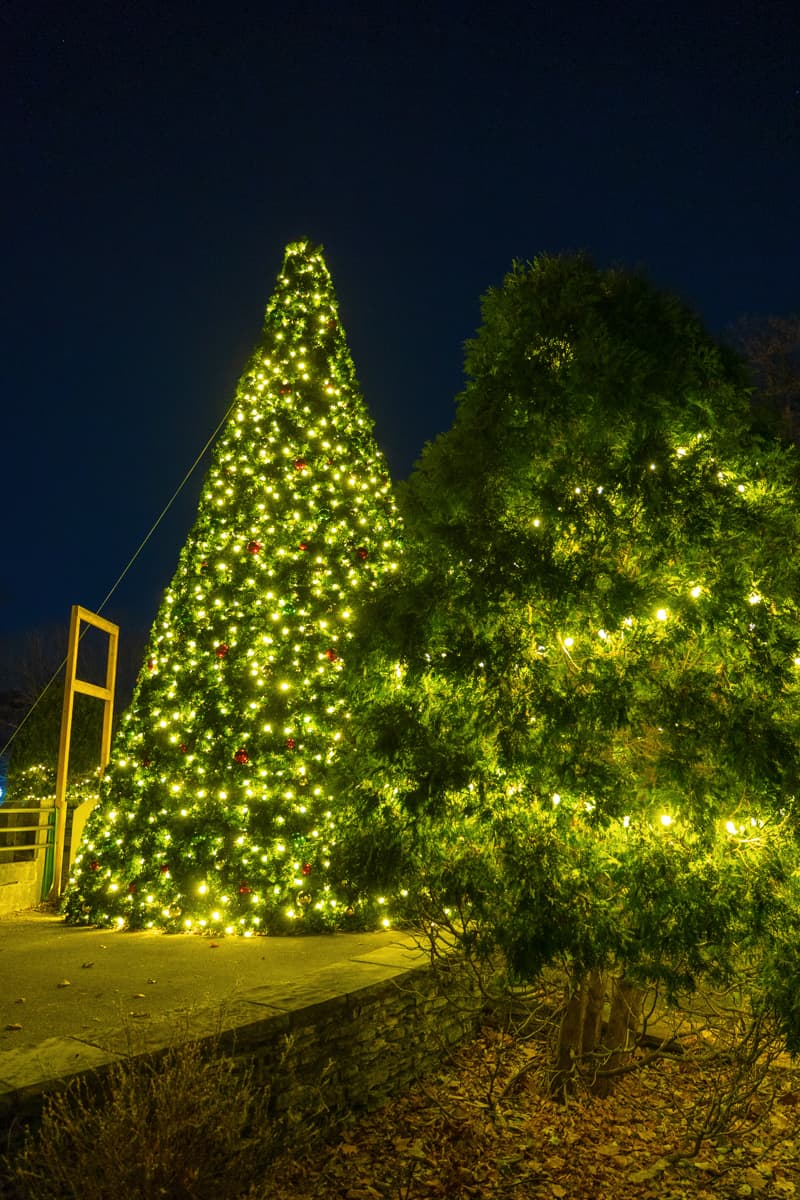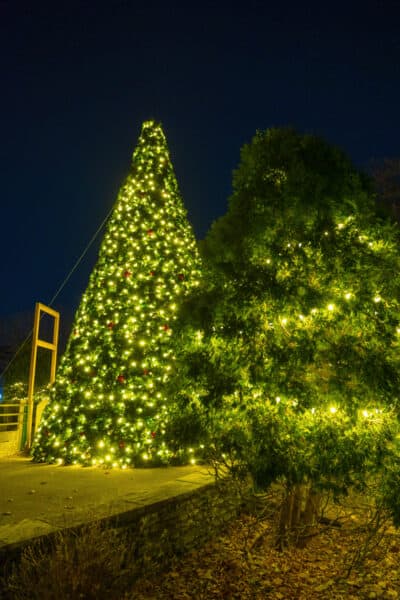 In 2022, Zoo Lights at the Buffalo Zoo is open on select nights from November 27 through January 1 from 5:3o-9 pm. Tickets are $16 for adults and $11 for children, with some additional family-four-packs that are worth considering if you want to get food while visiting.
Note that there is also a $5-10 charge for parking in their lot, but you can often find free parking on Parkside Avenue across the street.
Looking for even more to do in the area? Check out ROC Lights in Rochester, the Explore & More Children's Museum, and Frank Lloyd Wright's Martin House.