Disclosure: This article may contain affiliate links. We will make a small commission from these links if you order something at no additional cost to you.
Throughout Upstate New York, there are many great spots to get some holiday cheer. And, while not all of the best things to do in December are centered around the holiday season, at these great Christmas light displays in New York, you are sure to find some holiday season joy.
It's worth noting that this isn't a complete list of light shows around the state, but rather, a list of those that I've personally visited and enjoyed. As I visit more displays over the years, I'm sure I'll find more great spots to add to this article.
So, without further ado, here are my favorite Christmas light displays in New York to check out this holiday season.
(Article last updated October 30, 2023 to reflect information for the 2023 holiday season.)
Lights on the Lake in Syracuse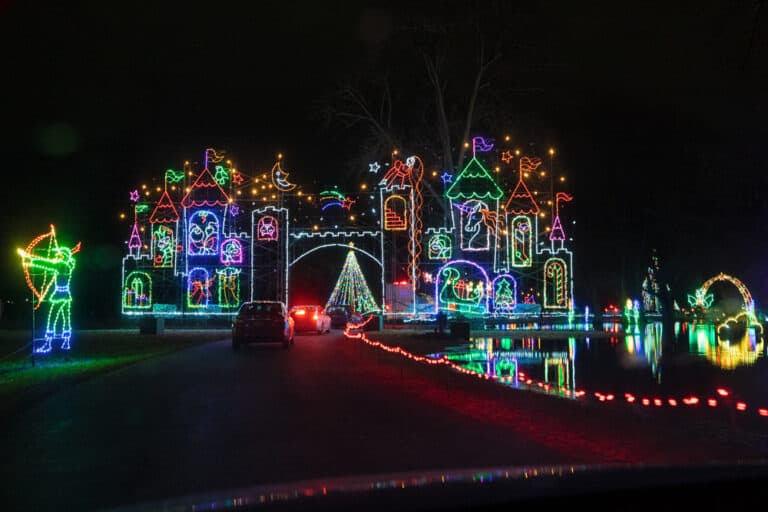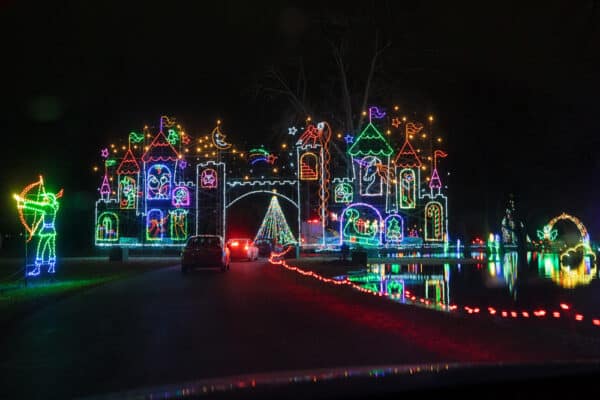 Lights on the Lake in Syracuse follows paths through Onondaga Lake Park a short distance north of the city.
This is one of the best and largest Christmas light displays in Upstate New York and is more than two miles in length. Along the way, visitors pass hundreds of fantastic light displays many, but not all, related to the holiday season.
This show also features some of the largest light displays I've seen in the state, including some that tower over the road and you drive right through.
During the 2023 holiday season, Lights on the Lake is open nightly from November 13 through January 12.
Festival of Lights in Buffalo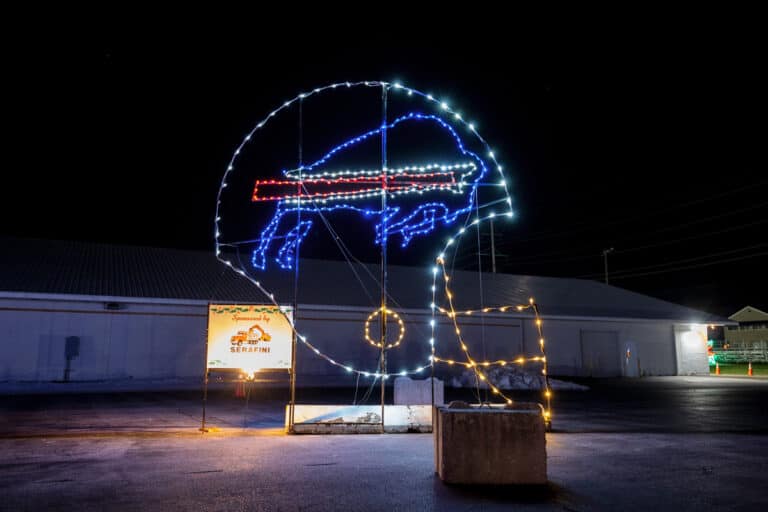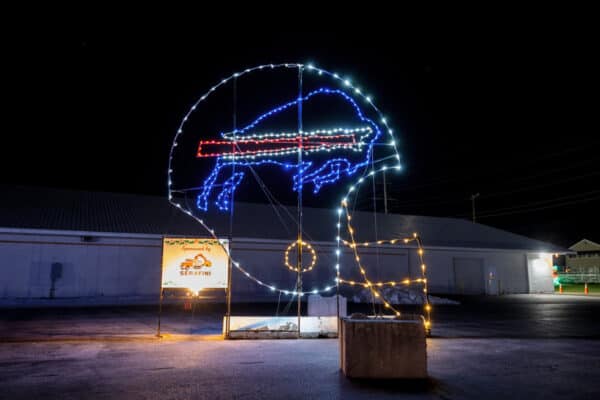 Buffalo's Festival of Lights is located at The Fairgrounds just south of the city. This show is unique in that it has both a drive-through display and a large walk-through area with a lot of fun activities.
The drive-through display is very well done and features some really neat displays including a giant Buffalo Bills' light, the second-tallest Christmas tree in New York, and some fun sports-related lights.
The walking area is home to what, in my opinion, is the best feature of the entire display: an illuminated light show set to music. There is also food, a fun train ride, vendors, and visits with Santa.
The Festival of Lights in Buffalo is open on select nights from November 24 through December 30, 2023.
Jungle Bells in Broome County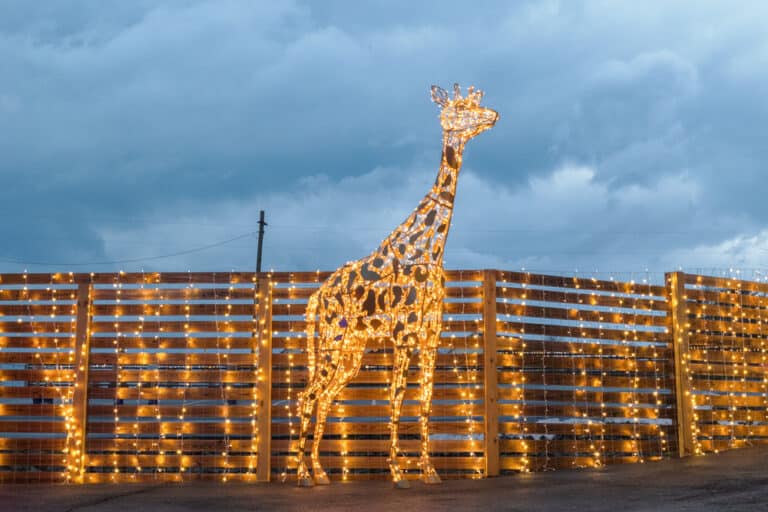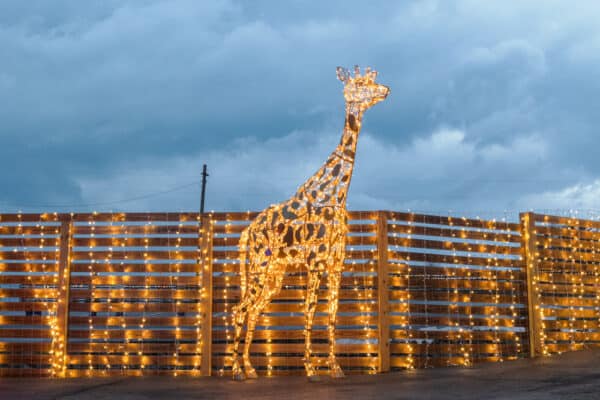 Without a doubt, Jungle Bells is one of the most unique light shows I've ever visited.
Located at Animal Adventure Park in Broome County, Jungle Bells features over a million lights decorating the enclosures around the zoo. While there aren't a ton of whimsical displays here, there is still a lot to see and several fun light tunnels to walk through.
The highlight was that, in addition to seeing the lights, many of the zoo's animals are on display, so you can see the animals in a very fun and unique way.
Jungle Bells is open Thursday-Sunday from November 9 to December 30, 2023.
ROC Lights near Rochester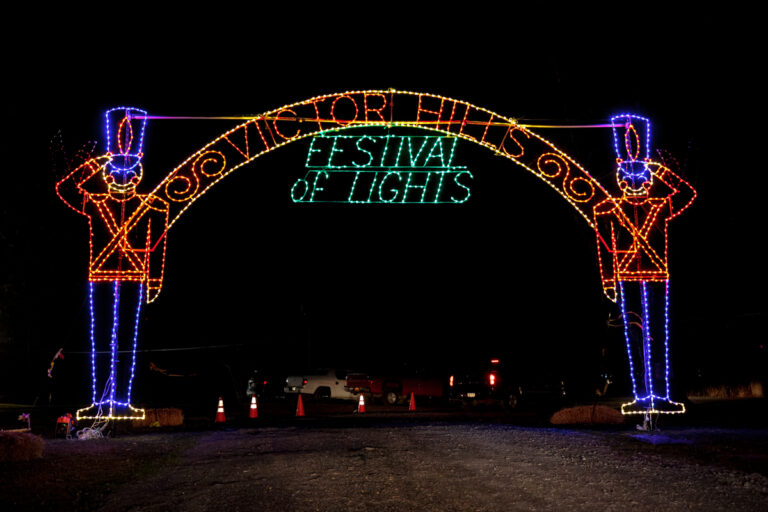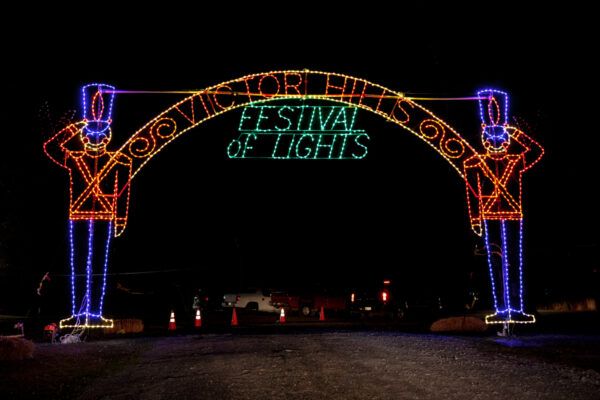 ROC Lights can be found at the Victor Hills Golf Club, about 20 minutes southeast of downtown Rochester.
This show is set up along Victor Hill's golf course and is very unique because of the steep hills and narrow paths that you travel while following this fun show through the course and the woods that surround it.
Along the mile-and-a-half driving route, you'll pass hundreds of fantastic displays that are a mixture of holiday season themes and other fun topics like dinosaurs and fireworks.
In 2023, ROC Lights is open on select nights from November 25 through December 30.
Broome County Festival of Lights in Binghamton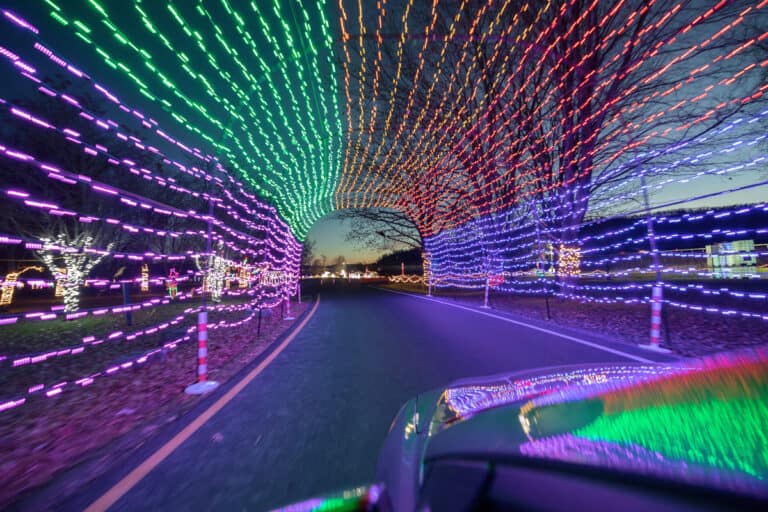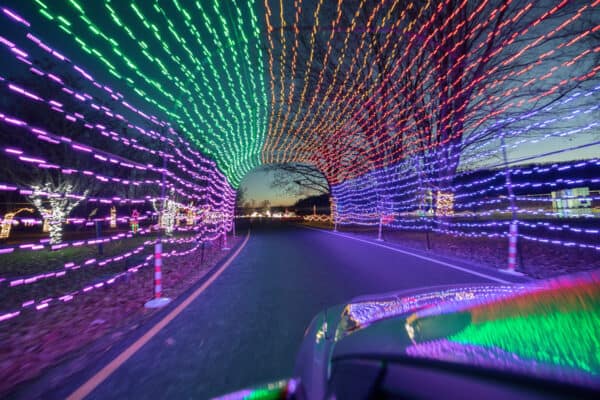 The Broome County Festival of Lights (not to be confused with the aforementioned display in Buffalo) is another fantastic drive-through light display in New York.
This light show first started in 2020, but now boasts hundreds of displays and over a million twinkling lights lining the roadways of Otsiningo Park. The display here is almost entirely composed of Christmas displays, including some really fun and unique lights featuring Santa and his elves in emergency vehicles.
There is also an area where you can get out of your car to grab a bit to eat, visit Santa, and take some fun photos.
The Broome County Festival of Lights is open nightly from November 19, 2023 through December 31, 2023.
Wild Winter Lights in Buffalo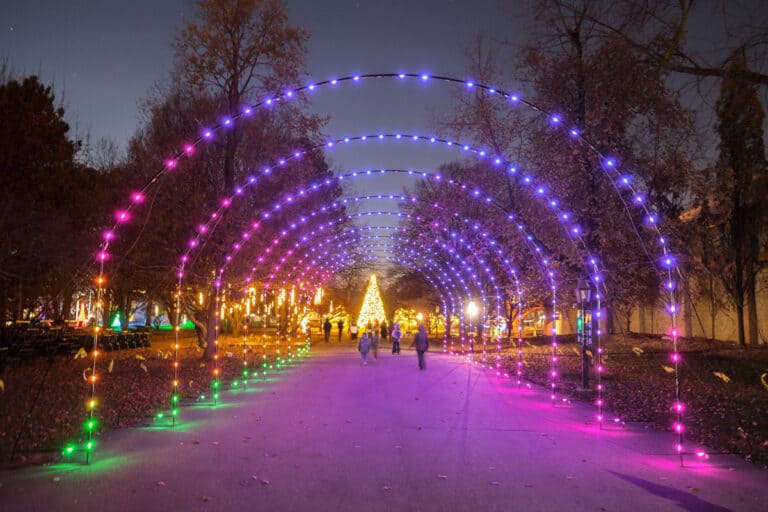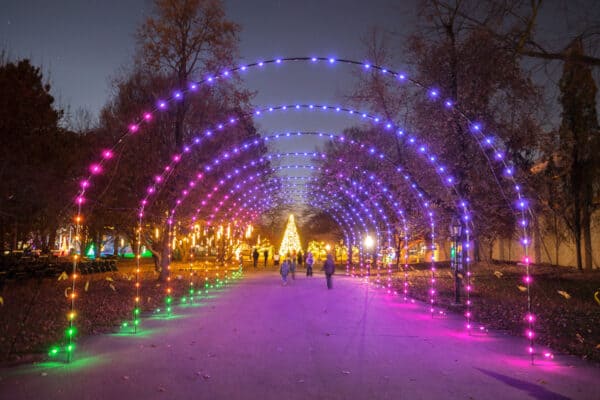 Wild Winter Lights is a fun walk-through display located at the Buffalo Zoo.
The lights here are located throughout the zoo but most, if not all, of the outdoor animals are off-display during the event. However, visitors can still go into the Amphibian and Reptile Center and farm to see the animals, as well as into the Rainforest Falls area to warm up.
Outside, there are lights on many of the buildings, displays of different animals, and other fun and whimsical lights. There are also fire pits, visits with Santa, and yummy food options.
Zoo Lights is open on select dates from November 24 through December 30, 2023.
Twinkle Town in Elmira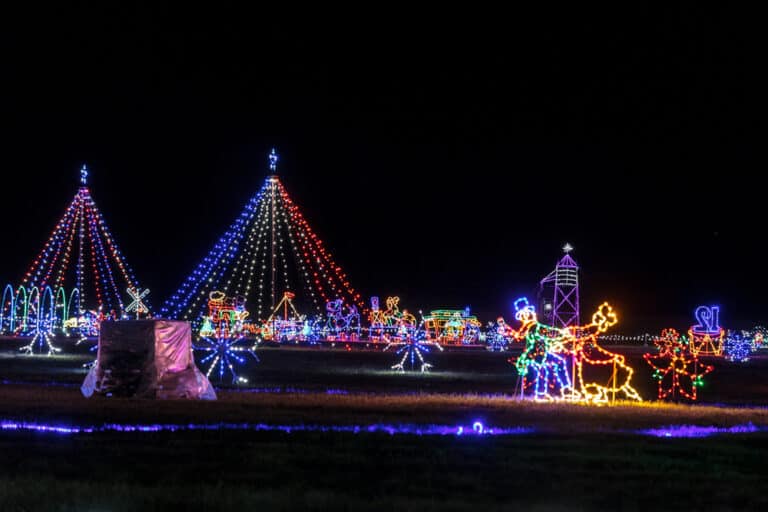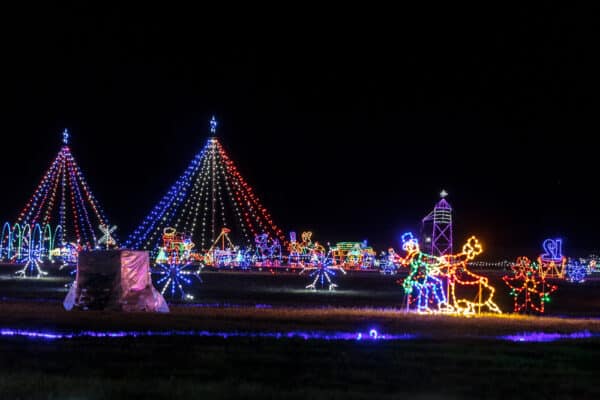 If you're looking for a festive light display in the southern Finger Lakes, don't miss Twinkle Town in Elmira.
Twinkle Town is located on Bradley Farms, a short distance south of the city, and has a one-mile drive-through display located within one of their large fields. As you drive along the path, you'll pass more than 200 different light displays ranging from classic holiday images to amusing displays. There is also a fun light tunnel.
In 2022, Twinkle Town is open nightly from November 18 through December 31.
Capital Holiday Lights in Albany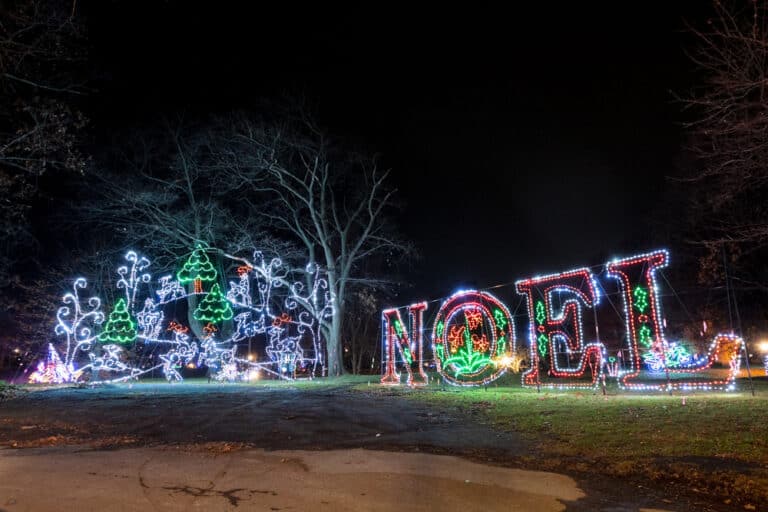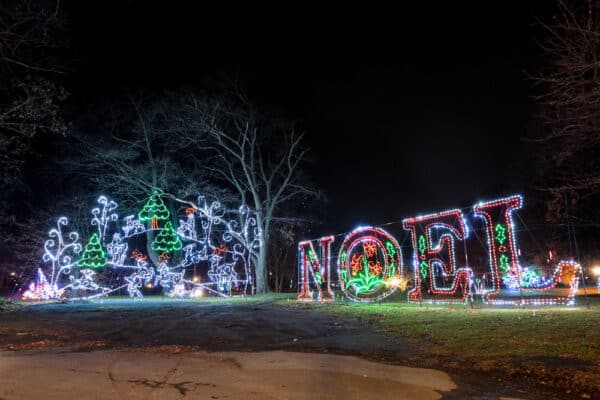 (Note: Capital Holiday Lights is not open in 2023, but there are hopes to reopen it in 2024.)
Capital Holiday Lights is a fantastic display to check out in Albany, NY. Up until 2021, it was held at Washington Park, though it's unknown where it will be held in the future.
The route through Washington Park is a mile in length, and you'll pass over 100 fantastic displays during your route. These are tucked in and around the hilly park, which creates a really beautiful display. There are even lights on the park's lake!
What is your favorite Christmas light display in Upstate New York? Let us know in the comments below.
Looking for more fun things to do in New York? Check out the best waterfalls in New York, my favorite breweries in the Finger Lakes, and the top things to do in Ithaca.