Disclosure: This article may contain affiliate links. We will make a small commission from these links if you order something at no additional cost to you.
When I'm traveling during the holiday season, I'm always on the lookout for light displays to check out in New York. So, when discovered Twinkle Town in Elmira, New York, I knew I had to make a stop.
Twinkle Town is located on Bradley Farms just a few miles south of Elmira in Chemung County. Bradley Farms has been a commercial farm for over 100 years and, in addition to growing and selling vegetables and flowers, they also run several events each year, including, since 2019, Twinkle Town.
Twinkle Town at Bradley Farms is a drive-through light display that is approximately three-quarters of a mile long. Along this route, there are said to be more than 200 different displays for visitors to see.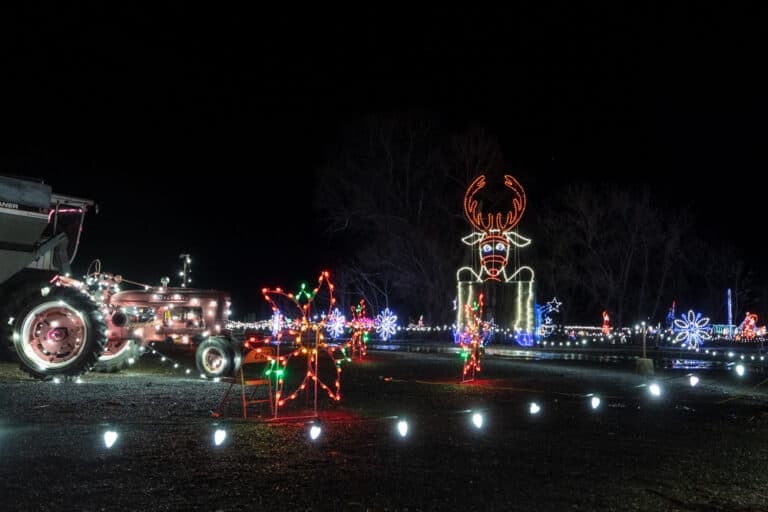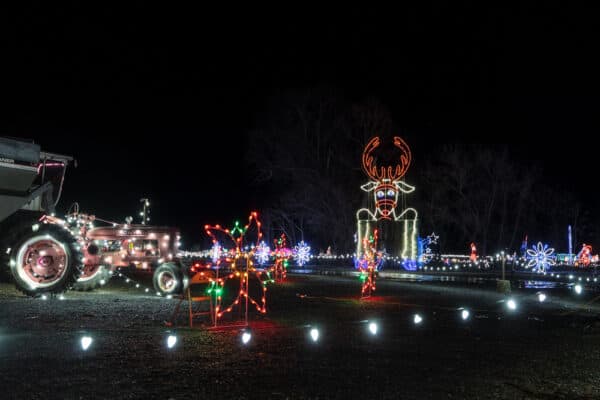 As with most holiday light shows in New York, these displays range from traditional to whimsical, providing a bit of something for everyone to enjoy. There are also a few displays that have little to do with Christmas, like the random section with spiders, bats, and pumpkins, but overall, the display is very Christmasy.
The entrance to Twinkle Town is on the right side of the farm store. In 2022, tickets cost $25 and can be purchased at the gate.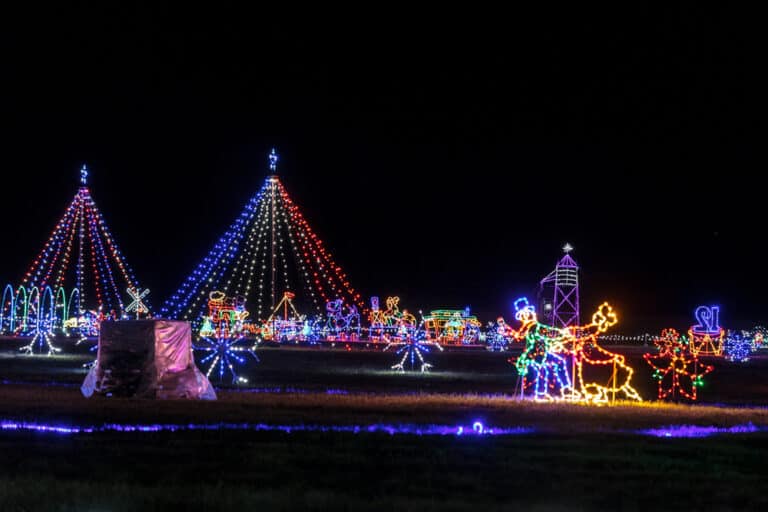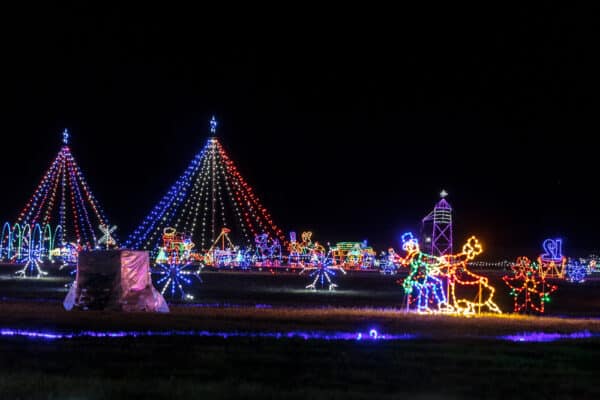 Signs at the entrance note that visitors should tune their radio to Twinkle Town's private radio station. This station broadcasts a nice mix of commercial-free Christmas music, so it makes for a really nice accompaniment to the show.
That being said, the music isn't synced to any of the lights, so if you have a style of music that you prefer, you could always bring your own music along to listen to while driving through the display.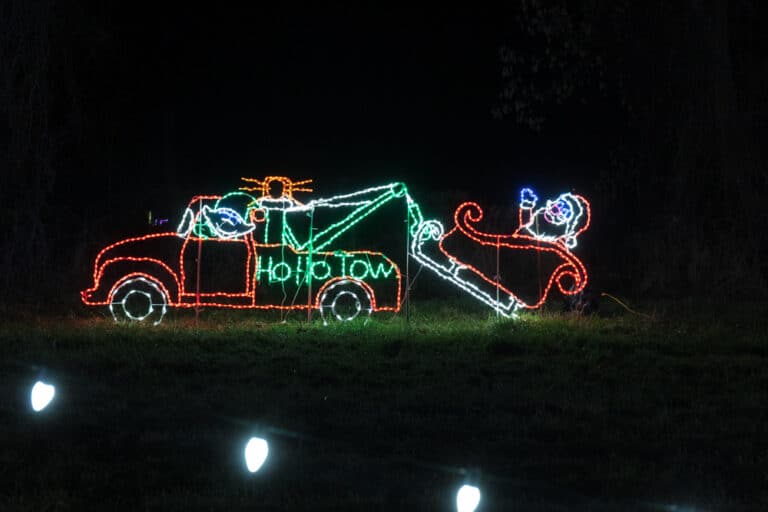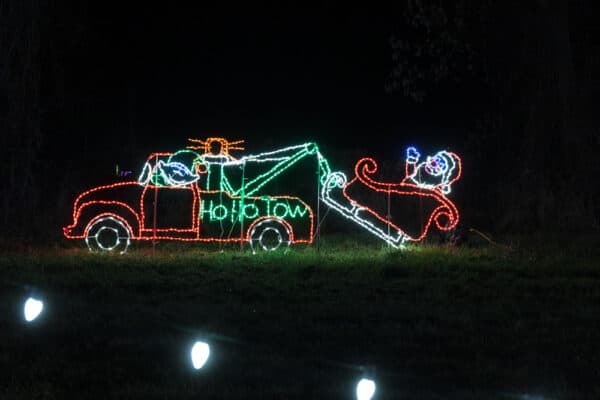 Once you drive past the entrance, you can actually see nearly all of the show from the starting point. That's because nearly all of the show is contained in a large square-shaped field that you drive around on a dirt road.
And, while there are some lights on the passenger side of the car for most of the route, the majority of the lights are located within the field on the driver's side of the car.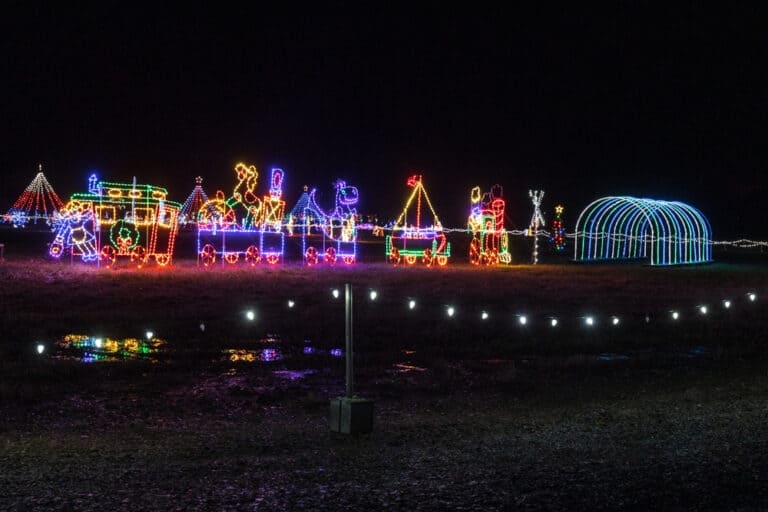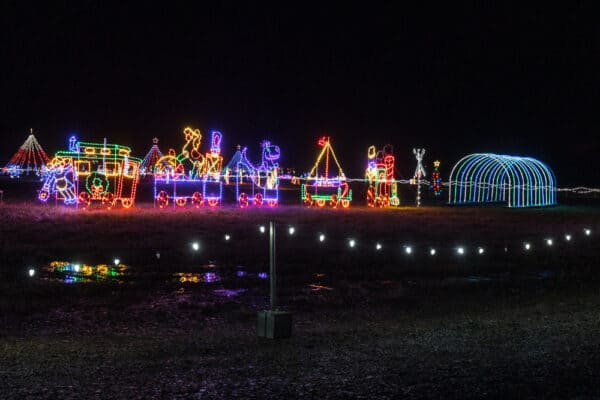 Probably the best part of the display was at about the halfway point where there was a long light tunnel to drive through as well as several fun and interesting displays at the side of the road, including a neat light-up train.
The very end of the driving route was also really great and had probably my favorite display at Twinkle Town which featured a reindeer driving a truck over grandma.
With more than 200 displays along the route, there is a lot to see at Twinkle Town. However, the placement of the lights makes the display seem less impressive than it is.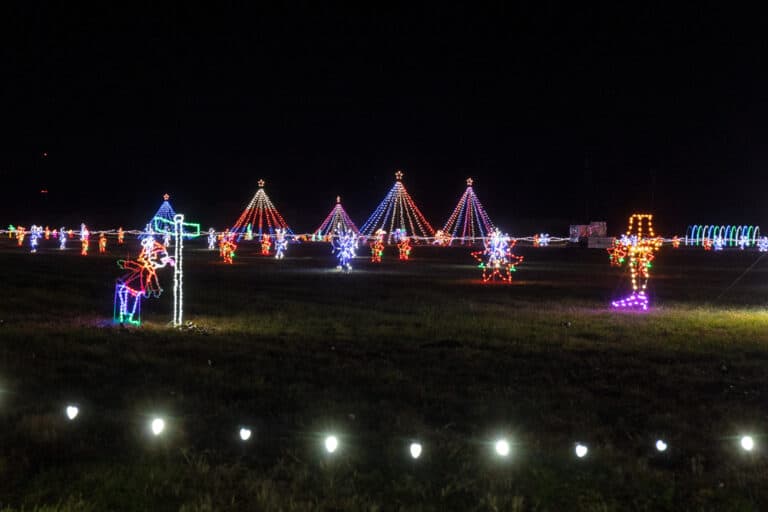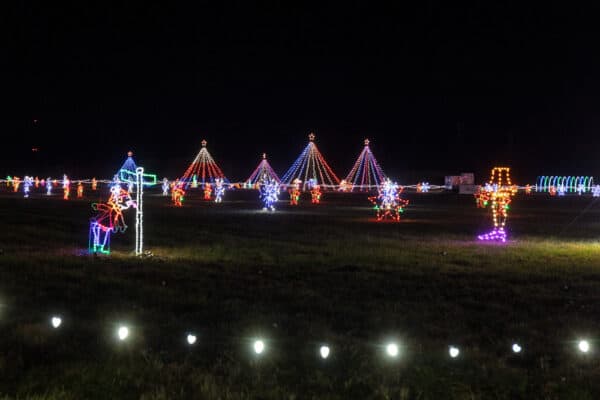 That's because, instead of lining the road with the displays, they are spread throughout the field, leaving some displays hundreds of feet from cars, while space near vehicles is often empty.
This made Twinkle Town seem sparse and underwhelming, despite having more light displays than some of the other shows I've visited. In fact, many of my photos in this article were taken with a long zoom lens in an attempt to better capture the lights, something I've never had to do at any of the 20 or so other drive-through Christmas light displays I've visited over the last few years, such as Lights on the Lake in Syracuse.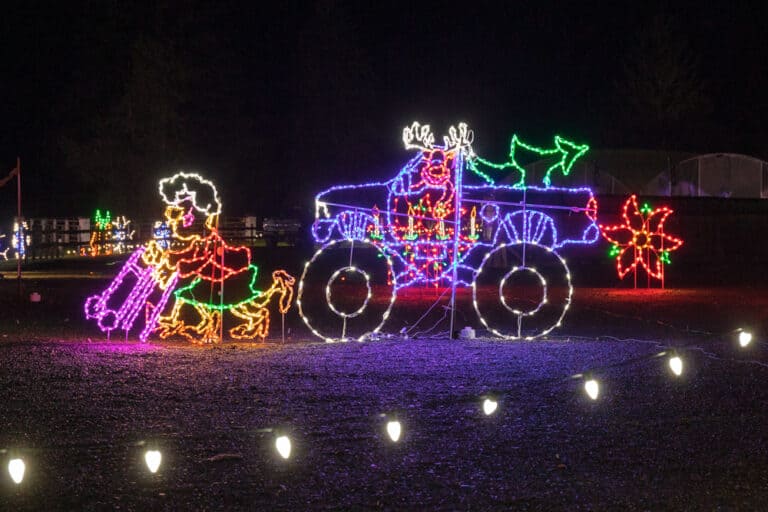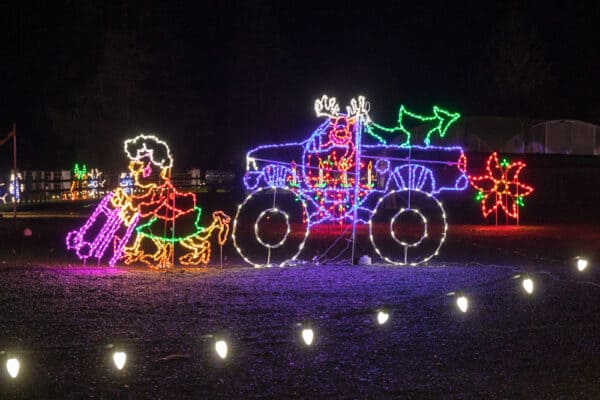 If they had simply placed the majority of lights along both sides of the road in close proximity to vehicles, and left the middle of the field largely empty, it would have created a much more immersive experience and would have made this a really great show.
Hopefully, in the future, they will place the light displays in closer proximity to the roadway to make the show significantly better.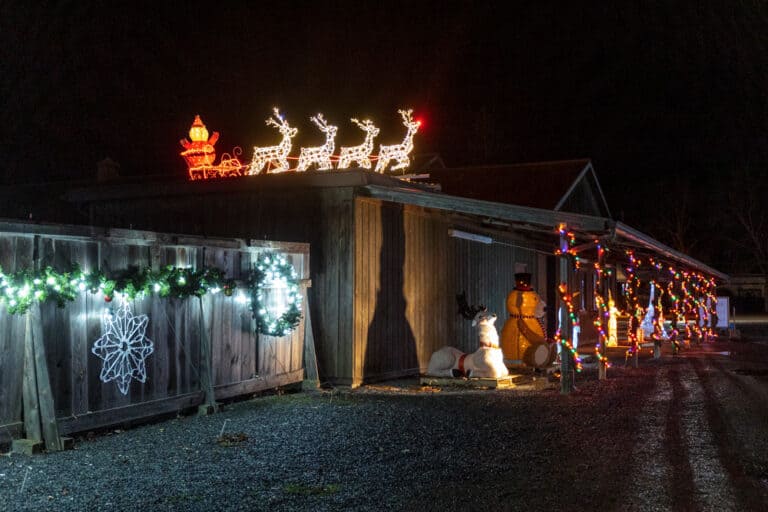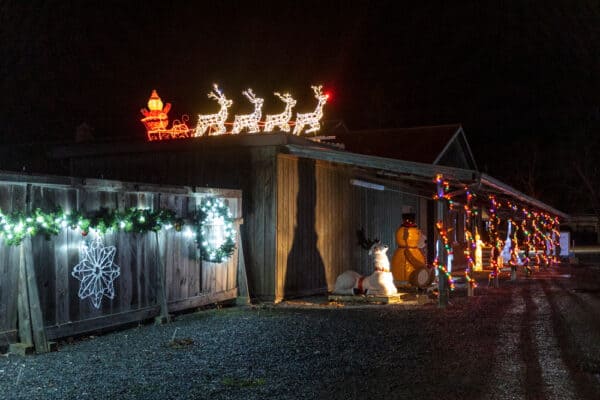 Until then, I can really only give Twinkle Town a partial endorsement. They have some really fun and unique displays, as well as their own radio station, which makes this a neat spot to check out. However, because many displays inexplicably sit so far from the road, I wouldn't drive far out of your way to visit this display.
Still, if you are in the Elmira area, Twinkle Town at Bradley Farm is a nice display to check out this holiday season.
In 2022, Twinkle town at Bradley Farms is open nightly from November 18 through December 31, 2022. Tickets cost $25 per car and can be purchased at the gate.
Looking for more places to visit nearby? Check out Jungle Bells at Animal Adventure Park, the Broome County Festival of Lights, the grave of Mark Twain, and the Corning Museum of Glass.