Disclosure: This article may contain affiliate links. We will make a small commission from these links if you order something at no additional cost to you.
I first visited Animal Adventure Park near Binghamton in 2019, and it has been one of my favorite zoos in New York since then. So, when I heard about their Christmas light display, I knew I had to check it out.
Known as Jungle Bells: Holiday Lights Display, this show really brings life to Animal Adventure Park during the colder months of the year. Started in 2017, the show has grown every year, and, in 2021, the display features over a million lights (which is double what they had in 2020).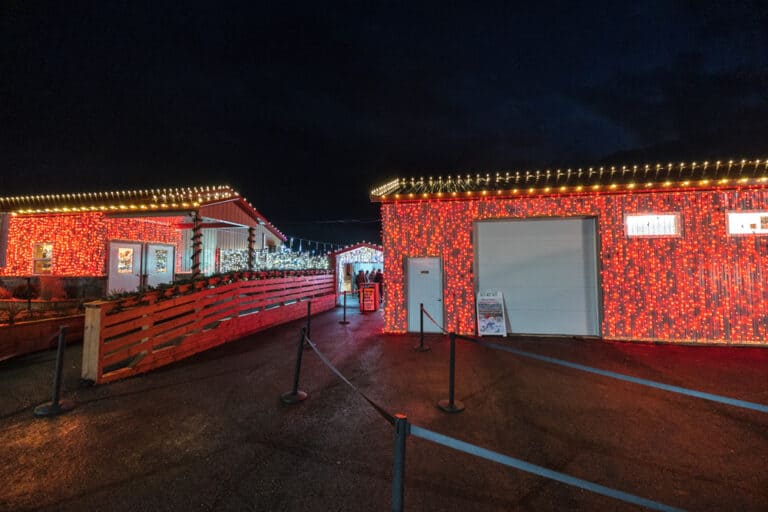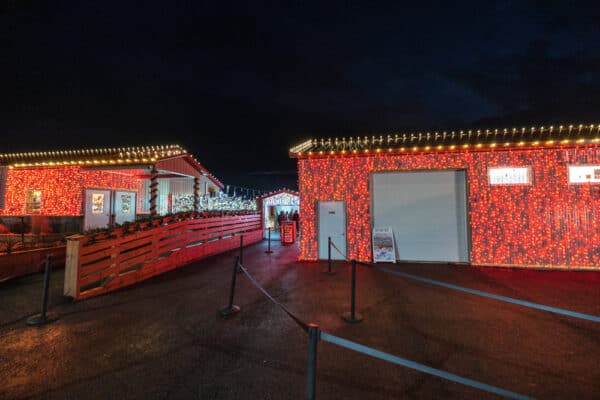 Wanting to see this display for myself, I headed to Animal Adventure Park on a warm Thursday night in early December 2021. Fortunately, the threat of rain kept the crowds low, but I was told that Thursday nights are by far the least crowded (The light display is open from Thursday-Sunday).
Gates for Jungle Bells open at 4pm, and I recommend that you get there close to the opening time for two reasons.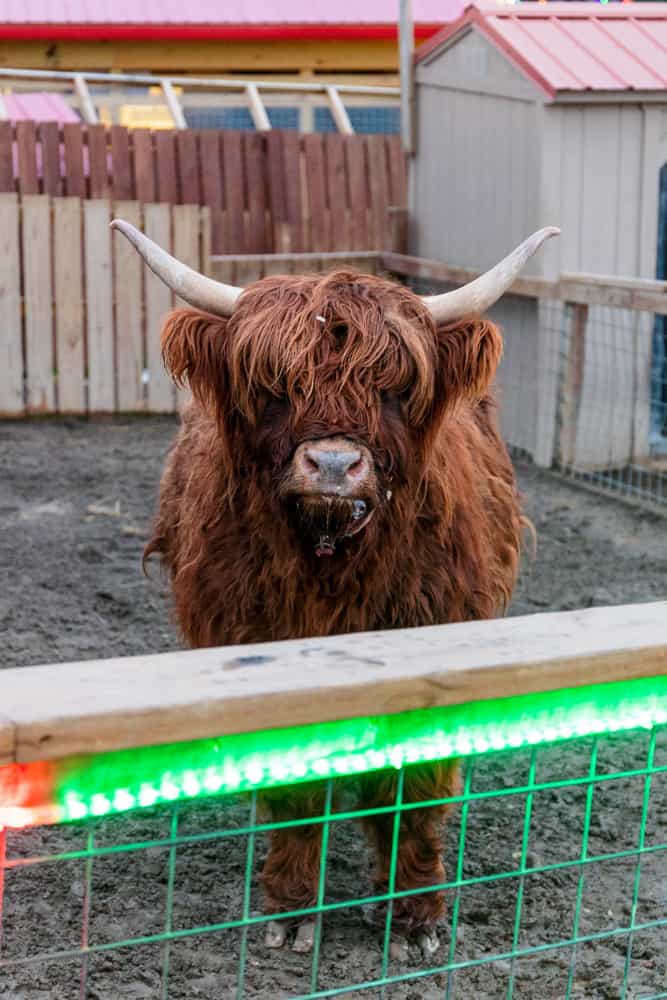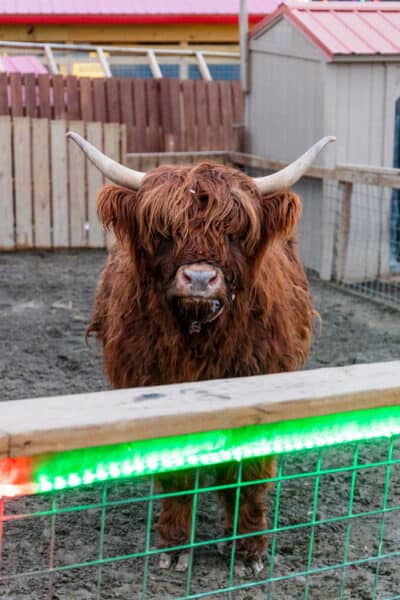 First, the crowds only get worse when it gets dark, so you can beat a bit of the traffic, get better parking, and be able to enjoy the place a bit more peacefully if you get there early.
Second, about half of the zoo's animals are out during Jungle Bells (something that actually seems to be rare among zoos with light shows, so it was a neat surprise). However, the enclosures don't have lights, so once it gets dark, it can be a bit difficult to see the animals unless they are up against the fence.
(Of course, if you buy the food cups they offer, the animals will come up to the fence quite quickly.)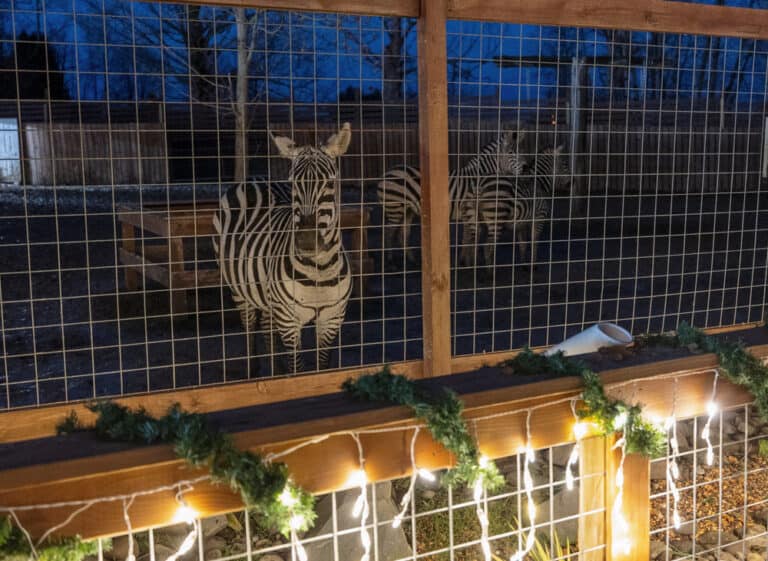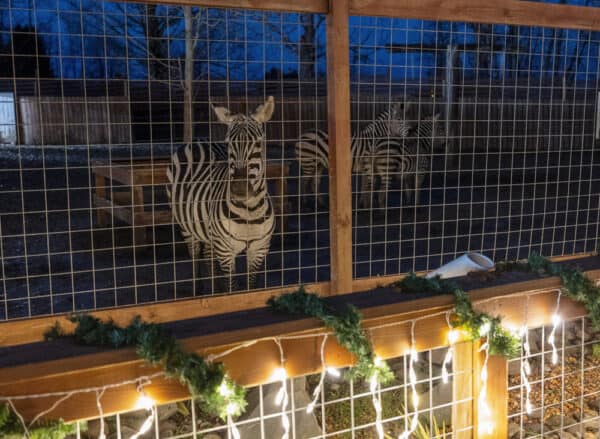 During my visit, I really enjoyed not just seeing the animals, but also seeing them quite active. Thanks to many of the animals being more active at dusk and in cooler temperatures, they were all quite active. In fact, I almost felt like the cougar and hyenas were stalking me from within their enclosures.
Since I arrived at Animal Adventure Park early, I made two complete passes through the zoo. The first time, I focused more on seeing the animals, while I focused more on the Christmas lights the second time as it got darker.
Whenever I walked twinkling lights and festive Christmas music followed me.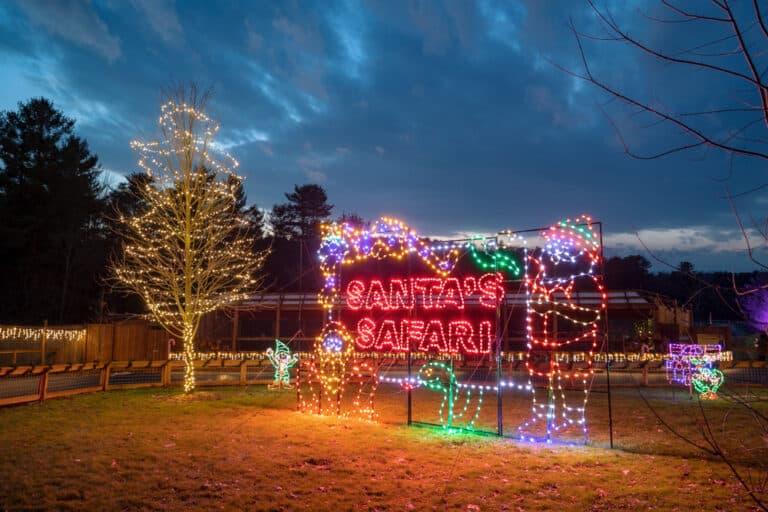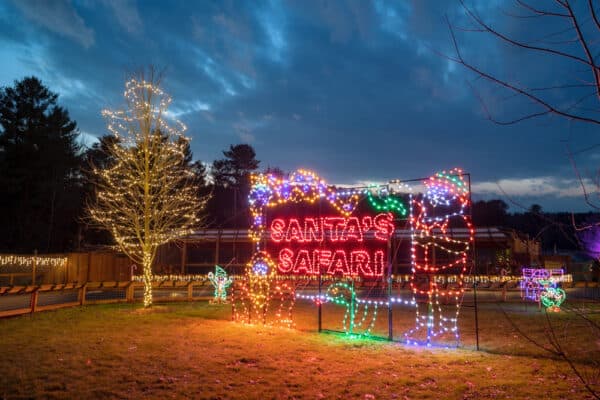 As I stated above, Jungle Bells: Holiday Lights Display at Animal Adventure Park features more than a million lights. These lights are split into three categories: enclosure decorations, wrapped trees, and stand-alone displays.
The stand-alone displays are the same sort of displays that you often find at other walk-through or drive-through Christmas light displays in New York. However, many of them do have a focus on animals, such as the 13-foot lighted giraffe, which is said to depict the recently passed April, who was the zoo's celebrity giraffe (See the photo at the top of this article).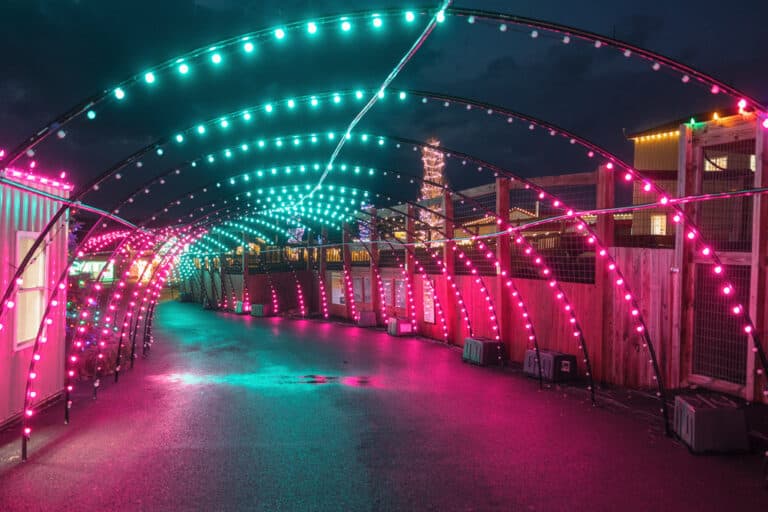 Throughout the park, you'll also find other fun spaces such as the 100-foot light tunnel, live reindeer, unique photo spots, and the tallest fully-lit tree in the region.
If you visit on Friday and Saturday evenings, photos with Santa are included with your visit. If you visit on Sundays, you can visit with the "Snow Sister Princesses" (who are DEFINITELY not Elsa and Anna from "Frozen").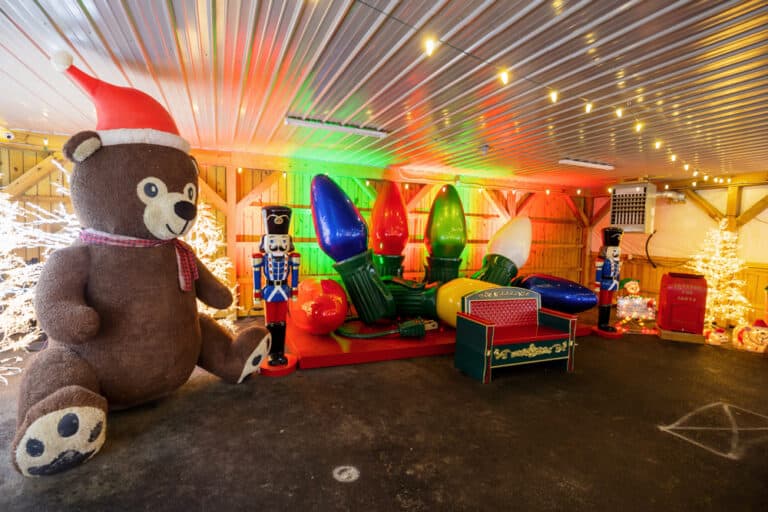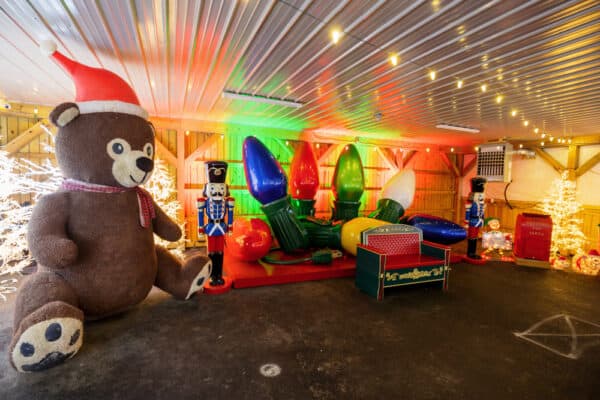 The space where you'll find the character photos also doubles as a warm area for those that need to warm up for a bit, which is a nice touch for cold nights.
And, if the cold temperatures leave you wanting a treat, Animal Adventure Park has two concession stands open that sell hot chocolate, coffee, old-fashioned donuts, and some other snack foods and drinks. The prices struck me as reasonable given they were inside the gates.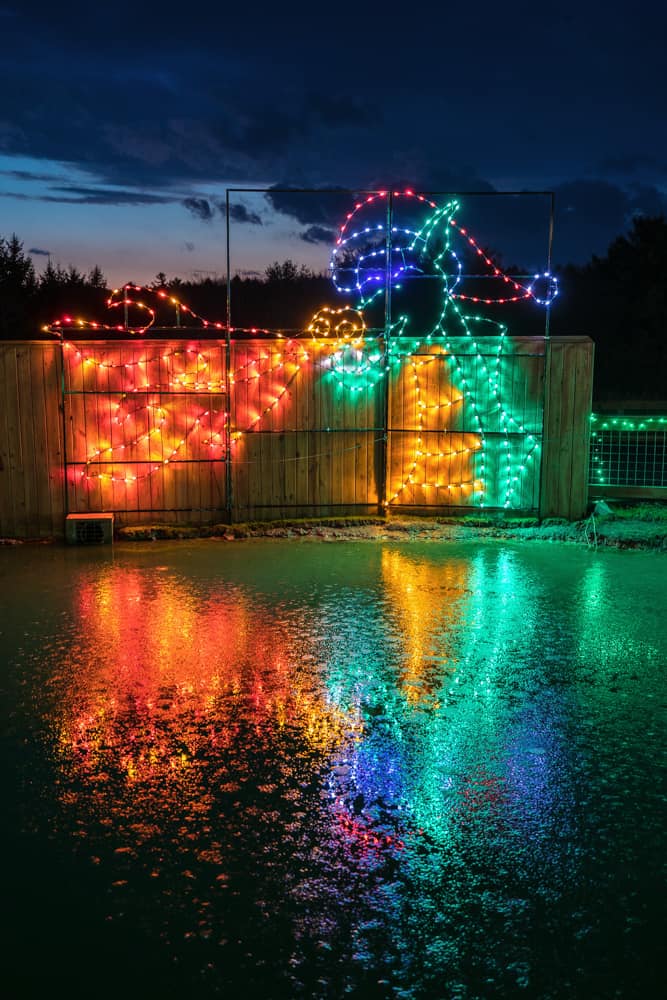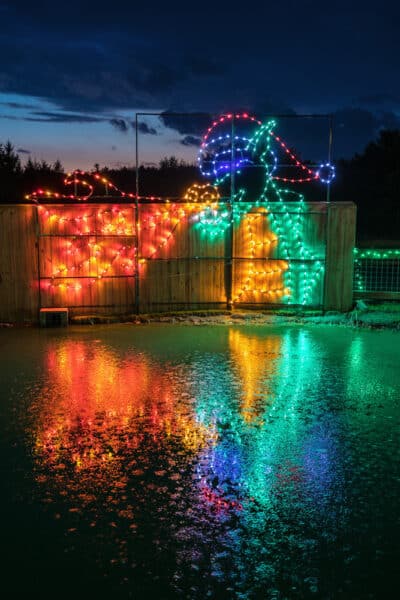 Overall, I was really impressed with the holiday lights display at Animal Adventure Park. While there were some areas that weren't covered in lights, the display continues to grow, and there were a ton of fun and festive displays to see throughout the park.
And, what really put it over the top, was that many of the animals were out and roaming their enclosures. That alone is worth the price of admission, which says nothing for the beautiful and festive lights throughout the park.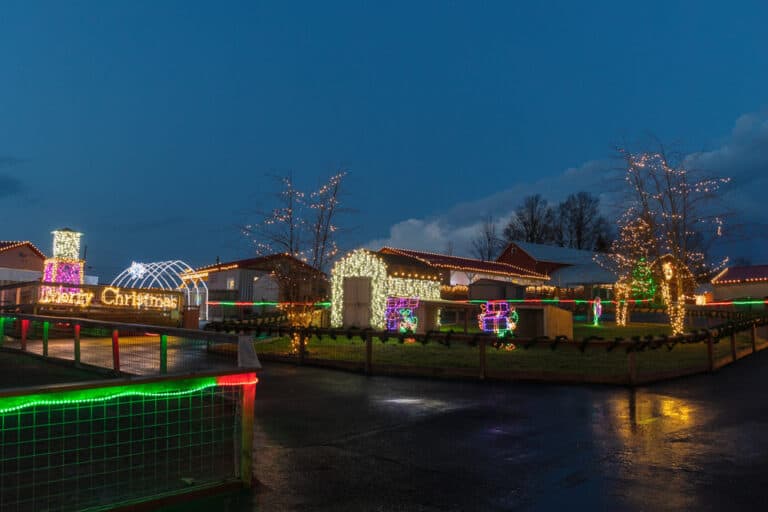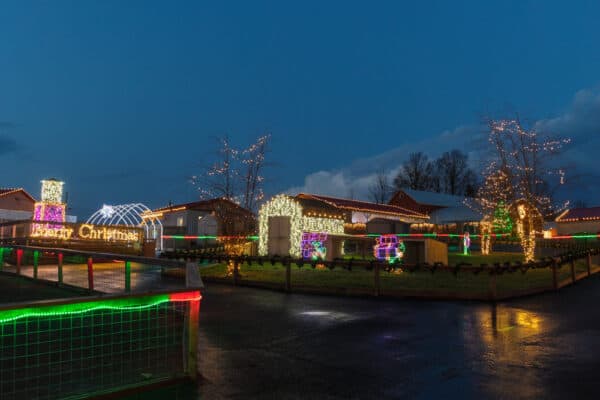 So, if you are looking for a great light display to see this Christmas in Broome County, don't miss the Jungle Bells at Animal Adventure Park.
Looking for even more things to do nearby? Check out Lights on the Lake in Syracuse, Beer Tree Brewing, Twinkle Town, and the Broome County Festival of Lights.
---
Jungle Bells at Animal Adventure Park
Hours: Thursday-Sunday: 4pm-9pm
Open 11/10/22 – 12/31/22

Cost: $14

Website: TheAnimalAdventurePark.com

Address: 85 Martin Hill Rd
Harpursville, NY 13787
---