Disclosure: This article may contain affiliate links. We will make a small commission from these links if you order something at no additional cost to you.
When I'm traveling, I'm always on the lookout for fun and unique things to do. So, when I visited Binghamton, I was excited to discover Robot City Games and Arcade.
Robot City Games and Arcade is located in downtown Binghamton and bills itself as the largest public arcade in New York. According to its website, the arcade features more than 125 video games and pinball machines, ranging from 1974 through the present day.
That being said, most of the games here are nostalgic-type games, and it seemed that the vast majority of the collection was from the eighties and nineties.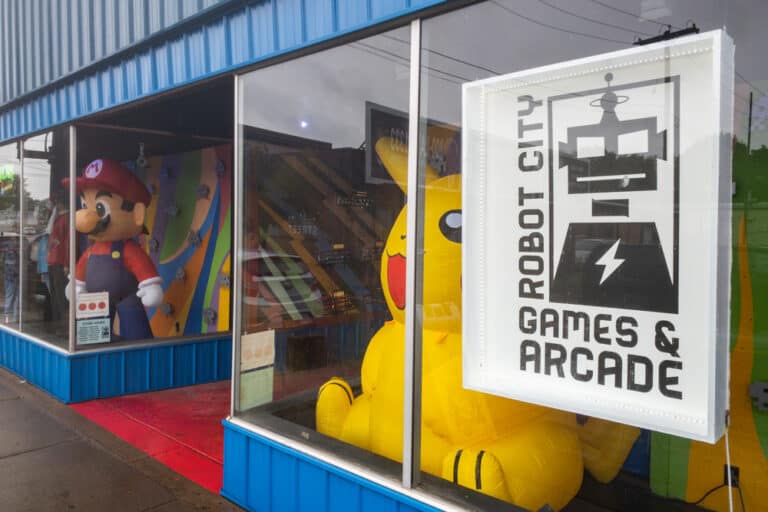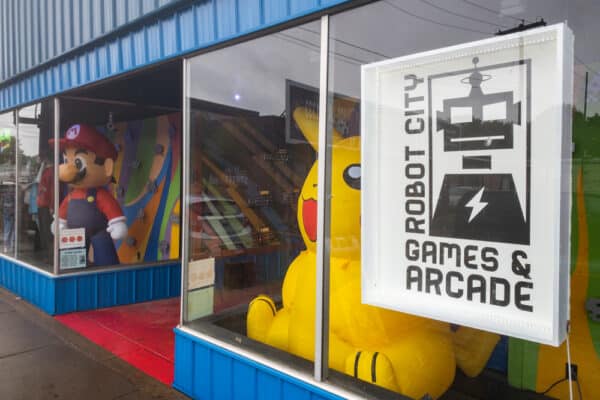 The arcade is located behind a giant video game store that features games and accessories for just about any video game system you could imagine. In fact, they even had games for systems that I'd never even heard of.
So, if you love playing video games at home and have some older systems (or want to buy an older system), it's likely that they have some great options for you.
However, while the store at Robot City Games is great, the main draw here is the arcade.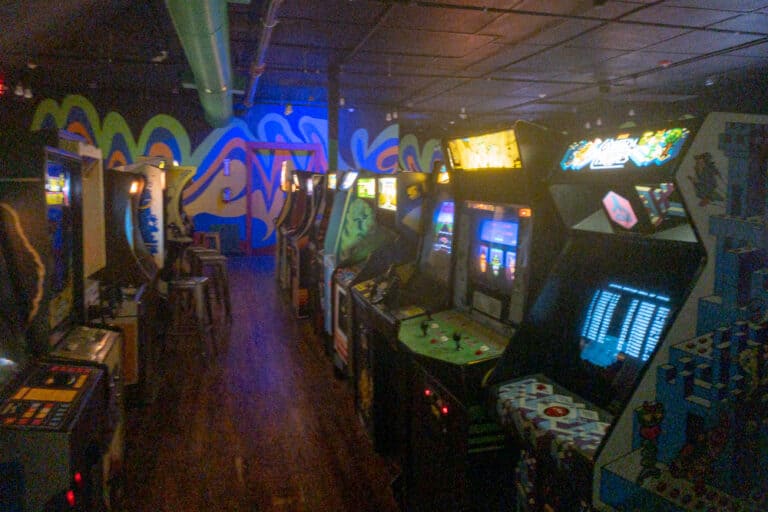 The arcade is located at the back of the store in a large and somewhat dark room. Games are lined up in long rows, and it might take you a few minutes just to figure out where to even start your video game adventures.
This isn't your typical modern arcade filled with claw machines, skeeball games, and ticket machines. All you'll find here are classic arcade games and pinball machines, and deciding which ones to play is definitely a challenge as, even if you had all day, you can't play everything in just one visit.
Unlike some retro arcades that I've been to in the past, there isn't an hourly charge at Robot City Games and Arcade. Instead, you buy as many tokens as you want and pop them in the machine, just like was done with quarters a few decades ago.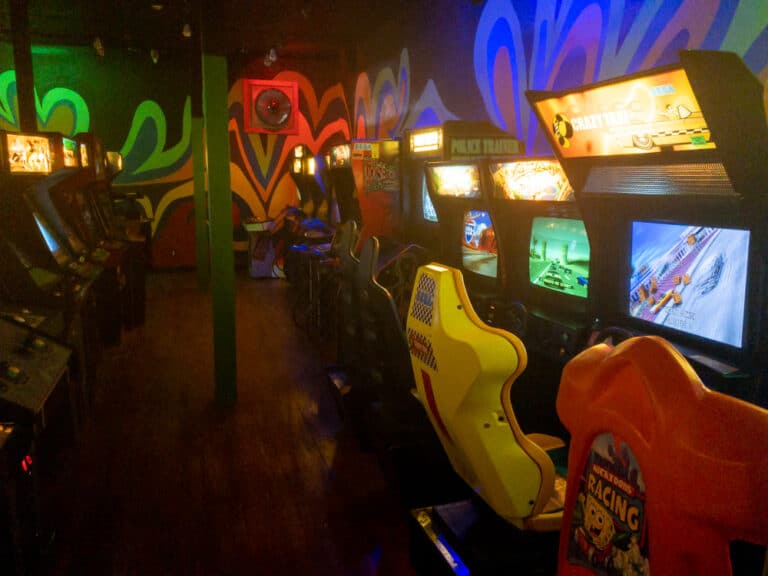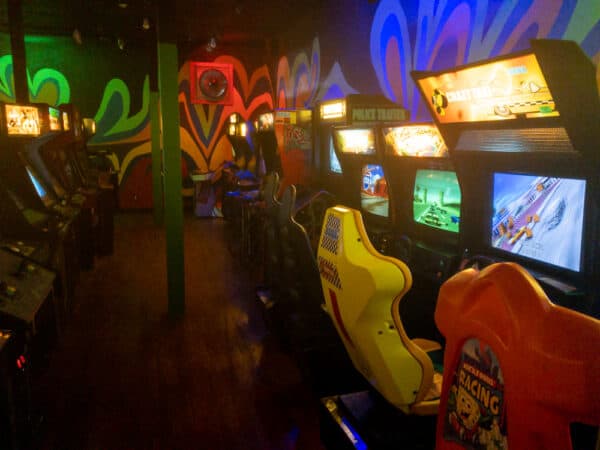 Many of the classic arcade games still only cost 25 cents per play, which is a really fantastic deal. Pinball machines tend to cost 50 cents to a dollar, and some of the more advanced driving and shooting games also have a higher cost, but 25 cents is the standard price for the games here.
Robot City's arcade really targets those that either remember or appreciate vintage arcade games from the 80s and early 90s (though they have arcade games that are are old as the early seventies and as recent as the early 2000s). During my visit, I had a chance to play games like Frogger, Mike Tyson Punchout, and NBA Jam. Definitely a walk down memory lane for me.
For those that enjoy pinball machines, Robot City Games and Arcade has more than 30 available for play ranging from decades-old machines (the oldest at the time of writing was from 1974) to slightly more modern ones such as a Batman pinball machine from 2017.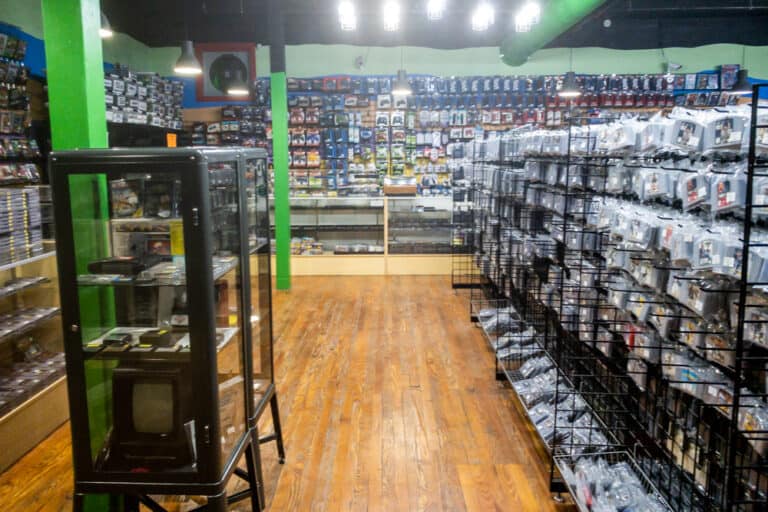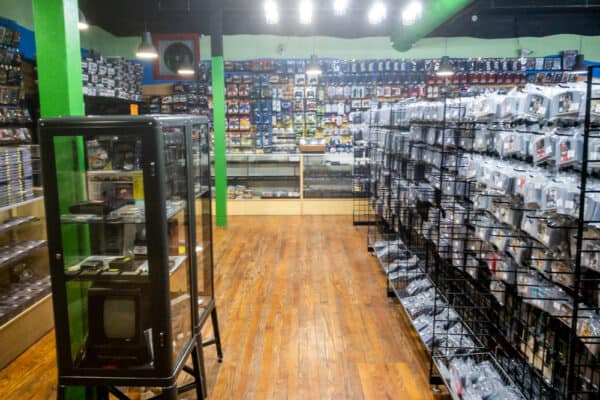 All that being said, it's worth noting that the arcade games and pinball machines available at Robot City Games in Binghamton frequently change. Because of this, it's a good idea to check the list of available games on their website before going if there is something in particular that you are hoping to play.
Ultimately, if you love classic video games, you are sure to find something fun and nostalgic to play at Robot City Games. So, whether you are simply looking for something to do in Binghamton while driving across the Southern Tier on I-86, are visiting this part of Central New York, or live in the Broome County area, Robot City Games and Arcade is definitely a spot that video game enthusiasts won't want to miss.
Looking for even more great things to do in the area? Check out Animal Adventure Park, Beer Tree Brewing Co, the Discovery Center, and the Lily Lake Trail at Chenango Valley State Park.
---
Robot City Games and Arcade
Hours: Monday-Saturday: 10am-8pm
Sundays: 11am-6pm

Website: RobotCityGames.com

Address: 126 Clinton St
Binghamton, NY 13905
---