Disclosure: This article may contain affiliate links. We will make a small commission from these links if you order something at no additional cost to you.
On a recent visit to Cooperstown to visit the National Baseball Hall of Fame, I noticed a sign for Robert V. Riddell State Park. So, one evening during my visit, I decided to head to the park for a hike.
Robert V. Riddell State Park is a 2,100-acre state park that was first opened to the public in 2005 when the land was donated by local residents for public use. Originally, it was about 1,000 acres in size, but expanded over the years to its current size, particularly due to a large purchase of land from nearby Hartwick College in 2008.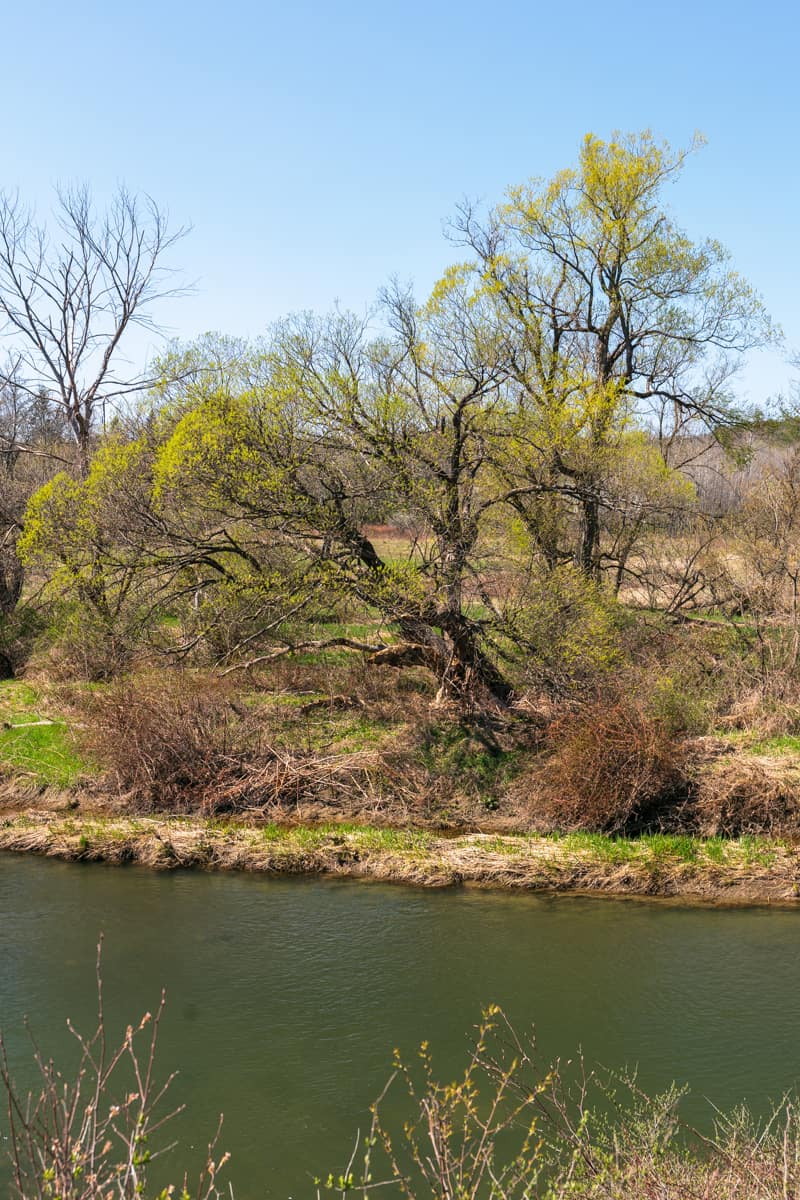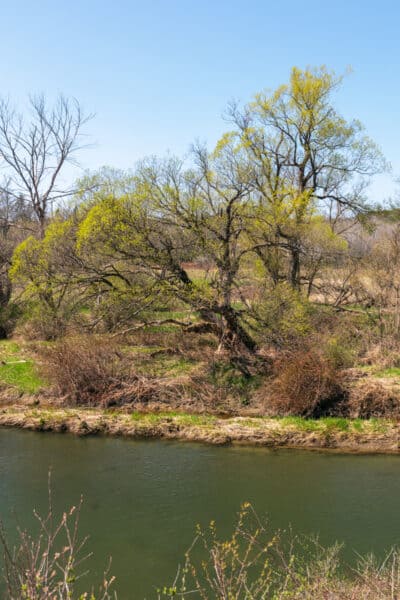 Riddell State Park is divided into two nearby but unconnected portions of land thanks to Interstate 88. The portion south of the interstate is the larger of the two pieces and has more miles of trails. However, I spent my time in the area north of I-88 because there is a really nice short loop here that's perfect to add to your list after a day exploring the Cooperstown area or to stretch your legs while driving on the highway.
The hike listed below is a bit over a mile in length, but you could use the loop trails here to easily extend it up to about two miles without having to double back on any trails.
Parking for Robert Riddell State Park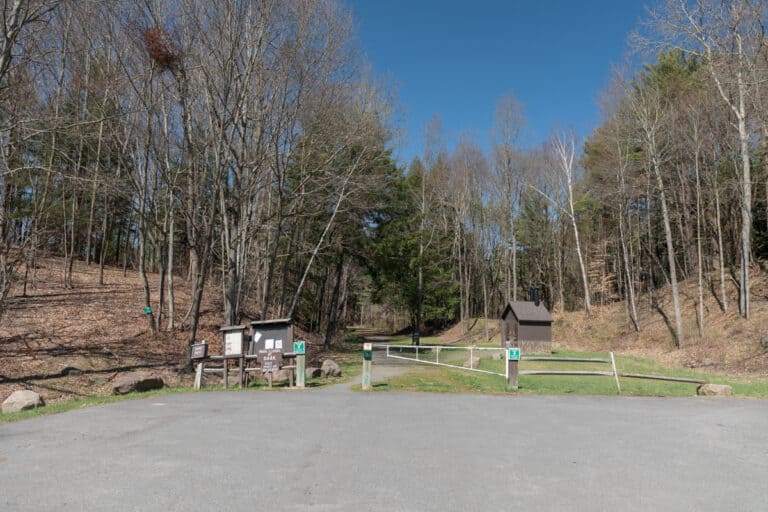 The northern portion of Robert Riddell State Park is located along Route 28, just north of exit 17 on Interstate 88.
There is a single parking area in this portion of the park that gives access to the trails here. It can be found at the following coordinates: 42.484975, -74.967276. If driving north from the highway, this is the first right after the interstate and is an obvious pull-off next to a small state park sign.
The parking area here isn't overly large but is big enough to hold around 10 vehicles.
[Click here for information on how to use the coordinates in this article to find your destination.]
Hiking at Robert Riddell State Park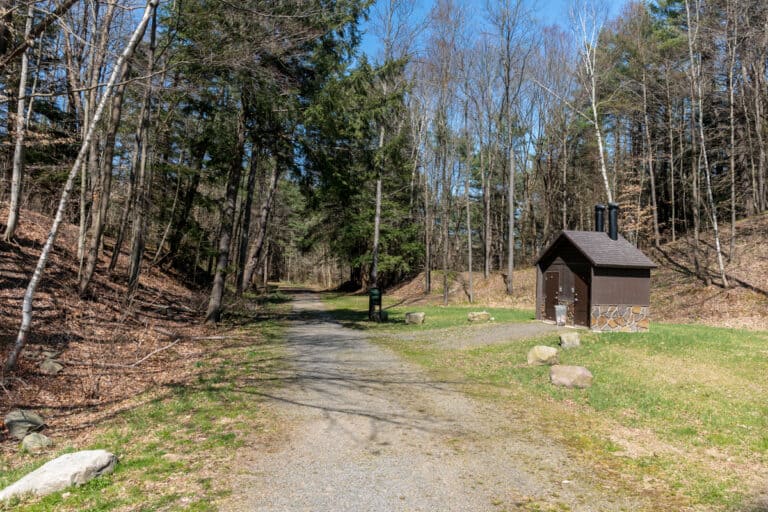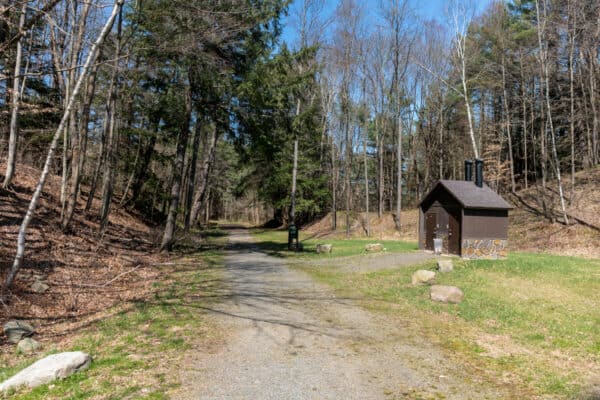 Don't come to the northern portions of Robert Riddell State Park expecting challenging trails or epic scenery. You won't find that here. However, the landscape here is very beautiful and makes for a fun and easy hike.
From the parking area, there is a single trailhead that marks the start of the Tree Identification Trail. There are a few numbered markers along this trail, but otherwise, it's a normal trail despite the somewhat unusual name.
This trail goes past an information sign and a small bathroom area before quickly entering the woods.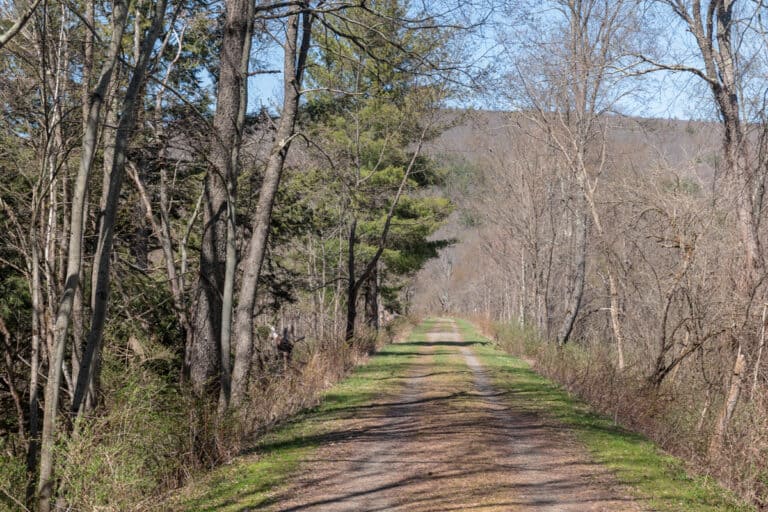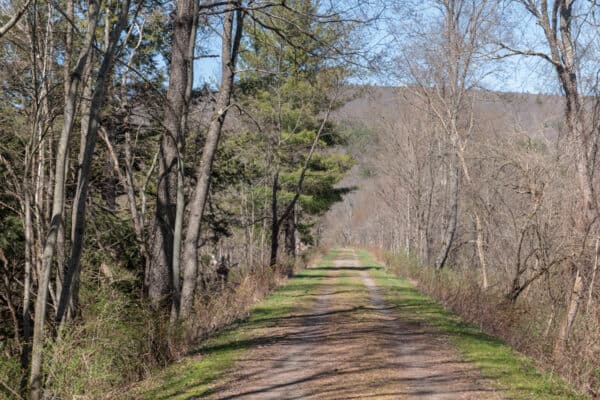 Soon, however, the trail leaves the woods and starts to cross over an elevated area between two large fields. These fields were once farmland and may still be used for this purpose during the season. (I visited in late April, so I'm unsure if there are crops here once the area warms up.)
As you walk along the very straight path, it's interesting to look around at the area below. If you look out from the trail over the fields, you'll get your first glimpse of Schenevus Creek, which is actually a river despite its name.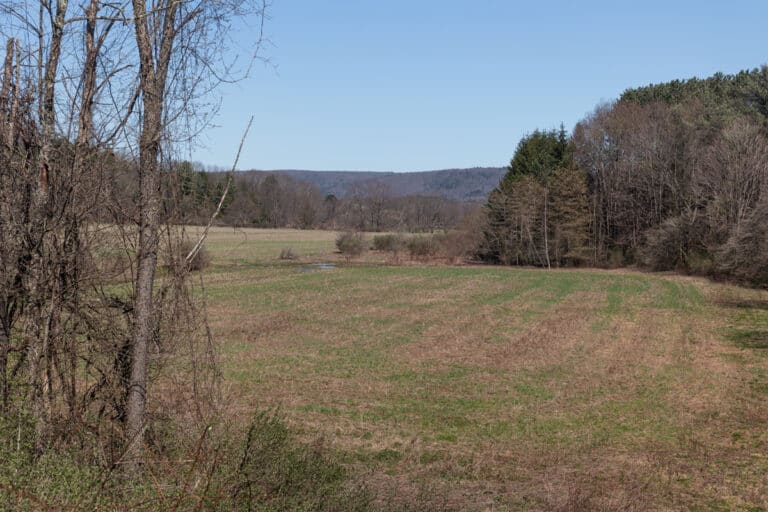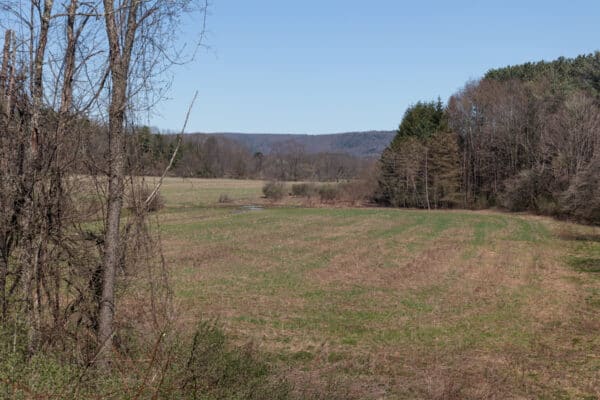 After walking on this elevation path for about a quarter-mile, you'll reach your first good view of the creek. This waterway is a popular fishing spot, so don't be surprised if you see people fishing for native trout along the creek.
Just past the creek embankment, you'll see the Purple Trail branch off to your left. This trail continues to follow the creek as it goes around the backside of a small hill. Hiking this will add about four-tenths of a mile to your hike.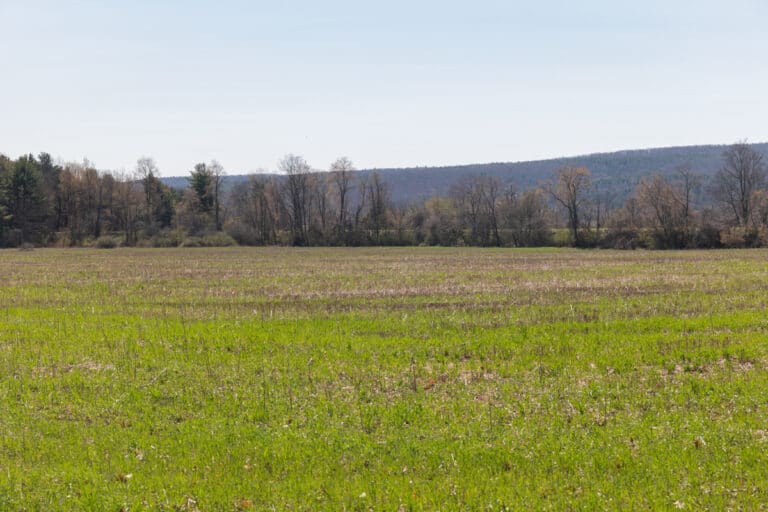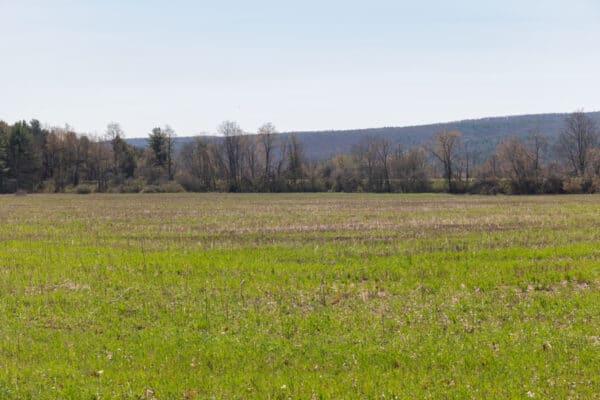 Instead of taking the Purple Trail, I opted to stay on the Tree Identification Trail as it skirted the edge of the field and headed towards another spot along Schenevus Creek.
Once you reach the far side of the creek, the next bit of hiking follows this tributary of the Susquehanna River upstream. This is an incredibly scenic area, and I stopped more than once for both photos and simply to enjoy the beauty of the waterway.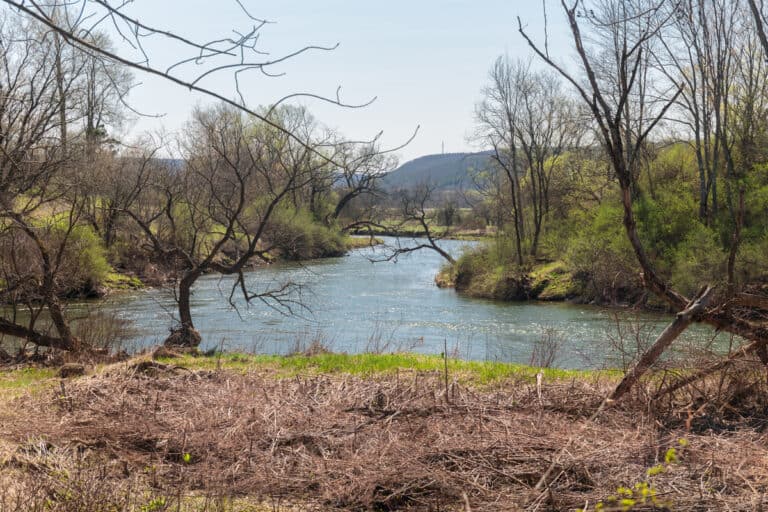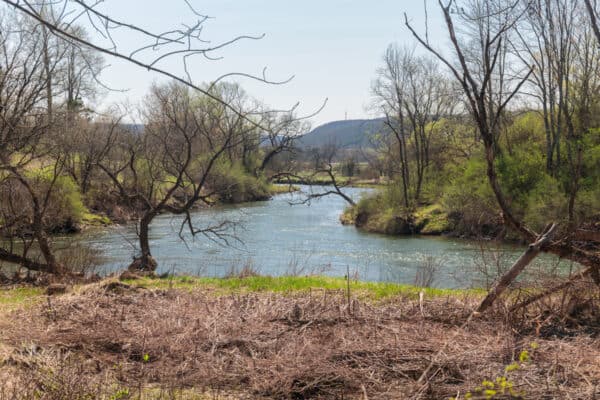 Eventually, the trail leaves the creek near a small wooden footbridge.
During my late April visit, despite water levels not being overly high, the area around the bridge was somewhat flooded with very clear spring water. And, while this made for a beautiful scene, it was impossible to cross this 100-foot or so section of trail without getting my feet wet. Something to keep in mind when hiking here.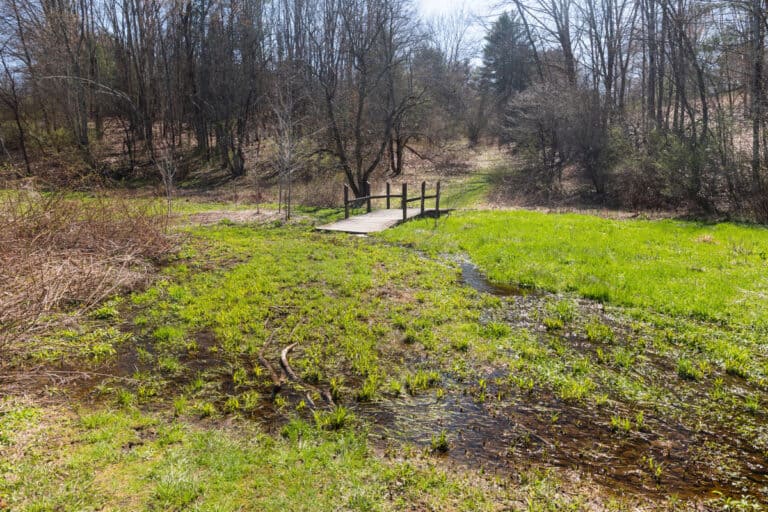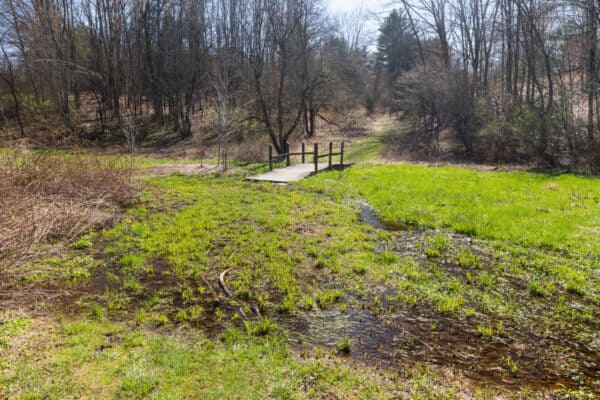 Once through the wetland and across the small wooden bridge, I opted to take the white-blazed C1 Connector Trail. This trail cuts a bit of length off of the overall hike, which is a good option for those with wet feet or those simply looking for a shorter hike.
Ultimately, my hike here using most of the Tree Identification Trail and the C1 Connector Trail was about 1.1 miles. If I had opted to take the entire Tree Identification Trail, it would have been a hike of about 1.4 miles, and, if I had wanted to, I could have bumped it up closer to two miles by adding in the Purple Trail and the Red Trail.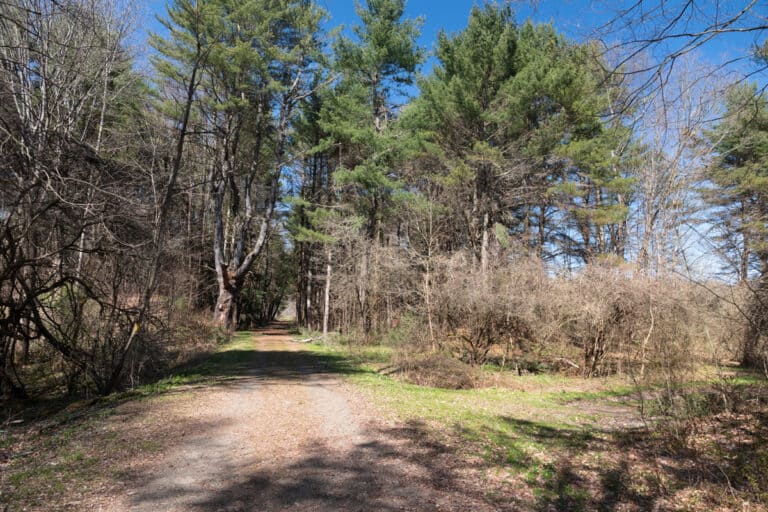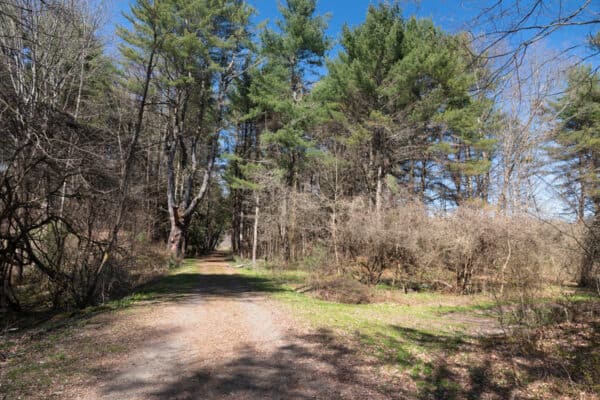 No matter how you do it though, hiking through the northern portion of Robert V. Riddell State Park in Otsego County, NY is a really fantastic hike. And, while I wouldn't say that this is a spot that's worth going far out of your way to visit, if you are looking for a quick hike while exploring the Cooperstown area or traveling I-88, this is definitely a fantastic choice.
Looking for even more places to visit nearby? Check out the Farmers' Museum, Brewery Ommegang, my favorite Cooperstown breweries, and Howe's Cavern.