Disclosure: This article may contain affiliate links. We will make a small commission from these links if you order something at no additional cost to you.
Less than two miles north of Cooperstown, New York, home of the Baseball Hall of Fame, you'll find one of the oldest rural life museums in the country: The Farmers' Museum.
This museum, which sits right across the street from the incredible Fenimore Museum of Art (You can buy a combo ticket for both sites), offers the chance to learn about rural life in New York, primarily from the 19th century. This is done through costumed interpreters, historic buildings, and great signage and displays.
This spot is also home to an amazing early 20th-century carnival sideshow known as the Cardiff Giant and the Empire State Carousel, but more on those further down.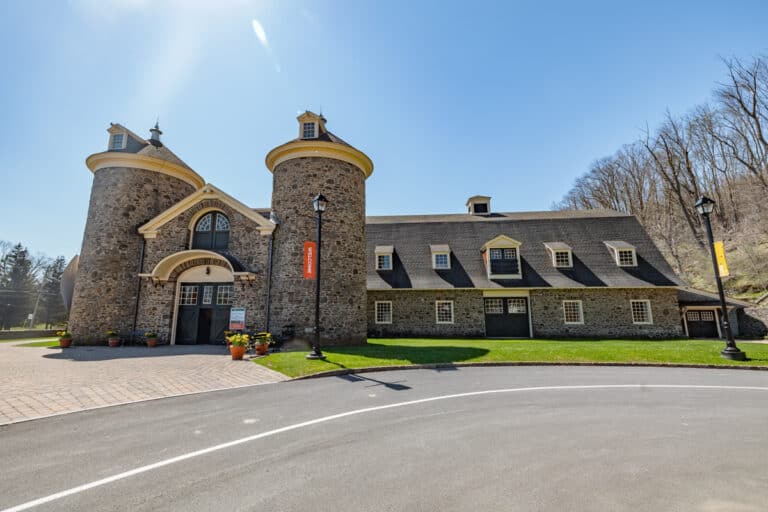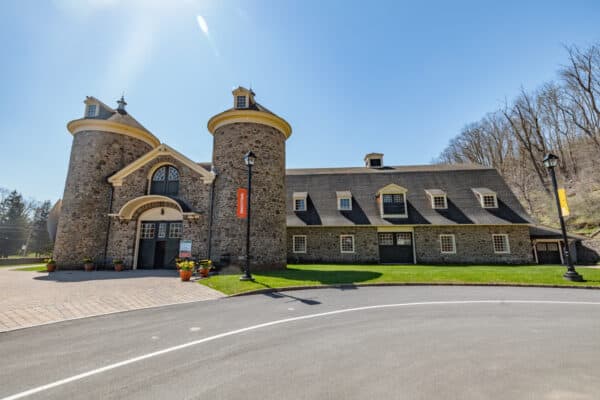 Entrance to the Farmer's Museum is through the large stone barn near the parking area. This barn was built in the early 20th century using local stones.
The land's history as a farm, however, goes back to 1813, when the working farm was established by author James Fenimore Cooper (of "Last of the Mohicans" fame). It was later owned by Judge Samuel Nelson, who sat on the Supreme Court in the 19th century and is most well known for concurring on the infamous Dred Scott Decision in the mid-1850s. (More on Nelson later in this article as well).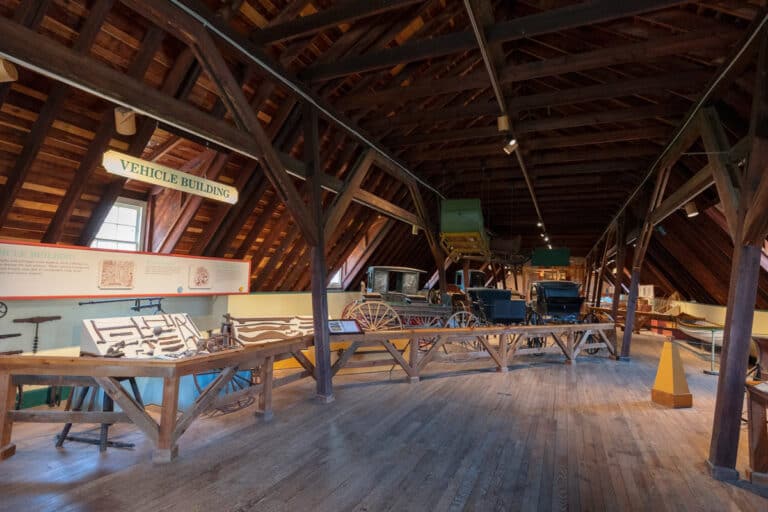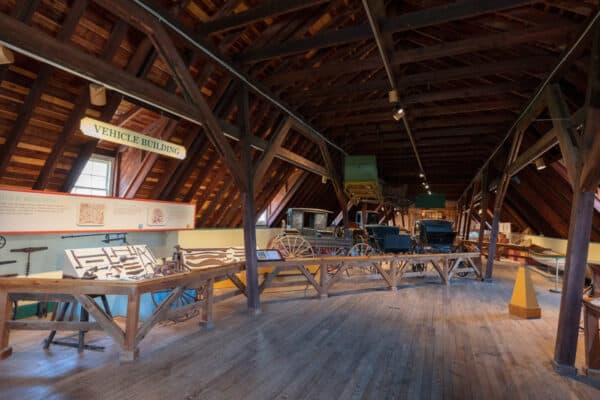 The stone barn not only serves as the entrance to the farm but also features most of the museum's collection of antique tools, which are quite interesting to see. A large portion of this collection is on the second floor of the space, which I almost missed, so make sure to venture upstairs during your visit.
The first floor features displays that revolve around a temporary exhibition that generally seems to last for an entire year. During my visit, the display, titled "Growing Tomorrow's Farmers," told the story of children on farms. I was impressed at how well this large display area was done since it's only a temporary exhibit.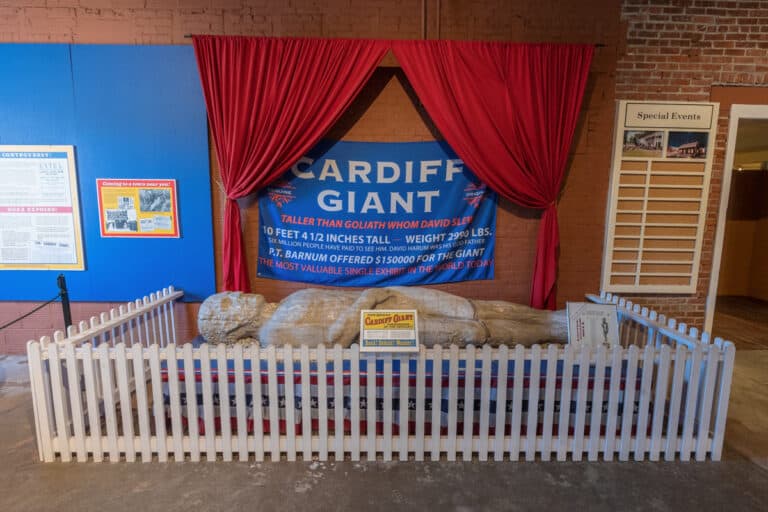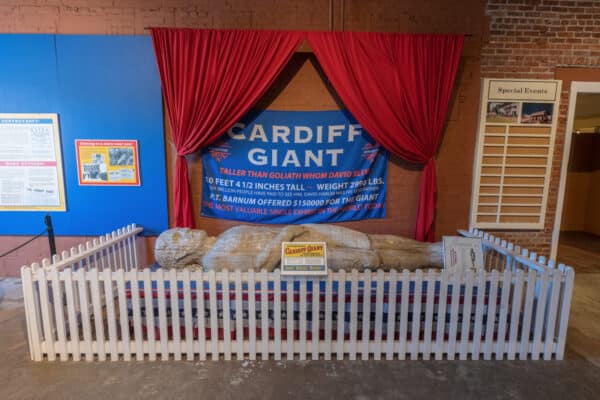 The first floor of the barn is also where you'll find the Cardiff Giant, one of the most interesting and unique pieces I've seen in a long time.
This stone statue was a carnival sideshow that took the country by storm in 1869 and 1870. It was presented as the petrified remains of a 10-foot-tall giant but was nothing but a hoax. However, it was a hoax that was so successful that P.T. Barnum offered to buy it, and, when he couldn't, constructed his own replica of it from plaster.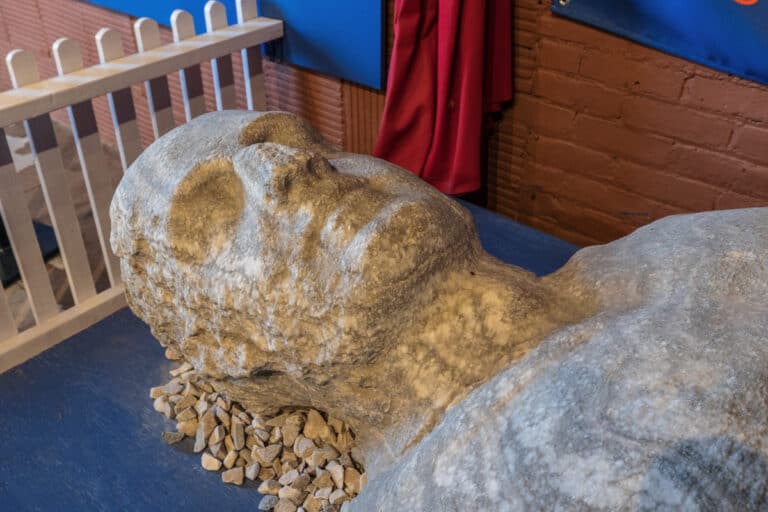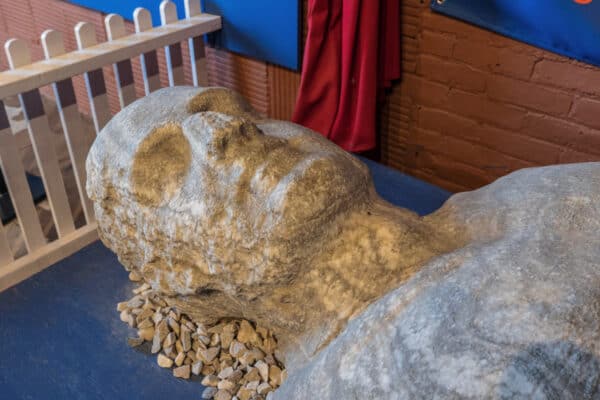 Today, the Cardiff Giant is still a bit of a sideshow as it speaks to a unique period of time in American history and is a cultural phenomenon that has survived into the 21st century.
To be honest, looking over the giant, it's amazing that anyone thought that it was real, but the craftsmanship that went into making it is quite extraordinary. And, while there is a lot more to see at the Farmers' Museum, I found this display alone to be worth the cost of admission. (Which probably says something about how things like this become sideshows people pay to see in the first place.)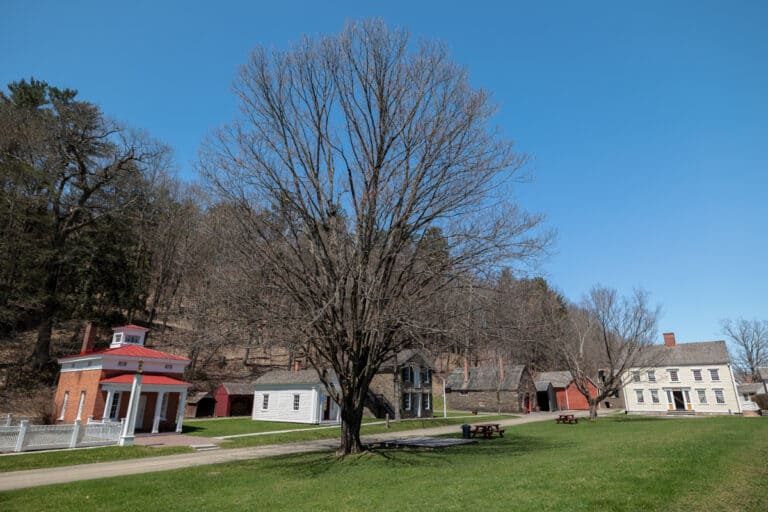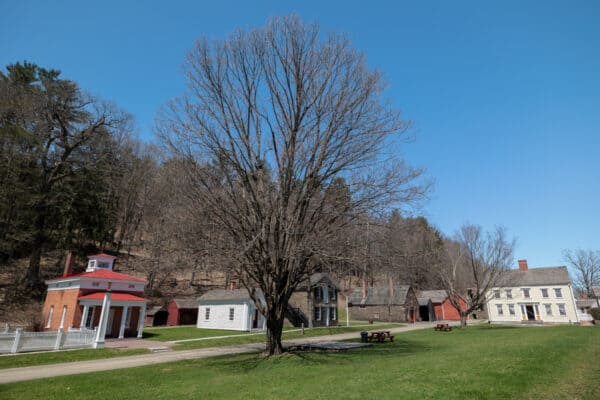 While the barn's displays are very interesting, I spent the majority of my time exploring the two dozen buildings within Historic Village.
The buildings in this village are all historic structures and were moved to this site over the years to preserve them. While there was never a village here, they are set up very well, and it definitely feels like you are walking through a 19th-century town in Upstate New York.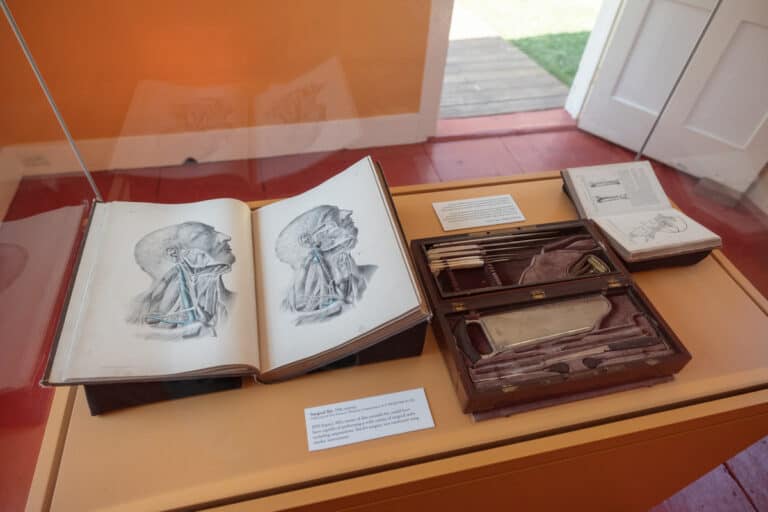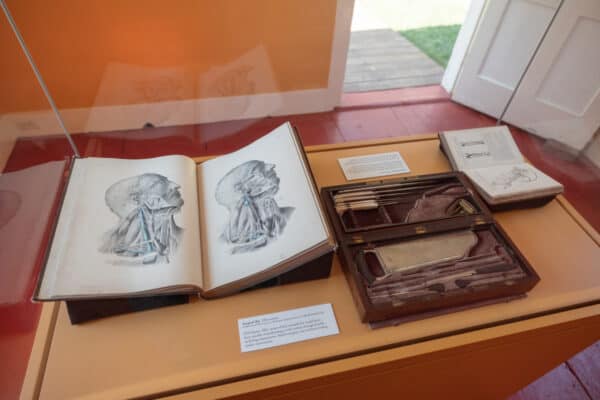 There are a wide variety of buildings here including stores, artisan workshops, homes, a church, and several barns. All are open for visitors to walk into, with some set up as museums and others as examples of the structure's past use.
In some, you'll find costumed artisans working on various trades of the day, and during my visit, I saw a blacksmith, weaver, broom maker, and more. These interpreters really added a lot to the experience, and it was interesting to see them work and admire their craftsmanship.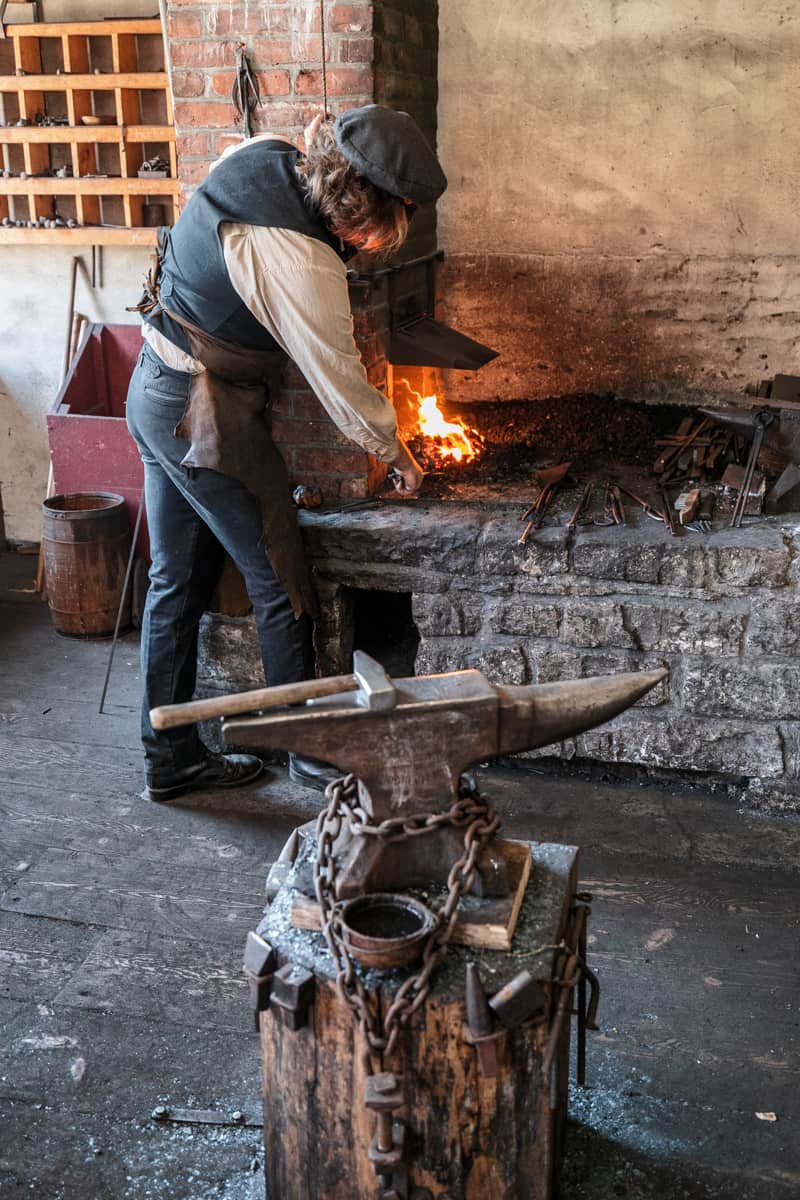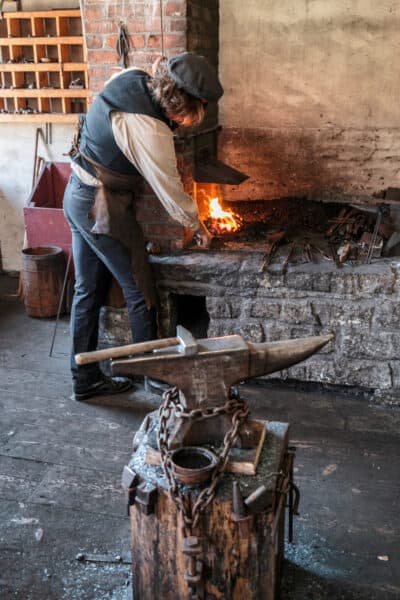 While you don't have to pop into every building here, I found that each offered something unique to see, whether it was the recreated doctor's office or the home that showcased how innovation and technology changed life over the course of the 19th and early 20th centuries.
I also thought that the law office of Judge Samuel Nelson was interesting.
This office was originally in downtown Cooperstown but was moved here onto the land that he once owned. Inside, the area is set up to show what a law office of the mid-19th century would have looked like, but also does a great job covering Nelson's disastrous opinion in the Dred Scott case.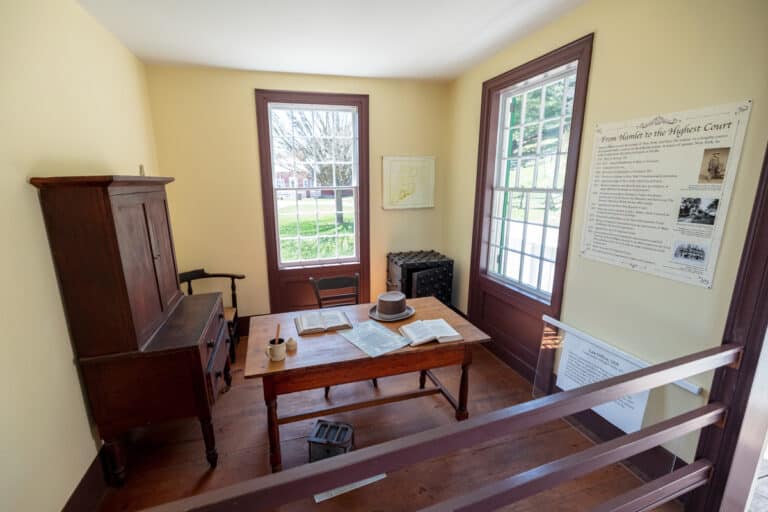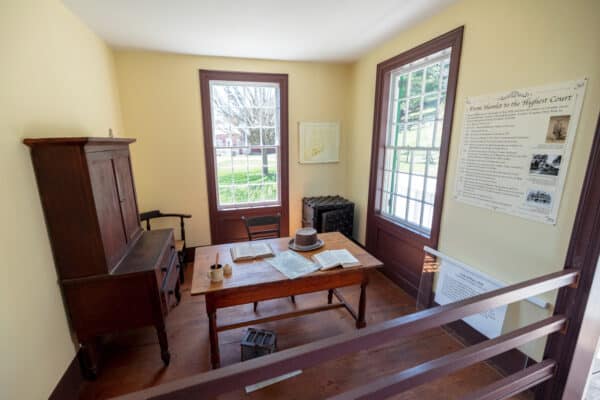 I definitely felt they did an excellent job tackling this difficult and troubling piece of the site's history in this space.
In addition to the Historic Village, I'd be remiss if I didn't also talk about the amazing carousel on the property, which sits in a building located between the stone barn and the village.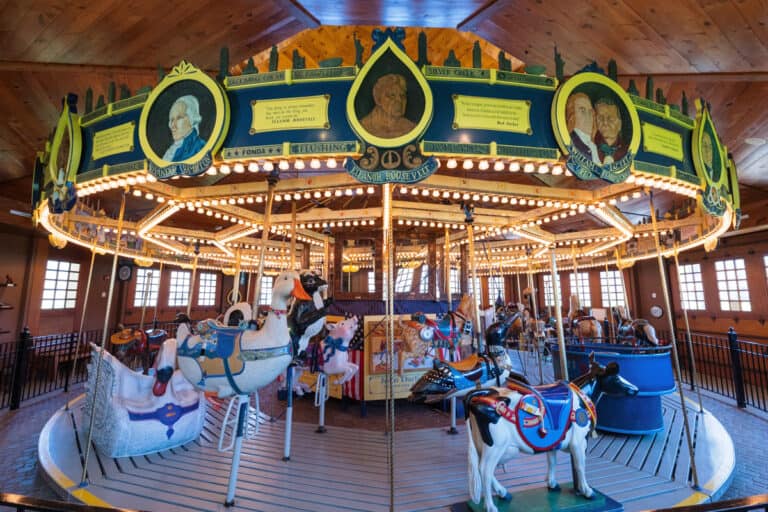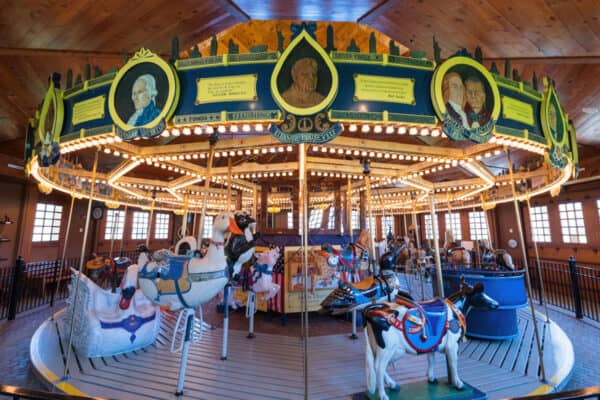 Known as the Empire State Carousel, this amazing piece of artwork was built on a 1947 carousel that is 36 feet in diameter. Over a thousand artisans spent 20 years crafting this into an incredible representation of New York state.
Around the top, you'll find paintings of historic New Yorkers from all walks of life and eras. Even more amazingly, each animal on the carousel was hand-carved and represents the diverse wildlife of the state or a unique feature of New York's culture and history.
This amazing piece of work was completed in 2006, and visitors can pay a small extra fee to ride the carousel during museum hours. You can also simply go in and view this amazing piece of work as an included part of your admission to the site.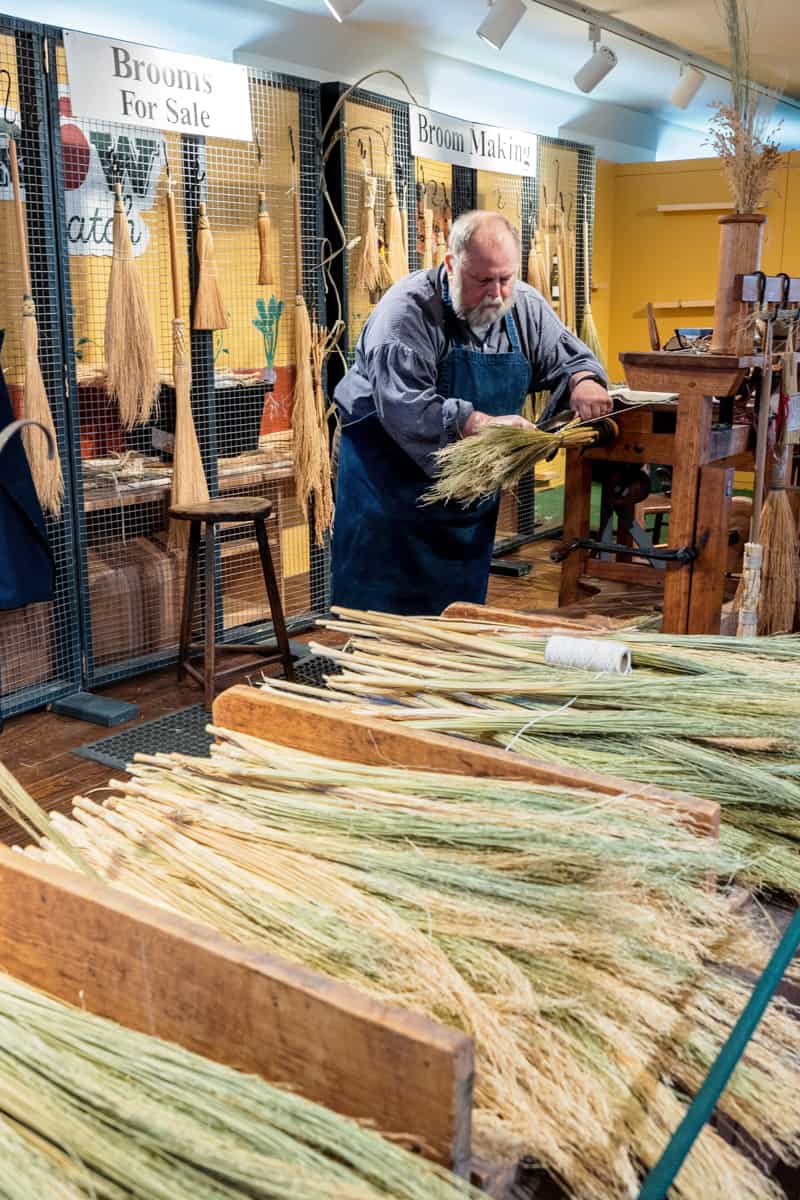 Overall, the Farmers' Museum is an excellent spot to visit for those wanting to learn more about the history and culture of New York. It took me about 90 minutes to see the entire space, but you could spend all day here if you really wanted to fully experience everything there is to see and do here.
Definitely make sure you don't miss this amazing museum on your next visit to Cooperstown and Otsego County, NY.
Looking for more places to visit nearby? Check out Hyde Hall Covered Bridge, Robert V Riddell State Park, Howe Caverns, and Brewery Ommegang.
---
The Farmers' Museum
Hours: Daily 10am-5pm
Early May to mid-October
Open different hours April-Early May and mid-October-late October

Cost: Adults: $15, Children: $6
Carousel rides extra

Website: FarmersMuseum.org

Address: 5775 NY-80
Cooperstown, NY 13326
---