Disclosure: This article may contain affiliate links. We will make a small commission from these links if you order something at no additional cost to you.
Located just west of Albany, Schoharie County is home to several fun attractions. And, when I'm visiting, two of my favorite spots to check out are the county's covered bridges.
Unfortunately, neither of the covered bridges in Schoharie County are historic (though one was rebuilt after a similar one was destroyed by a flood). However, if you love covered bridges or are simply looking for something neat to see while traveling through the county, these are great spots to check out.
Without further ado, here's everything you need to know to visit these two great spots.
Blenheim Covered Bridge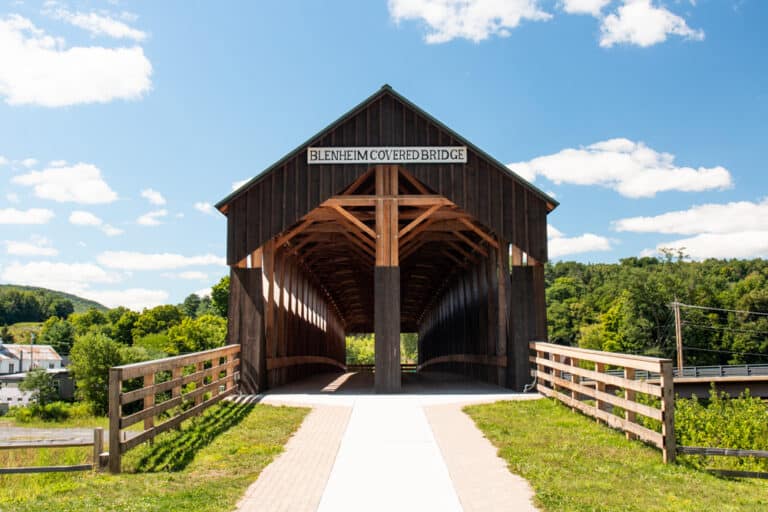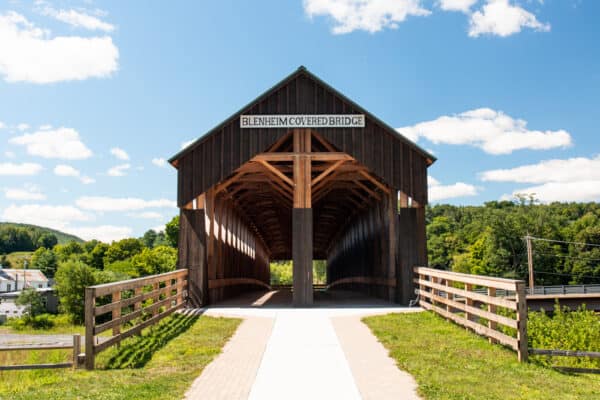 Blenheim Covered Bridge is located in a quiet area of central Schoharie County, New York. However, since it's located just off of Route 30, it's quite easy to reach while traveling through the county.
Old Blenheim Covered Bridge, as the original structure is now known, was completed in 1855. It lasted until August 2011 when floods caused by Tropical Storm Irene resulted in it to being washed away and destroyed.
In 2017, an exact replica of the bridge was built, and this is the structure that you see today. The only major difference is that the new bridge was raised an additional 15 feet over Schoharie Creek to protect it from future flooding.
There are two aspects of this bridge that make it quite unique and worth seeing even if you've seen many other covered bridges.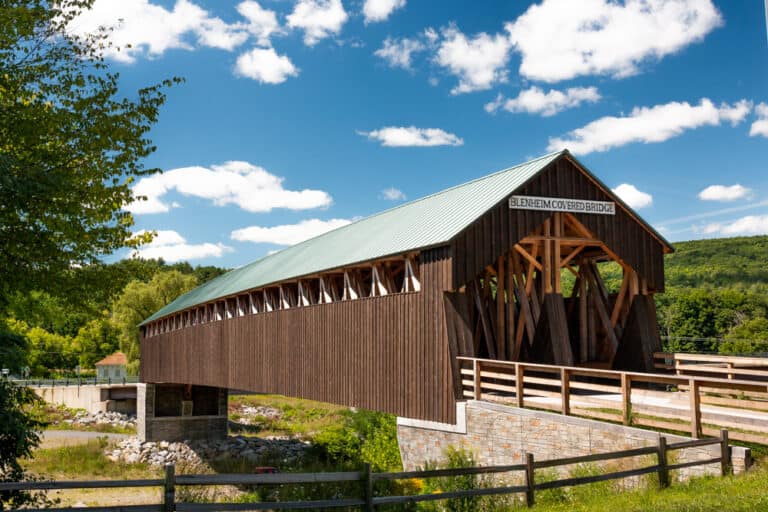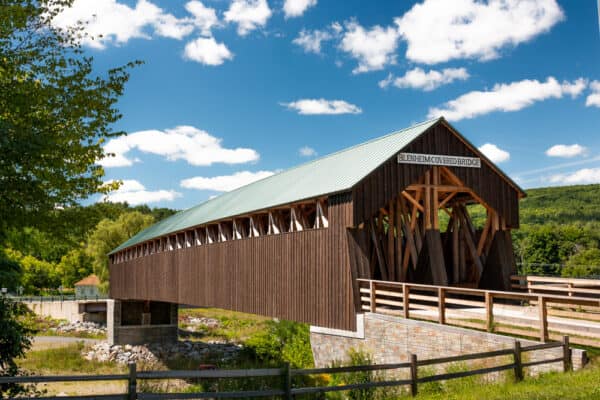 The first is its length.
Blenheim Covered Bridge is 228 feet long and crosses the creek in a single span. This makes it, by most accounts, the longest single-span covered bridge in the world. In fact, I've seen bridges half as long that utilized a center support, so this really is quite impressive to see.
The second unique feature of this bridge is that it has two separate lanes for travel (though only pedestrians can use the bridge today). In fact, it is one of only six covered bridges that have this feature. To the best of my knowledge, this is the only covered bridge anywhere in the Mid-Atlantic and northeastern regions that has this interesting design.
Also interesting is that the bridge can only be accessed from one end. In fact, one end of the bridge features wooden fencing as the far end of the bridge just drops to the ground below.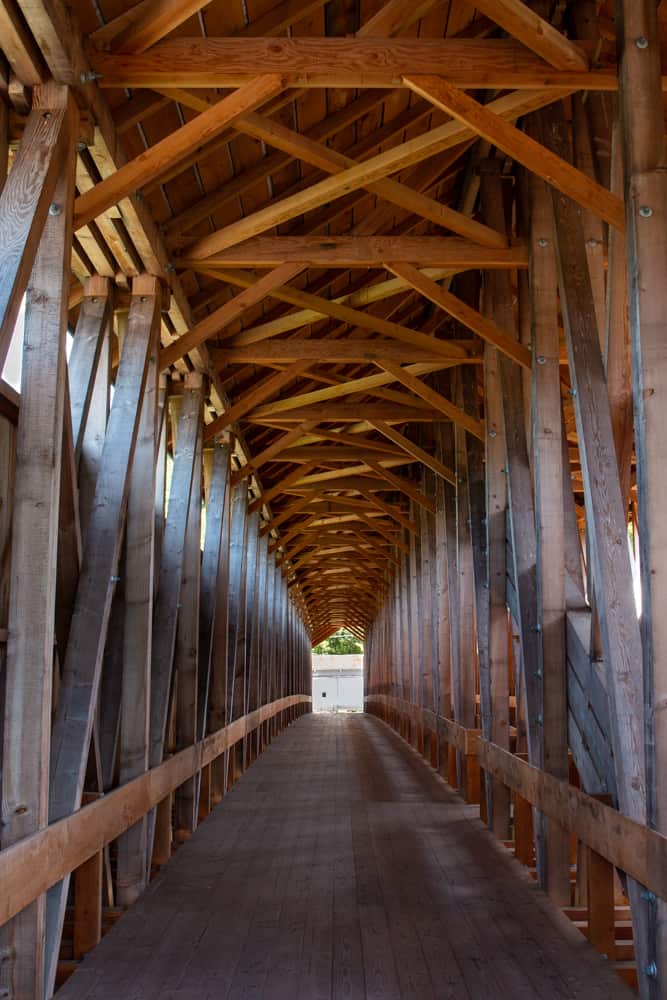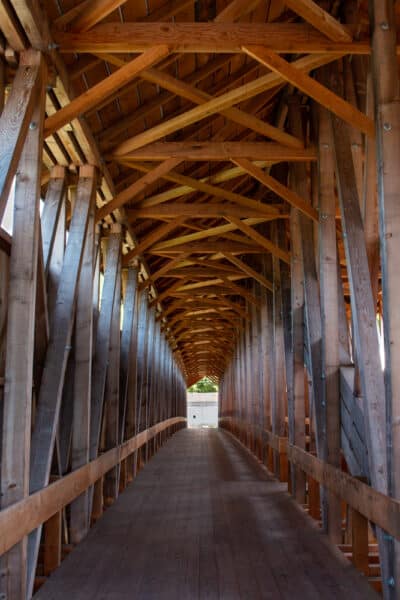 Overall, despite what you see today being newer construction, this is a really great covered bridge to check out, especially if you are visiting nearby sites like Mine Kill Falls in Mine Kill State Park.
Getting There: Blenheim Covered Bridge is located along Route 30 roughly halfway between Middleburgh and Gilboa. It can be seen from the main road, but you'll have to turn off onto Eastside Road if you want to stop and see the bridge.
Parking for the bridge can be found at the following coordinates: 42.471532, -74.440860.
There is ample parking adjacent to the bridge. There are also several picnic tables near it for those that want to enjoy this spot for a few minutes.
Fox Creek Covered Bridge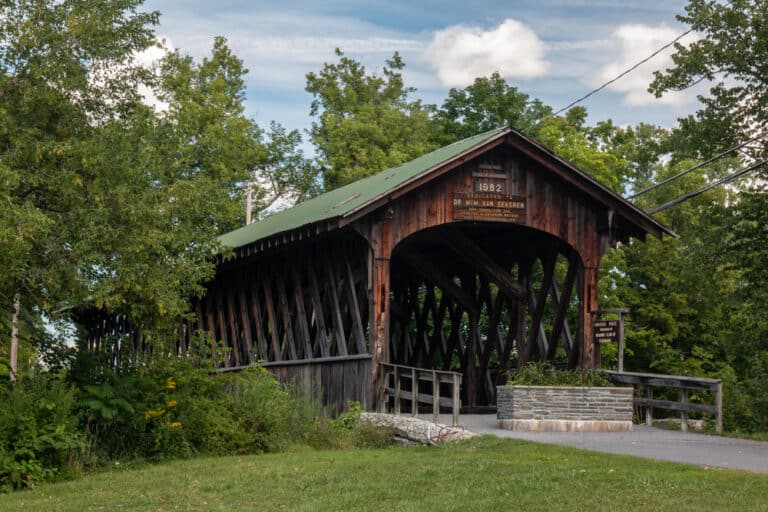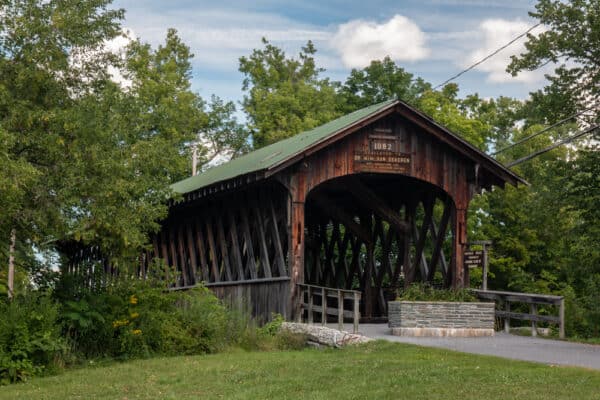 The second covered bridge in Schoharie County, New York is the Fox Creek Covered Bridge.
This bridge is located in the town of Schoharie in the northern part of the county. It is also near Old Stone Fort, a site with importance during the Revolutionary War.
The Fox Creek Covered Bridge, which is also called the Schoharie Covered Bridge in some sources, is actually a modern bridge. However, since it is quite beautiful, I thought it was worth including in this article.
This bridge was constructed in 1982 over Cobleskill Creek just north of the town of Schoharie. While it resembles a historic covered bridge, it is actually a concrete bridge covered with wood.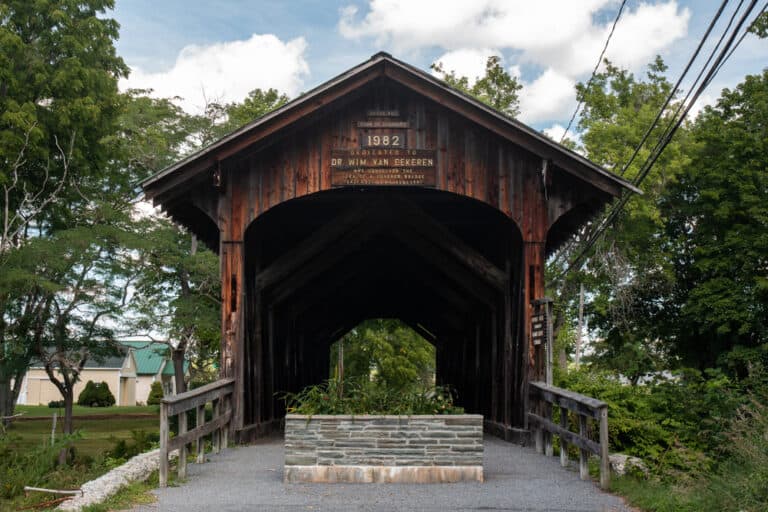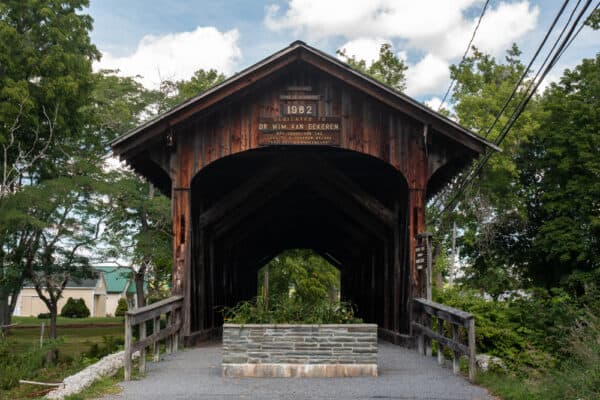 The bridge features a faux-Town lattice truss. While it looks real, it doesn't actually have anything to do with supporting the base of the bridge and only supports the roof of this 115-foot bridge.
Getting There: Fox Creek Bridge is located north of Schoharie, New York. There is parking available on either end of the bridge.
For those traveling Route 30, the best parking area is located along Covered Bridge Lane at the following coordinates: 42.680412, -74.300569.
There is also a small parking lot adjacent to the bridge in Lily Park at the end of Fort Road on the opposite side of the creek. This parking lot can be found at the following coordinates: 42.679057, -74.300974.
Looking for more great places to visit nearby? Check out the Waterfall at the Huyck Preserve, Howe Caverns, Beaverkill Covered Bridge, and Plotter Kill Preserve.
[Click here for information on how to use the coordinates in this article to find your destination.]