Disclosure: This article may contain affiliate links. We will make a small commission from these links if you order something at no additional cost to you.
The Catskill Mountains are home to some of the most beautiful and historic spots in New York and few are more worth visiting than Beaverkill Covered Bridge.
Beaverkill Covered Bridge is the northernmost of four historic covered bridges in Sullivan County, New York and was constructed in 1865 when this area of the Catskills was still largely unsettled. There still isn't much development near the bridge, but this is part of what has allowed Beaverkill Covered Bridge to stay in use while so many other covered bridges in New York have been destroyed.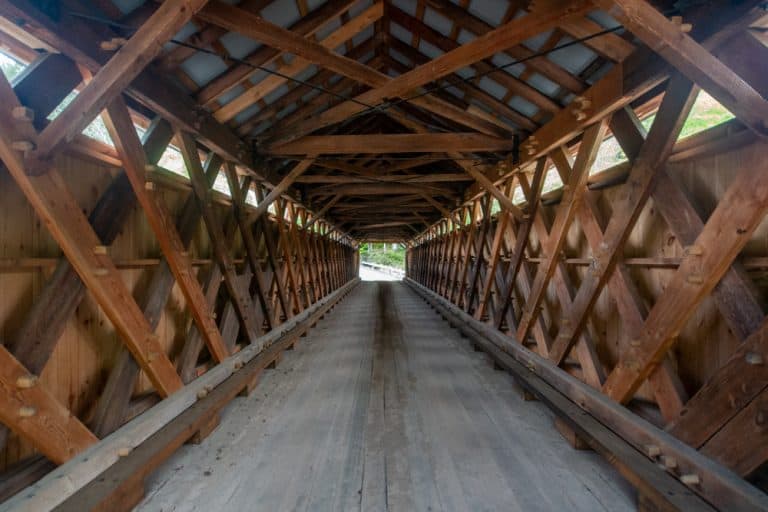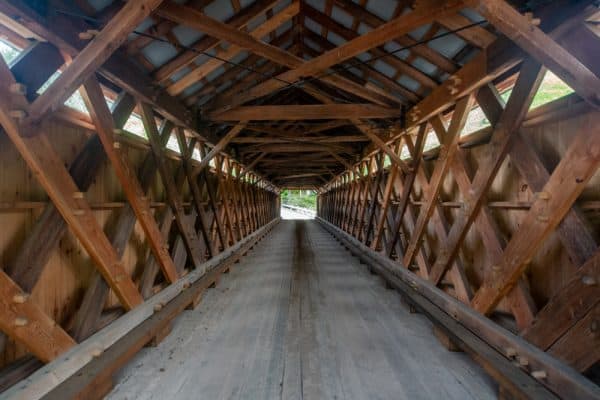 Beaverkill Covered Bridge, which is also called Conklin Covered Bridge, crosses the Beaver Kill. This river flows for 44 miles before eventually becoming known as the East Branch of the Delaware River. The Beaver Kill is one of the state's best fly fishing streams, and it's common to see fishermen at the bridge.
Fly fishing is actually the most common reason people visit Beaverkill Covered Bridge. The area around the bridge is evidently a great fishing spot, and there is a deep pool right below the bridge. So, if you can, try a few casts after enjoying this beautiful bridge and spot.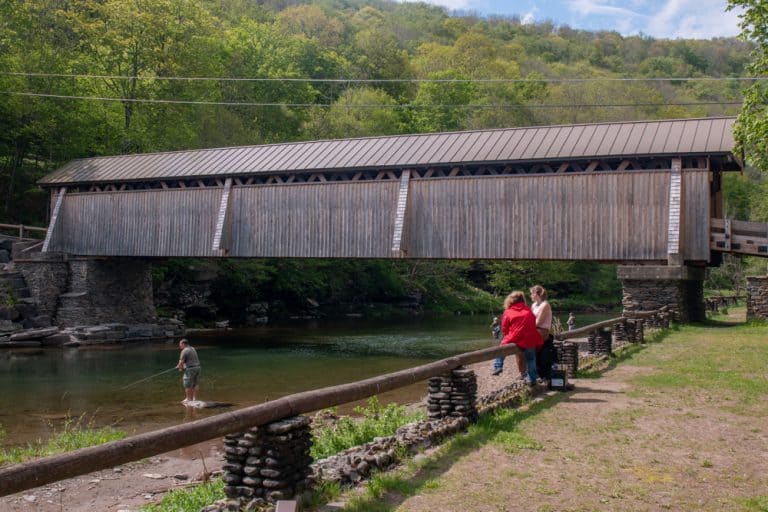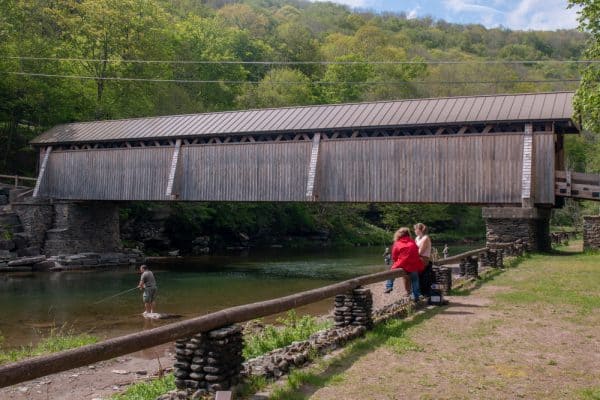 The bridge is located in the middle of the Beaverkill Campground and Day-Use Area. This means that all the land around the bridge is public which makes it incredibly easy to walk around the bridge and enjoy it.
Beaverkill Covered Bridge is 98 feet long and uses a slightly modified Town lattice truss. It has been repaired many times over the years to keep it in-line with modern standards. It was almost replaced in 1948, but locals rallied to save it, and it was instead repaired.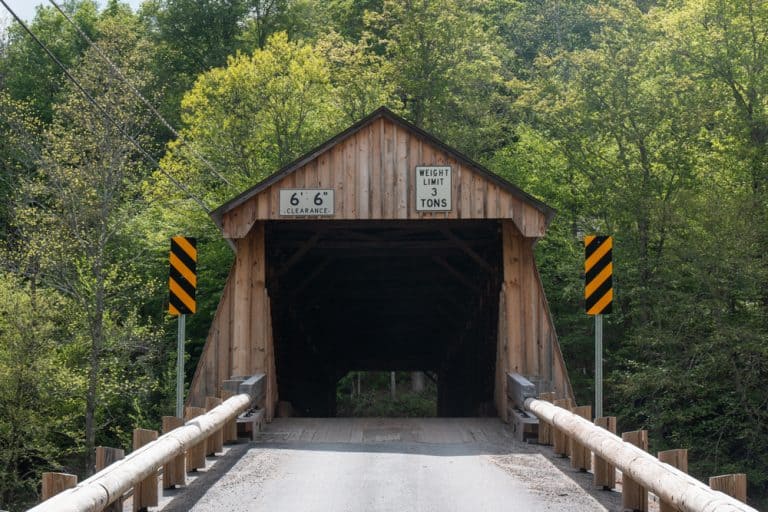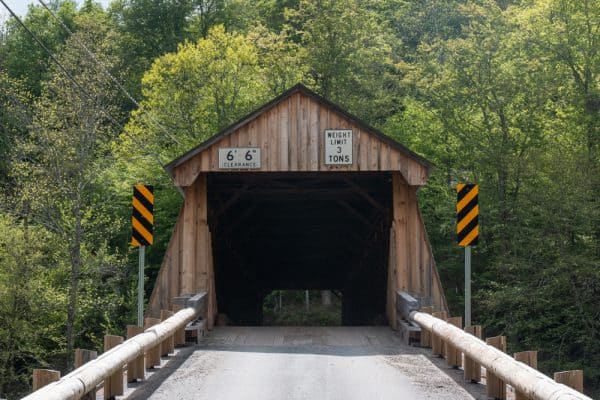 It also underwent major repairs in 2009 that necessitated the bridge's closure for a period of time. However, as of the time of writing, this bridge is in fantastic shape and is able to handle traffic.
Without a doubt, Beaverkill Covered Bridge is a hidden gem of the Catskills. If you love historic structures, are an avid fisherman, or simply find yourself passing through the region, you won't want to miss a quick stop at this beautiful and historic Sullivan County bridge.
Getting to Beaverkill Covered Bridge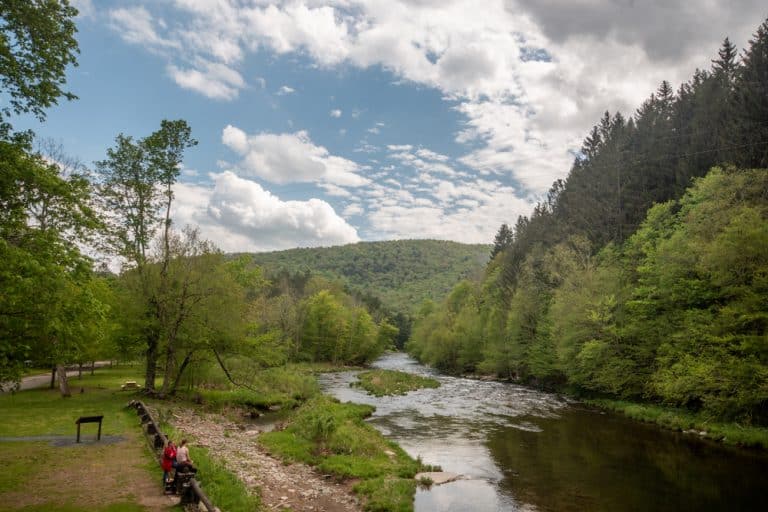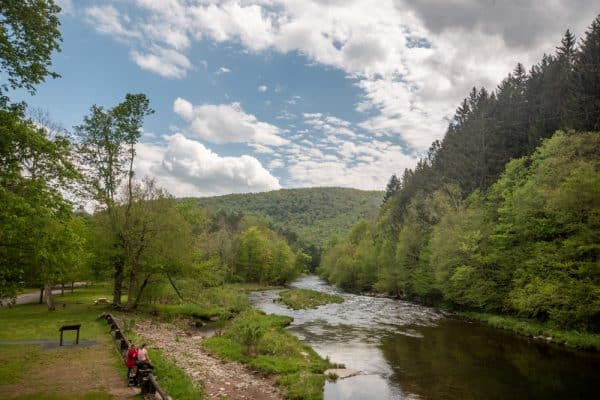 Beaverkill Covered Bridge is located in northern Sullivan County, New York, about seven miles north of both Roscoe and Livingston Manor. It can be found at the following coordinates: 41.981534, -74.836197.
On the east side of the bridge along Campsite Road, there is a large parking area for cars.
It's worth noting that this is a very popular spot, so it can get crowded at times with people fishing the river.
If you're in the area, also make sure to check out the nearby Livingston Manor Covered Bridge, Hamden Covered Bridge, and Fitches Covered Bridge. Stone Arch Bridge Historical Park is also a great spot for bridge lovers to check out in this area.
Looking for more great spots to visit? Check out the Woodstock Museum at Bethel Woods, Kaaterskill Falls, Tompkins Falls, Roebling's Delaware Aqueduct, and the town of Port Jervis.
You can also drive up to the Adirondacks to check out the beautiful Salisbury Center Covered Bridge.
[Click here for information on how to use the coordinates in this article to find your destination.]