Disclosure: This article may contain affiliate links. We will make a small commission from these links if you order something at no additional cost to you.
New York is home to some beautiful covered bridges, and there are few better destinations to see these historic spots than Delaware County in the Catskills.
While there are said to be six covered bridges in the county, only three are publically-accessible, including Hamden Covered Bridge. Of these, one of the most beautiful is Fitches Covered Bridge.
Fitches Covered Bridge is located a short distance northeast of Delhi, the county seat for Delaware County. It can be found just off of Route 10 along the aptly named Fitches Bridge Road.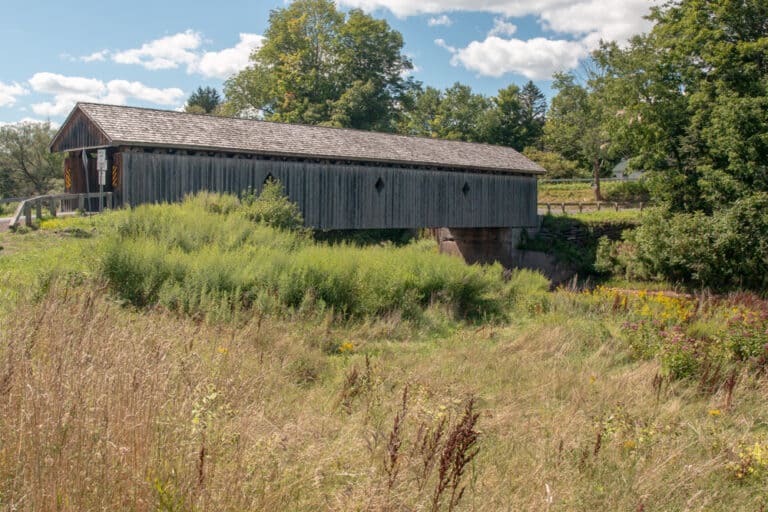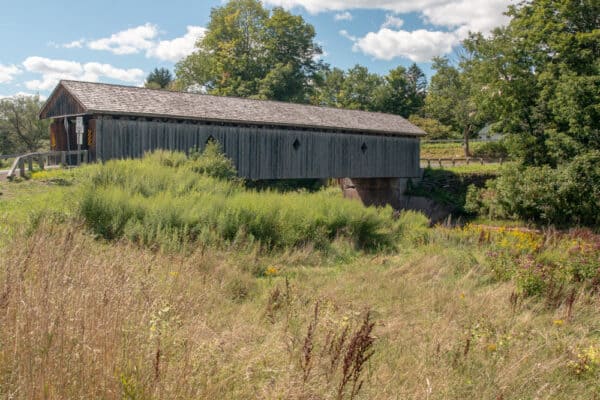 This covered bridge was built in 1870 within the village of Delhi. There, it spanned the Delaware River along Kingston Street (also known today as Route 28).
In 1885, an iron bridge was built to replace the covered bridge. At that time, instead of being destroyed, this bridge was moved to its current location at a spot called "Fitches Crossing".
Given the difficulty of moving covered bridges in the 21st century, I can't imagine how challenging this move was in the late 19th century.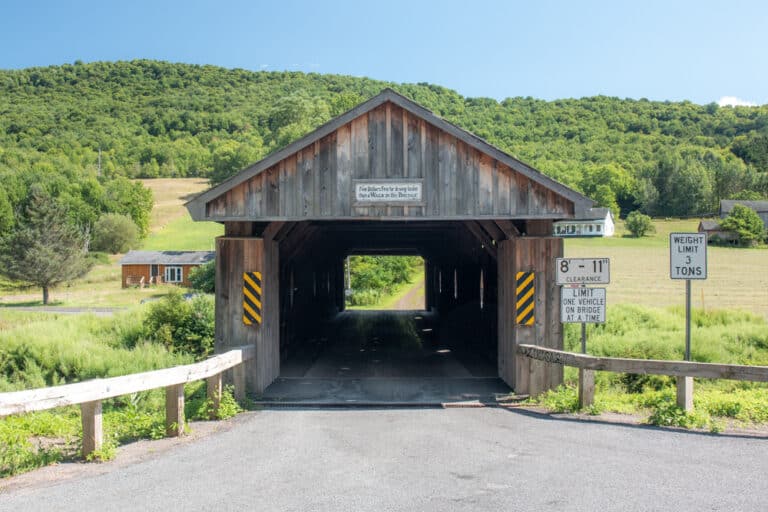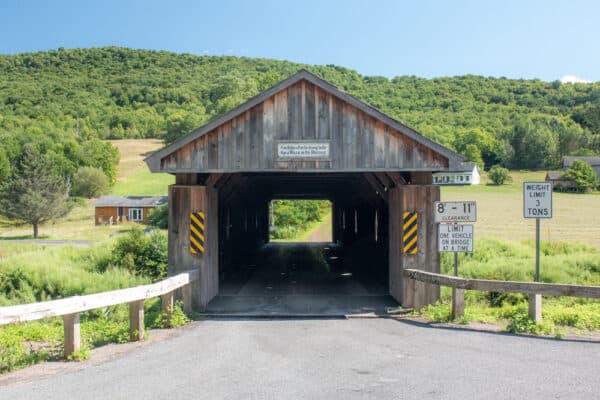 Today, the bridge still stands where it has for 135 years, though it has been rehabilitated several times over the years to keep it in good condition
The most recent rehabilitation appears to be have been done in 2001. At this time, several diamond-shaped windows were added to allow a bit of light into the bridge's interior.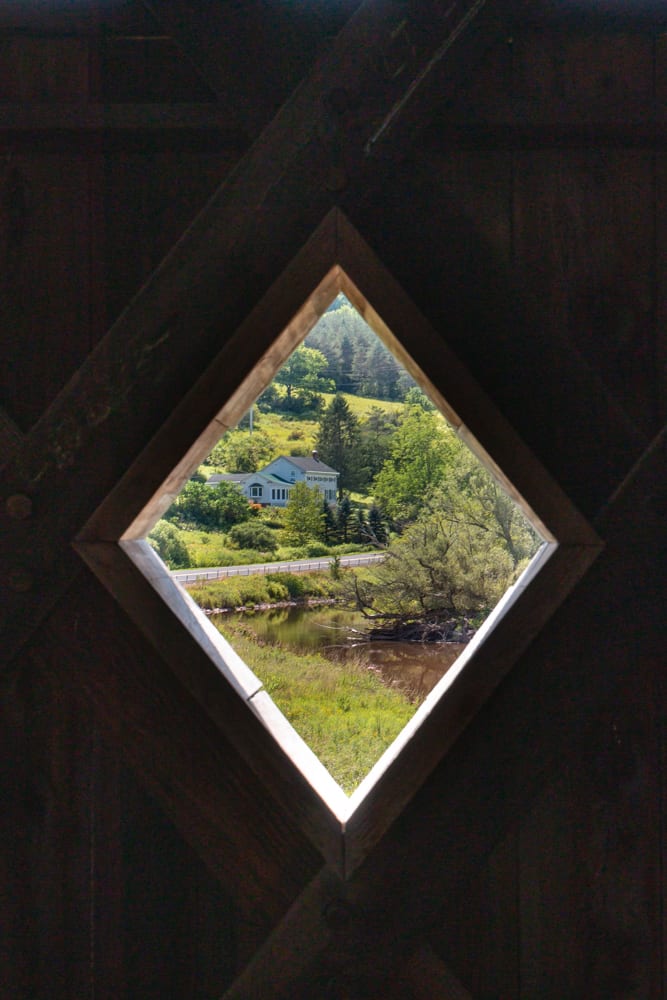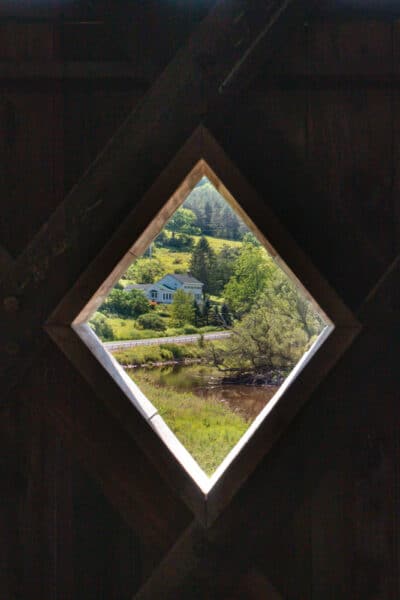 Fitches Covered Bridge crosses the West Branch of the Delaware River a short distance upstream of the village of Delhi. Depending on the source, the bridge is either 100, 106, or 113 feet in length.
The bridge utilizes a Town truss system and was added to the National Historic Register in 1999.
Today, Fitches Covered Bridge is a great spot to stop for a few minutes while traveling through the Catskills, and it can be found at the following coordinates: 42.298261, -74.879278.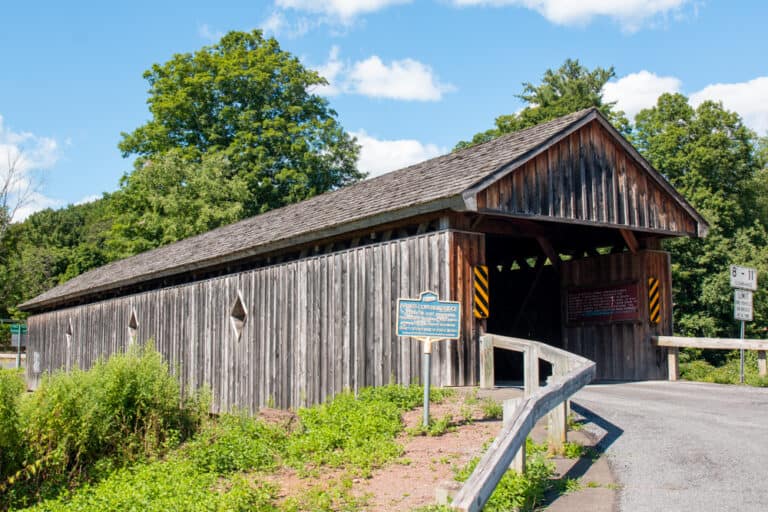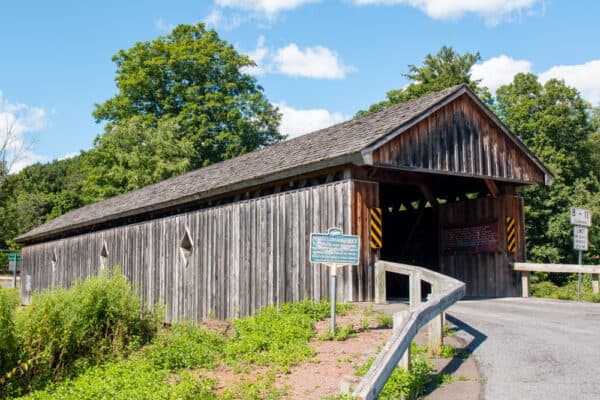 For parking, there is a nice gravel area for several cars to park near the bridge on the opposite side of the river from Route 10 along Delhi-South Kortright Road. Make sure to pull fully off the road so you don't impede traffic along the road.
This parking area offers a nice chance to take a closer look at the bridge. Of course, use caution as this bridge does allow traffic, and cars regularly pass through it.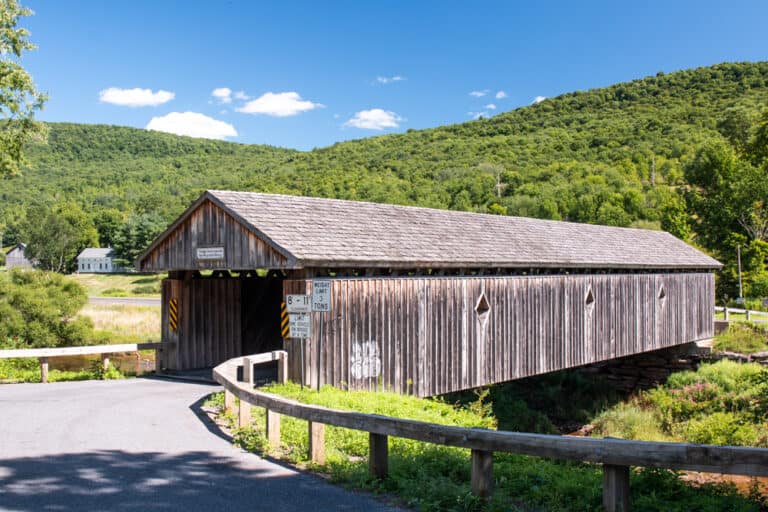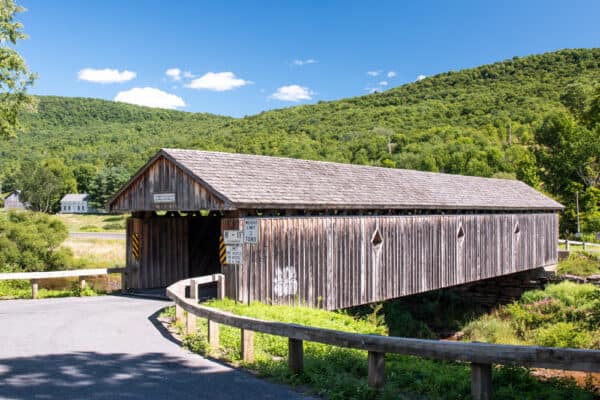 Inside the bridge, there is a small plaque that offers information on the history of the bridge. It is said that you can still see markings on the bridge from when they marked the pieces prior to moving the bridge in 1885, but I wasn't able to find any during my visit.
If you want to look for these, I'd recommend bringing a flashlight as the interior of the bridge is rather dark even with the windows.
Without a doubt, Fitches Covered Bridge is a historic spot in the Catskills that shouldn't be missed by anyone that loves history or beautiful scenes.
Looking for more places to visit nearby? Check out Tompkins Falls, Beaverkill Covered Bridge, and Mine Kill Falls.
[Click here for information on how to use the coordinates in this article to find your destination.]