Disclosure: This article may contain affiliate links. We will make a small commission from these links if you order something at no additional cost to you.
There are many scenic spots within the Catskills. Some of these require long hikes while others can be seen without much effort. Tompkins Falls is one of the later.
Tompkins Falls is located in a remote corner of eastern Delaware County within the Delaware Wild Forest.
This waterfall is located about two miles from Pepacton Reservoir, and the closest community is Margetetteville 12 miles to the northeast. This is probably one of the most remote spots in the Catskills you can reach while still on a maintained asphalt roadway.
Nevertheless, if you are traveling between points like Mine Kill Falls and the Woodstock Museum at Bethel Woods, as I was, Tompkins Falls is a nice little detour.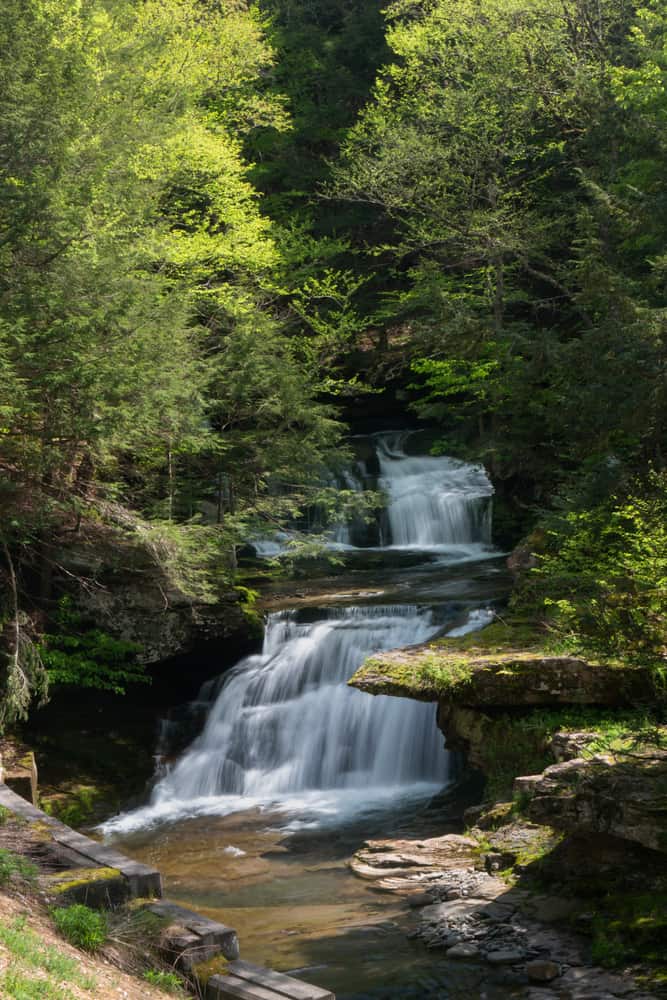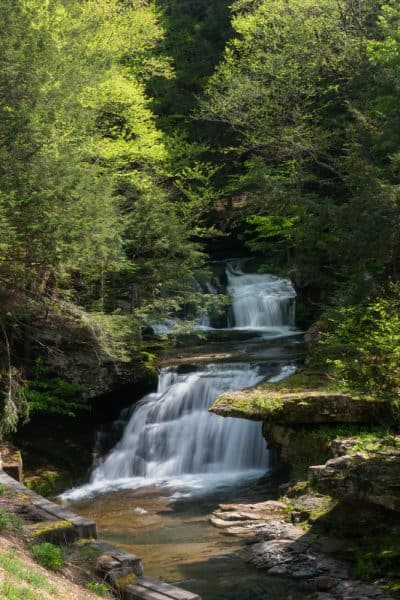 Tompkins Falls is located directly along Barkaboom Road and can be seen while driving along this remote thoroughfare. This is one of the few roadside waterfalls in this part of the state.
Tompkins Falls is roughly 20 feet tall and features three drops. Between the drops, Barkaboom Stream makes a nearly 90-degree turn as it heads towards Pepacton Reservoir.
While getting out of your car isn't required to see the falls, getting a closer look is always a lot of fun. Just uphill from the falls, there is a curve in the road and enough room for a few cars to pull over on the same side of the road that the waterfall is on.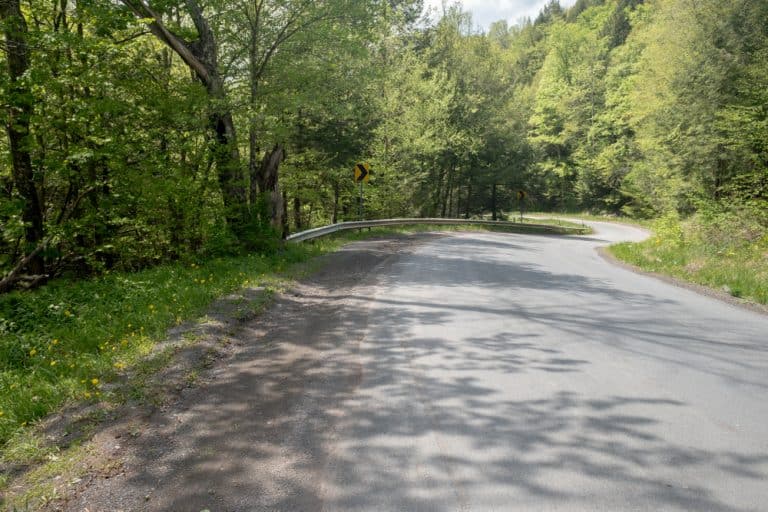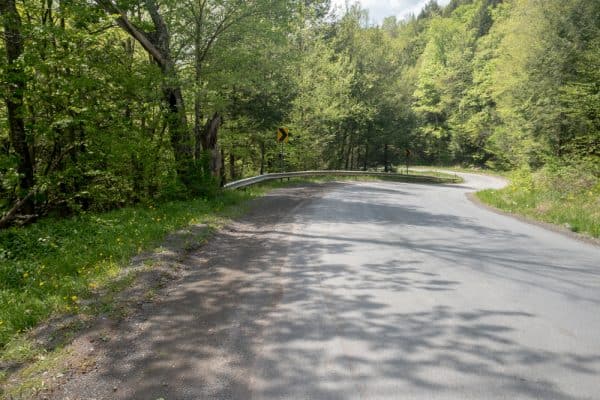 There are several spots to view Tompkins Falls from, though only the roadway will give you a full view of the two main drops of the waterfall.
While Barkaboom Road is very lightly trafficked, use extreme caution if you opt to stand on the road to enjoy the falls. There is no shoulder, so you'll have to rely on cars seeing you or you seeing them while viewing from this angle.
It is also possible to get down to creek level between the two largest drops. To do this, look over the guardrail near where you parked the car. You should see a few user-created paths down to the water. Pick whichever one seems like the easiest to you.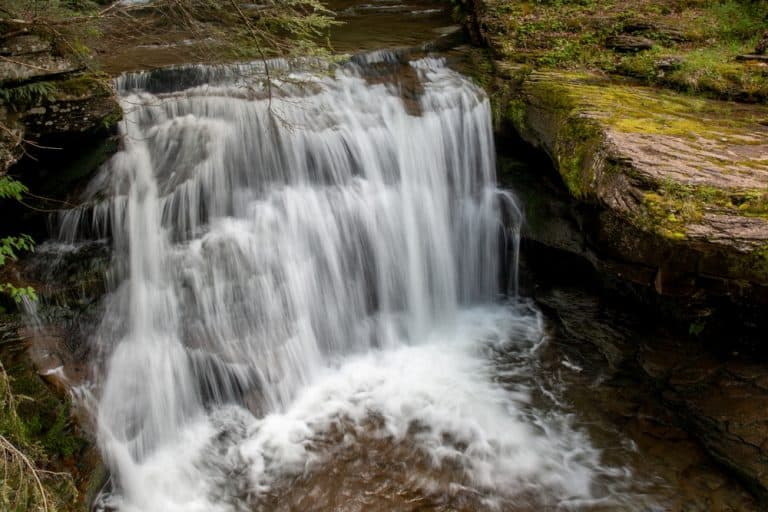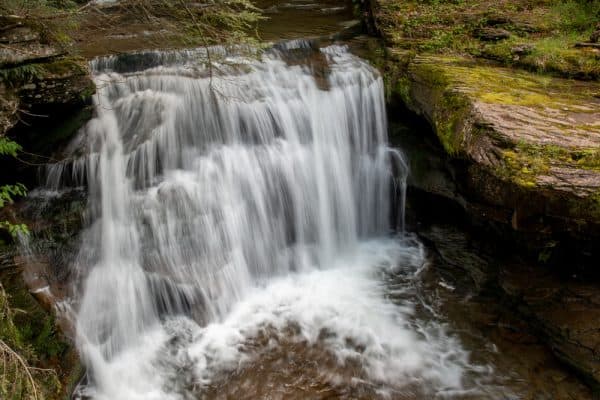 Heading down these paths will allow you to get a close up look at Tompkins Falls. From here, the drops look even more beautiful than they do from the roadway.
It's also here where you can really see and appreciate the old stonework that lines the stream just above the falls. At some point in time, there was likely a mill of some kind at this spot.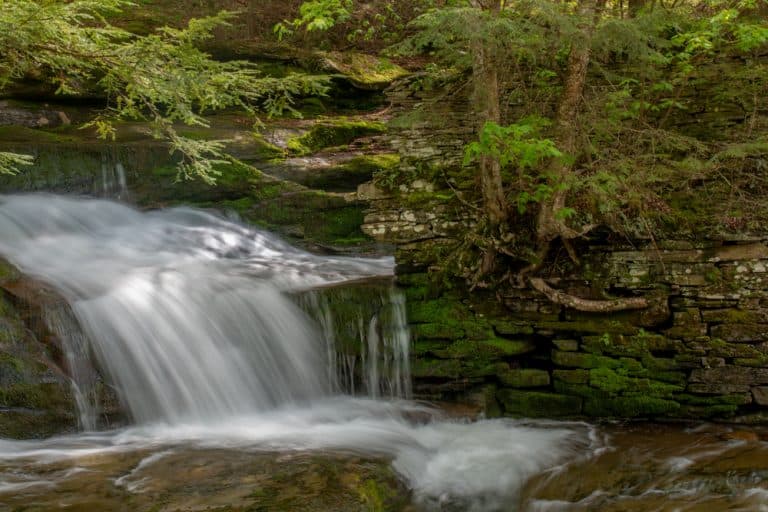 While the waterfall is completely natural, the addition of the mill ruins really adds something to the beauty of this spot.
Tompkins Falls is far from the tallest or most impressive waterfall in the Catskills. However, if you find yourself driving through this part of rural Delaware County, New York, this is a waterfall that is definitely worth stopping at and enjoying.
How to Get to Tompkins Falls in Delaware Wild Forest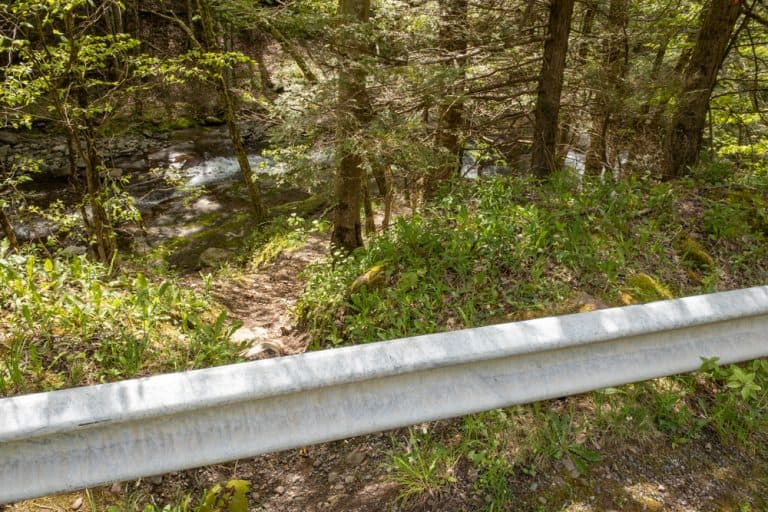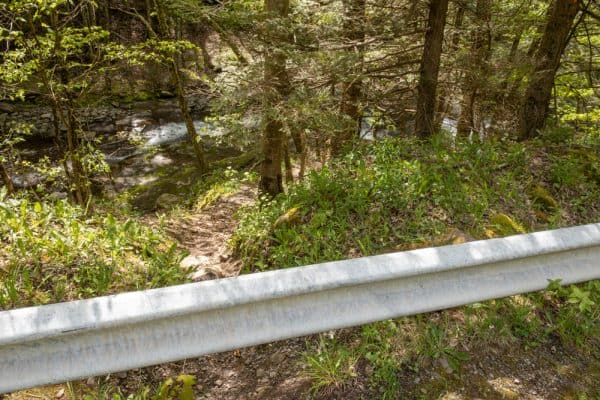 Tompkins Falls is located within Delaware Wild Forest in eastern Delaware County, New York. It can be found at the following coordinates along Barkaboom Road: 42.075630, -74.764794.
To see the waterfall, park at the curve in the roadway just above the falls.
Looking for more things to do nearby? Check out Fitches Covered Bridge, Beaverkill Covered Bridge, Livingston Manor Covered Bridge, and Woodstock Waterfall Park.
[Click here for information on how to use the coordinates in this article to find your destination.]