Disclosure: This article may contain affiliate links. We will make a small commission from these links if you order something at no additional cost to you.
While there are many great outdoor destinations in the Catskills, like the impressive Kaaterskill Falls, many miss the hidden waterfall in Woodstock, New York.
Located just off of the Tinker Street, the main road through this quaint town, is Woodstock Waterfall Park. This tiny park isn't more than 10 feet wide and 50 feet long but offers one of the most serene scenes in town.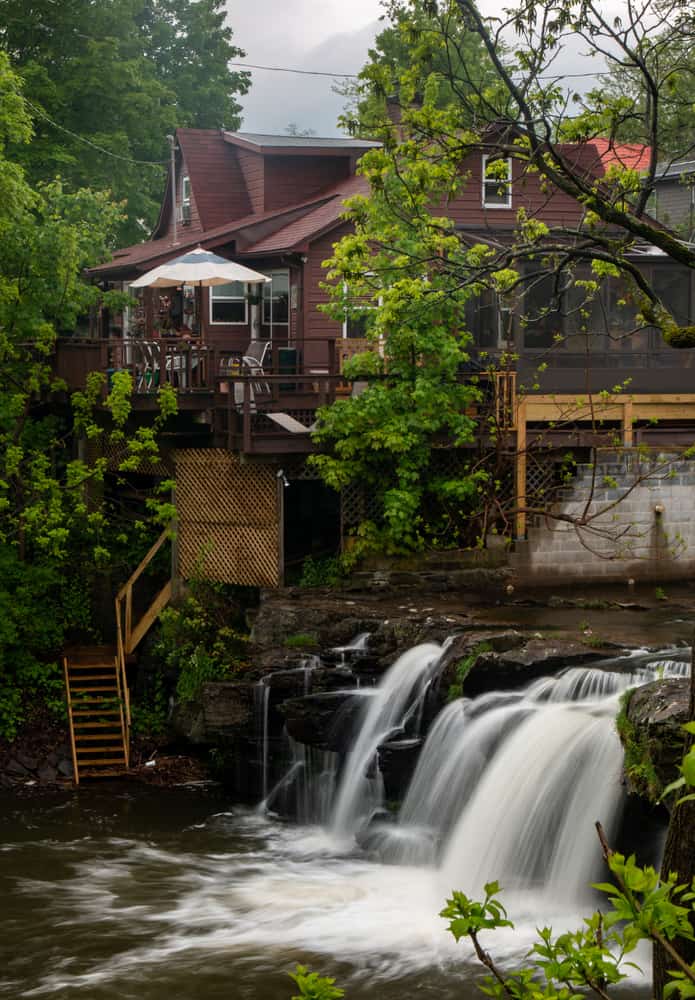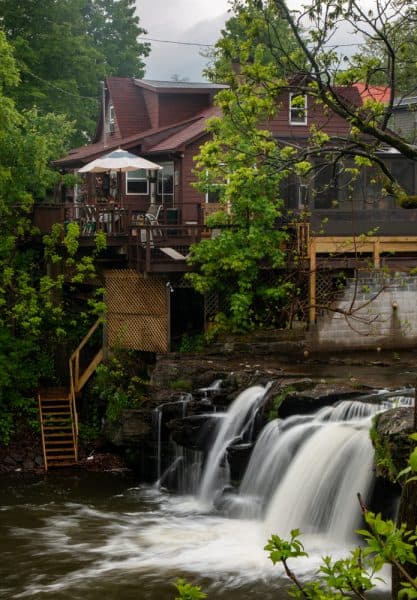 That's because this spot offers a great view of a small waterfall on Tannery Brook. Since it seems to lack an official name, I've dubbed it Woodstock Falls. However, if you know of a more official name, please let me know.
The waterfall is surrounded by homes and businesses, which makes Woodstock Waterfall Park the only place from which it can be seen. However, the views from here really are quite nice.
Even better, since it's located right in town, the best view of Woodstock Falls is accessible to everyone.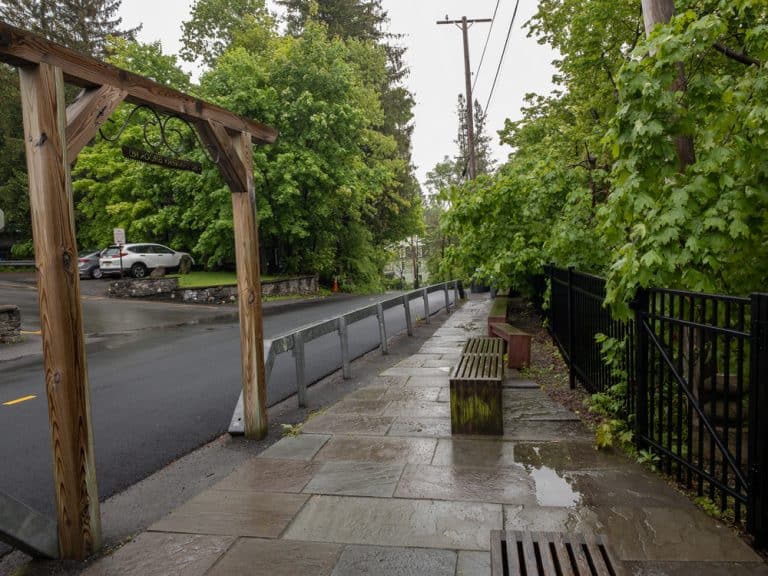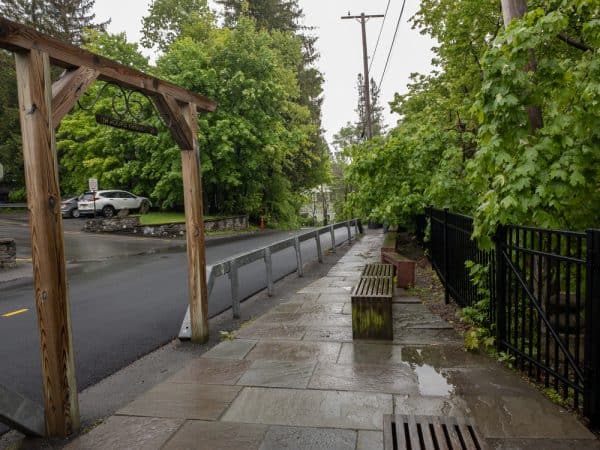 Other than the falls, there isn't much to the tiny park. There are a few benches and a sign that offers a bit of history of the area on the side of a building. Not surprisingly, the star of the park is the view of the waterfall.
While Woodstock Waterfall Park is a hidden gem in Woodstock, New York, it's not the type of waterfall that's worth driving a long distance to see. However, if you find yourself visiting Woodstock or passing through while in the Catskills, this is a great spot to visit.
Where is Woodstock Waterfall Park?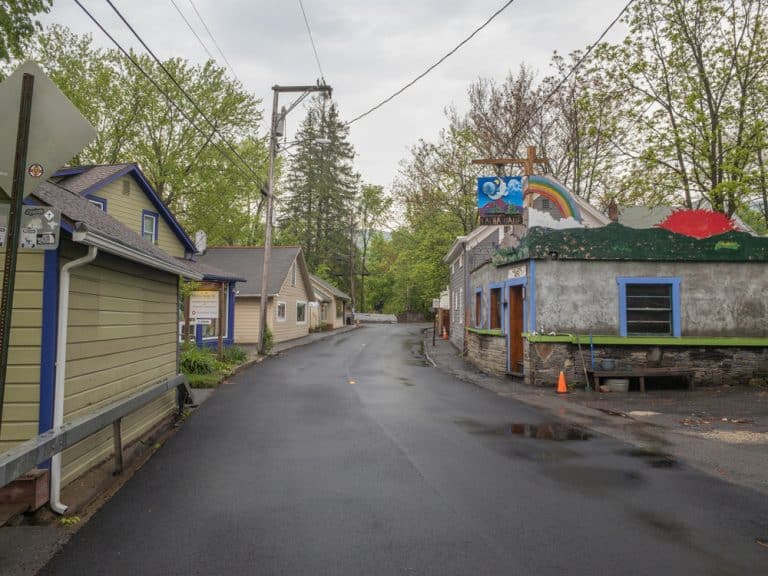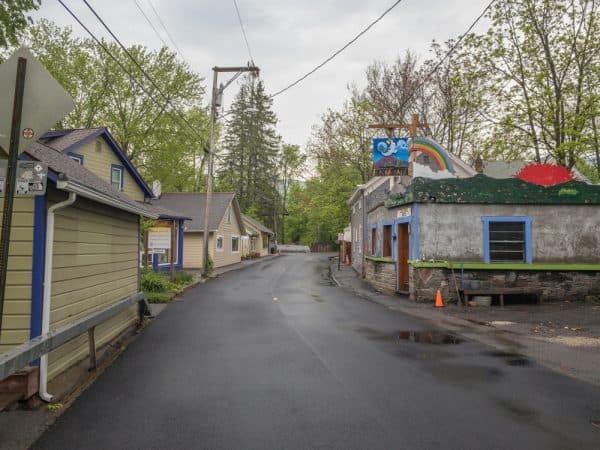 Woodstock Waterfall Park is located just a block off of Tinker Street, the main road through Woodstock, in Ulster County, New York. It can be found at the following coordinates: 42.039910, -74.119771.
Directly across Tannery Brook Road from the park is a parking lot. If you can find space, park here and the falls will only be steps from your car.
It's worth noting that while there is a Waterfall Road on the opposite side of Tannery Brook, there is no public viewing area from this side. Access the park via Tannery Brook Road.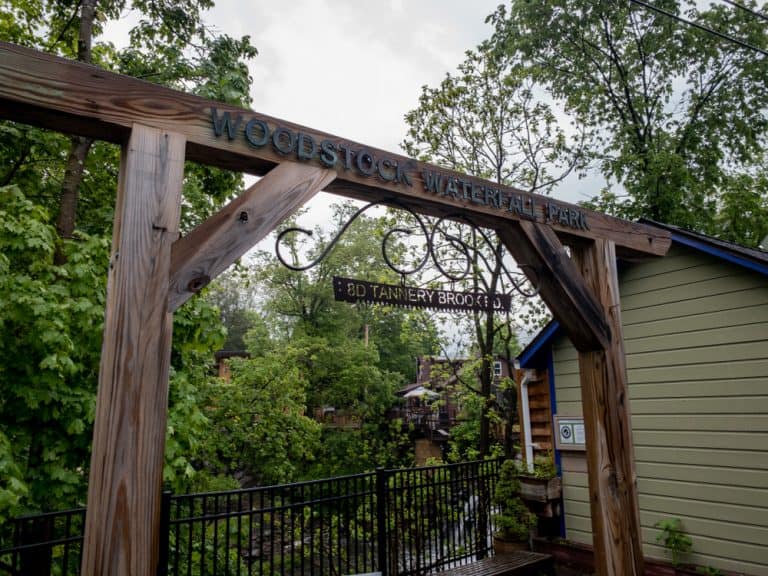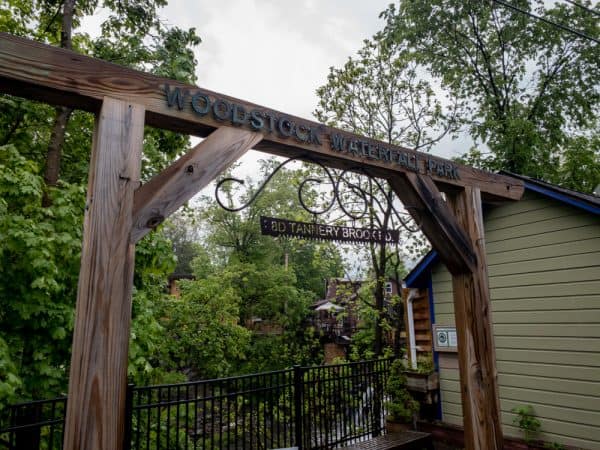 Once you've had a chance to check out this beautiful waterfall in Woodstock, New York, walk the block into the heart of town and spend a bit of time check out the many shops, galleries, and restaurants that can be found in this charming community.
Note: This town is not where the Woodstock Festival was held. The Woodstock Museum at Bethel Woods is approximately 60 miles away.
Looking for more places to visit in eastern New York? Check out High Falls Conservation Area, Old Catskill Game Farm, Clemson Bros. Brewery at the Gilded Otter, and Tompkins Falls.
[Click here for information on how to use the coordinates in this article to find your destination.]