Disclosure: This article may contain affiliate links. We will make a small commission from these links if you order something at no additional cost to you.
Located deep in the Catskills, you'll find one of the most beautiful covered bridges in New York: Hamden Covered Bridge.
Hamden Covered Bridge is located just off of Route 10 in Delaware County, New York. The bridge is located in a community of the same name, which, according to sources, was the site of the first-ever baseball game mentioned in a newspaper in 1825.
Interestingly, despite the bridge being built in 1859, it was constructed nearly 35 years after this first mention of baseball in the local newspaper.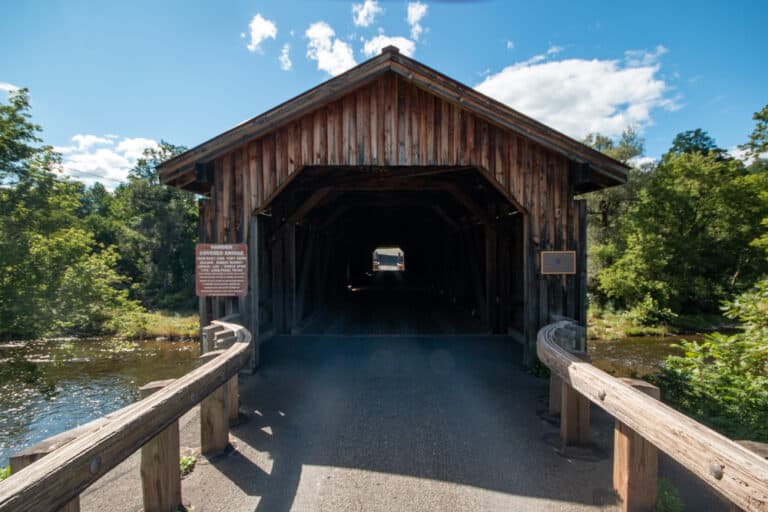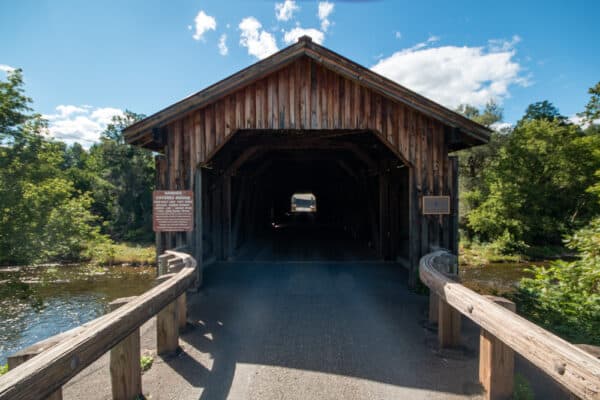 Hamden Covered Bridge is located in a very scenic spot along Route 10. In fact, the bridge can be easily seen from the roadway. However, if you want to stop and check it out, which I definitely recommend, there is a small public park located on the opposite side of the river from the highway.
This park features a small parking area, a couple of picnic tables, an information sign, and a boat ramp for kayaks and canoes. It also provides some fantastic views of this historic covered bridge.
This parking area can be found along Basin Clove Road at the following coordinates: 42.195415, -74.987652.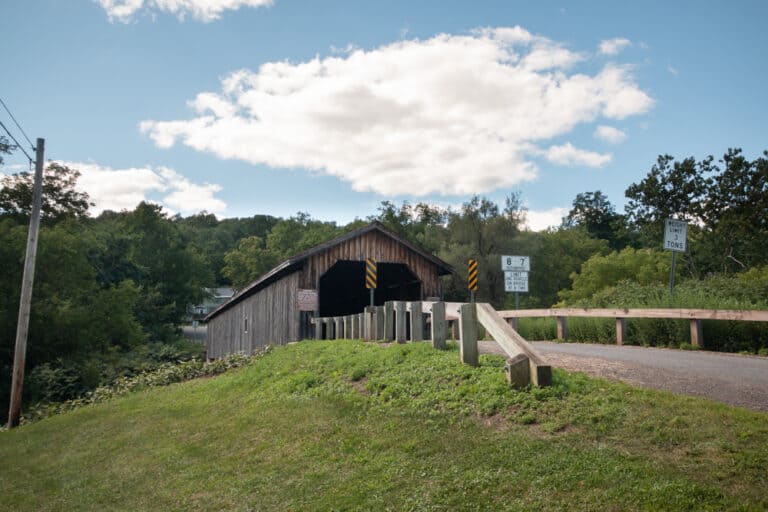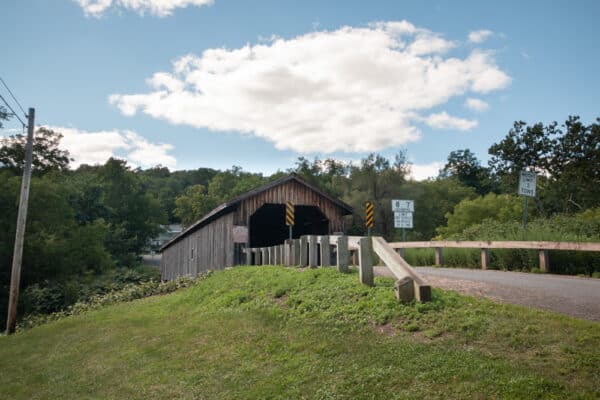 If this area is full, there are a few spots to pull off on the side of the road on the opposite side of the bridge.
Hamden Covered Bridge crosses the West Branch of the Delaware River. It is downstream of Fitches Covered Bridge which crosses the same waterway a few miles to the north.
This covered bridge is 128 feet in length and is the only covered bridge in New York to use a Long truss without any support from any other type of truss. This makes it an interesting bridge to see even if you've visited many of the state's other covered bridges.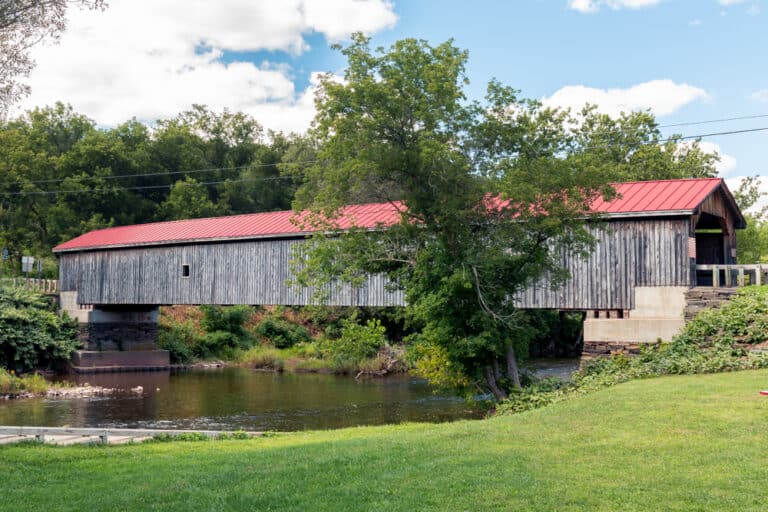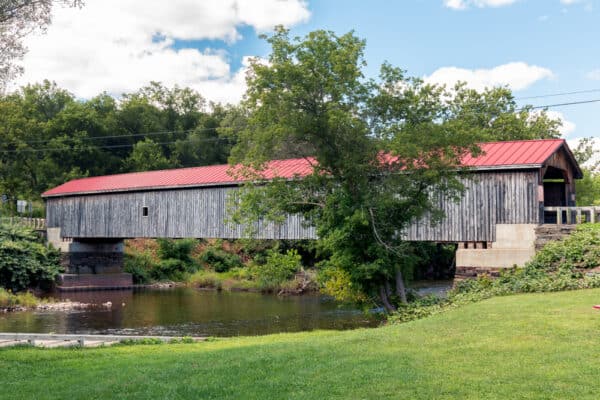 While it was built in 1859, Hamden Covered Bridge has been rehabilitated many times over the years.
One of the major rehabilitation was done in the 1940s when a center support was added and the bridge was changed from a single-span to a double-span bridge. It stayed this way until the early 2000s when another rehabilitation was done, and the bridge was returned to its original state as a single-span bridge.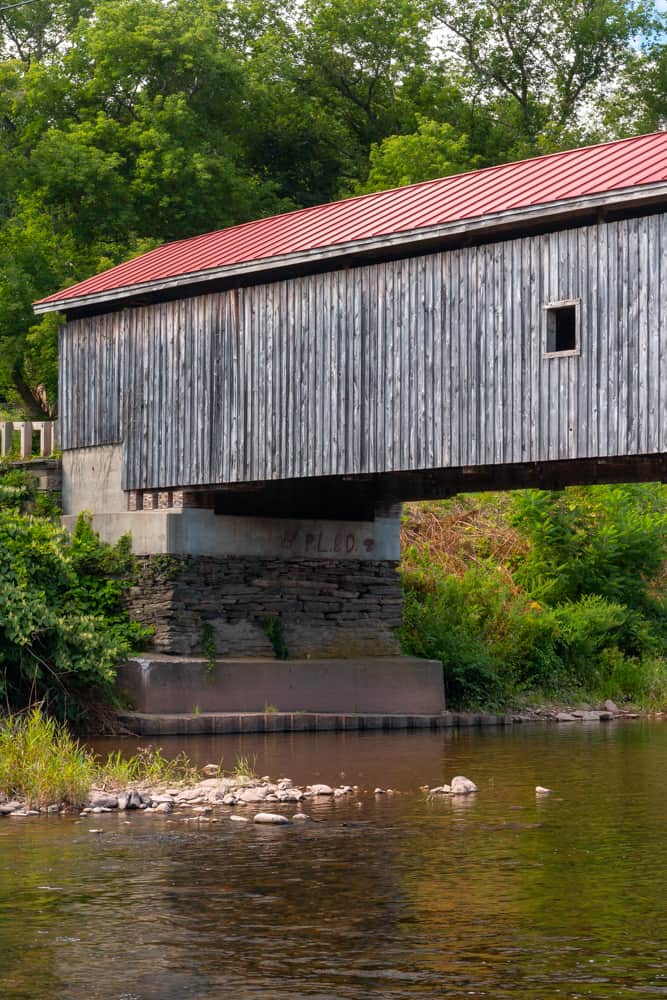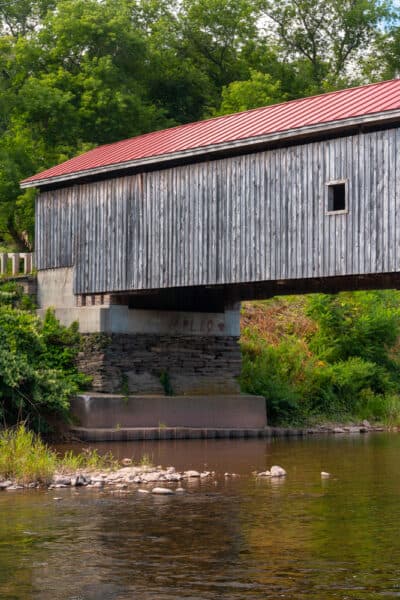 Fortunately, during these rehabilitations, as much of the original wood as possible was preserved so what you see today is definitely one of the region's most historic spots.
In addition to being historic, this is a very beautiful area. When water levels in the river are normal, the stream here is crystal clear and, for the most part, not very deep. In fact, I enjoyed wading out into the river to capture some photos. However, if you decide to try this, be careful as the current is quite swift.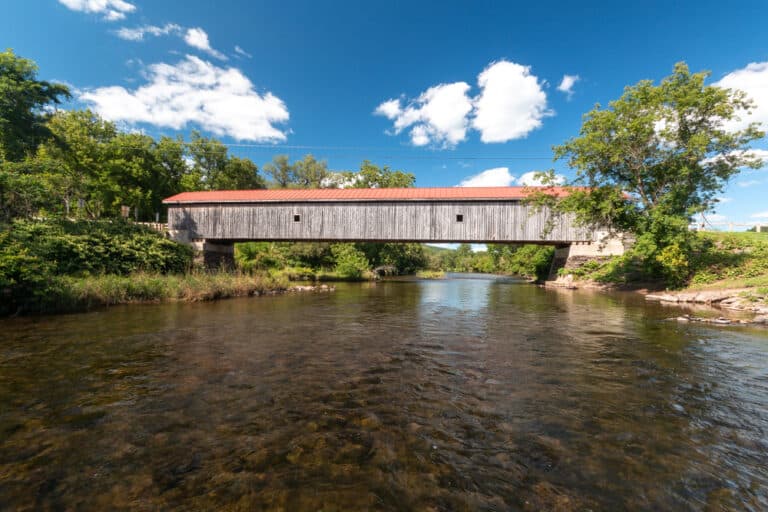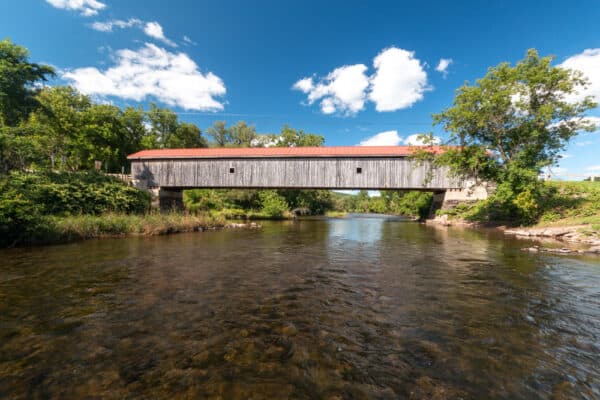 Overall, Hamden Covered Bridge is one of the most beautiful and historic spots in Delaware County, New York. If you find yourself exploring this area or simply driving through the Catskills on Route 10, I definitely recommend making a stop at this historic bridge.
Looking for more spots to visit nearby? Check out Beaverkill Covered Bridge, Tompkins Falls, and Animal Adventure Park.
[Click here for information on how to use the coordinates in this article to find your destination.]