Disclosure: This article may contain affiliate links. We will make a small commission from these links if you order something at no additional cost to you.
If you've been reading this site for a while, you probably know that I'm a big fan of New York's covered bridges. However, I also love finding other types of historic bridges to check out, which is what led me to Stone Arch Bridge Historical Park on a beautiful October evening.
Stone Arch Bridge Historical Park is located along Route 52 just north of Kenoza Lake in Sullivan County, New York. The focal point of this 20-acre park is the stone arch bridge that passes over the East Branch of the Callicoon Creek.
This bridge is 98 feet long and was built sometime around 1880 (some sources say 1873) by Swiss immigrants Henry and Philip Hembt. It features three stone arches that carry this wide bridge over the creek below.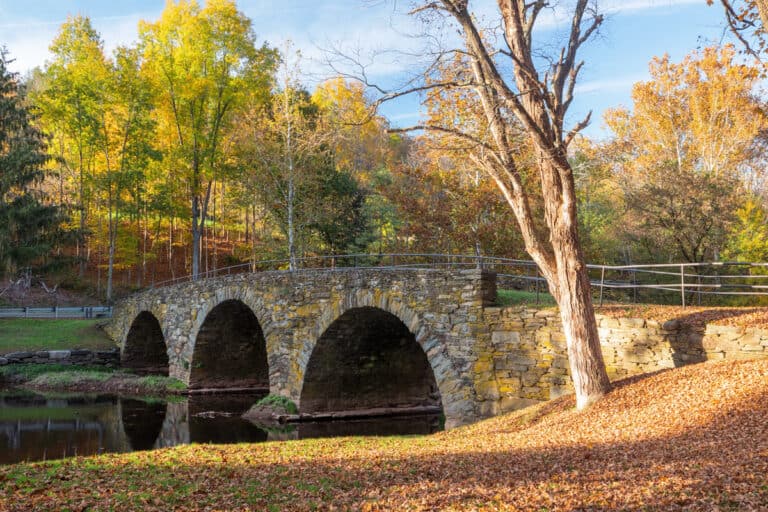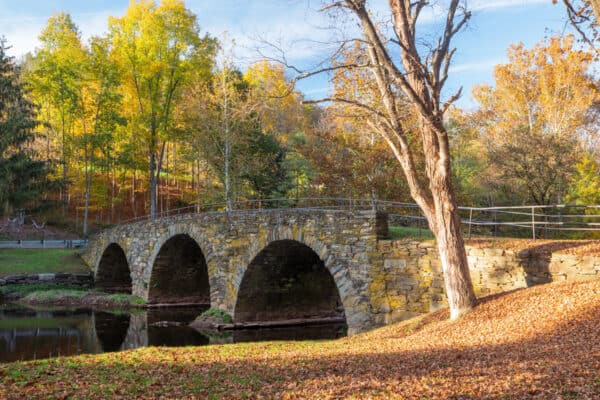 The Stone Arch Bridge was in use from its construction until 1945 when it was bypassed by Route 52. Until then, however, it was a major piece of the region's transportation network and helped with the development of this corner of the Catskills.
Interestingly this beautiful spot was said to have been involved in one of the area's most notorious murders.
In January 1892, George Markert was murdered on this bridge by his brother-in-law Adam Heidt. According to the story, Heidt had long thought that Markert had put a hex on him and used witchcraft to cause him physical pain and to curse other aspects of his life.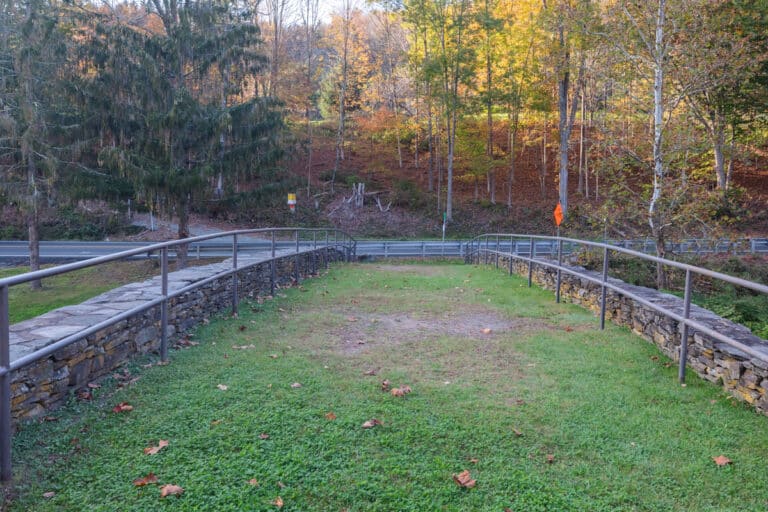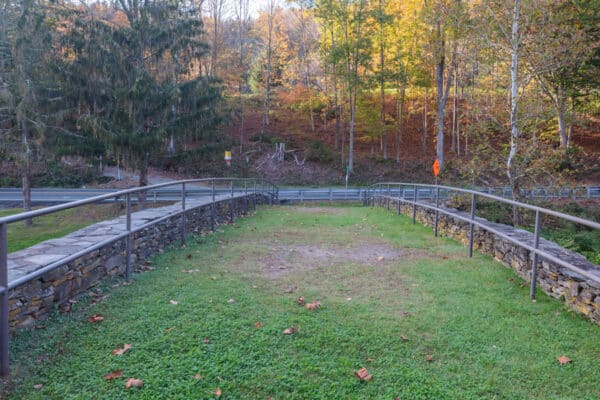 Heidt chose the bridge to kill Markert on because of his belief that to stop the hex, he had to kill Markert three times over running water. It was said that the victim was shot, stabbed, and beaten before he was thrown off of the Stone Arch Bridge and into the water.
After the murder, Heidt would be confined to the State Lunatic Asylum at Middletown where he stayed until he died in 1897. On the other hand, some claim that Markert's spirit never left the bridge and that he still haunts it to this day.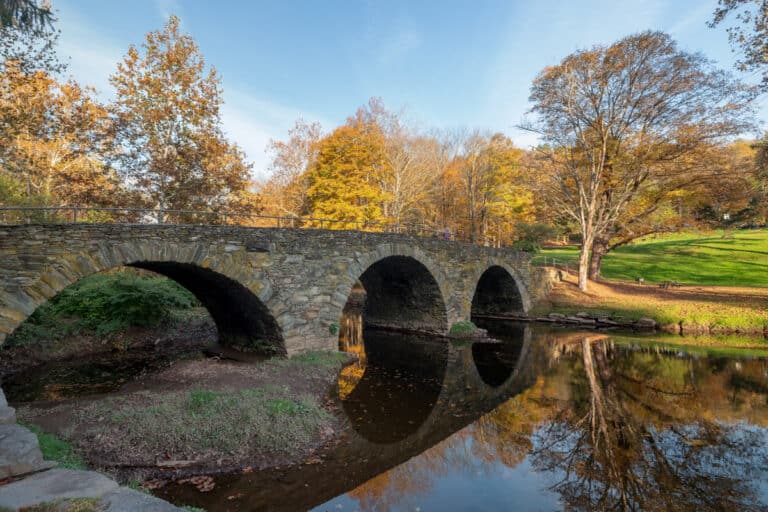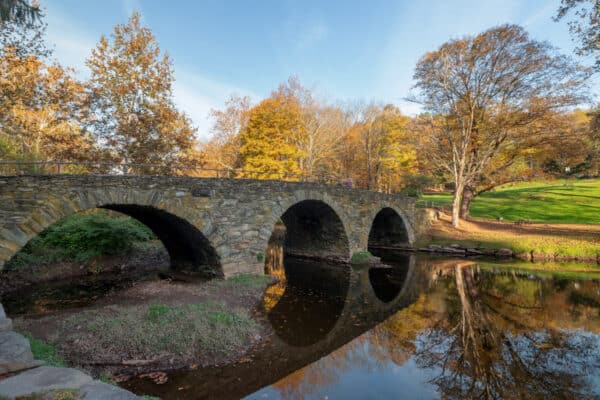 Today, though, this is an incredibly peaceful and beautiful spot to visit in the Catskills. While the bridge is closed to traffic, visitors can still walk over this grass-covered bridge and admire the incredible craftsmanship that went into its construction.
A short distance downstream, a small 1-foot waterfall creates the beautiful sound of flowing water and also serves to dam the water under the bridge, creating some incredible reflections in the water.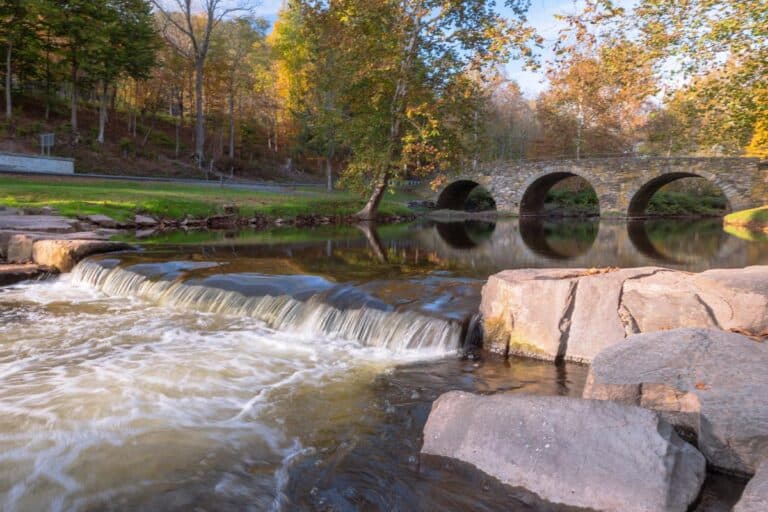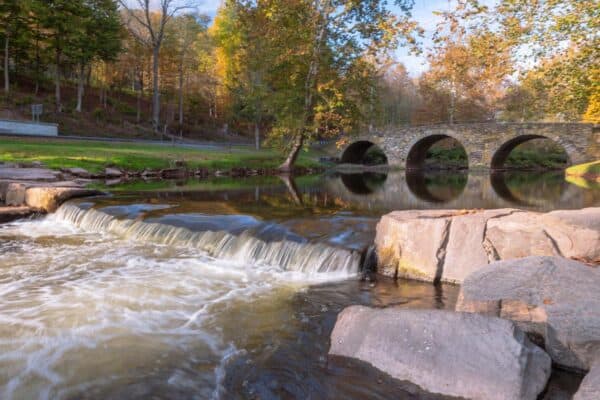 Adjacent to the bridge, you'll find a playground for kids, several picnic tables, and some interpretive signs. There are also said to be several trails here, but I couldn't find much information about them either online or when I visited the park.
Ultimately, if you love historic spots, Stone Arch Bridge Historical Park is definitely a really neat spot to check out, especially if you're already traveling along this busy road through Sullivan County. So, if you find yourself close to this spot, definitely take a few minutes to check out this historic bridge.
How to Get to Stone Arch Bridge Historical Park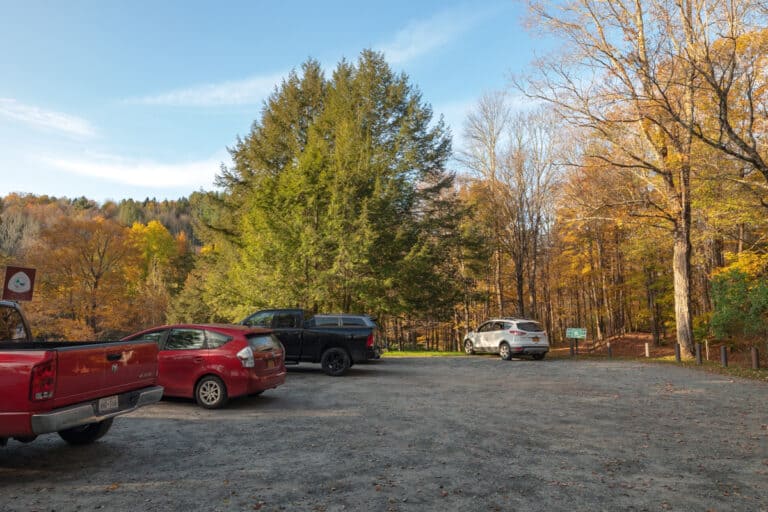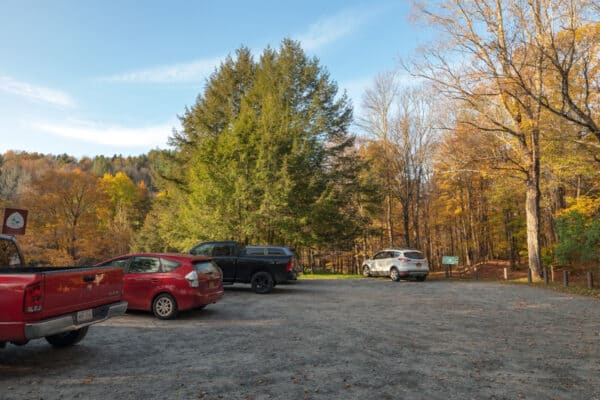 Stone Arch Bridge Historical Park is located in Sullivan County at the intersection of Route 52 and 52A between Kenoza Lake and Jeffersonville, New York. The entrance to the park can be found at the following coordinates: 41.746027, -74.953002.
Note that to get from the parking lot down to the bridge, there is a small hill and you'll have to walk across the grass for about 200 feet.
Looking for more places to visit nearby? Check out Roebling's Delaware Aqueduct, Fort Delaware, the Woodstock Museum, and Minisink Battleground Park.
[Click here for information on how to use the coordinates in this article to find your destination.]