Disclosure: This article may contain affiliate links. We will make a small commission from these links if you order something at no additional cost to you.
I've visited hundreds, if not thousands, of waterfalls during my explorations of New York, Pennsylvania, and more than 30 countries around the world. But I've never come across another waterfall quite like Horseshoe Mine Falls.
Horseshoe Mine Falls, which is sometimes called Buttermilk Falls, can be found near Ellenville in Ulster County, New York. While you won't find it on any maps, the waterfall, along with the very short hike to it, is entirely within Shawangunk Ridge State Forest.
This waterfall is unique because the water flows down a sloping rock face before falling over the six-foot opening to an old mine. This gap at the bottom makes this a truly unique spot and one that is both fun to explore and very easy to visit if you know how to visit it.
Parking for Horseshoe Mine Falls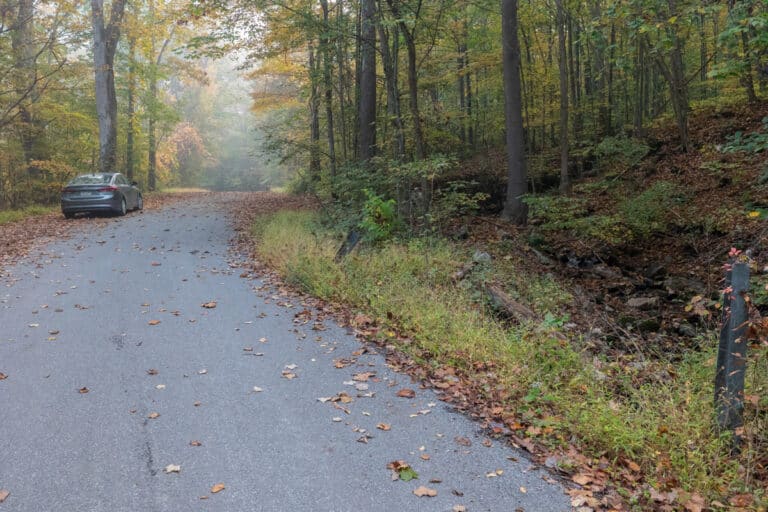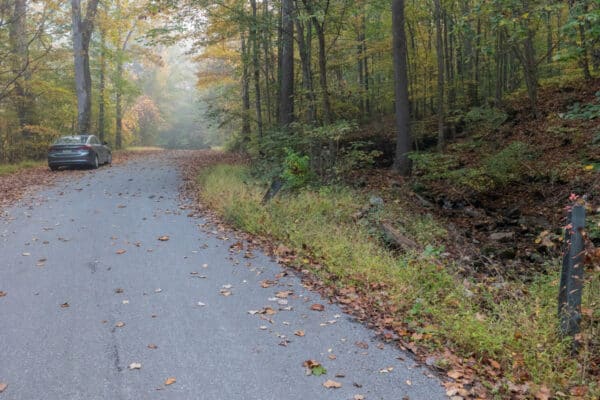 The closest parking area for Horseshoe Mine Falls can be found along Lewis Road, which is off of Route 209 south of Ellenville, and only a short drive from Minnewaska State Park. This is also the road on which you'll find Spring Glen Campground, which is the primary usage of this road.
To reach the parking area, drive this paved road past the campground to the following coordinates: 41.668821, -74.415853.
While it's not as precise, you can also use the address for the campground (108 Lewis Rd, Spring Glen, NY 12483) and then drive another third of a mile along Lewis Road.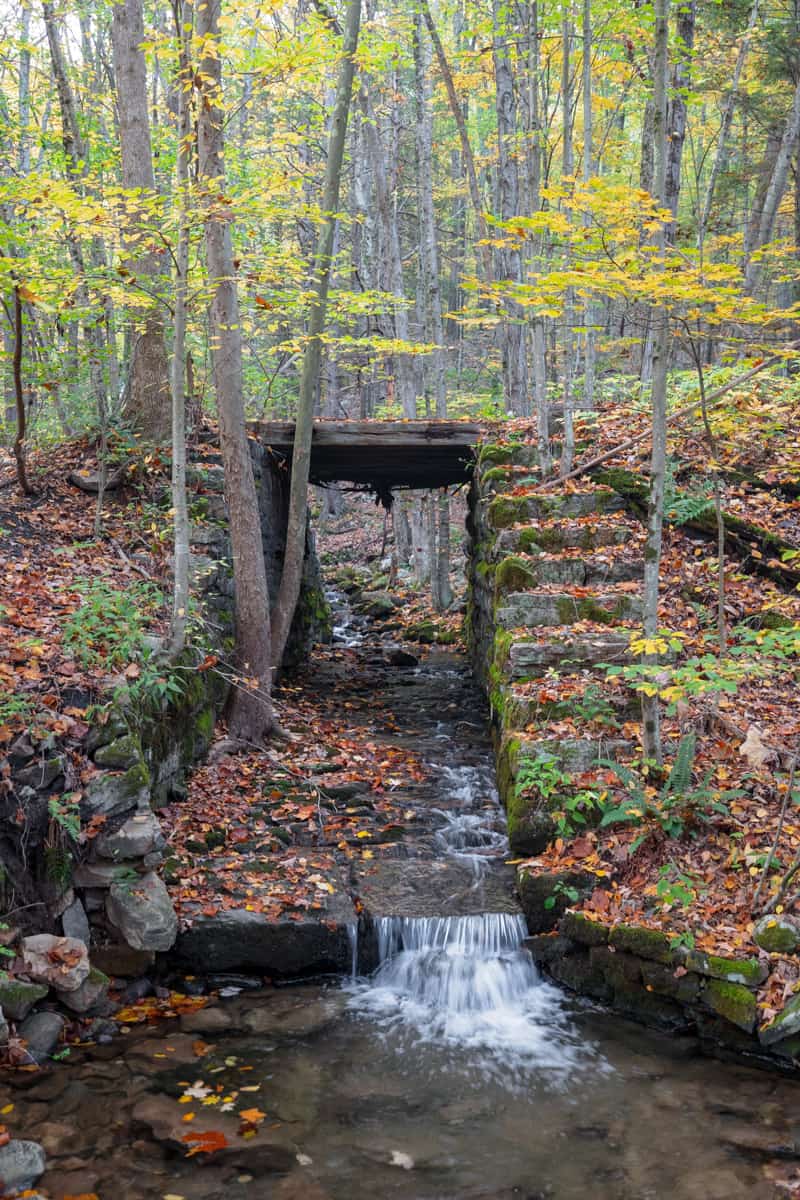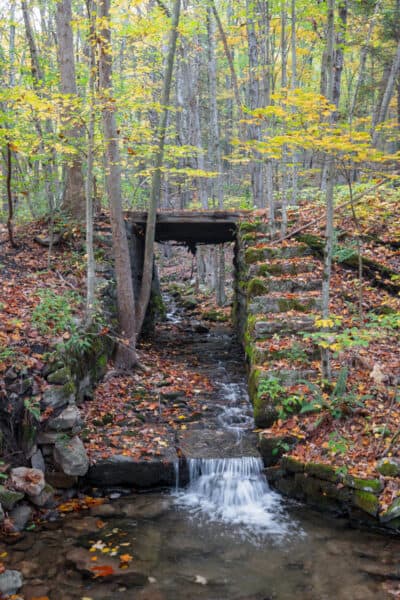 When driving, look for an old stone bridge on your right that has a small stream flowing below it. Just past this bridge, there is room to pull a couple of cars over on the left side of the road.
[Click here for information on how to use the coordinates in this article to find your destination.]
Hiking to Horseshoe Mine Falls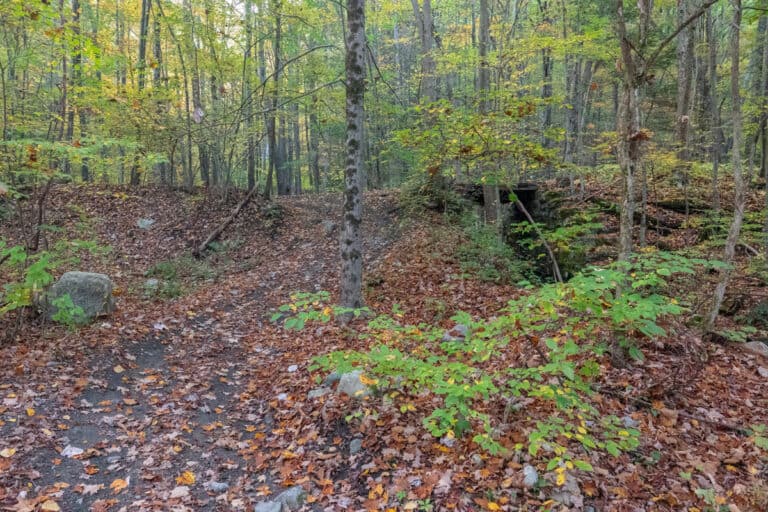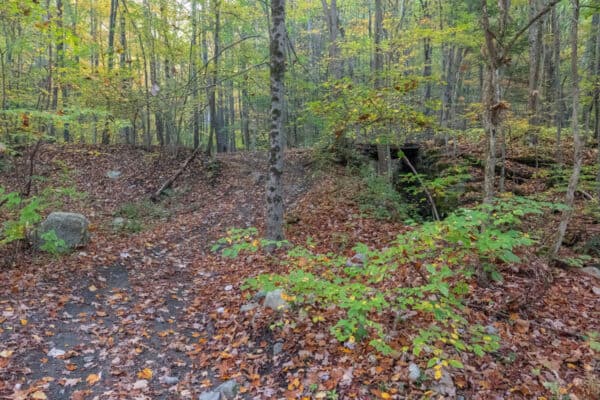 The hike to Horseshoe Mine Falls is quite short and along an established, but unmarked trail.
If you look to the left of the stream and stone bridge, you'll see a trail heading up to the top of this bridge.
This bridge will likely one day be part of the O&W Rail Trail, though it's not part of it yet. However, you'll definitely be able to tell that you are standing on an old railroad right of way as this small strip of land is both straight and flat in both directions.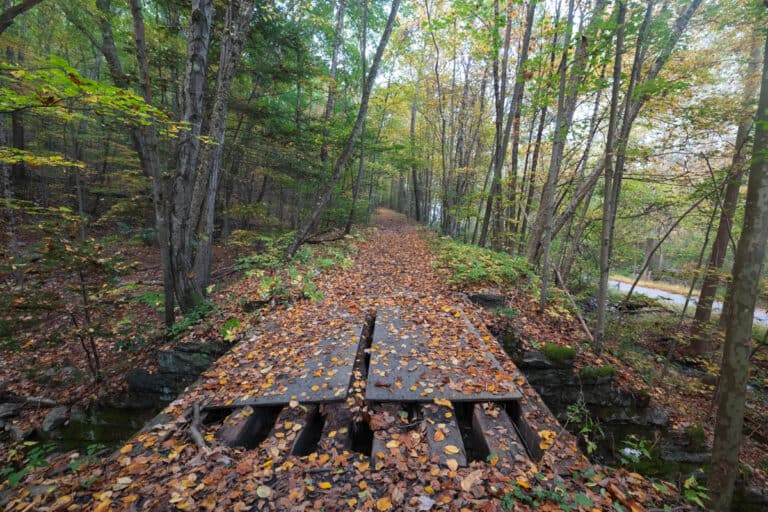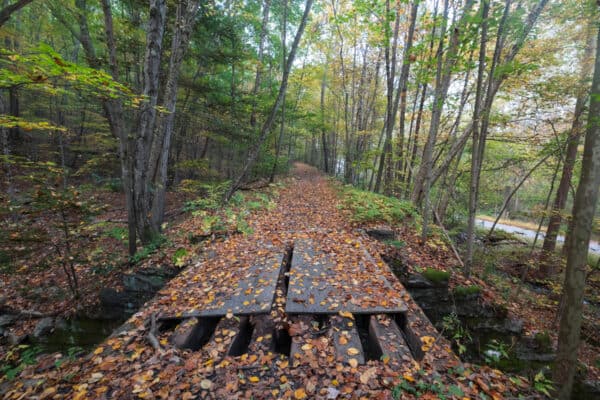 Instead of following the future rail trail, though, continue following this seemingly unnamed stream upstream, staying on the left bank. The trail here is once again obvious but unmarked.
If the waterfall is flowing well, you might be able to see and hear it even before you leave the railroad bed, but it's only about 100 yards of easy hiking to reach the base of the waterfall.
When it's flowing moderately well, like on the day that I visited, this is an impressive waterfall, and I can only imagine that it's even more impressive when water levels are high.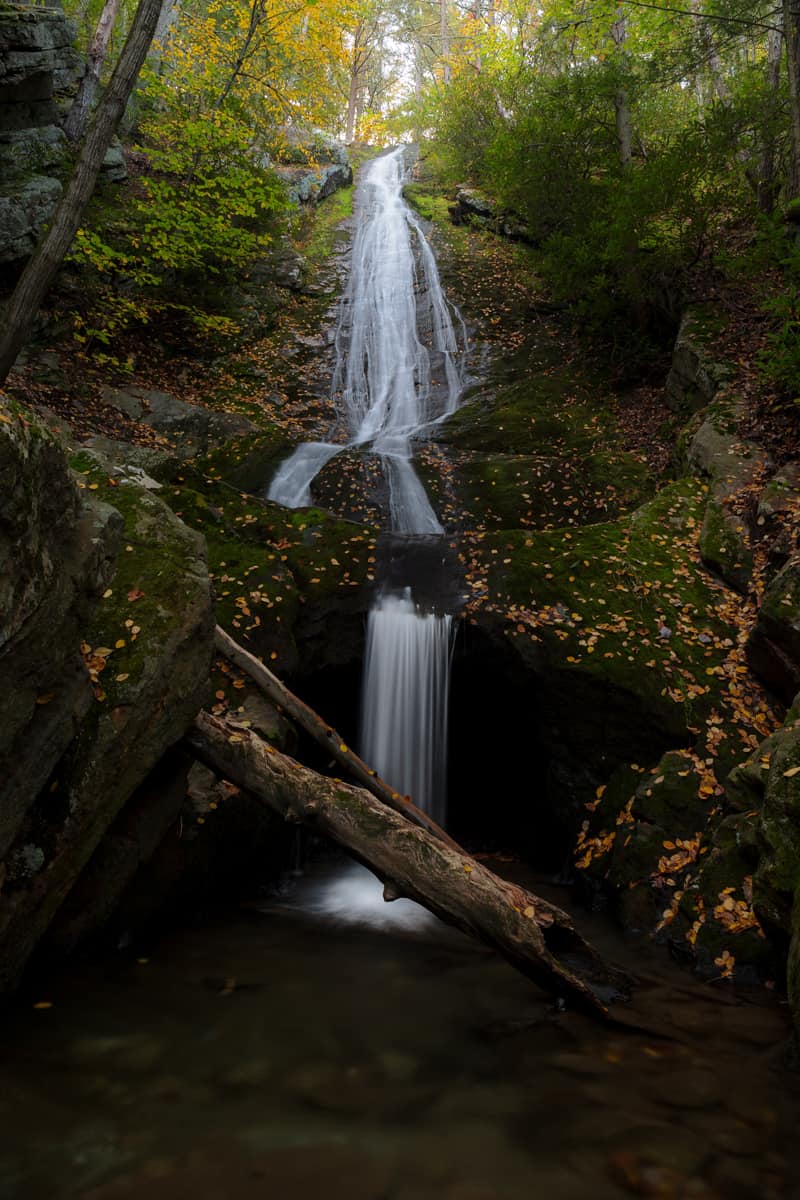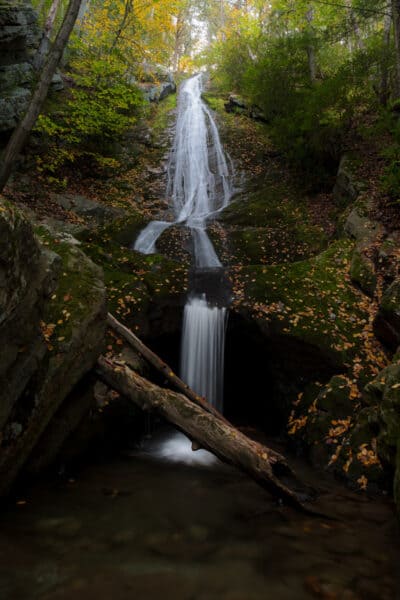 Horseshoe Mine Falls is around 60-70 feet in total height, with the water sliding down a steep rockface through this beautiful woodland.
At the bottom, the water falls off a ledge and over a 6-foot opening in the mine. If water levels are high, this opening might be totally obscured, so I actually feel conditions like I had on the day I visited were perfect.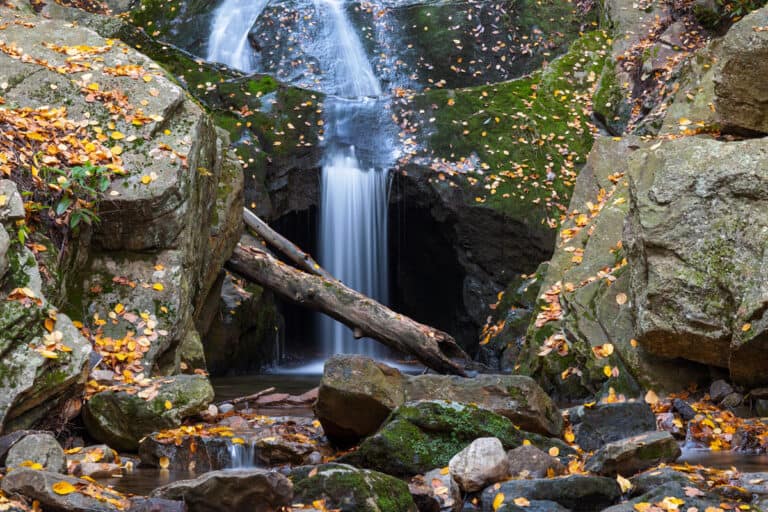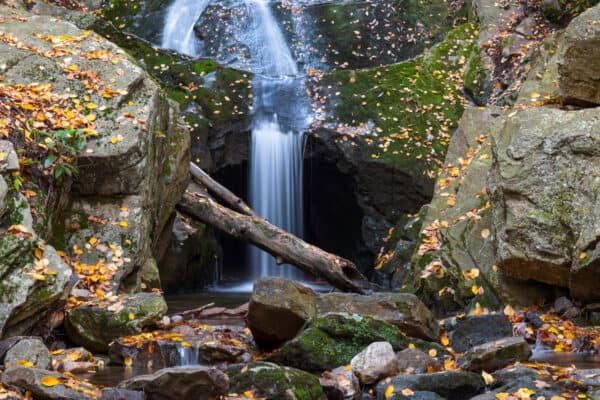 Little is known about this mine, but it was likely dug as an exploratory hole in the 1840s. It is said to go back a couple of hundred yards and to only be a single passageway. While it's not as impressive as the nearby Widow Jane Mine, it's still fun to see.
I've most often seen this waterfall referred to as Buttermilk Falls. However, New York doesn't need any more "Buttermilk Falls", so I'd rather name it after the mine. This also helps to distinguish what makes this spot so unique.
Wanting to explore this spot further, I carefully made my way through the 12-18 inch deep water and into the mine, avoiding the stream of water in the process. The mine opening is a little over six feet tall from the base of the stream to the top of the opening, so I was able to get in without ducking and comfortably stand inside (though your shoes will get wet).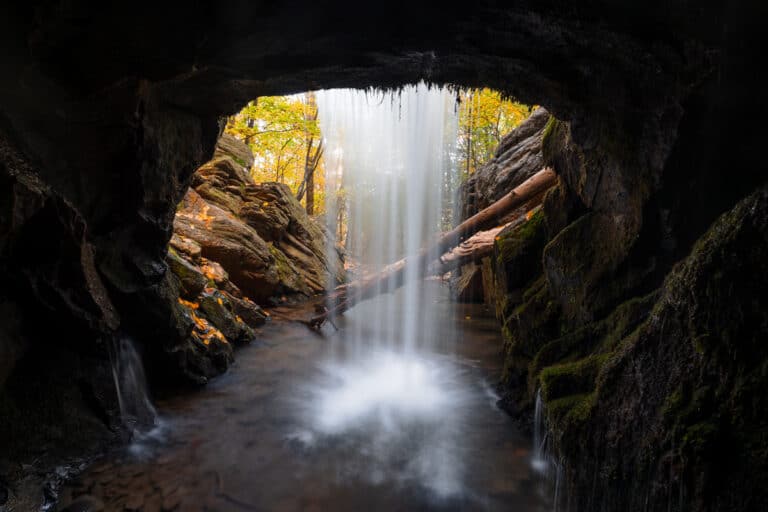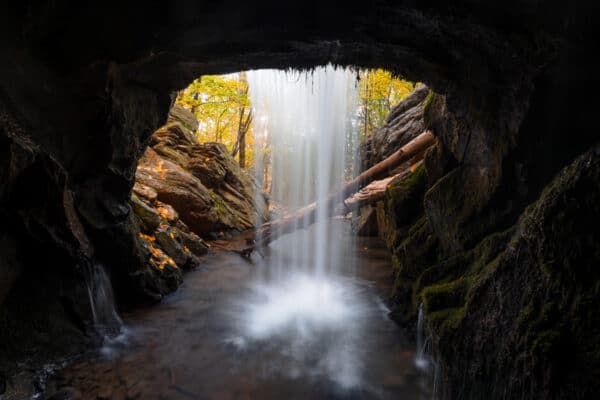 Despite having gone behind a fair number of waterfalls in my explorations, none were as cool as being behind Horseshoe Mine Falls. Standing about 15 feet deep in the mine with the narrow opening being mostly covered by water is an experience I won't soon forget.
That being said, having my back to a long corridor of darkness was a bit unnerving. Next time I visit, I'll definitely make sure to bring something stronger than my phone's flashlight so I can check out the interior of the mine (and make sure there's nothing scary back there).
Obviously, exploring further is totally at your own risk as I have no idea what's beyond the opening area.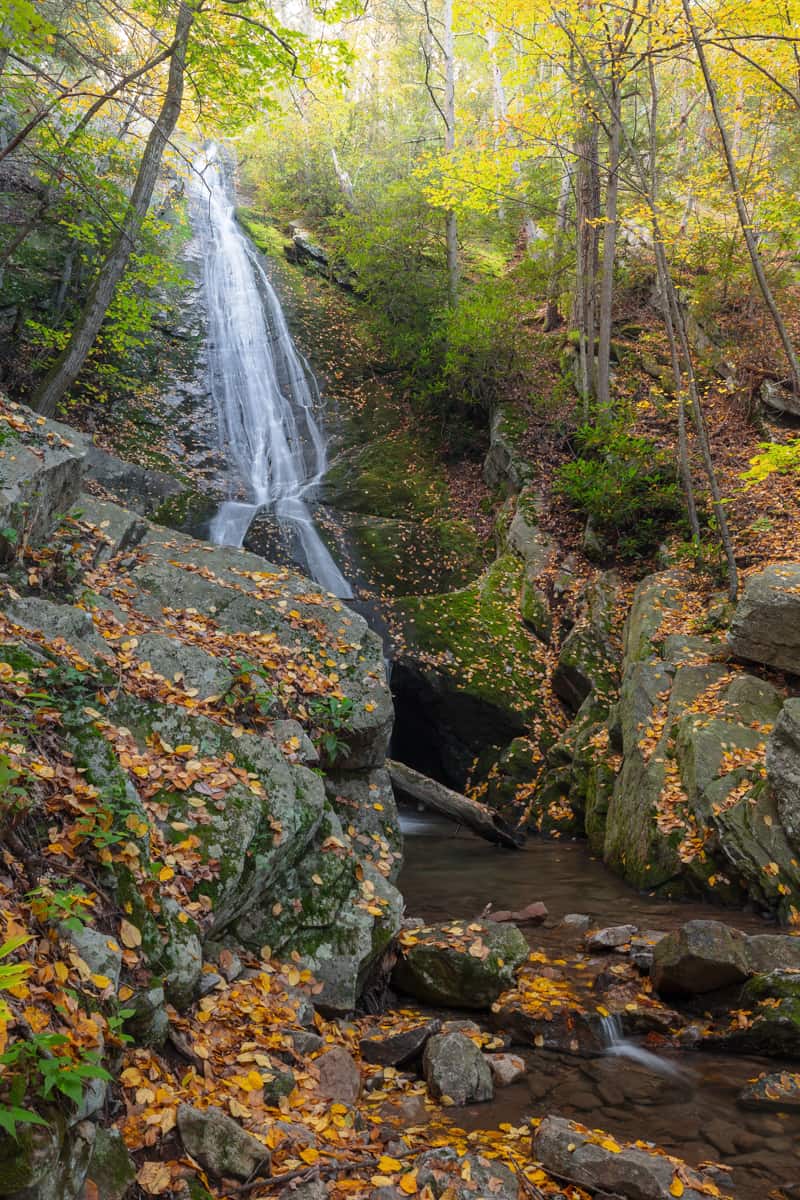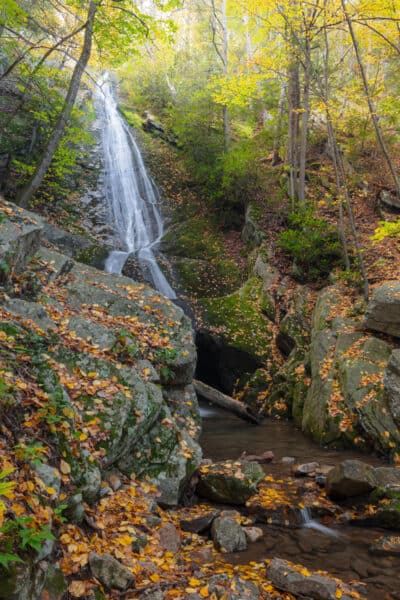 Once you've finished exploring this area, either from inside or outside the mine, simply retrace your steps for the short walk back to your vehicle.
Overall, Horseshoe Mine Falls in Shawangunk Ridge State Forest is one of the coolest waterfalls I've explored, not just in the Catskills, but in all of New York.
If you are looking for a fun and unique experience, this is definitely a spot you won't want to miss.
Looking for more places to visit nearby? Check out the Lake Minnewaska Trail, the Woodstock Museum, Dennings Point, and Franny Reese State Park.