Disclosure: This article may contain affiliate links. We will make a small commission from these links if you order something at no additional cost to you.
Located along the Delaware River in
Orange County, New York
, Port Jervis sits at a crossroads. It's just across the river from Pennsylvania and the cross-country Route 6 runs right through town. However, instead of skipping over it while traveling into
the Poconos
or into the
Catskills
, consider stopping here and checking out the area.
After all, I found on a recent visit that there really are some great things to do in Port Jervis, New York. Here are a few of my favorites.
Elks-Brox Memorial Park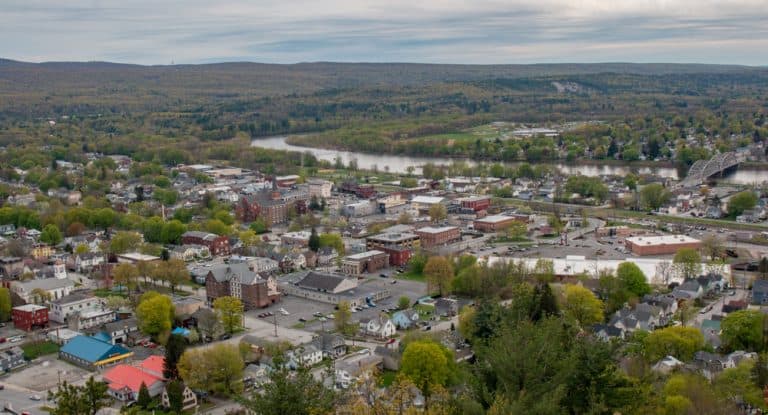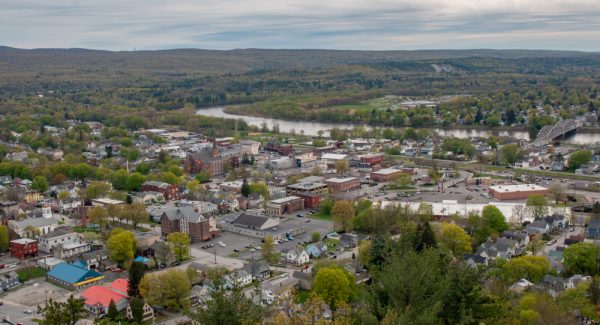 Elks-Brox Memorial Park is located along a hill just outside of town. The winding Skyline Drive works its way up the hillside, which is also crisscrossed with miles of hiking and mountain biking trails.
The highlight for visitors, however, is the astounding view from Point Peter. From here, you can see all of Port Jervis far below, the Delaware River, Pennsylvania on the river's opposite bank, and the High Point Monument in New Jersey.
Riverside Creamery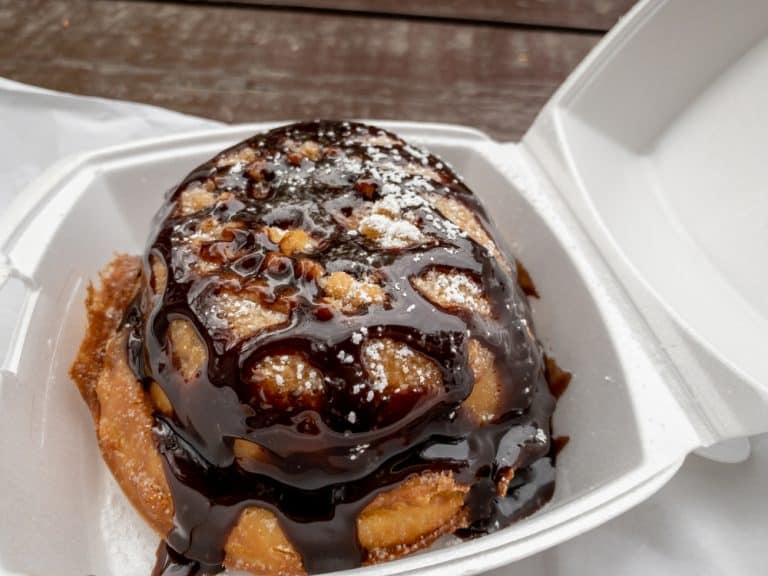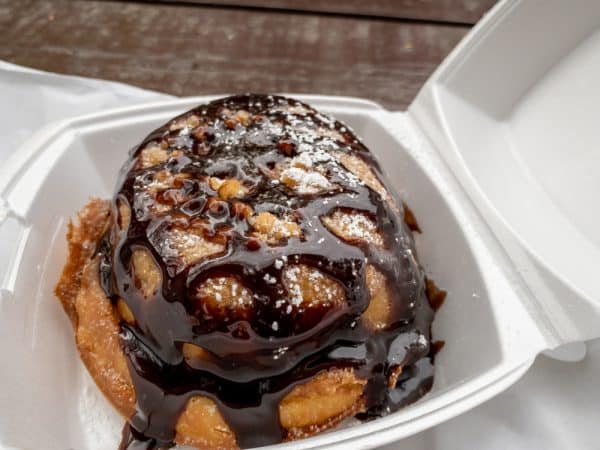 As the name implies, Riverside Creamery is located on the bank of the Delaware River. While it might not look like much on the outside, it's truly a gem on the inside. That's because it retains many of historical pieces from the building's time as an ice cream shop in the 1950s, including the original soda fountain.
However, what makes Riverside Creamery one of the best things to do in Port Jervis, New York, is its food, or more specifically, its deep-fried ice cream.
Vanilla ice cream is kept extra cold, coated in batter, and then fried. It is served with chocolate sauce and whipped cream, making for a delicious treat after a long day exploring this corner of Orange County.
Tri-States Monument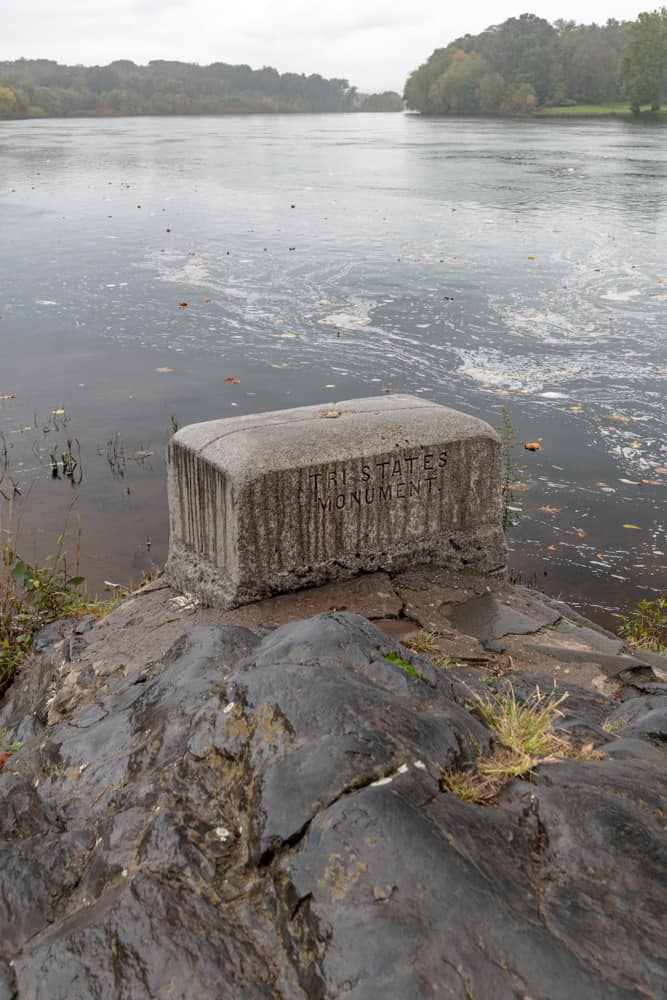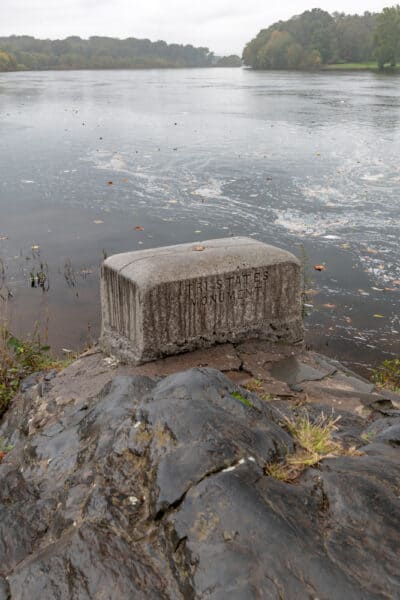 The Tri-States Monument is located on a spit of land beneath the I-84 bridge over the Delaware River. This marker is placed on the spot where New York, Pennsylvania, and New Jersey come together. So, theoretically, it would be possible to place yourself so you were in three states at once.
The Tri-States Monument is accessed by traveling through Laurel Grove Cemetery, which I've heard is an interesting place to explore as well. Simply drive all the way to the back of the cemetery and park below the interstate bridges.
From there, it's a short and rocky descent to the monument.
Fort Decker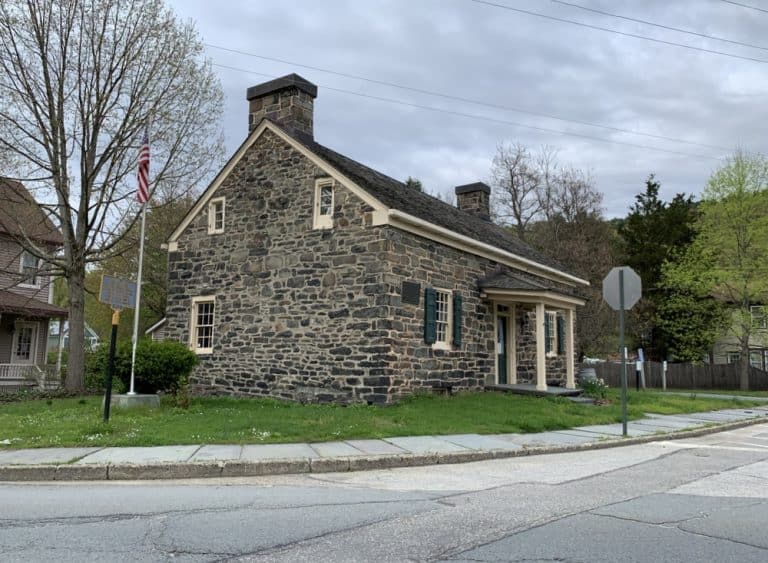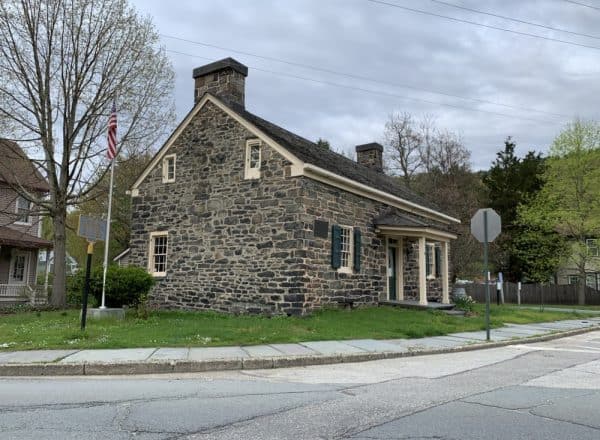 Fort Decker is a historic home that now serves as the Fort Decker Museum of History and chronicles the region's history.
The home was built in 1793 from stones used in a French and Indiana War-era fort that once stood nearby. The building, which is the oldest in town, served as a canal hotel and a private home before it was turned into a museum by the local historical society.
Visitors to the museum can learn more about Port Jervis and the impact the town and the surrounding community had on New York and the world.
Hawks Nest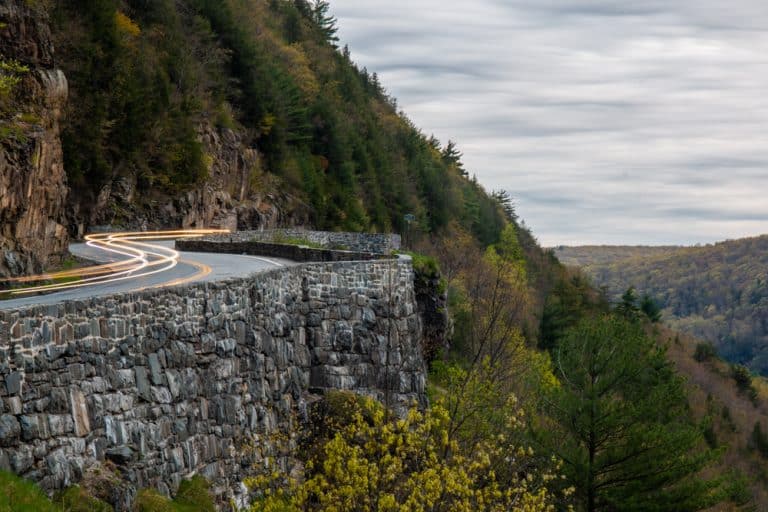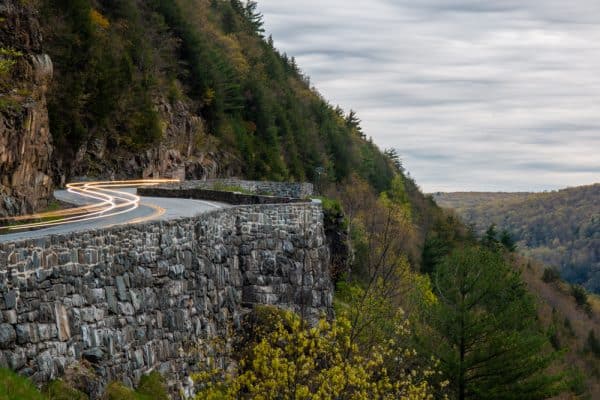 Located to the north of Port Jervis, Route 97 twists its way along the Delaware River near the Mongaup River Trail. This incredibly scenic stretch of road has several pull-offs that are known as the Hawks Nest.
These four pull-offs, which can only be accessed by those heading south on the road, offer amazing views of the Delaware River Valley and this roadway.
They are especially great for photos at sunset when it's not uncommon to have many others enjoying the views from this spot.
Even if you don't get out of your car, this is a great roadway to drive and has been the site of many car commercials in the past.
Fox N Hare Brewing Company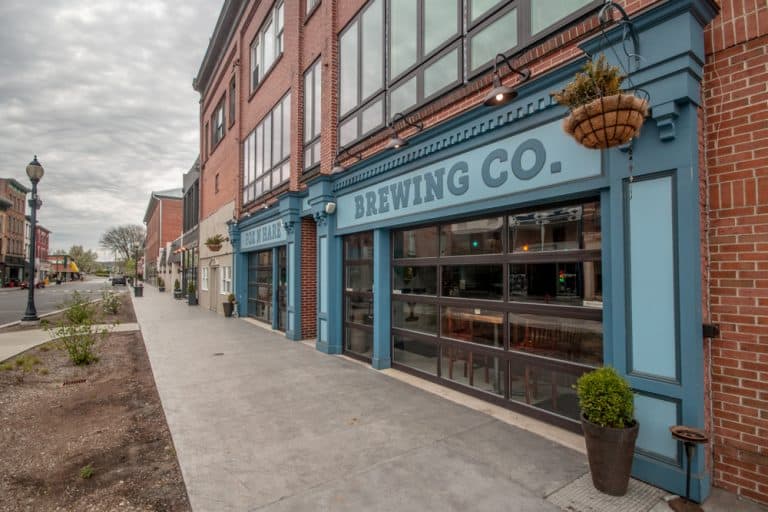 Fox N Hare Brewing Company is one of the businesses that anchors downtown Port Jervis. This highly-rated brewery opened in September 2017 inside a historic building that has been completely renovated but still retains a significant amount of historical character.
Fox N Hare features eight year-round beers, as well as a rotating selection of seasonal beers. While many breweries seem to specialize in a particular style of beer, nearly all of Fox N Hare's year-round beers are highly rated.
In addition to beer, Fox N Hare is also a great spot to grab a bite to eat while visiting Port Jervis.
Erie Railroad Turntable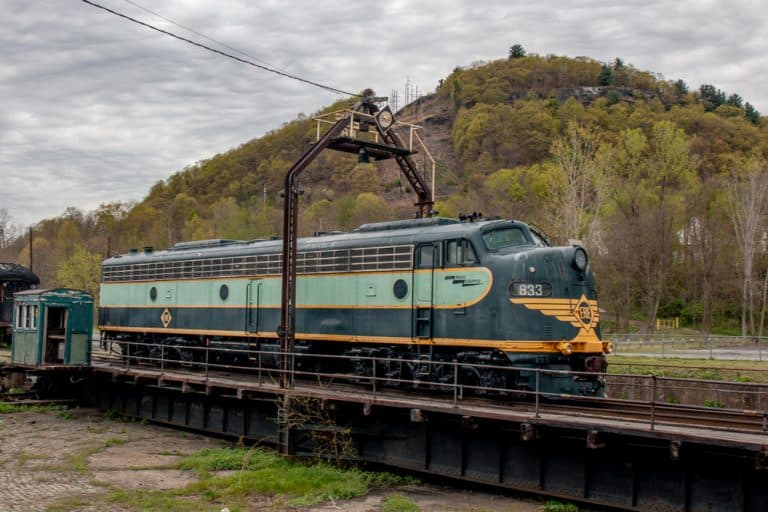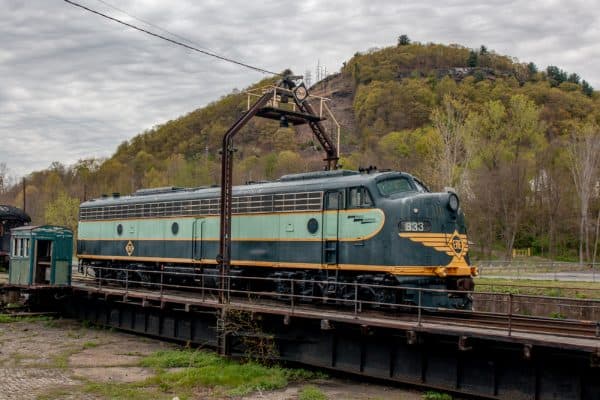 At one point in time, the railroad was a major industry in Port Jervis. In fact, the community used to be home to a operations base for the Erie Railroad that included a roundhouse. Sadly, the roundhouse burned down, but the turntable can still be seen from the parking lot behind the Rite Aid.
In addition to the turntable, which is said to still be able to be moved, there are several historic train cars and engines that you can have a look at. Signage around the area also provides a bit of history and context for the site.
Interestingly, this turntable is just a few steps from the current train station in Port Jervis that has daily commuter trains that head into New York City.
Park Avenue Observatory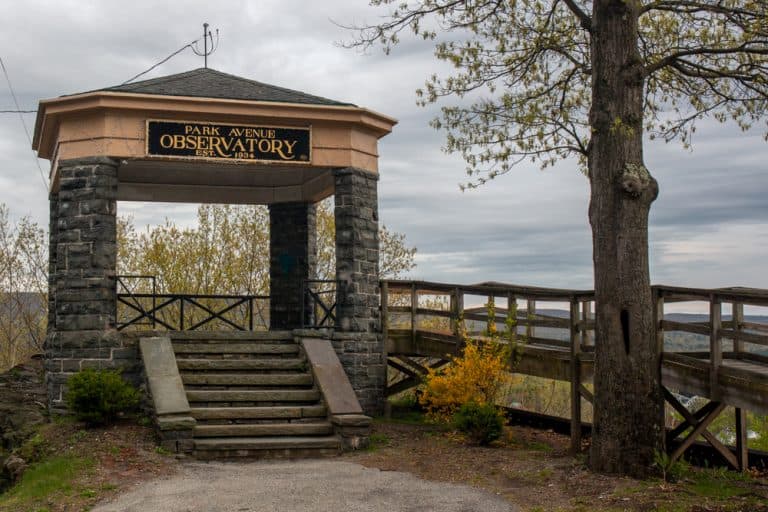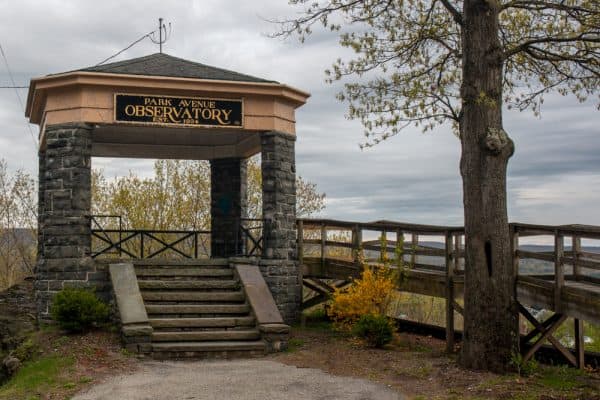 While it doesn't provide as amazing a view as the one you'll find in Elks-Brox Memorial Park, the Park Avenue Observatory offers nice views of Port Jervis and the mountains surrounding the Delaware River Valley.
This small pagoda has views to the west and would be a great spot to catch the sunset but is worth a quick stop if traveling out of town to the north no matter the time of day.
West End Beach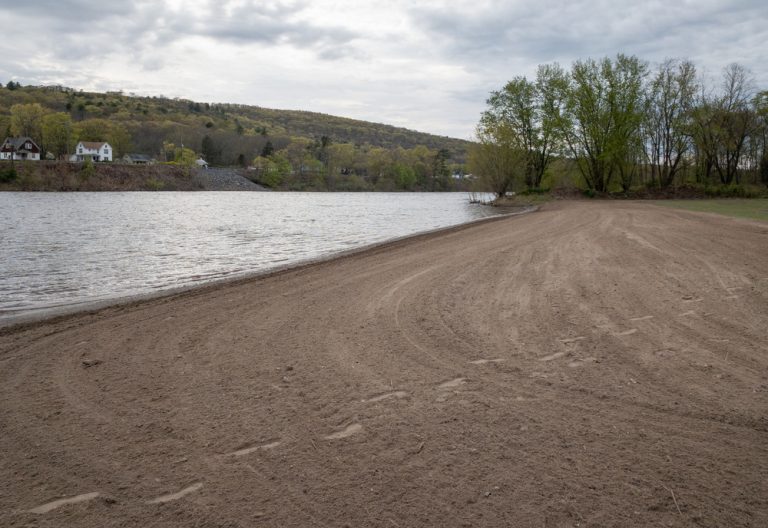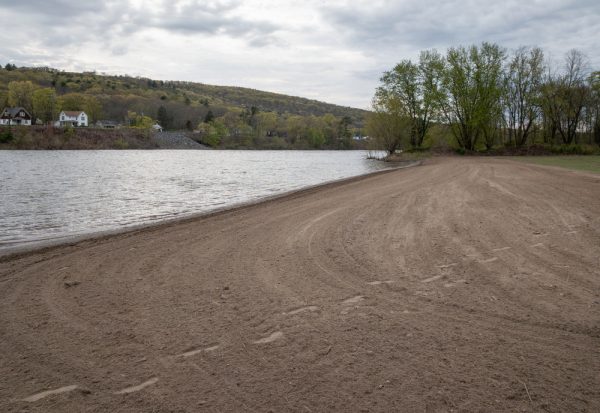 Take a dip in the Delaware River or simply relax on the shore at the West End Beach in City Park.
This small beach area, which is more dirt than sand, is open during the summer months and even features lifeguards.
While it might not have the appeal of the Atlantic Ocean beaches, it's a great way to cool off at the end of a day exploring Orange County, New York.
The D&H Canal Trail
The Delaware and Hudson (or D&H) Canal once ran through Port Jervis and a portion of its path has been preserved as a trail.
This 1-mile path follows the course of the old canal as it made its way towards a river crossing into Lackawaxen, PA (on a bridge that was built by the man that designed the Brooklyn Bridge).
This rail trail is only about a mile long but is great for those wanting to get out for a walk and explore some of the history of the region.
Looking for somewhere to stay near Port Jervis? Check out Sleep Inn and Suites in Middletown, New York, or the Hampton Inn just across the river in Matamoras, Pennsylvania.
Do you have a favorite thing to do in Port Jervis, New York that we didn't mention? Let us know in the comments below.
Looking for more places to visit in New York? Check out Minisink Battleground Park, Horseshoe Mine Falls, Woodstock Waterfall Park, and Roebling's Delaware Aqueduct.