Disclosure: This article may contain affiliate links. We will make a small commission from these links if you order something at no additional cost to you.
During the holiday season, one of my favorite things to do is to visit drive-through light displays. So, when I learned that there was a great drive-through light display in Syracuse, I knew I had to check it out.
The display is known as Lights on the Lake and is located north of downtown Syracuse along the shores of Onondaga Lake in Onondaga Lake Park. In 2022, it is open from November 14, 2022 through January 13, 2023.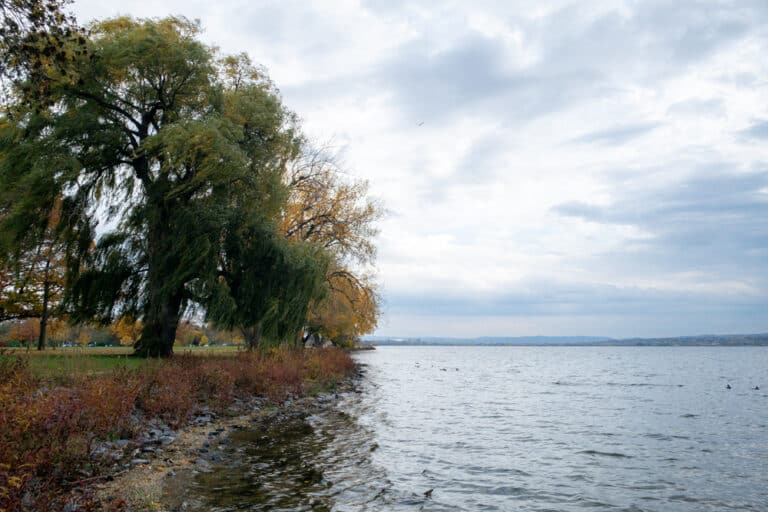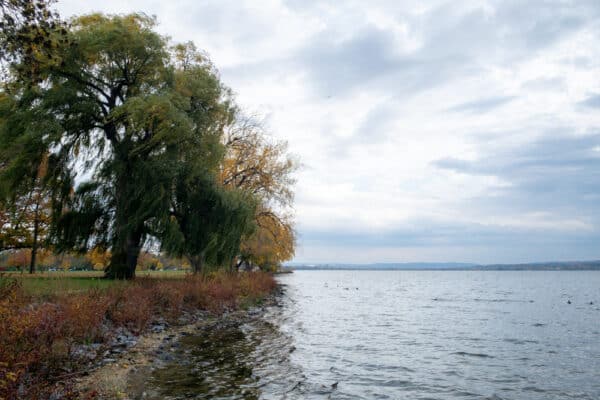 Lights on the Lake has been a tradition in Upstate New York for more than 30 years, but I first had a chance to check it out during its 32nd season in 2021. And, after a fun day exploring Syracuse, it was a great way to cap off the evening.
When visiting Lights on the Lake, you'll notice the display even before you enter the park as they do a great job lining the area with light displays.
The starting point for the over two-mile display is on the southern end of Onondaga Lake Park near the Salt Museum and the Skä•noñh Great Law of Peace Center, which sits on the eastern shores of the lake. This is the main entrance for the park and is off of Onondaga Lake Parkway.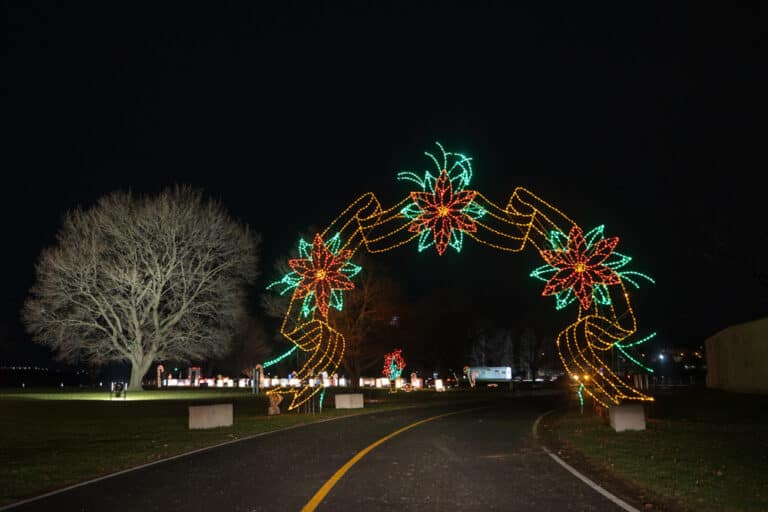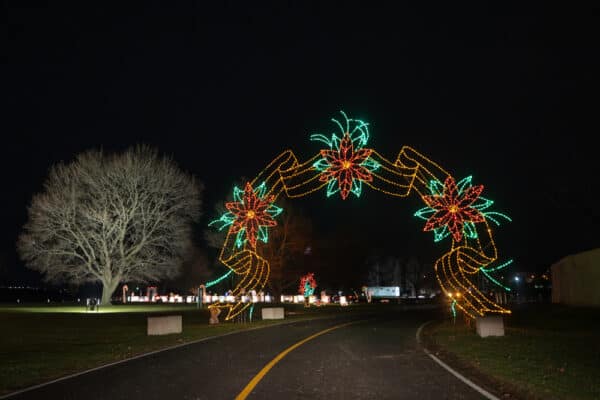 Immediately upon entering the park, you'll be immersed in light displays. This is especially great if you are visiting the park on a busy night as you'll be able to enjoy lights even while you are waiting to get to the official start of the show.
The ticket window actually sits a good deal off the road, and, at first, I wondered if I'd missed the window because it seemed like the show had started long before I reached the gate.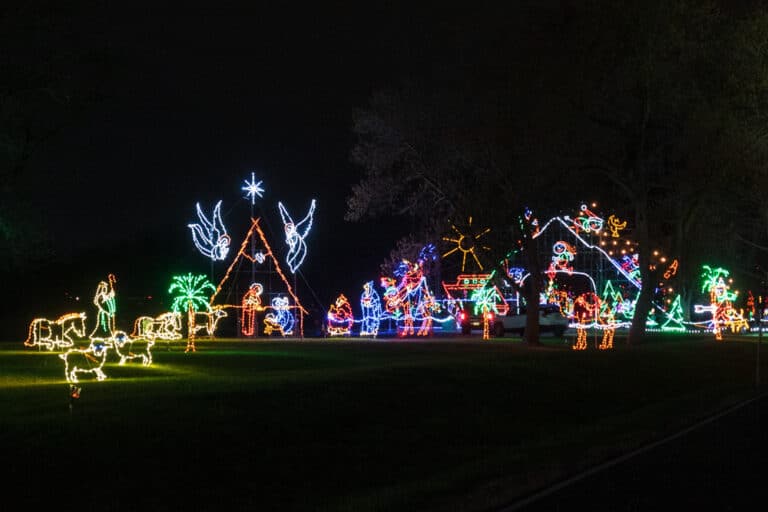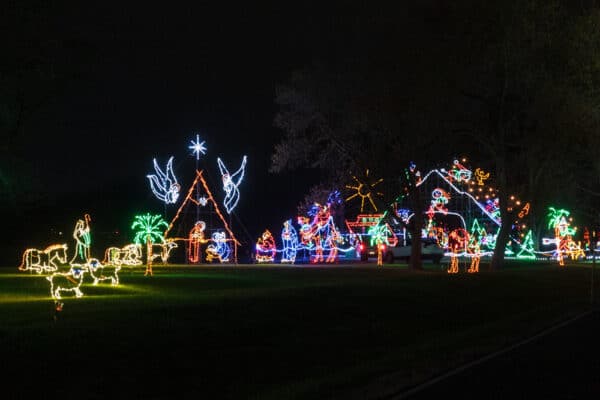 Lights on the Lake uses a unique system in which they charge a lower rate for visitors on Monday-Thursday than they do on Friday-Sunday. This would seem to help encourage people to visit on nights throughout the week and, hopefully, make the weekends not so crowded. It's also great for those on a budget.
In 2022, tickets on Mondays through Thursdays are just $10. Tickets on Friday, Saturday, and Sunday nights are $20. Tickets must be purchased ahead of time on their website.
The fact that all tickets have to be purchased online definitely helps to improve the speed at the ticket window.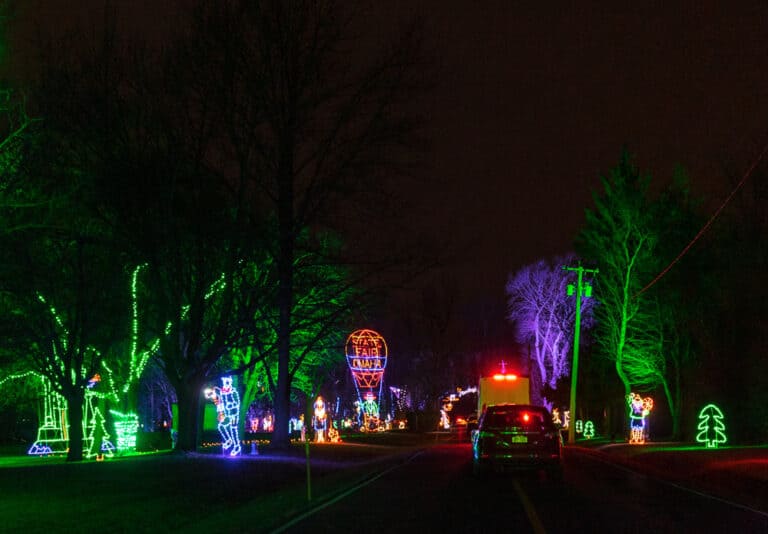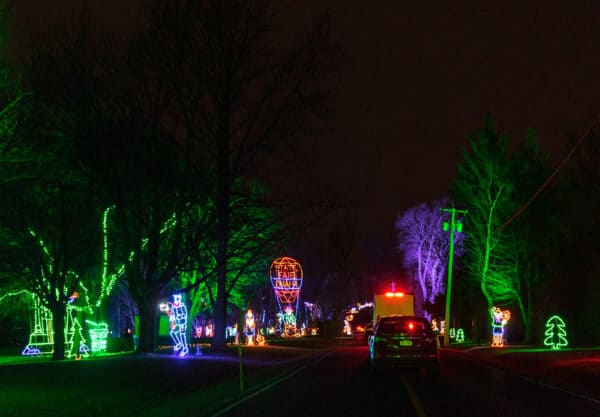 Of course, with any of these drive-through displays, you can only go as fast as the person in front of you. Even if it's not a busy night, if you get behind someone especially slow, it could take a while to make it through this attraction, so make sure you save plenty of time to visit.
One thing that I liked when visiting is that they encourage you to turn off your headlights on your car (if you can). This keeps bright lights from distracting from the show, but drivers will need to be a bit more careful to make sure that they stay on the road and don't hit the person in front of them.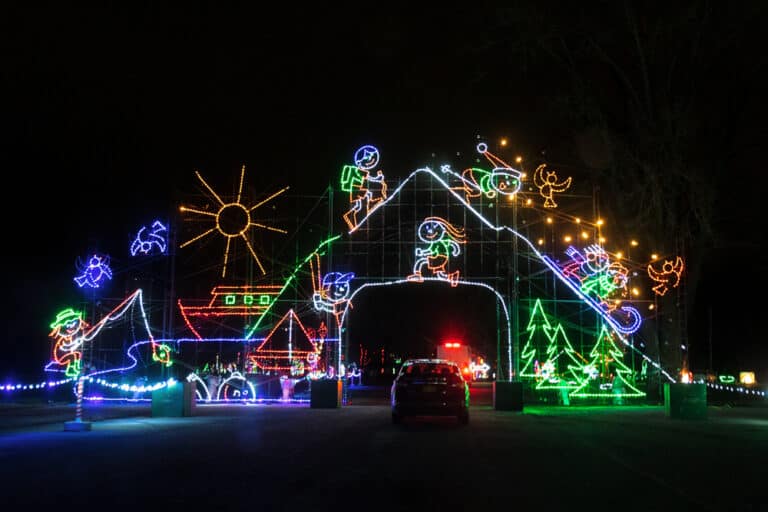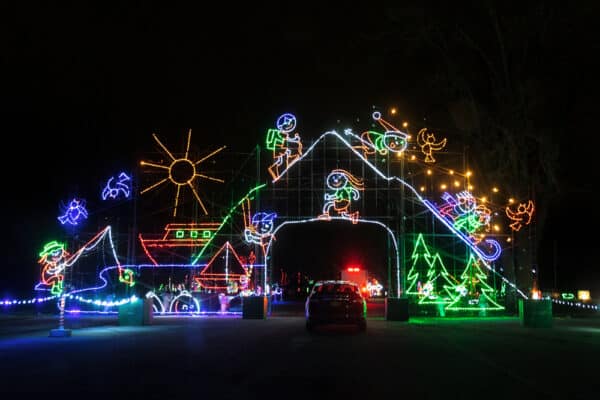 Of course, the star of the show here are the lights, and they are quite well done.
Displays line the roadway and are roughly put into thematic sections such as "Fantasy Forest" and "Land of Oz". Large light banners are strung over the roads announcing each section. However, because the show allows buses on its route, there aren't any light tunnels like you often see at other similar displays.
Mixed in with the themes are a variety of Christmas lights, some of which match the themes and some of which don't. However, even if they aren't within the theme of the section, it's still neat to see more traditional holiday scenes.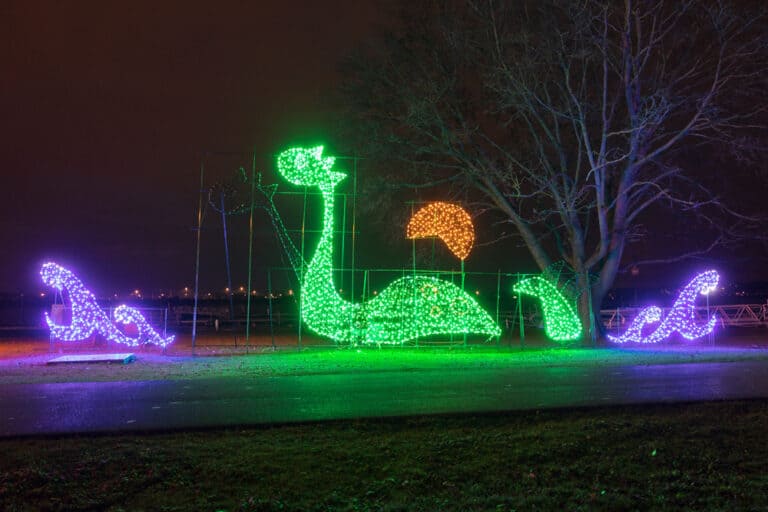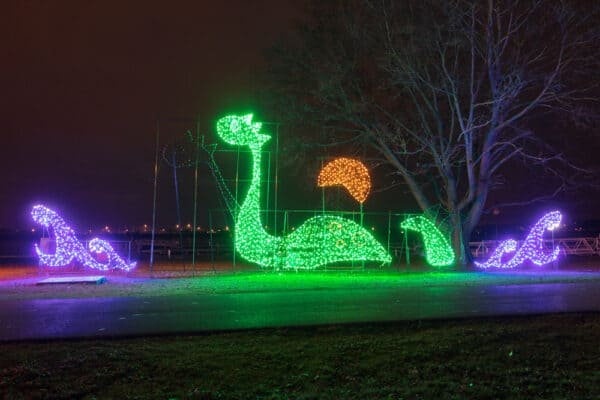 Many of the light displays also move in some way, either by telling a story by moving lights or by simply dancing back and forth. Unfortunately, though the lights aren't synched to any music.
Speaking of music, signs at the beginning of Lights on the Lake recommend that you tune into 102.1, which is a regular radio station that plays Christmas music during the holiday season.
Personally, I would have loved it if Lights on the Lake had had their own music broadcast as they could have synched up the displays. They also could have avoided commercial breaks, which do occur on the radio station.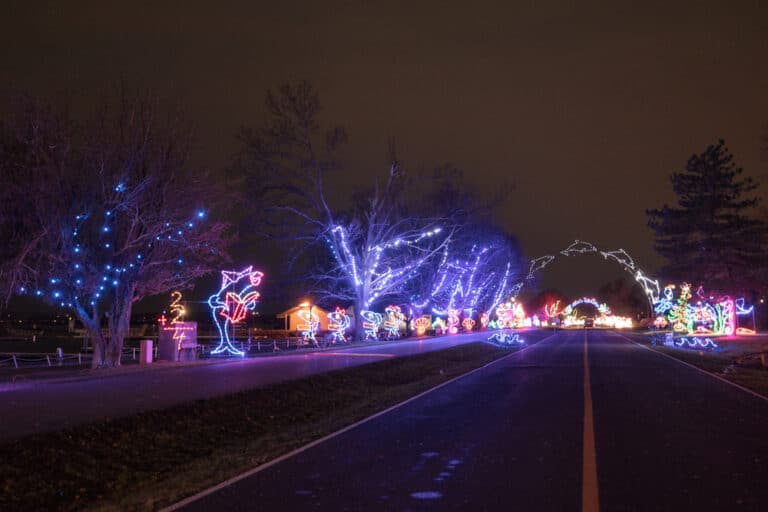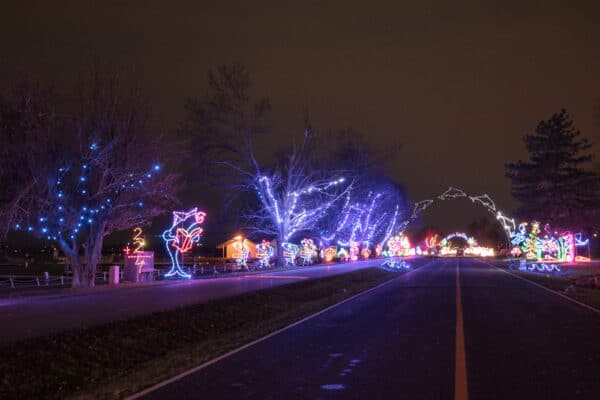 Because you likely don't want to listen to commercials while driving through the display, I recommend bringing your own music, whether it be a CD, Spotify playlist, or satellite radio (which I opted to tune into for most of my visit after trying out the radio station).
Another thing worth noting is that while both sides of the road are lined with displays, there is more land on the driver's side of the vehicle, so the displays are more numerous on this side of the road.
There's probably not a whole lot that you can do about that since moving people around in a car is difficult, but it's something that was noticeable to me, so I figured I'd mention it.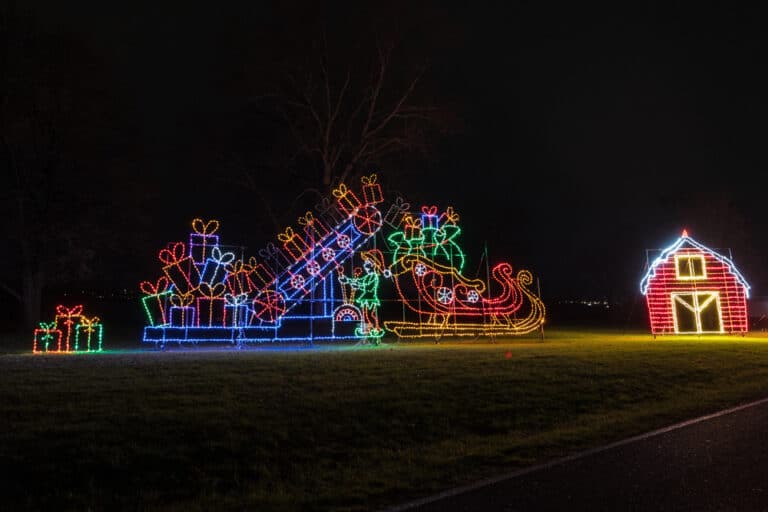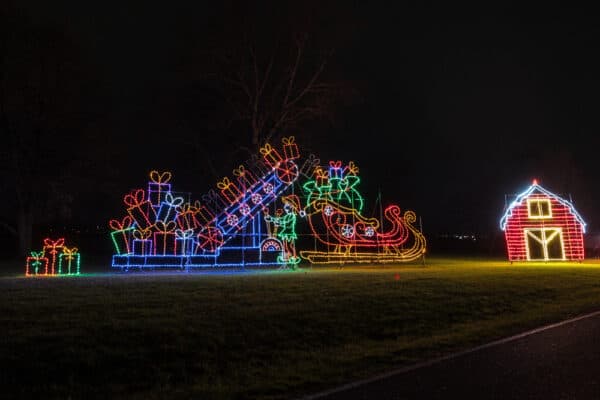 Overall, and despite a few minor criticisms, Lights on the Lake in Syracuse is a really well-done drive-through Christmas light display. And, if you can manage to visit on a weeknight, it's actually a really great value, as well.
So, if you are looking for a fun and festive way to get in the holiday spirit in the Finger Lakes, I definitely recommend checking out Lights on the Lake in Syracuse.
Looking for more things to do in the area? Check out Jungle Bells at the Animal Adventure Park, Capital Holiday Lights in Albany, Twinkle Town in Elmira, and ROC Lights near Rochester.